These vanilla cupcakes are the perfect blend of fluffy, soft, and moist! They are the perfect base recipe to add extra flavors to, great with any frosting, and amazing for birthdays and all celebrations!
This is one of my Cake/Cupcake recipes I know you'll want to keep on hand!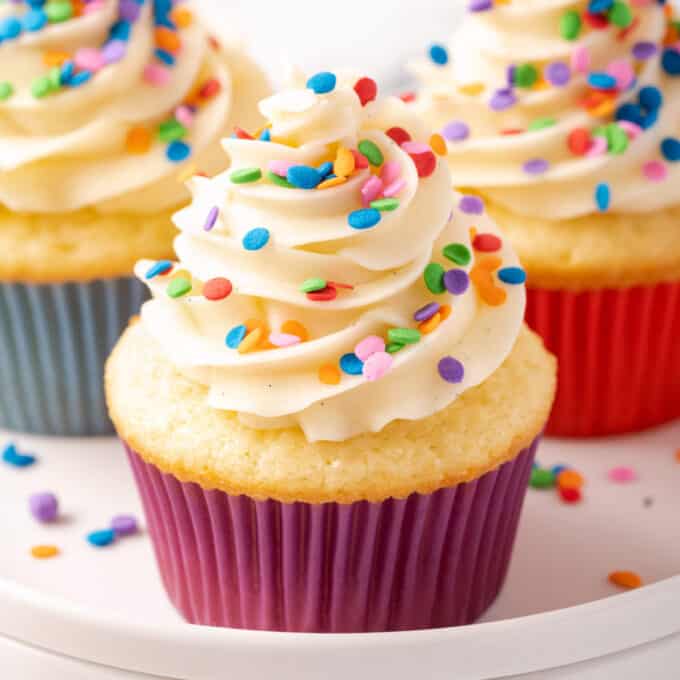 As impressive as massive layer cakes are, I definitely prefer cupcakes. They're so cute, easy to decorate, easily feed a crowd, and are actually easily freeze-able!
I have several mouthwatering cupcakes here on the website, including these amazing shortcut vanilla cupcakes (that use a cake mix and are doctored up), but I never shared a classic vanilla recipe that's made from scratch.
This recipe gets used for nearly every birthday celebration in our household, and everyone that takes a bite falls in love.
The cupcakes are so moist and tender, and full of rich vanilla flavor. Plus, they're the perfect vessel for the equally-mouthwatering vanilla bean buttercream frosting!
How to make vanilla cupcakes?
This is just an overview; the full ingredients and directions are in the recipe card toward the bottom of this post.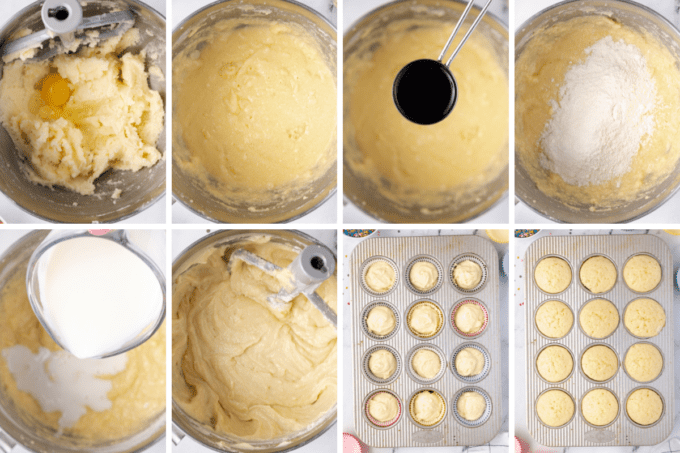 Cream butter and sugar. Despite the name, there's no cream added here, it's just the act of beating the butter and sugar together until creamy.
Beat in eggs. This is best done by beating them in one at a time, scraping down the sides if necessary.
Beat in vanilla.
Beat in the flour mixture. This is the flour, baking powder, and salt. I find this is best mixed into the batter in thirds, alternating with the buttermilk.
Beat in buttermilk.
Scoop into muffin pan. A cookie scoop is perfect for this (and I've linked to my favorite one down below).
Bake. Once baked, cool completely before decorating.
Helpful Tip!
For the perfect cupcakes, have all the cold ingredients at room temperature before you start mixing. Room temp ingredients will always mix together better and more fully, than cold ones will.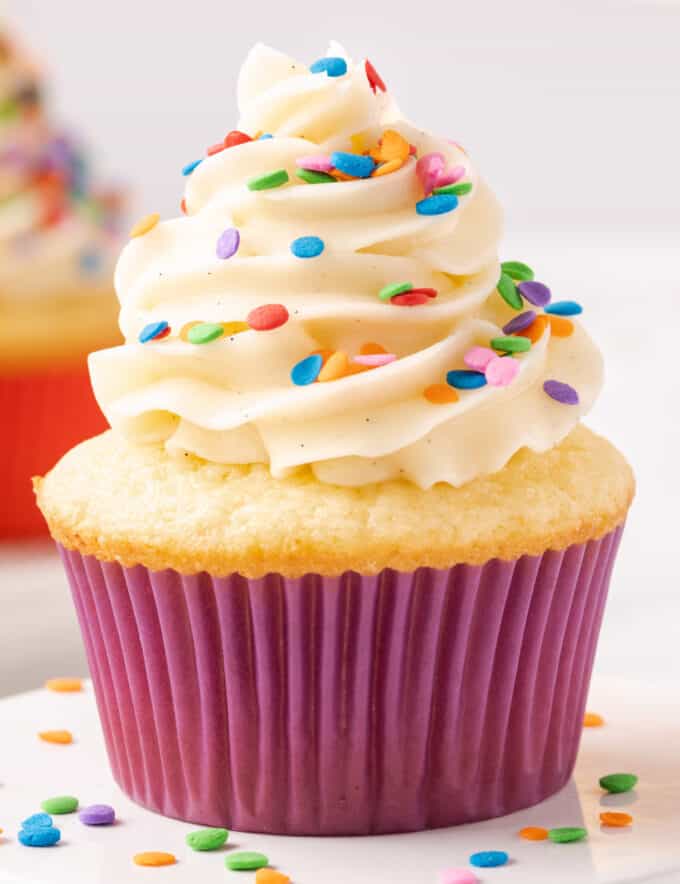 Variations of this recipe
Buttermilk substitute – if you don't have buttermilk on hand, you can make your own! Mix 1 Tbsp lemon juice or white vinegar with whole milk and let it sit about 10 minutes. It will look a bit curdled. Stir and use.
No buttermilk – you could also just use whole milk, but I do highly recommend the buttermilk or buttermilk substitute, because of the way it works with the other ingredients (chemically speaking).
Vanilla bean paste – for an even bigger punch of vanilla flavor, try using an equal amount of vanilla bean paste. It will also give your baked goods those beautiful flecks of vanilla.
Funfetti – to add a fun spin for the kiddos, you can add some sequin sprinkles or jimmies sprinkles to the finished batter. Just try not to stir more than necessary, otherwise the color can leech into the batter.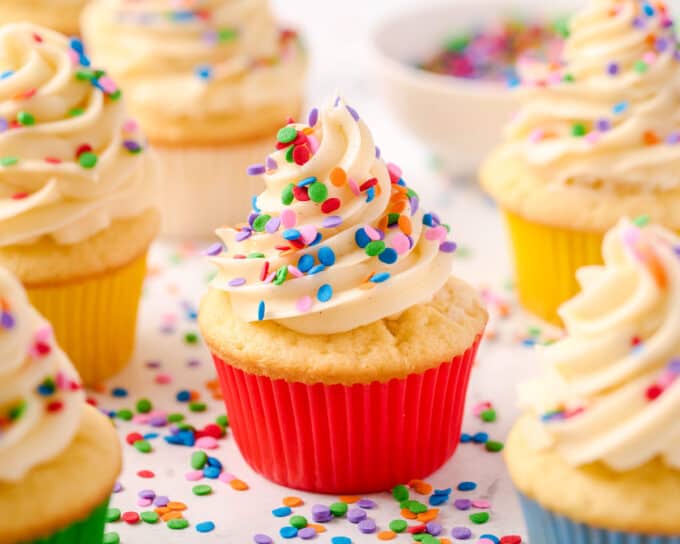 FAQ's
Can you freeze baked cupcakes?
Yes, for up to 3 months. See the section below titled "Freezing" for all the directions.
Can this batter be baked into cakes instead?
You can bake the batter in traditional round cake pans – bake times will vary depending on size, but two 8" rounds will bake for about 30 minutes or a sheet cake (9×13) will bake for about 35 minutes.
Making cupcakes ahead of time
Cupcakes are great to make ahead of time, because when stored properly, they can last a couple of days before frosting.
I don't usually like to make mine more than a day ahead of time, just because I want the ultimate fluffy and moist texture.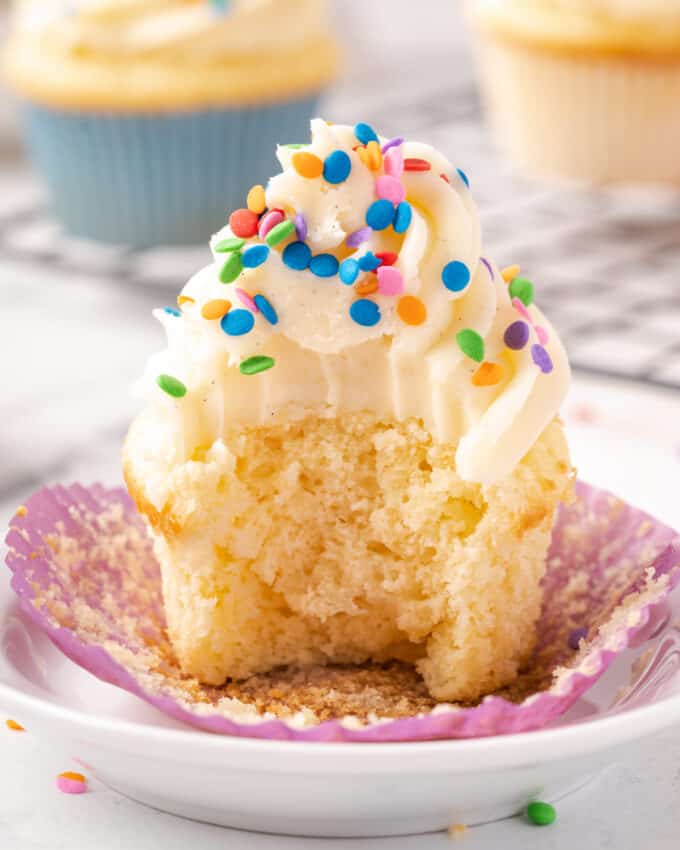 Storage
Leftover, frosted cupcakes can be stored at room temperature for up to 3 days, in an airtight container.
Unfrosted cupcakes can be stored at room temperature for up to 3 days, in an airtight container.
Unfrosted cupcakes can also be frozen for up to 3 months.
Freezing
To freeze unfrosted cupcakes, add cupcakes to a baking sheet and place the whole thing in the freezer for about 2 hours, or until hard.
Wrap frozen cupcakes individually in plastic wrap, then transfer to an airtight freezer-safe container, label it with the date, then freeze.
Thaw overnight in the refrigerator before frosting.
Tips for perfect cupcakes!
Room temperature ingredients. As I mentioned earlier in the post, the ingredients will all mix together better if they're room temperature.
Be careful with how much you're mixing. Over mixing can leave you with a tough, overly dense cupcake. Just mix the dry ingredients into the batter until no flour streaks remain as you stir.
Pay attention to how much you're filling the cupcake liners. Follow what the recipe suggests for how full to make them. Fill them too much and they can overflow, too little and they won't even reach the tops of the liners.
For optimal results, bake one pan at a time. I know it's a hassle, and most of the time, I'm guilty of cramming two pans in there side by side (but then rotating and switching sides halfway through baking). But when you're starting out, or want perfect cupcakes, bake one pan, and put the pan right in the middle of the center rack.
Let them cool. Don't try to frost a cupcake that's still warm, it'll end up a big ol' mess. Let the cupcakes cool, then pile up that frosting as high as you'd like!
Follow the recipe. This may seem like a no-brainer, but there's a reason the recipe is written the way it is; because it works that way. With cooking you may be able to swap out ingredients, guess on the measurements, etc, but with baking you really don't want to do that. Only use any substitutions specifically mentioned, and follow everything to the letter.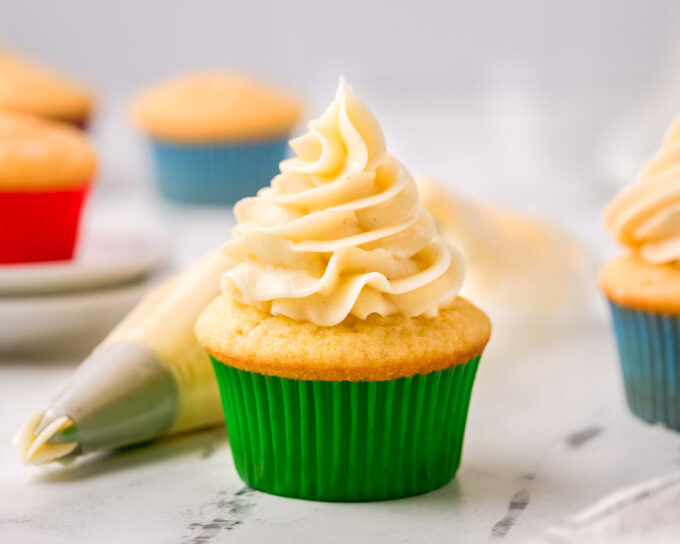 Cookie scoops are perfect for scooping the perfect amount of batter every time. This size is perfect for muffins/cupcakes!
Did you make this? Be sure to leave a review below and tag me @the_chunky_chef on Facebook and Instagram!
These vanilla cupcakes are the perfect blend of fluffy, soft, and moist!
Ingredients
2 1/2 cups all purpose flour
2 1/2 tsp baking powder
1 tsp kosher salt
1 cup unsalted butter softened to room temperature
1 2/3 cups granulated sugar
4 large eggs
1 Tbsp vanilla extract the real stuff, not imitation
1 cup buttermilk
Instructions
Prepare
Preheat oven to 350°F, then line two 12 count muffin pans with cupcake liners.  Set aside.

In a mixing bowl, add the flour, baking powder and salt.  Whisk to combine, then set aside.
Cream butter and sugar
To the bowl of a stand mixer fitted with the paddle attachment (or large mixing bowl and use a hand mixer), add butter and sugar.  Beat on MED speed until light in color and fluffy.
Make batter
Add eggs one at a time, beating after each addition, scraping down the sides as needed.  Add vanilla, beating until combined.

Add about 1/3 of the flour mixture, beating on LOW until combined.  Add half the buttermilk and beat to combine.  Add another 1/3 of the flour mixture, beating until combined.  

Add remaining buttermilk and beat to combine.  Add the last 1/3 of the flour mixture, beating until JUST combined and no flour streaks remain.
Bake cupcakes
Scoop the batter into the cupcake liners (using a cookie scoop is super helpful), filling them about 2/3 of the way full.

Bake in separate batches for best results, with the muffin pan in the center of the middle rack. 

Bake for 19-22 minutes, or until a toothpick inserted in the center comes out with just a few moist crumbs.
Cool and frost
Remove from the oven and let sit for about 3-5 minutes, then transfer cupcakes to a wire cooling rack to cool completely.

Frost with desired frosting, decorate, and serve.
Want to save this recipe for later? Click the heart in the bottom right corner to save to your own recipe box!
Nutrition Disclaimer
The Chunky Chef is not a dietician or nutritionist, and any nutritional information shared is an estimate. If calorie count and other nutritional values are important to you, we recommend running the ingredients through whichever online nutritional calculator you prefer. Calories can vary quite a bit depending on which brands were used.