15 Minute Honey Pepper Beef Stir Fry
---
Fast and easy, yet BIG on flavor!  This beef stir fry with a luscious honey pepper sauce comes together in about 15 minutes… perfect for a weeknight!
---
 Are you sick of my Asian takeout meals yet?  I hope not… because this one is pretty awesome!  It's not too often you can put a meal on the table in 15 minutes… but this one, you can.  The nature of a stir fry is that it's quick-cooking, but with the delicious honey garlic pepper sauce, it tastes like you slaved over it for much longer.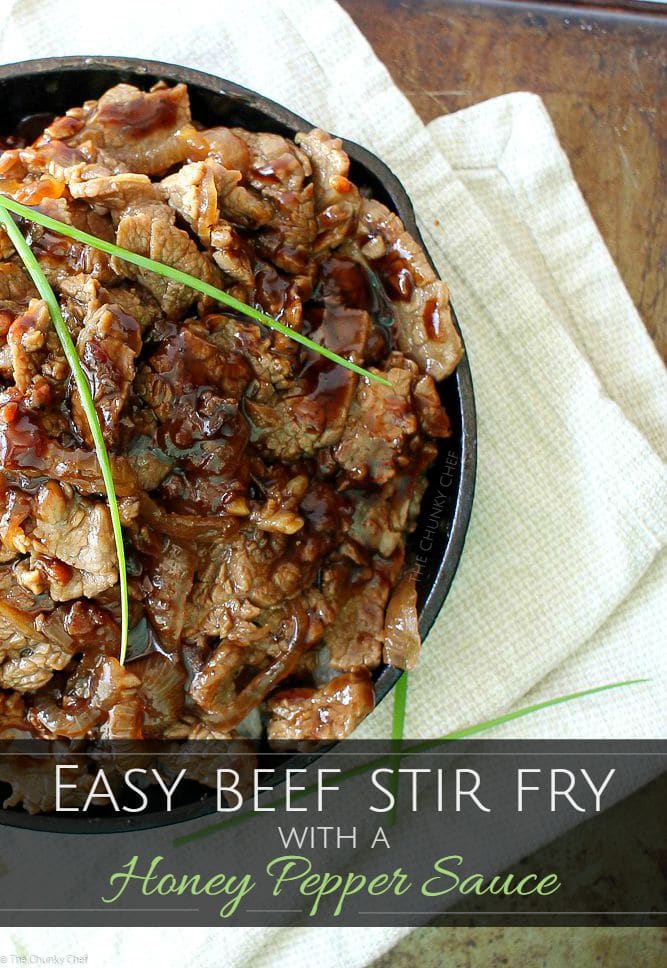 I know,  I know… another takeout-style meal… I must be nuts right?  This meal is too delicious to not share with you all.  I can't take credit for this recipe, it comes from my friend and recipe genius, Nagi from RecipeTin Eats 🙂  Her blog is just filled to the brim with delicious recipes and gorgeous photos!  I've made so many of her recipes, and I knew this one would be a winner.
The only real change I made was to add a bit more garlic (because I'm a garlic freak!), add a bit of sriracha, and to serve it with sesame seeds and a few snips of chives.  And like a spaz… I forgot to take any step by step photos for this one.  Although really, there's not much to show.  It's about as simple as a recipe gets… and only takes 15 minutes!  Eeeeeek, love that!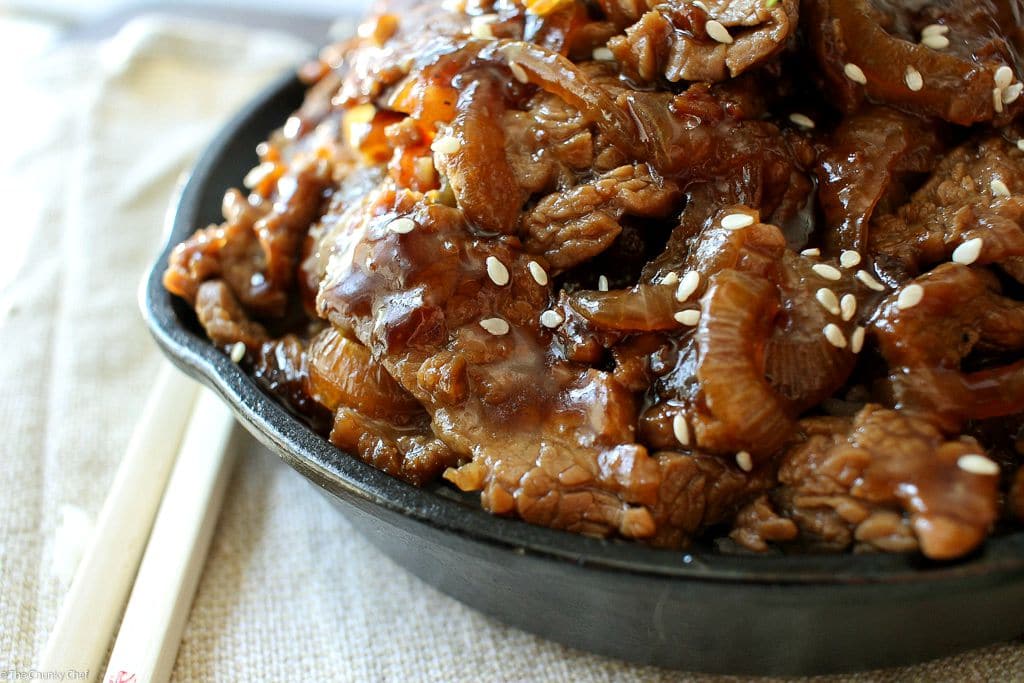 That sauce…. O.M.G.  It's phenomenal… you might  will want to eat it by the spoonful 😉  Just 7 ingredients, yet it tastes like a complicated exotic sauce!
One of my favorite parts about this recipe is that the prep work (slicing the onion and beef and mincing the garlic) takes longer than the actual cooking lol.  So that means you can make this even faster by prepping things earlier in the day.  That's what I did here… I sliced my steak and kept it in the refrigerator in a sealed bag, sliced my onion and garlic and kept it sealed in the fridge, and cooked my rice earlier in the day as well.  When it came time for dinner, it took me about 5-6 minutes to get dinner on the table.  Now that, my friends, is what I call a fabulous weeknight dinner!!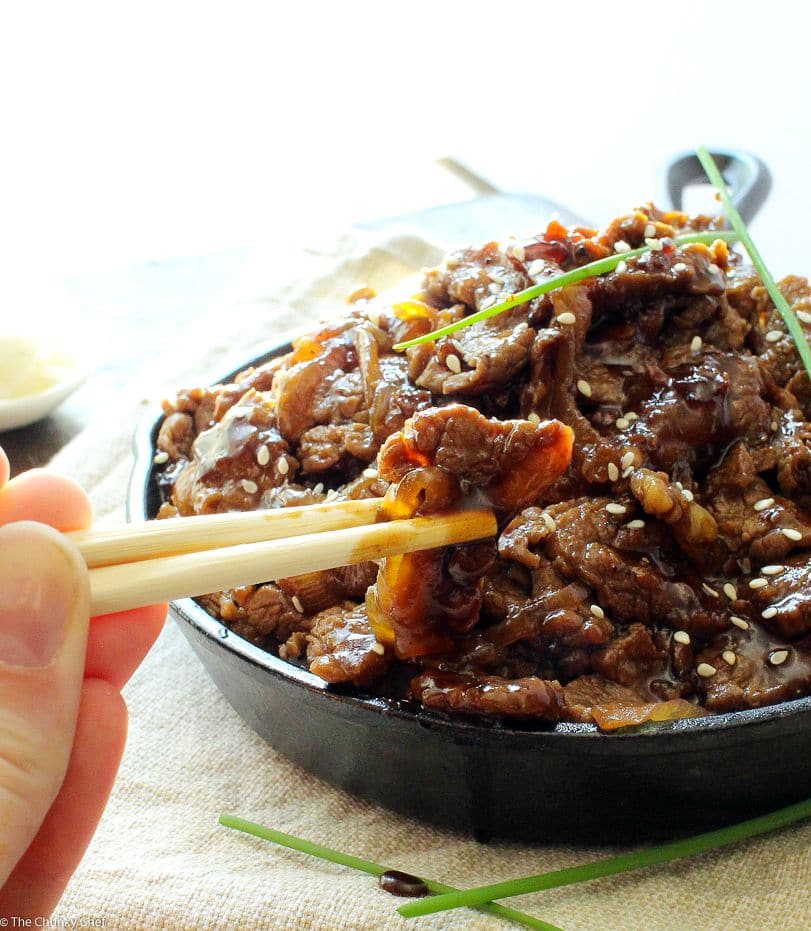 Don't be fooled by that picture… I'm soooo not coordinated enough to eat with chopsticks lol.  In fact, it took an embarrassingly long time just to get that little bit to take this photo!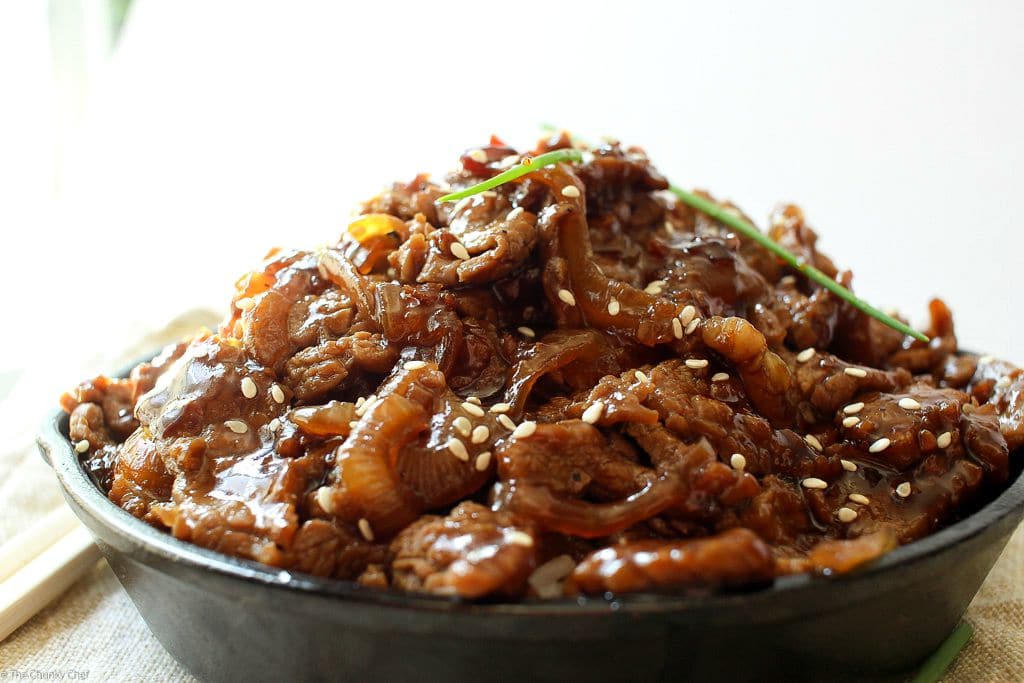 You could easily add some colorful veggies to this stir fry… I do it sometimes as well.  My favorite thing to do is to serve some spicy string beans alongside!
I hope you guys give this one a go… and be sure to stop by RecipeTin Eats and check out more of Nagi's amazing recipes!
---
Never miss a recipe!
[mc4wp_form]
You can find me on Facebook, Twitter, Pinterest, Instagram and Google +, so follow me if you'd like… I love keeping in touch with all of you 🙂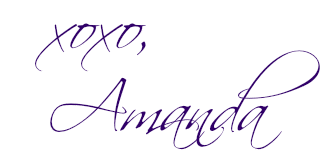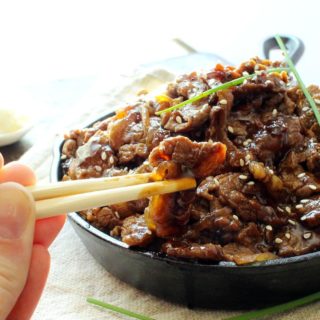 15 Minute Honey Pepper Beef Stir Fry
Fast and easy, yet BIG on flavor! This beef stir fry with a luscious honey pepper sauce comes together in about 15 minutes... perfect for a weeknight!
Ingredients
SAUCE:
3 Tbsp soy sauce
3 Tbsp honey
1 1/2 Tbsp oyster sauce
2 Tbsp Chinese cooking wine - or substitute with beef stock
2 Tbsp water
1 tsp sriracha sauce
1/2 tsp ground black pepper
STIR FRY:
1 1/2 Tbsp peanut oil - or vegetable oil
2 cloves garlic - minced
1 in small onion - sliced half
1 lb flank steak - sliced thinly, across the grain
Instructions
Combine sauce ingredients in a small mixing bowl, whisk and set aside.

Add oil to a large heavy skillet (or wok if you have one) and heat over HIGH heat until oil is very hot and smoking slightly.

Add onion and garlic to the skillet and saute for 1 minute, careful not to let the garlic burn.

Next, add the sliced flank steak and stir fry for about 1 minute. Slide beef, onion and garlic onto a plate and set aside.

Reduce the heat to MED/MED HIGH and add the whisked sauce to the skillet.

Cook for 1 minute, until sauce becomes thicker and syrupy.

Add the beef, onion, and garlic back to the skillet (make sure to get all the juices that were on the plate too, that's flavor!).

Heat until warmed through and coated in the sauce.

Be sure not overcook the beef - you want tender pieces of steak, not chewy ones!

Serve sprinkled with sesame seeds and chopped chives/scallions if desired.
If changing the recipe serving quantity, the recipe plugin will change the ingredient values for you, but it does NOT change the written instructions, those are manually added and not subject to a slider/button. You will have to extrapolate that multiplication to any amounts listed in the instructions.
For example: if an ingredient calls for 4 cups, and you doubled the recipe, it will automatically change to 8 cups. In the instructions, if I say "use 4 cups of cheese", you will have to realize that since you doubled it, you use 8 cups, not 4