This Baked Crusted Dijon Salmon is light and flaky, and ready in just 30 minutes. Tender salmon filets are brushed with a honey dijon butter, then crusted with a mixture of breadcrumbs, pecans, and herbs and spices. It's the perfect quick and easy weeknight dinner!
This is one of my Seafood recipes I know you'll want to keep on hand!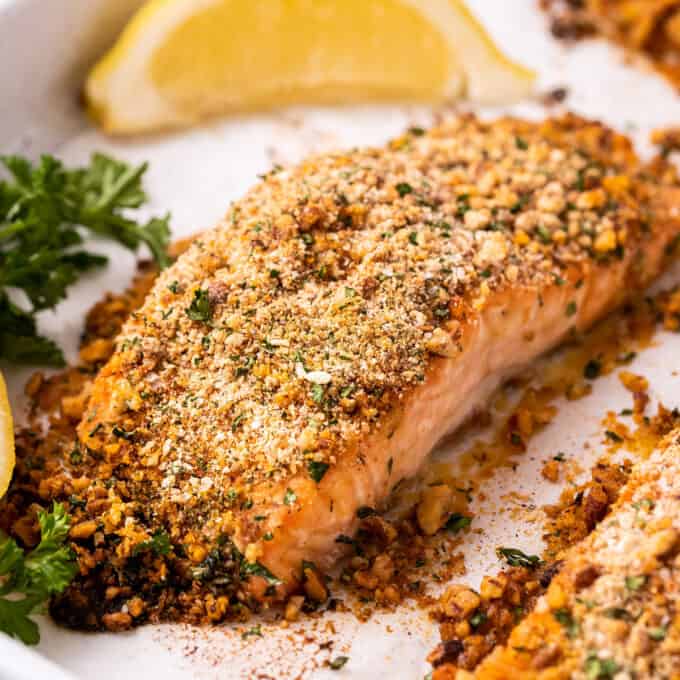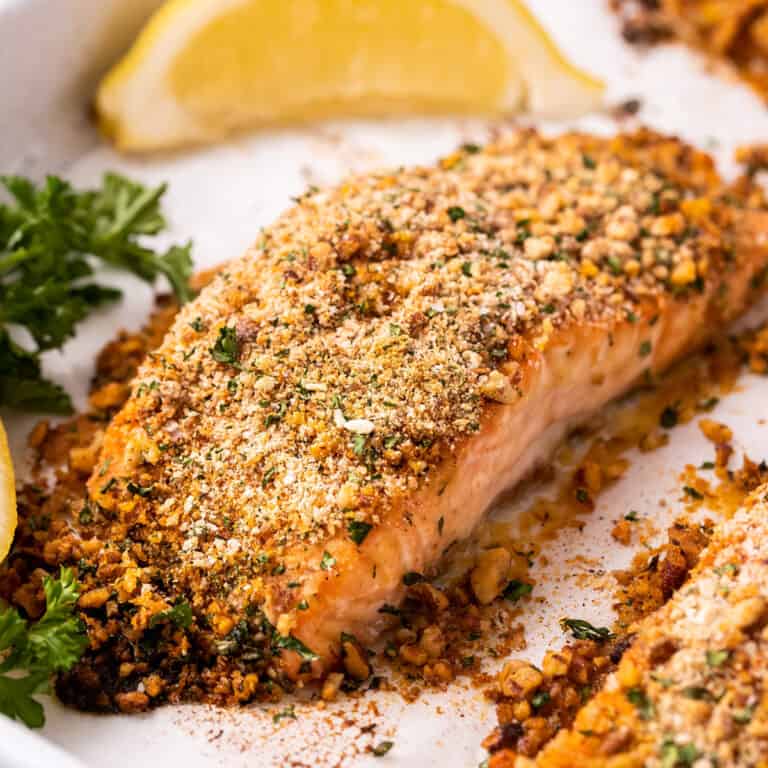 I've been a salmon fan since last year when I shared this Honey Garlic Glazed Salmon that you guys have absolutely fallen in love with! And who could blame you!
Since then I've been whipping up some new salmon recipes, and I know you'll really love this one.
We all know how nutritious salmon is… loaded with omega 3's, high in protein and tons of vitamins, so I'm glad I can enjoy those benefits. And now, so can you!
You won't believe how such a simple recipe can pack SO much flavor. And it's ready in just 30 minutes!
How to make baked crusted dijon salmon?
This is just an overview; the full ingredients and directions are in the recipe card toward the bottom of this post.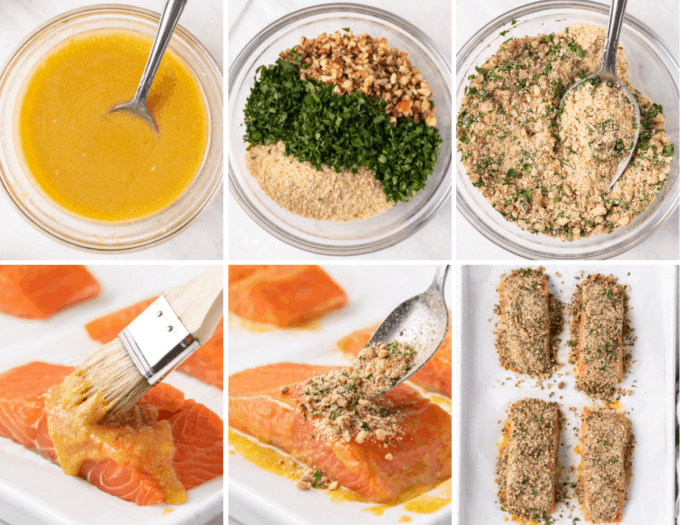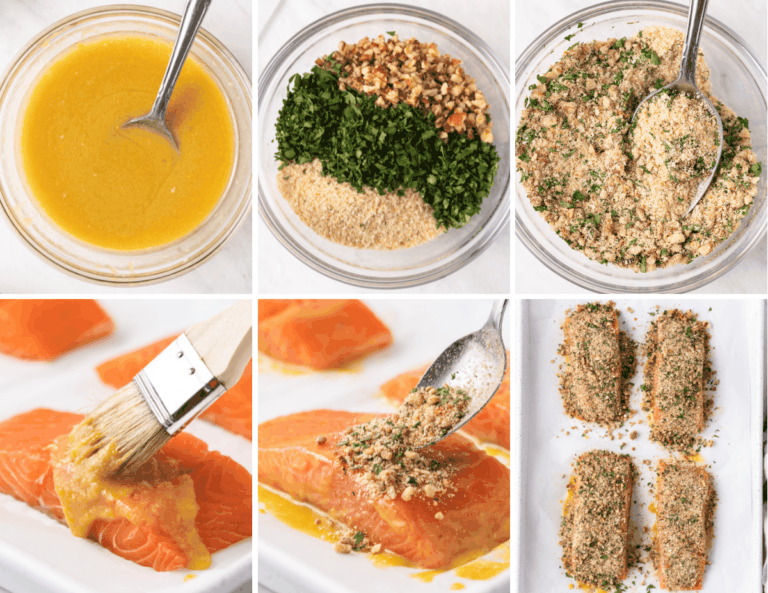 Mix dijon butter. Set aside.
Mix breadcrumbs. Stir together the breadcrumbs, pecans, parsley and spices.
Brush salmon. Liberally brush the dijon butter over the salmon filets on baking sheet.
Crust salmon. Add breadcrumb mixture and lightly press into the salmon.
Bake. Until salmon flakes easily with a fork.
Helpful Tip!
I prefer to buy fresh salmon from the seafood counter of my grocery store, instead of frozen filets in bags, since those tend to be very thin. Cooking Light has a great article on how to pick the best salmon at the grocery store. Also, salmon can go "off" or bad pretty quickly, so I prefer to buy my salmon no more than 1 day ahead of time.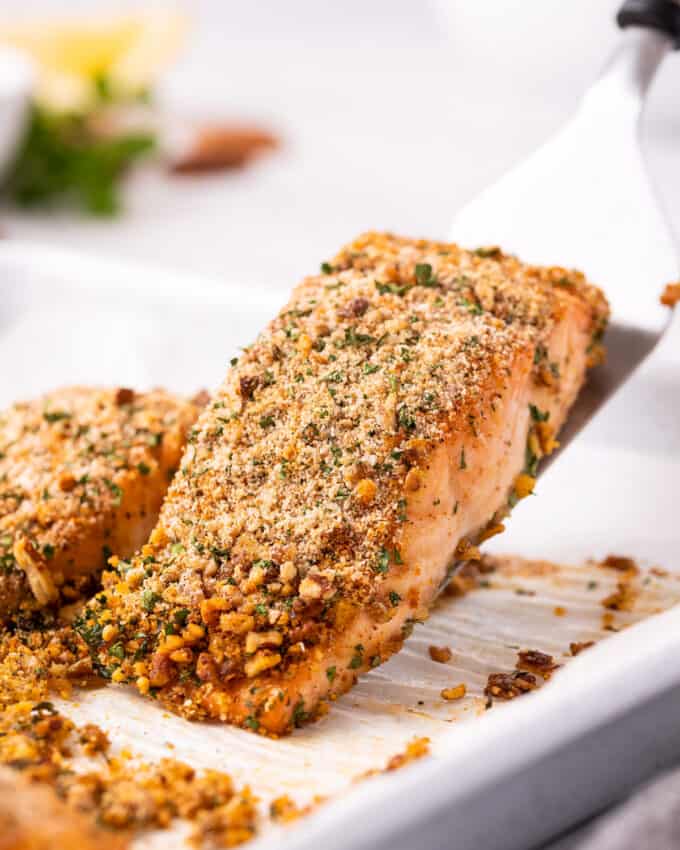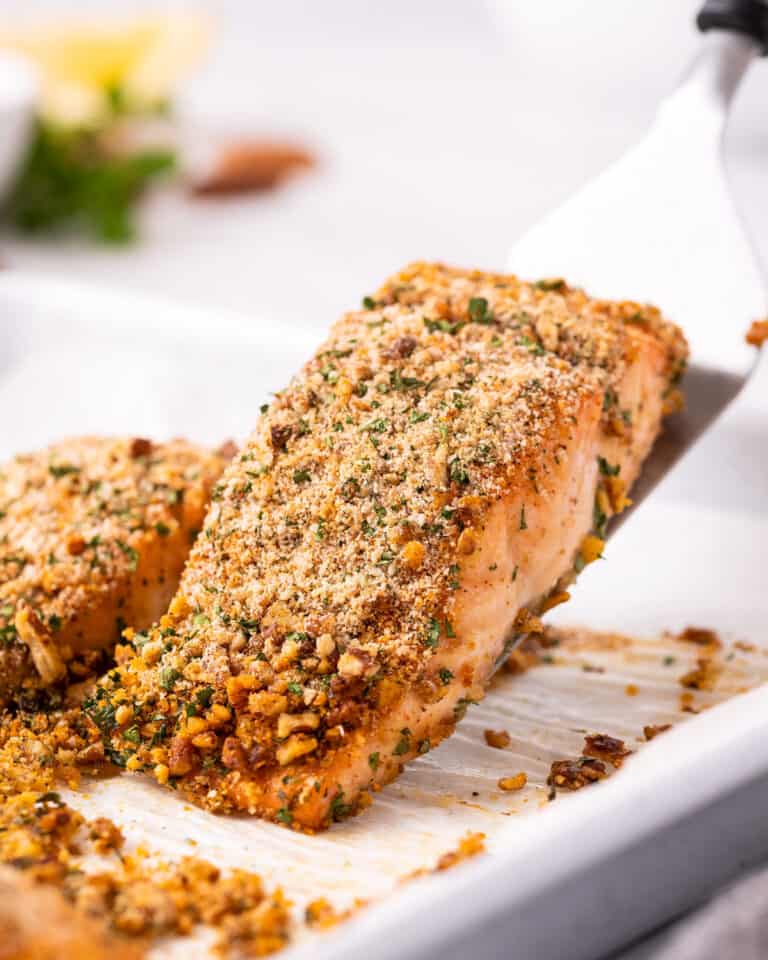 Variations of this recipe
Types of salmon – where I'm located, Atlantic salmon is what's most readily available, but your favorite type of salmon will work in this recipe.
Breadcrumbs – if you have whole wheat or gluten-free breadcrumbs on hand, those will work in this recipe as well.
Sauce ratio – if you'd like a bit more sweetness, add more honey. More tang? Add more dijon. More richness? Add more butter.
Air fryer – I haven't tested this recipe specifically in the air fryer, but I'm sure it could be cooked in one. See the FAQ about the air fryer below for more details.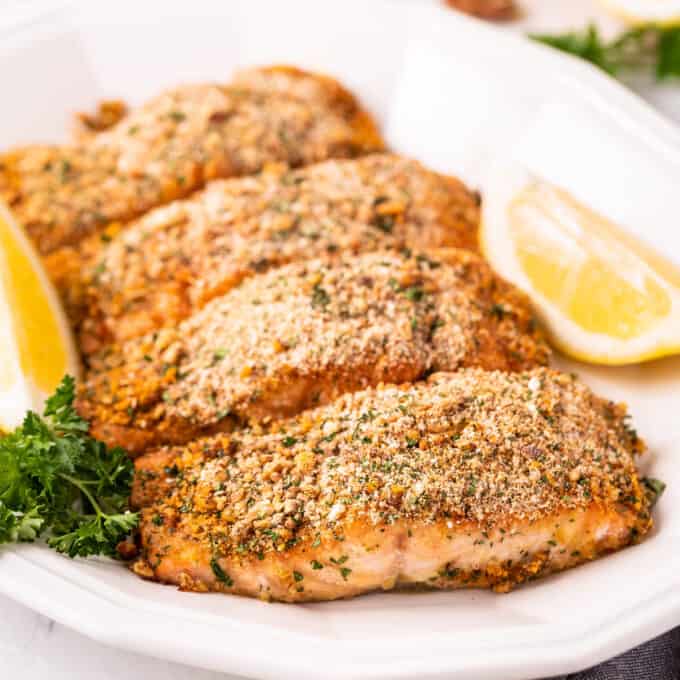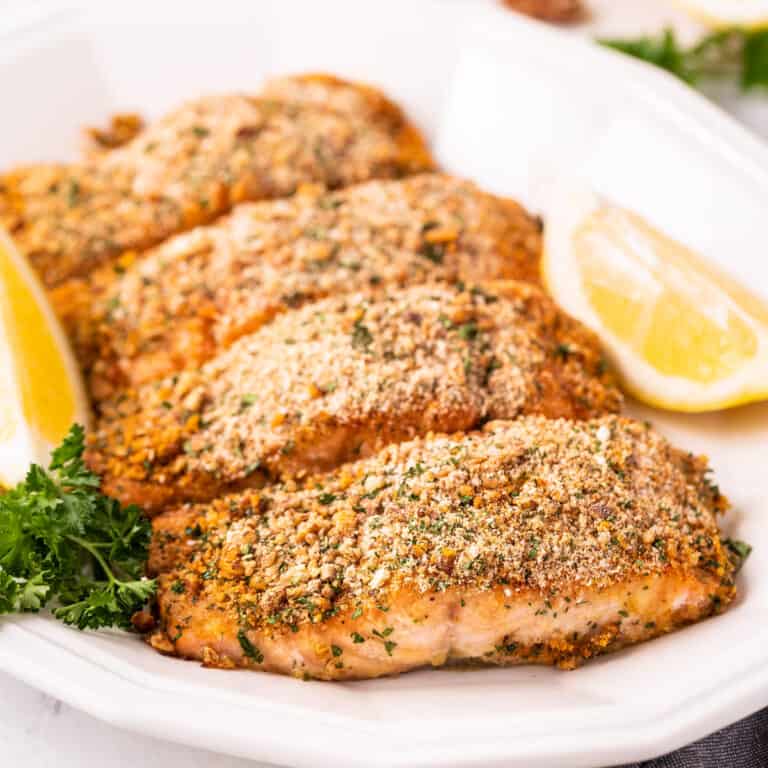 FAQ's
Is this recipe keto or low carb?
I don't believe this recipe would be considered keto, since it uses honey and breadcrumbs. However, there may be keto or low carb alternative to those ingredients that would work well for this recipe. I do think it would generally be considered lower carb, since my calculator shows a serving of this recipe as containing 14g carbs. I do advise running this recipe through your own nutritional calculator, since I'm not running a health-focused site, I wouldn't want to inadvertently pass out any incorrect information.
Should salmon be covered when cooked in the oven?
Some recipes for baked salmon do call for it to be covered, since it helps to prevent the salmon from getting overcooked and dried out. This recipe, however, does not need to be covered. The butter/mustard/honey sauce keeps the fish moist and keeping the salmon UNcovered means the breadcrumb/nut topping gets nice and crispy.
Can this salmon recipe be made in an air fryer?
I haven't officially tested it, but I'm pretty sure it could be! I would set air fryer to 400°F and preheat for a few minutes. Air fry for about 8-10 minutes, or until salmon reaches an internal temperature of 145°F or flakes easily with a fork.
Making crusted salmon ahead of time
Since seafood tastes best when made fresh, I don't recommend making this recipe ahead of time.
However, you can definitely prep ahead if you'd like.
Dijon sauce – you can mix up the butter, dijon and honey sauce, and store covered in the refrigerator for a day or so. You may need to heat it up slightly, since the butter may solidify.
Breadcrumb mixture – you can mix up the breadcrumb mixture and keep it in an airtight container for a day or so.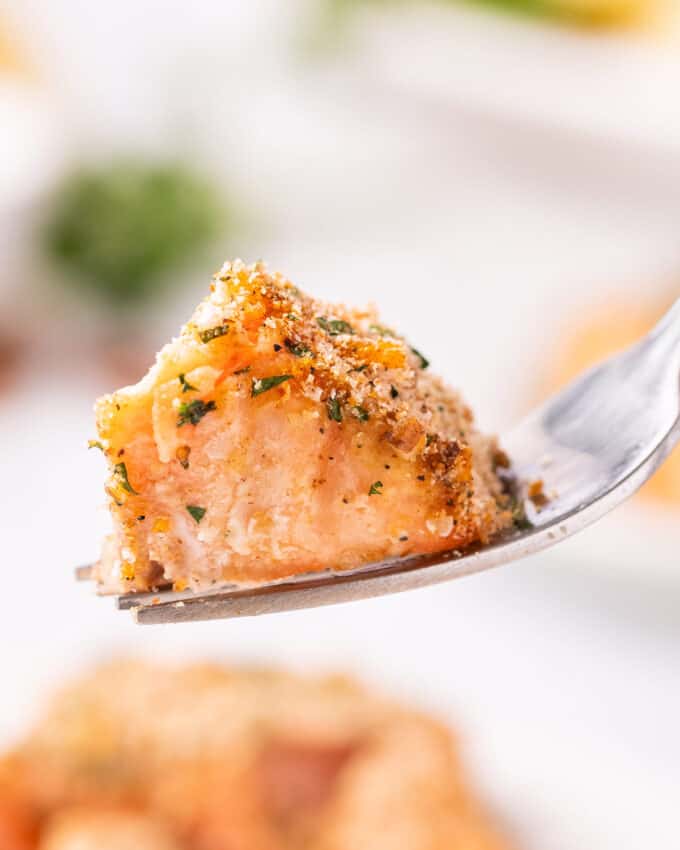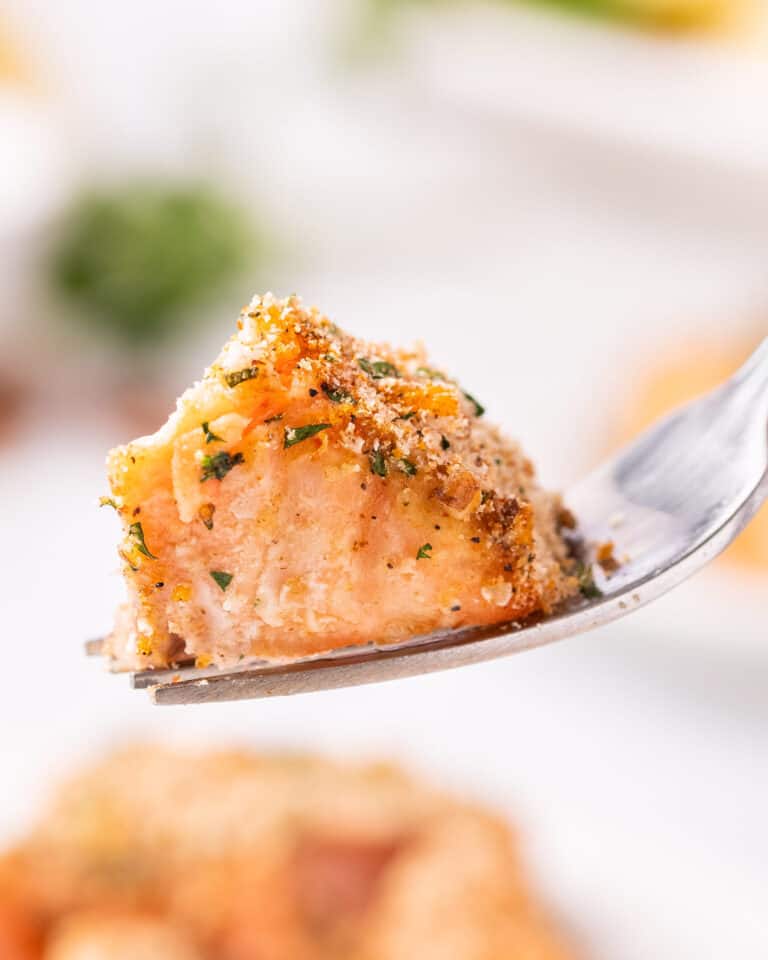 Storage
Any leftover salmon should be refrigerated in an airtight container and consumed within 3 days.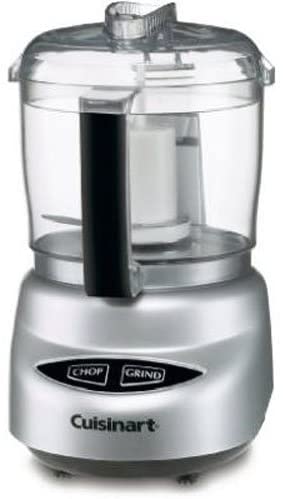 I have a huge food processor that's great for other purposes, but more often than not, I pull out this little guy. The food processor works like a champ, is relatively inexpensive, and easy to clean!
Did you make this? Be sure to leave a review below and tag me @the_chunky_chef on Facebook and Instagram!
This Baked Crusted Dijon Salmon is light and flaky, and ready in just 30 minutes. Tender salmon filets are brushed with a honey dijon butter, then crusted with a mixture of breadcrumbs, pecans, and herbs and spices.
Ingredients
1/4 cup unsalted butter melted
3 Tbsp dijon mustard
1 1/2 Tbsp honey
1/4 cup plain breadcrumbs regular or panko
1/4 cup very finely chopped pecans
4 tsp minced fresh parsley
4 (6 – 8 oz each) salmon filets skin on, or skinless
1/4 tsp kosher salt
1/4 tsp black pepper
1/4 tsp paprika
lemon wedges for garnish
fresh parlsey for garnish
Instructions
Preheat oven to 400°F and line a rimmed baking sheet with parchment paper.  Set aside.

In a small mixing bowl, stir together butter, mustard and honey.  

In another small mixing bowl, stir together breadcrumbs, pecans, parsley, salt, pepper, and paprika.

Add salmon filets to prepared baking sheet.  Pat dry with paper towels, then brush each filet with mustard mixture, on the top and the bottom.

Sprinkle the tops of the filets evenly with breadcrumb mixture, pressing gently into the salmon.

Bake 12-15 minutes, until salmon flakes easily with a fork.

Serve garnished with lemon wedges and/or a sprinkle of extra minced fresh parsley.
Want to save this recipe for later? Click the heart in the bottom right corner to save to your own recipe box!
Chef Tips
The USDA recommends cooking salmon to an internal temperature of 145°F, which is measured in the thickest part of the salmon filets.  Keep in mind, salmon will continue to cook a little more after it has been removed from the oven, so I feel safe pulling the salmon from the oven when the internal temperature reaches about 140°F. 
Serving size is 1 salmon filet.
Nutrition Disclaimer
The Chunky Chef is not a dietician or nutritionist, and any nutritional information shared is an estimate. If calorie count and other nutritional values are important to you, we recommend running the ingredients through whichever online nutritional calculator you prefer. Calories can vary quite a bit depending on which brands were used.