Now that schools are mostly back in session (at least around here) if you're like me, you're searching for yummy things to give to your little ones for breakfast.  Muffins are always a big hit, and especially blueberry muffins!
These are decadent, and definitely not your average blueberry muffins!  Don't let the long name fool you, these aren't difficult to make, there's just two extra steps.  They can be omitted if you don't want to do them, but I highly recommend both the crunchy streusel topping and the mascarpone glaze… they add such great flavor and texture to the muffins!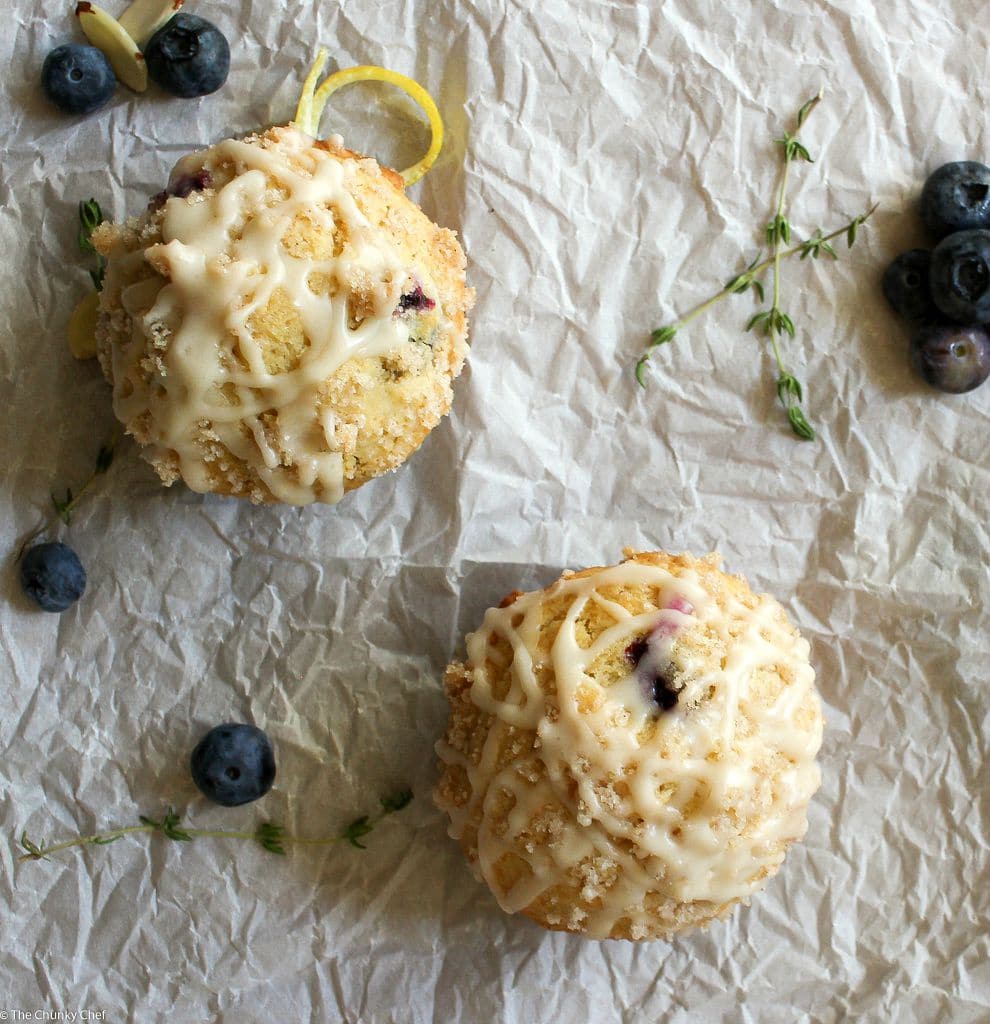 For the base of this muffin recipe I used Sally's Baking Addiction's master muffin mix recipe, then tweaked it a little and added my own flair to it.  Her master muffin mix recipe really is just that… it's an awesome base that you can use, then add in your own flavors and textures!
I love making muffins because I don't need my mixer.  I love my stand mixer, don't get me wrong, but sometimes it's nice to not have extra dishes to wash!  All you need for these is a bowl, whisk and rubber spatula.
In fact, if you were to use a mixer for these muffins, you have a really high chance of over-mixing the batter which is a big no-no.  Over-mixing leads to dense hard muffins… pretty much the exact opposite of what you want muffins to be lol.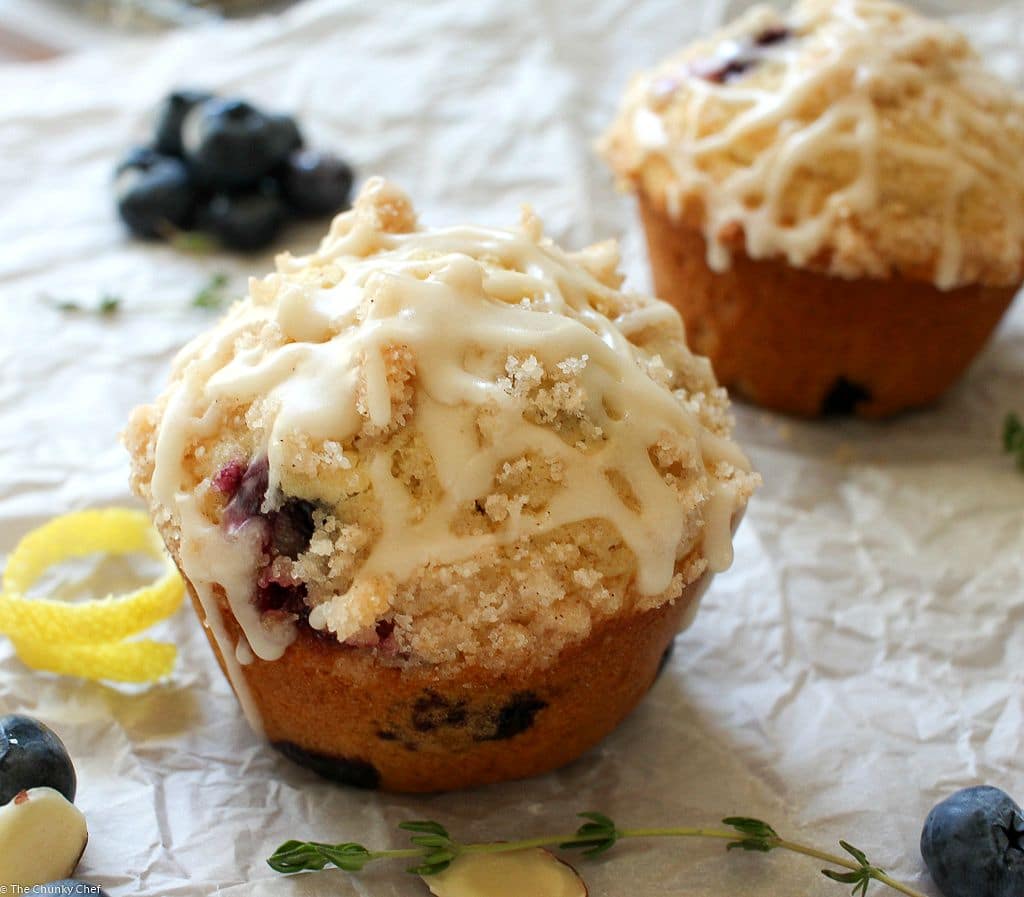 You can use fresh or frozen berries for this, so even in the cold winter months when the fresh blueberries aren't looking so great, you can still make these yummy muffins!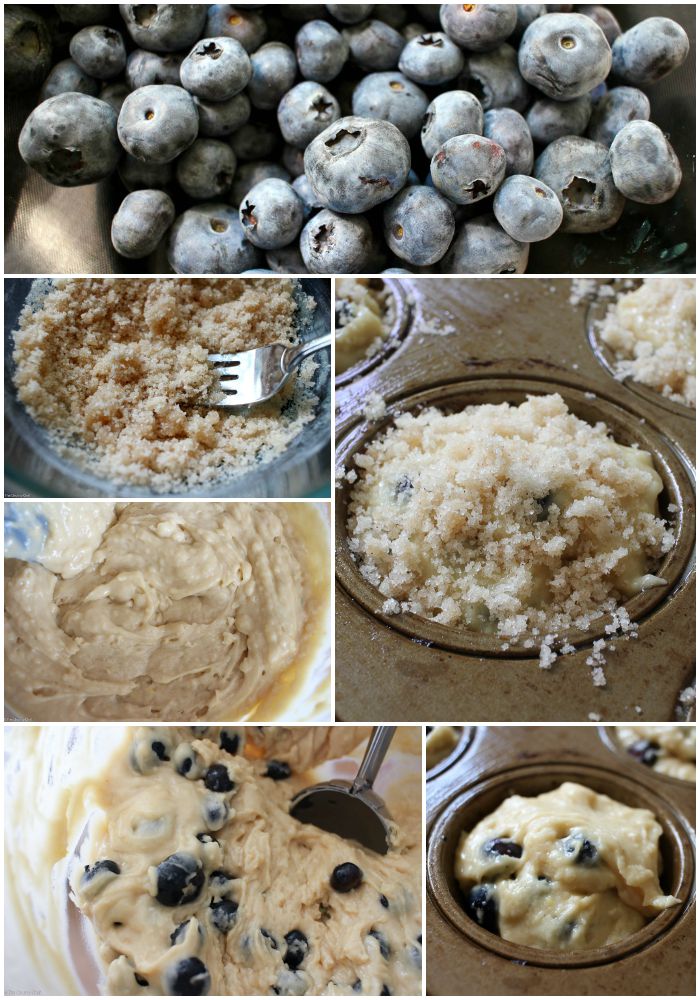 As I learned from Sally's recipe, the secret to getting high muffin tops is twofold… first, the amount of baking powder.  It may seem high, but it won't be bitter.
Secondly, you bake these muffins at two temperatures, and fill the muffin tins all the way up to the top.  425 degrees for 5 minutes, which causes the muffins to rise rapidly, then lower the temperature to 375 for the remainder of the baking time.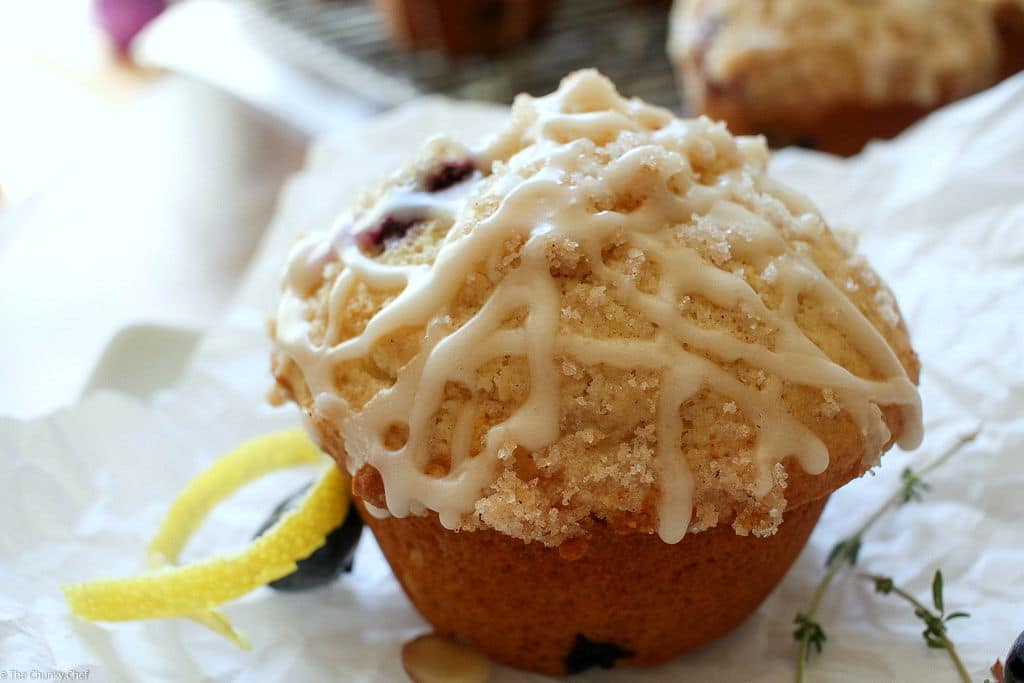 The glaze is really easy to make!  Just whisk it all together!  If you've never had mascarpone cheese before… you should definitely try it.  It's like a super amazing fancy version of cream cheese!
Mascarpone is used in making tiramisu, as well as in cannoli fillings.  It's one of my favorite things to use in desserts.  Although, if you can't find it, or just have some cream cheese in your fridge, you could substitute the cream cheese for the mascarpone in a pinch.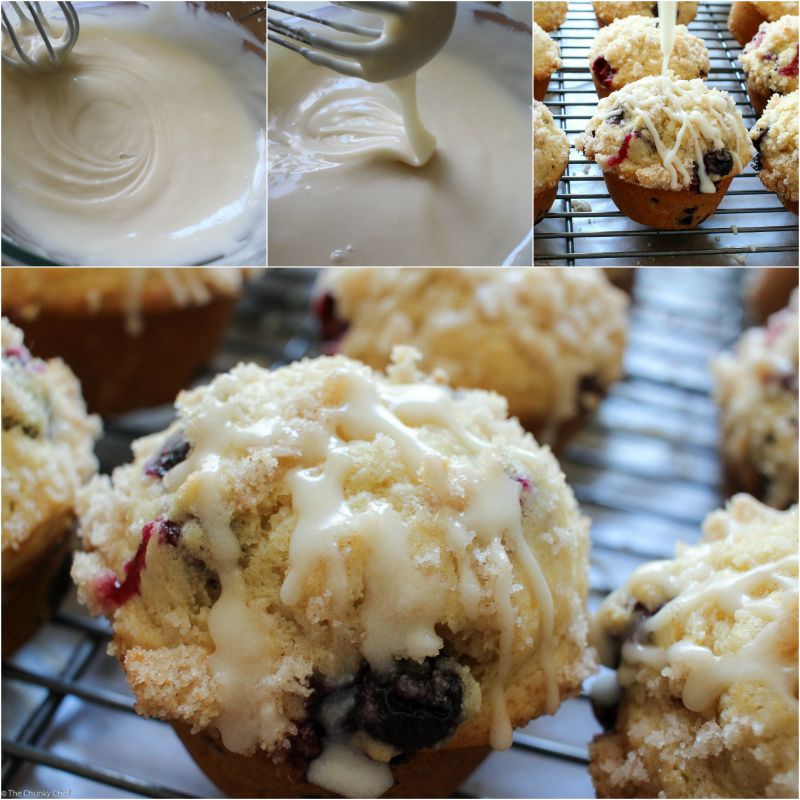 I pretty much licked the whisk clean after I made the glaze… it's that good!  I thought there was enough lemon flavor from within the muffin, but if you'd like more of a lemon punch, add some lemon juice to the glaze.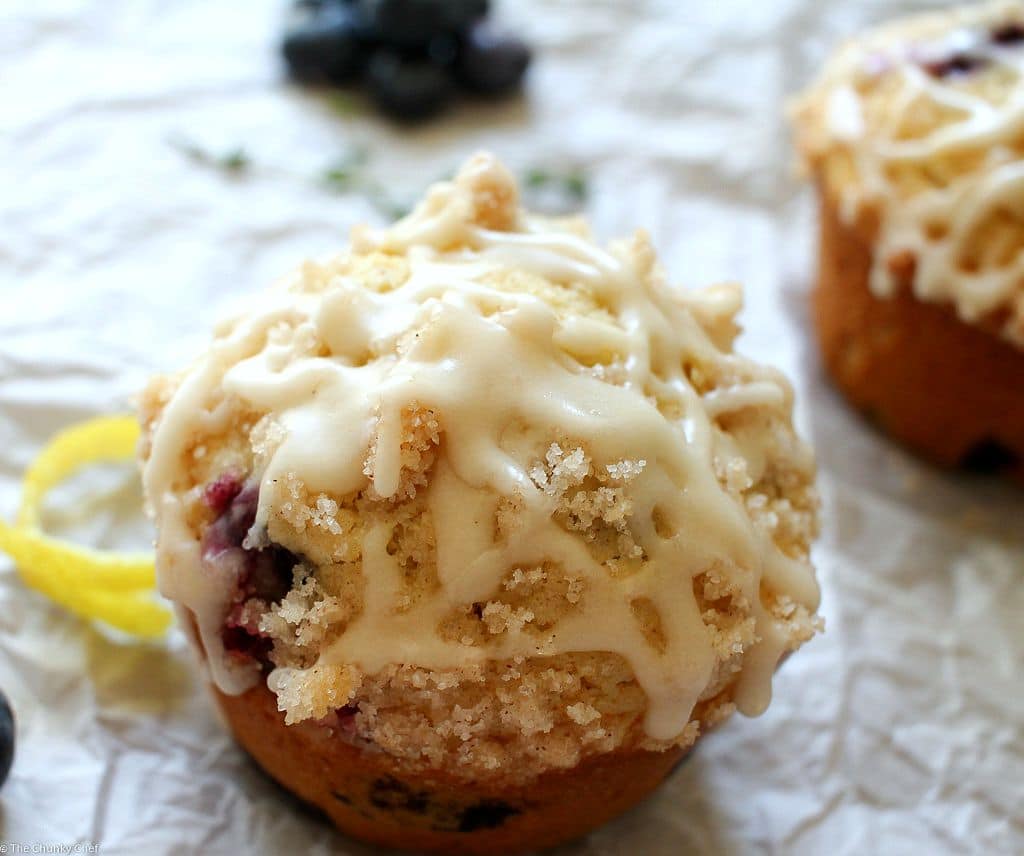 I love the way thyme goes together with lemon, and lemon goes perfectly with blueberries… so I thought, "why not just mix them all together!".  Don't worry, you don't taste a ton of thyme in these muffins… it's more of a back-note that makes you go "wow, what is that?  It's different, but GOOD".  Normally I'd say it's a secret ingredient, but I just gave it away, not so much a secret anymore lol.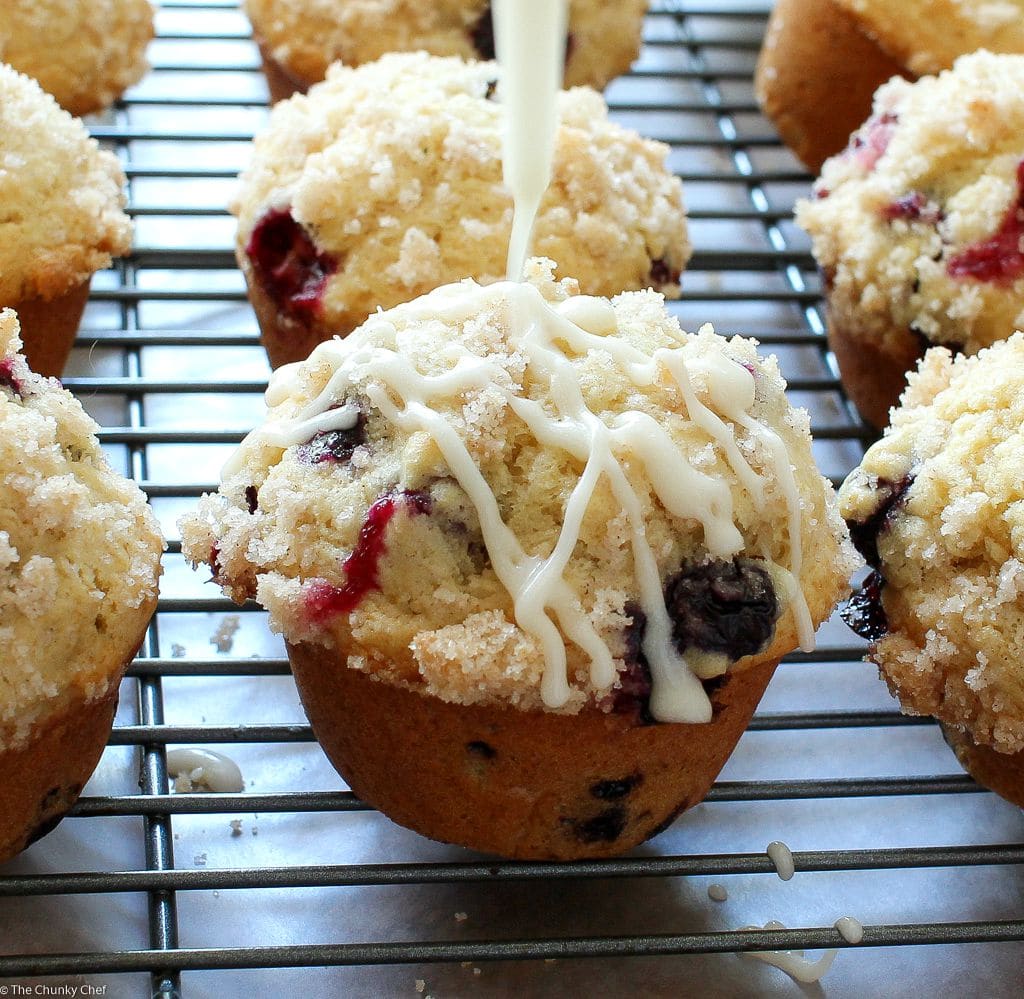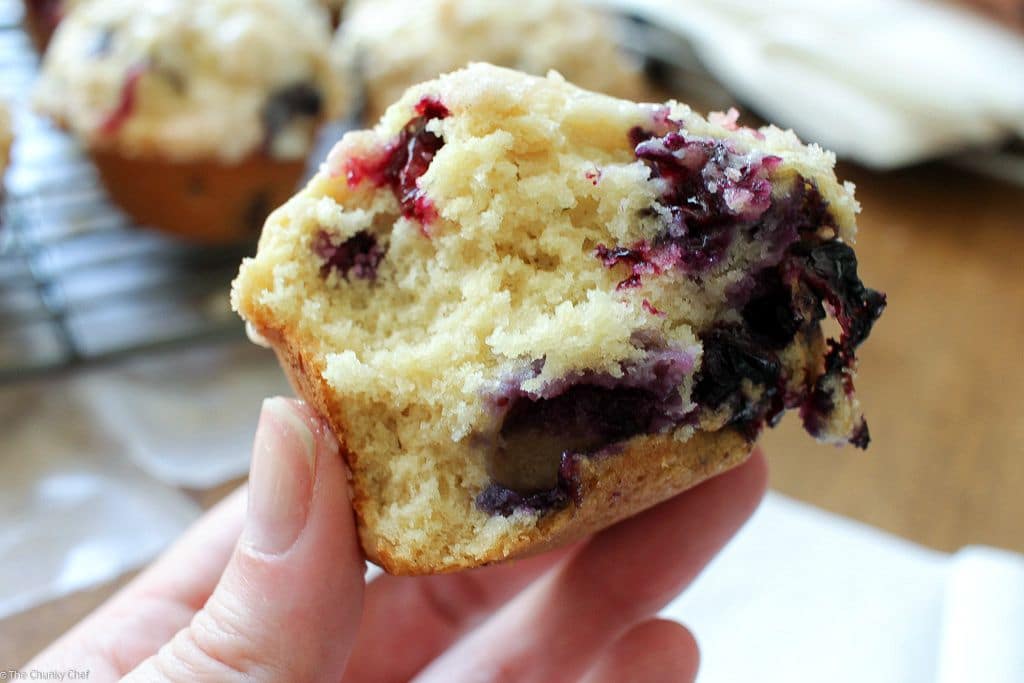 **** TIP:  When measuring your flour for this recipe, don't just scoop the measuring cup into a bag of flour and level it off.  Instead, use a whisk or form to stir the flour around first, then use a spoon to scoop flour into your measuring cup until it's overflowing, then use the back of a knife to level off the cup.  This way you don't end up with a super packed, and heavier, cup of flour.  Baking is an exact science!  For more info on measuring things, I found THIS really helpful article.
Did you make this? Be sure to leave a review below and tag me @the_chunky_chef on Facebook and Instagram!
Delicious bakery style lemon blueberry muffins with a surprise ingredient, streusel topping, and a rich and creamy mascarpone glaze drizzled over the top.
Ingredients
FOR THE MUFFIN MIX:
3 cups all-purpose flour don't over-measure!
3 1/2 tsp baking powder
1/2 tsp salt
1/2 tsp ground cinnamon
2 large eggs at room temperature
1/2 cup granulated sugar
1/2 cup light brown sugar packed
1 cup buttermilk at room temperature
1/2 cup canola or vegetable oil
zest of one lemon
1/4-1/2 tsp fresh thyme leaves chopped
1 tsp vanilla extract
1/2 tsp almond extract
1 1/2 cups blueberries fresh or frozen
FOR THE STREUSEL TOPPING:
1/4 cup sugar
1 Tbsp all-purpose flour
2 tsp unsalted butter melted
pinch of ground cinnamon
FOR THE GLAZE:
1 cup powdered sugar
1 tsp vanilla extract
2 Tbsp milk or half and half
2 Tbsp mascarpone cheese softened
Instructions
Preheat oven to 425 degrees. Spray muffin pan with non-stick baking spray and set aside.

Using a fork or small whisk, mix streusel ingredients together in a small bowl and set aside.

In a medium size bowl, add dry ingredients (flour, salt, baking powder, and cinnamon). Use a whisk to combine all ingredients well, and set aside.

In a large bowl, add eggs and both sugars and whisk them together until combined and smooth. Add oil, vanilla extract, almond extract, lemon zest, thyme, and buttermilk. Whisk until combined and mixture is a pale yellow color.

Using a rubber spatula or wooden spoon, gently mix the dry ingredients into the wet ingredients. Only mix until they are JUST combined. If you over-mix, you'll have a dense muffin.

The batter will be thick and lumpy at this point, that's alright.

To the bowl you had your dry ingredients in, add your blueberries and a tablespoon of all purpose flour. Toss them together until the blueberries are lightly dusted in flour. This helps prevent the berries from sinking to the bottom of the muffins.

Very gently fold the blueberries into the batter, careful not to burst the berries and have them leak.

Scoop batter into the muffin pan, filling each cup up to the top.

If desired, press a few more blueberries into the top of each muffin for presentation.

Sprinkle with streusel topping.

Bake muffins for 5 minutes at 425 degrees and then while the muffins are still IN the oven, lower the temperature to 375 degrees and keep baking for an additional 13-14 minutes.

Muffins are done when a toothpick inserted in the center of the muffin comes out clean.

Cool in the pan for a few minutes then transfer to a cooling rack to continue cooling.

FOR THE GLAZE:

While the muffins are cooling, whisk together glaze ingredients until smooth. It will look like it won't come together, but trust me, it will.

Drizzle glaze over the top of cooled muffins.
Want to save this recipe for later? Click the heart in the bottom right corner to save to your own recipe box!
Chef Tips
** Recipe adapted from Sally's Baking Addiction
** can be made into mini muffins or jumbo muffins... for mini muffins, bake for 11 minutes at 375 degrees the whole time. For jumbo muffins, bake for 5 minutes at 425 degrees, and bake for 25-26 minutes at 375 degrees.
Nutrition Disclaimer
The Chunky Chef is not a dietician or nutritionist, and any nutritional information shared is an estimate. If calorie count and other nutritional values are important to you, we recommend running the ingredients through whichever online nutritional calculator you prefer. Calories can vary quite a bit depending on which brands were used.