Ground beef sliders smothered in melted gruyere cheese, topped with caramelized onions and thyme, peppered bacon and a flavorful A1 mayo!
It seems like over the last 5 years or so, sliders are popping up on the menu in every restaurant!  Who can blame them, sliders are delicious!  Ground beef is spiced up, smashed on a griddle (for that crispy outer edge), topped with some gruyere cheese, caramelized onions, spicy arugula lettuce, peppered bacon strips and a super flavorful cracked black pepper A1 mayo.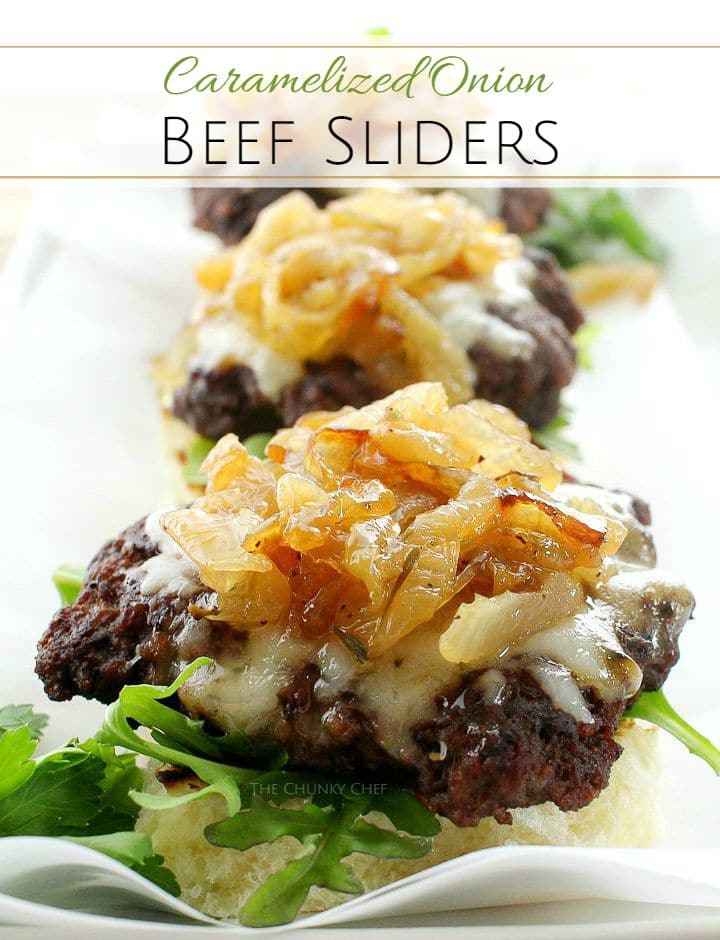 I've lost track of how many times we've had these sliders… they. are. so. good!  I got the idea for them from the ohhhh so talented Karly from Buns in My Oven.  Her version is pretty amazing too, and man, she has some great recipes on her site… definitely check it out!
But you know me, and how I have a pretty impossible time actually following a recipe, so over time, they developed into these sliders, and I knew I had to share them with you all!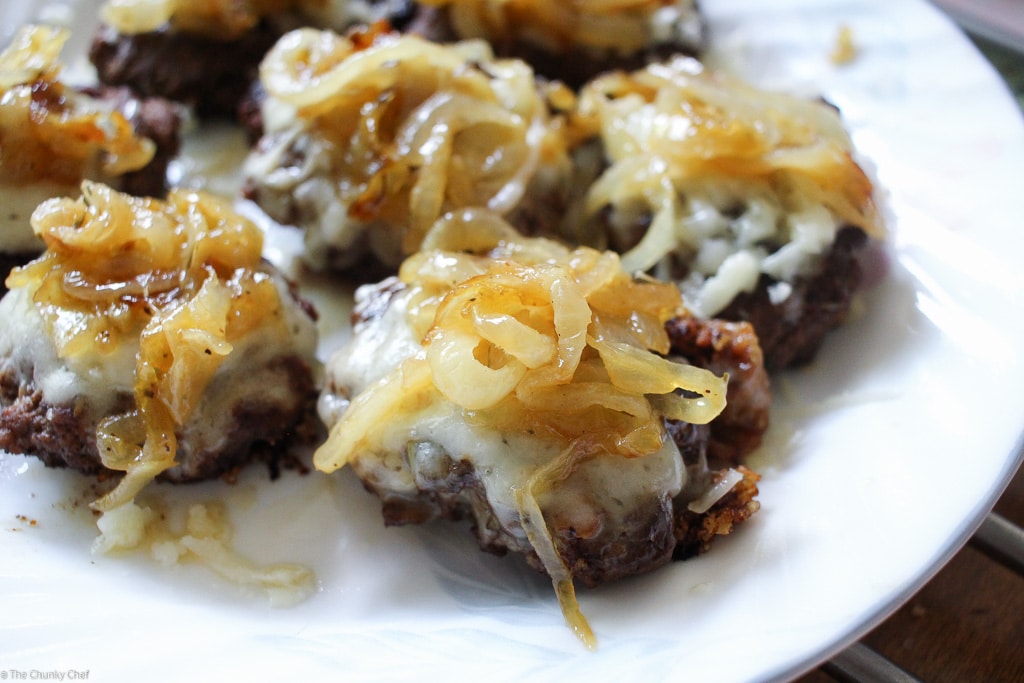 Making them is easy, there's just several components… and the best part is that you can do several of the components ahead of time.  The cracked black pepper A1 mayo can be made a day or so ahead of time, you can caramelize the onions earlier in the day, or even the night before, and you can get your bacon crisped up ahead of time too!  Don't you just love meals like that?  I sure do.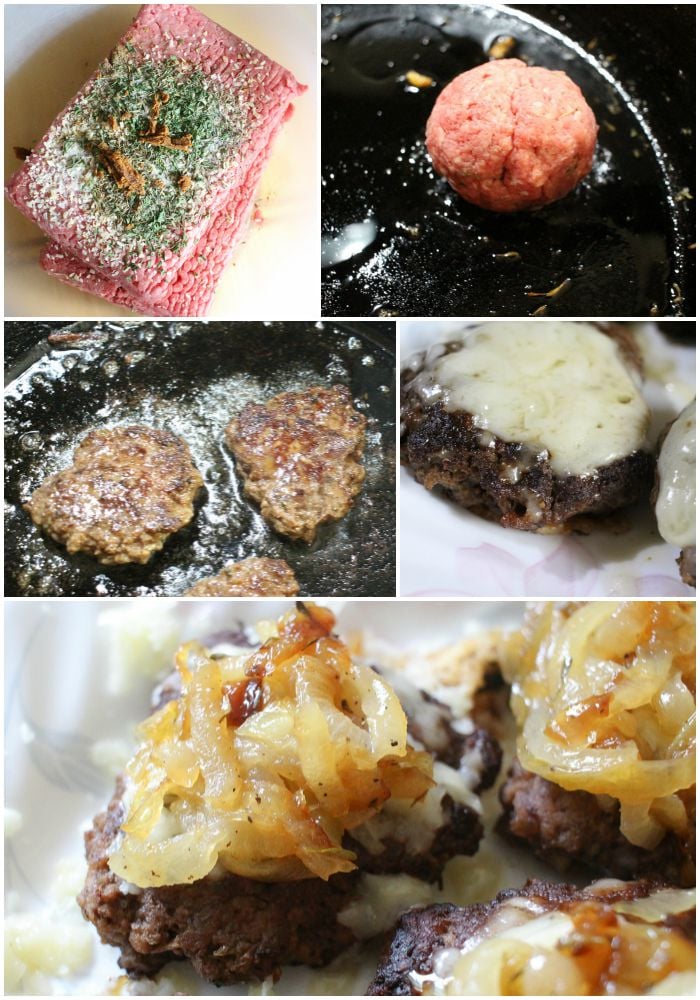 Just mix up the burger mixture and roll them into balls (12 of them).  Butter your griddle or big skillet, (cast iron works amazingly for this) and heat it over high or medium high heat.  You want a really good sear on these burgers!
Place the balls a few inches apart and let them sit there for about 2 minutes or so.  Roll them over and immediately take a large spatula or grill press and smash the burgers down and flatten them out.  Let them cook another few minutes then flip them over and top with grated gruyere cheese.  Cook until the cheese has melted.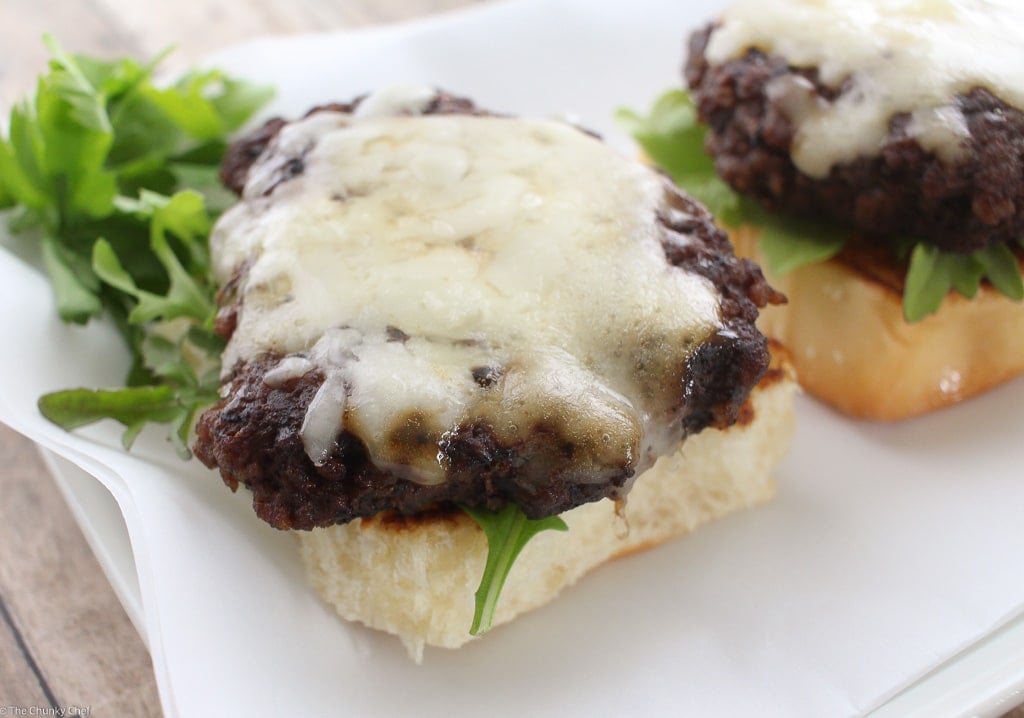 Ohhhh that melted cheese!!  You can pair these burgers with any lettuce you'd like… but arugula is definitely my favorite.  It's so peppery and flavorful.
Now it's time to top those sliders with my favorite part… the caramelized onions!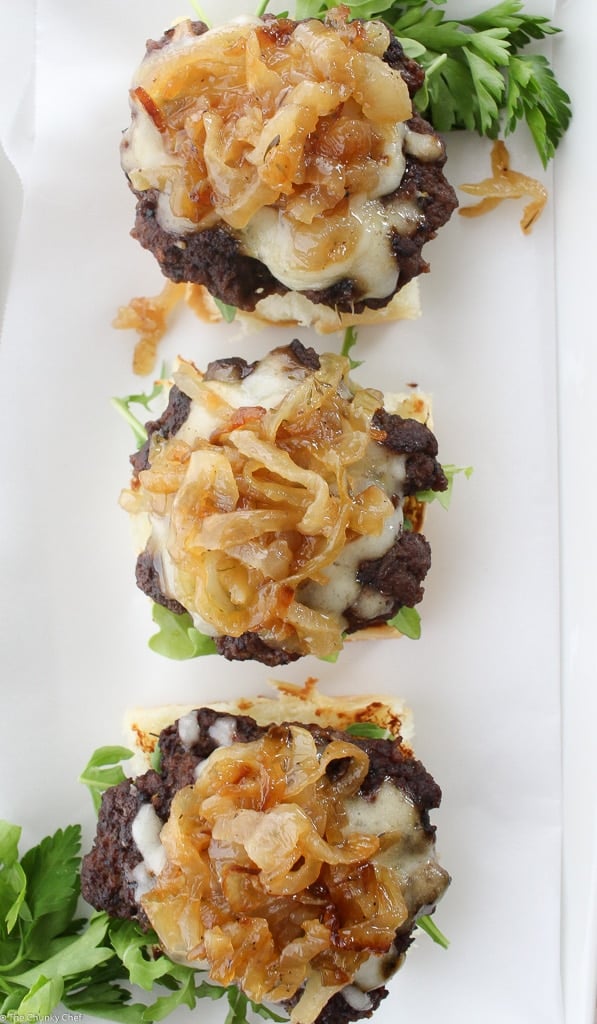 Is there anything better than caramelized onions?  They take some time to do them correctly, but it's so worth it!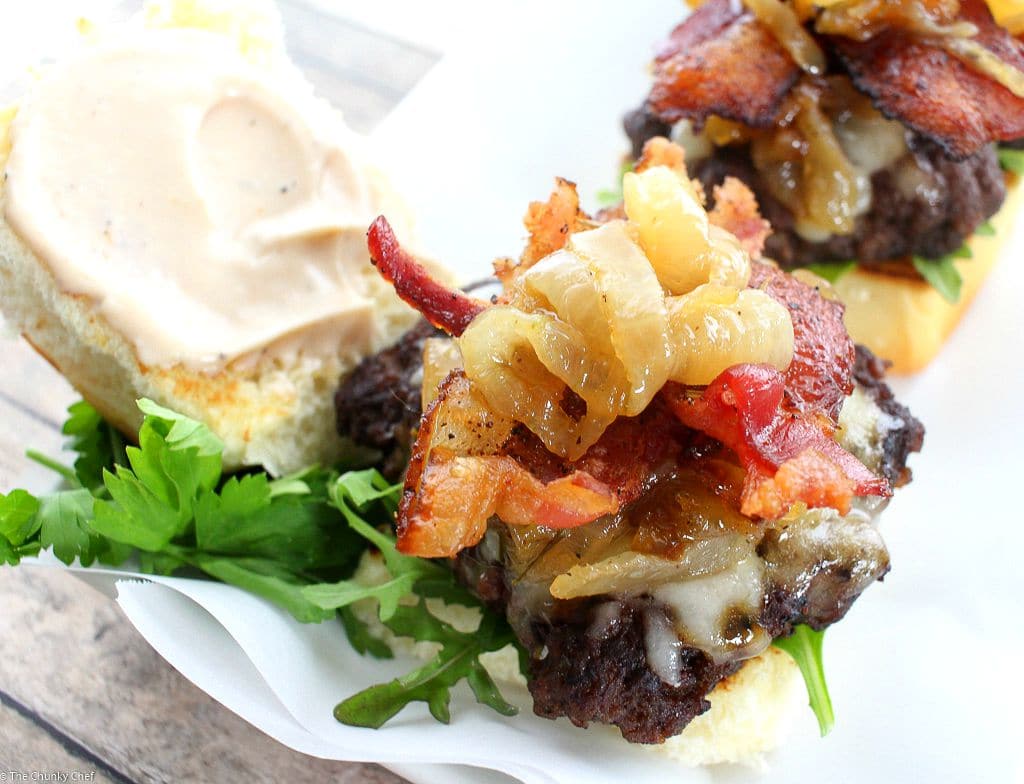 What goes great with burgers?  Bacon!  Not just any bacon… spiced peppered bacon!  Bake it up before hand so you can save some time.
Now just slather on your flavored mayo.  I went with a cracked black pepper A1 mayo, but you can add any flavors you'd like… balsamic, herb, horseradish, etc.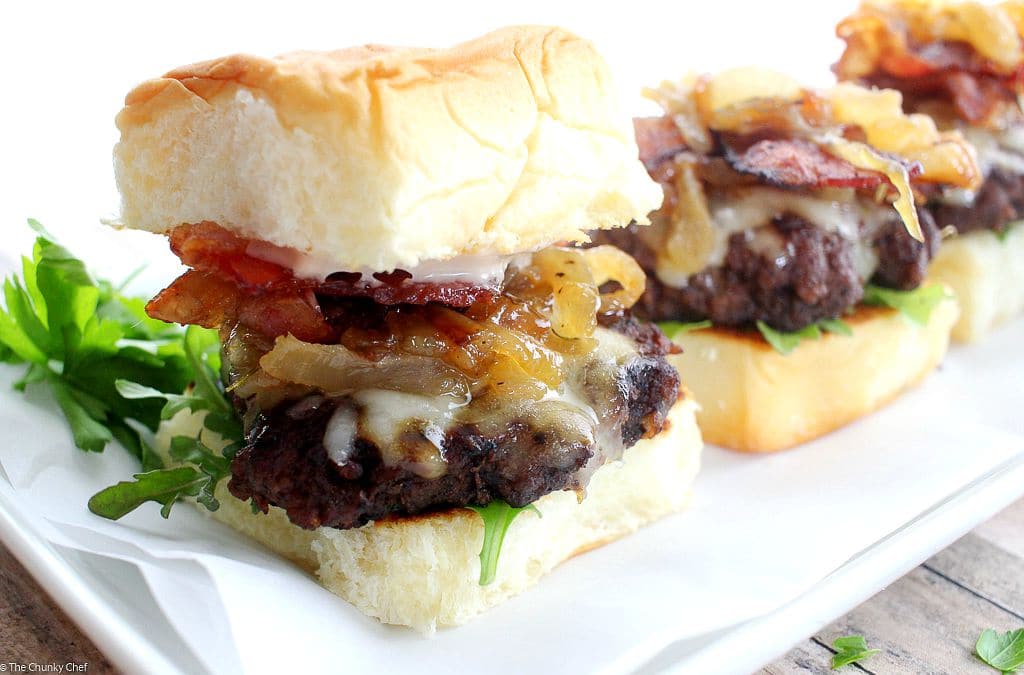 Top your sliders and you're ready to eat!
These burgers go so well with some Parmesan and Garlic Wedge Fries or some Slow Cooker Ranch Mushrooms!
Did you make this? Be sure to leave a review below and tag me @the_chunky_chef on Facebook and Instagram!
Ground beef sliders smothered in melted gruyere cheese, topped with caramelized onions and thyme, peppered bacon and a flavorful A1 mayo!
Ingredients
ONIONS:
2 yellow onions
2 sprigs fresh thyme
3 Tbsp butter
BURGERS:
2 lbs ground beef or brisket
2 cubes of beef bouillon
1 tsp dried minced onion
1/2 tsp celery seed
1/2 tsp dried parsley
1/2 tsp dried thyme
1/4 tsp ground black pepper
2 Tbsp butter
8 oz Gruyere cheese grated/shredded
BACON:
1 lb bacon
Pinch of black pepper
Pinch of cayenne pepper
A1 MAYO:
1/2 cup mayo
1 tsp A1 steak sauce (or more to taste)
Pinch of cracked black pepper to taste
SLIDERS:
12 toasted slider buns
Handful arugula lettuce
Instructions
Make the onions:

Heat large skillet over MED heat, melt butter. Slice onions into half rings and add to the hot skillet. Reduce heat to MED-LOW, add sprigs of thyme and cook for 40 minutes, stirring often. Onions will soften and eventually turn a caramel brown color.

Make the bacon:

Sprinkle pepper and cayenne pepper over the bacon slices and cook as desired. (Baking is my preferred method).

Make the mayo:

In a small mixing bowl, whisk together mayo, A1 steak sauce and cracked black pepper. Set aside (or refrigerate if making ahead of time).

Make the burgers:

In a large mixing bowl, add ground beef, beef bouillon, dried minced onion, celery seed, dried parsley, dried thyme, and black pepper. Using your hands (the two best kitchen tools you have!), mix together until seasonings are evenly dispersed. Using the side of your hand, draw a line dividing the mixture into 4ths. Divide each section into 3 parts of meat and roll into a ball. You'll end up with 12 evenly-sized balls.

Heat a griddle or large skillet over HIGH or MED-HIGH heat. Coat the surface with butter and add several balls of meat (several inches apart). Let them cook for 2 minutes, undisturbed. Carefully flip the balls over and immediately use a wide spatula or grill press to smash the burgers down and flatten them out. Cook for 2 minutes, then flip over again.

Sprinkle with a little shredded cheese and continue to cook until cheese is melted.

Remove to a plate, lightly covered with foil to keep them warm, and continue to cook remaining burgers.

Make the sliders:

Build your slider by adding a bit of arugula lettuce to the bottom of a slider bun. Add the burger on top of the lettuce. Top burgers with caramelized onions. Break a cooked bacon slice in half and place the two halves on top of the onions. Slather A1 mayo on the top slider bun and top the slider.
Want to save this recipe for later? Click the heart in the bottom right corner to save to your own recipe box!
Nutrition Disclaimer
The Chunky Chef is not a dietician or nutritionist, and any nutritional information shared is an estimate. If calorie count and other nutritional values are important to you, we recommend running the ingredients through whichever online nutritional calculator you prefer. Calories can vary quite a bit depending on which brands were used.