Taking it back to Julia Childs… admittedly, I had never made this before… but it was on my cooking bucket list.  Does anyone else have that?  You know, that list of foods you want to cook before you kick the ol' bucket lol.  Mine is a longggg list.  But I'm slowly getting there… eating more spicy foods, eating more pork, trying recipes that normally would scare me because they sound too fancy and complicated (pssst… like this one!).  Boy am I glad I stepped out of my comfort zone!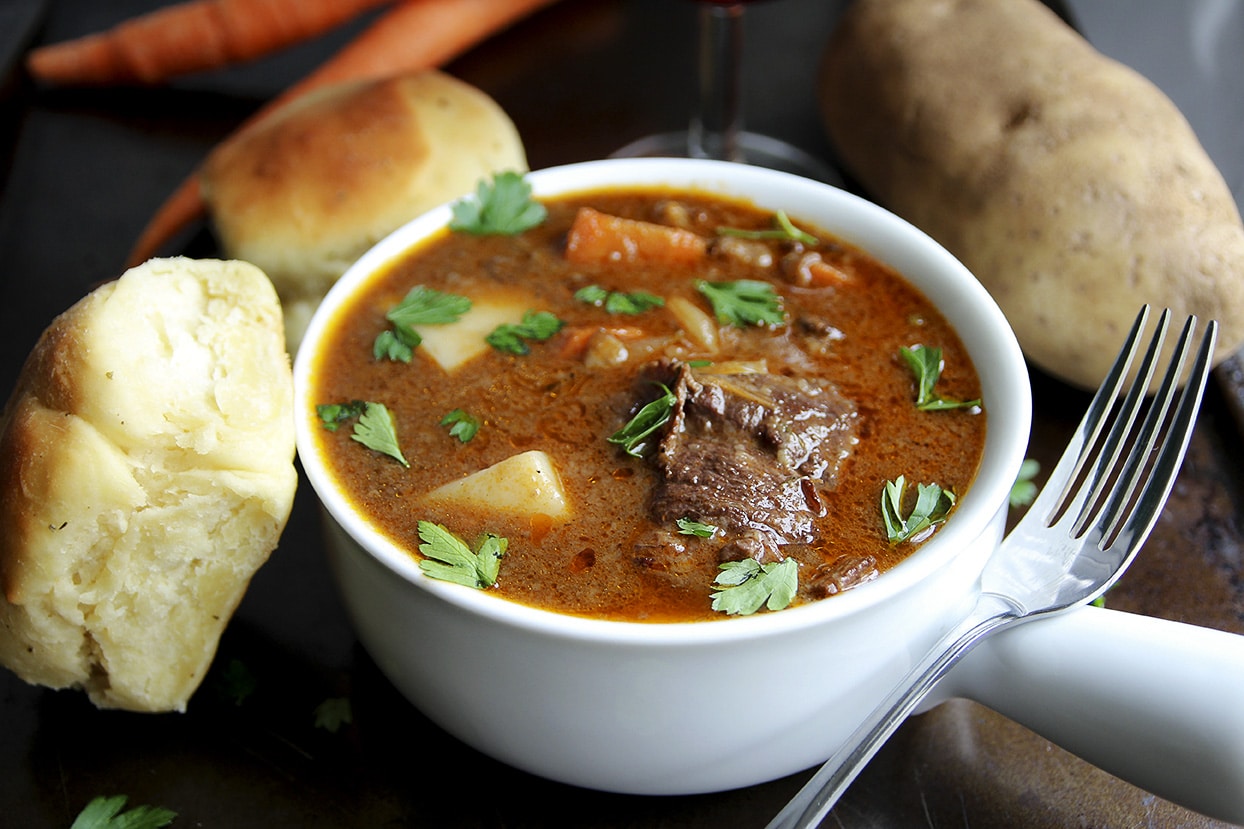 So, beef bourguignon… sounds intimidating doesn't it?  I mean 1 out of the 2 words is difficult to even pronounce!  Don't be intimidated by this dish… it's a classic, tried and true… and even though it cooks for a while, it's still relatively simple 🙂
Let's start with the beef.  There are so many cuts of meat to choose from.  You can choose any you'd like, but keep in mind that you're going to be cooking this meat for a couple of hours, it has to hold up.  I went with a chuck roast, cut into large chunks.
The meat will marinate with the wine and some veggies overnight, and that step will impart a LOT of flavor, try not to skip it!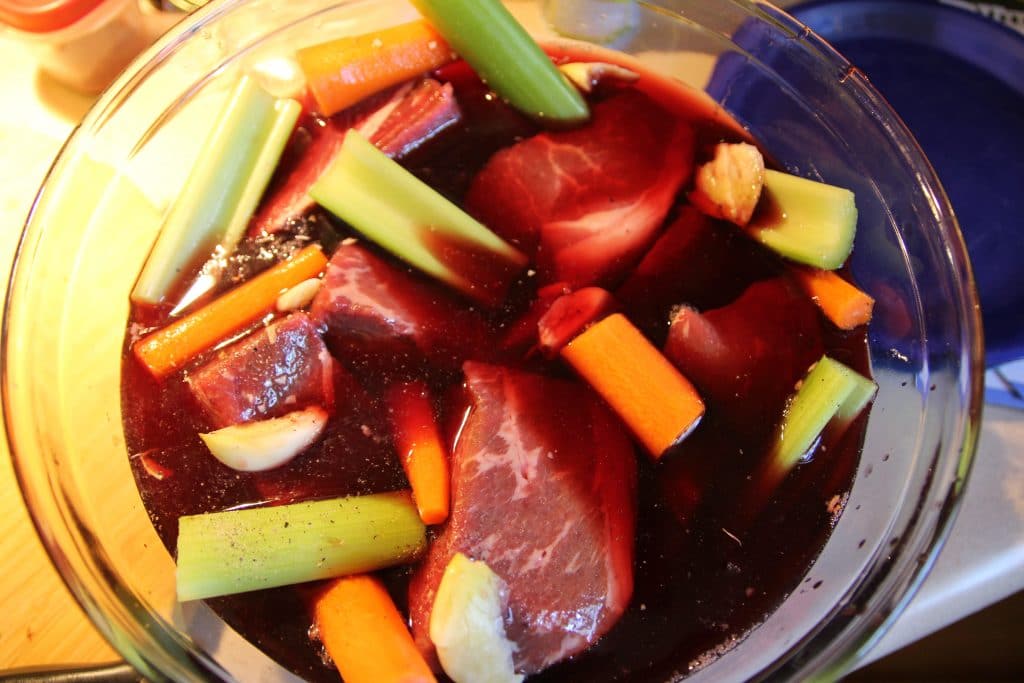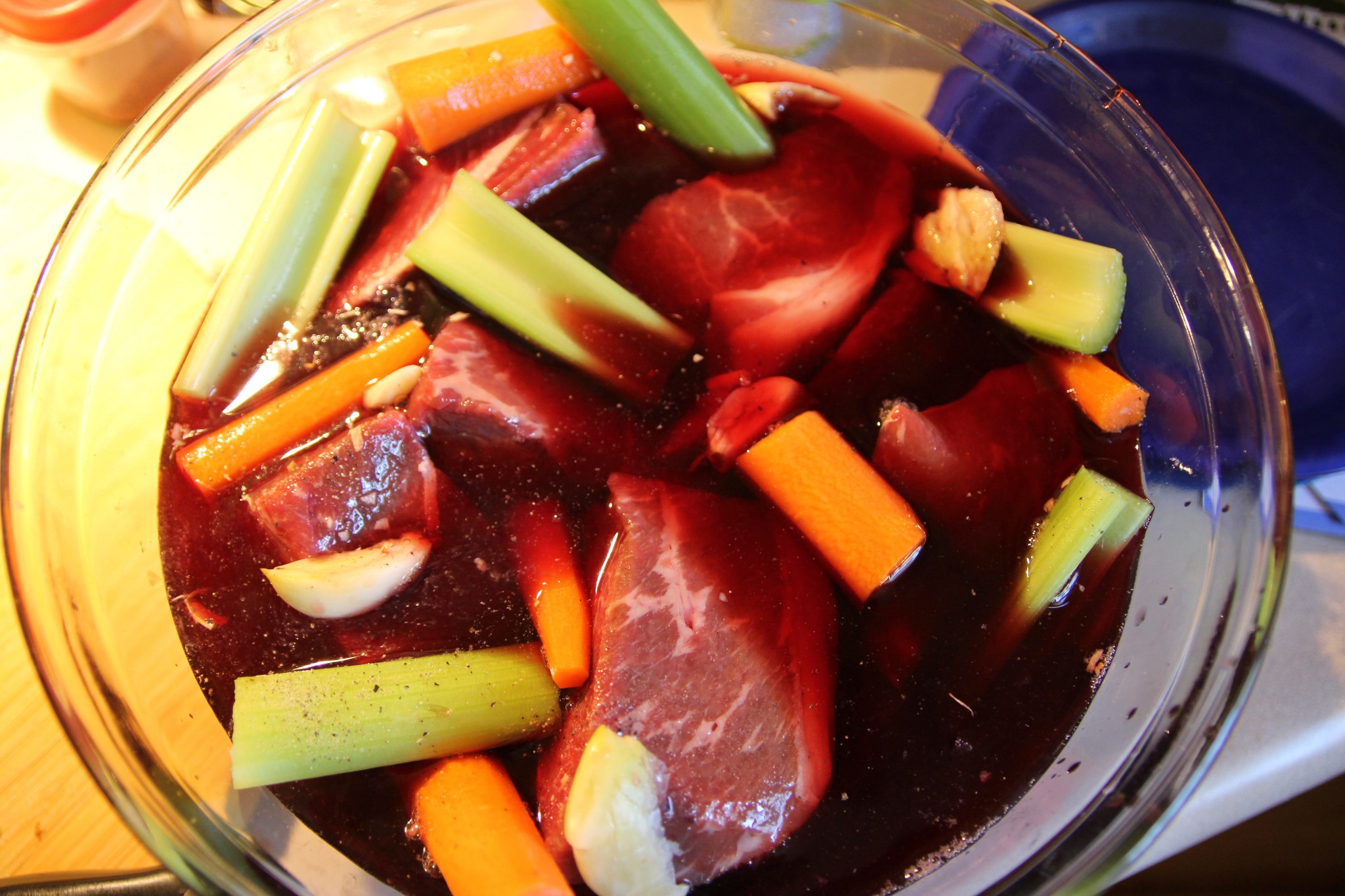 Once the meat has fully marinated, place a large bowl in your sink, then place a colander into the bowl.  This way you can drain the marinade, but still reserve it.  You need that marinade, so don't dump it down the drain!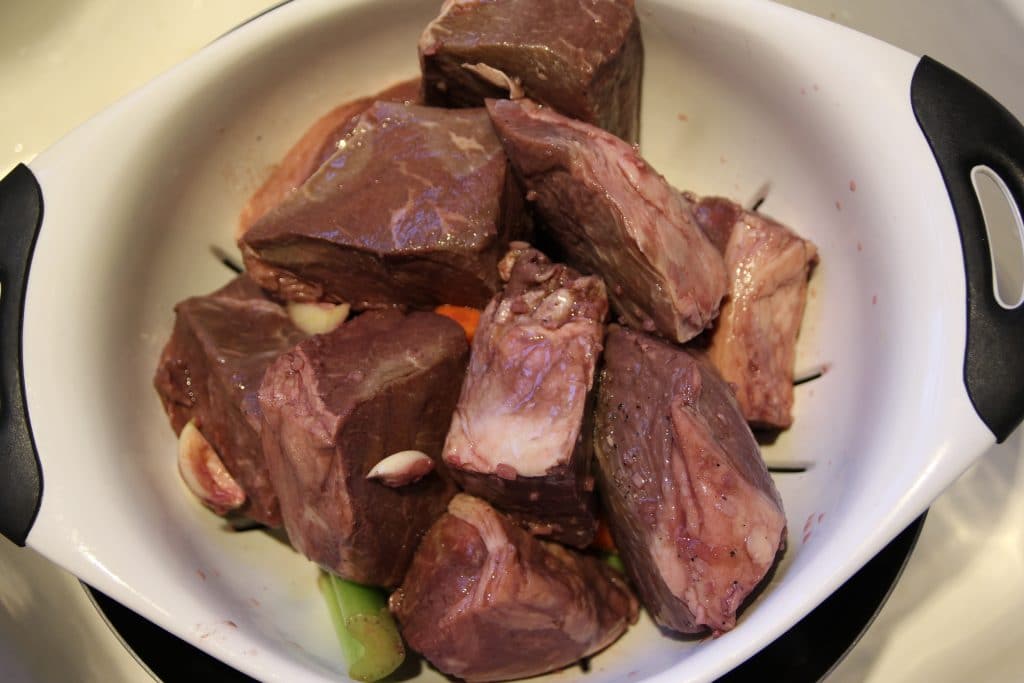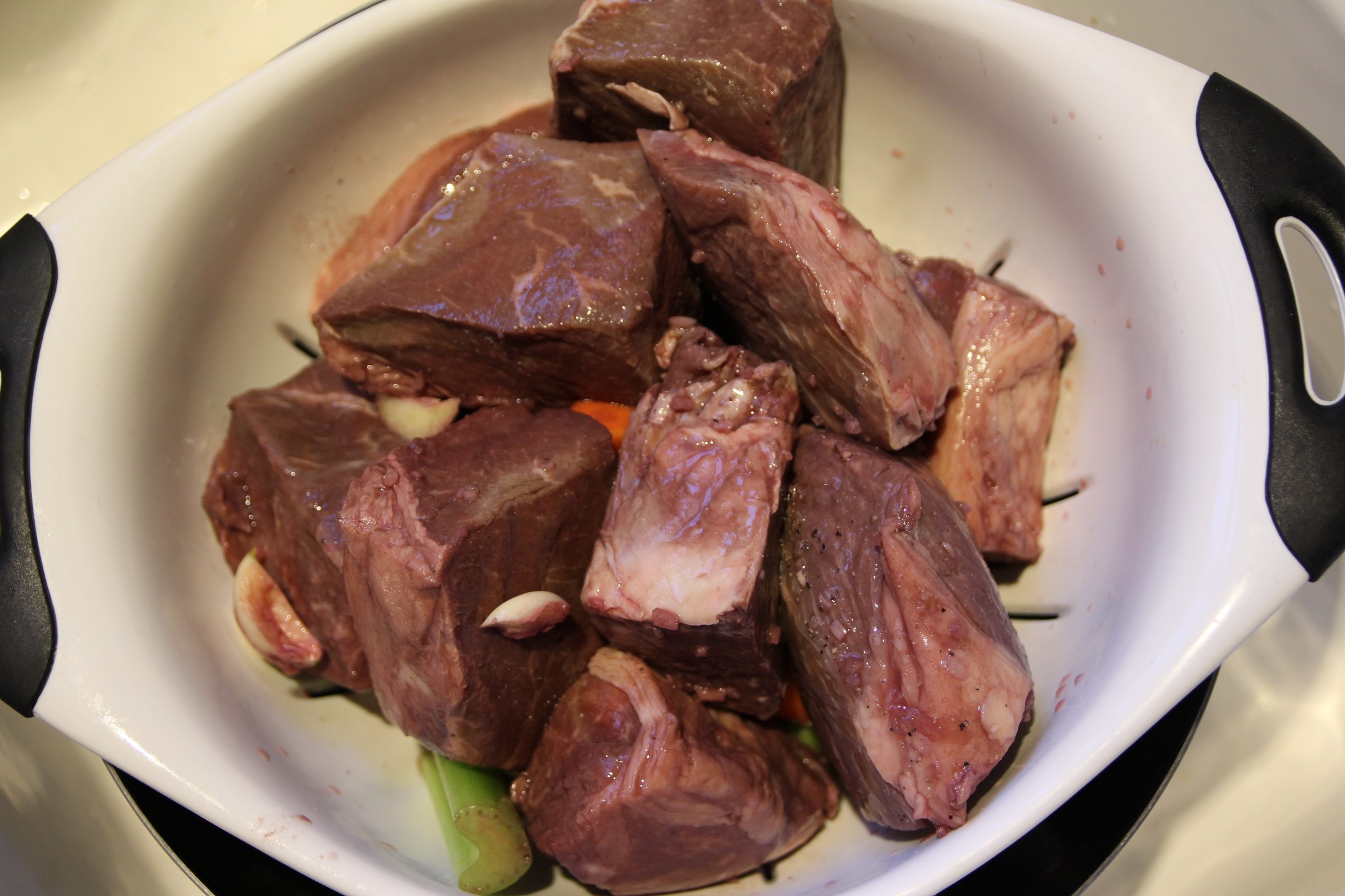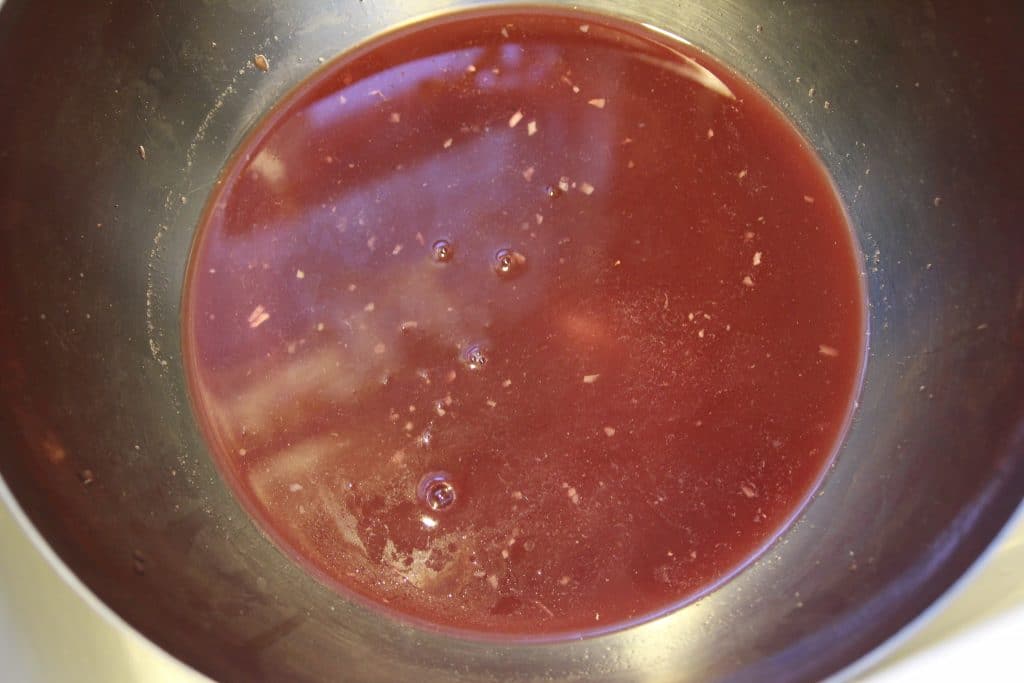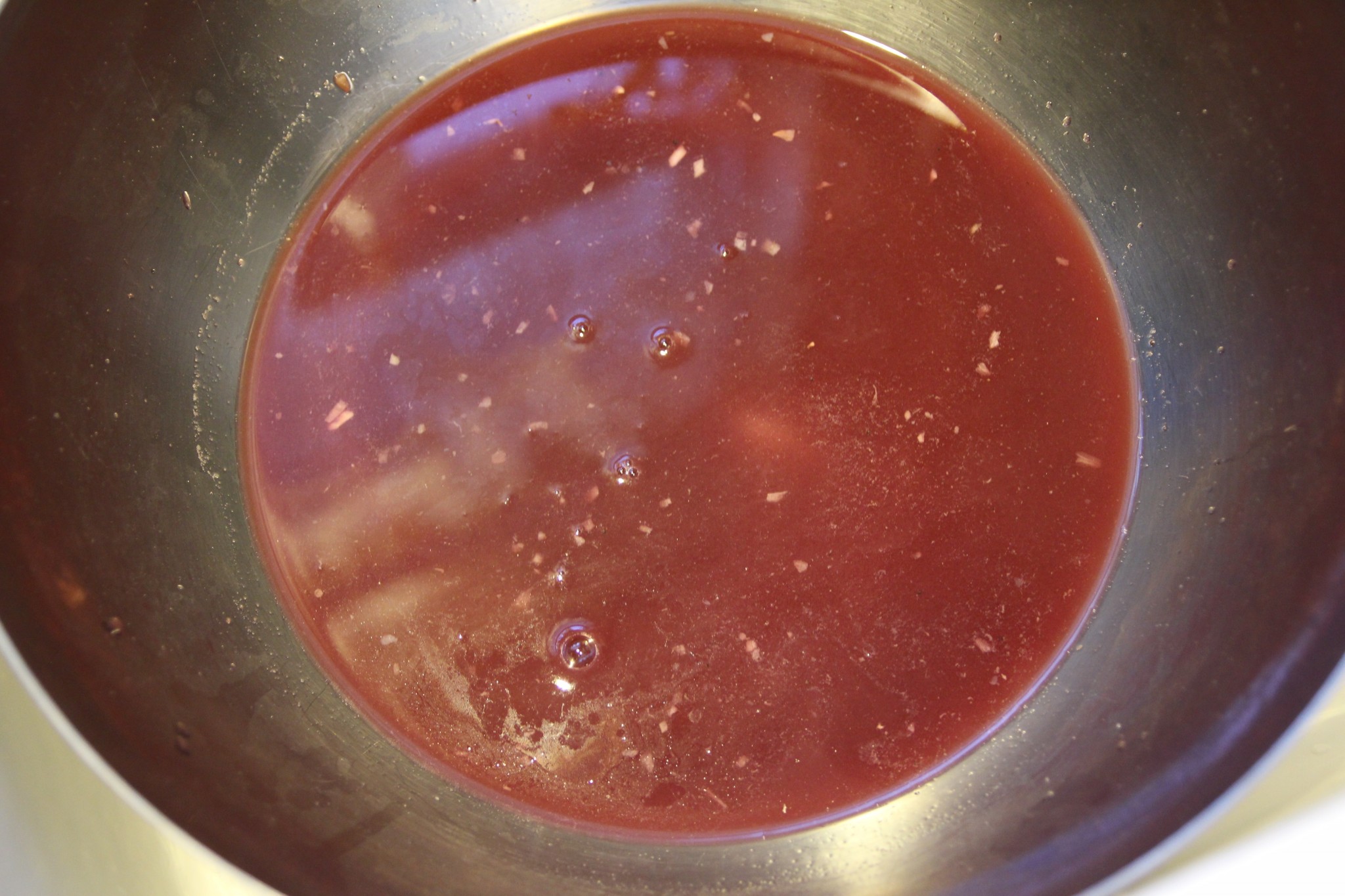 Season your beef with salt (be generous here), and toss with flour.  Heat up some oil in the bottom of your dutch oven, and sear your beef in the oil.  You're not really cooking it at this point, you just want to get it browned.  Brown = flavor.  Don't overcrowd your pan… with the size of my pieces I browned 4-5 at a time, placing them on a plate while I got the next batch started.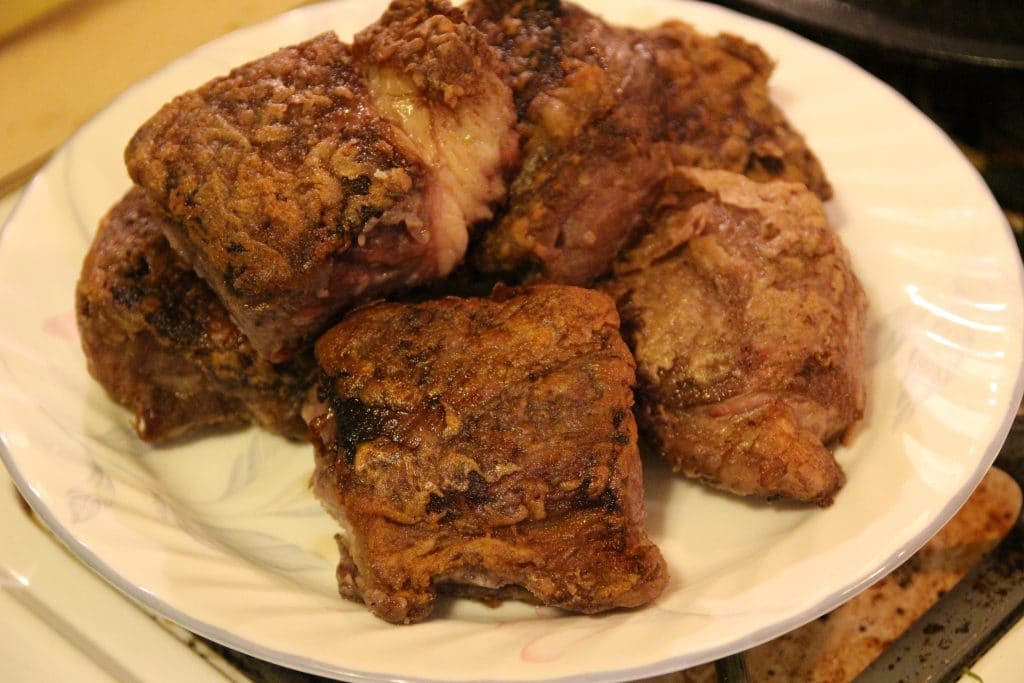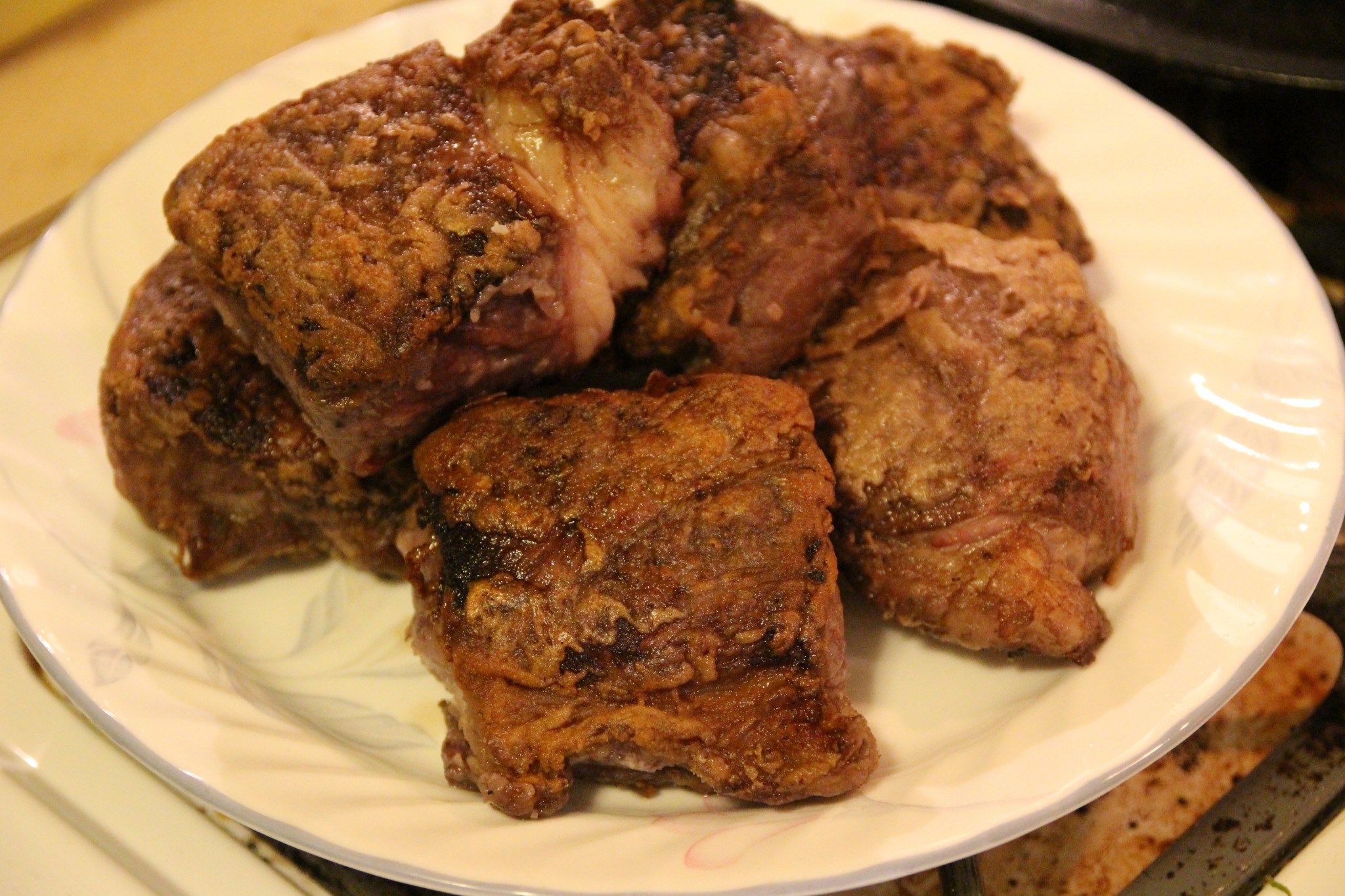 Cook your bacon, then add the veggies and saute until soft.  Add tomato paste and garlic and cook another minute or so.  Add 2 cups of that reserved wine/marinade, and then nestle your beef pieces down into the mixture.  Add the beef stock until it just covers the tops of the beef.  Toss in bay leaves and your thyme.  Cover and cook in the preheated oven for 2 hours.  The last 30 minutes of cooking time, add your potatoes and mushrooms.  Serve with some crusty bread and prepare to think your taste buds have died and gone to heaven!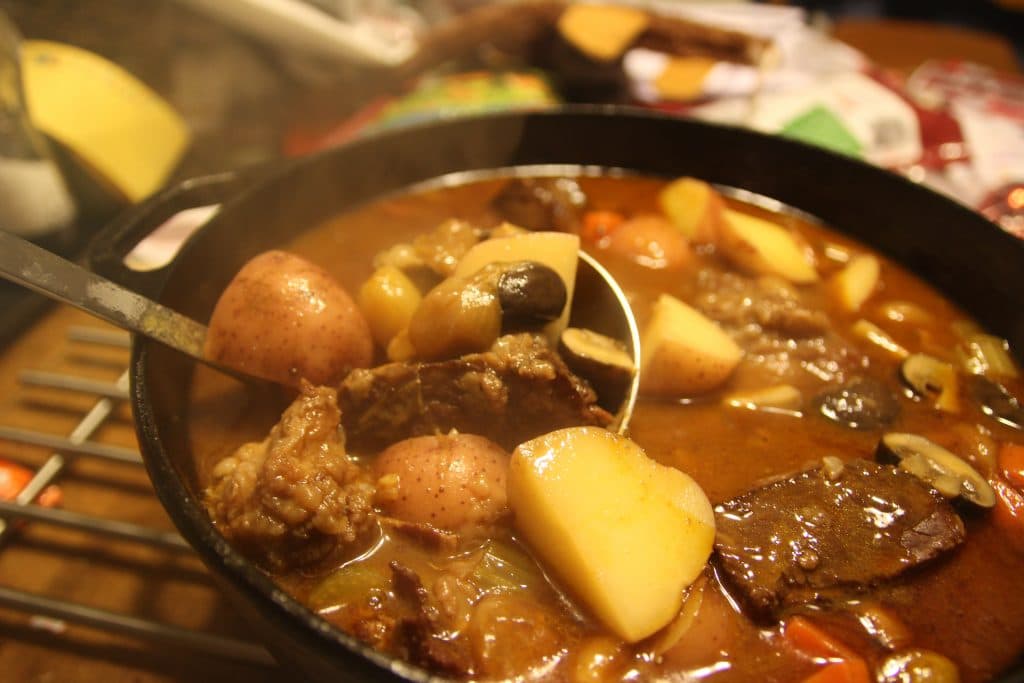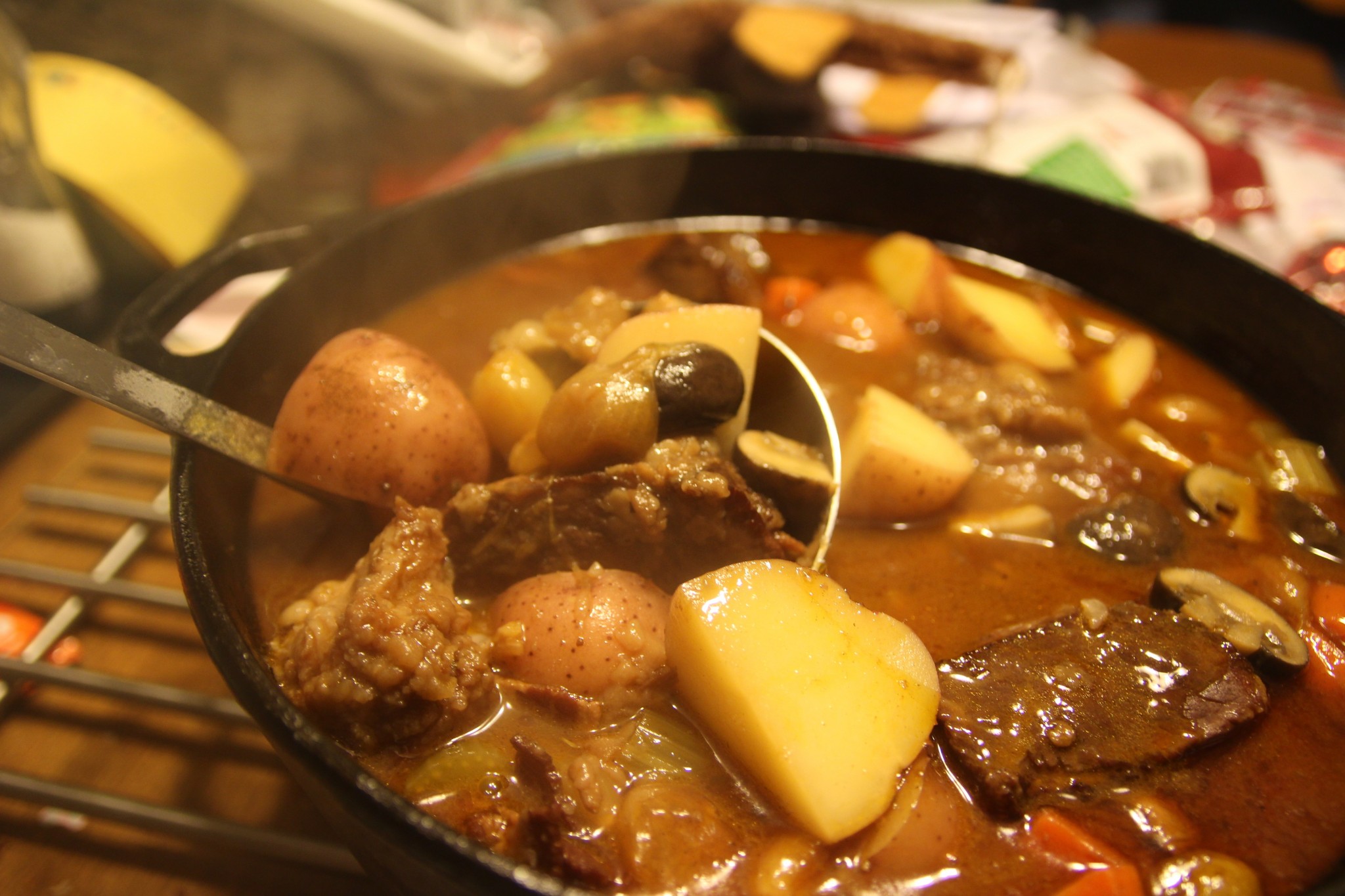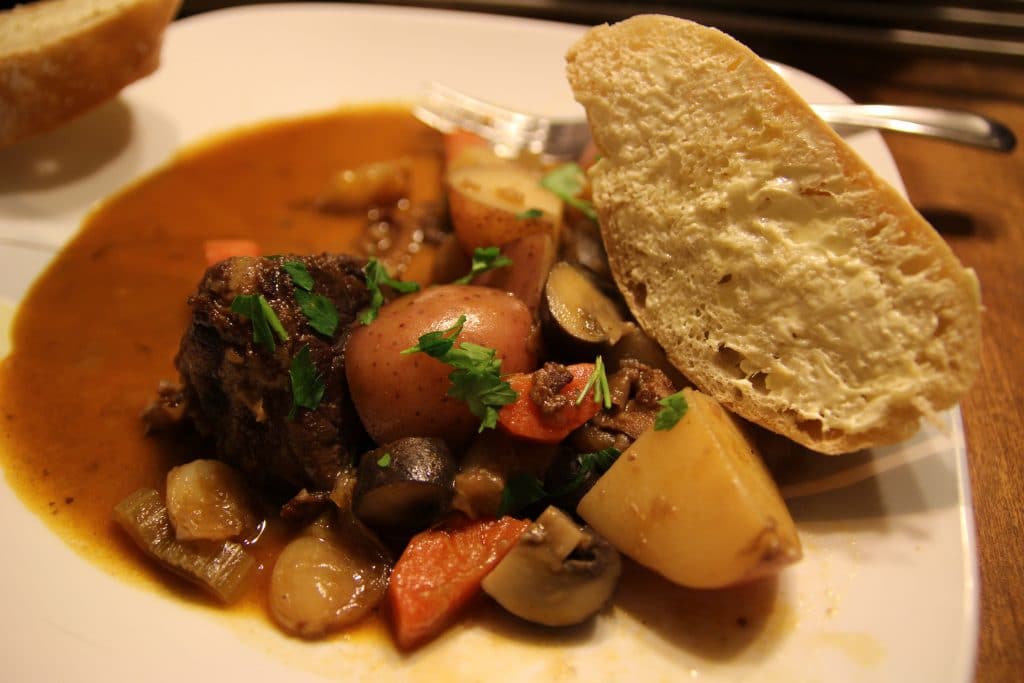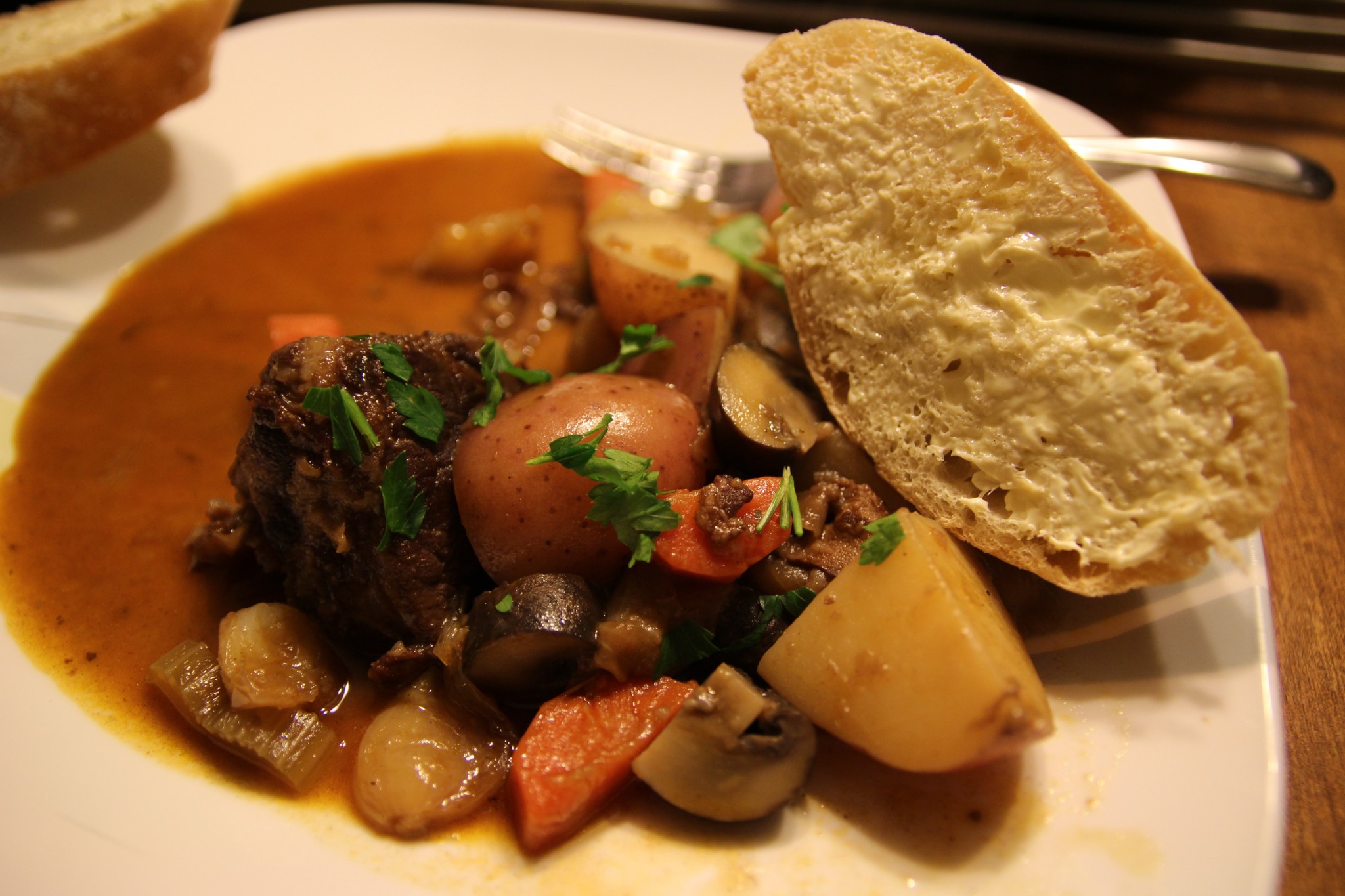 Recipe adapted from Julia Childs and Relish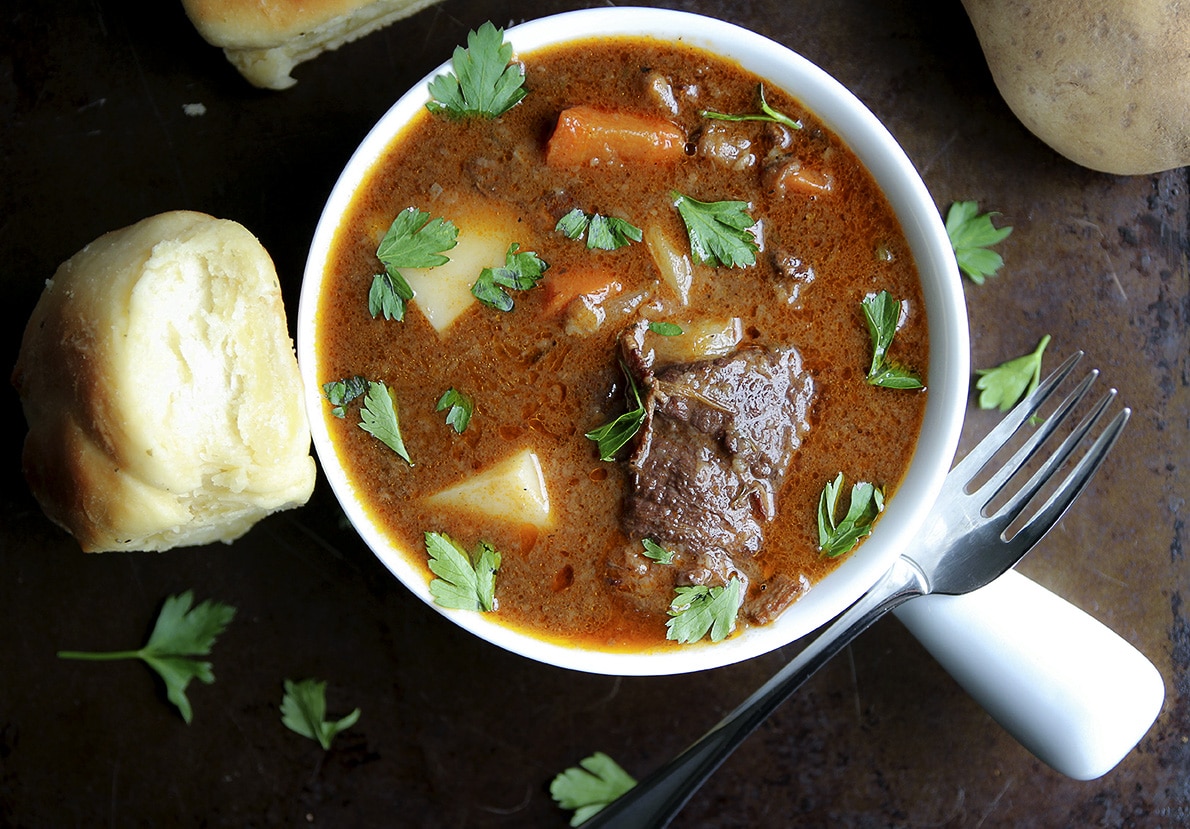 Did you make this? Be sure to leave a review below and tag me @the_chunky_chef on Facebook and Instagram!
The classic dish that you need to try 🙂
Ingredients
MARINADE:
1 large onion quartered
2 carrots peeled and halved
2 ribs celery halved
5 cloves garlic smashed
1 bottle Pinot Noir wine (750ml)
3 leaves fresh bay
4 lbs beef chuck roast cut into 1/2 inch cubes
BEEF BOURGUIGNON:
2 Tbsp extra-virgin olive oil to coat pan
1/2 cup all-purpose flour
8 slices of bacon diced
2 cups frozen pearl onions
2 carrots, peeled and chopped into 1 inch pieces
2 ribs celery diced
2 cloves garlic finely minced
1/4 cup tomato paste
2 cups Pinot Noir wine (the reserved marinade)
4 cups beef stock , plus more as needed
3 bay leaves
5 sprigs of fresh thyme
1 lb pound cremini mushrooms halved
1 lb red potatoes , halved
1 tsp salt, or more, to taste
Instructions
MARINADE:
Combine the onion, carrots, celery, garlic, bay leaves, and wine in a large bowl or container. Add the beef, cover, and let sit in the refrigerator overnight.
BEEF BOURGUIGNON:
Remove the beef from the marinade. Strain the veggies and bay leaves from the wine and discard, but reserve the wine.

Preheat the oven to 350 F degrees.

Coat a large, wide pan or Dutch oven with olive oil and bring to medium-high heat. Season the beef generously with salt and toss with flour. Add the flour-coated beef to the hot pan, but be sure not to crowd the pan, so you will need to work in batches.

Brown the meat well on all sides and remove to a plate.

Add the bacon and cook until it gets brown and crispy. Toss in the onions, carrots, celery, and season with salt. Cook the mixture for 8 to 10 minutes or until softened. Add in the garlic and cook for 2 to 3 more minutes. Add the tomato paste and cook for 1 to 2 minutes.

Add 2 cups reserved wine marinade and the beef. Stir to combine and cook until the wine has reduced by 1/2. Add the beef stock to just cover the surface of the beef. Toss in the bay leaves and thyme. Season with salt, if needed. Bring the liquid to a boil, cover the pot and put in the preheated oven.

Cook the beef 2 hours, checking occasionally to add more stock if needed. During the last 30 minutes of cooking time, add the mushrooms, and potatoes.

Remove the pan from the oven, and skim off any excess grease from the surface. Serve with crusty bread and enjoy!
Want to save this recipe for later? Click the heart in the bottom right corner to save to your own recipe box!
Nutrition Disclaimer
The Chunky Chef is not a dietician or nutritionist, and any nutritional information shared is an estimate. If calorie count and other nutritional values are important to you, we recommend running the ingredients through whichever online nutritional calculator you prefer. Calories can vary quite a bit depending on which brands were used.