These coconut cupcakes are the perfect blend of fluffy, soft, and moist. They're topped off with a mouthwatering lime cream cheese frosting, and absolutely perfect for any summer celebrations! Garnish with lime zest and coconut, or decorate with holiday colors, and I promise no one will be able to tell you used a box of cake mix!
This is one of my Cake/Cupcake recipes I know you'll want to keep on hand!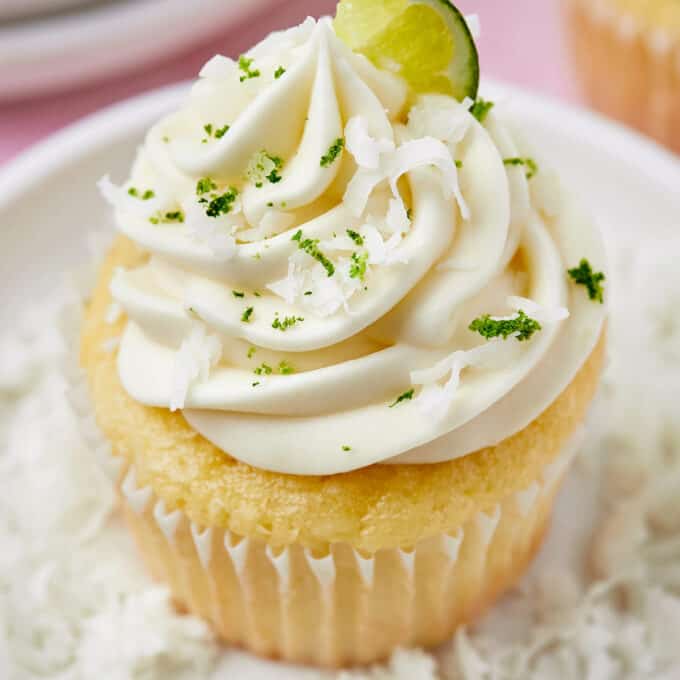 As impressive as massive layer cakes are, I definitely prefer cupcakes. They're so cute, easy to decorate, easily feed a crowd, and are actually easily freeze-able!
I have several mouthwatering cupcakes here on the website, including these amazing Lemon Cupcakes (if you're a fan of citrus!), and Vanilla Cupcakes (made from scratch!).
These coconut cupcakes are moist and tender, and just packed sweet coconut flavor. And the frosting takes regular cream cheese frosting and lime juice and a little vanilla to take it up to the next level.
And of course, you can garnish these cupcakes with lime zest and shredded coconut to really bring those flavors home!
The combination of soft cupcakes and silky frosting is mouthwatering, and I know you'll love it!
How to make coconut cupcakes with lime cream cheese frosting?
This is just an overview; the full ingredients and directions are in the recipe card toward the bottom of this post.

Add cupcake ingredients. This recipe uses a boxed cake mix as the base, so there's no need to hassle with a dry ingredient bowl and a wet one.. just add them all in one mixing bowl.
Scoop into liners. Using a cookie scoop is the easiest and most efficient way, but you don't have to use one.
Bake. Bake until a toothpick inserted in the center comes out clean or with just a few moist crumbs.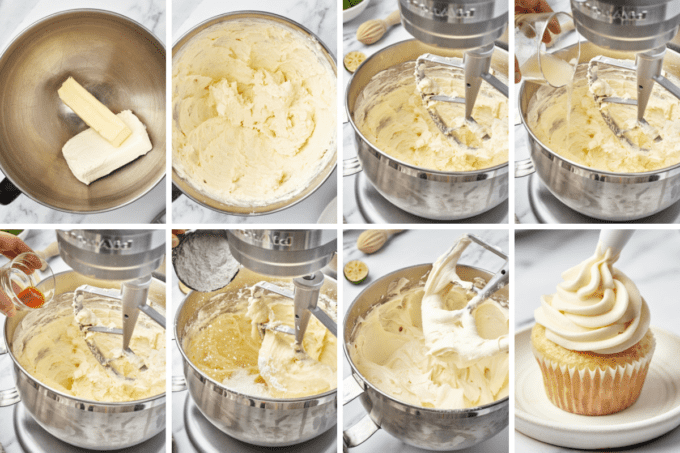 Beat butter and cream cheese. Just until combined and smooth – it's really important that these ingredients be softened to room temperature though.
Add liquids and salt. For this recipe that's the lime juice, vanilla, and kosher salt.
Add sugar. Add this in 1/2 cup increments, mixing in between each addition, to make sure the sugar is well incorporated.
Beat until fluffy. This gives the frosting that amazing whipped consistency.
Pipe. Make sure the cupcake are completely cooled before frosting.
Helpful Tip!
This recipe uses full fat coconut milk from a can, which can usually be found in the ethnic foods aisle at a larger grocery store, or on amazon. The brand we usually use is Thai Kitchen (the one with a red label that says coconut milk), or Goya. The reason I chose canned coconut milk is that is has enough fat to adequately replace the oil that's typically called for on boxed cake mix. Using coconut milk that's "light", or from a carton/bottle, won't work nearly as well, since it doesn't contain enough fat to keep the cupcakes moist.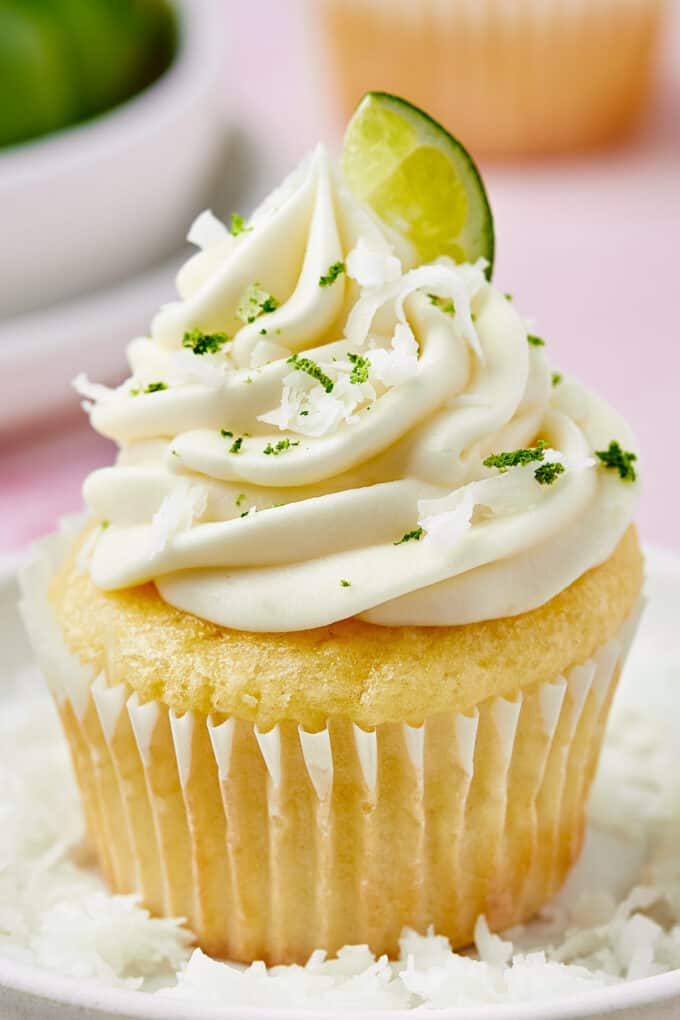 Variations of this recipe
Cake mix – we recommend Betty Crocker's Super Moist cake mix (not the one with pudding added), but feel free to use your favorite non-pudding cake mix.
Coconut milk – as mentioned above, make sure you're using canned coconut milk, and the full fat version. These are pretty readily available, just open the can, give everything a good stir, and you're good to go.
No extract – if you can't find coconut extract, you can omit it. The cupcakes will have a much more subtle coconut flavor, but will still be delicious.
Lime juice – fresh lime juice is preferred (plus you'll have the fresh limes for the zest for the garnish), but bottled will also work.
Salted butter – for the frosting, if you have salted butter, you can use that. Just omit the salt from the frosting.
Decoration – while I love the garnish of lime zest, coconut, and a lime slice, these cupcakes are also great decorated for seasonal holidays, like below!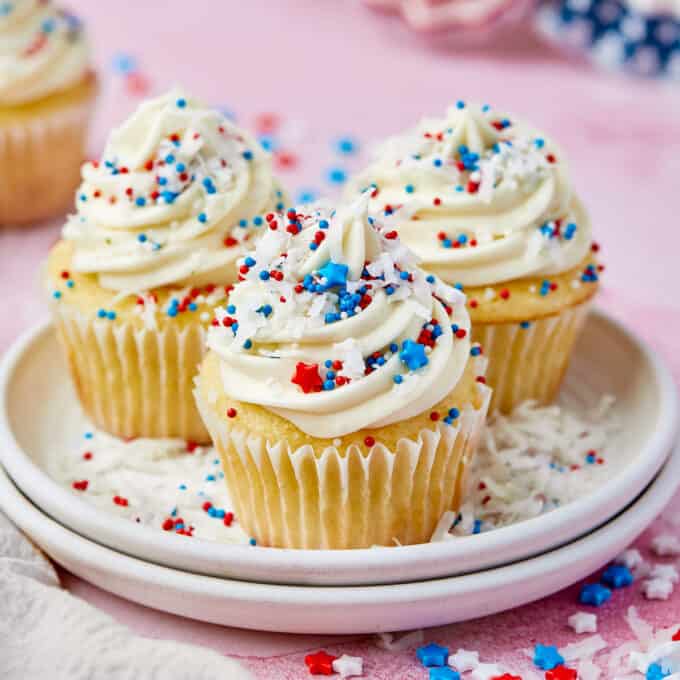 FAQ's
Can any cake mix be used for this recipe?
This cupcake recipe was developed and tested with Betty Crocker's Super Moist white cake mix. Any white cake mix will work, but I don't recommend cake mixes that contain pudding in the mix. Keep a close eye out, as Betty Crocker "Delights" cake mixes DO contain pudding, and that isn't recommended.
Can this batter be baked into a cake?
You can bake the batter in traditional round cake pans – bake times will vary depending on size, but two 8" rounds will bake for about 30 minutes or a sheet cake (9×13) will bake for about 30-35 minutes. The baking times should be similar to the times listed on the back of the cake mix box.
Making cupcakes ahead of time
Cupcakes are great to make ahead of time, because when stored properly, they can last a couple of days before frosting.
Although, for the best moist texture and fluffiness, I don't usually like to make mine more than a day ahead of time.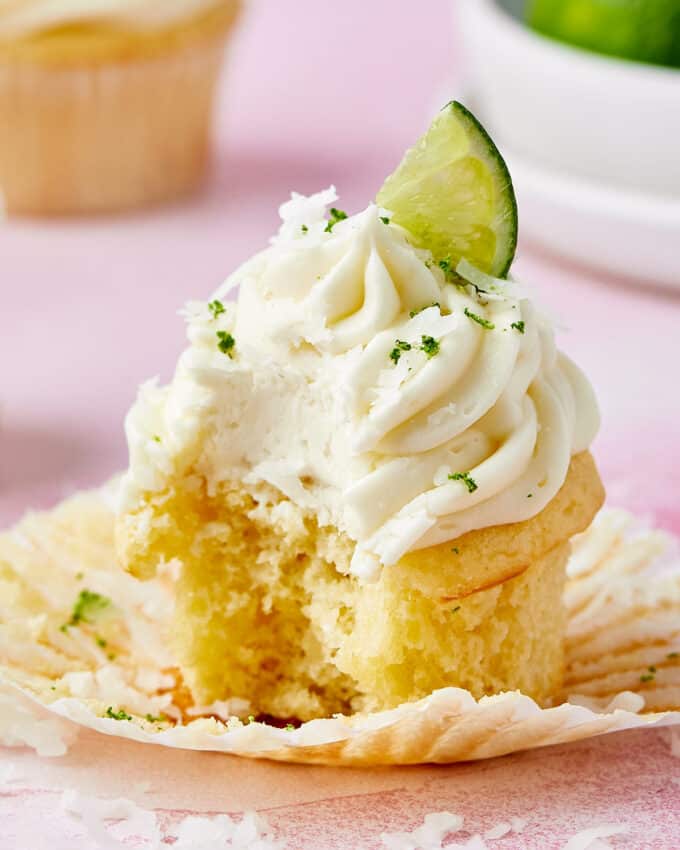 Storage
Leftover, frosted cupcakes can be stored in the refrigerator for up to 3 days, in an airtight container.
Unfrosted cupcakes can be stored at room temperature for up to 4 days, in an airtight container
Unfrosted cupcakes can also be frozen for up to 3 months.
Freezing
To freeze unfrosted cupcakes, add cupcakes to a baking sheet and place the whole thing in the freezer for about 2 hours, or until hard.
Wrap frozen cupcakes individually in plastic wrap, then transfer to an airtight freezer-safe container, label it with the date, then freeze.
Thaw overnight in the refrigerator before frosting.
Tips for perfect cupcakes!
Be careful with how much you're mixing. Over mixing can leave you with a tough, overly dense cupcake. Just mix the dry ingredients into the batter until no flour streaks remain as you stir.
Pay attention to how much you're filling the cupcake liners. Follow what the recipe suggests for how full to make them. Fill them too much and they can overflow, too little and they won't even reach the tops of the liners.
For optimal results, bake one pan at a time. I know it's a hassle, and most of the time, I'm guilty of cramming two pans in there side by side (but then rotating and switching sides halfway through baking). But when you're starting out, or want perfect cupcakes, bake one pan, and put the pan right in the middle of the center rack.
Let them cool. Don't try to frost a cupcake that's still warm, it'll end up a big ol' mess. Let the cupcakes cool, then pile up that frosting as high as you'd like!
Follow the recipe. This may seem like a no-brainer, but there's a reason the recipe is written the way it is; because it works that way. With cooking you may be able to swap out ingredients, guess on the measurements, etc, but with baking you really don't want to do that. Only use any substitutions specifically mentioned, and follow everything to the letter.

Cookie scoops are perfect for scooping the perfect amount of batter every time. This size is perfect for muffins/cupcakes!
Did you make this? Be sure to leave a review below and tag me @the_chunky_chef on Facebook and Instagram!
These coconut cupcakes are the perfect blend of fluffy, soft, and moist. They're topped off with a mouthwatering lime cream cheese frosting, and absolutely perfect for any summer celebrations!
Ingredients
Coconut cupcakes
16.25 oz box white cake mix not one with pudding added
3 large eggs
1 cup water
1/2 cup canned full fat coconut milk
1 cup sweetened shredded coconut
1 tsp coconut extract
1/2 tsp vanilla extract
Lime cream cheese frosting
8 oz cream cheese softened to room temperature
1/2 cup unsalted butter softened to room temperature
2 Tbsp lime juice fresh is best (from about 1 lime)
1/2 tsp vanilla extract
1/4 tsp kosher salt
4 cups powdered sugar
Garnishes (optional)
shredded coconut
lime zest
lime slices
holiday sprinkles
Instructions
Prepare
Preheat oven to 350°F, then line two 12 count muffin pans with cupcake liners.  Set aside.
Mix cupcake batter
In a large mixing bowl, add cake mix, eggs, water, coconut milk, shredded coconut, coconut extract, and vanilla extract. Whisk or beat with a hand mixer (on low or medium speed), until just combined.

Scoop the batter into the cupcake liners (using a cookie scoop is super helpful), filling them about 2/3 of the way full. You'll want roughly 1/4 cup of batter in each cupcake liner.
Bake
Bake for about 15 minutes, or until a toothpick inserted in the center comes out with just a few moist crumbs.
Cool
Remove from the oven and carefully transfer cupcakes to a wire cooling rack to cool completely.
Make frosting
Add cream cheese and butter to the bowl of a stand mixer fitted with the paddle attachment, or a mixing bowl (and use a hand mixer), and beat on MED speed until smooth. This shouldn't take that long.

Add lime juice, vanilla extract, and add salt. Beat again until combined.

Add in powdered sugar, 1/2 cup at a time, mixing on a low speed to prevent the sugar from flying out of the mixer. Mix until combined.

Increase the mixer speed to medium, and beat for another 2 – 3 minutes or until the frosting is smooth and fluffy.
Adjust frosting if needed
If the texture is really stiff, add some more lime juice, beating together until combined.  If the texture is too soft, feel free to add up to about 1/2 cup more sifted powdered sugar.
Frost the cupcakes and garnish
Transfer frosting to piping bag fitted with desired decorating tip (or a resealable plastic bag with the corner snipped off – or just frost with a small rubber spatula or butter knife), and once the cupcakes are completely cooled, pipe swirls of frosting onto cupcakes.

Garnish as desired and serve.
Want to save this recipe for later? Click the heart in the bottom right corner to save to your own recipe box!
Chef Tips
This cupcake recipe makes 24 cupcakes, which you can divide into as many servings as you'd like.
This frosting recipe makes approximately 2 cups of frosting.
If you like a LOT of frosting on your cupcakes, or you'd like to fill them, I recommend doubling just the frosting recipe.
Don't use white cake mix that has pudding added to the mix.
Make sure you're using full fat coconut milk from a can, not a carton. Give the milk a stir once you open the can, as it may have separated during storage. It should be the thickness and consistency of yogurt.
Nutrition Disclaimer
The Chunky Chef is not a dietician or nutritionist, and any nutritional information shared is an estimate. If calorie count and other nutritional values are important to you, we recommend running the ingredients through whichever online nutritional calculator you prefer. Calories can vary quite a bit depending on which brands were used.