Crispy Honey Chipotle Chicken
Who likes Chili's restaurant?  Most everyone's hands should be raised… twice, lol.  It's one of my favorite restaurants, and this meal is a great copycat of a dish from there.
One of my favorite things to get at Chili's is their Chipotle Chicken Crispers… crispy chicken fingers tossed in a sweet and spicy sauce.  I love it.. although sometimes it can be a bit spicy for me.  Admittedly though, I'm a big wuss about hot things… although I'm getting better lol.  This recipe is a bit healthier for you as the chicken isn't fried, it's baked… but don't worry, still just as crispy and delicious!
I should mention, this isn't a true copycat recipe… I have no clue if they use the same or similar ingredients.  I just know that it tastes fantastic and pretty close to what I remember the restaurant dish tasting like 🙂
Slice your chicken into thin strips and set aside.  Combine your chipotle honey sauce and… you guessed it, set aside.  Now obviously if you were doing this hours ahead of time like I did, you'd place all bowls and chicken in the refrigerator 😉
Spend a little time beforehand and do some prep work… you'll want your baking sheet buttered and ready to go for your chicken… you'll want your breading station ready to go… and you'll want a small sauce pan ready for your chipotle honey sauce.  Trust me, it's time well spent 🙂  Less stress is always a good thing.
Once your oven is up to temperature, bake your chicken for 9-10 minutes.
Flip your chicken over and bake another 9 minutes or so, until cooked through, brown and crispy.  While the chicken is continuing to bake, heat your chipotle honey sauce over medium heat to a low boil, reduce heat, add in slurry of water and cornstarch, and stir until thickened.  Turn off heat and let sit.
Once your chicken is finished, toss it with the chipotle honey sauce and place on a plate to serve.  Sprinkle with sliced green onions.  Dig in and be prepared to go back for seconds… and maybe thirds 😛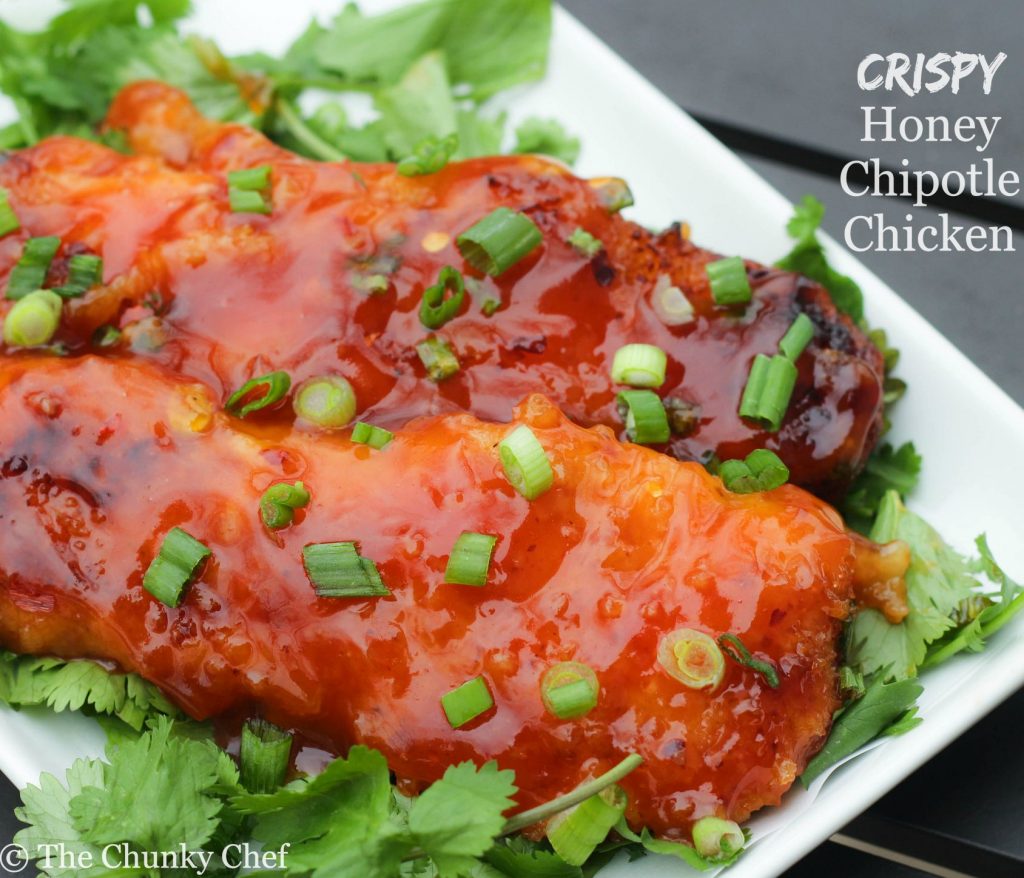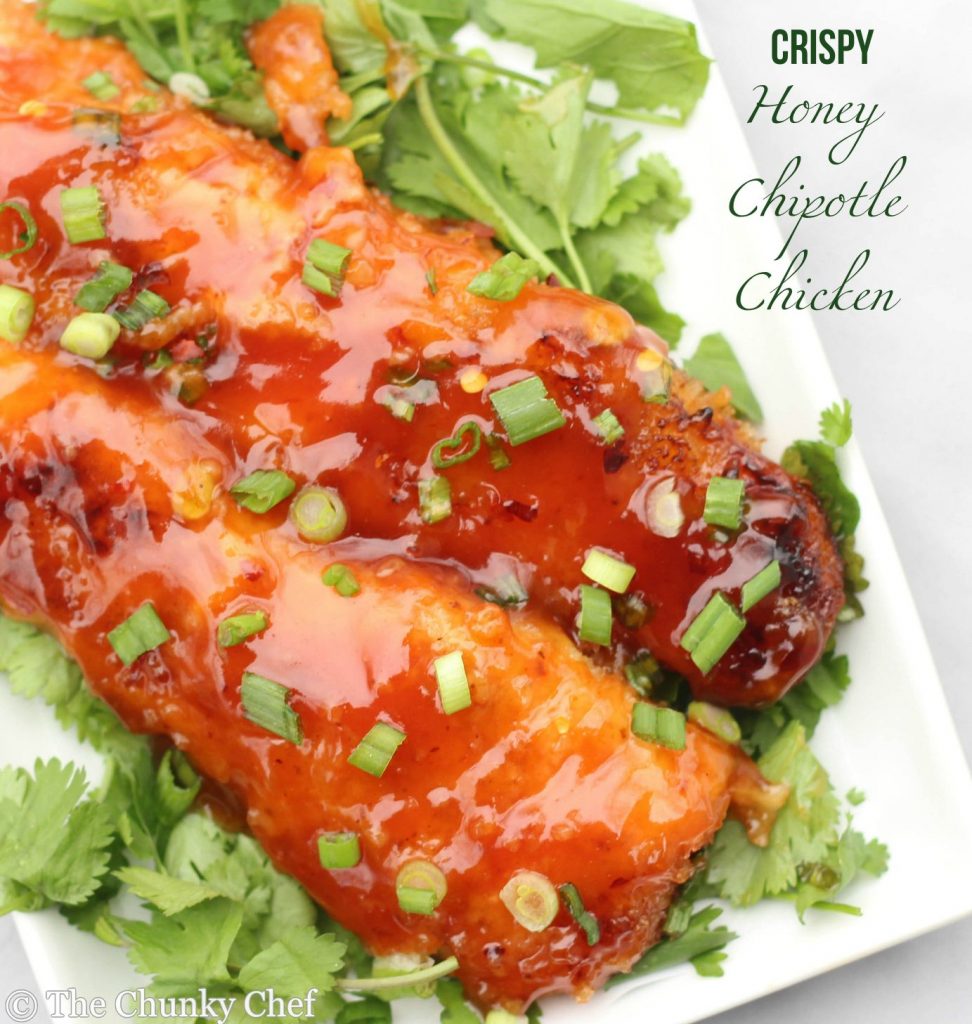 Recipes adapted from Creme De La Crumb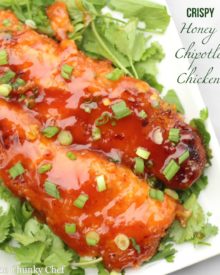 Crispy Honey Chipotle Chicken
These chicken strips are so crispy, you won't believe they're baked!
Ingredients
3-4 chicken breasts sliced into strips
1 cup flour
2 cups panko bread crumbs
1 tsp salt
1 tsp pepper
1/2 tsp crushed red pepper flakes
2 eggs whisked
8 Tbsp butter melted
FOR THE SAUCE:
1/2 cup honey
1/2 cup sugar
2 tsp chipotle in adobo sauce the sauce chipotle peppers are packed in inside a can.  Usually found near the canned jalapenos in the latino section of your grocery store
1 Tbsp hot sauce
1/2 tsp salt
1/2 tsp garlic powder
1/4 cup ketchup
1 Tbsp white or apple cider vinegar
1/3 cup water + 2 Tbsp cornstarch
Instructions
Preheat oven to 400 degrees. Pour melted butter into a large baking sheet with sides, brush to coat the whole surface.

Using a fork, stir together flour, salt, pepper, and red pepper flakes in a bowl. In another bowl, whisk eggs. In a third bowl, place panko bread crumbs.

Coat chicken in flour, dip into eggs, then toss in the panko bread crumbs. Place chicken on buttered baking sheet. Repeat for all remaining chicken strips.

Bake 9-10 minutes, flip chicken over and bake another 9 minutes.

While chicken is cooking, add sauce ingredients (except water and cornstarch) to a saucepan and bring to a boil. Stir together water and cornstarch (making a slurry), whisking it into the sauce until it thickens. Reduce heat to low.

Once chicken is finished cooking, toss or dip chicken in the sauce... turning to coat thoroughly. Serve 🙂