Now you can bake delicious cupcakes, days ahead of time, and have them still be moist and fresh the day you need them!  Take the stress out of the party!

Baking… ah baking.  I will freely admit that I love to cook, and consider myself a fairly good cook.  But baking… can be a challenge for me.  I'm usually not very precise when I cook.  I add a little of this, little of that, taste along the way, change up recipes, and make it up as I go.  With baking that doesn't always work out so well lol.
One thing I bake that gets requested frequently is my Vanilla Cupcakes.  I've posted about them before… they're so yummy!  My daughter asked me to make them for her birthday (New Years Eve), and I happily obliged… and decorated them with purple and pink frosting with pearl sprinkles.  On a side note, if you're looking to get great frosting colors… try Betty Crocker's Food Coloring Gel.  It was by far my easiest time getting a great, bright and consistent color from food coloring.  Plus no messy drops that may or may not end up on your countertop or hands (not that I know this from experience or anything… 😛 )
The cupcakes were a hit and even my husband, the King of not eating sweets, tried a mini cupcake then had to have a big one as well.  I was shocked!  I think the trick is that I make my frosting with less sugar than most frosting recipes… just enough that it still appeals to kids and their love of all things overly sweet, but not so much that it makes adults cringe.  It's a great balance.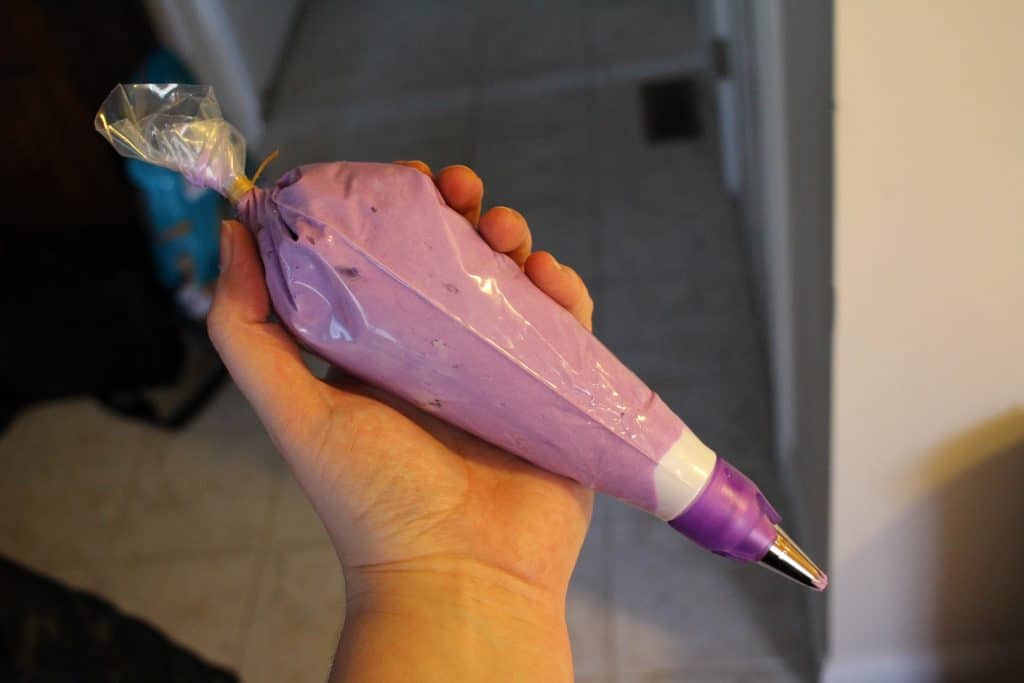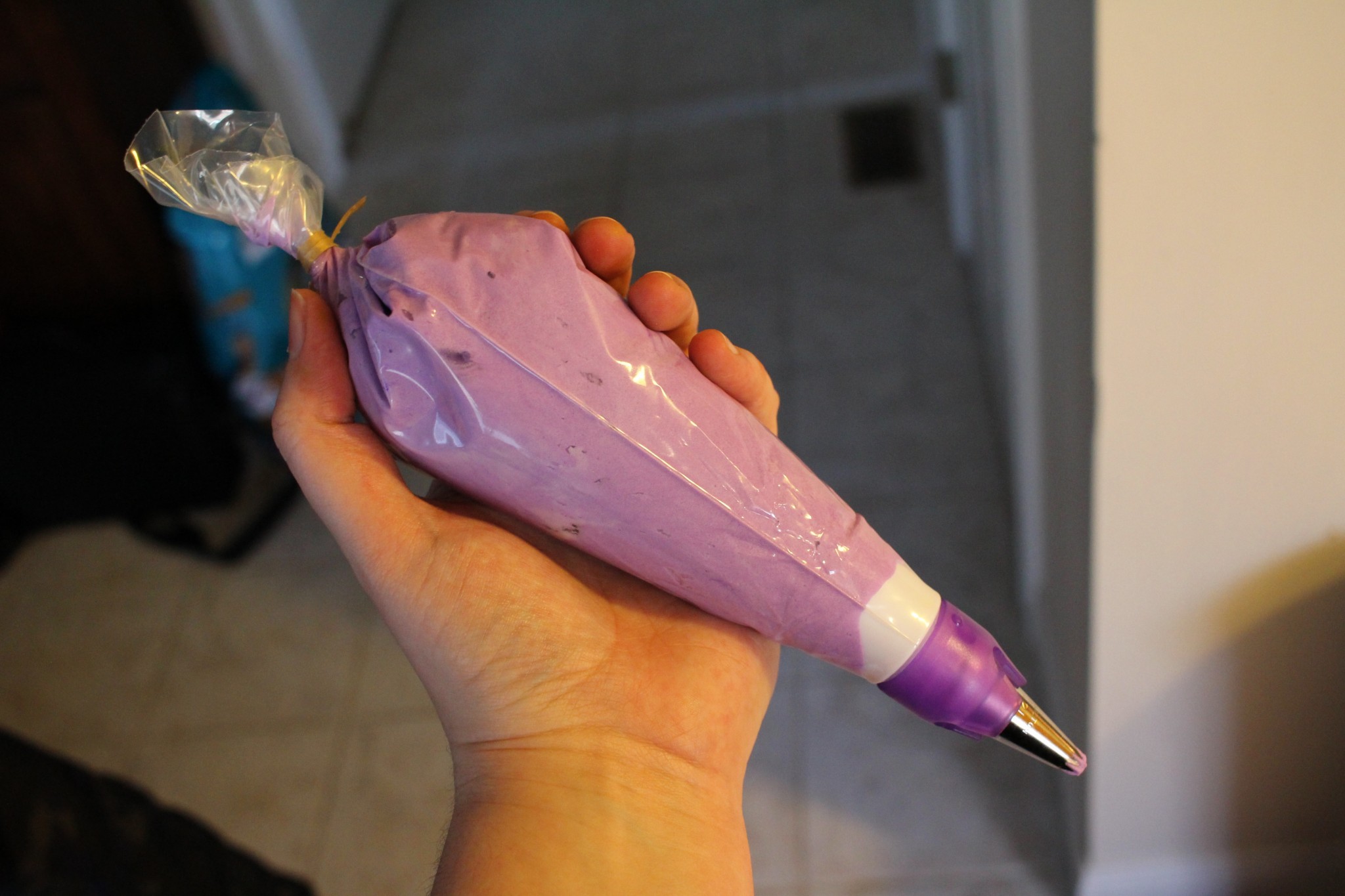 There's my fun new tip by Wilton that allows you to easily twist off the purple part and change decorating tips, without having to have a whole new bag.  Quick and easy!  Although, I just posted the amazon link to show you, I wouldn't buy it there, I found it several dollars cheaper at Michael's craft store 🙂
If any of you are leery of using a decorating bag, or intimidated by it… you're not alone… until recently, I was intimidated by them too.  They seemed too professional, too complicated, and I didn't think I'd be able to use them properly.  In actuality though, they're not too complicated at all, and kind of fun to use.  Plus you get to feel all "baker-like" 🙂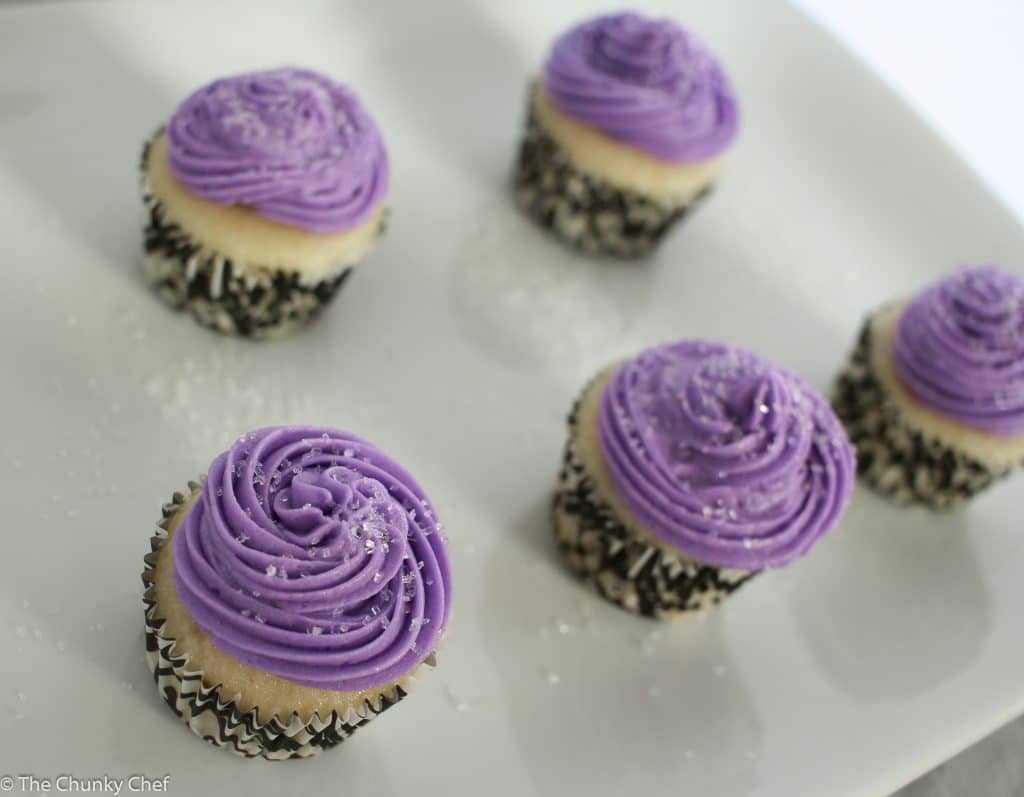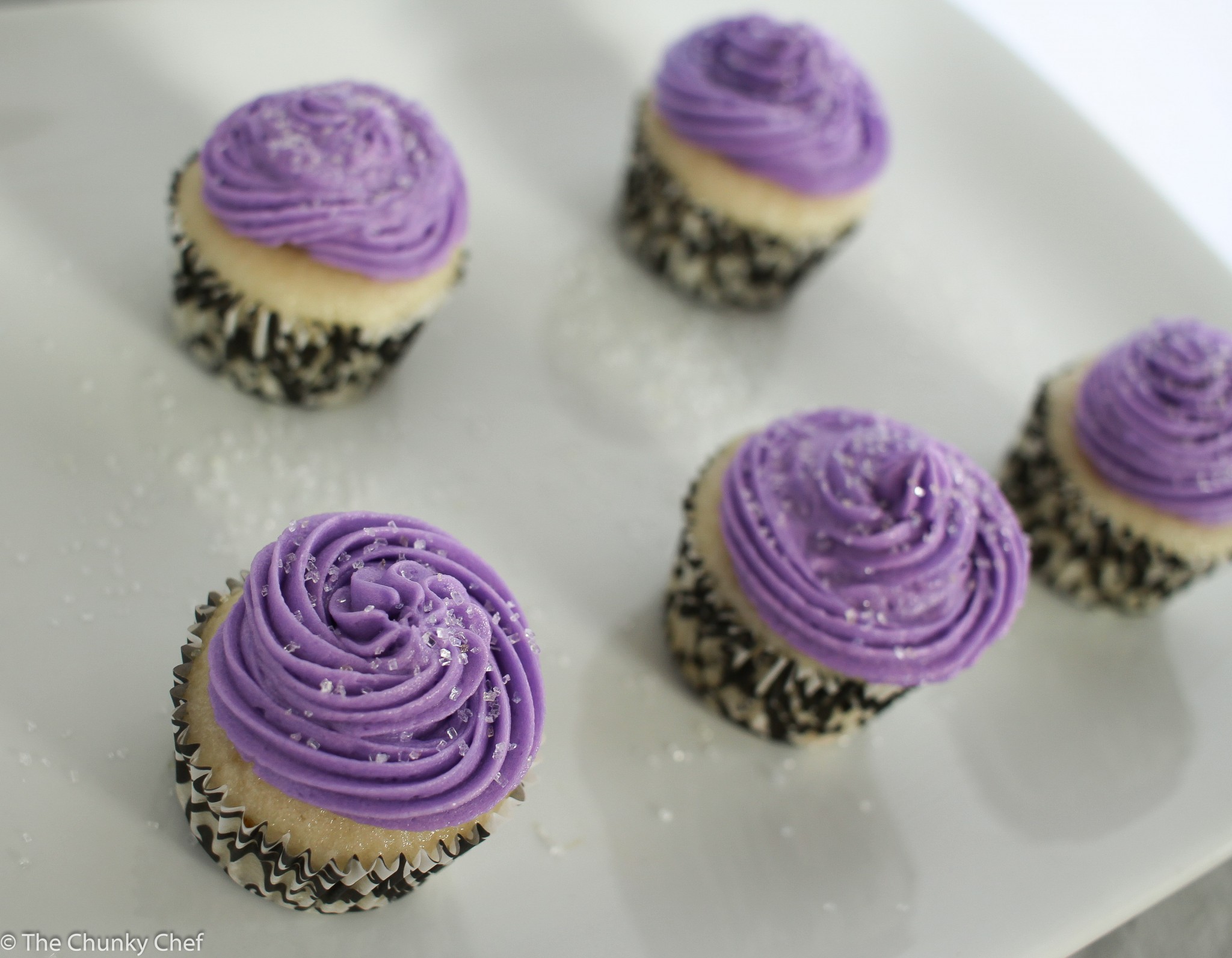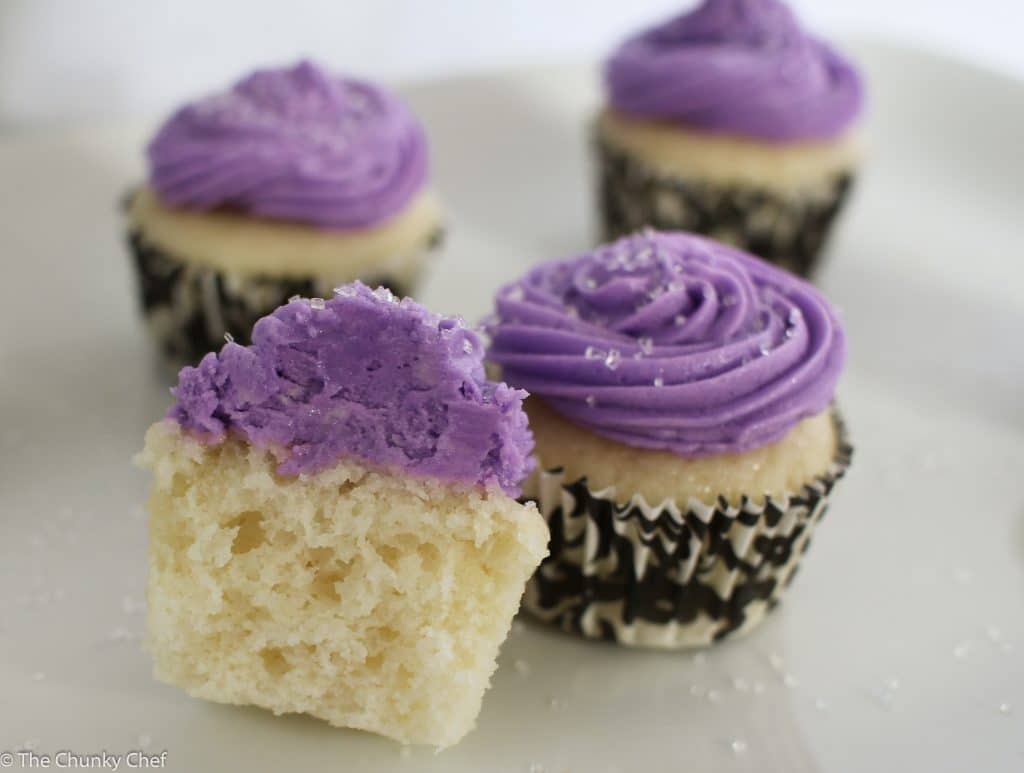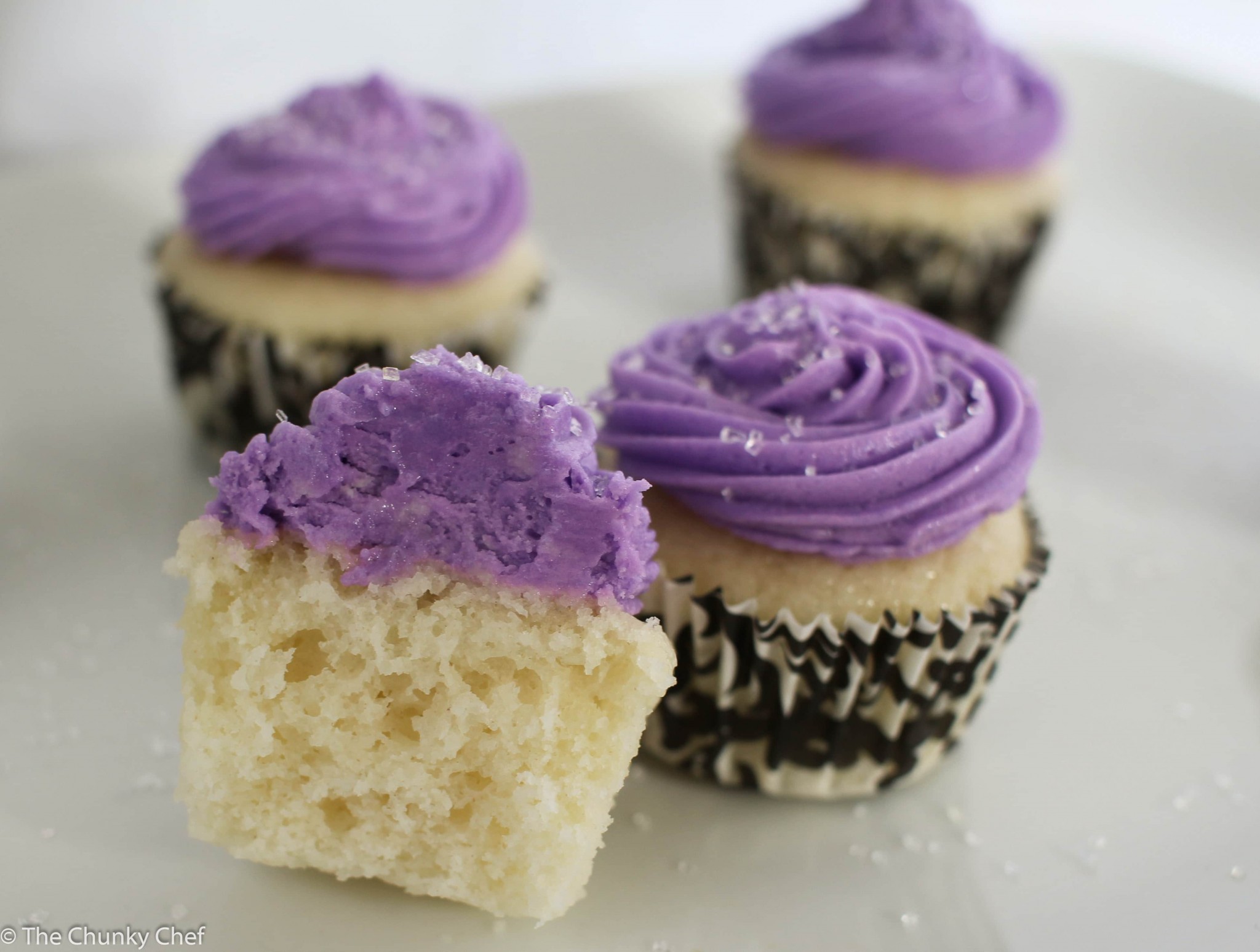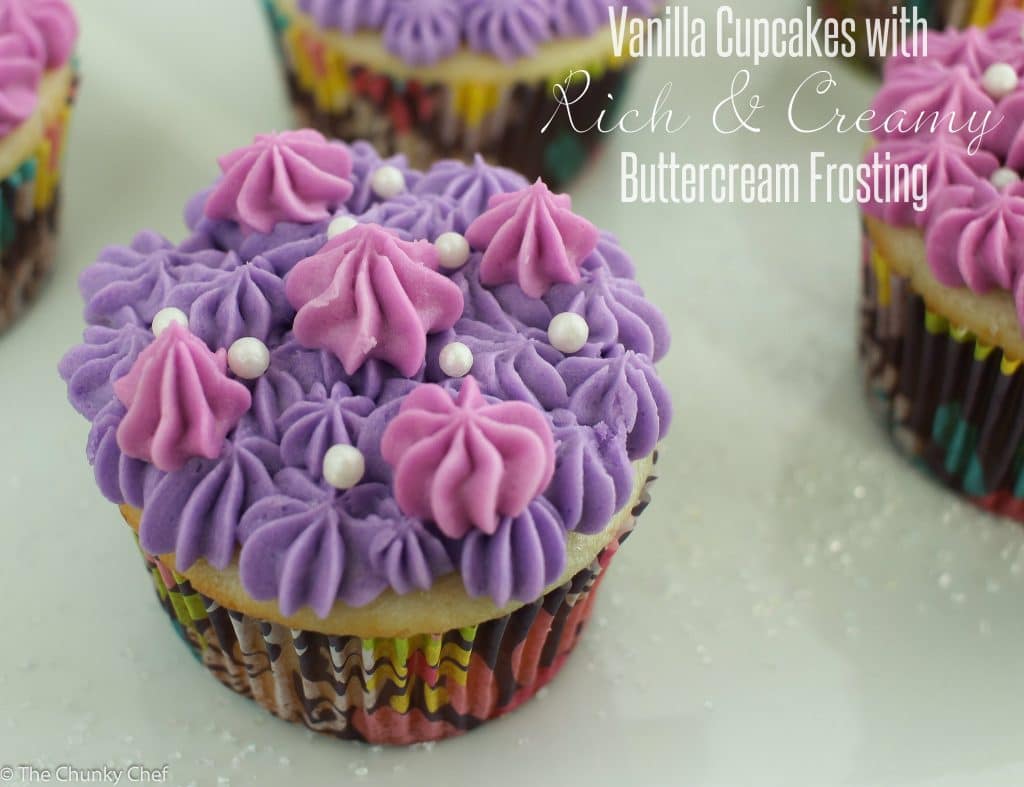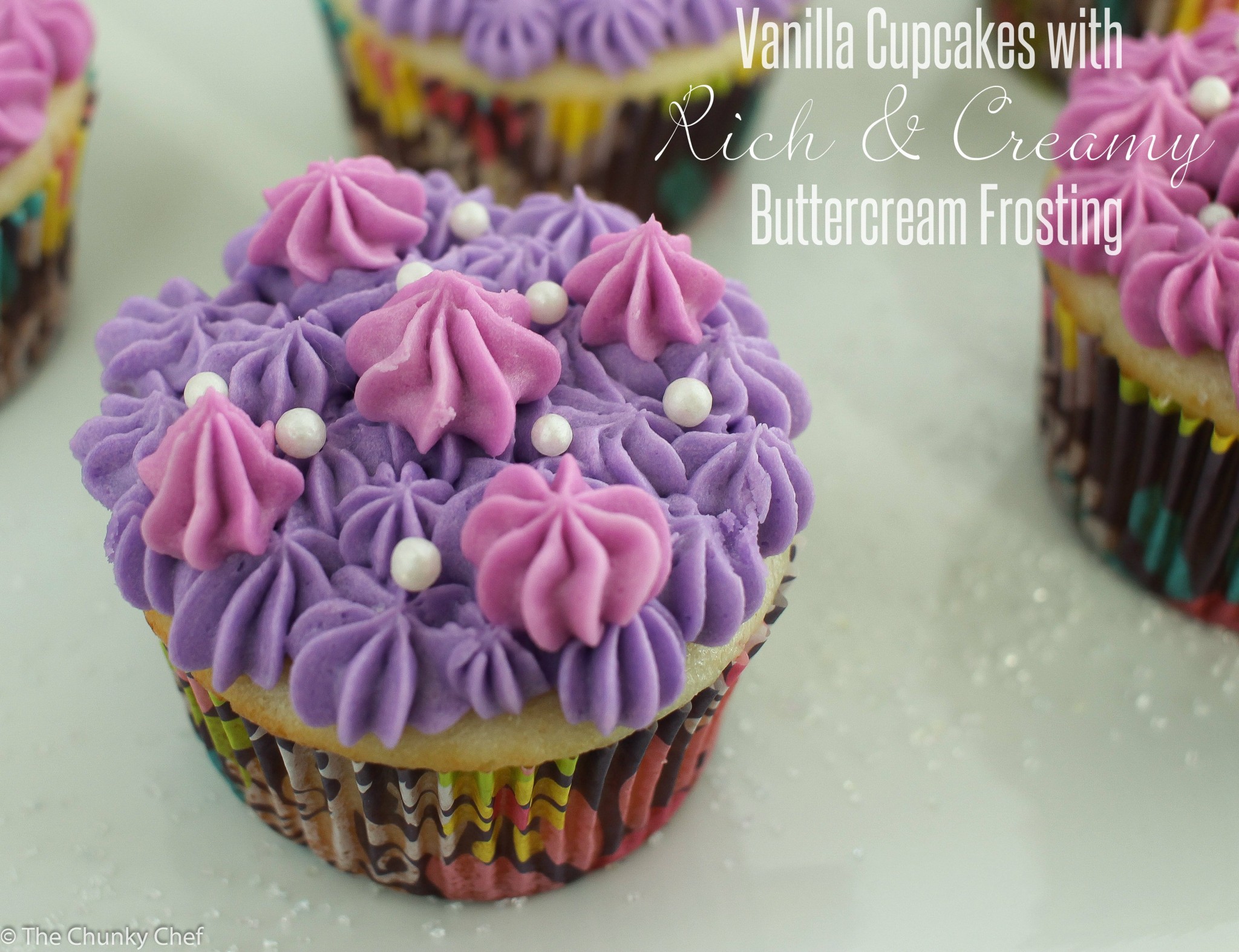 So my daughter proclaimed that I should make cupcakes for her birthday party, and at first I thought, "sure that would be fun, how many kids would she invite, just a couple right?".  Nope.  She invited everyone in her preschool class, plus cousins… a total of around 26 kids, plus siblings and parents.  So all in all, I figured I'd need to make around 70 cupcakes to allow for people to have more than 1.  Crap.  Mega crap.  How in the *(#& was I supposed to bake all the cupcakes, decorate them and, transport them.. all while still taking care of the kids, laundry, cooking dinner, etc?!?!!?!
Once my panicked subsided, I thought about it logically… bakeries that deal with orders of more than 70 cupcakes manage to do this all the time.  Granted they have a staff to handle things, and that's their sole priority, but still.  It couldn't be impossible.
Google can be your friend sometimes folks… (just for the love of all things holy, don't Google any medical symptoms you may have… just don't).  I found quite a few websites that talked about freezing cupcakes (and cakes in general).  Hmm now that was an interesting idea!  After some more research, I had a plan!
Luckily, my cupcake recipe makes about 35 – 36 cupcakes, so I'd only need to double the recipe.  I decided I'd make one batch regular vanilla, and add sprinkles to the second batch to make it more of a "funfetti" type of cupcake.  For as light and airy as these cupcakes are, the batter is fairly dense, so the sprinkles stay suspended in the batter instead of falling to the bottom.  As far as transporting them, my husband found these adorable cupcake containers on Amazon, which I'll reuse as many times as I can… they worked perfectly!
The Wednesday before her party I got to baking, making one batch in the morning, and one in the afternoon.  Once they had fully cooled (this is important), I wrapped each cupcake in plastic wrap, then placed the wrapped cupcakes in large ziploc bags, and froze them.  I didn't have the freezer space, but luckily, it was frigid here in Ohio that week, so I just put them in the garage and they froze anyway 🙂  Looking back, I don't know that the plastic wrap was necessary, since I was only freezing them for a couple of days, but better safe than sorry!
Friday night after the kids had gone to bed I pulled the frozen cupcakes out of the garage and got to work unwrapping them.  I put the cupcakes in the plastic containers, since I figured it would be easier to decorate them already in the container, rather than trying to carefully place a decorated cupcake into the holder.  By the time I got done unwrapping the cupcakes, the first ones I unwrapped were already thawed.  Yep, that quickly.  Awesome huh?
My daughter and I had browsed on Pinterest and found some cute cupcakes with a balloon design that didn't look too terribly complicated.  Kudos to all of you who can decorate cakes with those amazing designs… sadly, I cannot (yet), so I needed something simple.  I decided on sky blue frosting piped on with a round tip, white frosting with my star tip to be the clouds, m&m's as the balloons, and melted milk chocolate to make the strings.  So I set to work making my two batches of frosting.  My method for decorating is to use Wilton disposable decorating bags with a coupler and a decorating tip.  Although for my white frosting, I didn't have a coupler, just used the bag and the tip, and it worked just fine 🙂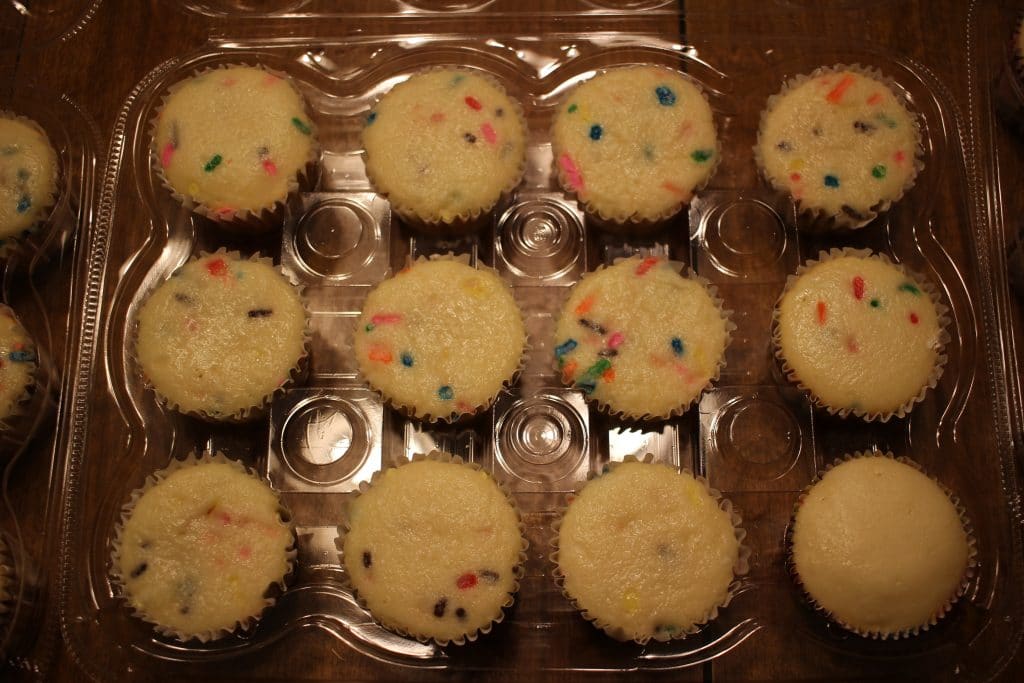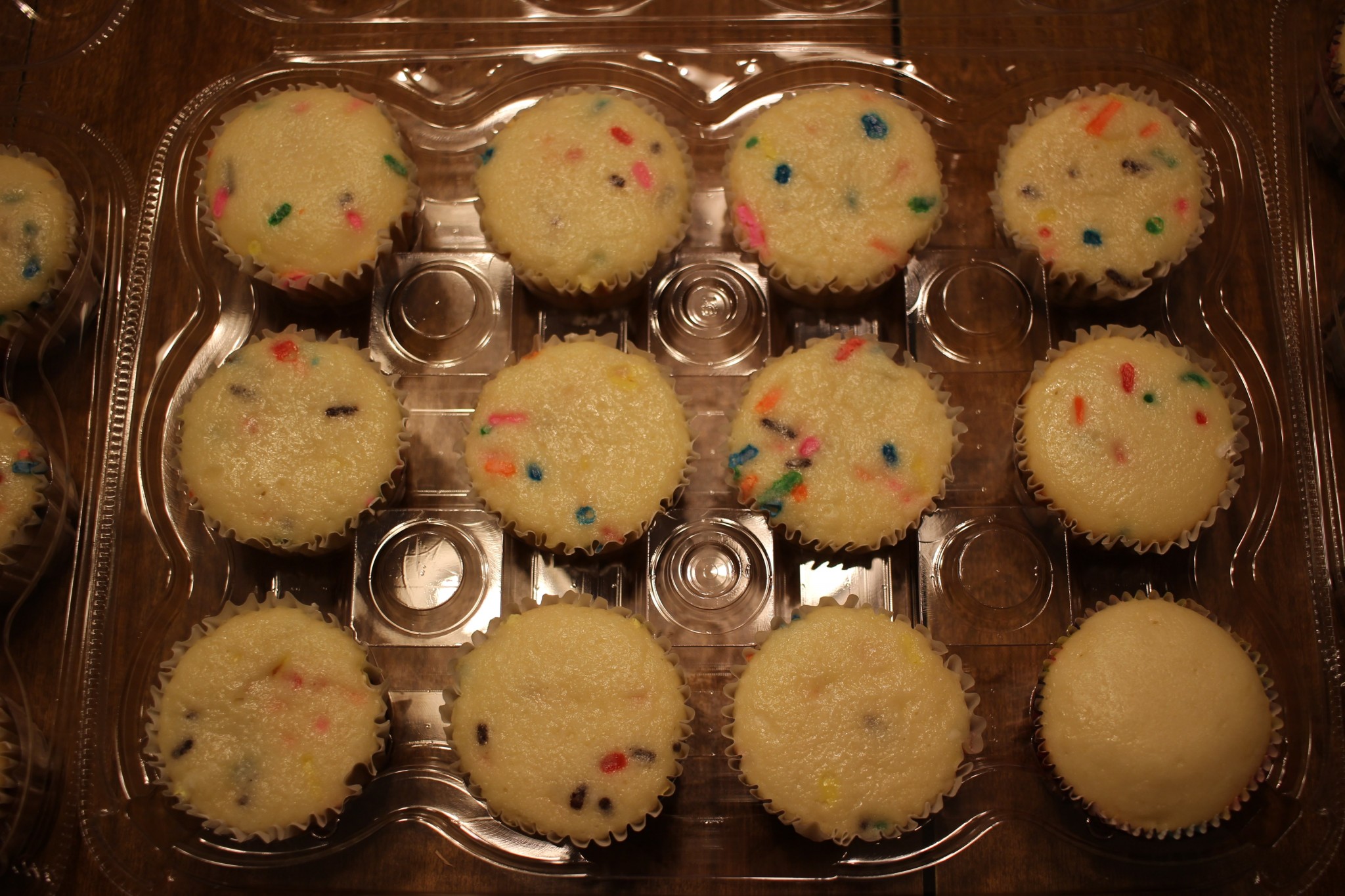 My "funfetti" cupcakes on decorating night.  Nope, your eyes aren't wrong, there are no sprinkles in that bottom right cupcake, lol, I ran out of spots for my vanilla cupcakes so that one hitched a ride with his funfetti counterparts 🙂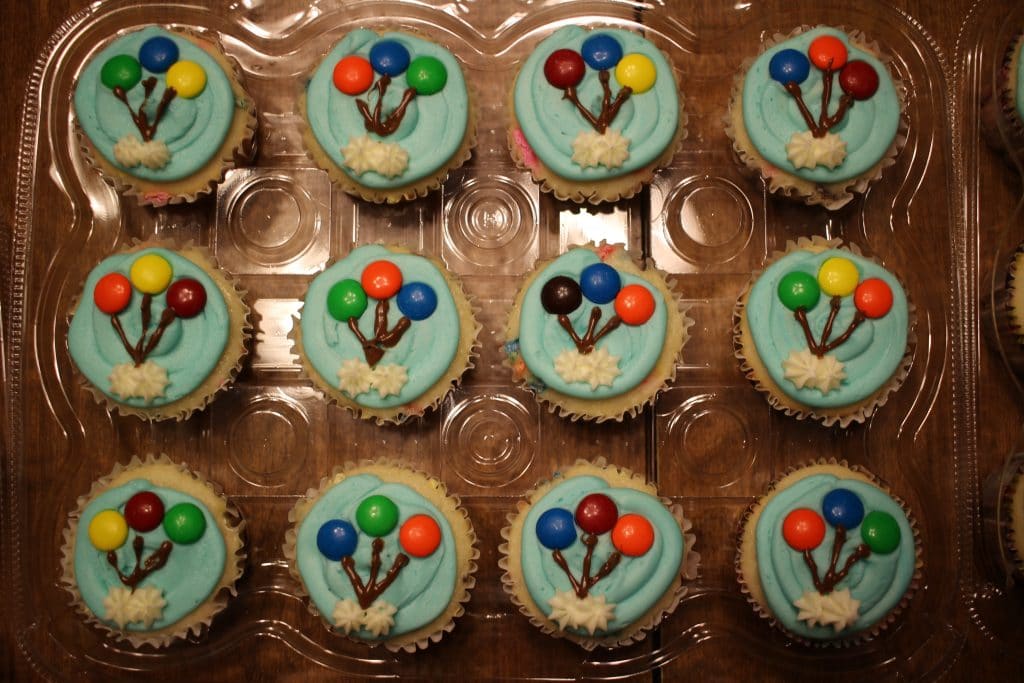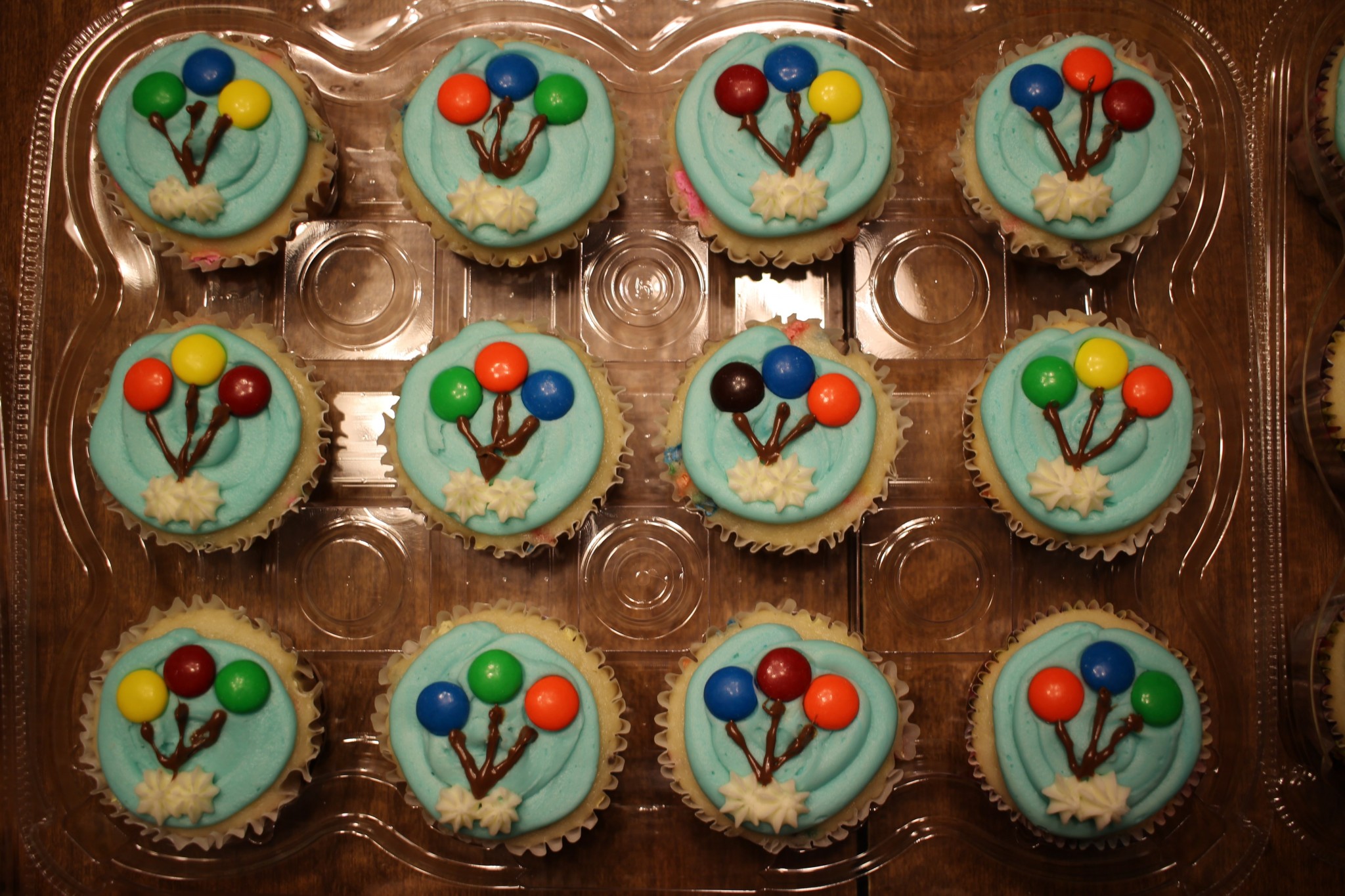 There's some of the finished product… not professional by any standards… but cute and delicious 🙂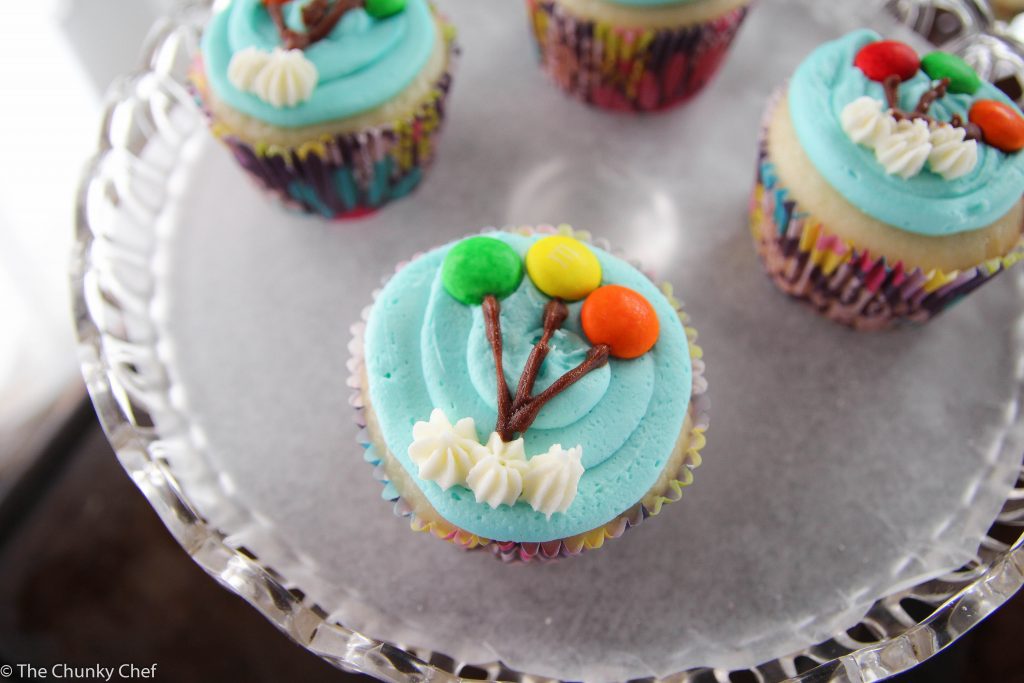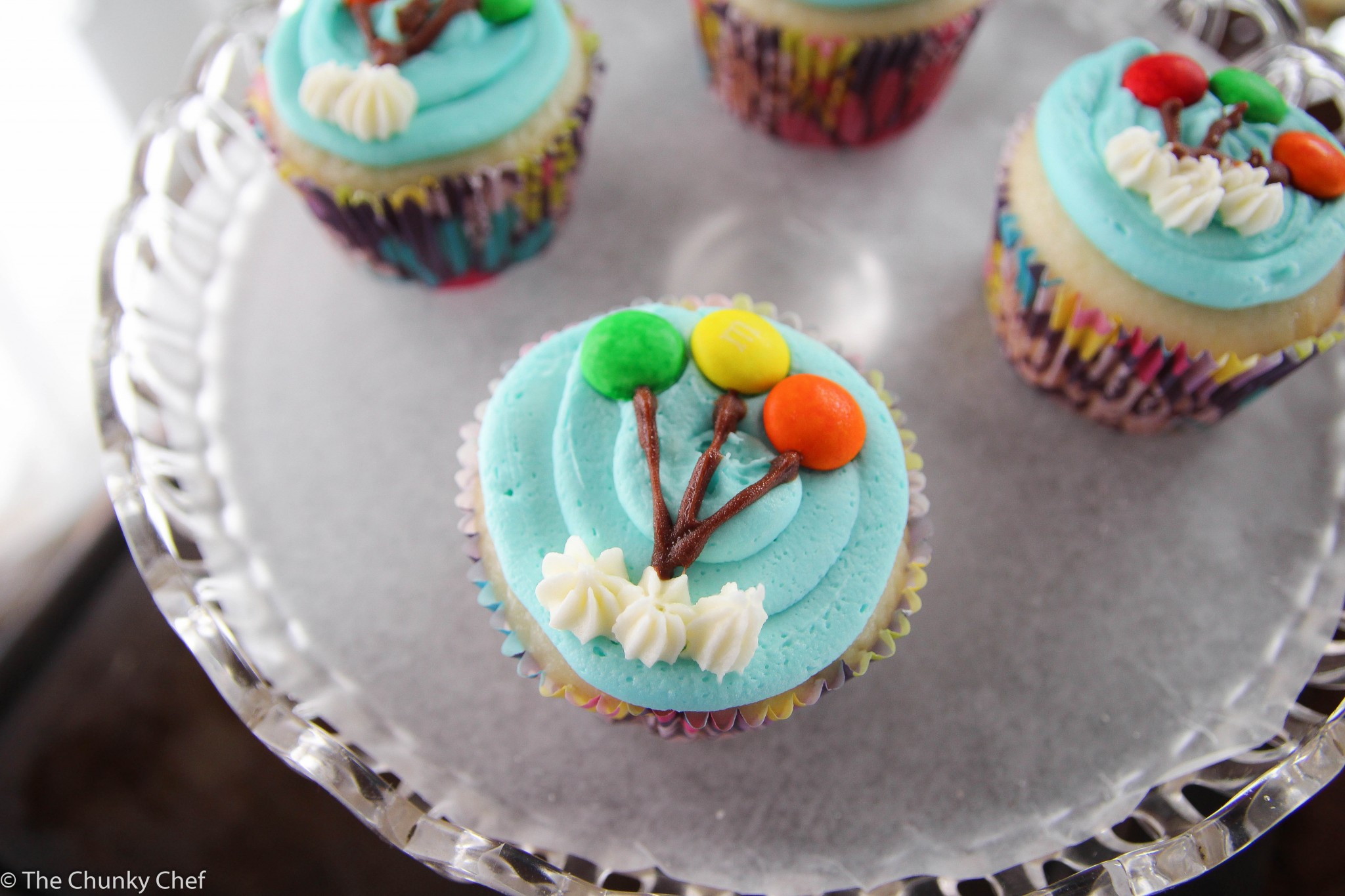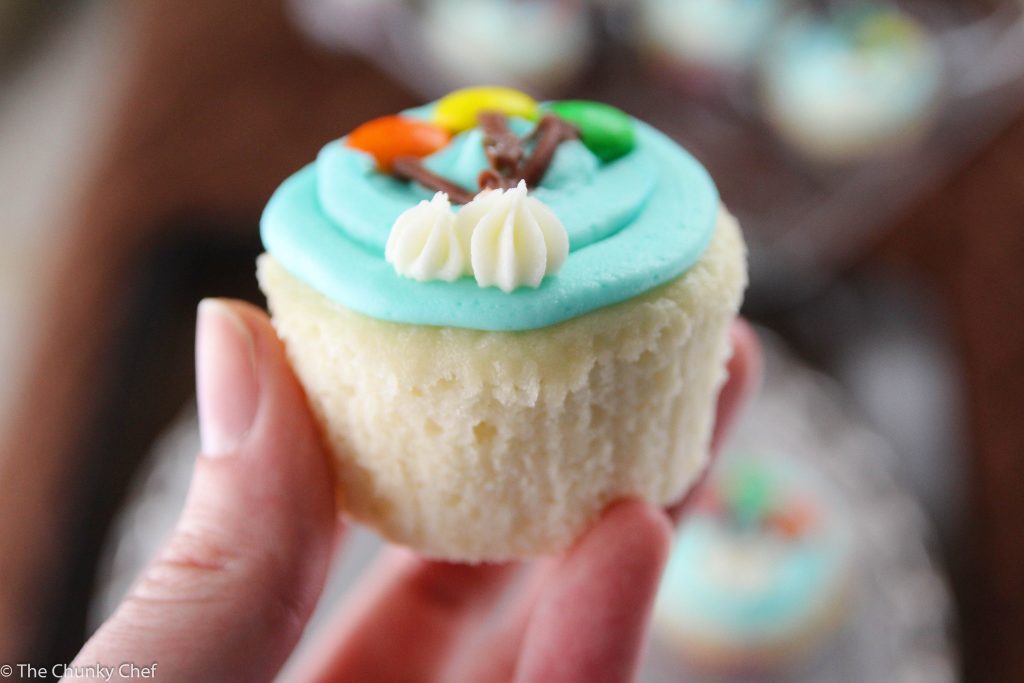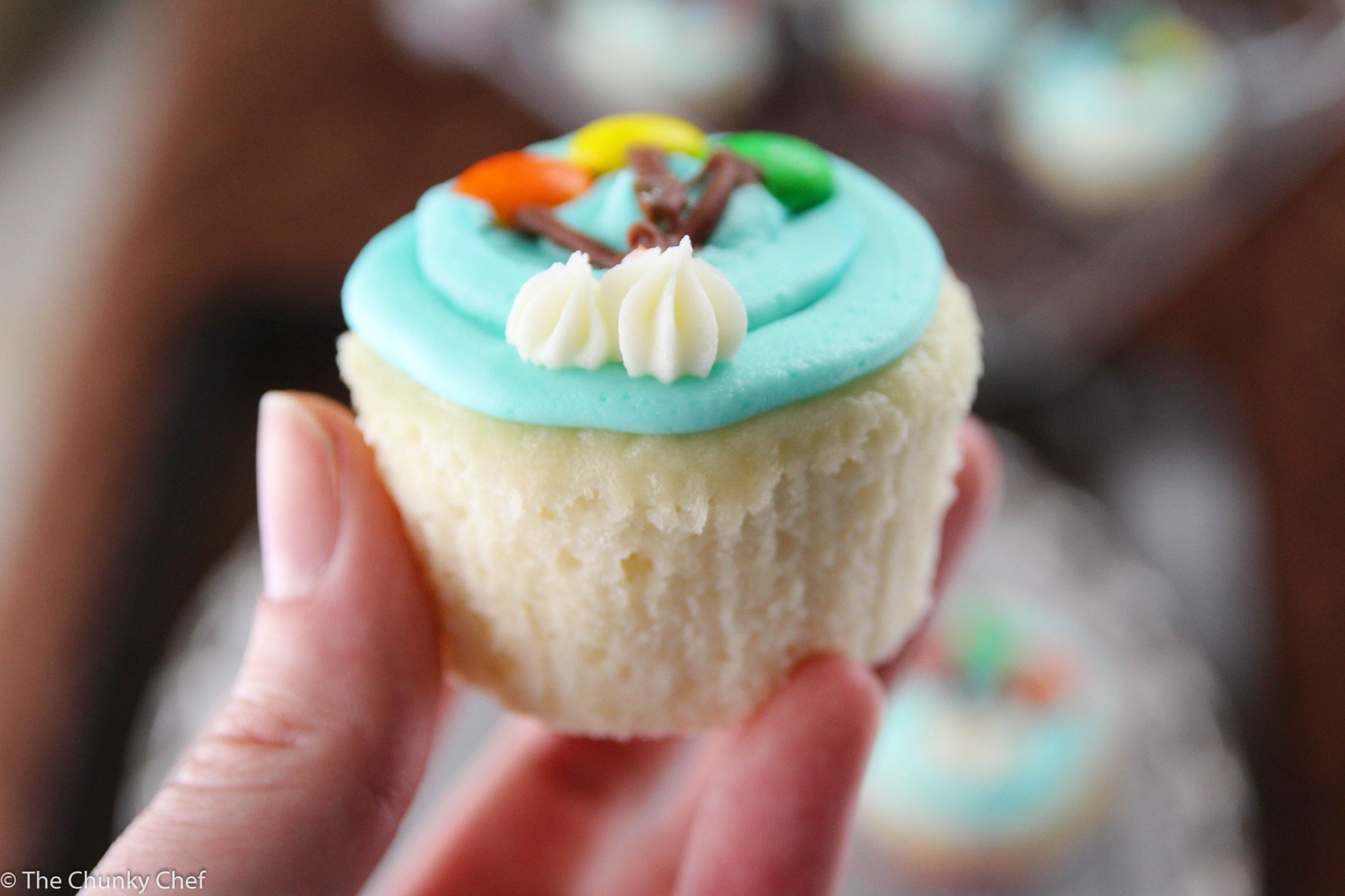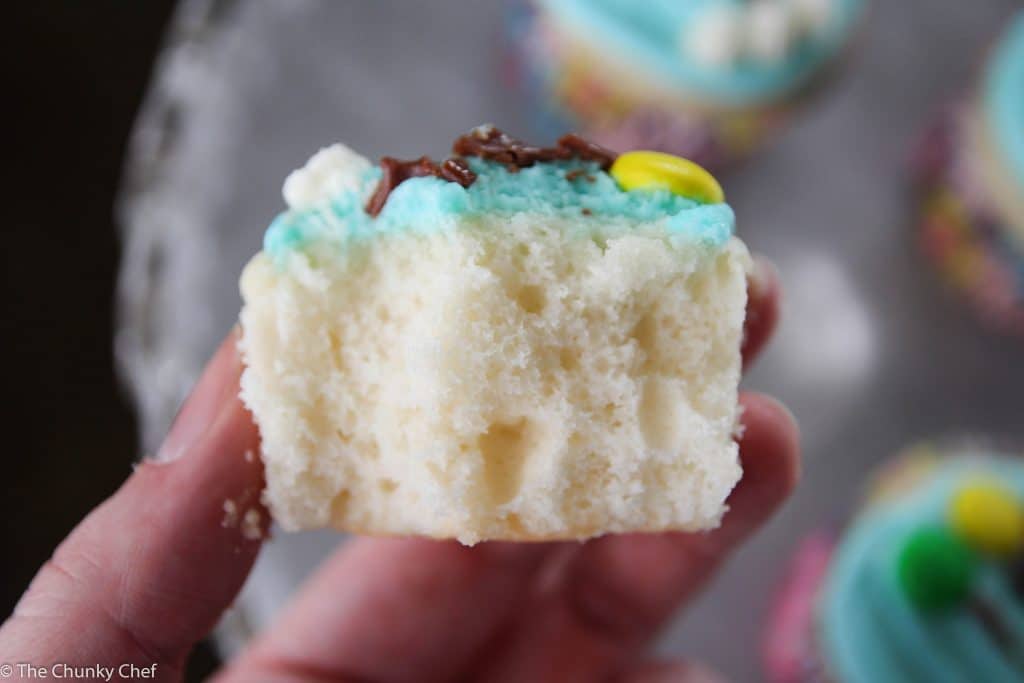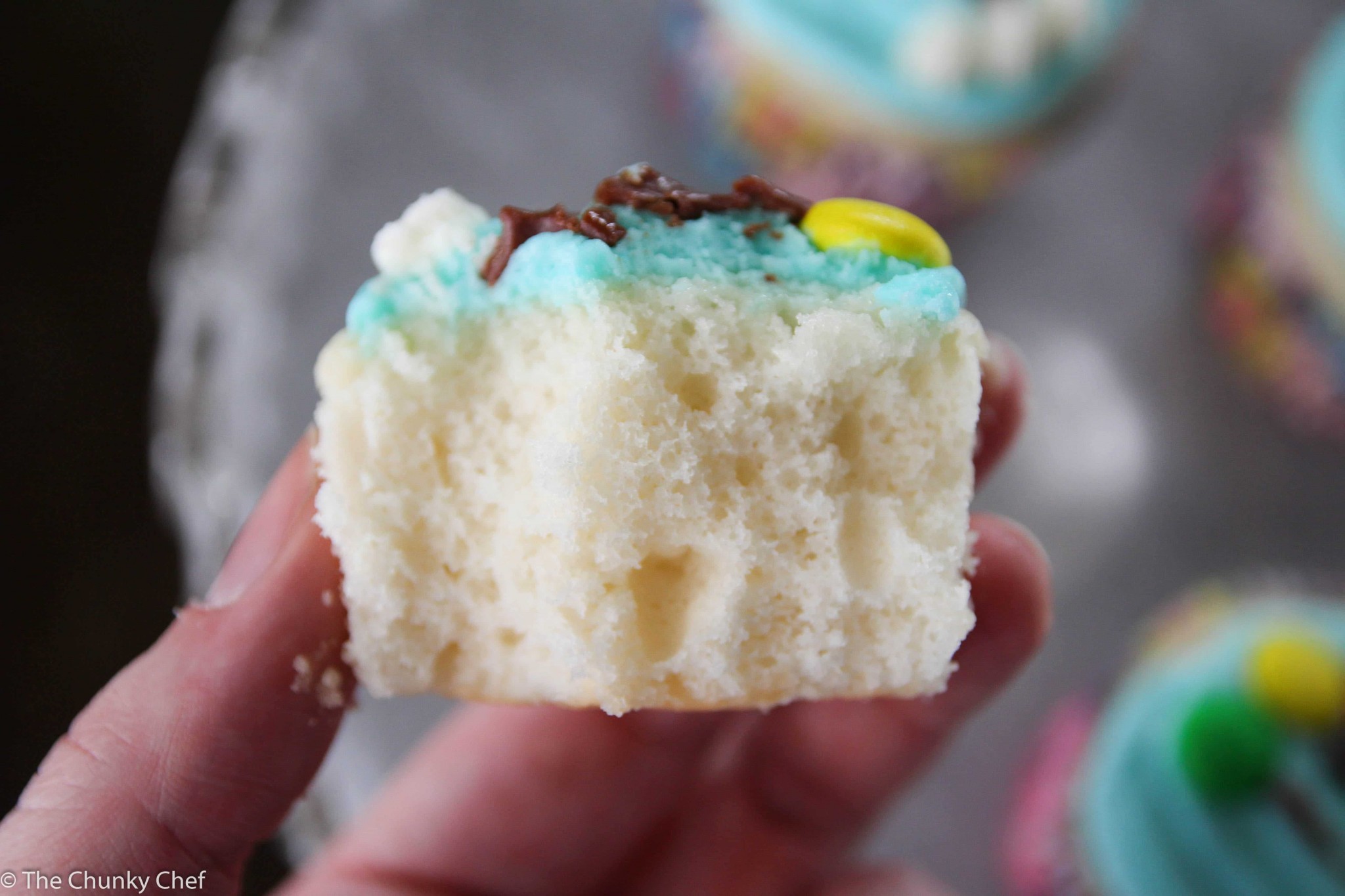 Some sites say you can freeze cupcakes that have been frosted, but I've never tried that… if you have, let me know how it went! 🙂
So there you go… how you can easily make cupcakes for a crowd, days in advance… with less stress right before the party, and they still taste great!!
Remember, for the cupcake and buttercream recipe, go to Vanilla Cupcakes.