I know holiday baking is over for the most part, but I'm excited to share this recipe with you all anyway lol. Who would have thought that simple saltine crackers could turn into delicious toffee? I'll admit, I was skeptical at first… I mean, saltine crackers? Really? I use those to crush into chicken noodle soup when I'm feeling sick… not to bake with! Boy was I wrong!
I made this toffee as a part of my Christmas baking, and it was delicious!! Having never made toffee before, I didn't have high hopes on this one, but I figured I've give it a shot. If you're nervous about making toffee, don't be. I promise you, if I can do it… so can you 😀
The original recipe didn't call for almonds… but I have an obsession with almonds so I added some, and it really was delicious! One thing I meant to do, but completely forgot about, was to drizzle some melted chocolate over the top of my toffee once it was finished. I had planned to drizzle milk chocolate since it would contrast nicely to the white…. but I can be a bit scatterbrained and well… maybe next time lol.
Do you guys do that? Forget little things like that? I never used to… but after 2 kids… I'm lucky if I remember to get dressed in the morning!
Anyways, back to the post, lol… since the bright red dried cranberries are on top, I think this would make a great Valentine's Day treat 🙂 Who doesn't love a homemade sweet treat? Just imagine those pieces of amazing toffee, studded with the sweet red cranberries and toasted almonds, in a cute little treat bag tied at the top with a red ribbon…. I'd love something like that!
The process to make this toffee is pretty simple, and you may already have the ingredients on hand (don't you just love when that happens?!).
Start by laying out your saltine crackers in a foil lined baking sheet, next to each other, but not overlapping.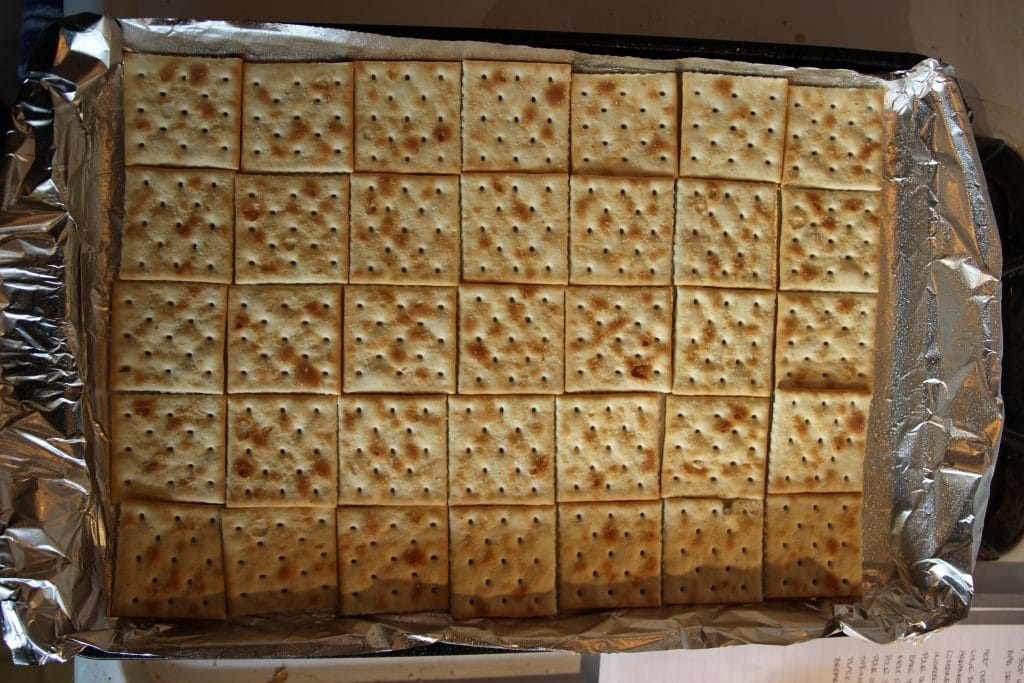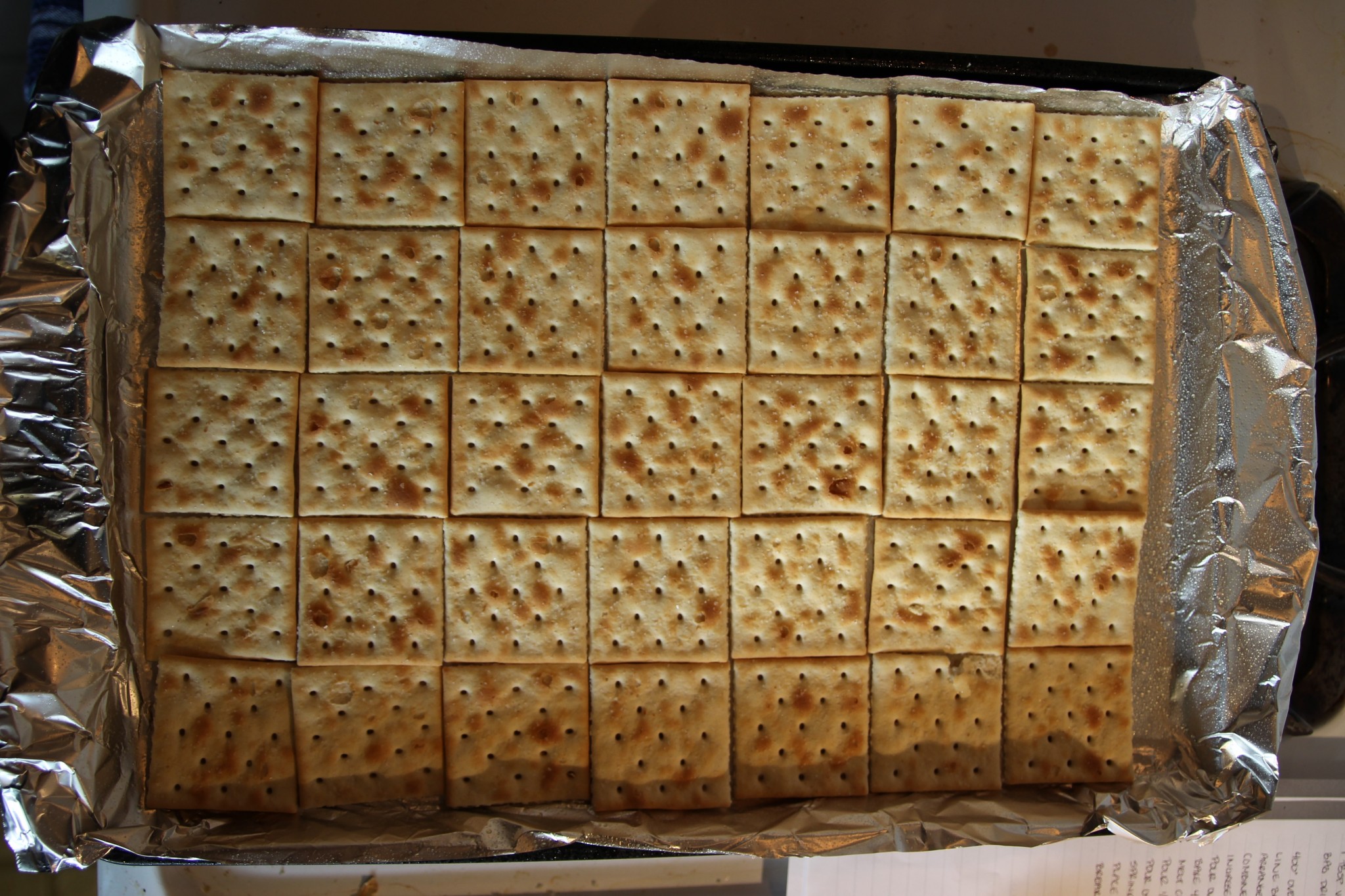 Now just melt your butter and brown sugar in a small saucepan until the butter is melted. Raise the heat and stir like crazy until it boils for a minute and turns a caramel color. Pour it over the crackers and spread it out with a rubber spatula.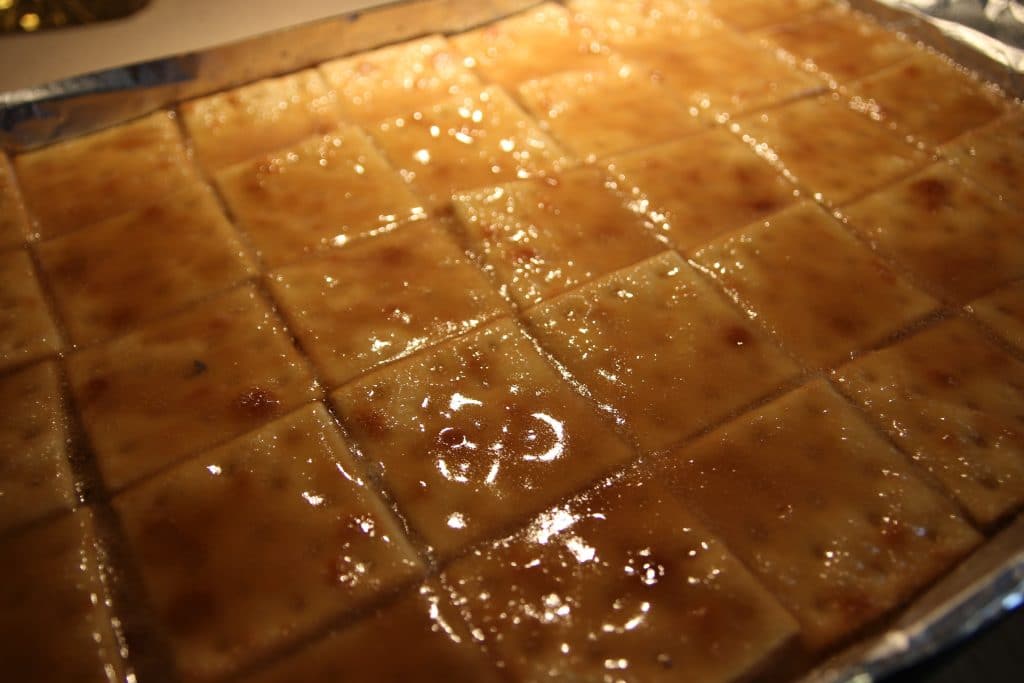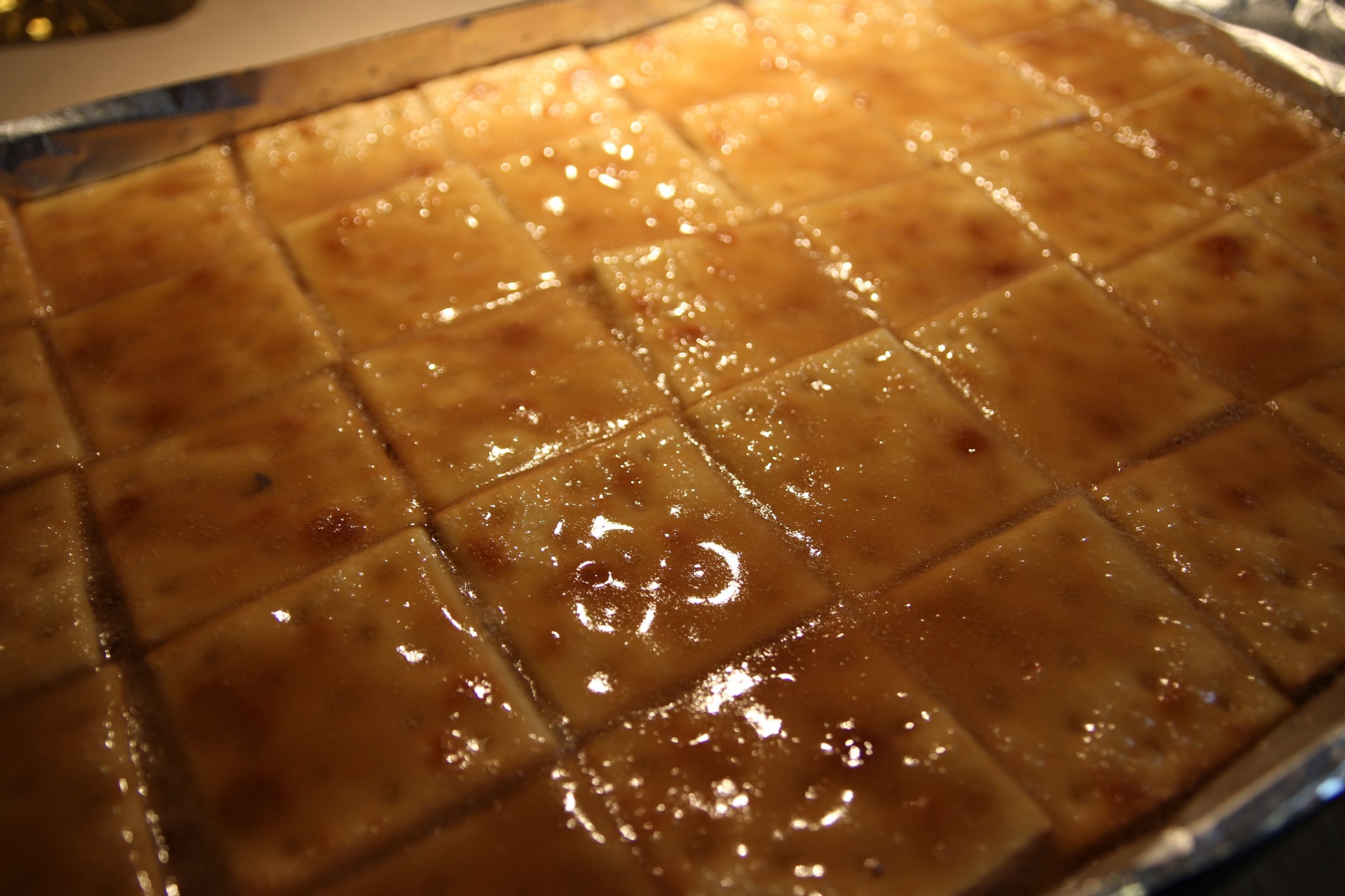 Pop the baking sheet in a 400 degree oven for about 5 minutes. Go ahead and melt your white chocolate chips while the crackers are baking. You can melt them any way you feel comfortable… my preferred method is a makeshift double boiler (just a saucepan with about an inch of simmering water with a glass bowl on top of it).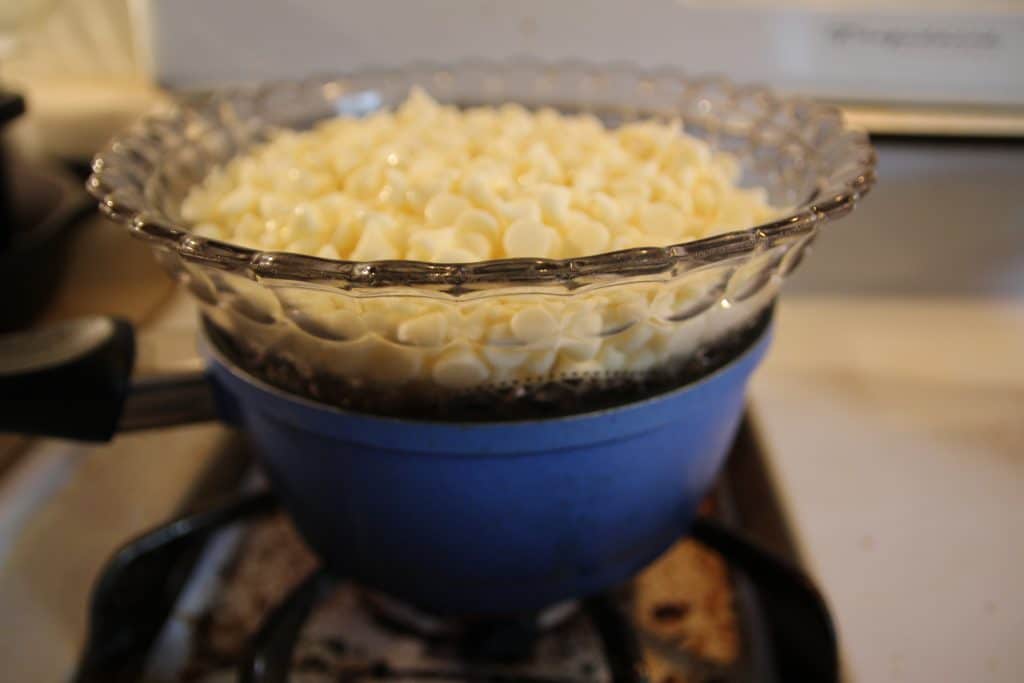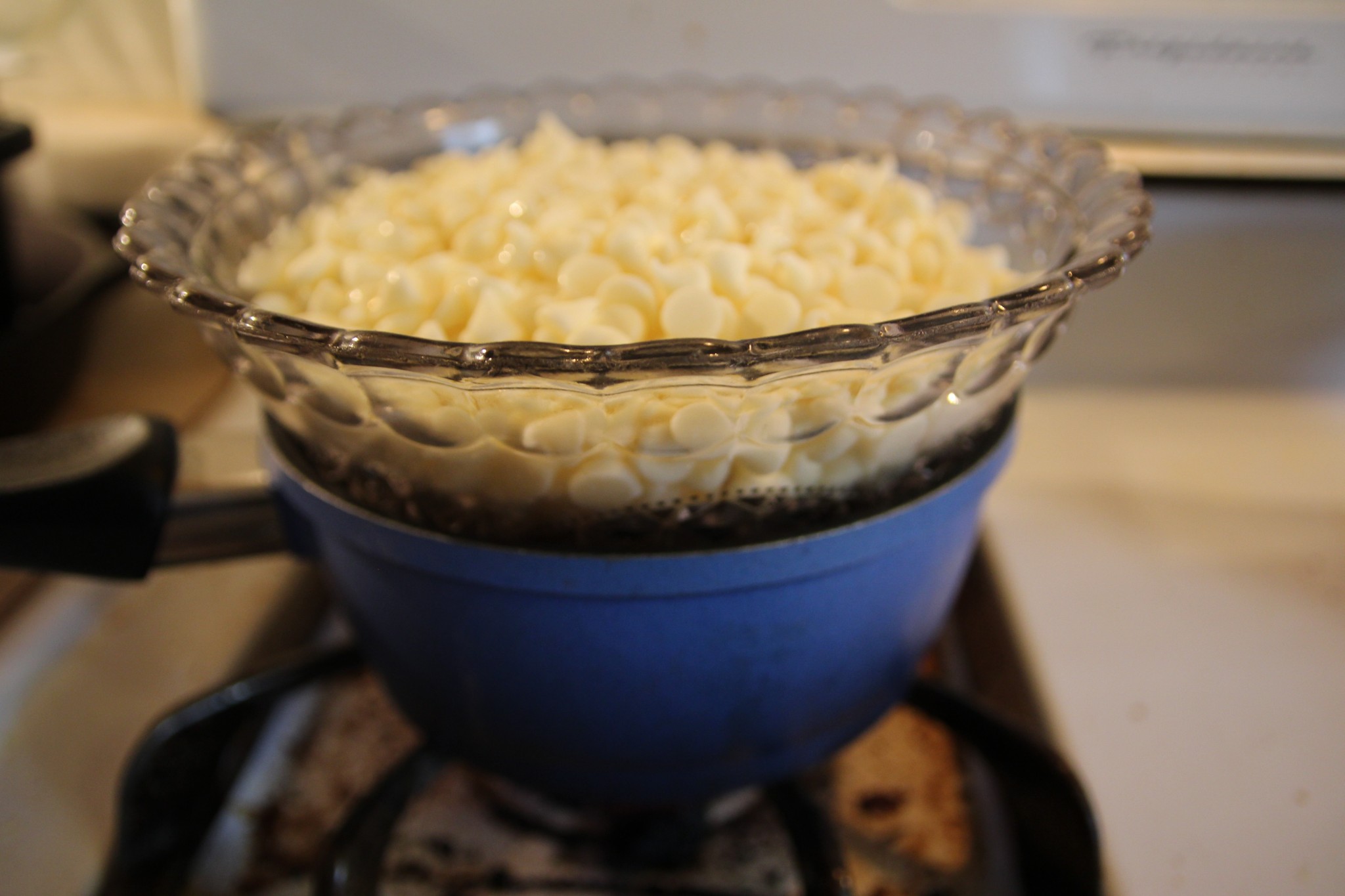 Stir your vegetable oil into your chocolate chips and stir frequently while it melts. Pull it off the heat while there are still a few lumps, stirring it will melt those last little bits and you'll have smooth, silky, rich melted chocolate 🙂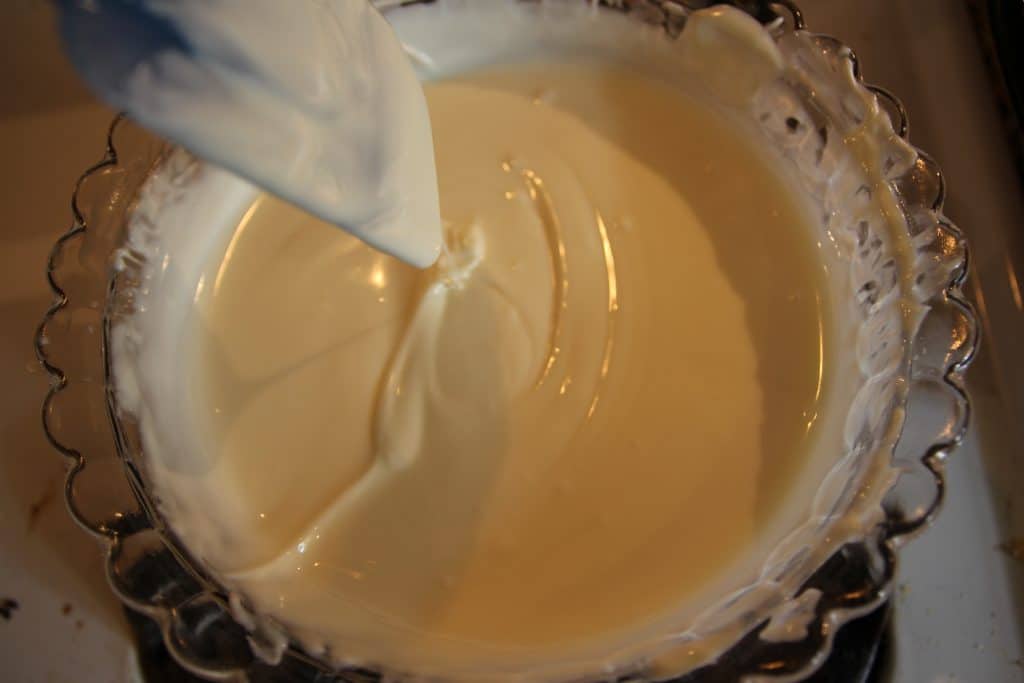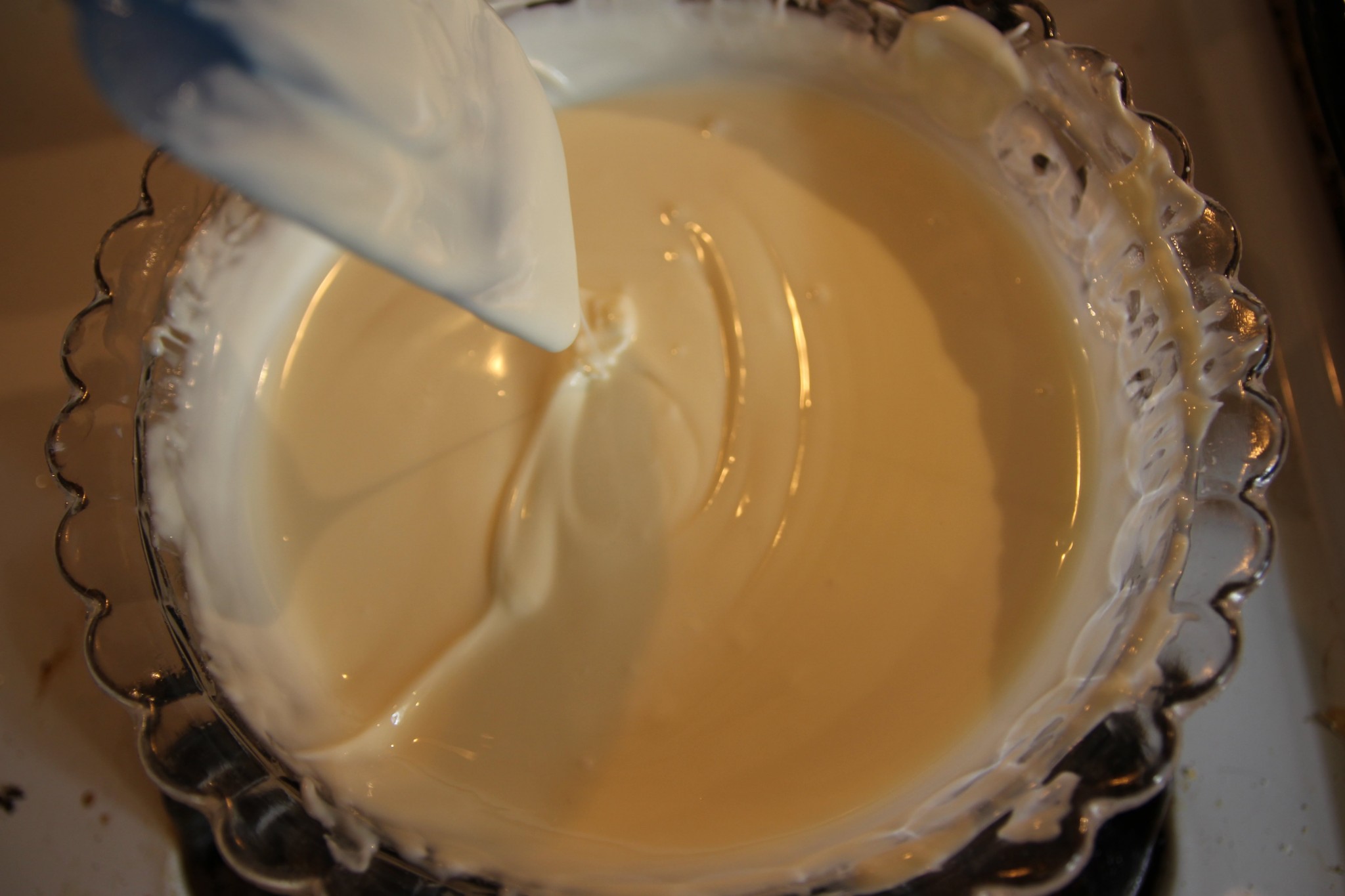 Pour about half of your melted chocolate over your baked crackers, spreading it out evenly with a rubber spatula or offset spatula if you have one. Let that set for a minute or so, then pour the remaining chocolate and spread it out. Sprinkle with dried sweetened cranberries and toasted sliced almonds.
Freeze for 20 minutes, break into pieces and store in an airtight container.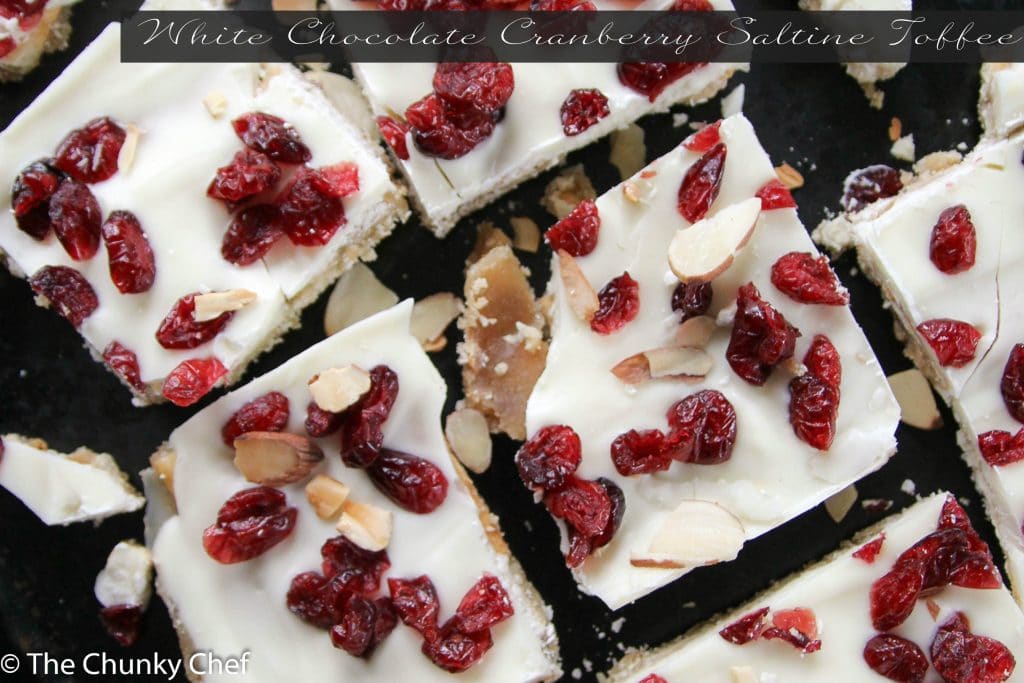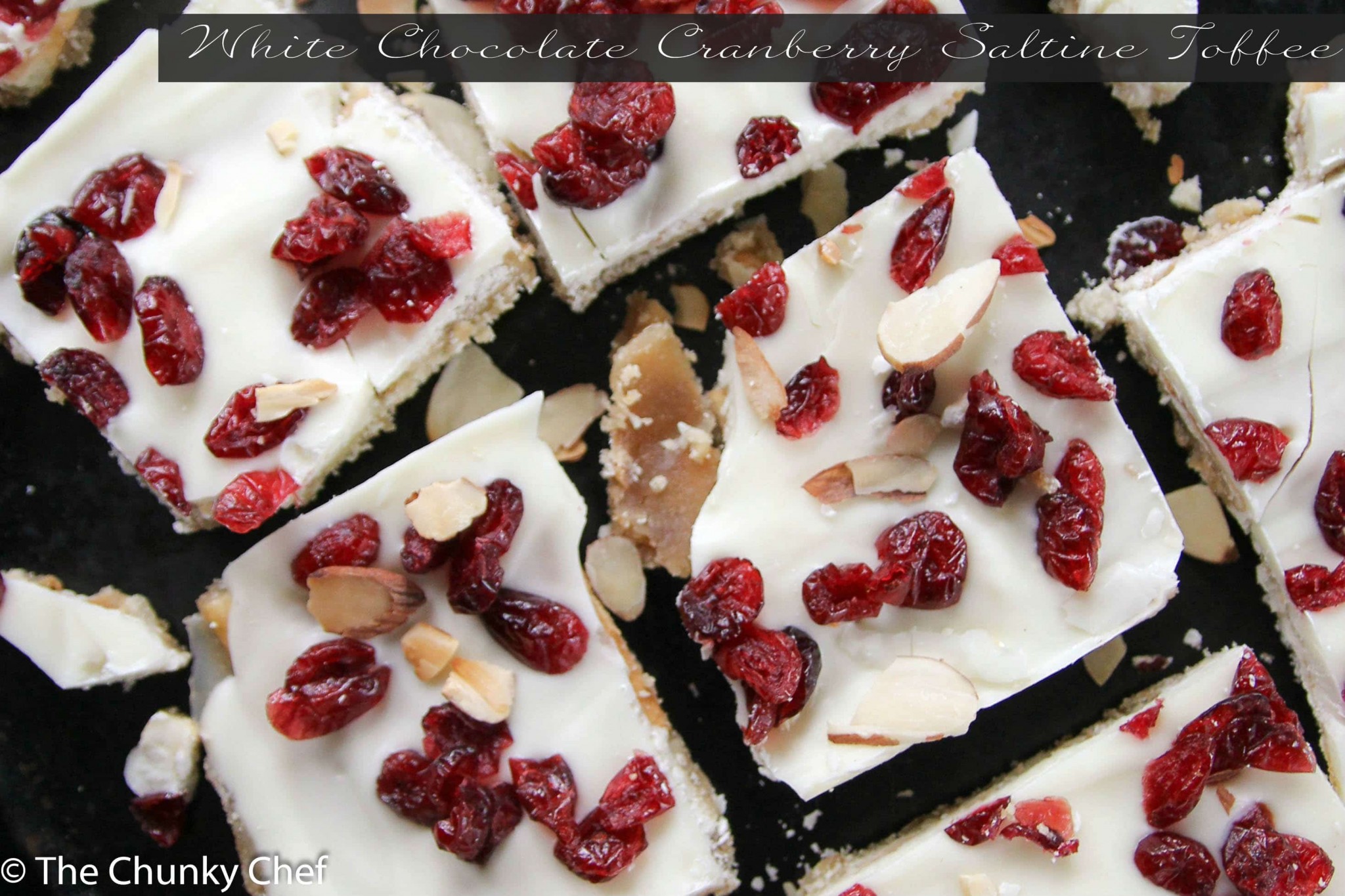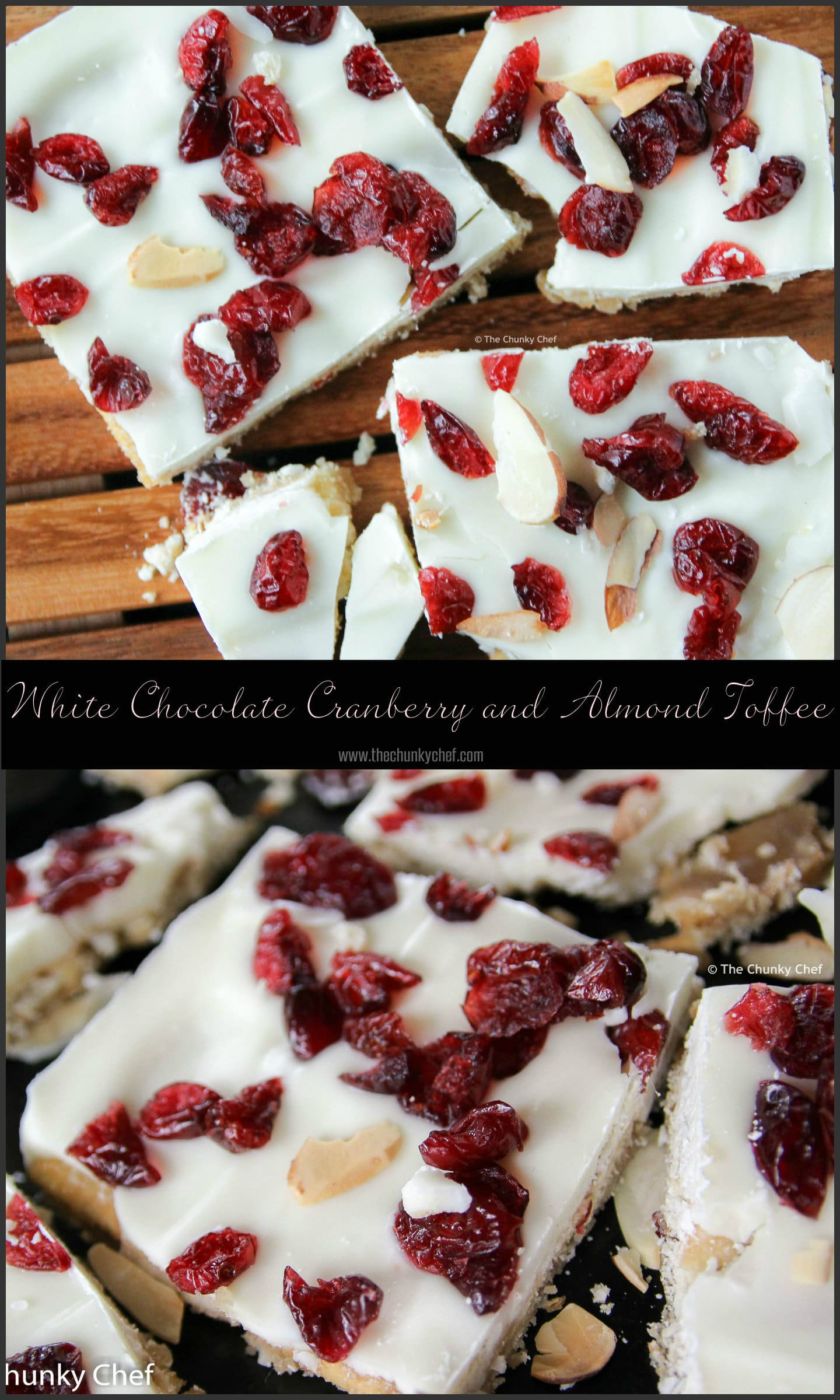 Are you craving some toffee now? I am! I hope you make this, I think you'll love it!!
If you're in the mood to bake and this isn't up your alley, try my Peppermint Oreo Truffles, Chocolate Chip Pretzel Cookies, Spiced Soft Molasses Cookies, or Butter Pecan Cookies 🙂
Recipe adapted from Diethood
Did you make this? Be sure to leave a review below and tag me @the_chunky_chef on Facebook and Instagram!
Saltine crackers are transformed into decadent white chocolate covered toffee studded with sweet cranberries and crunchy toasted almonds
Ingredients
40 Saltine crackers about 1-1/2 sleeves
2 sticks butter (1 cup total)
1 cup light brown sugar
2 12 oz bags white chocolate chips
1 tablespoon vegetable oil
1 ounces bag dried cranberries 5-
1/4 cup sliced almonds toasted
Instructions
Preheat oven to 400.

Line a baking sheet with aluminum foil and spray with cooking spray.

Arrange the saltines, one next to another, in a single layer.

In a small saucepan combine butter and light brown sugar; cook over medium heat, stirring frequently, until butter is melted.

Increase heat to medium-high and bring to a boil; continue to cook, stirring frequently, until it turns a caramel color; about 1 minute.

Remove from heat and pour over the crackers.

Bake in the oven for 4 to 5 minutes, or until mixture is bubbly.

In the meantime, set up a double boiler and combine chocolate chips and vegetable oil in the top bowl.

Melt the chips, stirring frequently, until most of it has melted but remove from heat while a few lumps are still present. The chocolate will continue to melt while you to stir it.

Remove crackers from oven.

Pour half of the melted chocolate over the crackers and smooth it out with a rubber spatula; let stand for 1 minute.

Pour the rest of the melted chocolate and smooth it out.

Sprinkle dried cranberries and toasted almond slices over the top.

Place in the freezer for 20 minutes, or until cold.

Break up into pieces and store in airtight container.
Want to save this recipe for later? Click the heart in the bottom right corner to save to your own recipe box!
Chef Tips
** If desired, drizzle melted milk chocolate over the top of the toffee
Nutrition Disclaimer
The Chunky Chef is not a dietician or nutritionist, and any nutritional information shared is an estimate. If calorie count and other nutritional values are important to you, we recommend running the ingredients through whichever online nutritional calculator you prefer. Calories can vary quite a bit depending on which brands were used.