This Dark Hot Chocolate Mix is made with just a handful of simple ingredients, such as dark cocoa powder, powdered milk, sugar, and powdered creamer.  Top with mini chocolate chips and marshmallows and pour yourself a steaming hot mug of cocoa in just a minute or two! 
This Dark Chocolate Hot Cocoa Mix recipe is great for homemade gifts, or just keeping on hand for your family!  We love hot chocolate varieties… like this Creamy Nutella Hot Chocolate (made in the crockpot!), and Mexican Hot Chocolate.  This is one of my Drink recipes you'll definitely want to keep on hand!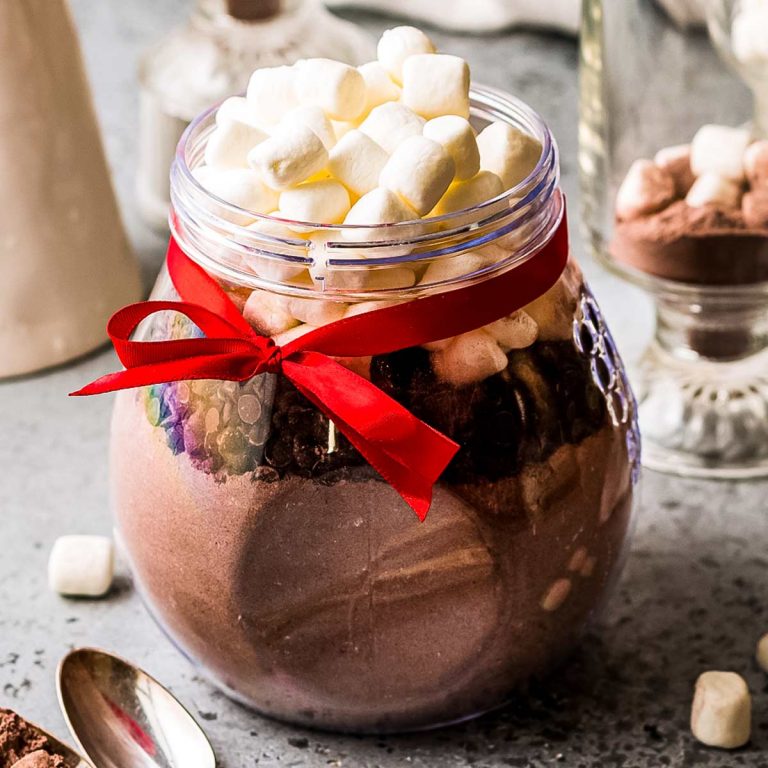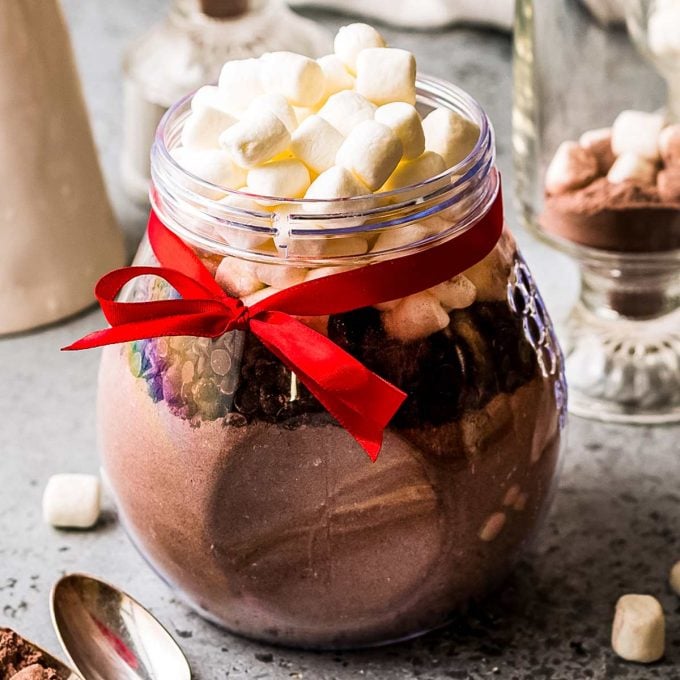 Hot cocoa mix
This time of year, there's not a whole lot that hits the spot more than a big steaming mug of hot cocoa.  Or hot chocolate, whichever one you call it.
There's just something so comforting about it.  Something so festive.
All of the other hot chocolate recipes here on the website are made from scratch, and require melting chocolate into milk.  There's nothing wrong with that, by any means, but sometimes you want… scratch that… you need, something a little quicker.  A little more convenient.
That's where this delicious hot cocoa mix comes in.  Keep a jar of it handy in your pantry for up to 6 months, but I think the marshmallows taste fresher if used before 3 months.
Since it's already made up, all you have to do is add some to your favorite mug, and top with 8 oz of hot milk, stir, and enjoy!
How to make dark chocolate hot cocoa mix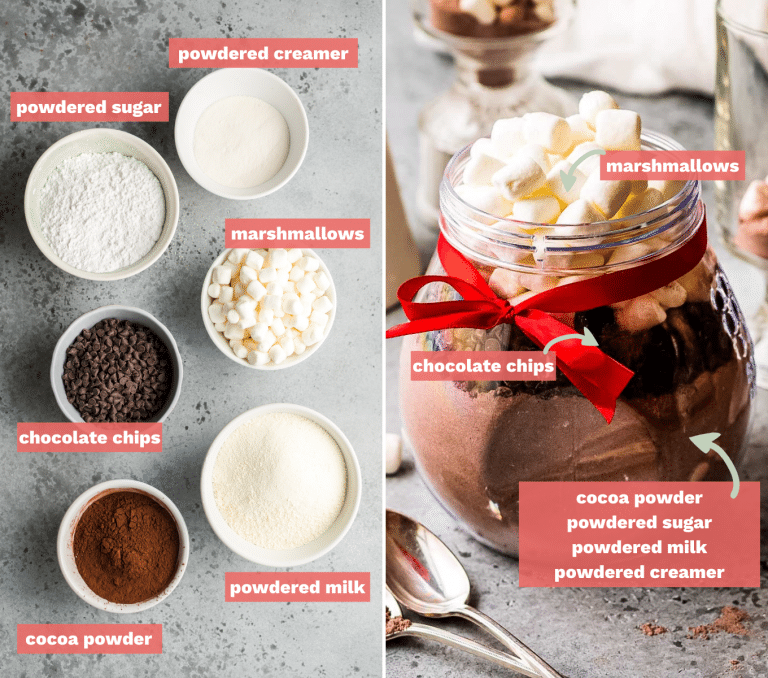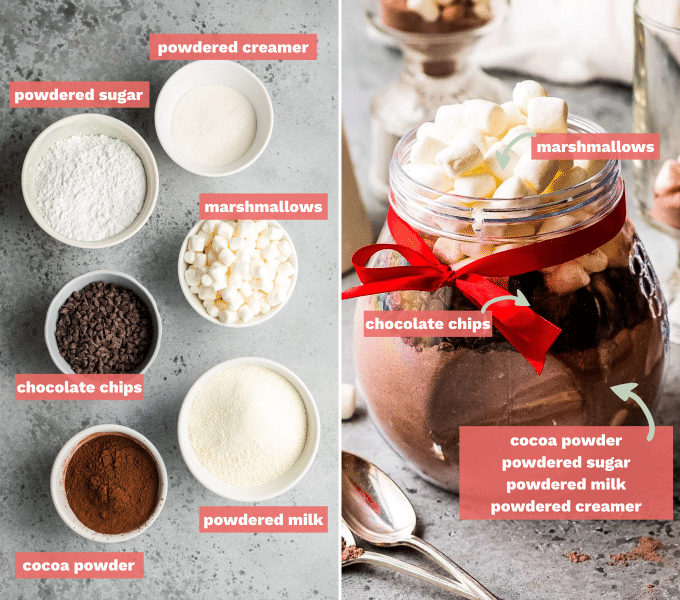 Whisk powders.  Add powdered sugar, powdered milk, cocoa powder and powdered creamer to a mixing bowl and whisk to combine and remove any lumps.  
Transfer to airtight container.  
Top with add-ins if desired.  Top the powdered mix with mini chocolate chips and mini marshmallows.
Additional cooking tips
Shelf life – the core ingredients of this hot cocoa mix are powdered sugar, powdered milk, cocoa powder, and powdered creamer.  The chocolate chips and marshmallows are add ins (delicious ones though!).  The core ingredients will last in the pantry for up to 6 months, or maybe even more.  With the add ins though, your shelf life will go down a bit, as chocolate chips can go bad and marshmallows harden with age.
Practical storage solutions – even though the mix looks beautiful all layered in a glass jar, it's not the most practical storage idea, as it would be hard to scoop out the actual mix without spilling the chocolate chips/marshmallows all over the place.  So I usually store the powdered mix in a jar by itself, and use a separate jar for the chocolate chips and marshmallows.
Use quality ingredients – in a recipe like this, you can definitely taste the cocoa powder/powdered milk.  Make sure you're using quality ingredients.  I've linked to my favorites in the "Special Equipment for this Recipe" section above the recipe card.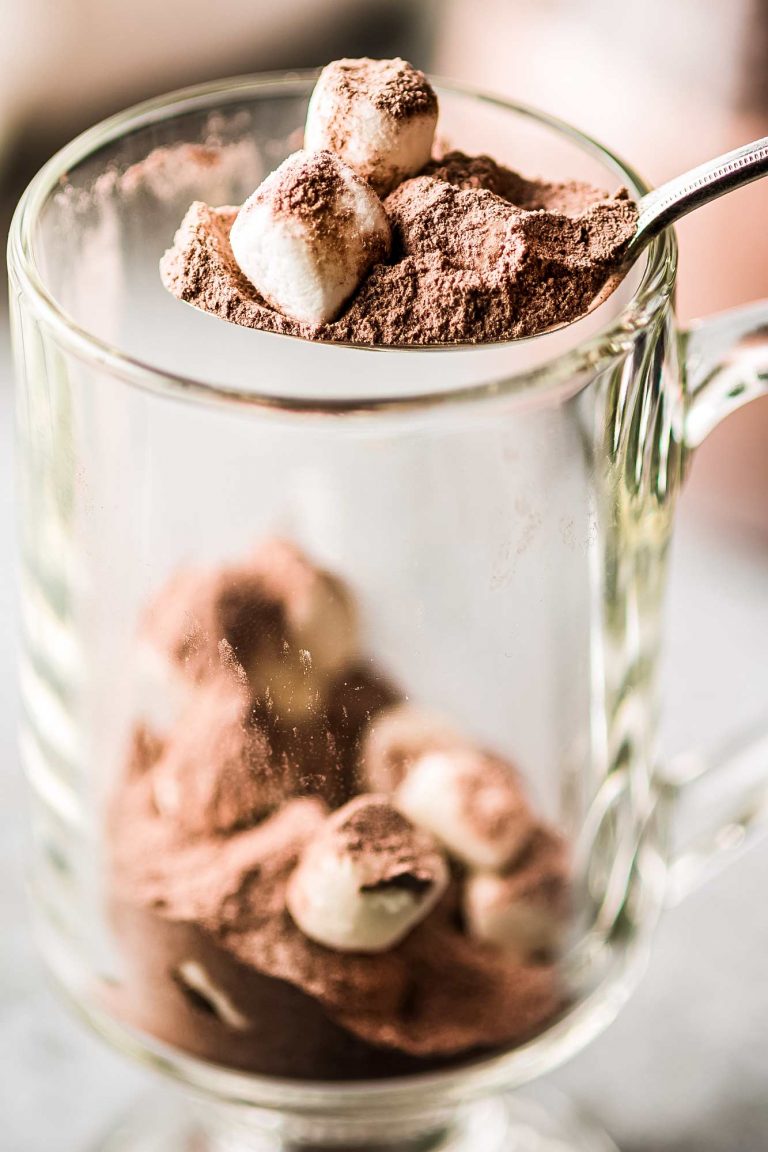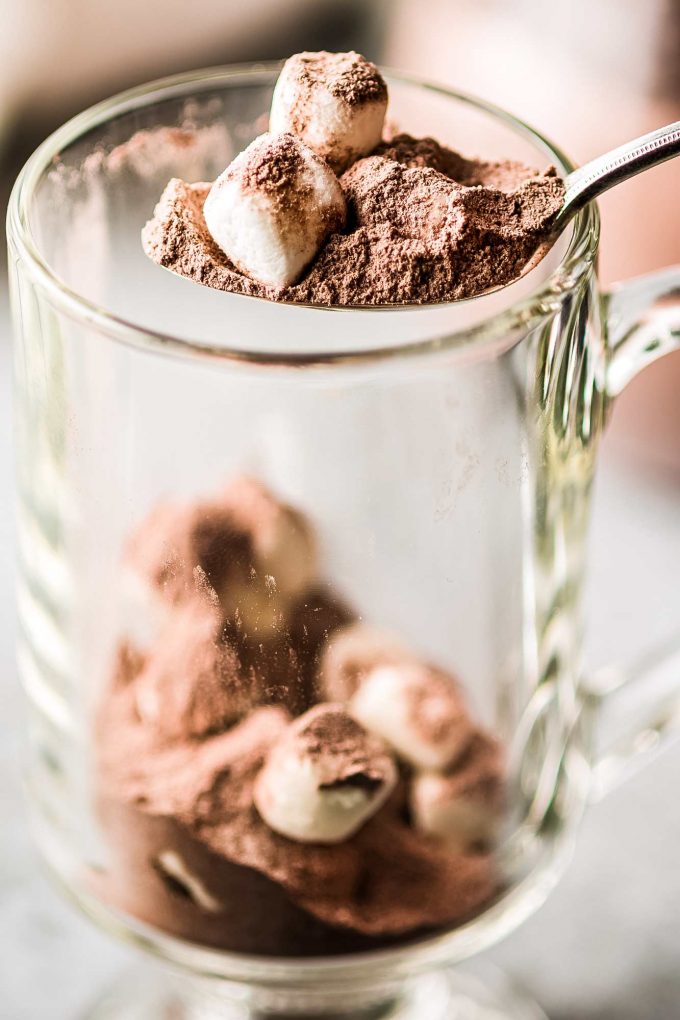 How to use this hot chocolate mix
Bottom line, a 1:2 ratio is my formula for making hot cocoa from this mix.  So whatever amount of mix you add, add twice as much liquid.  Generally I do 1/2 cup mix and add 1 cup (8oz) liquid.
Water or milk?  Since this mix has powdered milk and creamer in it, technically you can just use hot water to make your hot cocoa.  I prefer the flavor of hot chocolate made with milk, but it's up to you.
Quick way – the quickest, and easiest way is to add 1/2 cup of hot cocoa mix to a mug and top it with 8 oz of hot liquid (milk or water).  Stir until well combined.
Smoother way – I found that unless you had one of those milk frother type electric whisks, doing it the quick way resulted in a hot chocolate that had little clumps that were hard to smooth out with just a spoon.  My preferred method is to add 1/2 cup of the mix to a mug, then add 4 oz of hot liquid.  Stir vigorously until you get a thick mixture.  Pour in the remaining 4 oz of liquid and stir together until smooth.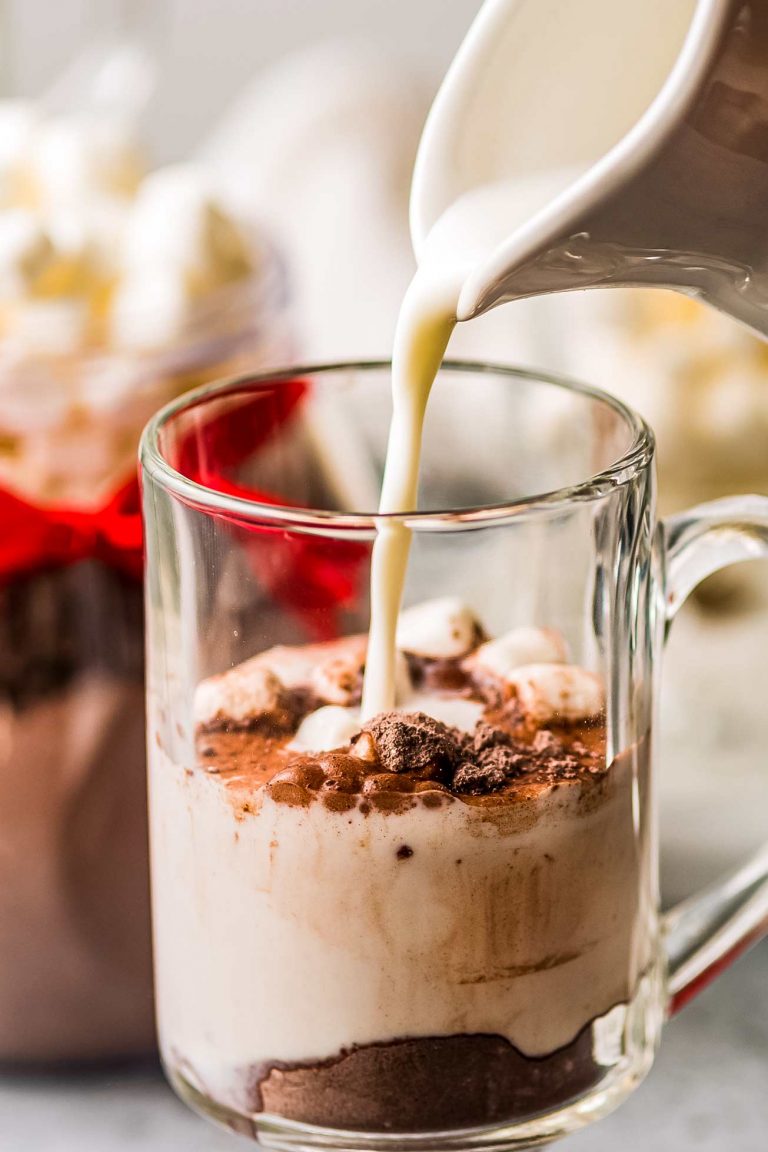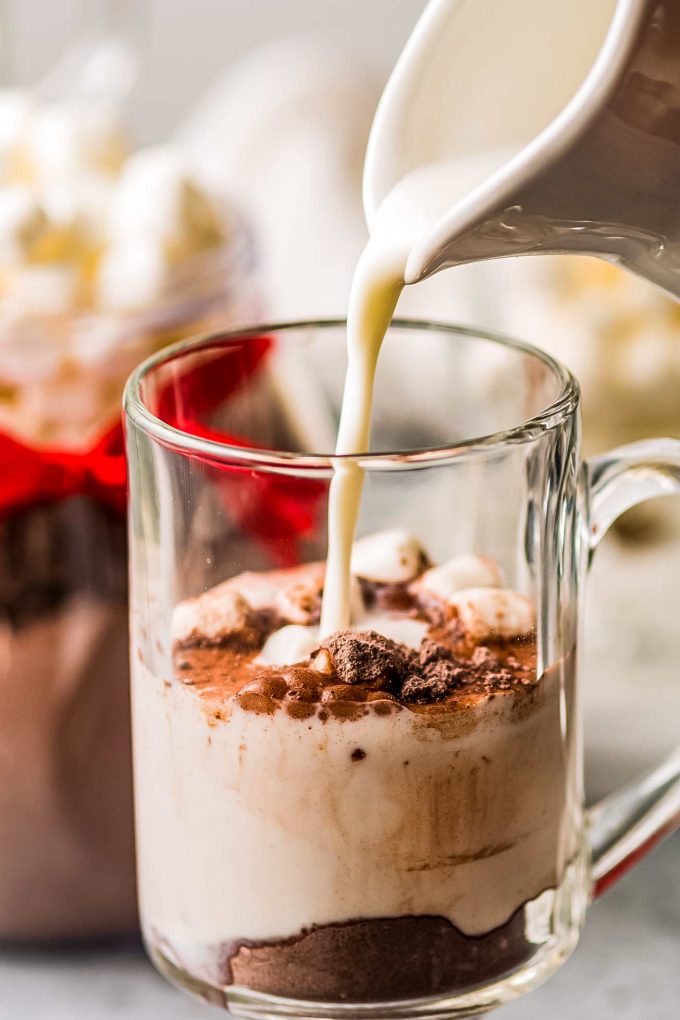 Variations of this recipe
Cornstarch – to make your hot chocolate a bit thicker, add 1 1/2 tsp of cornstarch to your mix.
Different chocolate – feel free to use regular cocoa powder, and/or different types of chocolate chips.  I like to use semi-sweet, but any variety will be delicious.
Espresso – sometimes I want a little pick me up in my hot cocoa, and espresso definitely does the trick!  After you add the mix to your mug, sprinkle in a bit of espresso powder, then top with milk and proceed as usual.
Flavored creamer – I love the addition of the powdered creamer in this mix; it just makes the hot cocoa a bit decadent and creamier.  Feel free to use any flavor of powdered creamer to add different flavors to your hot chocolate.
Powdered vanilla – adding some powdered vanilla adds a beautiful extra flavor!  It can be expensive though, so I didn't include it in this recipe.
Making hot chocolate mix ahead of time
Recipes like this are actually BEST when made ahead of time.  Not because it's complicated or gets better over time, but because the whole point of a homemade hot chocolate mix is to have a cup of cocoa whenever you want, with minimal effort.
Having a jar or container of this mix on hand means you are just 1-2 minutes from enjoying that cup of hot chocolate.  All you have to wait for is the milk to heat up 🙂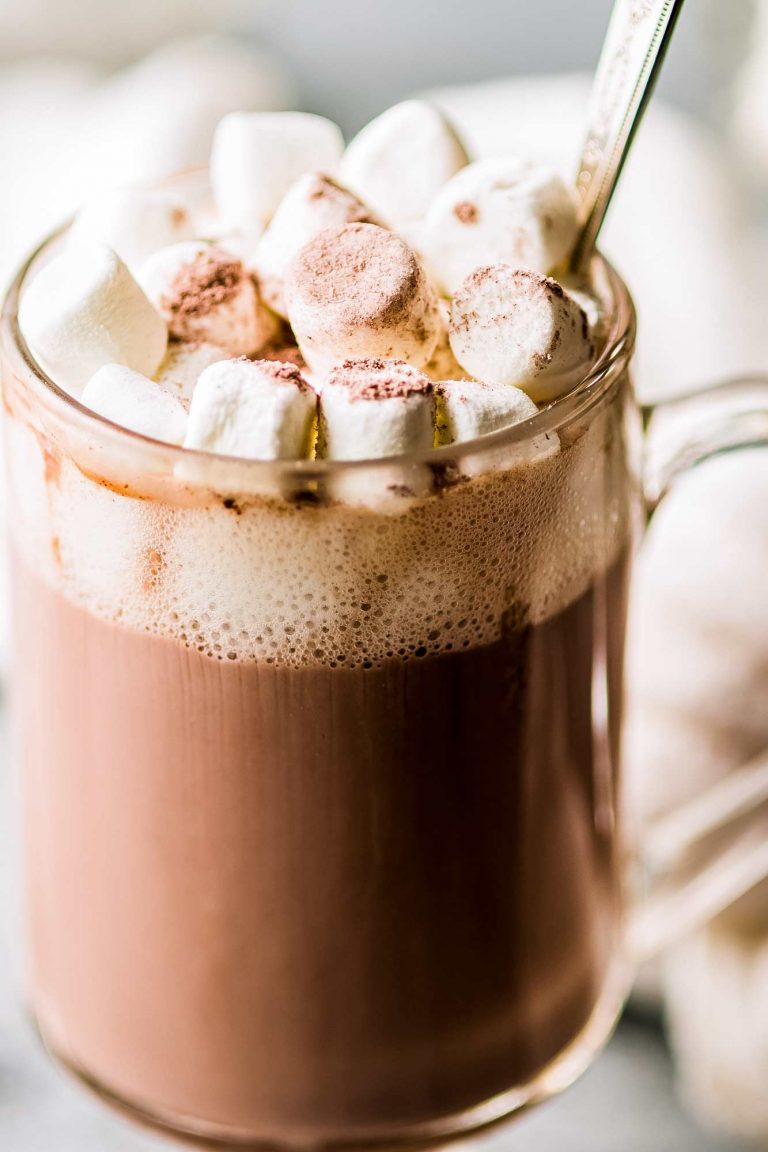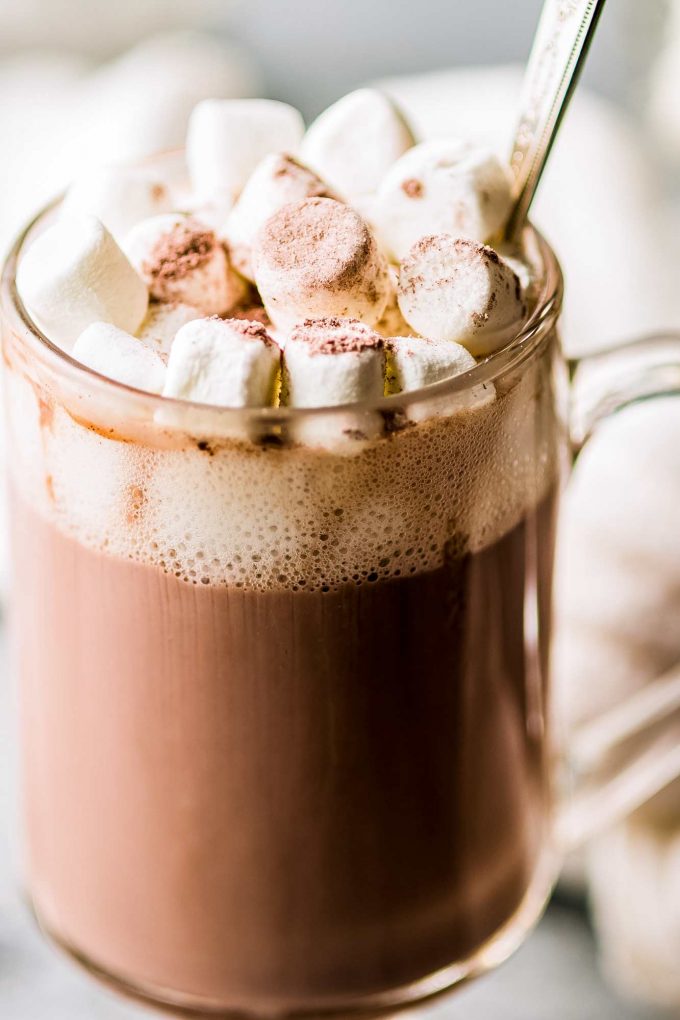 Storage
Hot cocoa mix should be stored in an airtight container at room temperature for up to 6 months.
Shop the recipe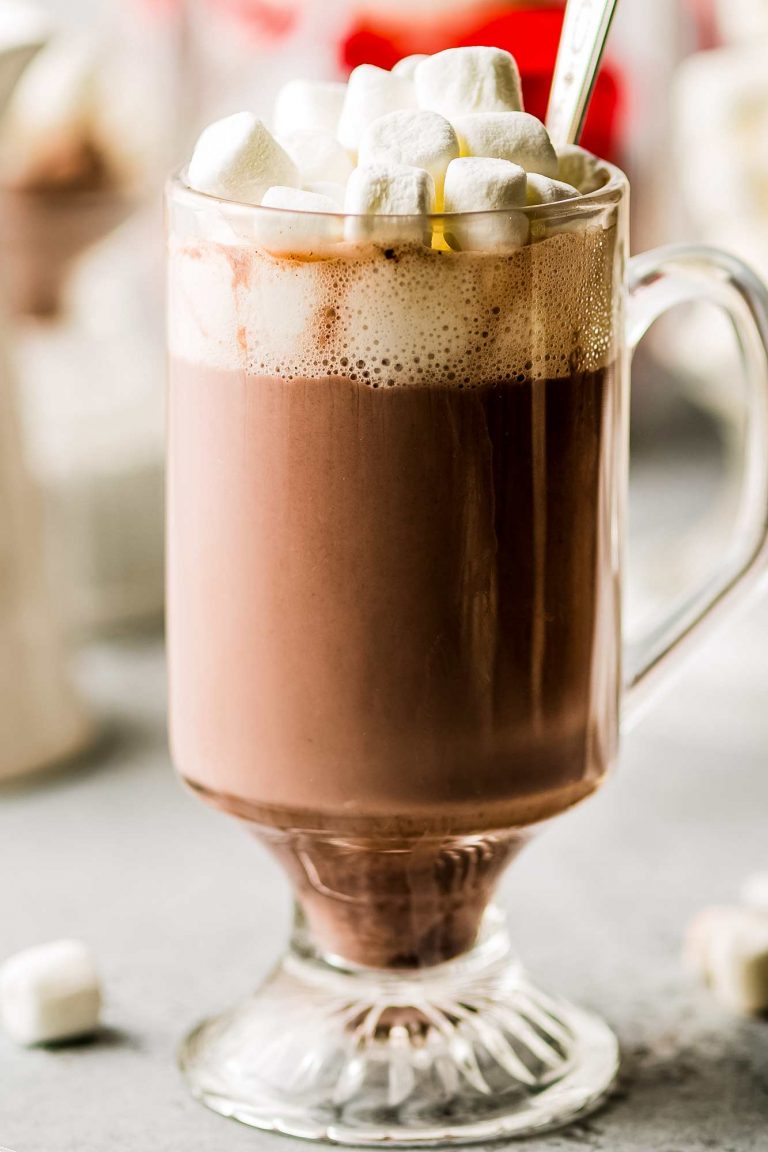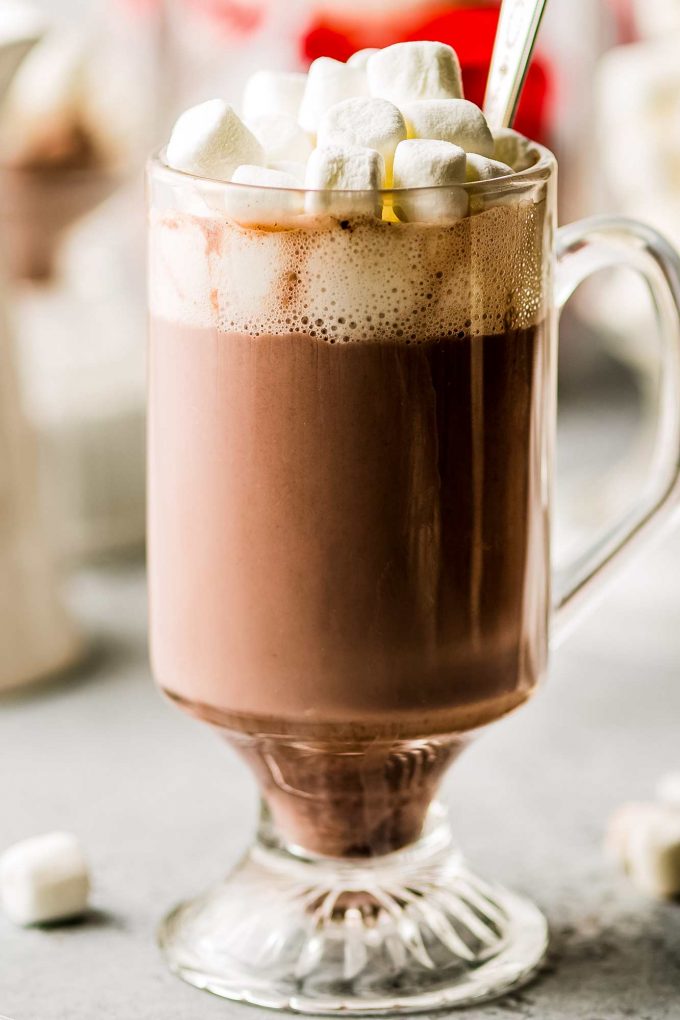 Be sure to scroll down to check out other readers' comments for tips and reviews.
And don't forget, if you've made this recipe, leave a comment and please consider giving it a star rating letting me know how you enjoyed it 🙂
Did you make this? Be sure to leave a review below and tag me @the_chunky_chef on Facebook and Instagram!
Top this mix with mini chocolate chips and marshmallows and pour yourself a steaming hot mug of cocoa in just a minute or two!
Ingredients
CORE HOT COCOA MIX
1 1/2 cups powdered sugar
1 1/2 cups powdered milk I recommend whole powdered milk as opposed to non-fat
3/4 cup unsweetened cocoa powder I prefer dark, but regular is just as delicious
1/3 cup powdered coffee creamer
ADD-INS
1 cup dark chocolate mini chocolate chips
1 cup mini marshmallows
Instructions
In a mixing bowl, add powdered sugar, powdered milk, cocoa powder, and powdered creamer.  Whisk well to combine and remove any possible lumps. 

Transfer to an airtight container.

Top with chocolate chips, then marshmallows. Store at room temperature for up to 3-6 months.
TO MAKE HOT CHOCOLATE
Add 1/2 cup of powdered mix to a mug, and top with any desired amount of chocolate chips and/or marshmallows. Top with 1 cup (8oz) of hot milk and stir until well combined and smooth.

Top with additional marshmallows if desired.
Want to save this recipe for later? Click the heart in the bottom right corner to save to your own recipe box!
Chef Tips
Recipe makes approximately 4 cups of powdered mix.  6 cups total if adding the add-ins to the container.
The amount of servings this makes will depend on how much of the mix is used for each serving.  If following the 1/2 cup guideline listed in the recipe, you have 8 servings.
Any nutritional information shared is an estimate, and is automatically calculated through a program.  If calorie count is important to you, I recommend running the ingredients through whichever online nutritional calculator you prefer.  Calories can vary quite a bit depending on which brands were used.

The Chunky Chef is not a nutritionist and doesn't provide full nutritional information for recipes as she wouldn't want to potentially and unknowingly pass along incorrect information.