The easiest way to satisfy your donut cravings, with no finicky yeast or rolling required. Just mix, fry, and eat!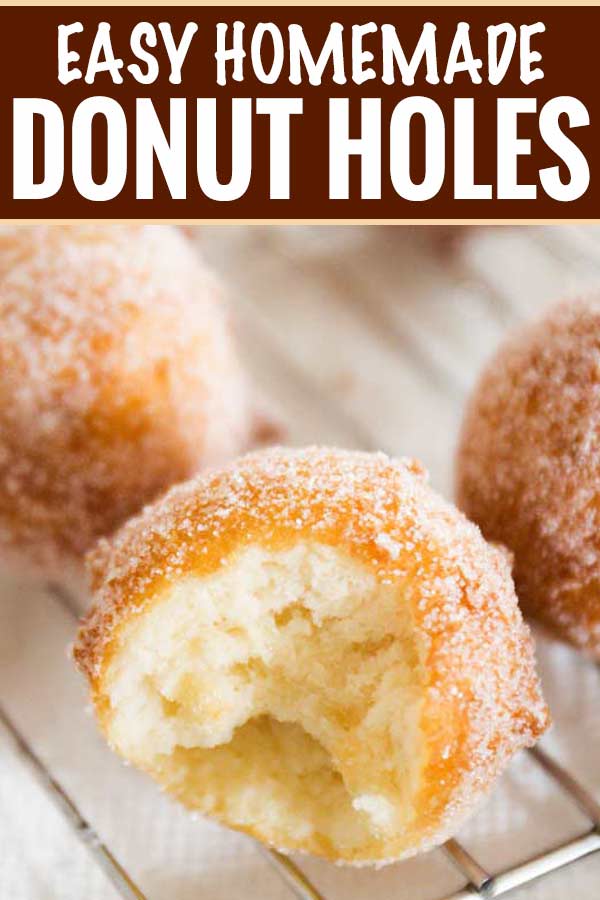 Can we all just agree that donut cravings are real, and they're not just for pregnant women?  Because y'all… I was hit with some MAJOR donut cravings last week.  It doesn't help that there this amazing donut shop that I literally drive right past at least once a week… BUT, I'm trying not to gain a million pounds and spend money there every week.  But those cravings man, I couldn't help myself!
So instead of stopping in the shop, yet again, I came up with a recipe for quite possibly my favorite type of donut of all time.  Donut holes!  So cute and pop-able, they're the donut you can eat in one bite!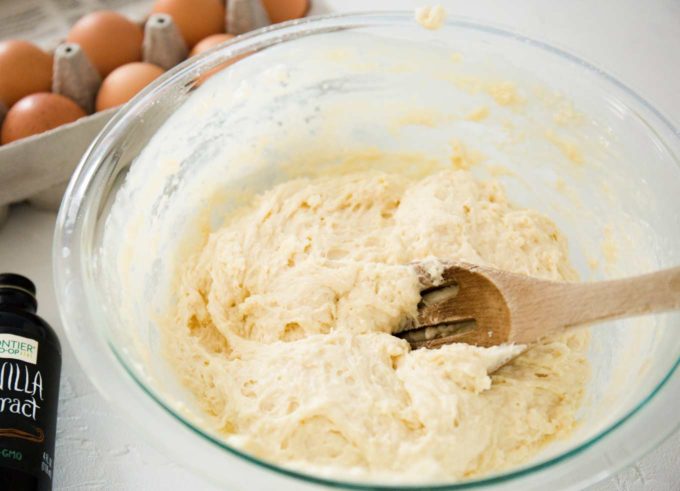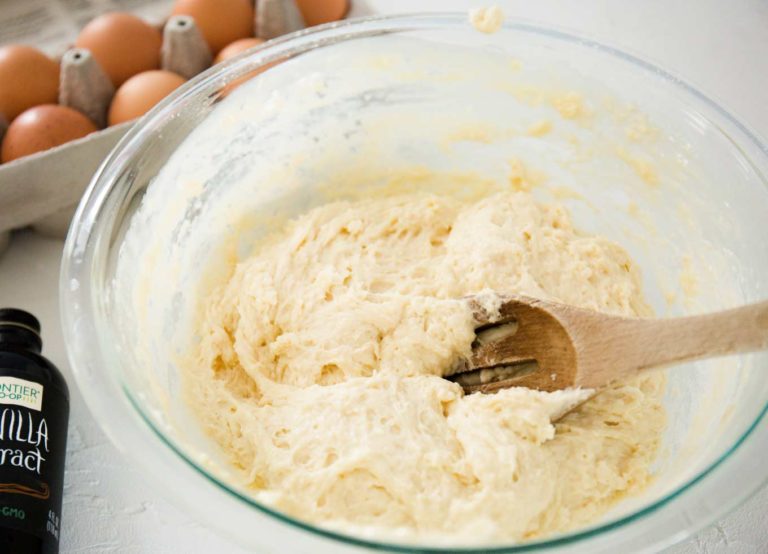 ARE DONUT HOLES REALLY FROM THE HOLE OF A DONUT
Traditionally yes.  When donuts were rolled out and cut into that classic donut shape, the dough where the center hole was removed and no doubt used in an effort to reduce food waste (and money!).  But you can absolutely make JUST the donut holes.
HOW MANY DONUT HOLES ARE EQUAL TO ONE DONUT
Sadly, less than you'd think.  1 regular sized donut is equivalent to about 4 donut holes.  So if you're watching what you're eating, keep that conversion in mind.  Or be like me and just keep poppin' the donut holes and treat yo' self!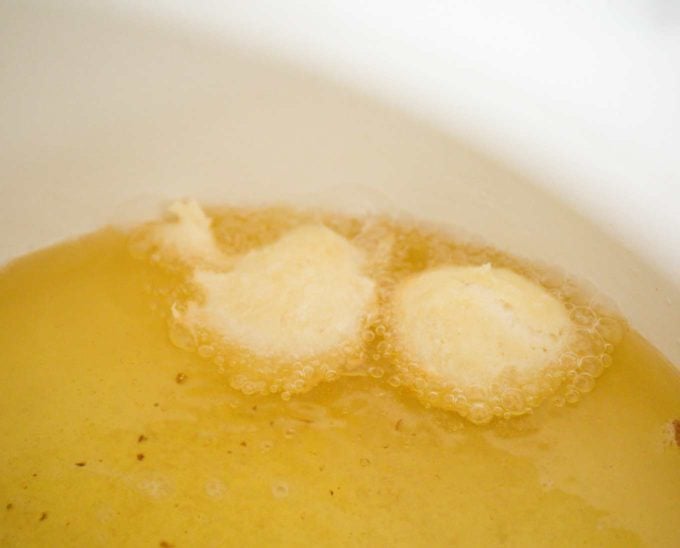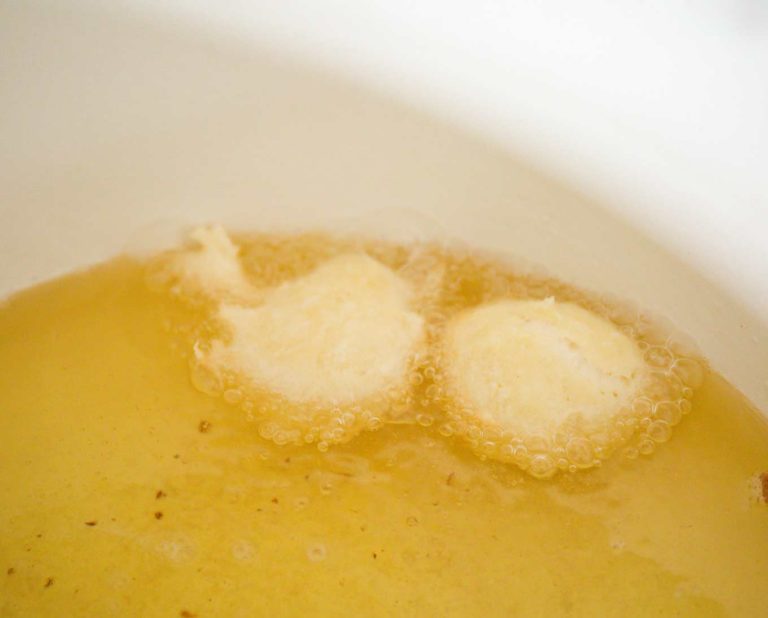 DO YOU HAVE TO FRY DONUT HOLES
Not necessarily!  For that classic donut taste and texture, with the crispy outside and fluffy inside, you do have to fry them.  But I've taken the dough for these chai vanilla donuts and baked little bits in mini muffin tins and gotten delicious baked donut holes that way.  So it's really up to you and what texture you'd like.
ARE THESE CAKE OR YEAST DONUTS AND WHAT'S THE DIFFERENCE
These donut holes would be classified under the "cake" variety.  When it comes to donuts, and donut holes, there are two main types; cake donuts and yeast (or raised) donuts.  Cake donuts are made using a sweetened dough that uses baking powder to rise.  Yeast or raised donuts are made using a dough that uses yeast (I know you're shocked right?), and involves a rising time.  A classic glazed donut from Krispy Kreme or Dunkin Donuts would be a good example of a yeast donut.  Personally I LOVE the flavor of a great yeast donut, but they take time to make, and working with yeast can be finicky.  For a fool-proof donut, go with the cake variety.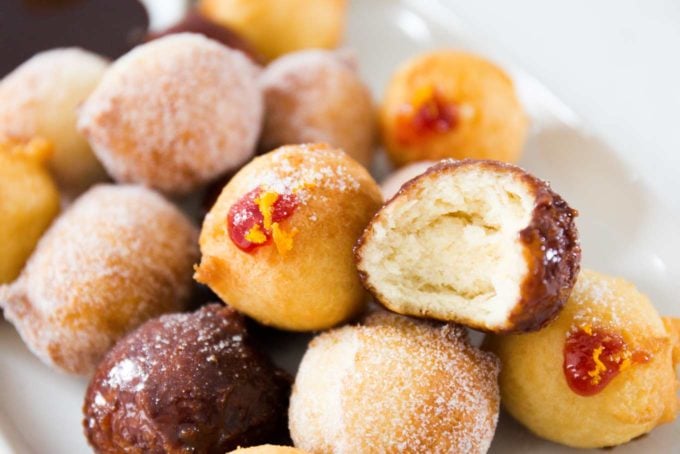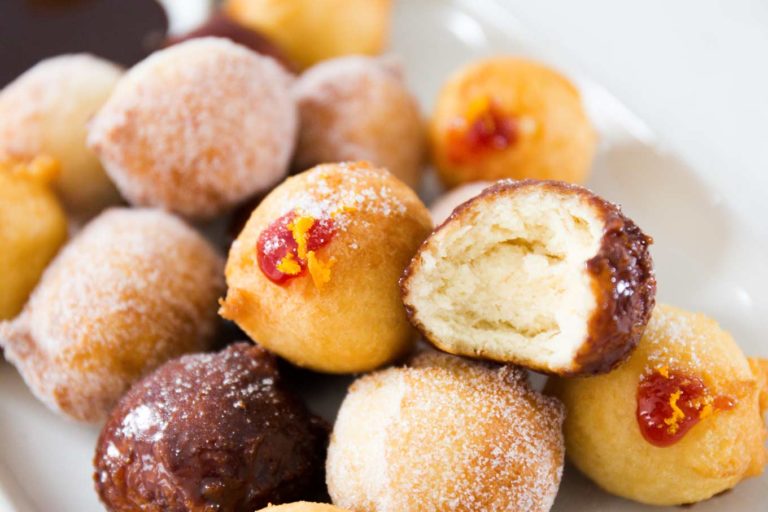 For these donut holes I couldn't decide on a flavor, so I went with 3 types.  The classic sugared, chocolate ganache dipped, and filled with an orange scented raspberry sauce.  Can I just say, I literally couldn't pick a favorite… they are all SO good!
I've included the ganache and raspberry sauce in the recipe below, but don't let the fancy words like "ganache" scare you.  It's quite simply the easiest sauce to make!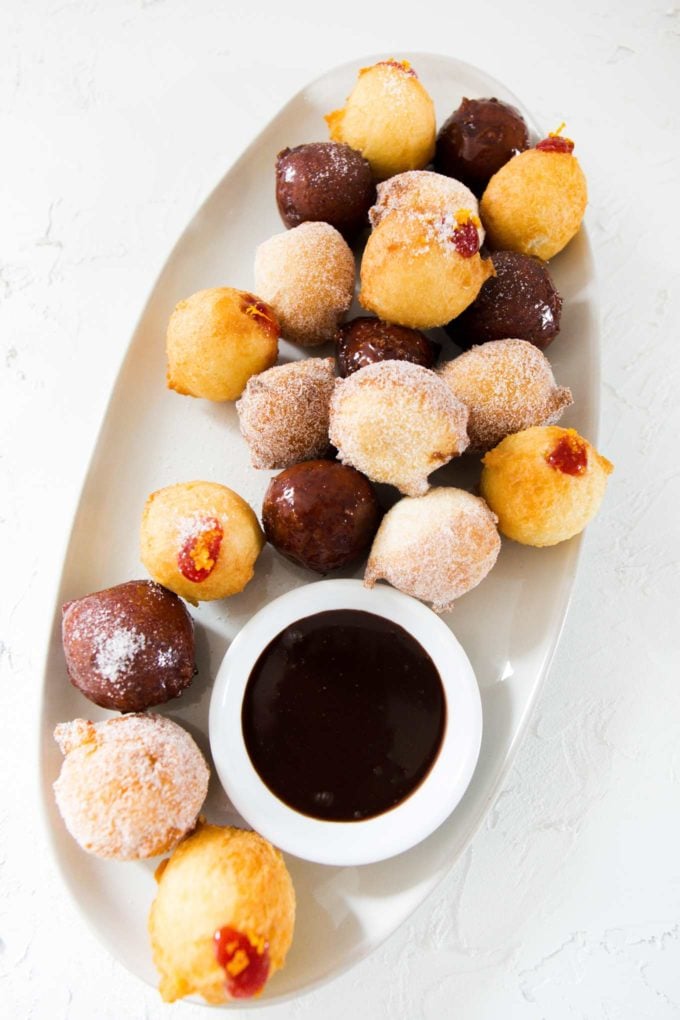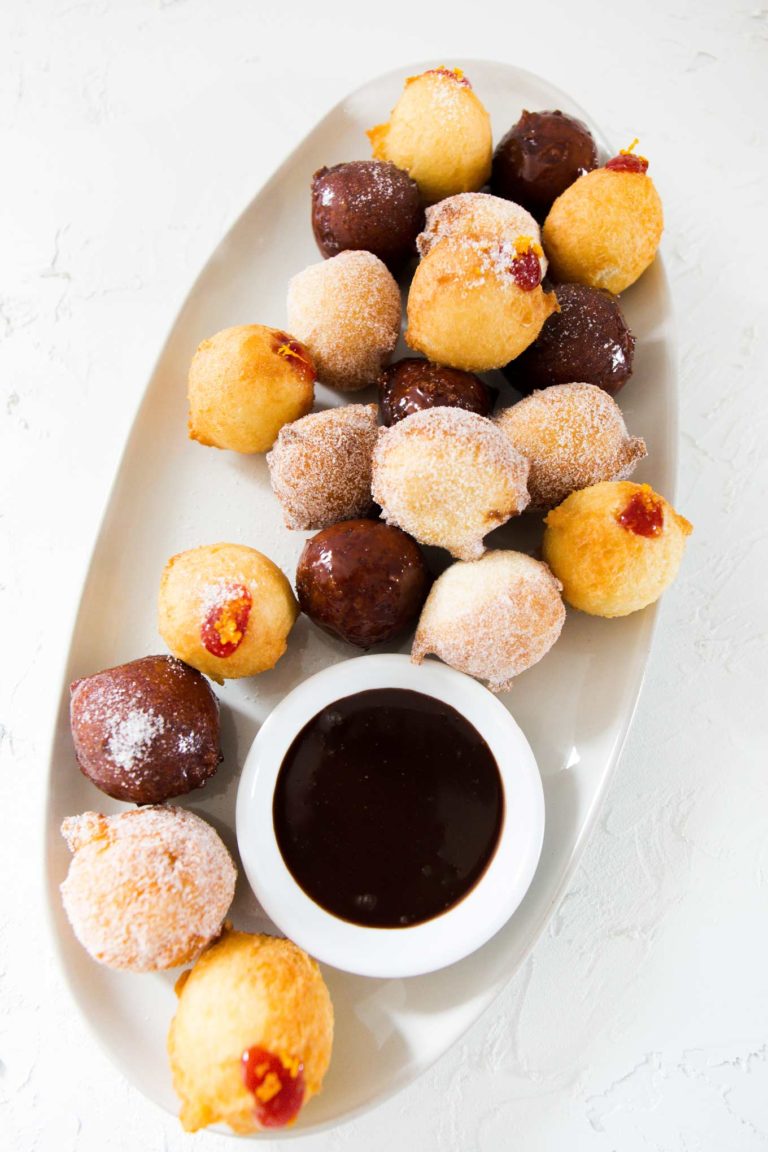 HELPFUL TOOLS


Did you make this? Be sure to leave a review below and tag me @the_chunky_chef on Facebook and Instagram!
The easiest way to satisfy your donut cravings, with no finicky yeast or rolling required. Just mix, fry, and eat!
Ingredients
2 cups all-purpose flour , (I always use unbleached)
1/4 cup granulated sugar , use less for a less-sweet donut hole
1 1/2 Tbsp baking powder
1/2 tsp kosher salt
1/4 tsp ground nutmeg , optional
1 large egg
1 cup milk , I use whole
1/2 - 1 tsp vanilla extract
1/4 cup melted butter
oil for frying, (canola, peanut, or vegetable are good choices)
Instructions
Line a large baking sheet with a few layers of paper towels then top with a wire cooling rack. Set aside.

Pour oil into heavy bottomed pan (dutch ovens or deep cast iron pans are fabulous for frying), until oil is about 2 inches deep. Heat over MED heat until oil comes up to 350 F degrees. Adjust heat level as needed to maintain the 350 degree temperature.

While oil is heating, whisk together flour, sugar, baking powder, salt and nutmeg in a large mixing bowl. In a separate mixing bowl, whisk together the milk, egg and vanilla.

Pour the wet ingredients into the mixing bowl with the dry ingredients and stir together for a few seconds with a wooden spoon. Add melted butter and stir until mixture forms a thick batter.

Once oil has reached 350 F degrees, use a cookie scoop to scoop up batter and drop them into the hot oil. Be careful when dropping the batter, do it from just above the oil so you minimize splashing! Hot oil is no joke and it hurts like crazy if you get burnt!

Add about 8 donut holes to the oil in one batch, and fry about 2 minutes per side. Remove fried donuts to prepared cooling rack/baking sheet.
FOR SUGARED DONUT HOLES:
Add about a cup of granulated sugar to a shallow bowl. When you take the fried donut holes out of the oil, add them to the sugar bowl and toss to coat them in sugar. Transfer to cooling rack to cool down.
FOR GANACHE-DIPPED DONUT HOLES:
Let donut holes cool on wire rack for a minute or so, then dip into ganache sauce. Return to cooling rack to finish cooling. Alternatively, dip a fork in the ganache sauce and wave it back and forth over donut holes to drizzle them with the sauce.
FOR RASPBERRY-FILLED DONUT HOLES:
Let donut holes cool completely. Prepare a piping bag fitted with a round piping tip (alternatively, snip off just the tip of a corner of a ziploc bag and add piping tip to bag so it comes partially through the hole). Use the empty bag with the tip to poke a hole in the donut hole, being careful not to poke all the way through the other side. Fill bag with cooled or slightly warm raspberry sauce, and pipe into hole. Garnish with a little orange zest if you'd like.
Want to save this recipe for later? Click the heart in the bottom right corner to save to your own recipe box!
Chef Tips
** Recipe makes approximately 24 larger donut holes.  Smaller donut holes will yield a larger amount. **
CHOCOLATE GANACHE SAUCE:
½ cup semi-sweet chocolate, finely chopped
¼ cup heavy cream
Add chocolate pieces to a mixing bowl.  Heat heavy cream until simmering and hot.  Pour cream over chocolate in bowl and let sit 5 minutes.  Whisk until all chocolate is melted and sauce is smooth and glossy.
RASPBERRY SAUCE:
8 oz raspberry jam
¼ tsp vanilla extract
¼ tsp orange zest
Heat jam in a saucepan over MED heat, stirring often, until jam is loosened to a sauce consistency.  Remove from heat, stir in vanilla and orange zest.  Let sit 10 minutes and serve.
Nutrition Disclaimer
The Chunky Chef is not a dietician or nutritionist, and any nutritional information shared is an estimate. If calorie count and other nutritional values are important to you, we recommend running the ingredients through whichever online nutritional calculator you prefer. Calories can vary quite a bit depending on which brands were used.