This simple fruit salsa recipe is made with a variety of great summer fruits and served alongside the most mouthwatering cinnamon sugar chips!  Perfect for summer parties and even snacking! 
Recipes like my Chicken Taco Dip and 5 Minute Restaurant Salsa are great for when you're having a party or gathering.  We love easy appetizers and party foods, and this is one of my Appetizer recipes you'll definitely want in your dinner rotation!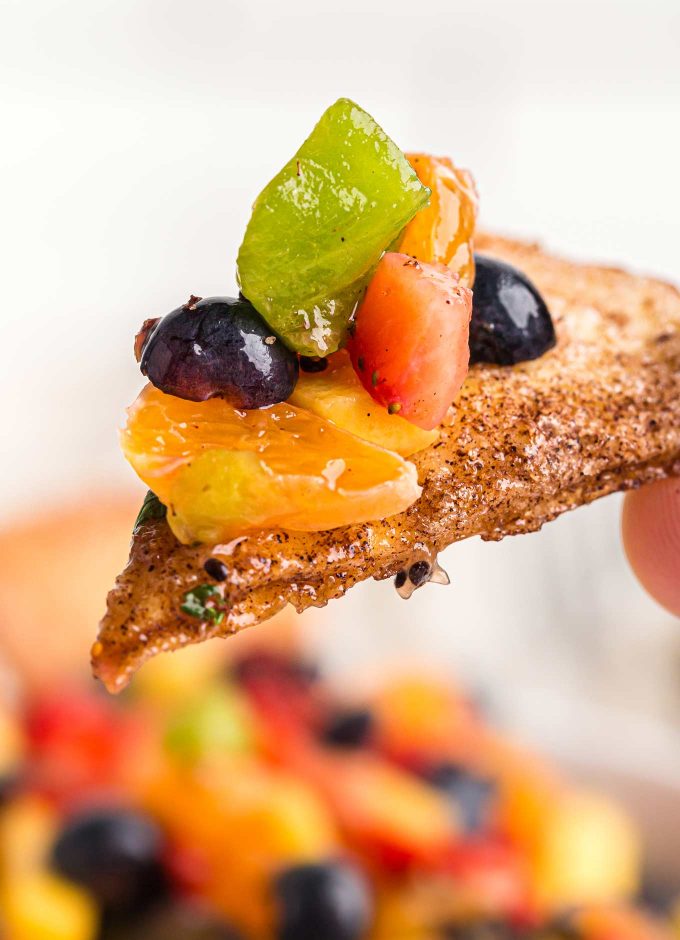 FRUIT SALSA AND CINNAMON CHIPS
When you think of salsa, you probably think of the spicy/savory version with tomatoes and peppers.  While that version is amazingly delicious, and one of the most popular appetizer recipes here on the site, it's not the only one.
I love to serve this fruit salsa recipe at parties as a fun alternative to traditional salsa.
Plus it's fun to debate… is it a snack?  Appetizer?  Dessert?  Whatever it is, it's amazingly delicious!
Put out a big bowl of this fruit salsa alongside a big bowl of sweet and crispy cinnamon chips and watch them all disappear SO quickly!
HOW TO MAKE FRUIT SALSA
Chop the fruit.  Dice all the fruit into small, similarly-sized pieces, and add to bowl.
Make the dressing.  Add lemon juice, honey, mint and ginger to a blender and blend until smooth and combined.
Toss.  Pour dressing over the chopped fruit, and toss to combine.
Chill.  For best flavor, allow salsa to chill for about 30 minutes.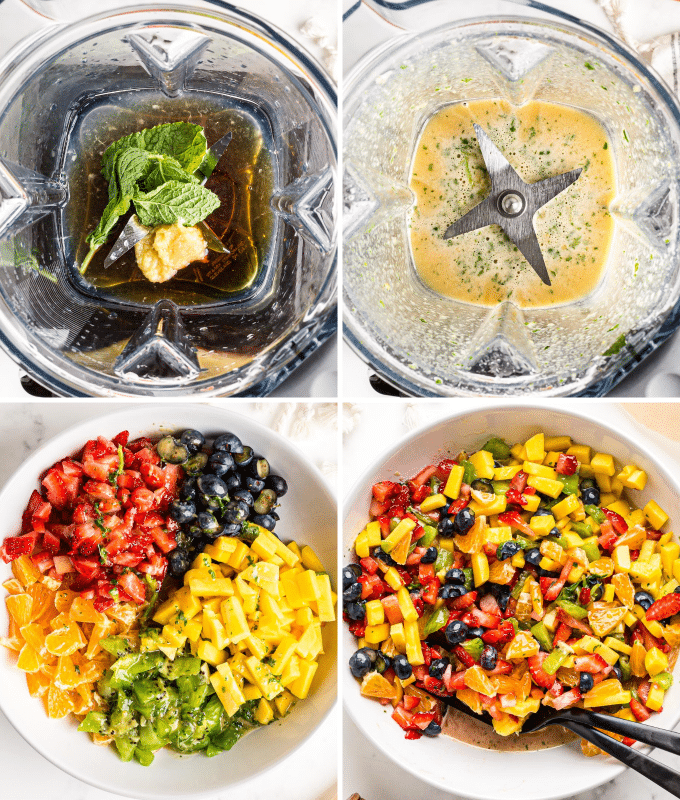 HOW TO MAKE CINNAMON CHIPS
Prepare baking sheet.  Preheat oven to 325°F and line a rimmed baking sheet with parchment paper.
Cut tortillas.  Cut the tortillas into triangles, then add them to a bowl.
Butter.  Add melted butter to bowl with the tortillas, tossing until coated well.
Sugar.  Add cinnamon sugar mixture to the bowl, tossing as you go.
Bake.  Bake about 17-20 minutes, checking at 13-14 minutes so they don't burn.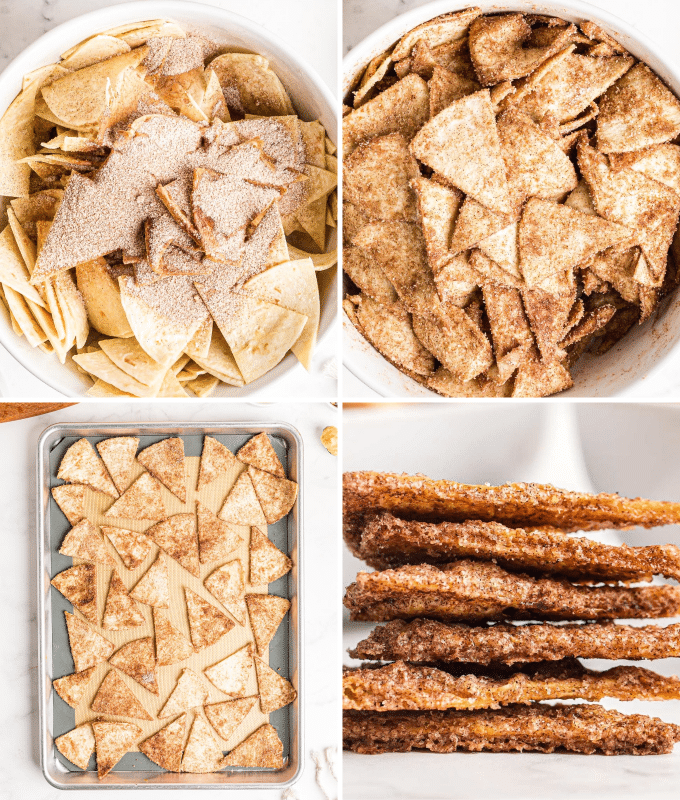 ADDITIONAL COOKING TIPS
SAME SIZE – no matter what fruit you choose to use in this fruit salsa recipe, the goal is for all the pieces to be roughly the same size, and that it's a size that'll fit on the chips.  No need to be perfect, but just something to keep in mind when chopping.
BAKING TIME – since all ovens vary a little in baking time, due to the type of oven, etc, keep an eye on your cinnamon chips.  They're coated in sugar, and sugar will burn if heated too much.  I like to start checking my chips at about 13-14 minutes, just to be on the safe side.
VARIATIONS OF THIS RECIPE
DIFFERENT FRUIT – I chose these fruits because they're some of our favorites, but you can really add just about any fruit you like to this salsa.  Apples, watermelon, blackberries, raspberries, cantaloupe, honeydew, peaches, nectarines, plums, etc.
DRESSING – if you think your guests, or you, won't be a fan of the mint and/or ginger in the dressing, feel free to omit it.  You could alternately have the chopped mint available on the side as a garnish for people to add if they like.
DIFFERENT CITRUS – try using lime juice instead of lemon!
BROWN SUGAR – for a more caramel-y flavor on the chips, try swapping some of the granulated sugar for light brown sugar, or going all brown sugar.
SWEET HEAT – if you like a little heat with your sweet, try adding a finely diced jalapeno to the fruit mix.  Or you could also use a hot honey instead of regular honey.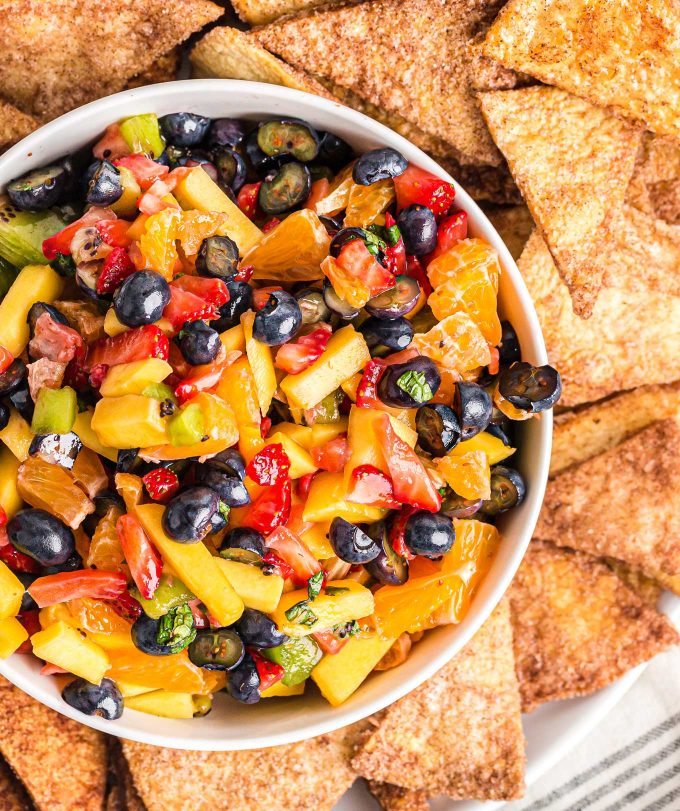 MAKING FRUIT SALSA AND CINNAMON CHIPS AHEAD OF TIME
The cinnamon chips can definitely be made ahead of time, up to 3-4 days ahead of time if you like.  Just keep them in an airtight container at room temp.  Also, be sure they're completely cooled before storing them.
I don't find this fruit salsa is good to make ahead of time though.  The fruits release juices the longer it sits, and it can end up soggy in just a matter of hours.
If I DO have to make it ahead, I like to store it in a salad spinner in the refrigerator, or colander fitted in a mixing bowl, so the majority of the fruit stays above the juice that drips out to the bottom.
STORAGE
Leftover chips should be stored in an airtight container at room temperature and consumed within 4 days.
Leftover fruit salsa should be stored in an airtight container in the refrigerator and consumed within 1-2 days.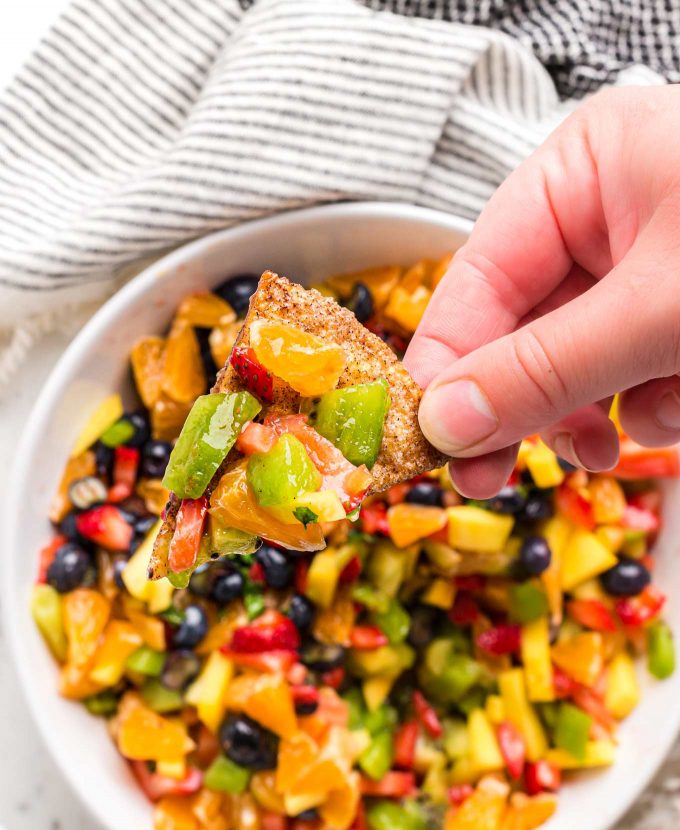 SPECIAL EQUIPMENT FOR THIS RECIPE
Rimmed Baking Sheet – you can use any size baking sheet, but this jelly roll pan is really versatile and what I used here.
Blender – I've used this blender for years, and it still works like a charm.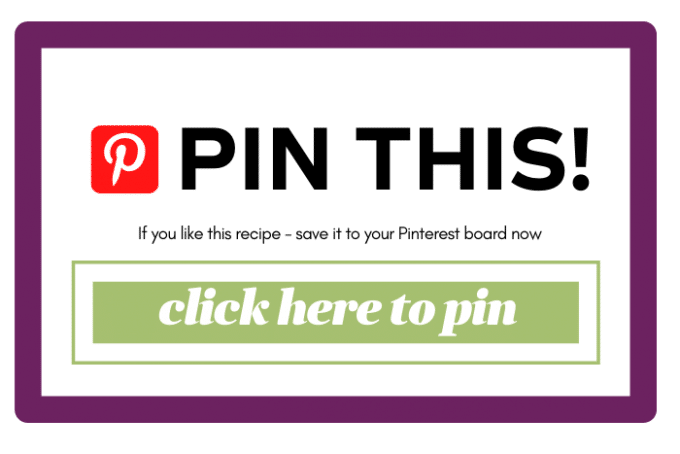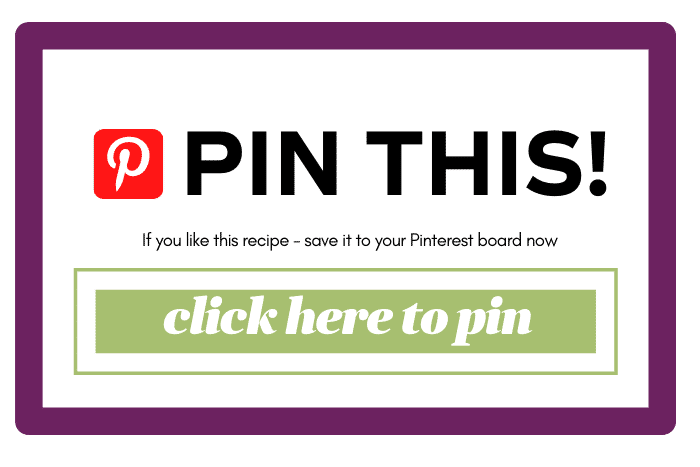 BE SURE TO SCROLL DOWN TO CHECK OUT OTHER READERS' COMMENTS FOR TIPS AND REVIEWS.
AND DON'T FORGET, IF YOU'VE MADE THIS RECIPE, LEAVE A COMMENT AND PLEASE GIVE IT A STAR RATING LETTING ME KNOW HOW YOU ENJOYED IT!
Did you make this? Be sure to leave a review below and tag me @the_chunky_chef on Facebook and Instagram!
This simple fruit salsa recipe is made with a variety of great summer fruits and served alongside the most mouthwatering cinnamon sugar chips!
Ingredients
FRUIT SALSA
12 strawberries hulled and diced
5 mandarin oranges peeled and chopped
1 mango peeled and diced
3 kiwis peeled and diced
1 cup blueberries halved
3 Tbsp honey
1 lemon juiced
6 fresh mint leaves chopped
1 tsp ginger paste (optional but recommended)
CINNAMON CHIPS
20 6 inch flour tortillas
1/2 cup butter salted or unsalted
1 cup granulated sugar
4-5 tsp ground cinnamon
Instructions
PREPARE AND BAKE THE CHIPS
Preheat oven to 325°F and line a baking sheet with parchment paper or silicone baking mat. Set aside. Combine granulated sugar and ground cinnamon in a small mixing bowl.

Cut flour tortillas into triangles, place in large bowl. Pour melted butter over cut tortillas, toss until well coated. 

Sprinkle cinnamon sugar mixture into bowl, tossing as you go to evenly distribute the mixture.

Bake about 17-20 minutes or until crispy, oven times may vary, watch closely so they don't burn. I like to start checking at about 13-14 minutes.
MAKE THE SALSA
Dice all fruit in to small pieces, place in bowl and set aside.

Combine honey, lemon juice, mint and ginger in blender, then blend until smooth.

Pour dressing over diced fruit and toss to combine. For best flavor, chill 30 minutes before serving.

When chips are finished baking, let cool to room temperature while the salsa is chilling.

Serve and enjoy!
Want to save this recipe for later? Click the heart in the bottom right corner to save to your own recipe box!
Chef Tips
Recipe prep time only includes the time to prepare chips before baking, as the recipe indicates to use the baking time to chop all the fruit for the salsa and prepare the dressing.
Feel free to use any type of fruit and in any amount for your salsa.  This is just the version that my family and I prefer, but there are so many options!
Nutrition Disclaimer
The Chunky Chef is not a dietician or nutritionist, and any nutritional information shared is an estimate. If calorie count and other nutritional values are important to you, we recommend running the ingredients through whichever online nutritional calculator you prefer. Calories can vary quite a bit depending on which brands were used.