These lemon sugar cookies are soft and tender, topped with a silky lemon buttercream and sprinkled with lemon zest. They're the perfect summer dessert!
This is one of my Cookie recipes I know you'll want to keep on hand!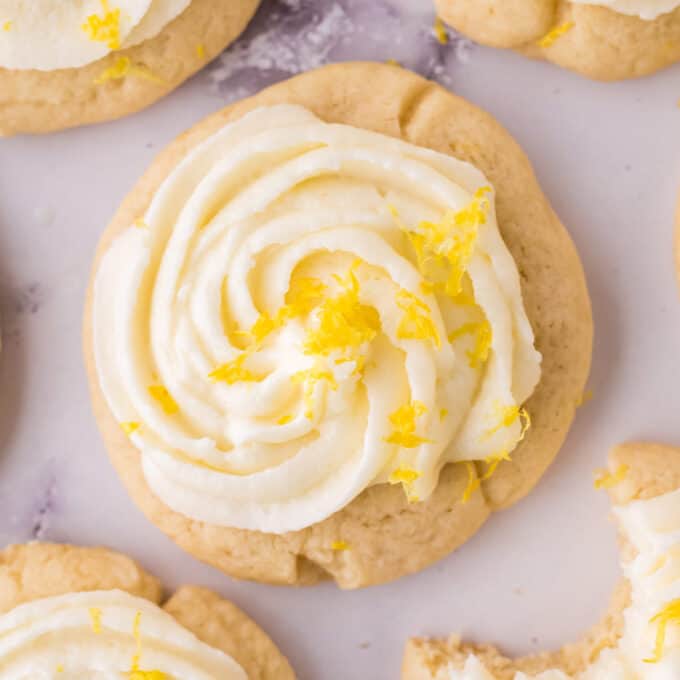 With the weather heating up, it's getting me in the mood for all things citrus… especially lemon desserts!
These sugar cookies are so soft and tender, and have a texture similar to those Lofthouse sugar cookies.
But instead of a super sweet sugary frosting, you get a velvety lemon buttercream!
This cookie recipe is perfect for any spring or summer gathering, and can be made ahead or even frozen.
How to make lemon sugar cookies?
This is just an overview; the full ingredients and directions are in the recipe card toward the bottom of this post.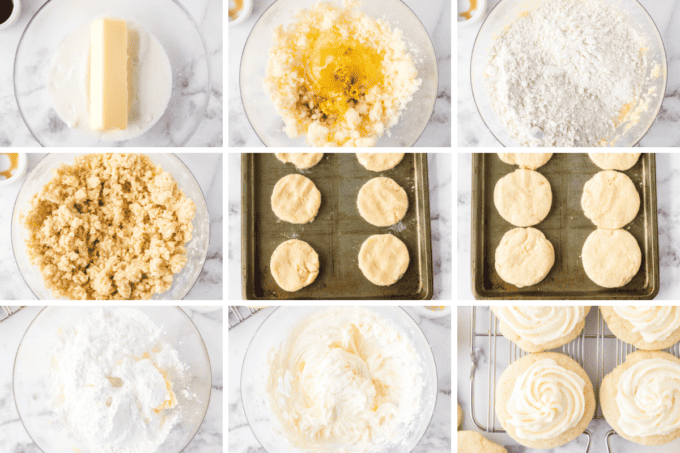 Cream the butter and sugar. Despite the name, there's no actual cream in this recipe, the "cream" step is a technique. This binds the two together, so you don't end up with a gritty texture.
Add wet ingredients. For this recipe, that's the egg, lemon zest, lemon juice, and vanilla.
Add dry ingredients. That's the baking powder, baking soda, and flour.
Roll and cut. You can cut them into any shape you like.
Chill, then bake.
Make frosting. Only 3 ingredients for this frosting; butter, sugar, and lemon juice.
Pipe. Add the frosting to the cooled cookies, then sprinkle with lemon zest and serve!
Helpful Tip!
Keep in mind that even though there's a small chill time for this recipe, the circles of dough will still spread a bit. If you're cutting into precise shapes, you'll want to increase the chilling time to help prevent more spreading.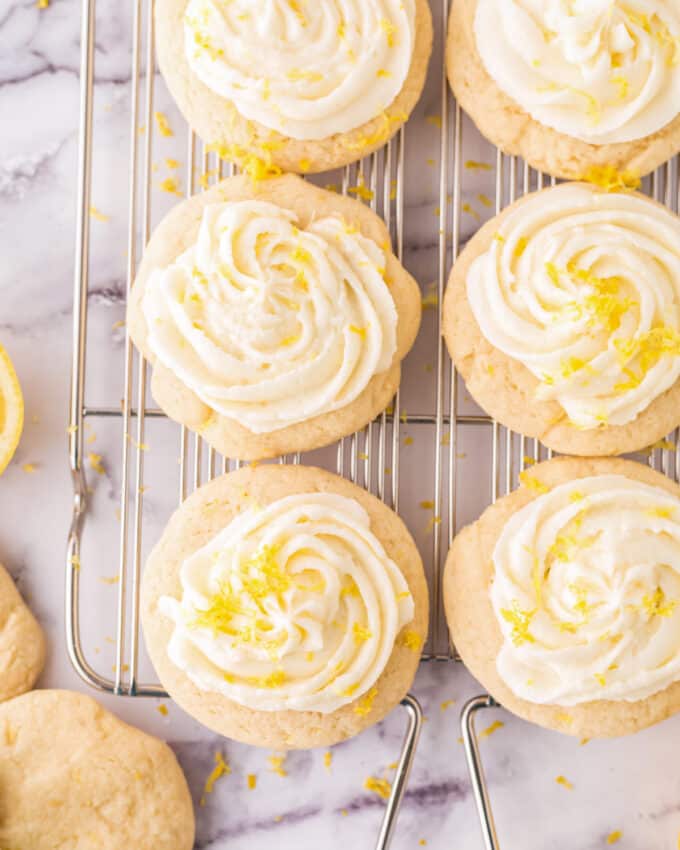 Variations of this recipe
More lemon flavor – if you want a more intense lemon flavor in the cookies, try adding the zest of another lemon, or adding another Tbsp of so of lemon juice.
Unsalted butter – if you don't have salted butter, you can certainly use unsalted. Just add a pinch of salt to both the cookie dough and the frosting.
More chilled – if you'd like the cookies to hold their shape a little better (like if you're using precise shapes), keep the cut out dough refrigerated for a bit longer, like 30 minutes.
White chocolate – sometimes I like to chop up some white chocolate chips and stir them into the dough.
Nuts – I love adding a handful of macadamia nuts to this cookie dough!
Drizzled – for extra flavor, try drizzling some melted white chocolate over the top of the frosted cookies.
FAQ's
How soft should the butter be for this recipe?
The butter should be softened to room temperature, but not melted or overly warm. A good trick is to gently press your finger into the stick of butter. It should indent, but not completely smush under the gentle pressure.
Can I use bottled lemon juice for this recipe?
For replacing the fresh lemon juice, you could use bottled juice in a pinch. However, the bottled juice can't replace the lemon zest, so you'll need fresh lemons for that.
Making frosted sugar cookies ahead of time
This cookie recipe can also be made ahead of time! I don't recommend baking them ahead of time, but the dough can be made, covered and refrigerated for up to a few days.
The lemon buttercream can also be mixed up and stored in an airtight container in the refrigerator for up to a week.
Before frosting the cookies, beat the frosting for a minute or two until fluffy again, then pipe as desired.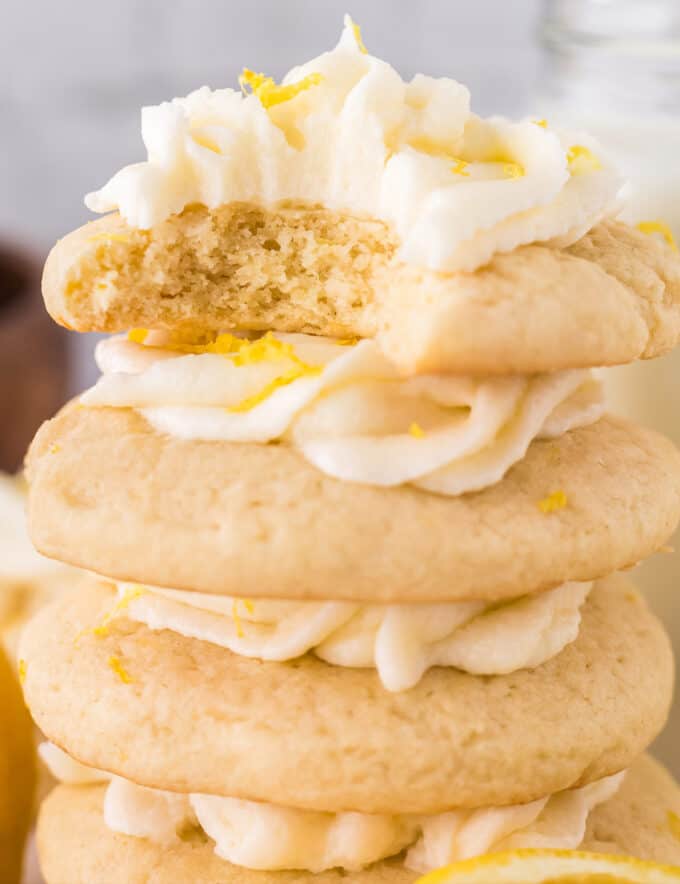 Freezing
This cookie dough can be made ahead of time and frozen into individual cut out circles.
I haven't tested baking the cookies from frozen, so I do recommend thawing it before baking.
That way when the baking mood strikes, all you have to do it pull out the pre-made dough, thaw it in the refrigerator, and bake!
Storage
Due to the frosting, I recommend storing these frosted sugar cookies in an airtight container in the refrigerator and enjoying them within 4 days or so.
Tips for Cookie Success
Mixer – if you don't have a stand mixer, or would rather not clean it afterwards, you can use a hand-mixer. I do recommend using a mixer of some kind to make sure the ingredients are properly mixed. You can use a sturdy whisk and your good ol' arm muscles to mix the ingredients if that's all you have available.
Cookie cutter – I prefer to just use a round cutter for this, so I use my biscuit cutter. I love the tall sides, stainless (and easy to clean) cutter, and the grippy handle. This is the one I use (amazon link).
Room temperature ingredients – normally, for the best results when baking cookies, your cold ingredients (like the butter and eggs) should be at room temperature so it can easily be whipped and creamed.
Use real butter – this isn't the time to use shortening or margarine. Those perform differently in baking recipes, and this recipe was only tested using real butter.
Use fresh ingredients – did you know using older baking soda/baking powder can affect the way your cookies bake? Over time, leavening agents, (which is what baking soda and powder are) lose their efficacy, and won't give your cookies that classic texture.
If you're unsure if your baking soda or powder are still good, drop a pinch in some hot water. If it fizzes, it's still good! If not, then you're in need of some new ingredients.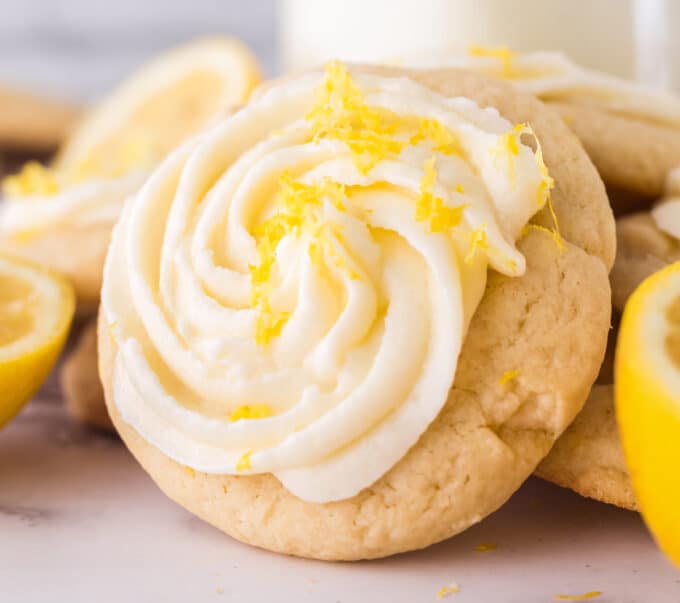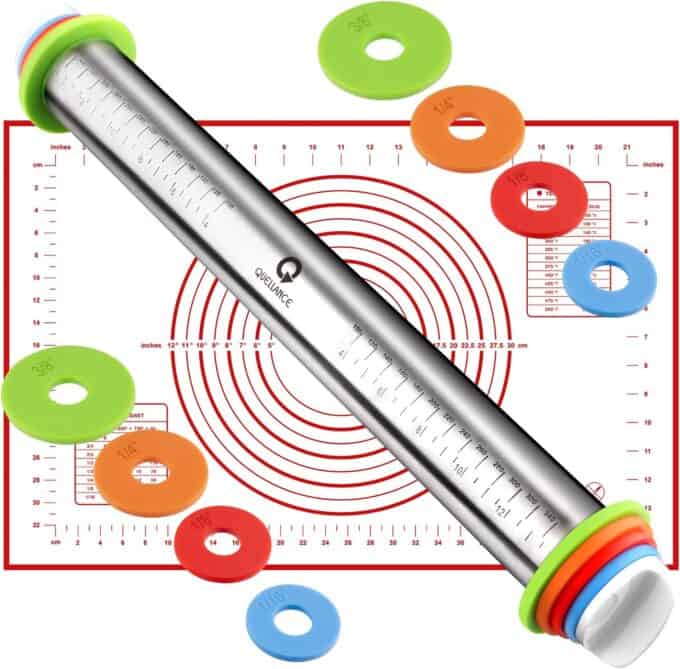 I love using this rolling pin since it's adjustable, so it takes all the guesswork out of how thick the dough is. Plus it comes with a pastry mat!
Did you make this? Be sure to leave a review below and tag me @the_chunky_chef on Facebook and Instagram!
These lemon sugar cookies are soft and tender, topped with a silky lemon buttercream and sprinkled with lemon zest.
Ingredients
"Wet" ingredients
1/2 cup salted butter softened to room temperature
1 cup granulated sugar
1 large egg
1 medium lemon zested
1/4 cup lemon juice fresh is best
1 tsp vanilla extract
"Dry" ingredients
2 cups all purpose flour
1/2 tsp baking powder
1/4 tsp baking soda
Lemon buttercream
1/2 cup salted butter
3 cups powdered sugar whisked to remove any lumps
1/4 cup lemon juice
Instructions
Prepare
Preheat oven to 375°F.  Line a baking sheet with parchment paper and set aside.
"Cream" the butter and sugar
To a large mixing bowl, add the softened butter and granulated sugar. Using a hand mixer, beat on LOW for about 30 seconds (or until the ingredients are starting to stick together), then increase speed to MED and beat for about 1-2 minutes, or until everything is fully combined. **This process is called creaming the fat and sugar, but there is no cream in this recipe**
Add remaining "wet" ingredients
Add the egg, lemon zest, lemon juice, and vanilla extract and beat on LOW until combined.
Combine wet and dry ingredients
To the mixing bowl with the wet ingredients, add the dry ingredients (flour, baking powder, and baking soda). Beat on LOW until things are just combined and you don't see any streaks of flour.
Roll and cut the dough
Turn out the dough onto work surface and roll dough to a thickness of about 1 inch. If you find the dough sticking, flouring the work surface and rolling pin is helpful, as is rolling dough out between 2 pieces of wax or parchment paper.

Cut into shapes and place cut out dough pieces on prepared baking sheet. Refrigerate for 10-15 minutes.
Bake
Bake in preheated oven for 10-12 minutes, or until edges are lightly golden
Cool
Transfer cookies to a cooling rack and cool completely. While cookies are cooling, make the frosting.
Make the frosting
Add butter to the mixing bowl and beat on MED speed until fluffy, about 2-3 minutes.

Add powdered sugar and lemon juice, and beat until smooth.

**Adjust if necessary** If the texture is really stiff, add some additional lemon juice (a little at a time), beating together until combined.  If the texture is too soft, feel free to add about 1/2 cup more sifted powdered sugar.
Frost, garnish, and serve
Frost cookies in desired manner (I used a piping bag and decorating tip, but you don't have to do this), and sprinkle with lemon zest. Serve and enjoy!
Want to save this recipe for later? Click the heart in the bottom right corner to save to your own recipe box!
Chef Tips
The number of fresh lemons required to make 1/2 cup lemon juice (1/4 cup for both the cookies and the frosting) will vary widely depending on their size and how much juice they contain.
Chill a bit longer if you want to have more precise cut out shapes.
Nutrition Disclaimer
The Chunky Chef is not a dietician or nutritionist, and any nutritional information shared is an estimate. If calorie count and other nutritional values are important to you, we recommend running the ingredients through whichever online nutritional calculator you prefer. Calories can vary quite a bit depending on which brands were used.