This Lemon Cake Roll is bursting with lemon flavor, ultra moist, and filled with an amazing lemon whipped cream filling. Looks fancy and complicated, yet is pretty easy to make!
This is one of my Dessert recipes I know you'll want to keep on hand!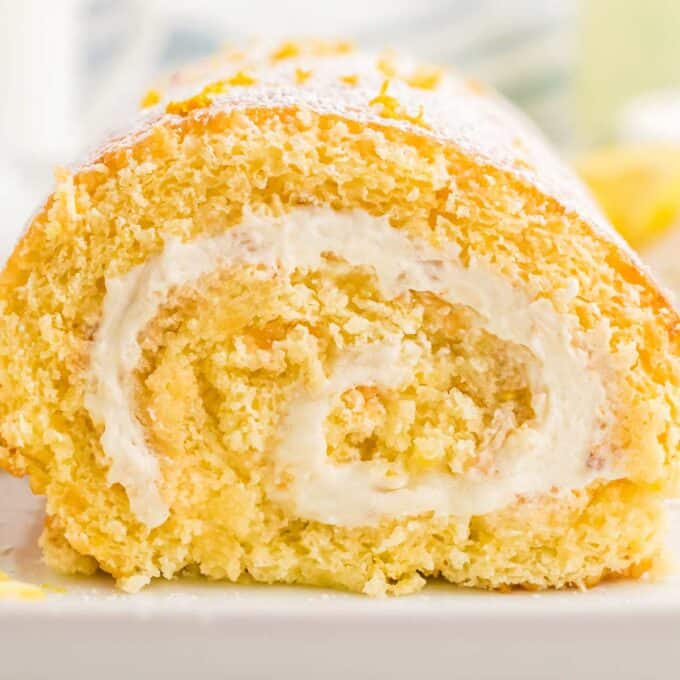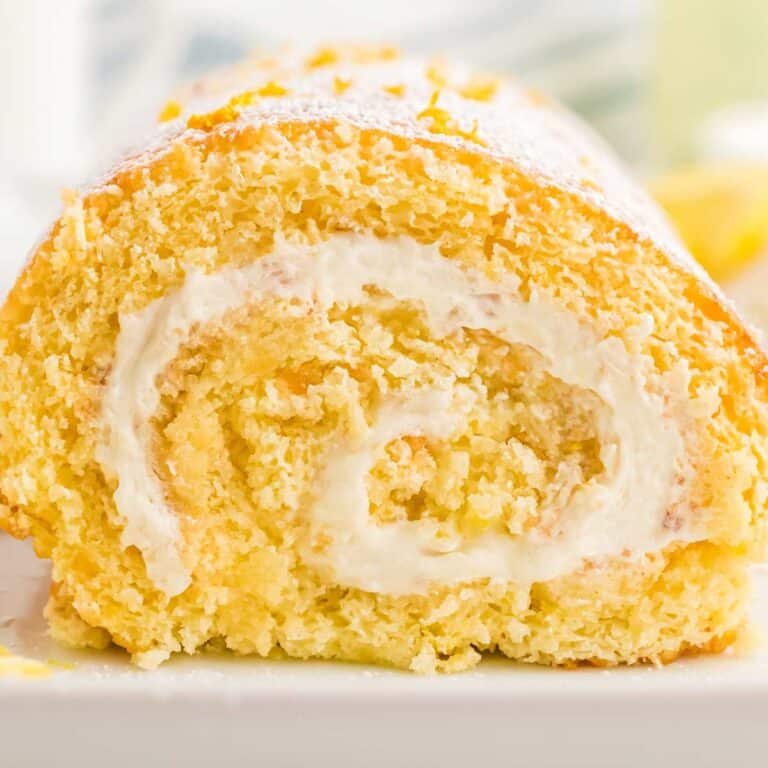 I know I've shared quite a few lemon desserts with you this summer, but I have one more. And it's a great one!
This recipe for a Lemon Roll Cake comes from my Mother in Law, who is a great cook and baker, and it's always a favorite in the summer.
Bursting with lemon flavors, a light and airy texture, and can be made ahead of time? Talk about the perfect dessert!
Roll cakes are one of those desserts that look ultra fancy and complicated, but aren't all that difficult! The hardest part is the rolling process, but I've broken all that down, as well as shared tips for your cake not cracking during the roll.
So let's see how it's made, shall we?
How to make a lemon cake roll?
This is just an overview; the full ingredients and directions are in the recipe card toward the bottom of this post.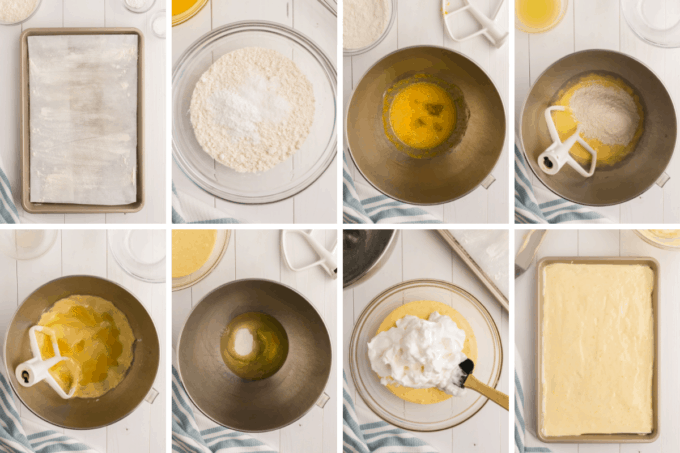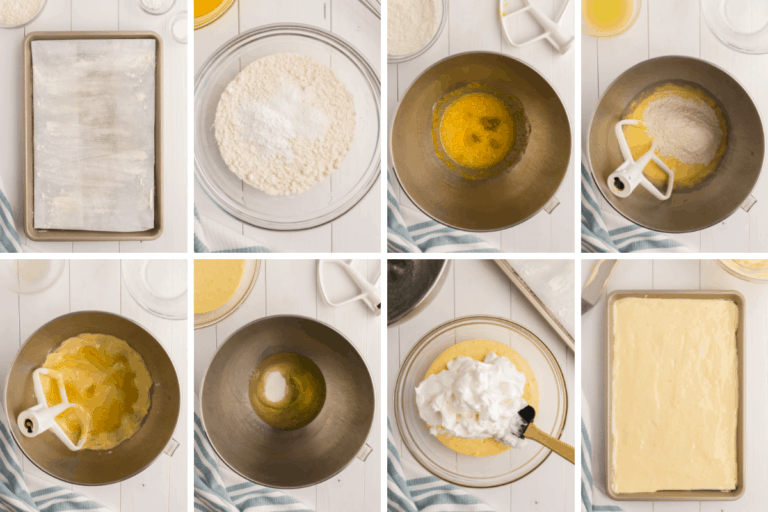 Prepare baking pan. Spray the jelly roll pan, line with parchment, spray again and dust lightly with flour. The last thing you want is for your cake to stick!
Combine dry ingredients. Whisk and set aside.
Beat egg yolks, sugar, and lemon zest.
Add half the dry ingredients.
Add half the lemonade.
Add the rest of the dry ingredients, beat, then add the last of the lemonade.
Beat egg whites and sugar. Beat on high speed until stiff peaks form.
Fold egg whites into batter. Gently stir until combined.
Spread into pan and bake. Bake for 18-20 minutes, or until the cake springs back when lightly touched on top.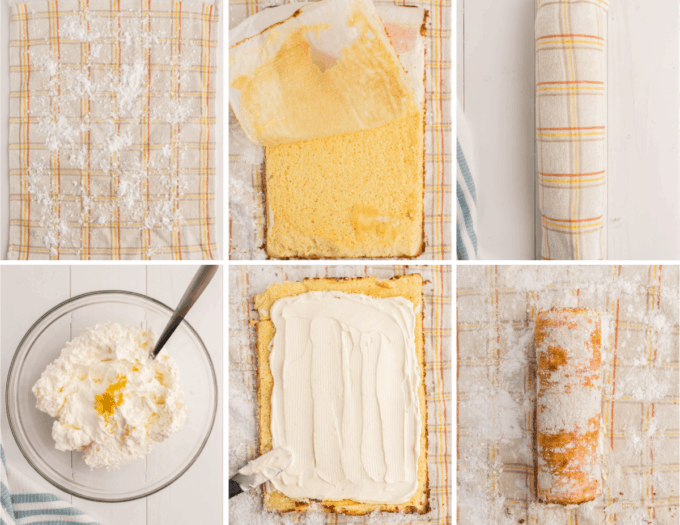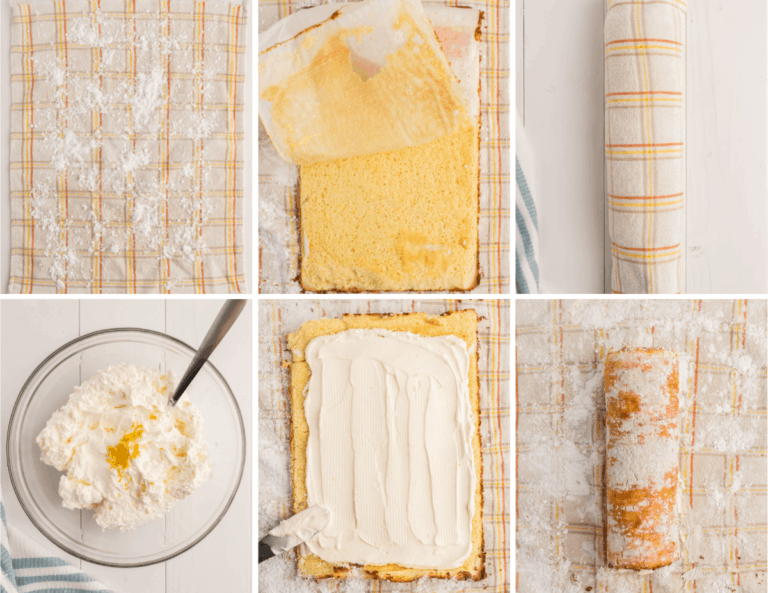 Prepare towel. Use a thin, clean kitchen towel, and sprinkle with powdered sugar.
Invert cake onto towel. When the cake comes out of the oven, turn out the cake onto the prepared towel while it's still hot.
Peel paper and roll. Starting with the narrow side, roll up towards the top.
Cool cake. Place the cake in the towel, seam side down, on a cooling rack and cool completely.
Combine filling.
Spread filling. Gently unroll the cake, then spread the filling in an even layer.
Roll cake back up. Gently re-roll the cake, just as you did before, but without using the towel.
Cover and chill. I recommend at least 30 minutes, or up to 1-2 days.
Dust with powdered sugar and lemon zest and serve.
Helpful Tip!
The biggest hurdle when it comes to making a roll cake is making sure it doesn't crack. My main tip is to make sure you're rolling the cake right after baking, when it's still hot/warm. Then let it rest at room temperature. Cold cakes crack when rolled. The other tip is not to over bake the cake.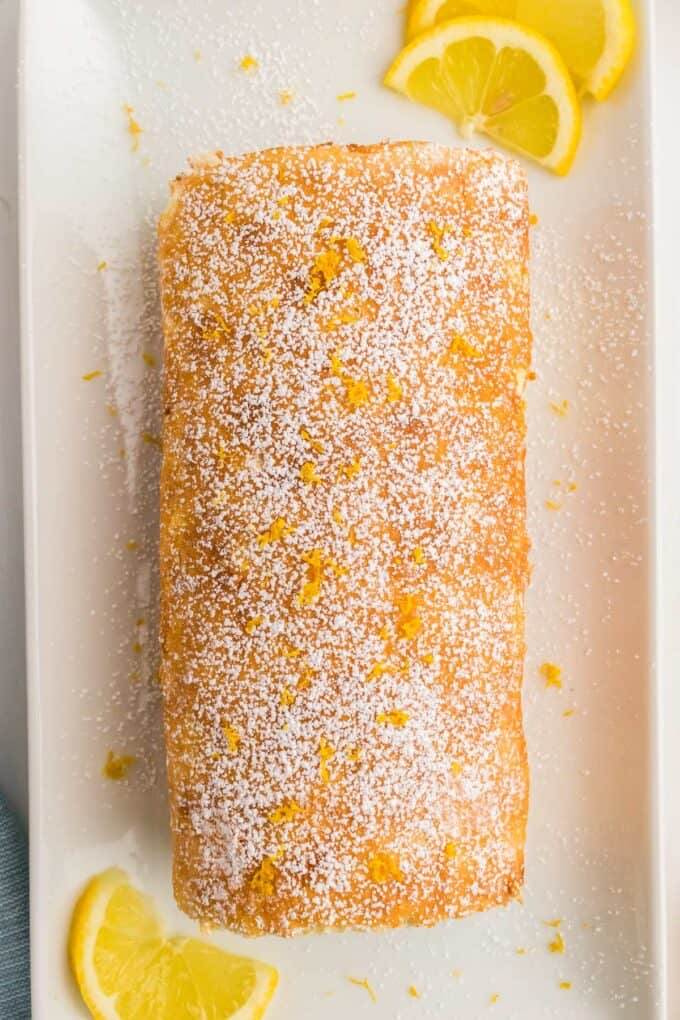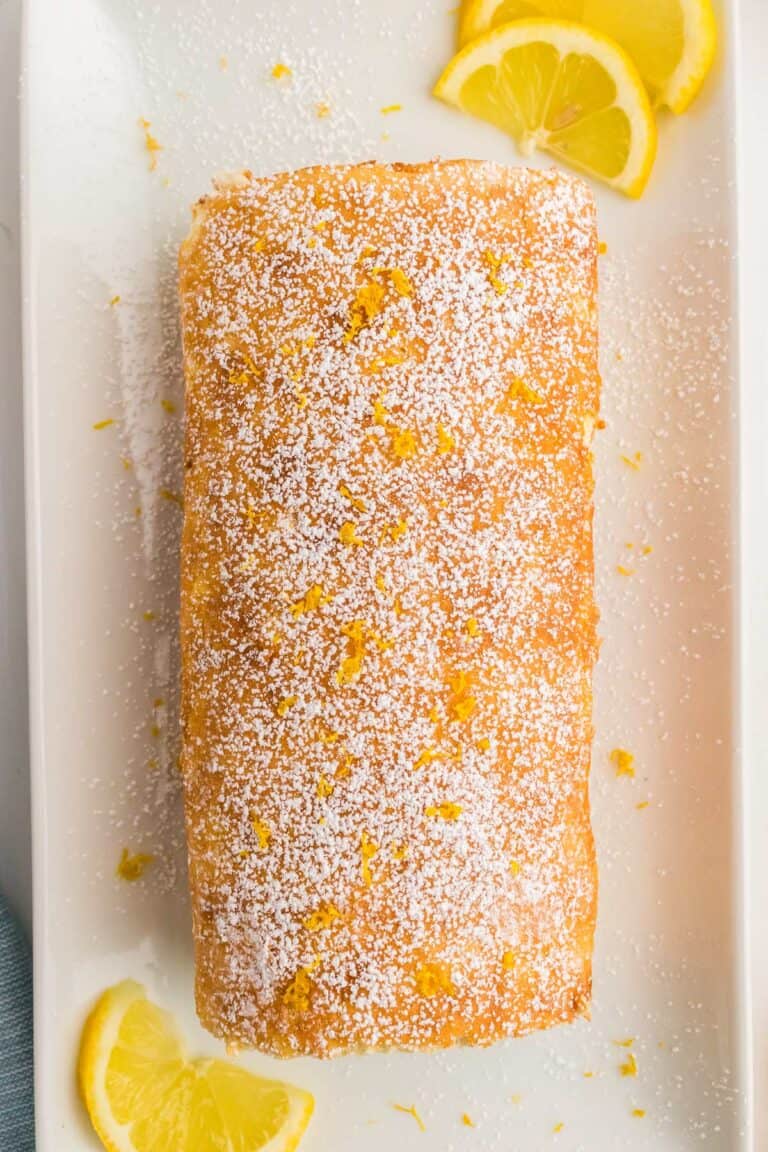 Variations of this recipe
Lemonade – if you don't have any frozen lemonade, you can use regular bottled lemonade, or use homemade if you'd like.
Whipped cream – not a cool whip fan? Use an equal amount of regular whipped cream.
Raspberries – lemon and raspberries make great partners, so try slicing some raspberries in half and adding them on top of the cool whip before rolling up the cake.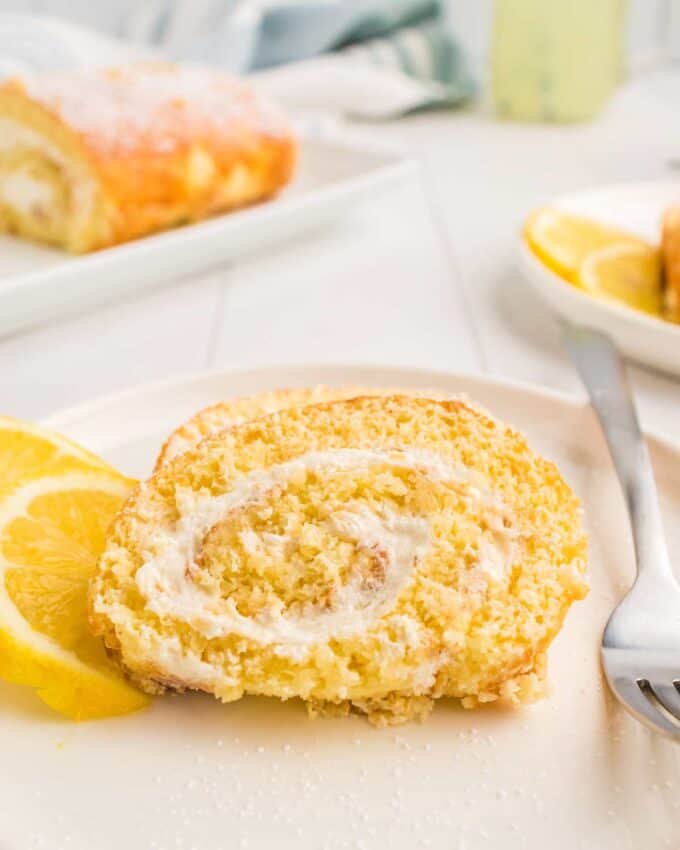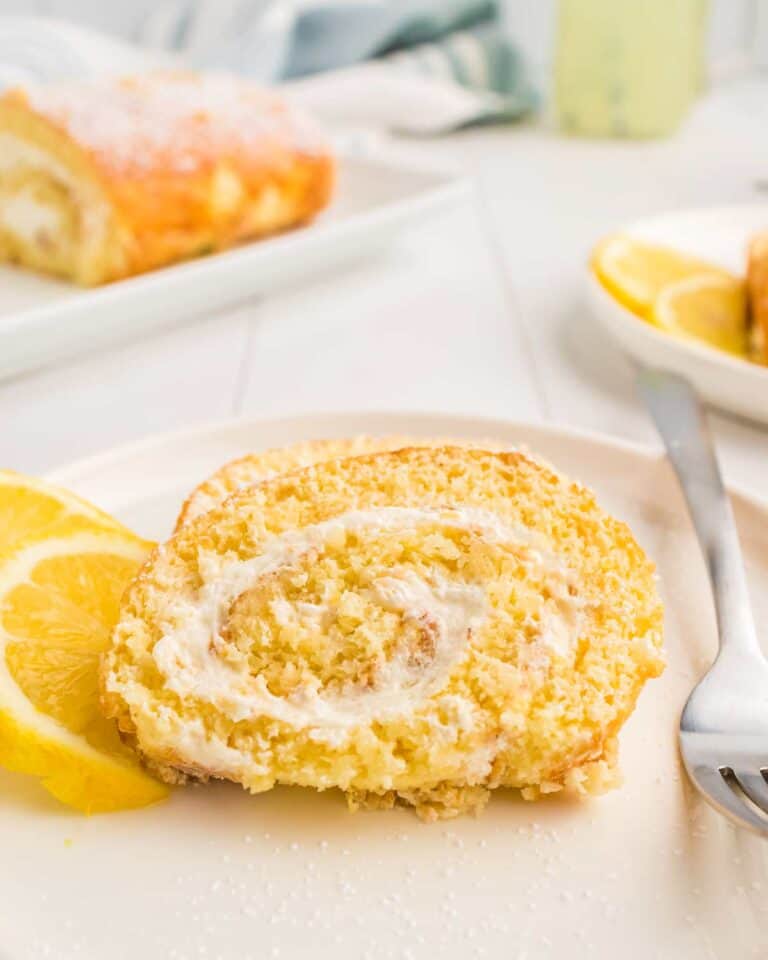 FAQ's
Can you make a roll cake with boxed cake mix?
I've not tested this recipe using boxed mix, but I think it would turn out well. Use a lemon flavored cake mix, and bake it until just done, being careful not to over-bake.
Why did my roll cake crack?
Most of the time roll cakes crack for two reasons; the cake was rolled when it was cooled, or the cake was over baked.
How can I save a cracked cake roll?
As long as it didn't crack a ton, you could ice the outside with a buttercream of cream cheese icing. That should camouflage the cracks. If it has huge cracks and won't stay together, you could mash it all up with your hands, roll into small balls and make cake pops 🙂
Making lemon cake roll ahead of time
One of the great things about this cake roll, other than how stunning it looks, is that it can be made ahead!
Make the cake completely, including rolling it up with the filling, then cover it tightly with plastic wrap and refrigerate for up to 1-2 days.
Just before serving, dust with powdered sugar and sprinkle with lemon zest.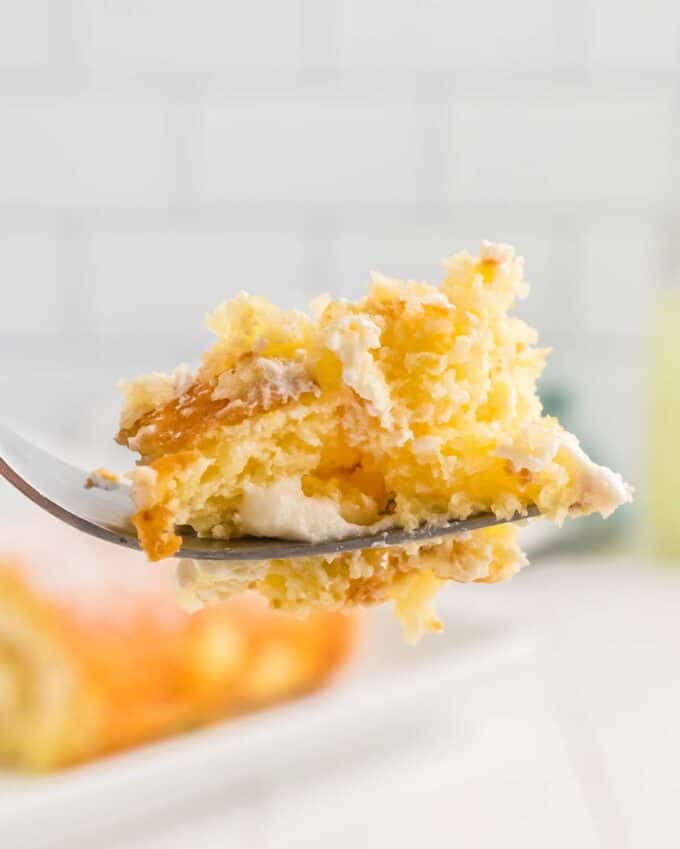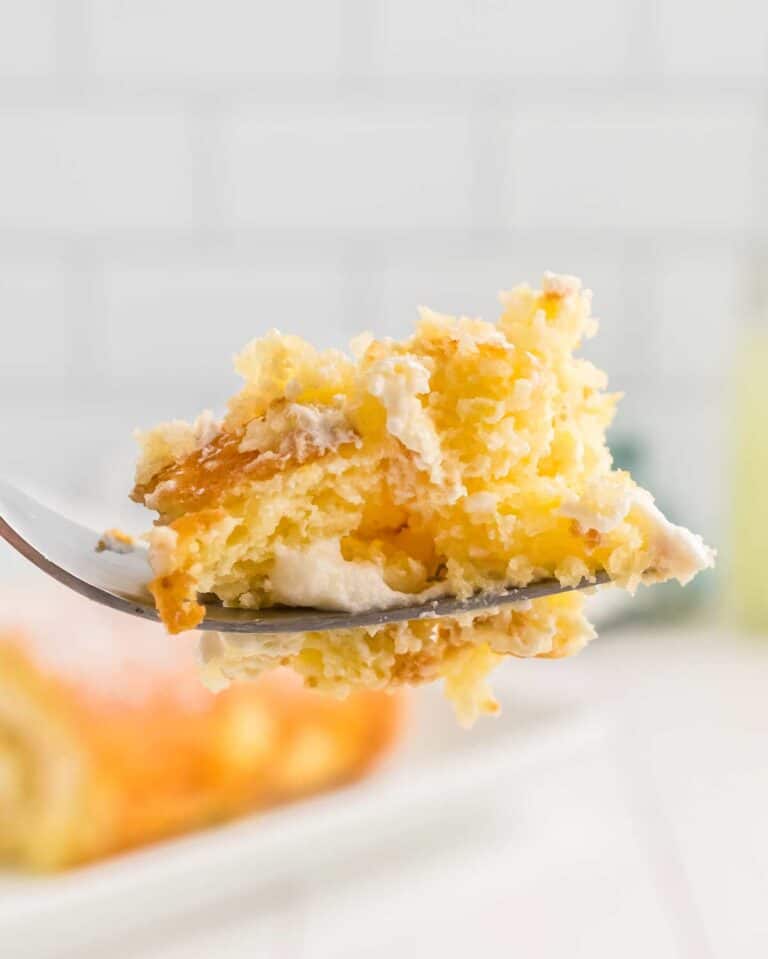 Freezing
A fully made cake roll, with the filling and everything, will freeze well! Wrap the roll well with plastic wrap, then add to a freezer-safe container or bag.
Freeze for up to 3 months, then thaw in the refrigerator.
Storage
This cake roll should be stored in the refrigerator in an airtight container and eaten within about 3 days.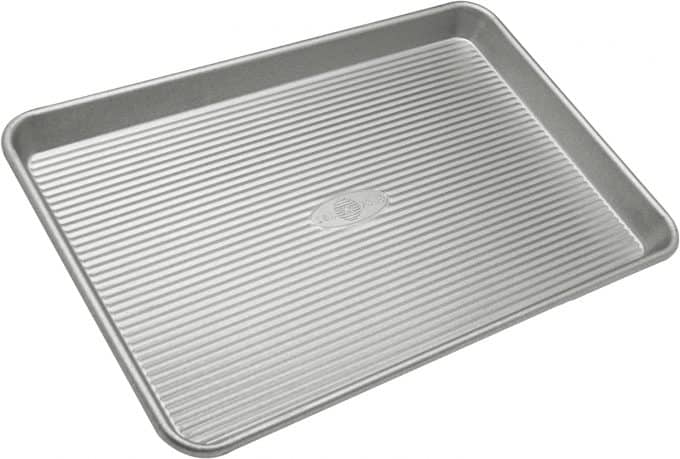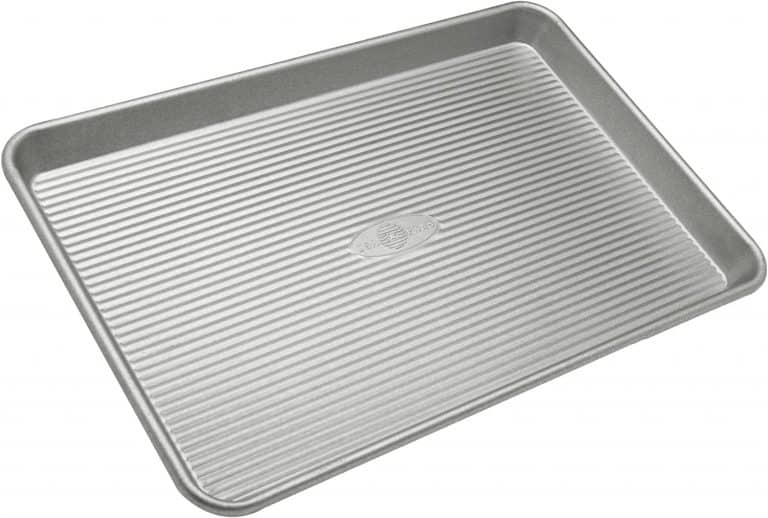 This pan is the perfect size for cake roll recipes like this one. Plus I love how it's nonstick, warp resistant, and holds up so well over the years!
Did you make this? Be sure to leave a review below and tag me @the_chunky_chef on Facebook and Instagram!
This Lemon Cake Roll is bursting with lemon flavor, ultra moist, and filled with an amazing lemon whipped cream filling.
Ingredients
3/4 cup all purpose flour
1 tsp baking powder
1/2 tsp kosher salt
4 large egg yolks
3/4 cup granulated sugar divided
2 tsp lemon zest divided
1/2 cup frozen lemonade thawed
4 large egg whites
8 oz container frozen whipped topping (like cool whip) thawed
powdered sugar for dusting
additional lemon zest for serving
Instructions
Preheat oven to 375°F.  Spray a 15×10" jelly roll pan with cooking spray, then top with a sheet of parchment paper that fits inside the pan.  Spray lightly with cooking spray and dust with a bit of flour (or use a baking spray that has flour in it).  Set aside.

Combine flour, baking powder and salt in a small mixing bowl, whisking well.

In a larger mixing bowl, add egg yolks and beat with a mixer on medium speed for several minutes, or until thick.

Add 1/2 cup of sugar and beat until well combined.  Add lemon zest and beat until combined.

Add half the flour mixture and beat until just combined.  Add half of the lemonade, and beat until just combined.  Repeat with remaining flour mixture and lemonade.

In a separate mixing bowl, beat egg whites and remaining 1/4 cup sugar on high speed for 3-5 minutes, or until stiff peaks form.

Add egg white mixture to the cake batter and fold in gently.

Spread evenly in prepared baking pan, and bake for 18-20 minutes.

While the cake is baking, lay out a thin kitchen towel on the counter and sprinkle generously with about 1/3-1/2 cup of powdered sugar.

When the cake is finished baking, immediately invert the cake onto the prepared towel.  Peel off the parchment paper and roll the cake up, starting with the narrower end.

Place cake, seam side down, still in the towel, and let it cool completely at room temperature.

Stir together cool whip and remaining half of the lemon zest.

Gently unroll the cake, and spread cool whip on top of the unrolled cake, leaving a small 1/2" boarder around the edges.

Gently roll the cake back up, tightly, and without the towel this time.  If some filling spills out, that's okay.

Cover with plastic wrap and refrigerate for at least 30 minutes.

Before serving, dust with powdered sugar and sprinkle with lemon zest.
Want to save this recipe for later? Click the heart in the bottom right corner to save to your own recipe box!
Chef Tips
Recipe makes one roll cake.  I estimated around 12 slices per cake, with 1 slice of cake per serving.  However, depending on how thick you cut the slices, you may get more or less total slices/servings.
Recipe uses 4 whole large eggs, that are divided into 4 yolks and 4 whites.
Nutrition Disclaimer
The Chunky Chef is not a dietician or nutritionist, and any nutritional information shared is an estimate. If calorie count and other nutritional values are important to you, we recommend running the ingredients through whichever online nutritional calculator you prefer. Calories can vary quite a bit depending on which brands were used.