Juicy chicken thighs marinated in an ultra flavorful lemon and herb yogurt sauce, skewered with veggies and grilled to perfection. Perfect for summer, but recipe has alternative cooking methods for winter too!
This is one of my chicken recipes I know you'll want to keep on hand!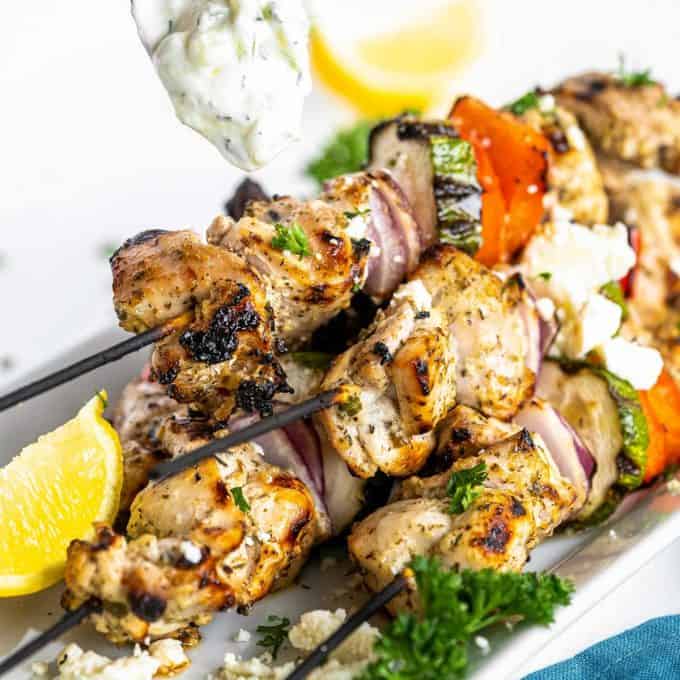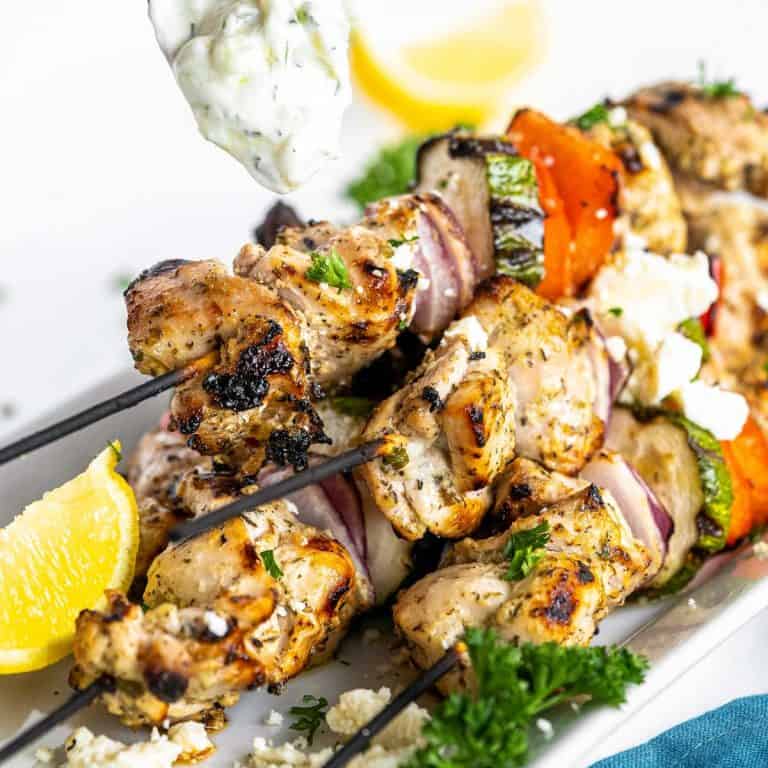 The most juicy and tender grilled chicken comes from this recipe. These Greek-style chicken kebabs, or commonly known as chicken souvlaki, are so easy to make, but seriously so good.
The yogurt marinade tenderizes the chicken, and the combination of lemon and herbs makes the flavor just irresistible!
This recipe is made to be grilled, but if you don't have a grill, or can't get outside to grill, I've included directions for how to cook these kebabs both in the oven with a broiler, or on the stovetop.
How to make Greek-style chicken kebabs?
This is just an overview; the full ingredients and directions are in the recipe card toward the bottom of this post.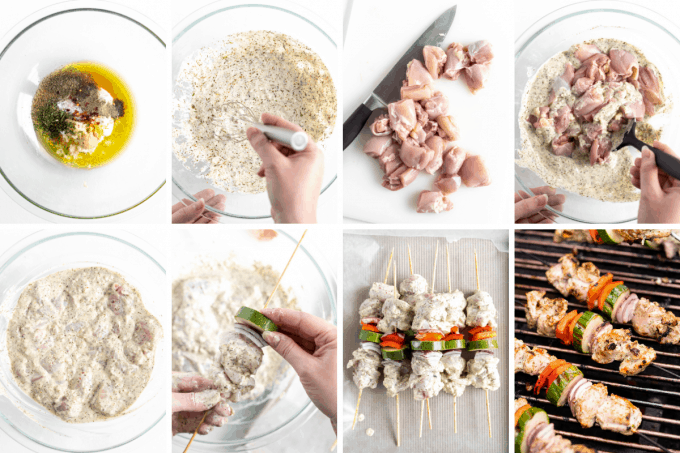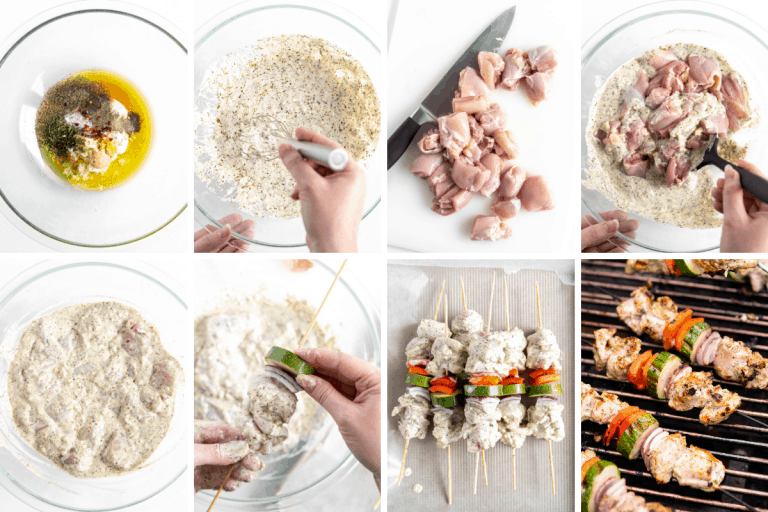 Marinate chicken. I like to do this for at least 2 hours, or up to 24 hours.
Make kebabs. Assemble the skewers any way you'd like.
Grill. Grill outdoors, inside on a grill pan or griddle, or cook under your broiler.
Helpful Tip!
If you're using wooden skewers, make sure you soak them for at least 30 minutes before making the kebabs. This keeps the wood from turning to ash on the grill. In general, I prefer metal skewers, but you work with what you have.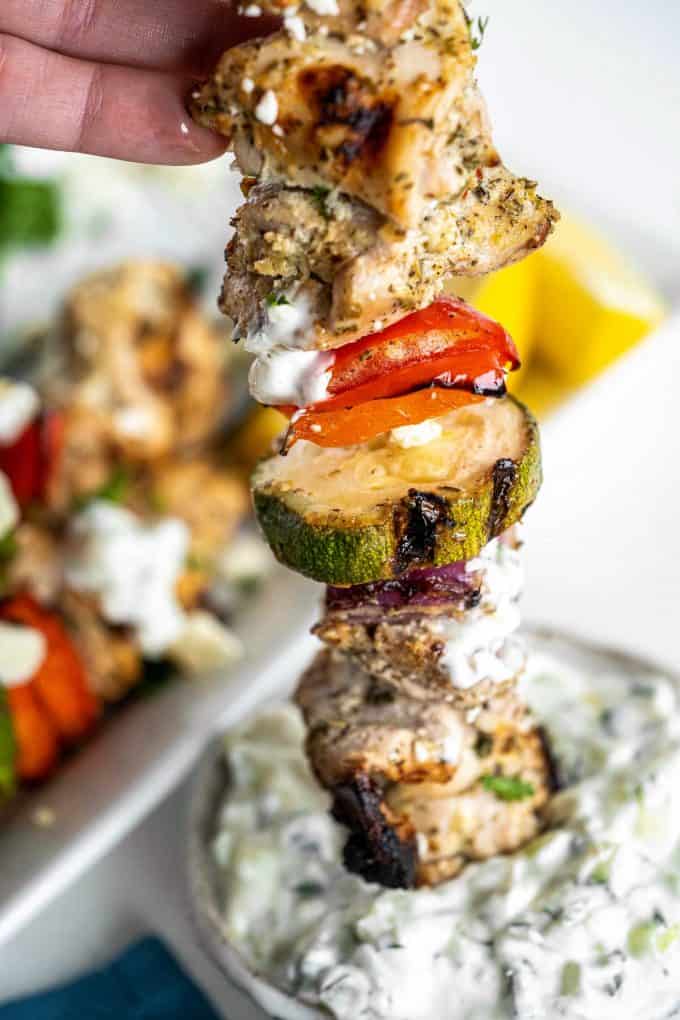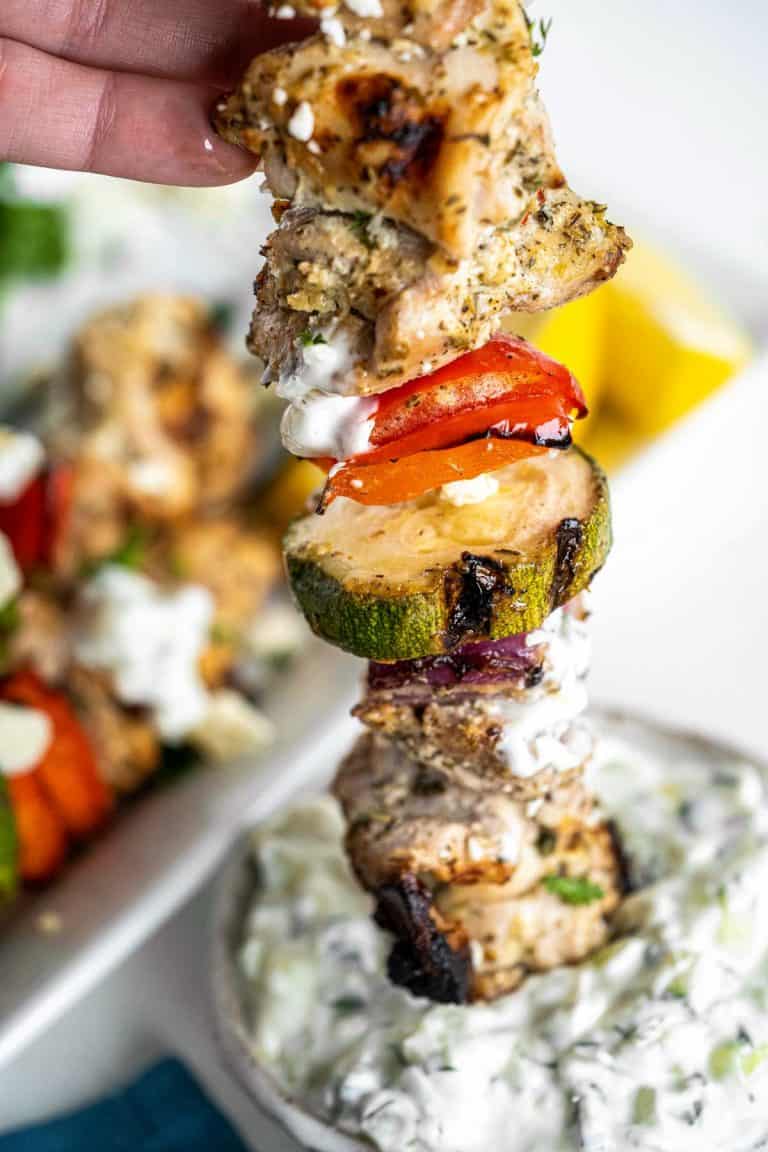 Variations of this recipe
Chicken breast – we like to use chicken thighs because they stay juicy and aren't as easy to overcook, but if you prefer chicken breasts, those will certainly work too.
Fresh herbs – I wrote this recipe to be convenient for those of you who may not have fresh herbs on hand, but if you have them, by all means use them 🙂 Since fresh herbs aren't quite as potent, I would use about double or even triple the amounts listed.
Other vegetables – these kebabs are pretty versatile, so any vegetables you normally like to grill, will work here.
Greek yogurt – if you don't have, or don't like Greek yogurt, you can omit it and just have an olive oil based marinade. It will still taste delicious, just may not have as much of a tang.
Separate meat and veggies – while it's pretty to have the alternating chicken and veggies, it can be a little tricky to make sure the meat is fully cooked and the veggies aren't burnt. If you're new to grilling, or simply want this meal to be even easier, do separate skewers; one for chicken, and one for veggies.
Other cooking methods – if you don't have a grill, or the weather just isn't cooperating, these can be cooked in your oven as well.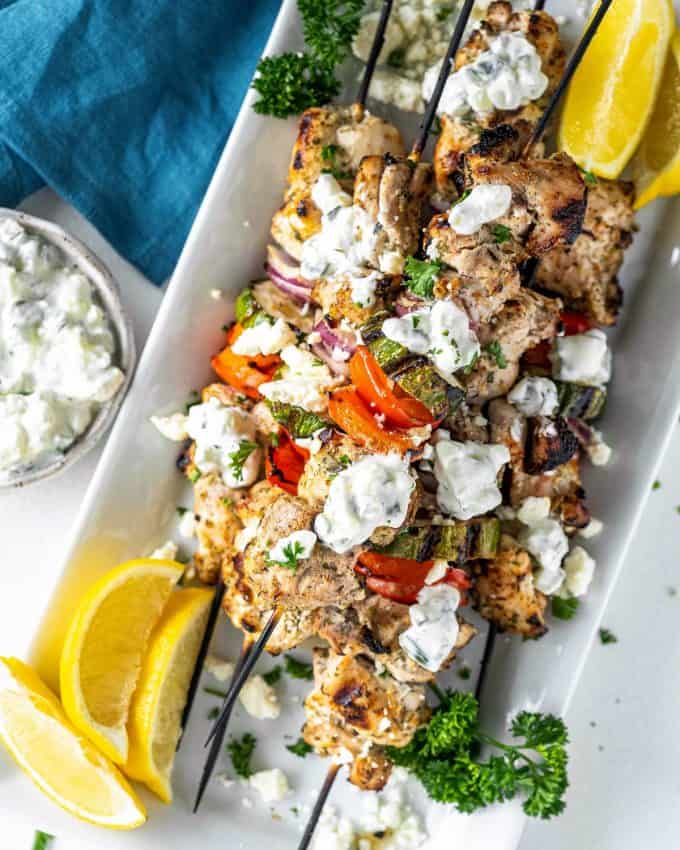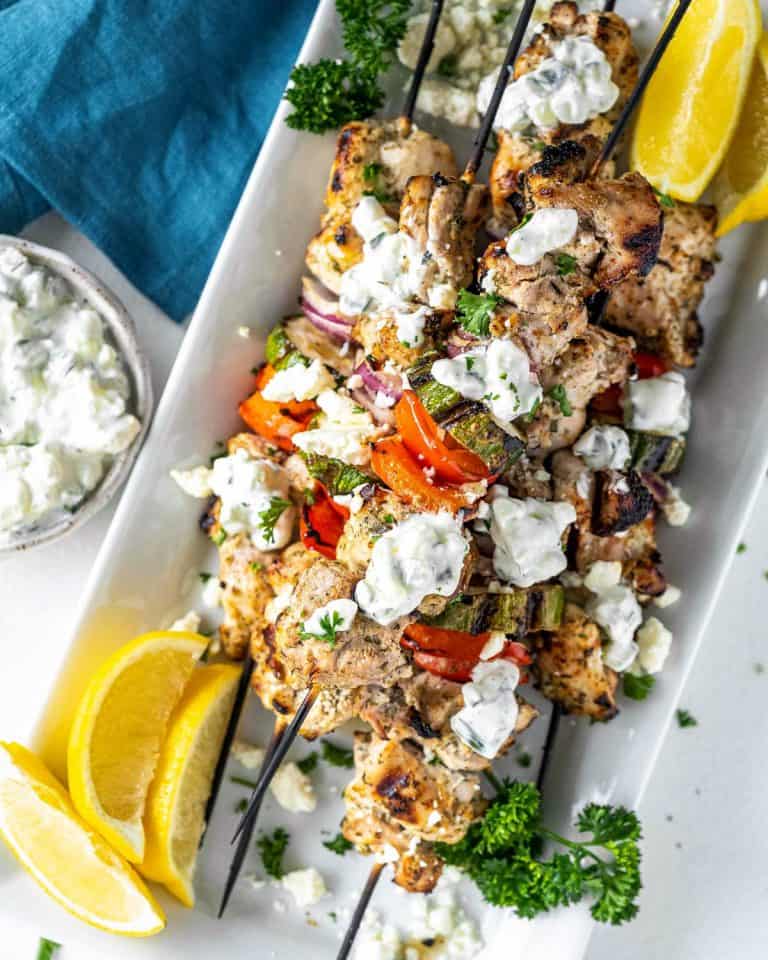 FAQ's
Is this recipe authentic?
I make zero claims when it comes to this recipe's authenticity, this is just my way of making Greek-style chicken kebabs. From what I can gather, skewered chicken like this would be called souvlaki, where as kebabs are generally made from ground meat that's been formed around a skewer.

Can this recipe be made with pork?
Yes, absolutely! I recommend using pork tenderloin or thick cut pork chops.
Making chicken kebabs ahead of time
Since the chicken has to marinate for at least 2 hours, this is sort of a natural make-ahead recipe, but you can have the chicken marinating for up to 24 hours if you want to make it more in advance.
You could also assemble the skewers earlier in the day, add them to rimmed baking sheet, cover them with plastic wrap, and refrigerate until ready to grill.
I don't recommend grilling them entirely ahead of time, as I think grilled food tastes best when it's fresh off the grill.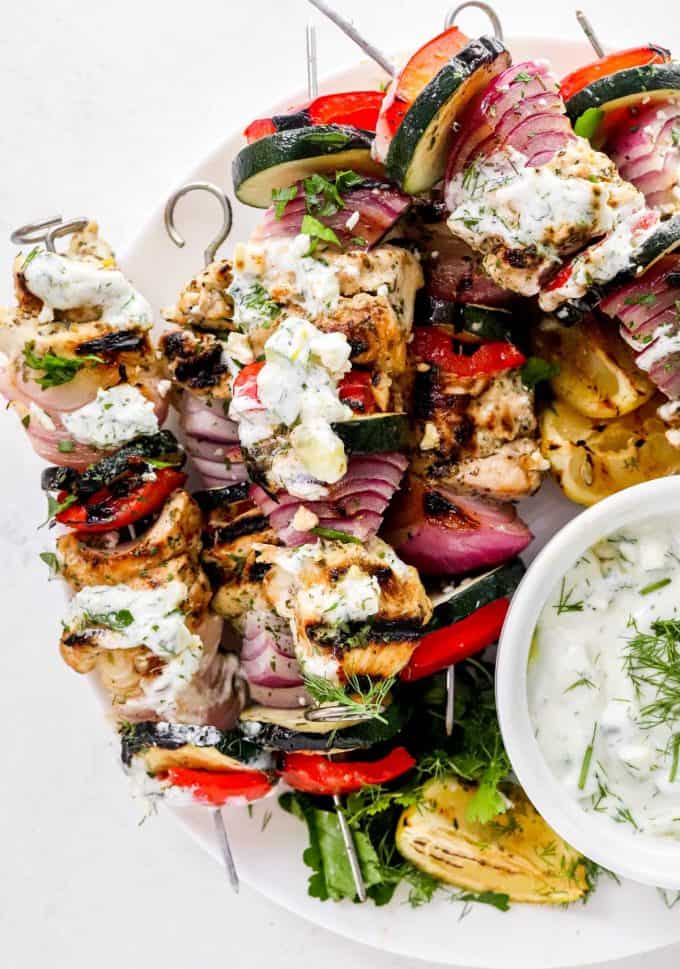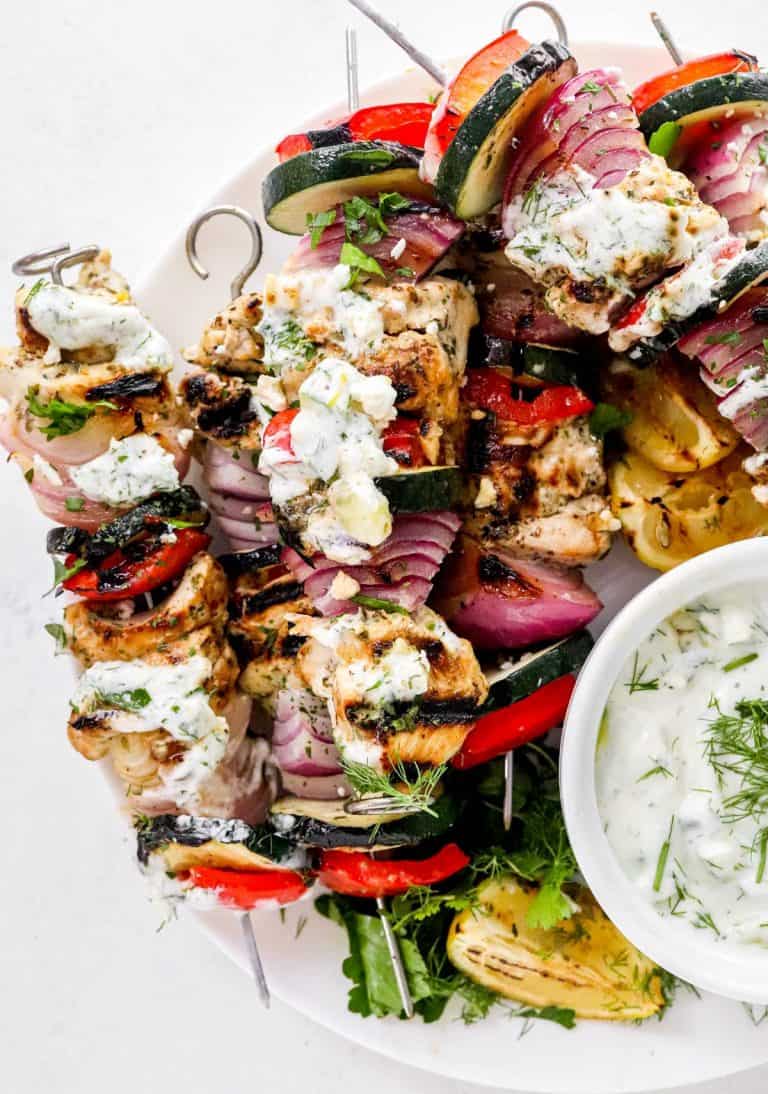 Storage
Leftover chicken kebabs should be stored in the refrigerator in an airtight container and eaten within 4-5 days.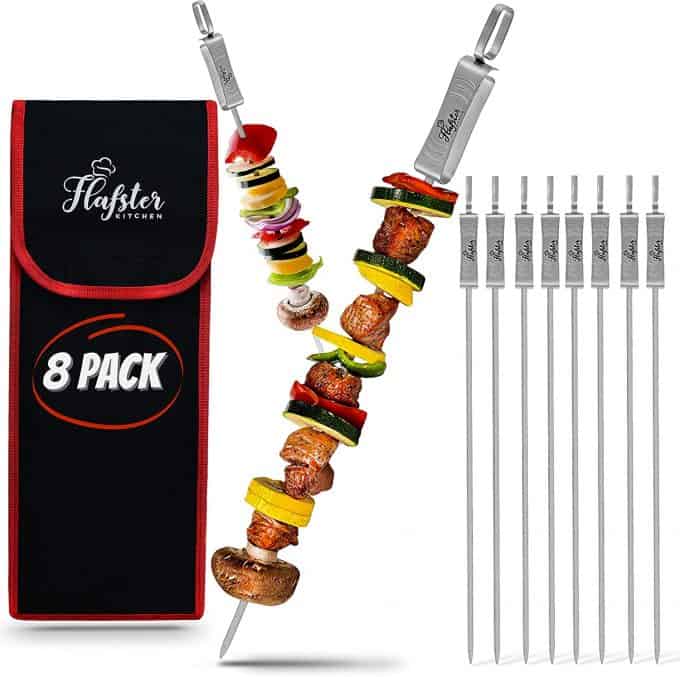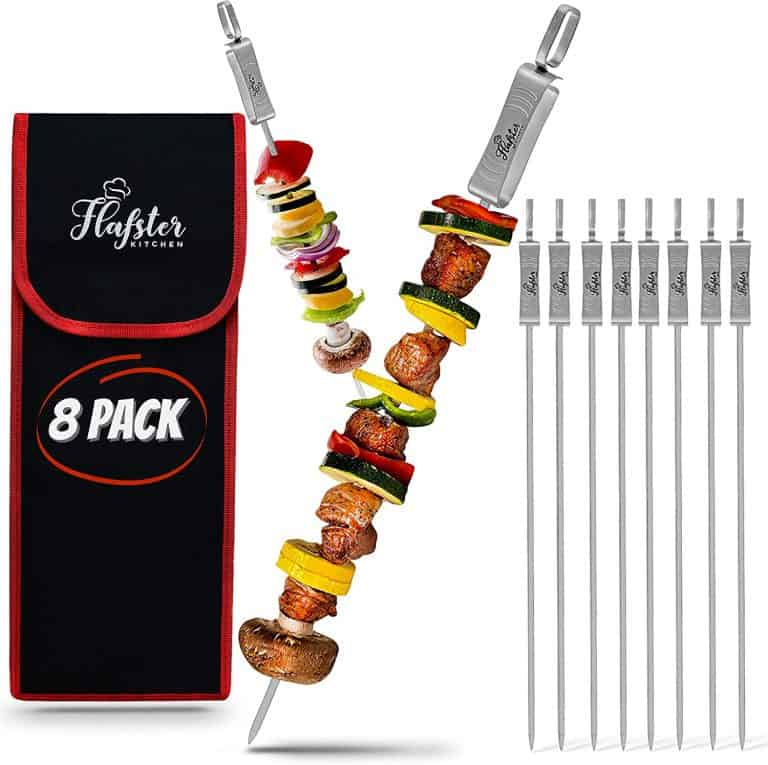 Metal skewers are great because you don't have to soak them, they're reusable, and this version has a push bar to effortlessly remove the meat or vegetables from the kebab!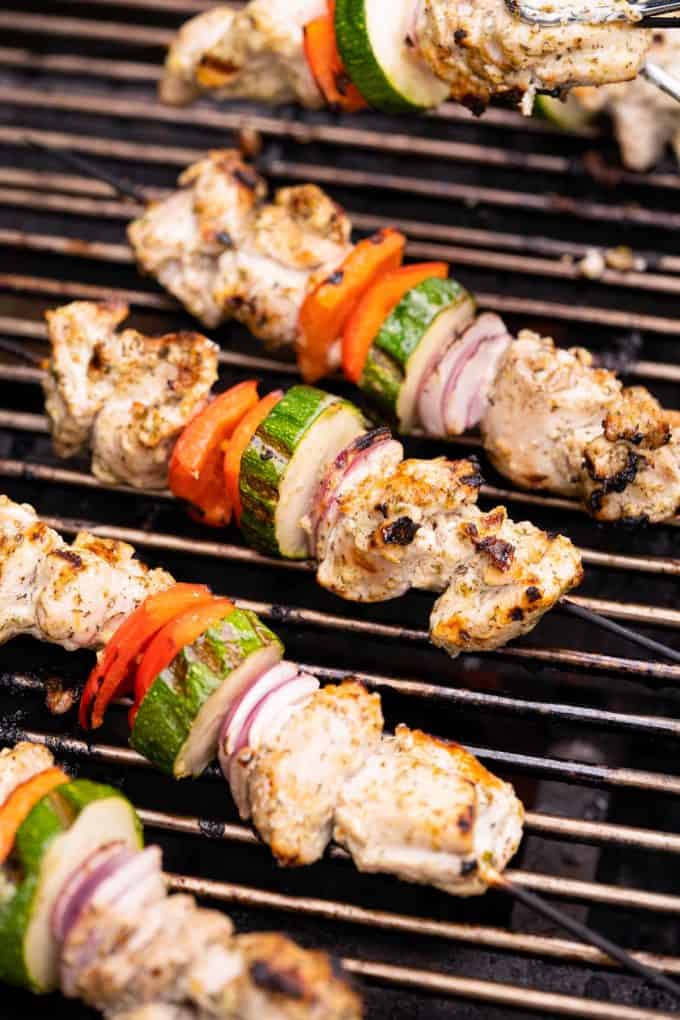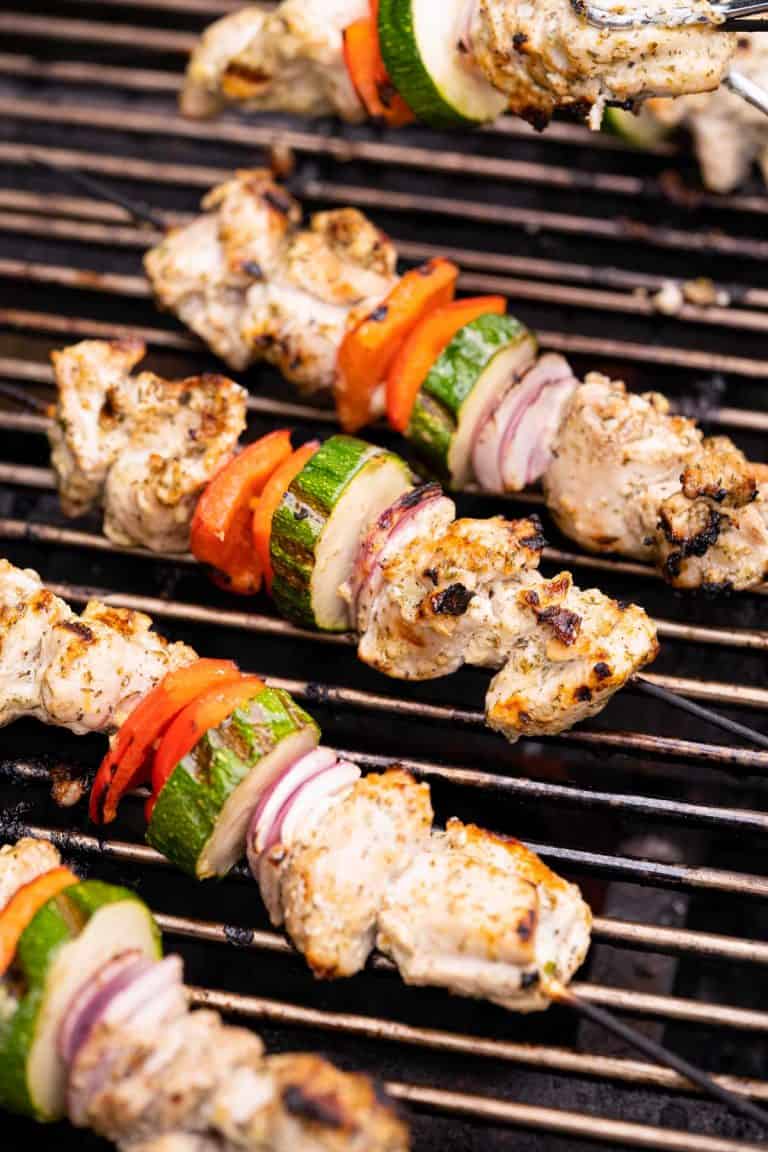 Did you make this? Be sure to leave a review below and tag me @the_chunky_chef on Facebook and Instagram!
Juicy chicken thighs marinated in an ultra flavorful lemon and herb yogurt sauce, skewered with veggies and grilled to perfection.
Ingredients
Marinade
1/2 cup plain full fat Greek yogurt
1/4 cup olive oil
1 tsp lemon zest
3 Tbsp lemon juice fresh tastes best
1 Tbsp red wine vinegar
7 cloves garlic grated or finely minced
1 tsp Dijon mustard
2 tsp dried oregano
1 tsp dried parsley
1 tsp dried thyme
1 tsp kosher salt
1/2 tsp black pepper
pinch red pepper flakes or crushed red pepper
Kebabs
1 1/2 lbs boneless skinless chicken thighs trimmed of excess fat and sliced into 1 or 1 1/2 inch cubes
1 red onion sliced into 1 or 1 1/2 inch squares
1 bell pepper (any color) seeded and sliced into 1 or 1 1/2 inch squares
1 medium zucchini sliced into 1 or 1 1/2 inch circles
Garnish
chopped fresh parsley
crumbled feta cheese
lemon wedges
Instructions
Add all marinade ingredients to a mixing bowl, then whisk to combine well.

Add chicken pieces to the marinade and stir to coat well.  Cover and refrigerate for at least 2 hours, or up to 24 hours.

If using wooden skewers, soak them in water for at least 30 minutes, so they don't burn too much while on the grill.

Brush grill grates and preheat grill over MED HIGH heat. 

While grill is preheating, strain chicken through a sieve to remove excess marinade, and thread chicken pieces onto skewers, alternating 2 chicken pieces, then red onion, zucchini, and bell pepper, and repeat until skewers are full.

Place skewers on a wax paper lined baking sheet (for transport to the grill).

When the grill is hot, add skewers to the grill, close the lid, and cook for 8-10 minutes, flipping once or twice while cooking.  Chicken should be golden brown with a little char and be cooked through.

Add chicken to a platter and if desired, sprinkle with chopped parsley and crumbled feta.  Arrange some lemon wedges around the platter and serve with tzatziki sauce and warmed pita bread if desired.
Want to save this recipe for later? Click the heart in the bottom right corner to save to your own recipe box!
Chef Tips
Cooking Kebabs Indoors (broiler)
Heat broiler to HIGH, then line a baking sheet (with a rim) with foil.  Add kebabs and broil 10-15 minutes, turning every 4-5 minutes, until cooked through.  This time may vary depending on your broiler and oven.
Cooking Kebabs Indoors (grill pan or griddle)
Heat grill pan or griddle over MED HIGH heat and brush the pan with an oil that can stand high heats, like vegetable or avocado oil.
Add kebabs and cook about 10-15 minutes, turning every few minutes, until all sides are a little charred and chicken is cooked through.  The exact time may vary a bit, depending on the pan used and your stovetop.
Nutrition Disclaimer
The Chunky Chef is not a dietician or nutritionist, and any nutritional information shared is an estimate. If calorie count and other nutritional values are important to you, we recommend running the ingredients through whichever online nutritional calculator you prefer. Calories can vary quite a bit depending on which brands were used.