Hawaiian Meatball Sliders with a Jicama Slaw
---
These Hawaiian meatball sliders are juicy, cheesy, sweet with a little spicy kick, and topped off with a crunchy and flavorful jicama slaw!
---
The tropical week continues!  Apparently it's also a Carlsbad Cravings week… I didn't even realize I'd scheduled several of her wonderful recipes in a row 🙂  It's no surprise though, she has some awesome ones!  I tweaked this one a bit to meet our tastes, and WOW… so good.  The flavors all meld together in one fantastic Hawaiian version of a meatball sub, in a 2-3 bite slider!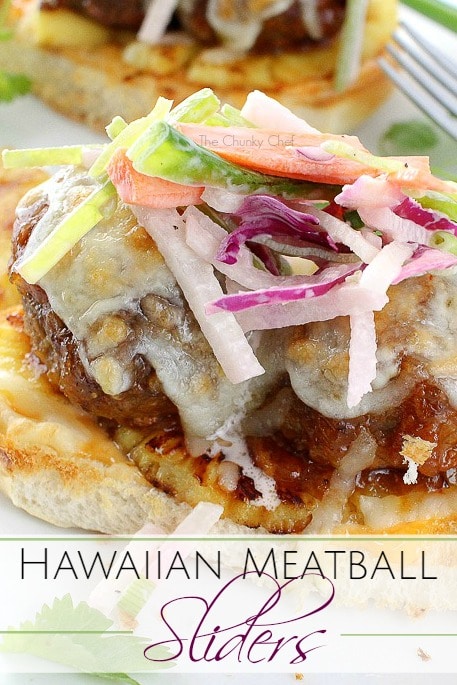 These bad boys will have you thinking you're in Hawaii!  Well, I wouldn't actually know, I've never been, but in my mind, I went there when I took a bite of these meatball sliders 🙂
A blend of beef and pork combine to make these meatballs tender, juicy, and bursting with flavor!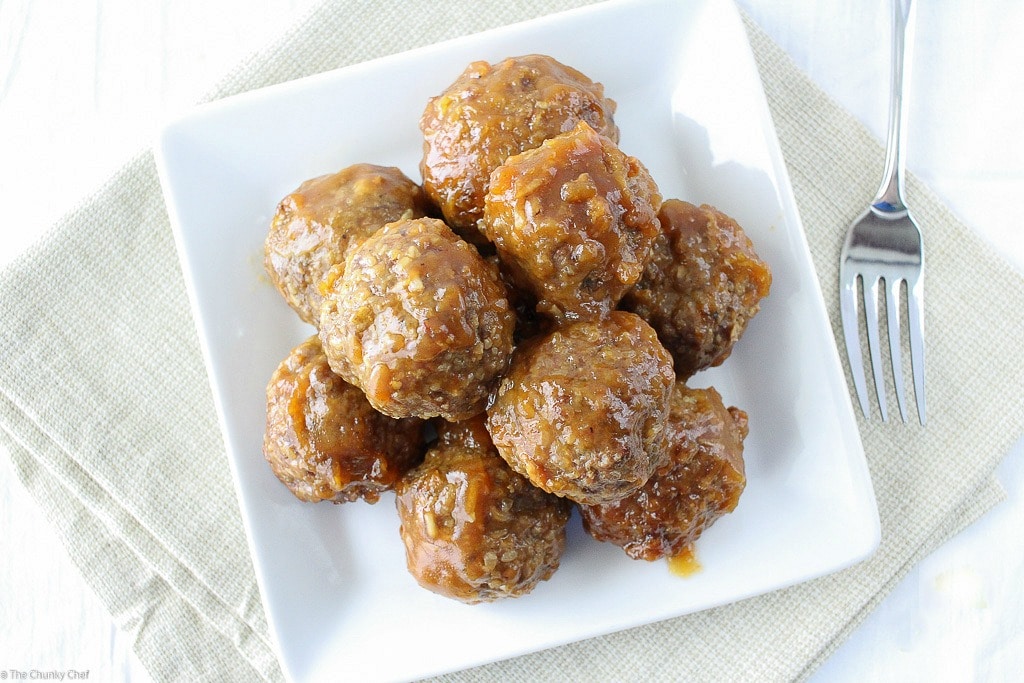 Start by mixing up your meat and then rolling them into balls.  I used my 1″ cookie scoop to make sure they were all about the same size, so they would cook evenly.  Bake them for about 13-15 minutes.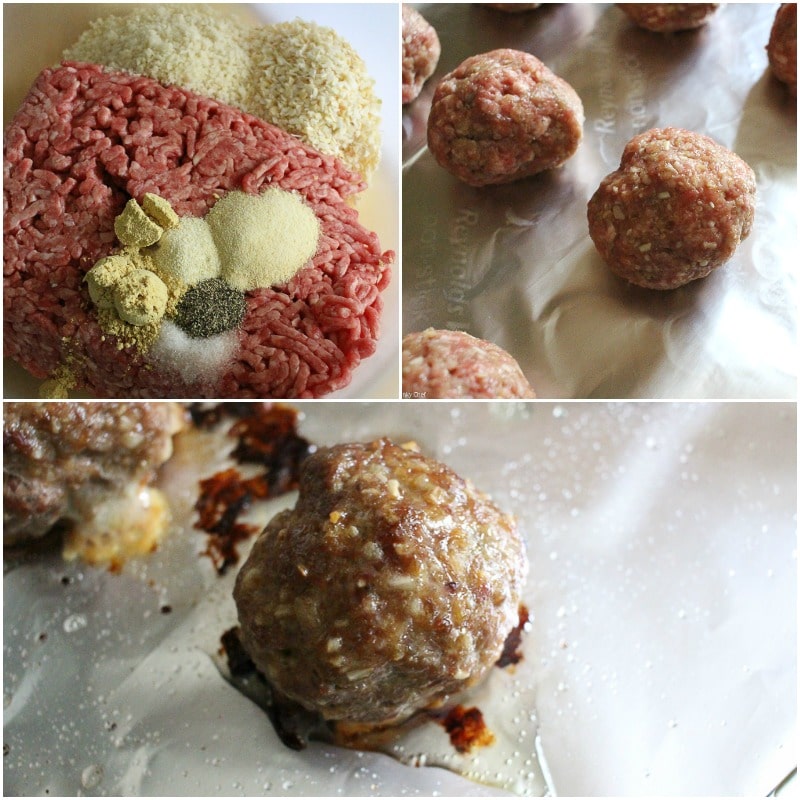 You're not cooking them all the way through, they're going to continue cooking in the luxurious Polynesian sauce.
Whisk together the sauce and set it aside while you saute the garlic and fresh ginger.  Then pour the sauce in the skillet and add the meatballs.  Simmer for about 5 minutes or so, rolling the meatballs around in the sauce every so often.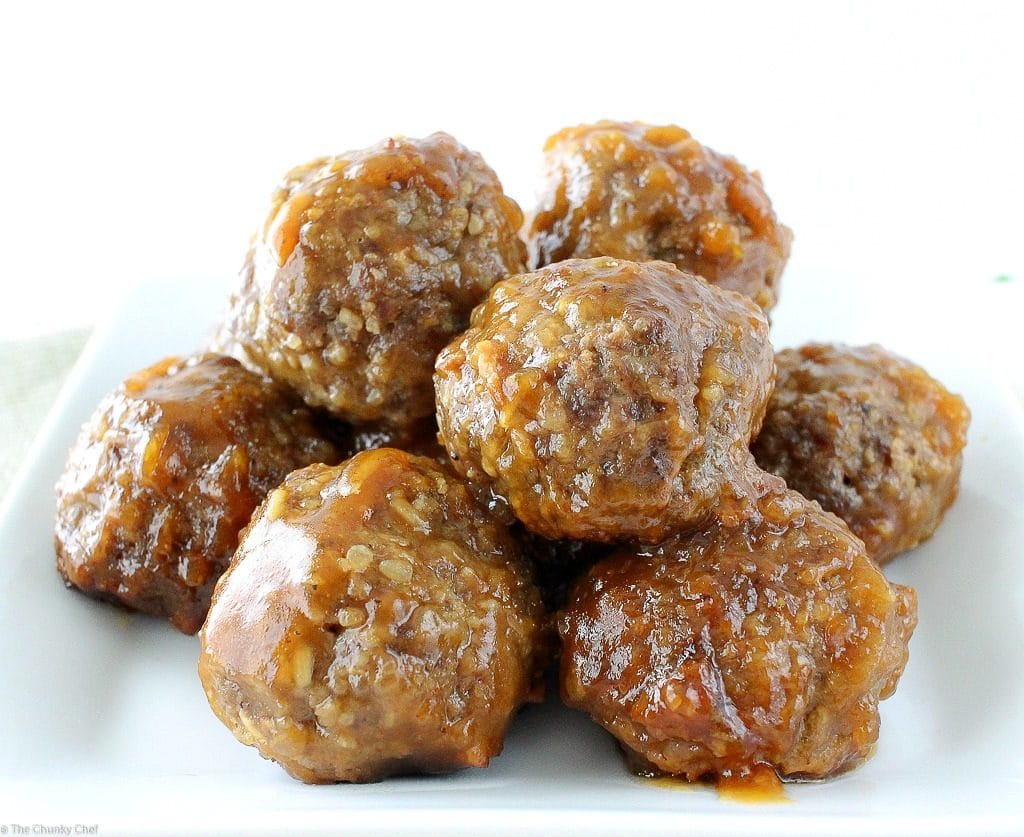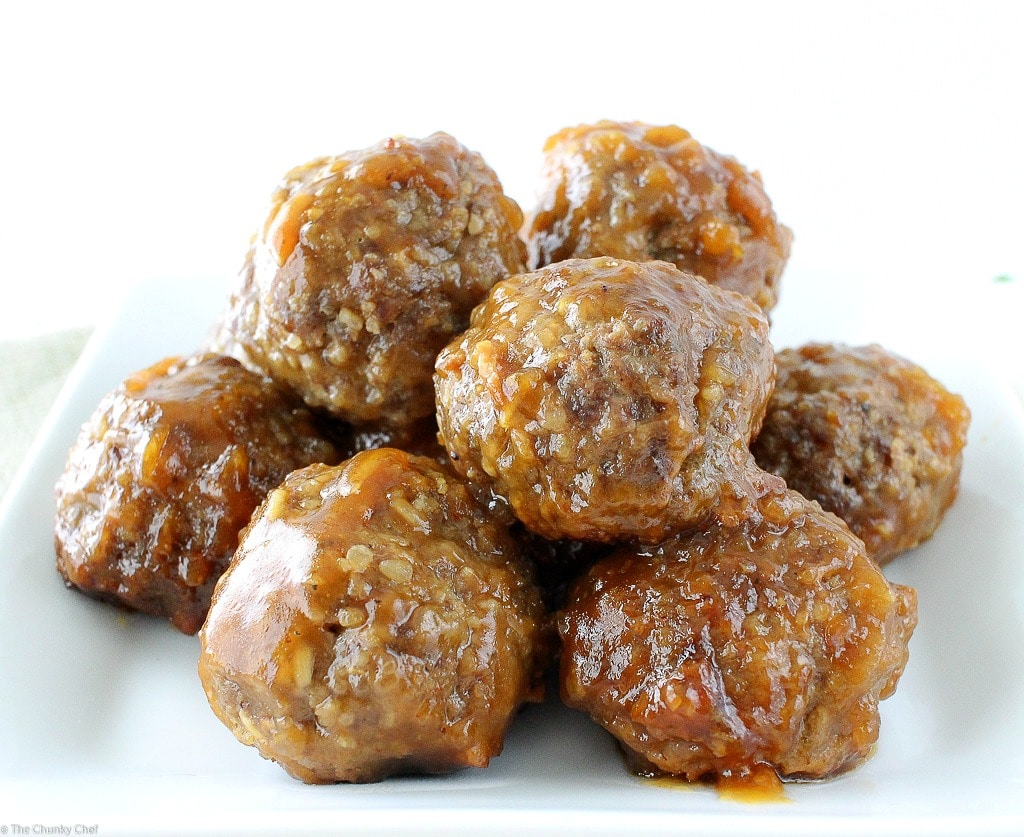 Now while the meatballs are simmering away, you can whip up your sweet chili pineapple mayo.  Just whisk it together and set it aside 🙂  Go ahead and slice your bread to get it ready to make the slider!
To assemble your sandwich, spread some of the mayo on the bottom, top with some sliced pineapple rings, a few meatballs that are coated in the sauce, and sprinkle on some pepper jack cheese.  Place it on a foil lined baking sheet and broil for a few minutes until the cheese is bubbly and golden brown.
Even though they're not in the animation above, I usually like to saute or grill my pineapple slices.. I love that caramelization!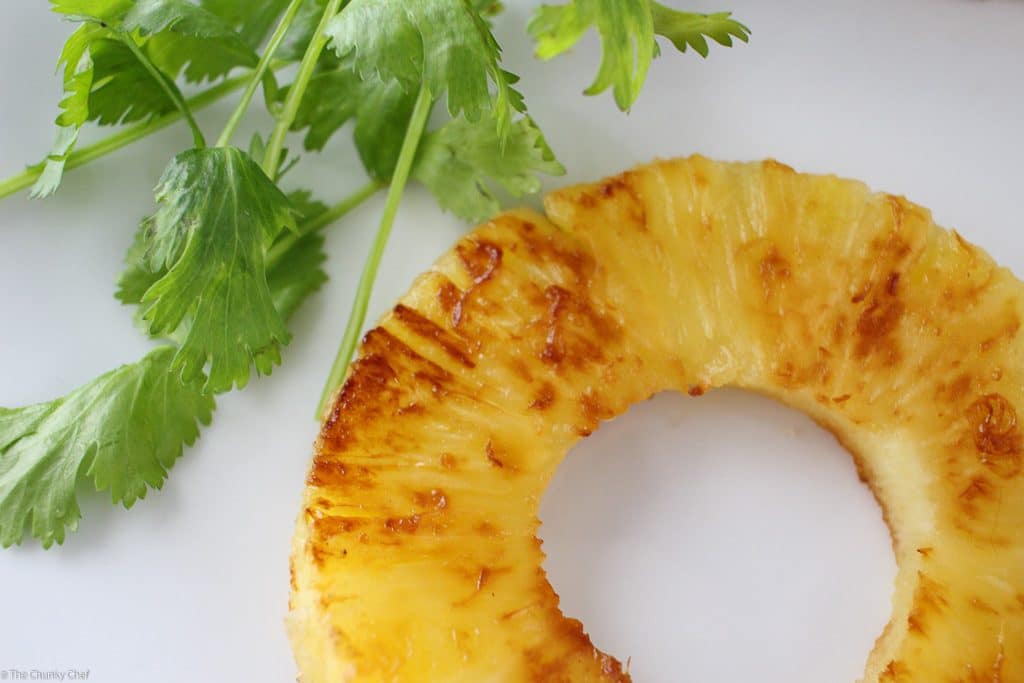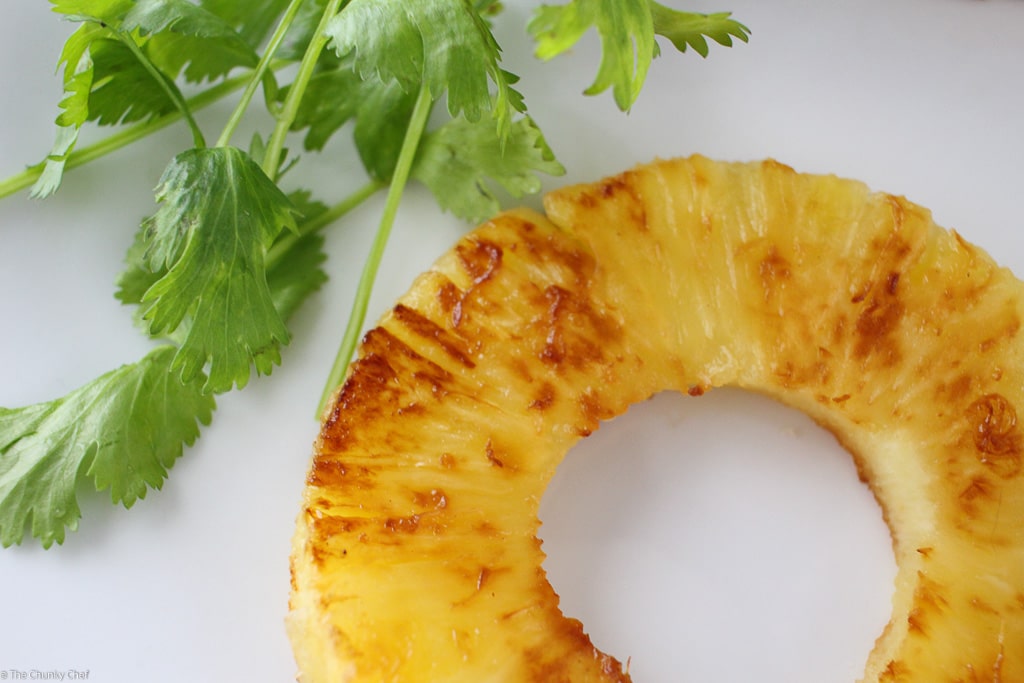 If you don't want to do that step, the sliders will still be amazingly delicious without caramelizing the pineapple, so don't worry 🙂
Now you could stop here and have a great slider, no doubt about that… but what really sends it over the top is the jicama and snap pea slaw!
Just whisk together the dressing for the slaw, slice the ingredients into matchstick size pieces, add them to the dressing and toss to coat.
So now your slider looks like this…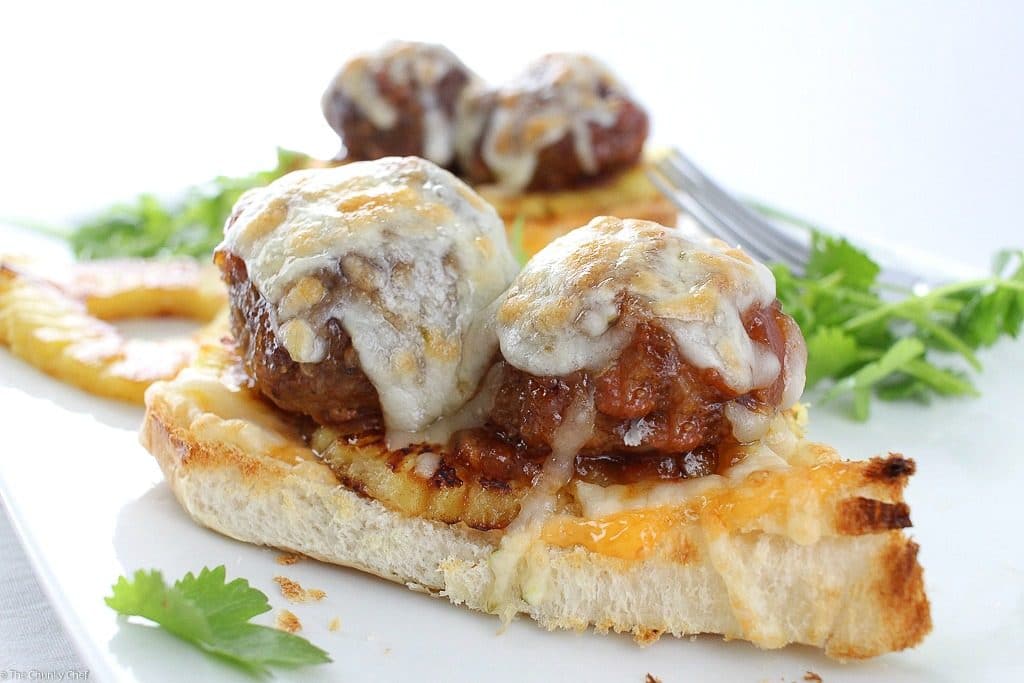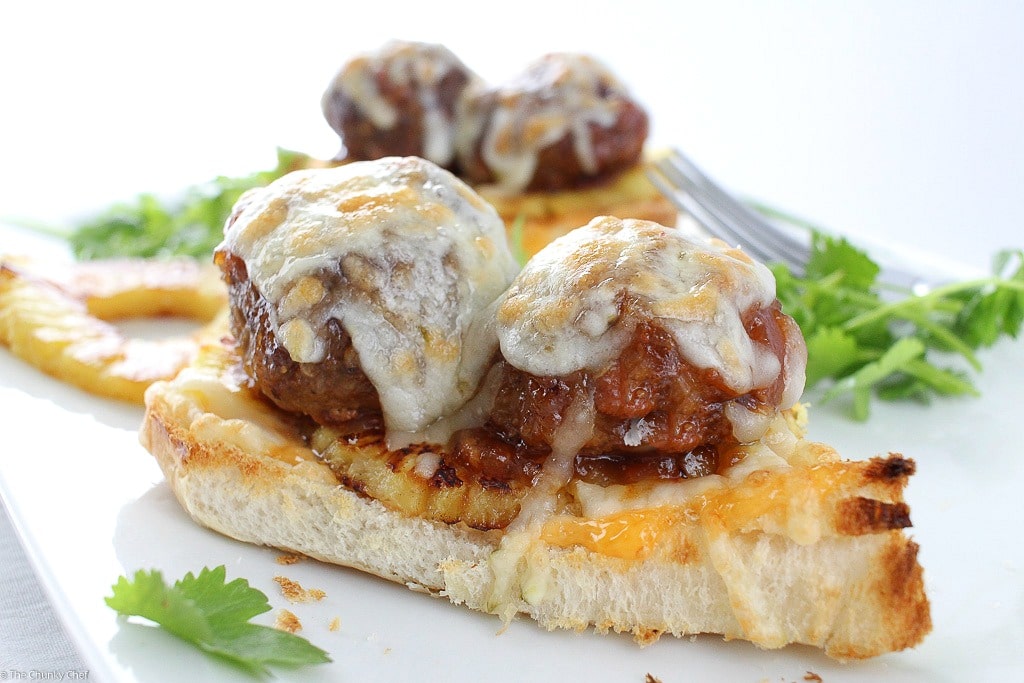 Just pile a little of the slaw on top…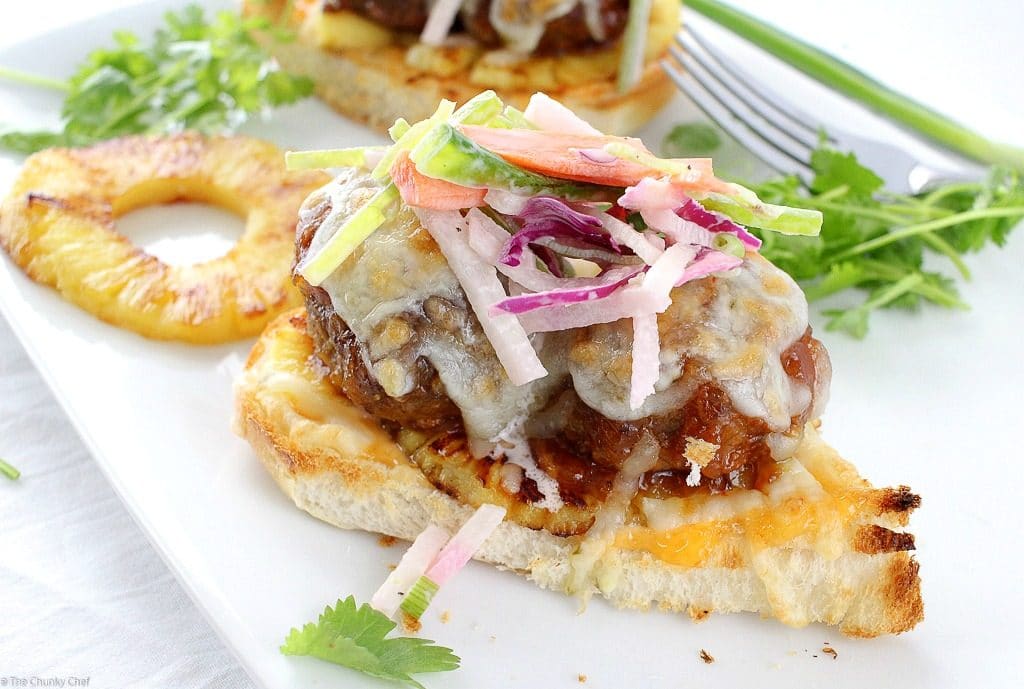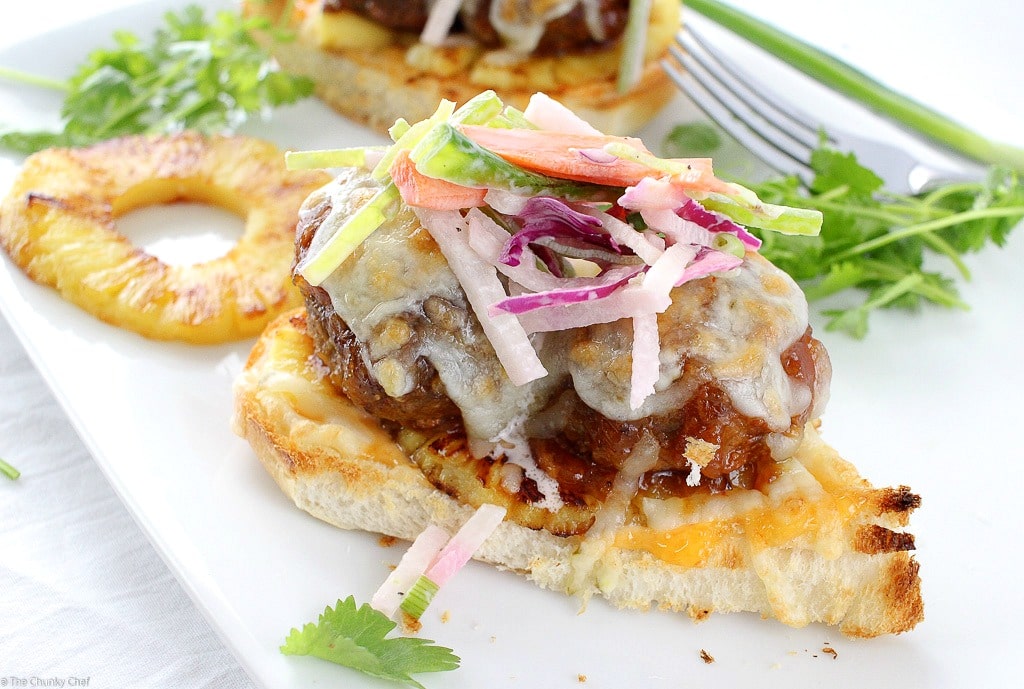 Either eat your slider open-faced, or slather some mayo on the top bun and place it on top!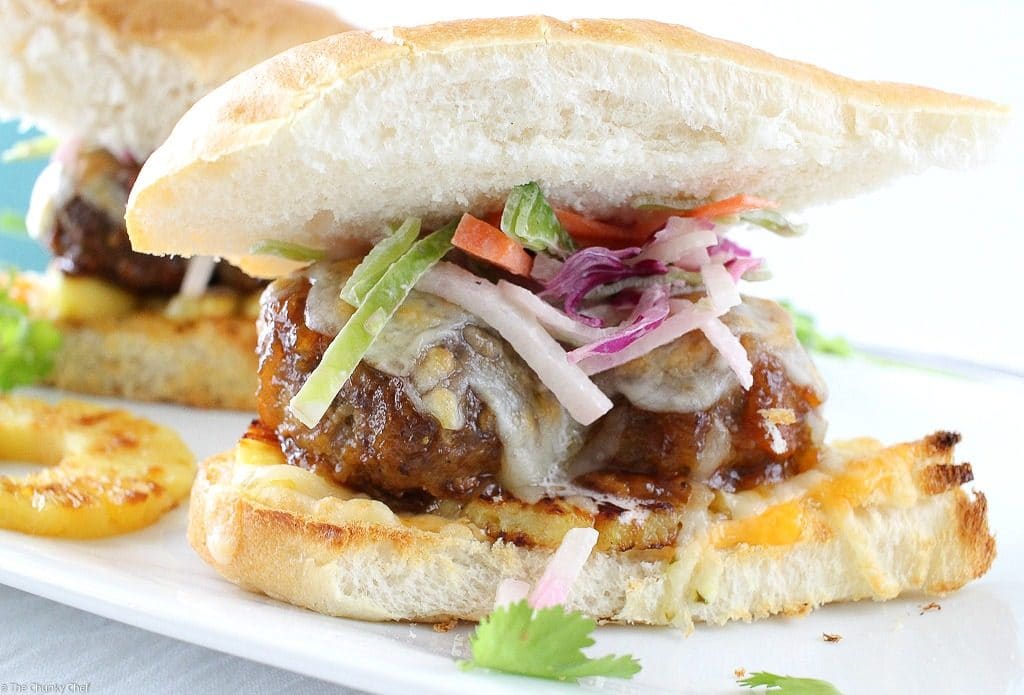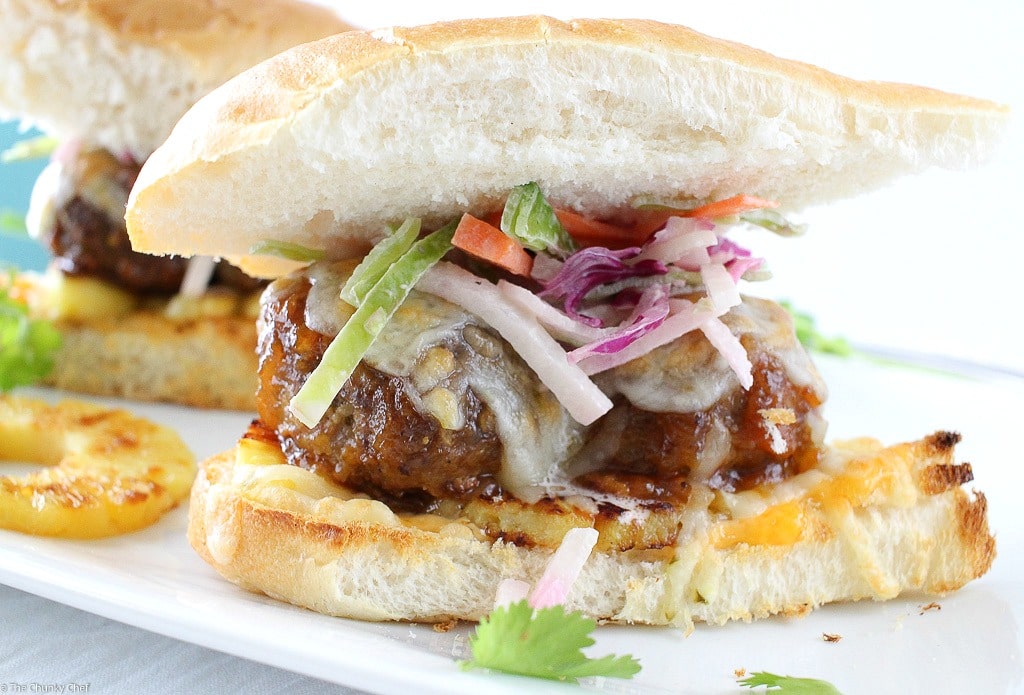 That right there, is heaven on a plate!
I guarantee you won't be able to eat just one 😉  So go ahead, have seconds… have thirds!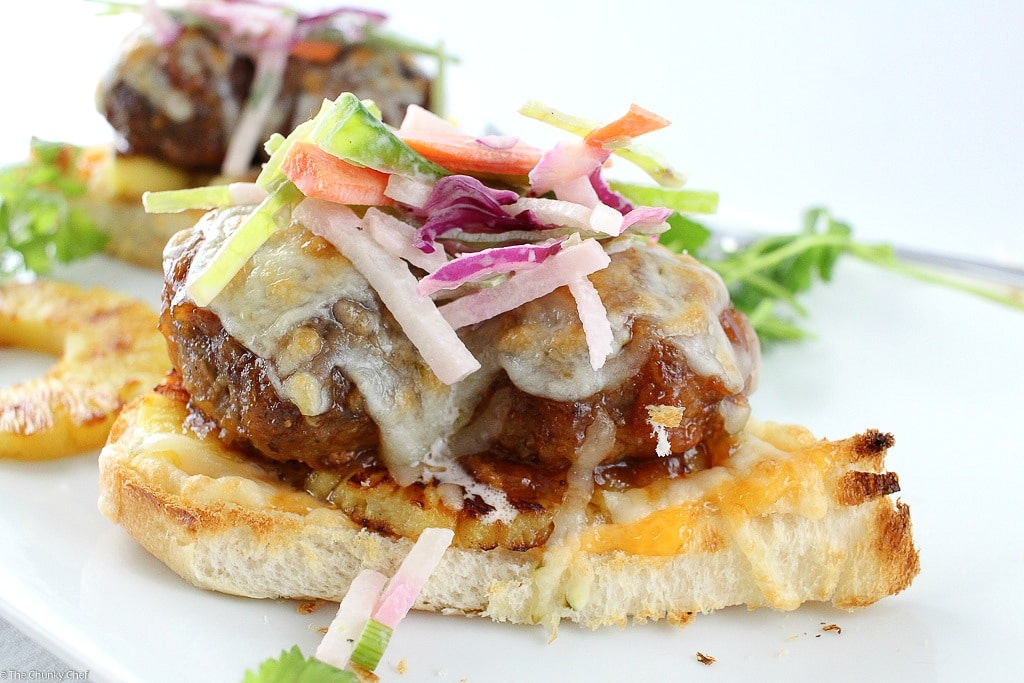 To see the original of this recipe, click HERE to see one of Jen's amazing creations!
---
Never miss a recipe!
[mc4wp_form]
You can find me on Facebook, Twitter, Pinterest, and Google +, so follow me if you'd like… I love keeping in touch with all of you 🙂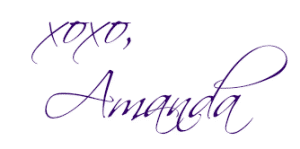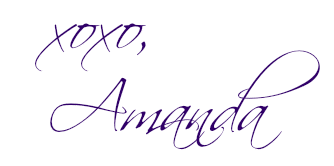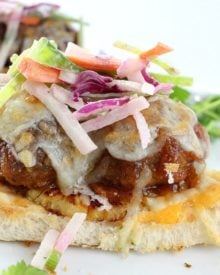 Hawaiian Meatball Sliders with a Jicama Slaw
These Hawaiian meatball sliders are juicy, cheesy, sweet with a little spicy kick, and topped off with a crunchy and flavorful jicama slaw!
Ingredients
4-6 sub rolls I used portuguese rolls
4 in pineapple rings caramelized a small skillet for several minutes, sliced in half
1 cup shredded pepper jack cheese
MEATBALLS:
1 lb ground beef
lb ½ ground pork
1/3 cup dried minced onion
1 egg beaten
2 Tbsp milk
2 Tbsp low sodium soy sauce
2 Tbsp pineapple juice
1/4 cup Panko breadcrumbs
1 tsp ground ginger
1 1/2 tsp garlic powder
1/4 tsp salt
1/4 tsp black pepper
POLYNESIAN SAUCE:
1/2 cup pineapple juice
1/4 cup packed brown sugar
2 Tbsp apple cider vinegar
2 Tbsp soy sauce
1 tsp Sriracha sauce (more to taste I used 1 ½)
2 tsp cornstarch
1 1/2 tsp freshly grated ginger
3 cloves garlic minced
SWEET CHILI PINEAPPLE MAYO:
1/4 cup mayonnaise
1 tsp Asian Sweet Chili Sauce
tsp ½ Sriracha sauce
1 Tbsp ½ pineapple juice
JICAMA AND SUGAR SNAP PEA SLAW:
12 sugar snap peas ends trimmed, sliced into thin matchsticks
1 cup red cabbage sliced
1 small carrot peeled and shredded or sliced into thin matchsticks
1 cup jicama sliced into thin matchsticks
2 green onions finely chopped
1 Tbsp mayonnaise
1 Tbsp pineapple juice
1 Tbsp lime juice
1 tsp rice vinegar can use apple cider vinegar if desired
Salt and pepper to taste
Instructions
MEATBALLS:

Preheat oven to 450 degrees and line a baking sheet with aluminum foil (nonstick if you have it). Set aside.

To a large mixing bowl, add all meatball ingredients and use your hands to mix until thoroughly combined.

Use a 1" cookie scoop and roll the meat mixture into balls. Alternatively, you can just shape them into golfball sized balls.

Place on prepared baking sheet and bake for 13-15 minutes.


POLYNESIAN SAUCE:

In a mixing bowl, add the brown sugar, pineapple juice, vinegar, soy sauce and cornstarch, and whisk to combine.

Heat a little olive oil in a large skillet over MED heat. Add ginger and garlic and saute for 1 minute. Pour in sauce and simmer.

Reduce heat to MED-LOW and add the partially baked meatballs to the sauce. Simmer for 5 minutes and roll the meatballs around in the simmering sauce every so often.


JICAMA AND SUGAR SNAP PEA SLAW:

To a large bowl, whisk together the mayo, pineapple juice, lime juice, and vinegar until combined. Add in chopped slaw ingredients and toss together. Refrigerate until ready to use.


SWEET CHILI PINEAPPLE MAYO:

Add all ingredients to a small bowl and whisk together to combine. Set aside.


TO MAKE THE SLIDERS:

Slice rolls in half lengthwise, spread sweet chili pineapple mayo on the bottom half, lay the sliced pineapple on top of the mayo.

Top pineapple with several meatballs that are coated in the Polynesian sauce, and sprinkle pepper jack cheese over the top.

Spread a new piece of foil on the baking sheet and place slider bun bottoms on the baking sheet. Broil for several minutes, until cheese is bubbly and golden brown.

Top the sliders with a bit of the slaw, spread more mayo on the top half of the bun and add it to the top to finish your slider
Linked to Made By You Monday | Melt in Your Mouth Mondays | Munching Mondays | Tickle My Tastebuds Tuesdays | Try a New Recipe Tuesday | Take A Look Tuesday | Totally Talented Tuesdays | Lou Lou Girls Fabulous Party | Simple Suppers | What's Cooking Wednesdays | Whimsy Wednesdays | The Wednesday Roundup | Wordless Wednesday | Showcase Your Talent Thursdays | Full Plate Thursdays | Favorite Things Blog Hop | Foodie Fridays | Fiesta Fridays | Pure Blog Love | Pin Junkie Pin Party | Foodie Friends Friday | Foodie Friday and Everything Else | Fresh Ideas for Your Home | Friday Favorites | Show Stopper | Best of the Weekend | Show and Tell Saturday | Link Party Palooza | Saucy Saturday