This mouthwatering peach cobbler is made with cinnamon sugared peaches, topped with a buttery shortbread-like topping, then baked to bubbly perfection. My recipe is extremely versatile so you can use fresh, frozen, or canned peaches, which means you can make this alllll year round!
This Homemade Peach Cobbler is such a fun, easy dessert, and SO delicious! We love fabulous summer desserts, like my Bourbon Vanilla Ice Cream (no churn), and Funfetti Cake Batter Dip. This is one of my Dessert recipes you'll definitely want in your collection!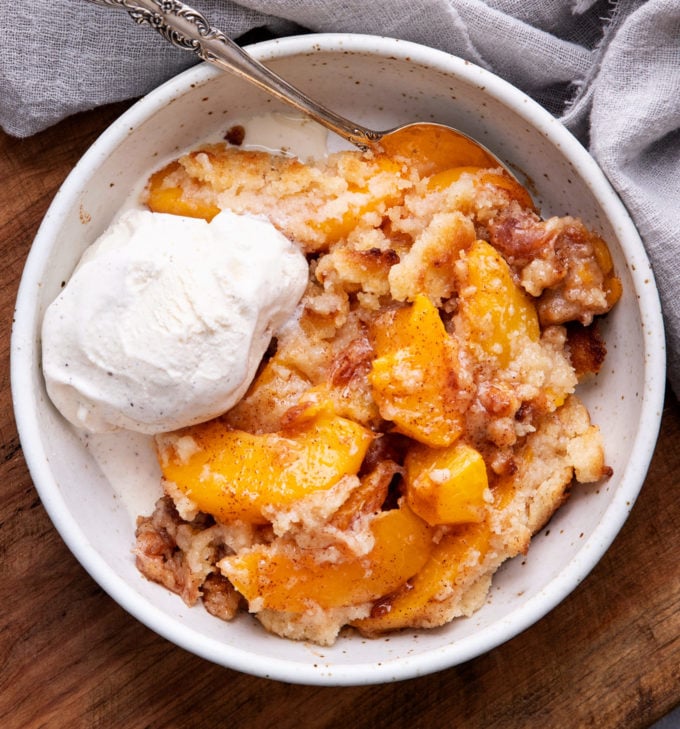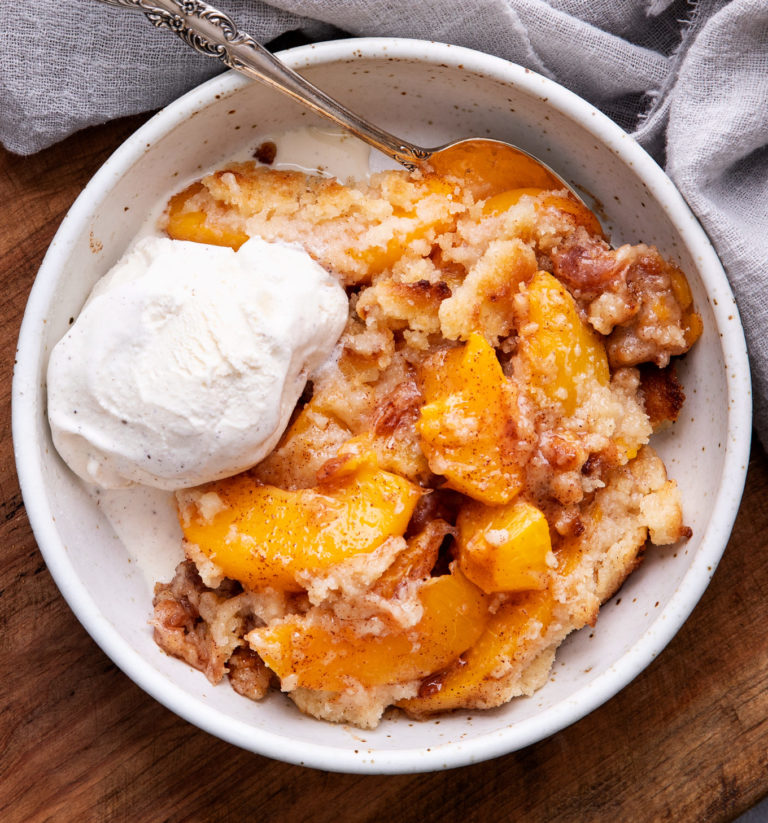 Can we just skip ahead a couple of months and get to the fun late-spring/summer? Normally I like to hang on to the chillier weather, but I am just D O N E with this early Spring. Too much craziness in the world right now.
So I say, it's time for a dessert… an ultra-comforting one at that. Peach cobbler. Such a homey, smells like Grandma was in your kitchen baking, kind of a dessert!
This cobbler is no exception. I mix peaches with a little sugar, cinnamon, cornstarch and bourbon (ohhh yeah), then top it with a sweet and butter shortbread-ish topping. Oh my goodness you won't believe how amazing this dessert is.
My daughter was sneaking bite after bite – and she's my picky one!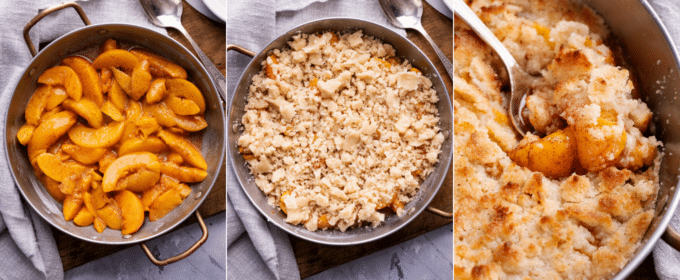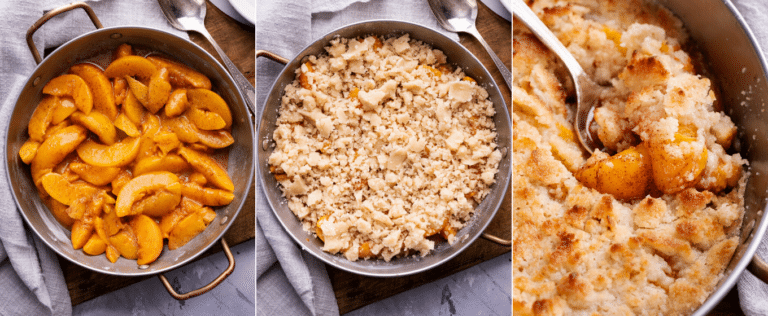 HOW TO MAKE PEACH COBBLER
Everyone has their own idea of what a cobbler is. Traditionally speaking though, cobbler is a baked fruit dish that's topped with a biscuit, pie crust, or shortbread-like top.
When baked, the topping create a "cobbled" look, similar to a cobblestone street. Some versions also have a cake-like topping.
Butter baking dish and preheat oven. I like to use butter, the way my grandma always did, but if you prefer cooking spray, feel free to use that.

Combine peaches, sugar, starch, spices and bourbon

. Using cornstarch gives the final texture of the baked cobbler a thick and jammy sauce, instead of being runny. Bourbon adds such a beautiful warmth to the recipe, but it's not a necessity. I love using cinnamon with my peaches – again, that warmth is just amazing.
Transfer peach mixture to baking dish.

Combine topping ingredients in a separate mixing bowl.

I like to use a whisk to make sure the dry ingredients (flour, sugar, baking powder and spices) are combined really well.
Add vanilla to melted butter, then add to topping ingredients. Adding it this way ensures that everything is mixed in really well. The butter to dry ingredient ratio isn't even, so the mixture will come together quickly, and you don't want to have some parts of the topping be very vanilla-y, and some not at all.
Crumble topping over the peaches and bake. No need for fancy tools here, I just use my fingers.
Let cool for 10-15 minutes before serving. This is because first of all, it's realllllly hot. And secondly, you want those juices to thicken up a bit before you try to serve it.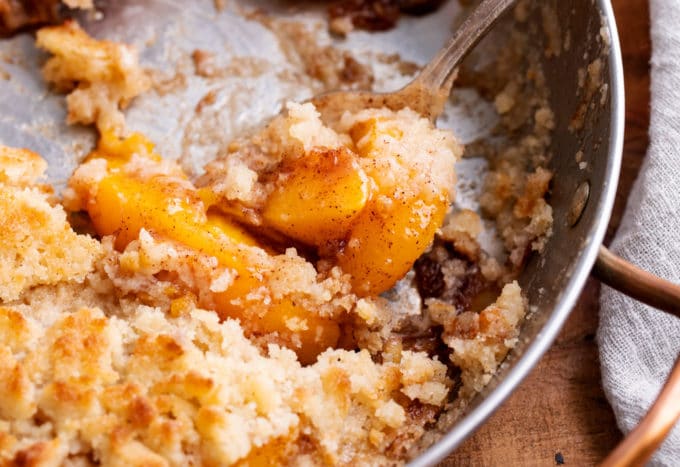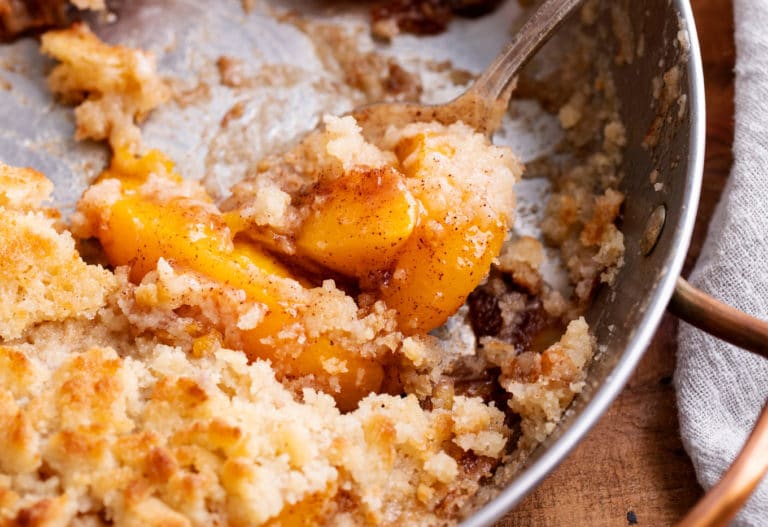 ADDITIONAL COOKING TIPS
As I mentioned, you can make this peach cobbler with canned (as written), frozen, or fresh peaches!
If using frozen peaches, you'll want to thaw them first, otherwise your cobbler will be too runny.
If using fresh peaches, you may be wondering how to tell if a peach is ripe at the grocery store.
Weight – if the peach feels heavy for it's size, there's a good chance it's juicy and ripe.
Press – press the top of the peach (by where the stem was).  If it gives a little bit, it's ripe.  If it's hard, it's not quite ripe yet.  If it's really soft, it's over-ripe.

If you have peaches that are not ripe yet, add them to a paper bag and let them sit on the counter for a day or so, and they'll soften up.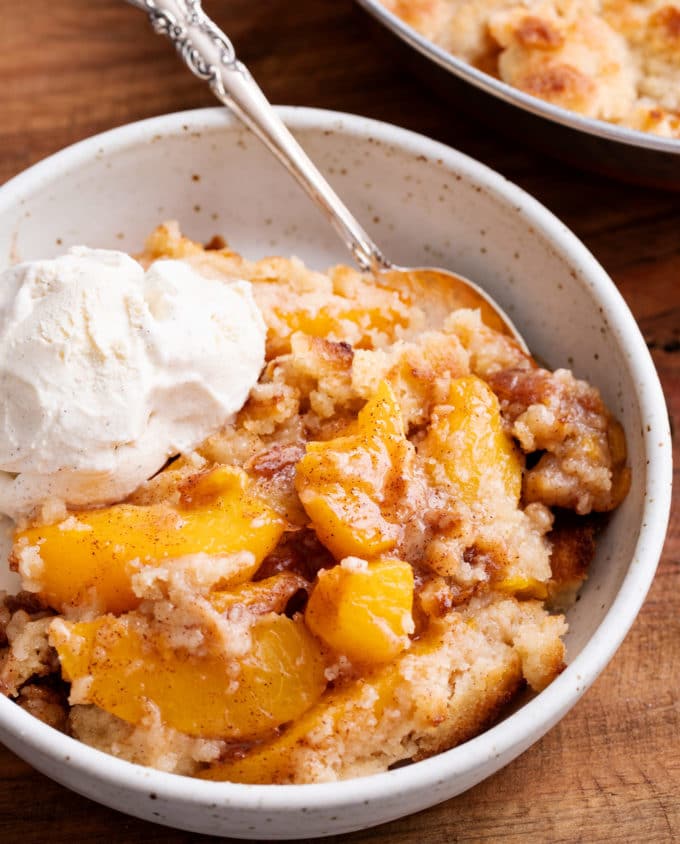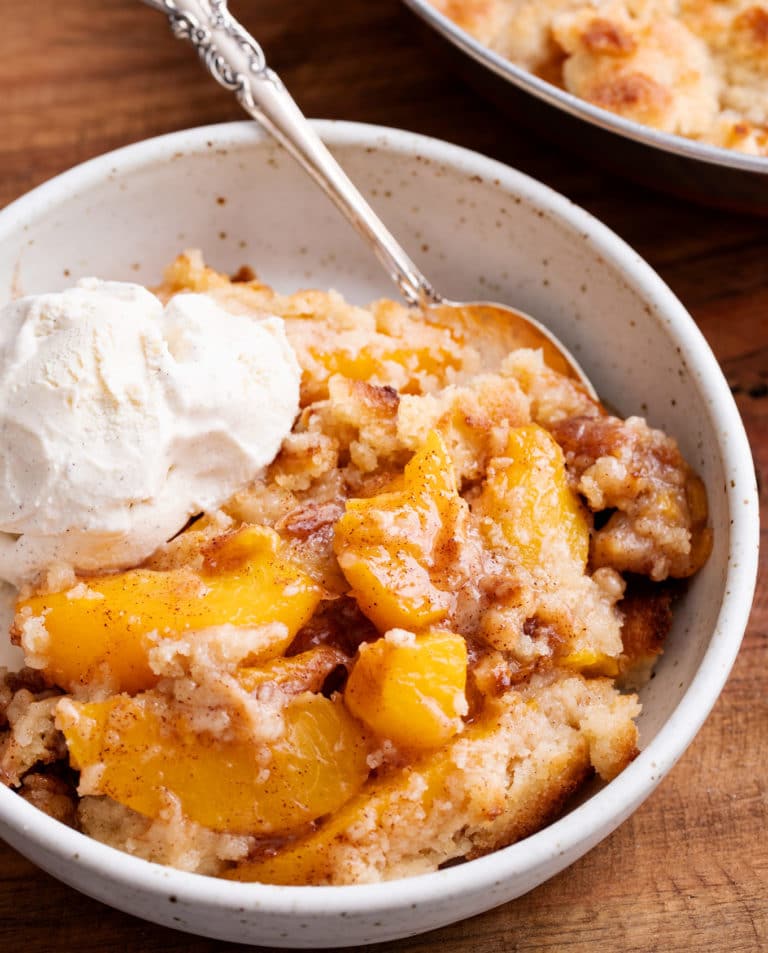 For fresh peaches, you have a choice of peeling or not peeling your peaches. This is totally a personal preference.
To peel – use a paring knife to make a small "X" on the bottom of the peach. Add them to boiling water for about 30 seconds, then add them immediately to a bowl of ice water (like you would for hard boiled eggs). The skin should slide off.
VARIATIONS OF THIS RECIPE
NON-ALCOHOLIC – even though most of the alcohol is cooked off during the baking process, you may not like the taste of bourbon, or just prefer not to add it. I would substitute it with an equal amount of liquid from the canned peaches, or an equal amount of lemon juice.
BROWN SUGAR – try swapping the sugar on the peaches with brown sugar for a more caramel-y flavor.
GINGER – try adding 1/4 tsp of fresh grated ginger to the peach mixture.
PECAN – adding about 1/3 cup of chopped pecans to the topping adds beautiful texture and flavor.

MAKING PEACH COBBLER AHEAD OF TIME
Since the topping of this cobbler has baking powder in it, I don't recommend making it ahead of time (since leavening agents will start reacting immediately). However, you can mix up the topping ingredients (minus the butter and vanilla), so it will cut down on your prep time.
You can also combine the cornstarch, cinnamon, and sugar in a ziploc, so all you need to do is add the peaches and bourbon (if using).
FREEZING
You can assemble the whole cobbler, cover it tightly, and freeze for 2-4 months. To cook, don't thaw, just add an additional 20 minutes or so of cook time.
STORAGE
Leftover cobbler should be refrigerated and consumed within 3 days.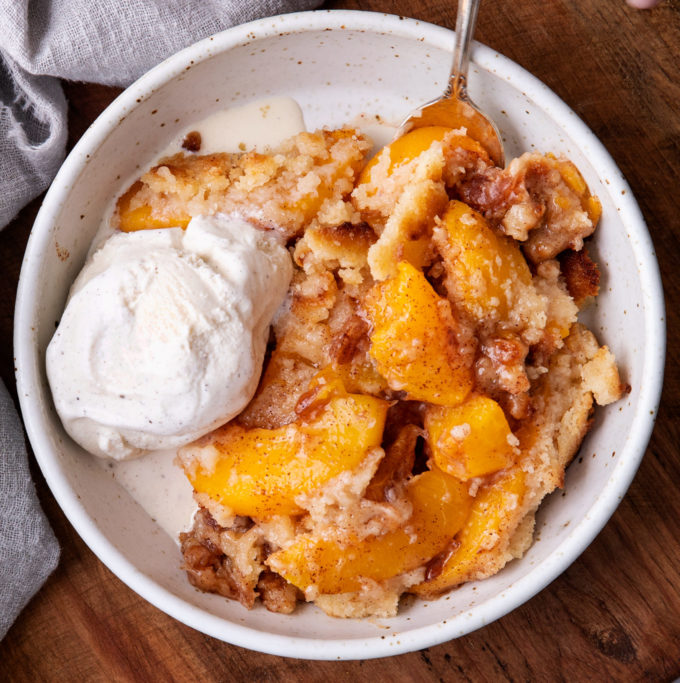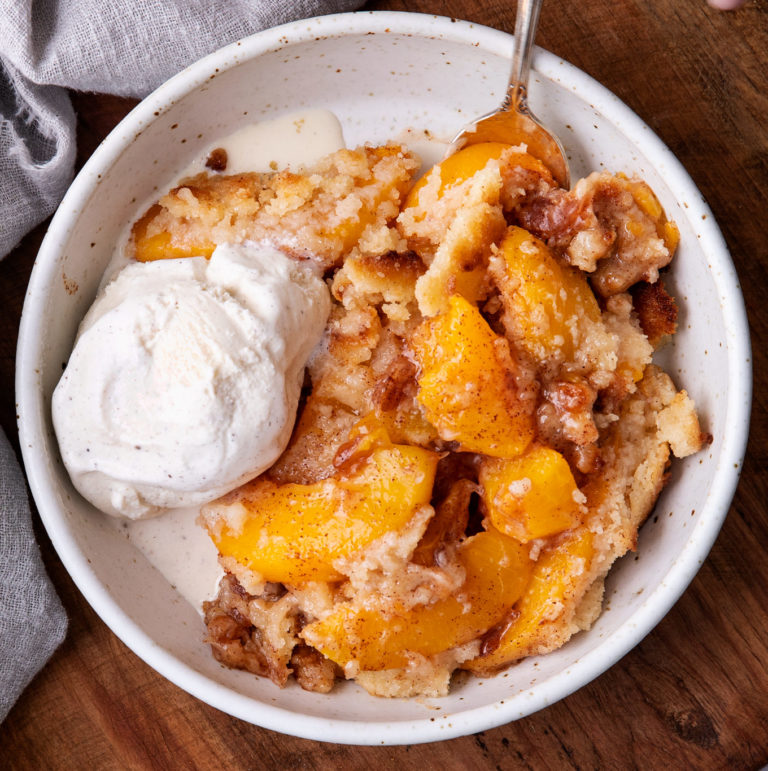 SPECIAL EQUIPMENT FOR THIS RECIPE
2 quart baking dish – the dish I used in these photos is vintage, but this glass dish is a good alternative!


BE SURE TO SCROLL DOWN TO CHECK OUT OTHER READERS' COMMENTS FOR TIPS AND REVIEWS.
AND DON'T FORGET, IF YOU'VE MADE THIS RECIPE, LEAVE A COMMENT AND PLEASE GIVE IT A STAR RATING LETTING ME KNOW HOW YOU ENJOYED IT!
Did you make this? Be sure to leave a review below and tag me @the_chunky_chef on Facebook and Instagram!
Peach cobbler made with fresh, frozen or canned peaches, it's the perfect summer dessert recipe!
Ingredients
COBBLER
30 oz canned peaches in fruit juice drained
2 – 3 Tbsp bourbon
1 Tbsp cornstarch
1 tsp ground cinnamon
1/4 cup granulated sugar
TOPPING
1 cup all purpose flour
3/4 cup granulated sugar
1 tsp baking powder
1/8 tsp ground nutmeg
1/4 tsp kosher salt
1/2 cup melted, unsalted butter
1 tsp vanilla extract
Instructions
Preheat oven to 350 F degrees. Butter a 2 quart baking dish and set aside.

Combine cobbler ingredients (peaches, bourbon, cornstarch, cinnamon and sugar), in a mixing bowl, stirring until all peaches are coated. Transfer mixture to prepared baking dish.

In a separate mixing bowl, combine topping ingredients (flour, sugar, baking powder, nutmeg and salt), using a whisk to remove any lumps.

Add vanilla extract to melted butter, then pour into the flour mixture and stir with a rubber spatula until a crumbly dough has formed. Mixture should hold together loosely when pinched between two fingers.

Crumble topping dough over the top of the peaches, then bake for 25 minutes, until golden brown and bubbly. Let cool 10-15 minutes before serving.

Serve warm, with a scoop of ice cream if desired.
Want to save this recipe for later? Click the heart in the bottom right corner to save to your own recipe box!
Chef Tips
If using frozen peaches, use the same amount, but thaw them fully before using.
If using fresh peaches, use about 6-8 medium sized peaches, enough to fill the baking dish about 2/3 of the way up.
Nutrition Disclaimer
The Chunky Chef is not a dietician or nutritionist, and any nutritional information shared is an estimate. If calorie count and other nutritional values are important to you, we recommend running the ingredients through whichever online nutritional calculator you prefer. Calories can vary quite a bit depending on which brands were used.