These homemade rice krispie treats are such an easy and fun to make, no-bake dessert! My version stays soft and gooey, not hard and dry, and uses just 5 simple ingredients.
This is one of my No-Bake Dessert recipes I know you'll want to keep on hand!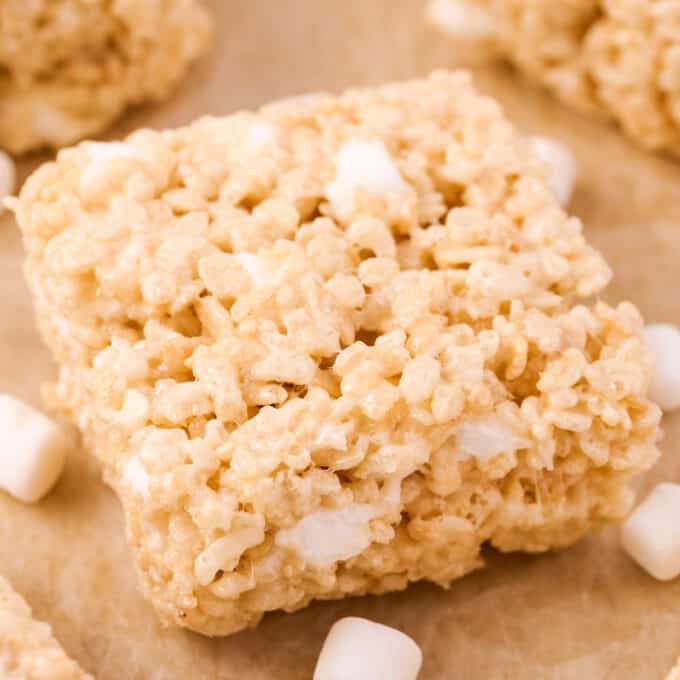 As a kid, I loved rice krispie treats. Homemade, store-bought, from restaurants, you name it. But as an adult… nah, who am I kidding, I still love them!
There's just something absolutely irresistible combination of buttery marshmallow-y gooeyness, and crispy cereal in a portable no-bake dessert!
But I've found the store-bought treats are generally pretty hard and dry. There's just not enough gooeyness for my tastes.
Even the original rice krispie treat recipe on the cereal boxes wasn't quite doing it for me… so I tweaked and tinkered until I came up with a version that hits the perfect ratio of butter and marshmallow to cereal!
How to make homemade rice krispie treats?
This is just an overview; the full ingredients and directions are in the recipe card toward the bottom of this post.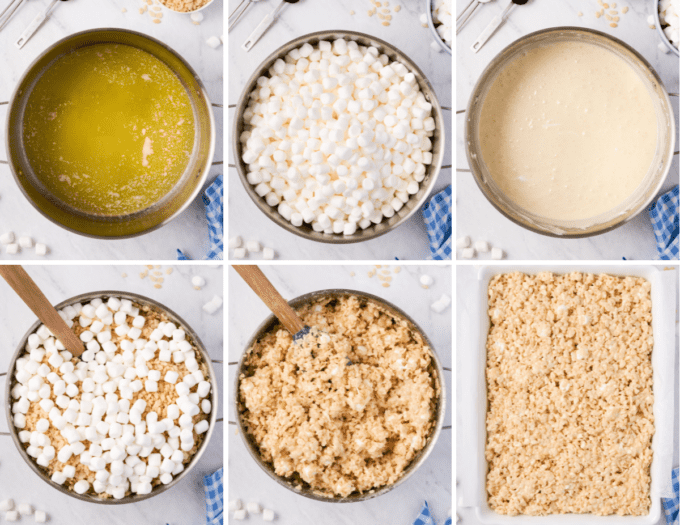 Melt butter. I recommend a large pot for this, so you can stir everything in the pot and not have to dirty another bowl.
Add marshmallows and melt. Make sure to do this over LOW heat, otherwise you might end up with hard krispie treats.
Stir in cereal and marshmallows. This may take a little elbow grease, since everything is sticky, but it's worth it in the end.
Press into pan. Do this lightly, so they're not super compacted.
Let set. The treats need to set for about 30 minutes, to cool and really stick together.
Helpful Tip!
When making rice krispie treats, be sure to use fresh marshmallows. When marshmallows are old and hard, they have hardly any moisture left, and they won't melt nearly as well.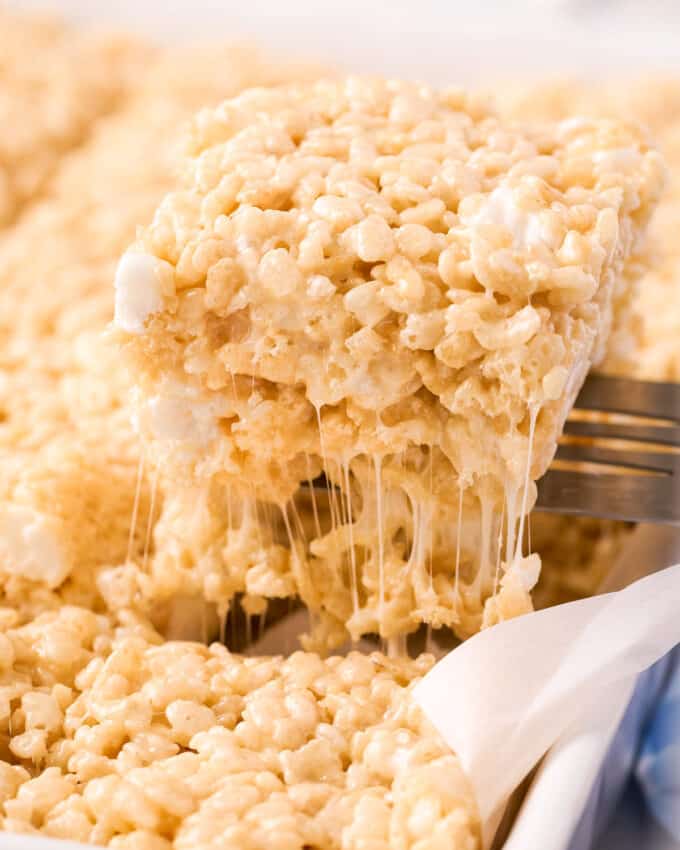 Variations of this recipe
Frosted – while I haven't tested this recipe using the frosted rice krispies cereal, it should work out well if you'd like to try it.
Other cereals – for a fun twist, try using fruity pebbles, cocoa pebbles (or cocoa krispies), or the cinnamon sugar rice krispies. Any cereal that's around the same size and shape of original rice krispies will work.
Marshmallow size – any size marshmallows will work for this recipe, you just want 32 oz of marshmallows. However, if you're using the larger size, you'll need to cut 3 cups of them up into small pieces (for stirring into the treats).
Shapes – feel free to cut these treats into any shapes you'd like! This is fun to do for seasonal holidays.
Chocolate – for some extra fun and decadence, try drizzling the treats with melted chocolate!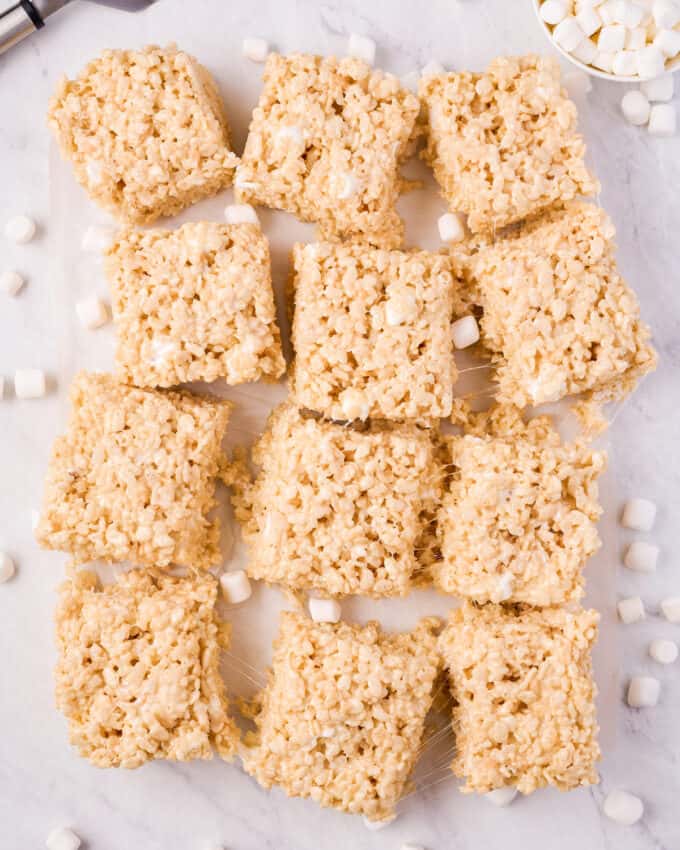 FAQ's
Do rice krispie treats need to be refrigerated?
Nope, they're perfectly fine kept at room temperature. In fact, refrigerating them can cause them to dry out more quickly, and lose that gooey texture we all love.
Why are my rice krispie treats hard?
In general, it could be a number of things; not enough butter, too much cereal, not enough marshmallows, or heating the marshmallows at too high of a temperature. This recipe was carefully crafted to have the perfect ratio of butter, cereal, and marshmallows, so the most likely culprit is the heat. Heating over too high of a temperature can turn it into an almost toffee-like mixture, which will be very hard when cooled.
How do I keep rice krispie treats from sticking to my hand when making them?
With all the gooey marshmallows, it's no surprise that they're sticky. I've found the best way to avoid having half of the mixture sticking to your hands, is to spray your palms lightly with nonstick cooking spray before pressing the mixture into the pan.
Making rice krispie treats ahead of time
Even though these treats don't take long to make, and require no baking, you can make them entirely ahead of time.
I don't advise doing so more than 2-3 days ahead, or they can start to get dry.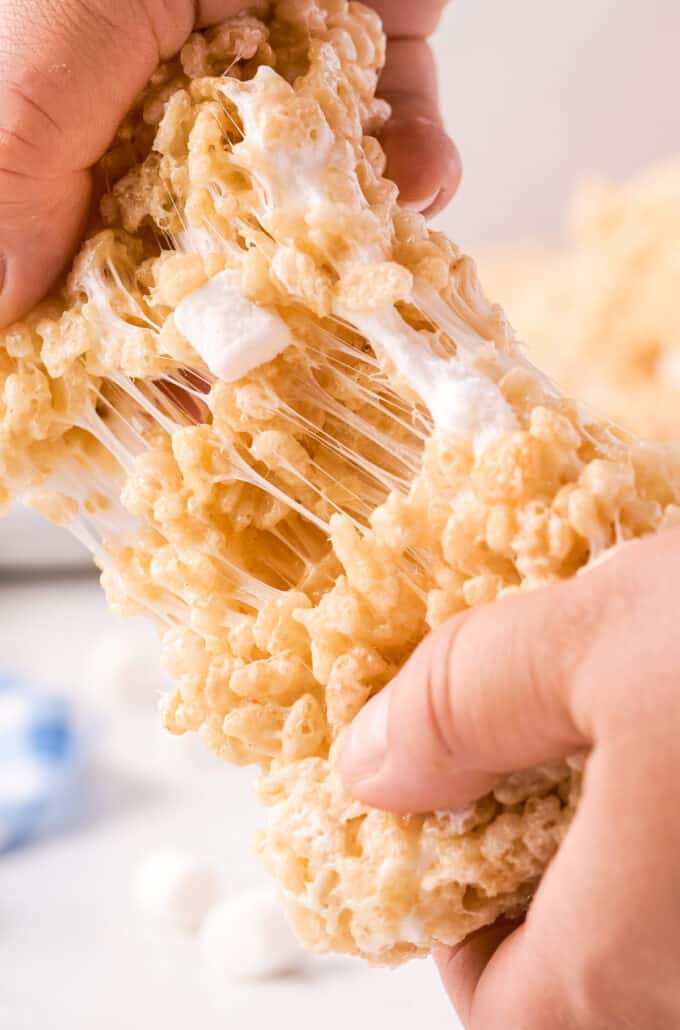 Freezing
Did you know you can freeze rice krispie treats?
Let the treats cool completely, then wrap each square individually in wax paper, plastic wrap, foil, etc, and store in a freezer-safe container for up to 2-3 months.
Thaw in the refrigerator and enjoy!
Storage
Rice krispie treats should be stored in an airtight container at room temperature for 3-4 days.
To make them taste even fresher, wrap each individual square treat in plastic wrap and store in an airtight container at room temperature.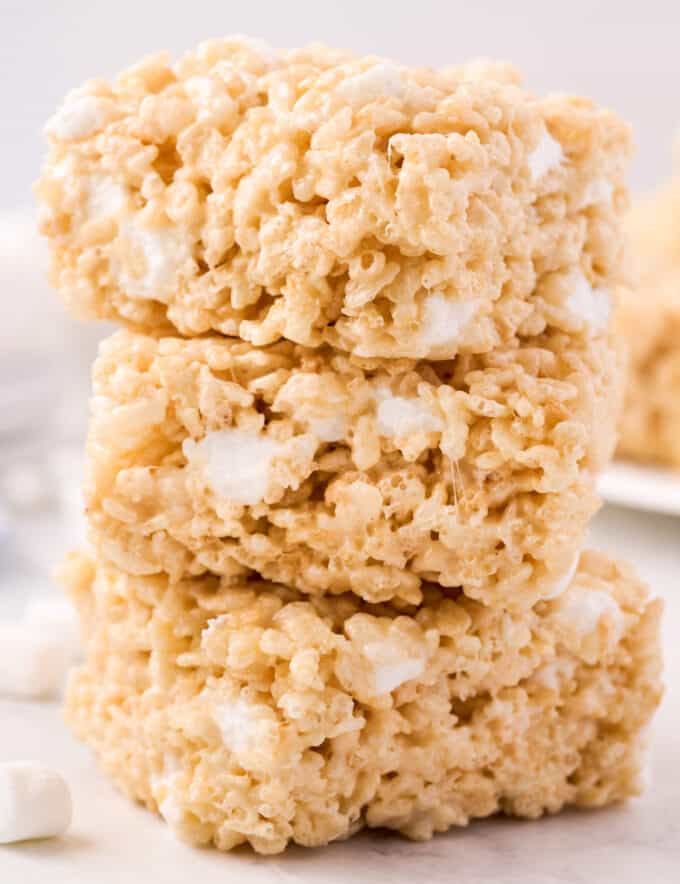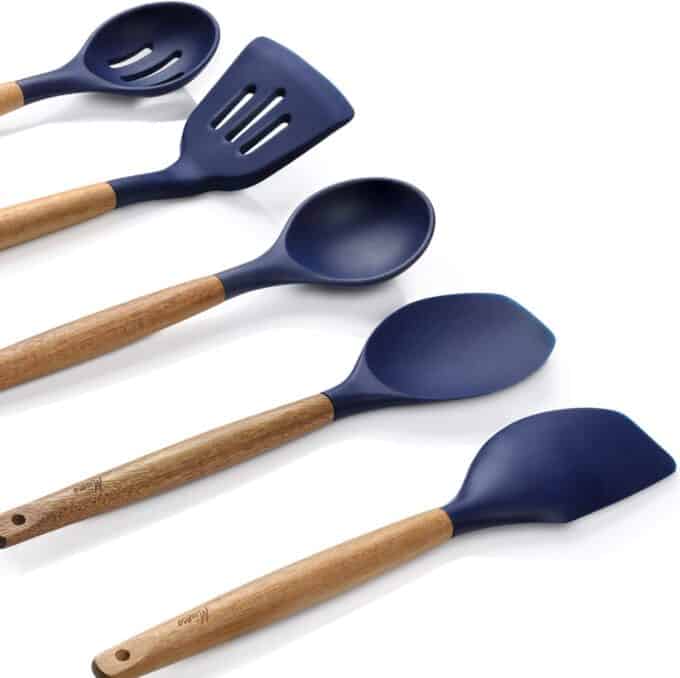 I've had a set just like this for years and they've held up really well! Rubber spatulas make stirring the cereal into the sticky marshmallow mixture a lot easier.
Did you make this? Be sure to leave a review below and tag me @the_chunky_chef on Facebook and Instagram!
These Homemade Rice Krispie Treats are such an easy and fun to make no-bake dessert! My version stays soft and gooey, not hard and dry, and uses just 5 simple ingredients.
Ingredients
3/4 cup unsalted butter (12 Tbsp)
32 oz mini marshmallows I use 2 (16 oz each) bags
1/2 tsp kosher salt
1 tsp vanilla extract optional but recommended
12 cups rice krispies cereal (I find this is equivalent to a 12 oz box)
Instructions
Prepare
Line a 9×13" baking pan with foil or parchment paper, then spray with nonstick cooking spray.  Set aside.

Measure out 3 cups of the mini marshmallows and set those aside.
Melt butter and marshmallows
Add butter to a large stockpot or saucepan, then heat over MED heat.  Once butter is melted, add all the remaining marshmallows (except for the 3 cups you measured out already).  Reduce heat to LOW and stir until completely melted.

Stir in salt and vanilla, then remove from heat.
Combine
** I find that lightly spraying a rubber spatula with nonstick spray helps with the cereal not clumping up too much on the spatula as you stir. **

Add cereal and the 3 cups of marshmallows you set aside, stirring until all the cereal is coated.
Assemble
Transfer mixture to the prepared baking pan.  Spray your hands lightly with nonstick cooking spray, then gently press into the pan, until evenly spread out.  ** Try not to press too hard, or they'll be so tightly compacted they'll be hard to eat.  You want to use the least amount of force necessary to spread them into the pan. **
Set and serve
Let sit at room temperature for 30 minutes to an hour.  Then lift the bars out of the pan using the foil or parchment paper and slice into squares or desired shapes.
Want to save this recipe for later? Click the heart in the bottom right corner to save to your own recipe box!
Chef Tips
Serving size is up to you, but I usually slice the panful of treats into 12 squares. Calorie information provided is for 1/12 of the pan.
The 3/4 of butter can also be measured as 12 Tbsp or 1.5 sticks (for my US readers).
Nutrition Disclaimer
The Chunky Chef is not a dietician or nutritionist, and any nutritional information shared is an estimate. If calorie count and other nutritional values are important to you, we recommend running the ingredients through whichever online nutritional calculator you prefer. Calories can vary quite a bit depending on which brands were used.