Learn how to make classic Chocolate Covered Strawberries at home, using just 3 base ingredients and minimal effort! Plus directions for different topping options and how to make a fun boozy version!
This is one of my Dessert recipes I know you'll want to keep on hand!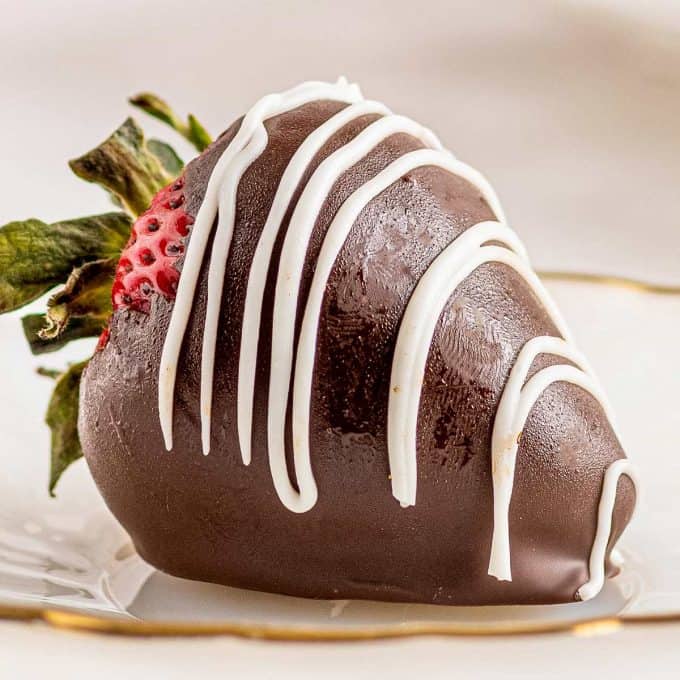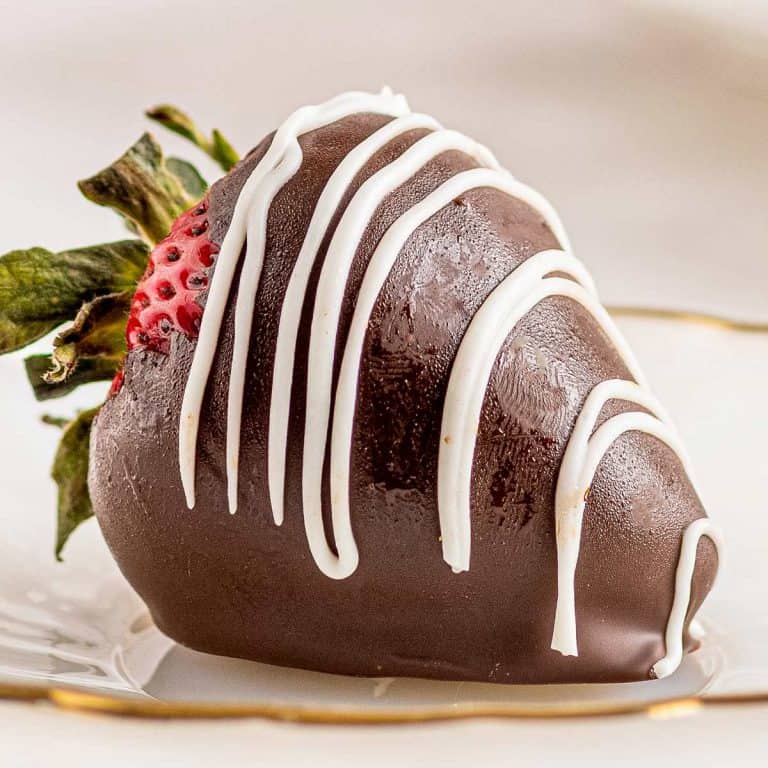 When I think of chocolate covered strawberries, I usually think of a romantic holiday, like Valentine's Day.
But, I'm also drawn to those summer months when the strawberries are just irresistibly sweet and juicy. Kind of like right now!
Our local grocery stores have had great strawberries lately, and of course the farmers markets have had amazing berries… and LOTS of them.
While I love to just slice and snack on them, it's nice to change things up and use them in a fun and delicious dessert.
Normally I'd whip up my Copycat Frisch's Strawberry Pie, that you guys have just loved each and every year around this time… but I thought today I'd share my tips for making the perfect chocolate covered strawberries!
How to make chocolate covered strawberries?
This is just an overview; the full ingredients and directions are in the recipe card toward the bottom of this post.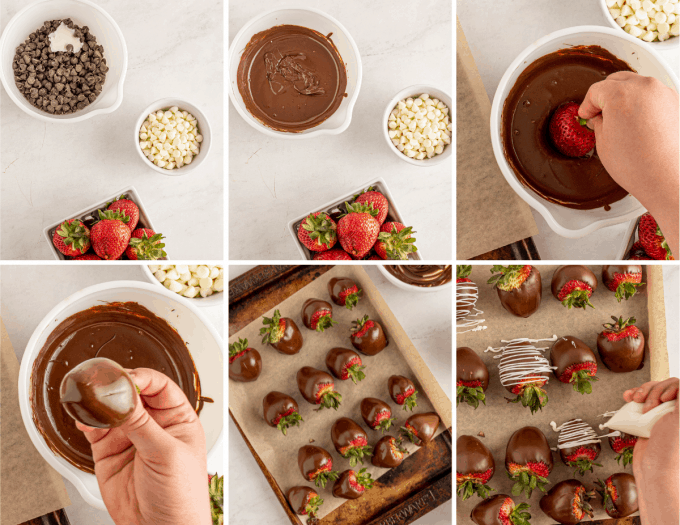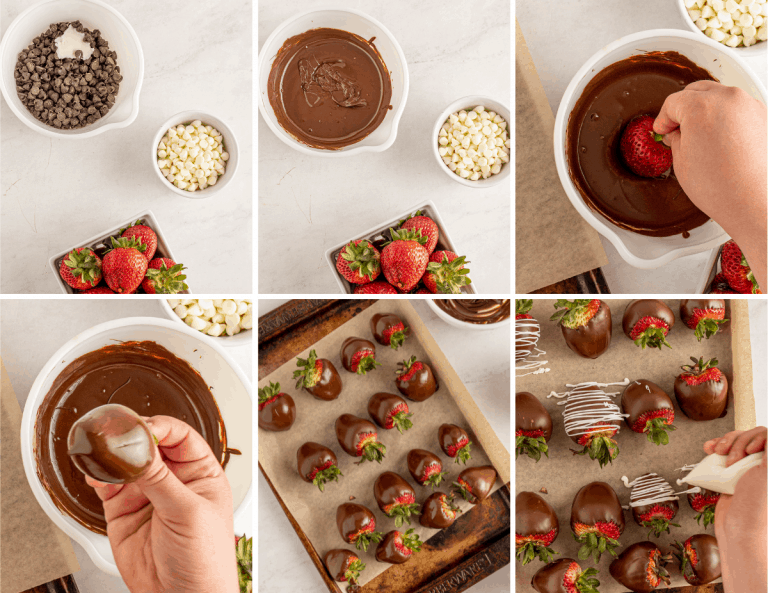 Melt chocolate. I usually use my microwave since it's convenient, but feel free to melt it in whichever way you prefer.
Dip strawberries. Since I leave the green leaves on the tops of the berries, I just hold those and dip, but if you'd prefer, you can spear the tops of the strawberries with a fork or skewer and use that to dip the berries.
Chill. It won't take too long, about 10 minutes.
Melt white chocolate. This is optional.
Drizzle. Also optional, but it sure makes them look pretty!
Helpful Tip!
After you've rinsed your strawberries, make sure you dry them very well before you try to dip them. If they're wet or damp, the chocolate won't stick to the berries as well.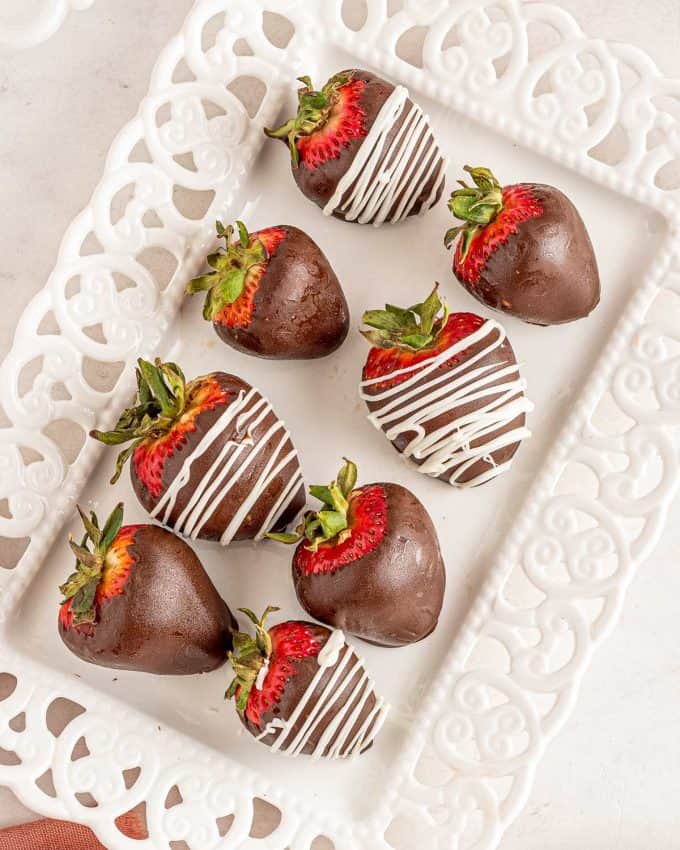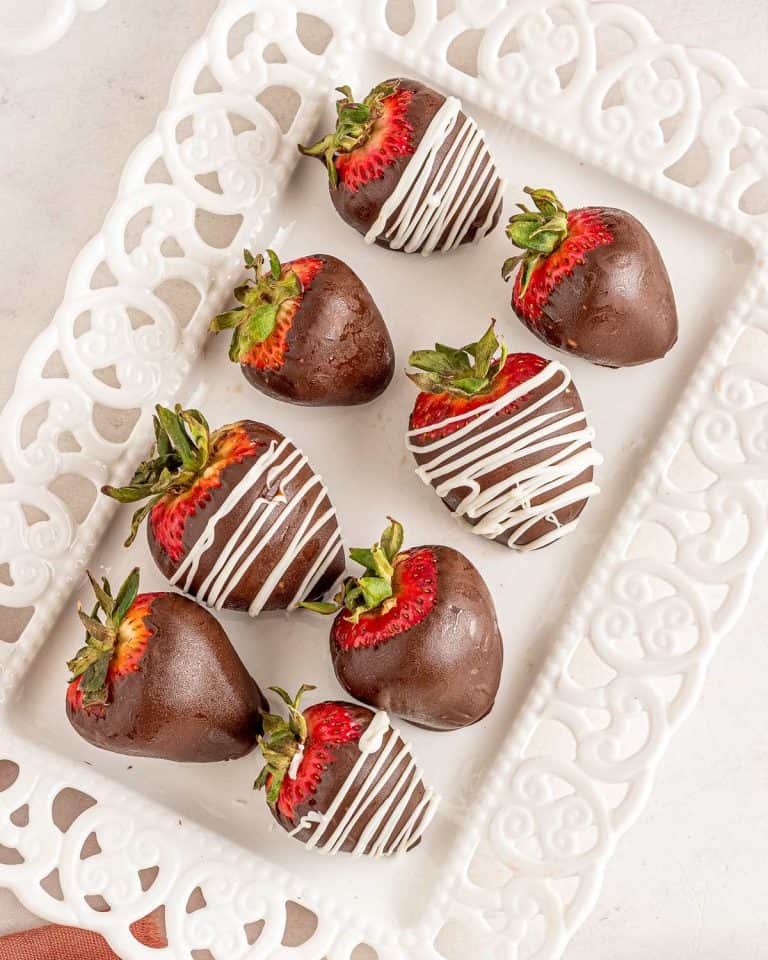 Variations of this recipe
Different chocolates – I like to make these with milk chocolate and drizzle with white chocolate, but one of my favorite combinations is strawberries and dark chocolate. Or you could dip in white chocolate, or candy coating… the sky is the limit!
Topping options – drizzles of chocolate is just the beginning of the options! Finely chopped nuts, sprinkles, crushed candy bars, shredded coconut, sea salt, sprinkles, cookie crumbs (graham crackers are my fave), etc are all great.
Boozy – obviously this is for those of you that are 21+, but soaking the strawberries in some alcohol before drying and dipping is SO much fun! Vodka, white rum, white wine, champagne, prosecco, rose wine, even red wine all work really well.
Omitting oil – this recipe uses Crisco/vegetable oil/coconut oil to help the chocolate melt easier and give the chocolate that "magic shell" type of hard chocolate coating that surrounds the strawberry. However, it's not essential, so you can omit it if you don't have it on hand.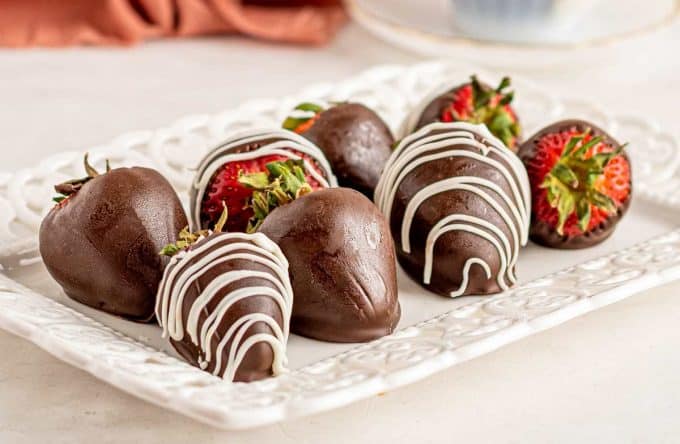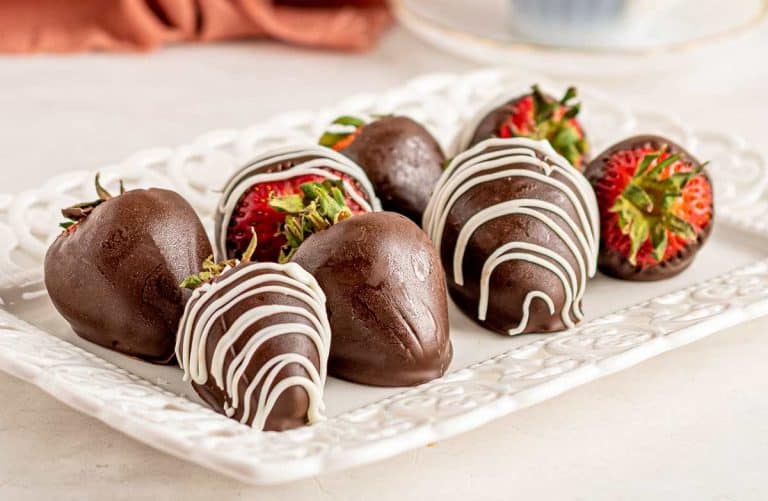 FAQ's
What kind of strawberries are used to make chocolate covered strawberries?
There's no specific type, but you want strawberries that are sweet and ripe, but that don't have soft spots or are overly ripe.
Why did the chocolate not stick to my strawberries?
The number one reason chocolate doesn't stick to the berries when dipping them is that the strawberries were wet, or even damp.
What's the best way to melt chocolate in the microwave?
Don't cook on full power – set your microwave to half power (or medium).  This lessens the chance of the chocolate heating too quickly and "seizing".
Heat slowly – melt the chocolate in 20-30 second intervals for the first minute, then in 15 second intervals after that, stirring after each cooking interval.  It takes longer, but trust me, it's worth it.
Add a bit of oil – one of my favorite tricks is to add a little bit (about a tablespoon or so) of vegetable oil to the chocolate before melting.  I don't think I've ever had seized or scorched chocolate when following the microwave tips and this one!
Why did my chocolate seize?
When melting chocolate have you ever had it go from luxuriously smooth and silky, to a thick, grainy paste?  It seized up on you.
Chocolate will do that for one of two reasons.
First, a bit of water got into your chocolate. Water is the enemy of melted chocolate and will turn all it into a gluey paste, very quickly.
Secondly, it can be overheated and scorched. This often happens when chocolate is cooked at too high of a temperature, and/or for too long.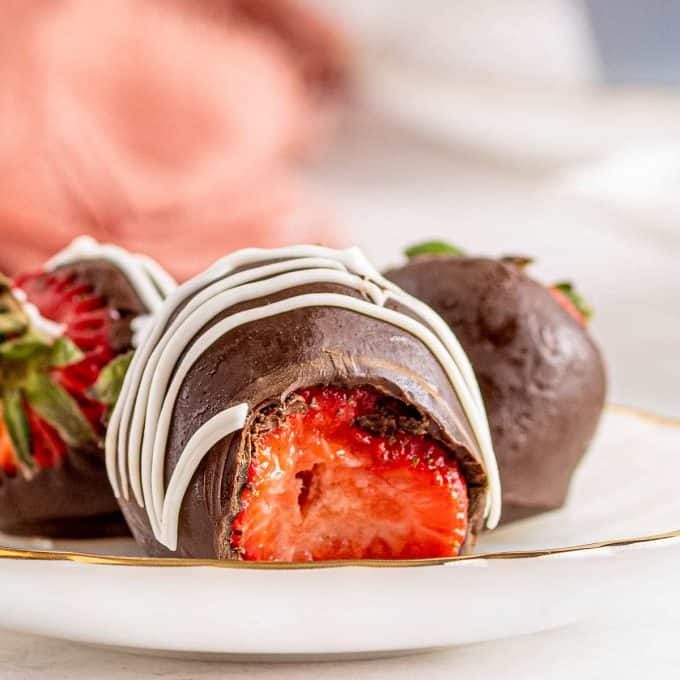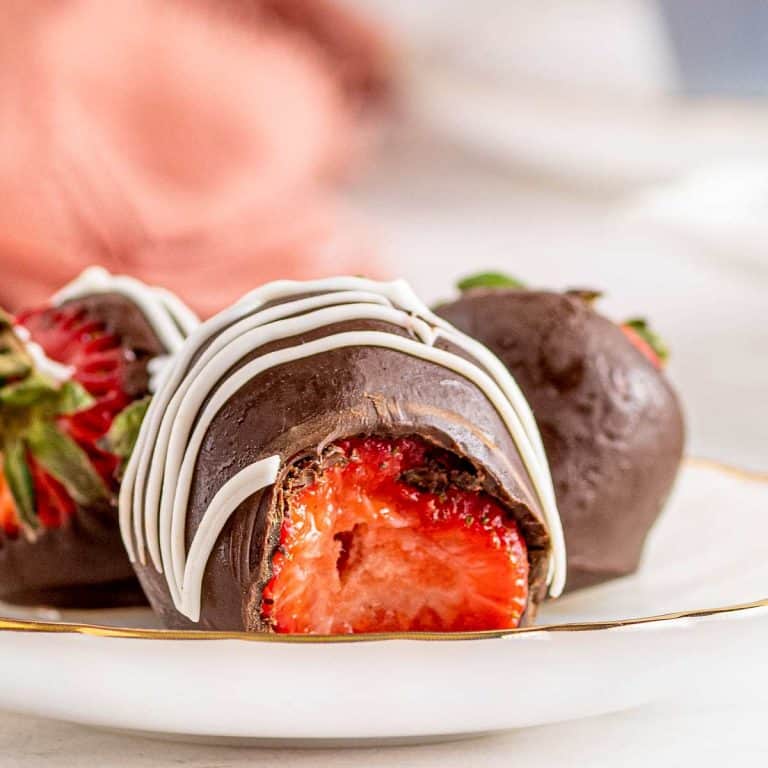 Making chocolate covered strawberries ahead of time
These strawberries are great to make ahead of time! I like to make mine a few hours ahead of time, so they're plenty chilled and firm.
However, you can make them up to 1 day ahead. Any more than that and you might risk the strawberries sweating too much and ruining the crisp clean look, although they'll still taste amazing.
Storage
Chocolate dipped strawberries should be stored in the refrigerator, and eaten within 3 days.
To prevent "sweating", aka the condensation that forms on top of the strawberries during temperature changes, just add a paper towel over the top of the strawberries.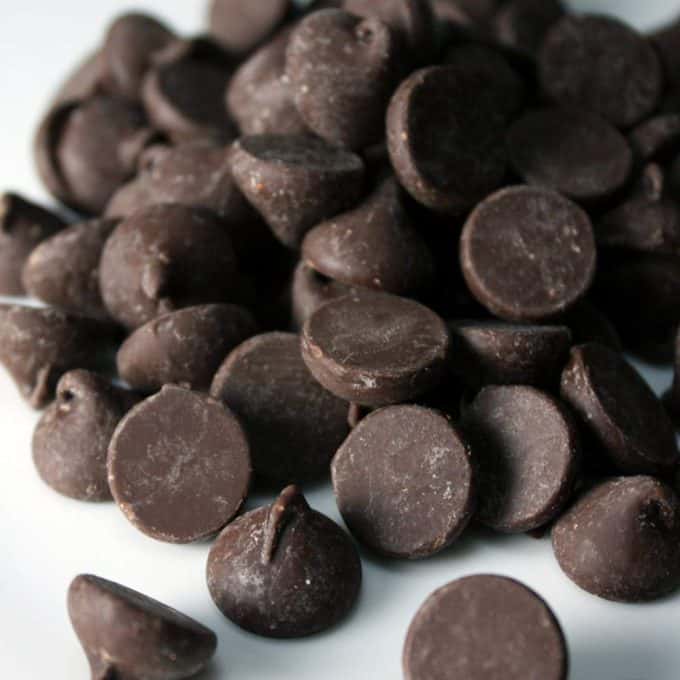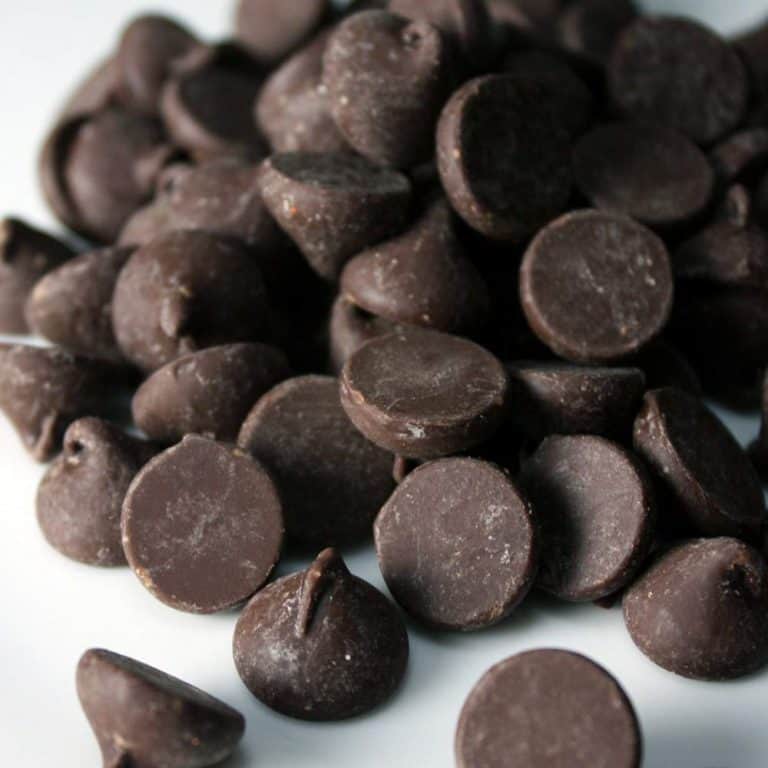 Guittard's milk chocolate chips are my favorite to work with, and I always have a bag on hand in my pantry. Ghirardelli is another great brand.
Did you make this? Be sure to leave a review below and tag me @the_chunky_chef on Facebook and Instagram!
Learn how to make classic Chocolate Covered Strawberries at home, using just 3 base ingredients and minimal effort!
Ingredients
2 cups milk chocolate chips
1 tsp vegetable shortening such as Crisco brand
1 lb. fresh strawberries or approximately 16 berries – washed and dried well
1/4 cup white chocolate chips optional
Instructions
In a microwave-safe bowl, add milk chocolate chips and the shortening and microwave on MED power (50%) for one minute, stirring once about halfway though.

If needed, microwave in 15 second intervals, stirring after each microwave interval, until chocolate is JUST melted.

Once the chocolate is melted, dip the strawberries in, one at a time and place onto a sheet of parchment paper (or wax paper) to set.

After all of the strawberries are dipped, place into the refrigerator to chill and harden for 10 minutes.

Once the chocolate has set, melt the white chocolate the same way you melted the milk chocolate chips.

Pour the melted white chocolate into a small resealable plastic bag. Cut a tiny hole in one corner of the bag. Drizzle white chocolate over as many of the strawberries as you'd like.

Return strawberries to the refrigerator to chill for at least another 5-10 minutes.
Want to save this recipe for later? Click the heart in the bottom right corner to save to your own recipe box!
Chef Tips
This recipe makes 1 lb of chocolate covered strawberries, which on average, is about 16 strawberries.
Recipe serves 8, assuming a serving size of 2 strawberries per person.
Other types of chocolate can be used, not just milk and white.
Make sure to dry the strawberries very well before dipping in chocolate.
After you dip the strawberry and it's coated in chocolate, hold the strawberry over the bowl and allow the excess chocolate to drip off. Before laying the strawberry down, tilt the end of the strawberry up so that the last little drip of chocolate lays against the strawberry. Doing this helps to prevent a pool of chocolate forming around the base of the strawberry.
Nutrition Disclaimer
The Chunky Chef is not a dietician or nutritionist, and any nutritional information shared is an estimate. If calorie count and other nutritional values are important to you, we recommend running the ingredients through whichever online nutritional calculator you prefer. Calories can vary quite a bit depending on which brands were used.