Soft and fluffy jasmine rice, flavored with garlic, ginger, and toasted sesame oil, made easily in the Instant Pot, and perfect as an Asian-inspired side dish!
This is one of my Instant Pot recipes I know you'll want to keep on hand!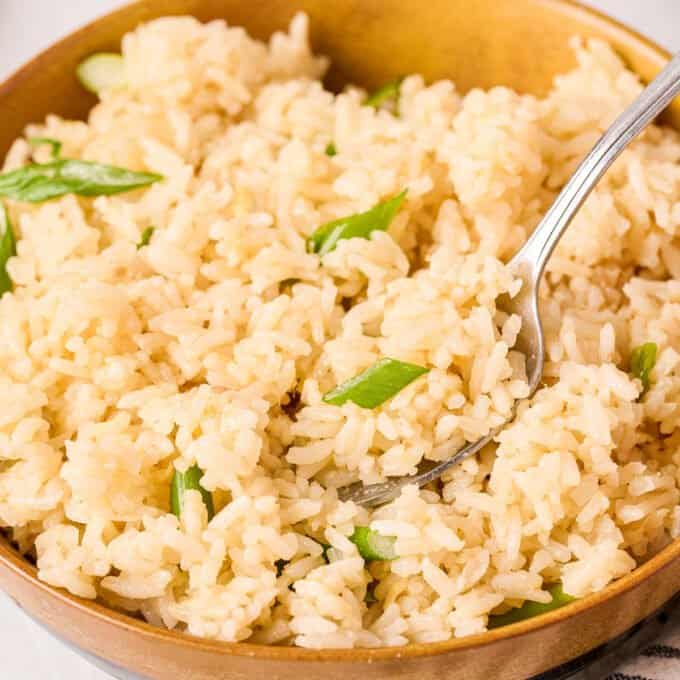 If you've never made rice in your pressure cooker, you're in for a treat. Cooking rice on the stovetop certainly isn't complicated, but it requires a little bit of babysitting.
You have to make sure the heat is just the right temperature, and sometimes, despite your best intentions, the rice can get stuck to the bottom of the pot. Major bummer!
With the Instant Pot, you set it and forget it, and it's perfectly fluffy every single time. I'm obsessed!
This garlic and ginger rice is made with fragrant jasmine rice, fresh ginger and garlic, and toasted sesame oil. If you're looking for the perfect rice side dish to go with your takeout-style meal… this is it!
Our kids go crazy over this when we have an Asian-style dinner, and sometimes eat more of the rice than the main dish!
How to make garlic ginger rice in the instant pot?
This is just an overview; the full ingredients and directions are in the recipe card toward the bottom of this post.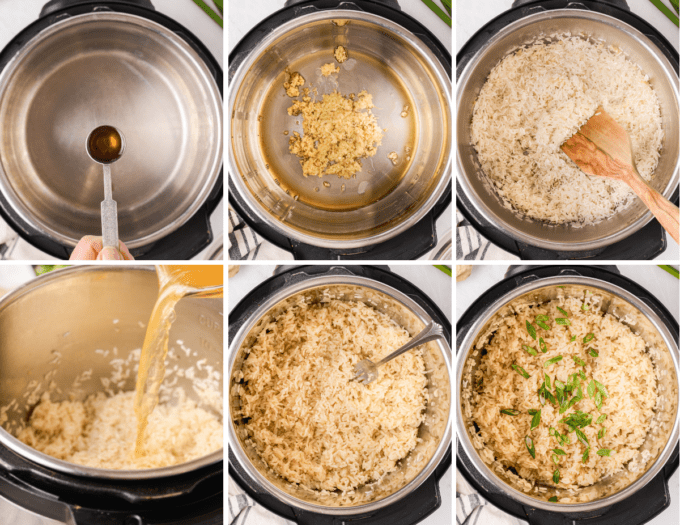 Saute aromatics. Cooking the ginger and garlic in sesame oil really brings out their flavor.
Saute rice. This adds a little texture and improves the flavor of the rice.
Pour in liquid. Rice in the Instant Pot uses a 1:1 ratio, which is different than the stovetop ratio.
Pressure cook. This rice doesn't need a long pressure cooking time, but make sure to let the pot release pressure naturally for 10 minutes.
Fluff. Fluff with a fork, then stir in green onions.
Helpful Tip!
Make sure you're using the type of rice called for in the recipe (jasmine rice), as this is what the recipe was tested with, and works with. Other varieties of rice will have different textures and cook times.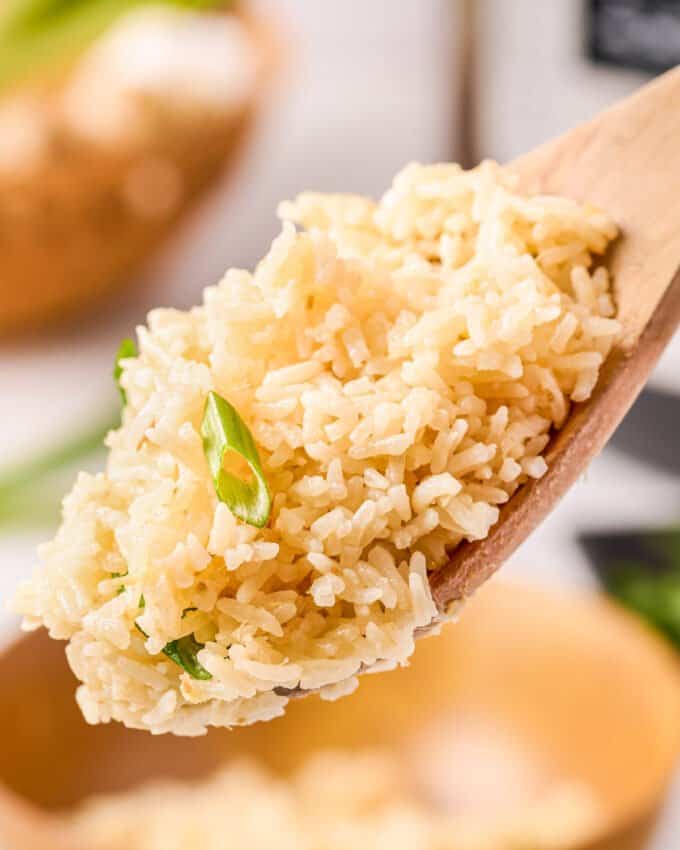 Variations of this recipe
Un-toasted – while I prefer the flavor and texture of the rice if it's toasted before pressure cooking, if you're in a rush, you can skip that step.
Vegetable broth – to make this dish vegetarian (and vegan I believe), swap out the chicken broth for vegetable broth.
Water – if you don't have any broth on hand you can use water. I feel there's a bit of a loss of flavor, but it'll work in a pinch.
Ginger paste – sometimes the fresh ginger at the store doesn't look the best, so a great substitute is a tube of ginger paste (Gourmet Garden is a brand I love).
Other varieties of rice – I haven't tested this recipe with other types of rice, so I can't speak with any certainty to how the cooking time would be affected. If you do some experimenting, I'd love to know how it turns out!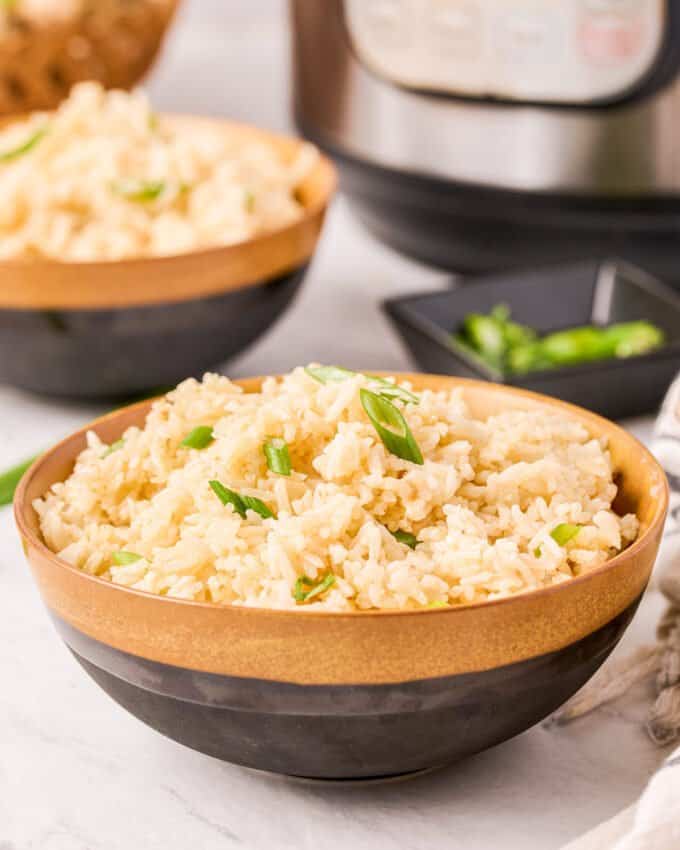 FAQ's
Can this garlic ginger rice be made without an Instant Pot?
Absolutely! I don't like to share recipes that my readers HAVE to have a kitchen appliance or gadget to make, so I've also included stovetop directions in the "Chef Tips" section right below the full written recipe.
Can other types of rice be used for this recipe?
While I'm sure you can make cilantro lime rice with other types of rice (such as extra long grain, short grain, brown rice, etc), I've only tested this recipe as written. So I can't speak with any certainty to how the cooking time would be affected. If you do some experimenting, I'd love to know how it turns out!
Making garlic ginger rice ahead of time
I think that rice tastes best when made fresh, since it can dry out.
However, you can make it ahead of time if you'd like. Just when reheating, add a splash of water/chicken broth to liven it back up.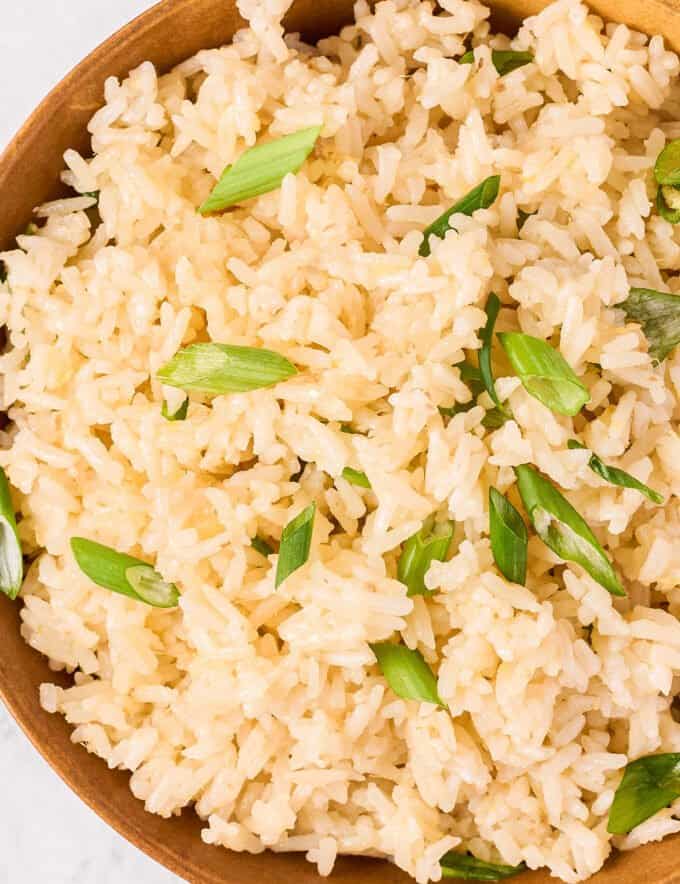 Freezing
Rice can also be frozen for long-term storage. Let it cool completely, then add to a freezer-safe container and freeze for up to 3 months.
Thaw, then reheat as desired.
Storage
Leftover rice should be refrigerated in an airtight container and enjoyed within 3-5 days.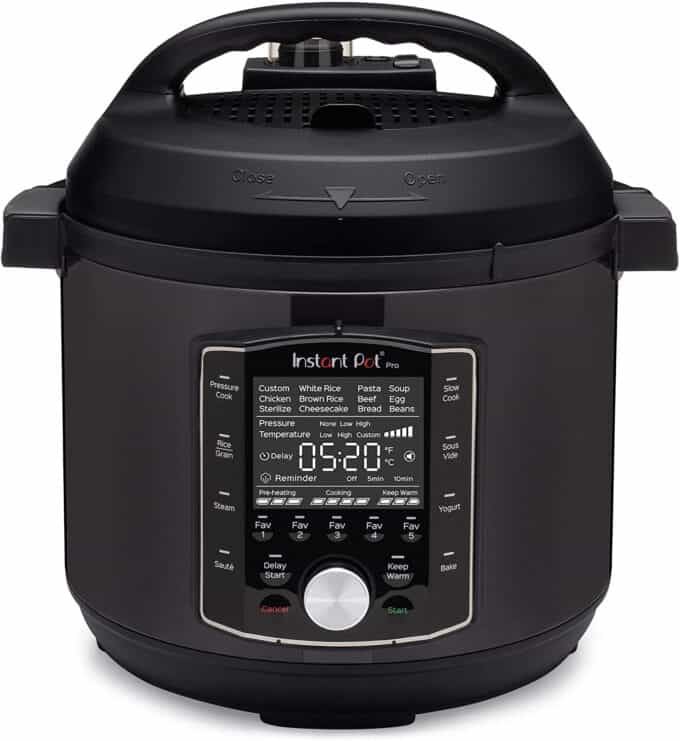 I love this model's features like a completely flat bottom insert, as well as a locking insert, making stirring super easy. Plus, it automatically switches to sealing when you lock the lid!
Did you make this? Be sure to leave a review below and tag me @the_chunky_chef on Facebook and Instagram!
Soft and fluffy jasmine rice, flavored with garlic, ginger and toasted sesame oil, made easily in the Instant Pot, and perfect as an Asian-inspired side dish!
Ingredients
2 cups jasmine rice NOT instant or minute rice
2 tsp toasted sesame oil
3 Tbsp grated fresh ginger or ginger paste
3 cloves garlic grated or very finely minced
1/2 tsp kosher salt
2 cups reduced sodium chicken broth
2-3 fresh green onions sliced on the bias (optional garnish)
Instructions
Prepare
Add rice to a fine mesh sieve and rinse under cool water until water runs clear.  Set aside to drain excess water, giving it a shake to help remove more water.
Saute
Select "saute" and choose the "low" option if you have that available.  Add sesame oil, then add ginger and garlic and cook, stirring often, until very fragrant, about a minute or so.

Add the rice to the pot and stir.  Cook, stirring occasionally, for about a minute.  Stir in salt.

Cancel the "saute" function.
Pressure cook
Pour in chicken broth, but don't stir.

Secure lid, making sure the valve is in the "sealing" position.  Select "manual" or "pressure cook", and hit the +/- buttons to select 3 minutes (on high pressure if your model has an option).
Natural pressure release (NPR)
Once pressure cooking time has elapsed, don't do anything and let the pot naturally release the pressure for 10 minutes, then turn the knob to release any remaining pressure.
Fluff and serve
When the pin has dropped and all pressure has been released, open the lid and fluff rice with a fork.

Stir in sliced scallions (if using) and serve hot.
Want to save this recipe for later? Click the heart in the bottom right corner to save to your own recipe box!
Chef Tips
Recipe can be doubled, the pressure cooking time remain the same.
Recipe has only been tested with jasmine long grain rice. Mahatma is the brand I use most often. If you want to use a different kind, you'll have to experiment with the cooking time.
Stovetop Directions:
Increase chicken broth to 2 2/3 cups, keep all other ingredients the same.
Heat a saucepan over MED heat, and once hot, add the sesame oil.
Add the ginger and garlic and cook, stirring often, about a minute, or until very fragrant.
Add rice, stir, and cook (stirring occasionally) for about another minute or two.
Add chicken broth and salt, and bring to a boil.
Once boiling, reduce heat to LOW, cover, and simmer for approximately 10 minutes (check the time listed on your rice package – it may be slightly different).
Turn off the heat, leave the pot covered, and let sit for another 10-12 minutes.
Uncover, remove from heat, and fluff with a fork.
Stir in green onions and serve.
Nutrition Disclaimer
The Chunky Chef is not a dietician or nutritionist, and any nutritional information shared is an estimate. If calorie count and other nutritional values are important to you, we recommend running the ingredients through whichever online nutritional calculator you prefer. Calories can vary quite a bit depending on which brands were used.