These crab cakes are made Maryland-Style with sweet lump crab, Old Bay and with little filler. Brushed with melted butter and baked instead of fried for a less messy and calorie-laden treat!
This is one of my Seafood recipes I know you'll want to keep on hand!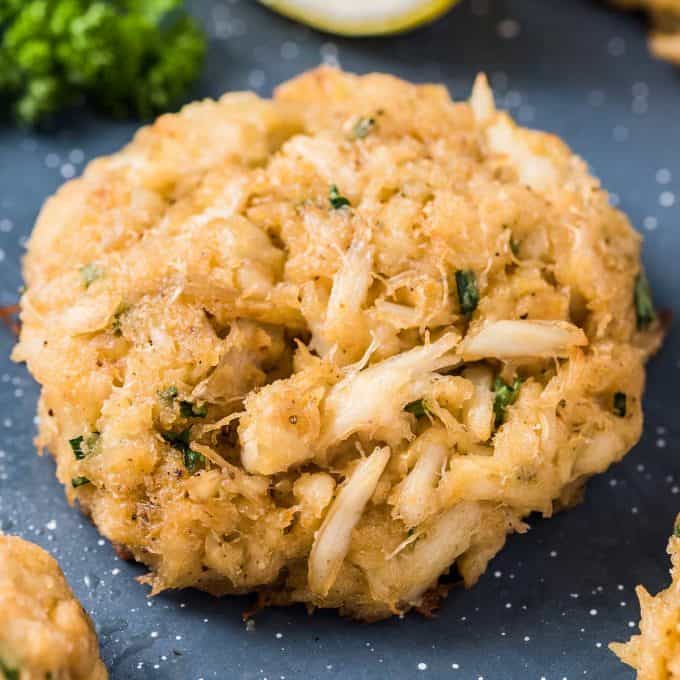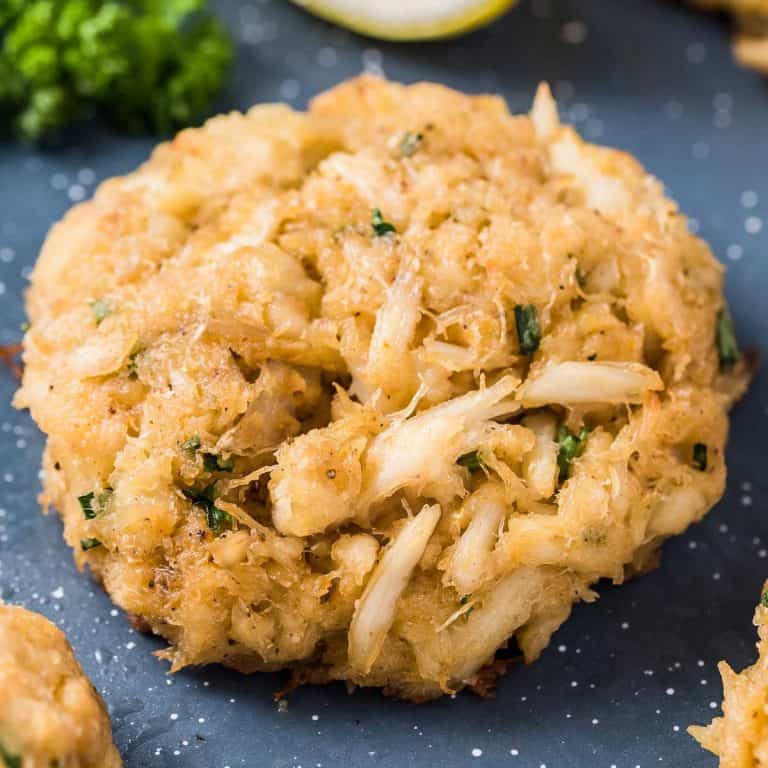 Growing up, I always thought I didn't like seafood. But it turns out, I just didn't like frozen seafood.
See, living in the Midwest, fresh seafood isn't very readily available. But once I had traveled to a coast and tried truly fresh seafood…. it was a huge game-changer!
Recently, my daughter and I took a little Mother/Daughter vacation, and she picked Virginia Beach. First of all, it's beautiful there. Secondly, we were suuuuuuper close to Chesapeake Bay.
So of course, my mind immediately went to crab cakes! Man, I don't think I ate much else the whole trip. That blue crab meat is so tender, succulent, sweet, and of course, fresh!
This is my recreation of those delicious crab cakes; made Maryland-Style, using lump crab meat, Old Bay, and not a whole lot of filler, so you can really taste the crab.
How to make Maryland-style crab cakes?
This is just an overview; the full ingredients and directions are in the recipe card toward the bottom of this post.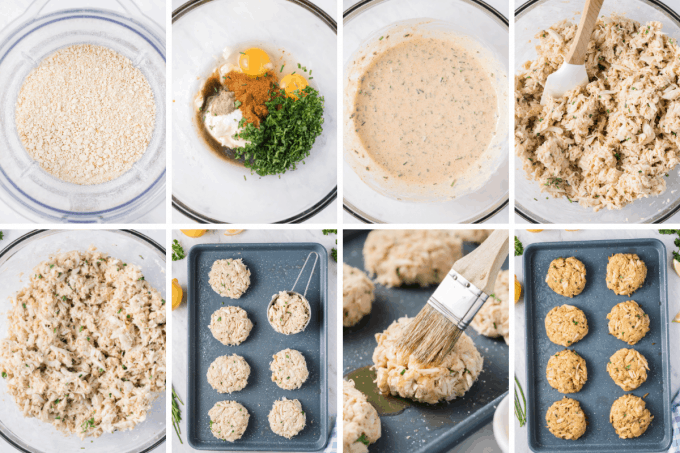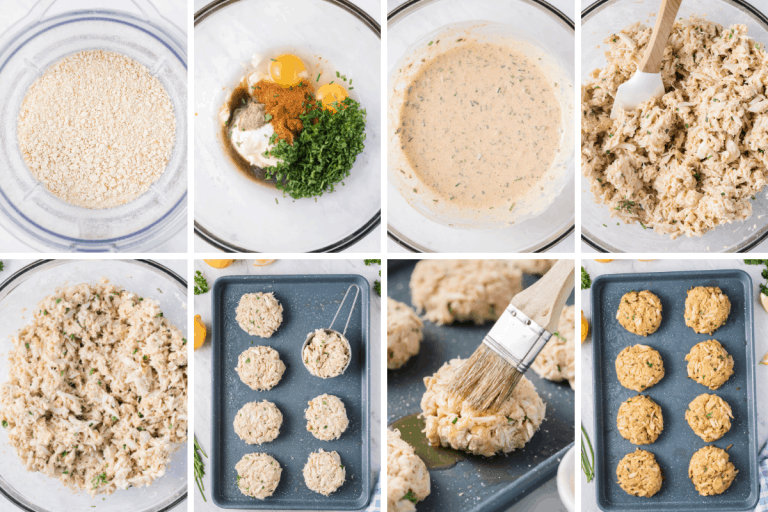 Make saltine crumbs. I like to use my food processor, but you can also add them to a big resealable plastic bag and crush them by hand or with a rolling pin.
Mix filler. Use a big bowl for this, because you'll be using the same bowl to add the crab and crackers.
Add crab/crumbs. Stir them in gently with a rubber spatula so you don't break up those gorgeous pieces of lump crab.
Form crab cakes. I like to use a 1/2 cup measuring cup to get equally sized cakes, then use my hands to form them into patties.
Cover and chill. Cover them tightly so they don't dry out, then refrigerate for at least 1 hour.
Brush with butter. This adds richness and helps them brown.
Bake.
Helpful Tip!
Chilling the crab cakes after they've been formed is essential here. It keeps them from falling apart during baking. As a bonus, these crab cakes can be frozen! See the "Freezing" section down below for all the details.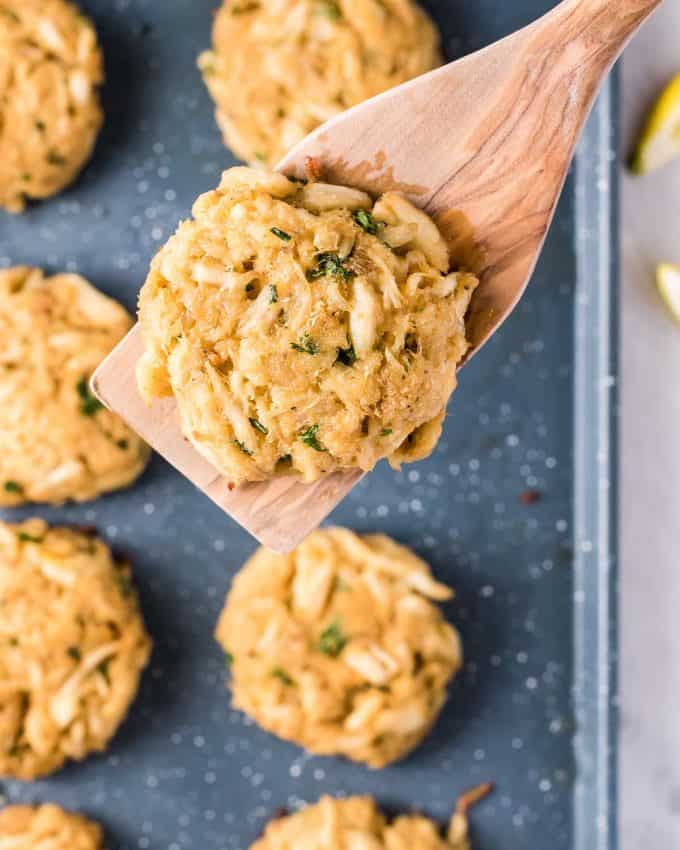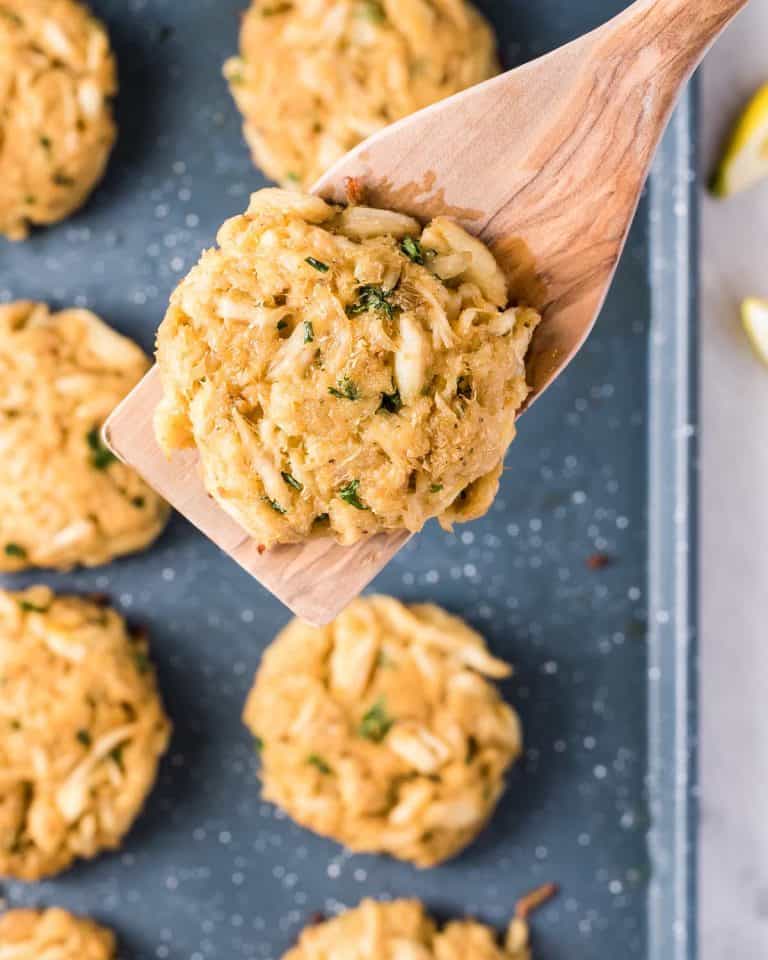 Variations of this recipe
Stovetop – instead of brushing the crab cakes with butter, add the butter to a large skillet and melt over MED heat. Once hot, add crab cakes (don't overcrowd the pan), and cook about 4-5 minutes per side, until golden brown.
Celery – celery isn't all that traditional, but it adds a great texture, so if you'd like to, feel free to add some very finely minced celery to the mix.
Other crab types – there are multiple types of crab meat, and it can get confusing. See the FAQ section below for a detailed description of the 4 major types.
Other crackers – personally, I love the texture and flavor of saltine crackers, but feel free to experiment with other crackers or breadcrumbs instead.
Mini – if you want to serve these crab cakes as an appetizer, use a 1/4 cup measuring cup, and bake for about 7 minutes or so.
Extra golden brown – I love a good golden brown and crispy exterior, so sometimes I like to broil the crab cakes for a minute or so. Just watch them closely, because broilers are screaming hot and can burn things very quickly!
Buying Crab Meat From the Grocery
I would stay away from the canned varieties, as these just don't have the sweet/succulent flavor you're looking for.
The variety I buy is in a plastic tub and sold either at the seafood counter or in the refrigerated case right next to the counter.
You can always ask the person behind the seafood counter where the freshest crab meat is, and they'll direct you!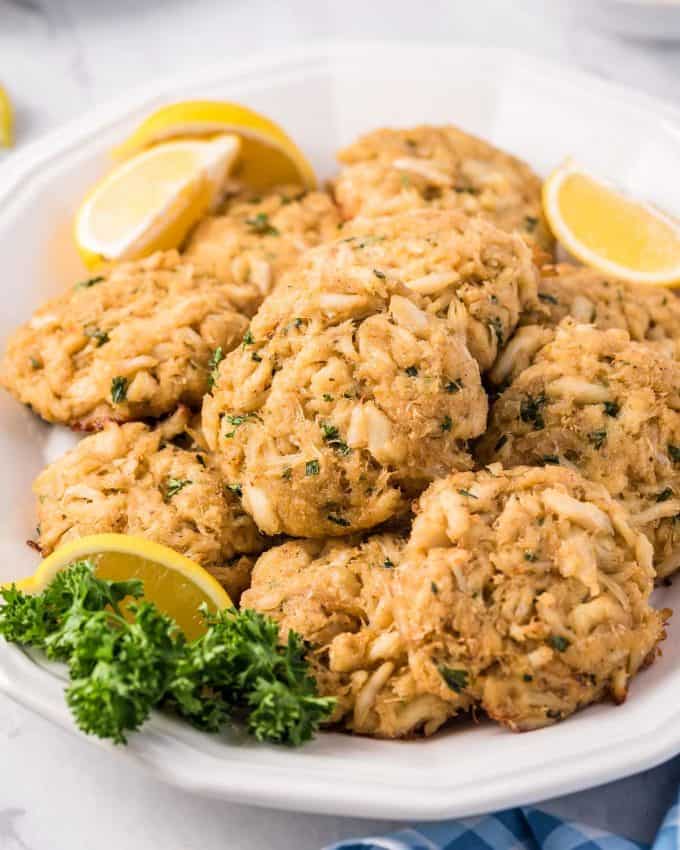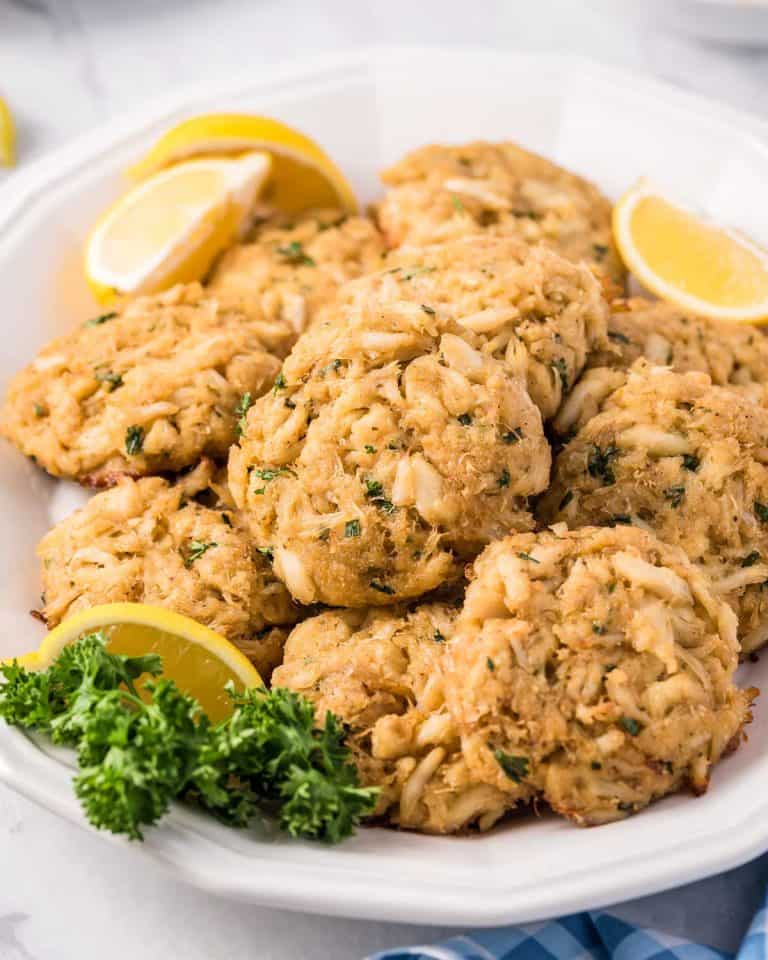 FAQ's
Why do my crab cakes keep falling apart?
The two main reasons crab cakes fall apart is that there isn't enough filler, or they weren't chilled prior to cooking them. This recipe calls for the cakes to be chilled, but doesn't use a ton of fillers (we want that true crab flavor to come through), so it's essential to chill them. If yours are still falling apart, you could try freezing them for about 15-20 minutes, although you may have to add a little additional baking time. Keep in mind, freshly homemade crab cakes like this are supposed to be tender and flaky, not compact hockey-puck like crab cakes.
How can you tell if crab cakes are done?
If you're concerned about the doneness of your crab cakes, use an instant read thermometer and look for an internal temperature of at least 160°F.
What's the best crab to use for crab cakes?
The exact species of crab used will vary from region to region, but generally Maryland crab cakes are made with blue crab from the Chesapeake Bay area.
No matter which species you purchase, make sure the label says "hand-picked" or something similar. This means the meat has been picked through to remove any stray pieces of shell.
What are the types of crab meat?
When purchasing crab meat at the grocery store, there are 4 main types you might see:
1. Jumbo Lump – this is the most expensive is large pieces of crab meat. Usually this type is eaten as a topping, or even by itself.
2. Lump – this is the type I prefer to use for crab cakes, as it gives you big pieces of crab that are sweet and juicy. It's a sturdy meat, so the pieces will stand out when you make a crab cake.
3. Flake/Backfin – from the name, you can probably tell this type is flakier, and generally consists of broken up pieces of lump meat, mixed with flaked pieces of the body of the crab. If all lump meat is too pricey, or you can't find it, this is a good alternative for crab cakes.
4. Claw – this is sort of like the dark meat of chicken; it has a darker appearance and stronger taste than the first 3 types. This is the least expensive, and is great for use in dips, spreads, soups, etc.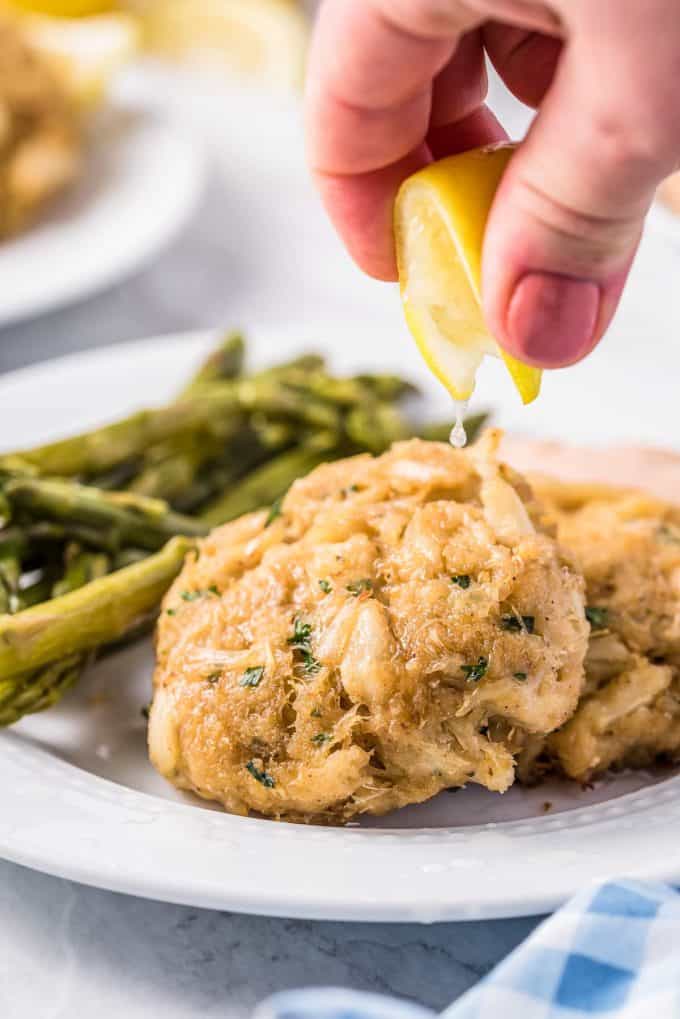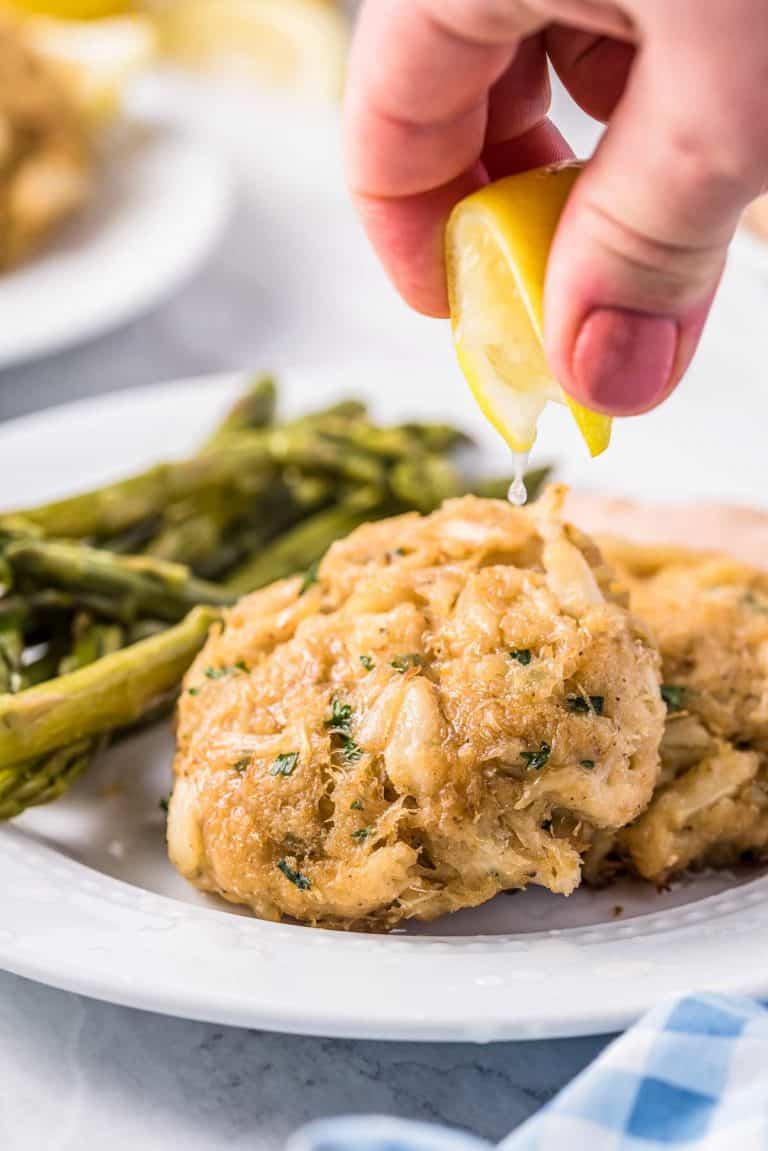 Making crab cakes ahead of time
By nature, these crab cakes are a make ahead recipe. The formed crab cakes need to chill for at least 1 hour.
But these crab cakes can be formed, covered, and refrigerated for up to 24 hours before baking!
Freezing
Formed and un-baked crab cakes can be frozen! Add crab cakes to a wax paper lined baking sheet and place in the freezer for 1-2 hours, or until hardened.
Once frozen, transfer to a freezer-safe container, label it with the contents and date, then freeze for up to 3 months.
Thaw in the refrigerator, then brush with butter and bake as directed.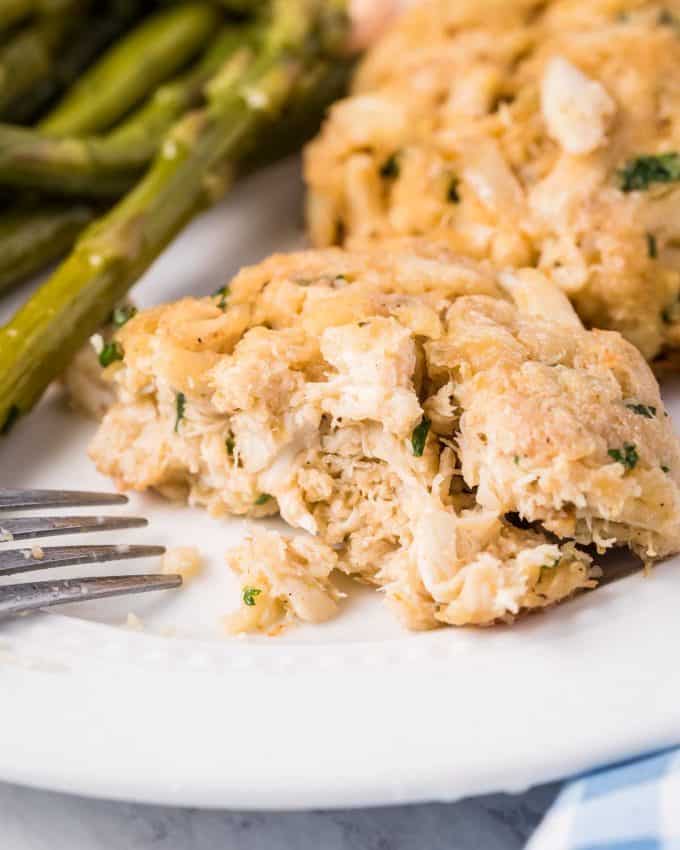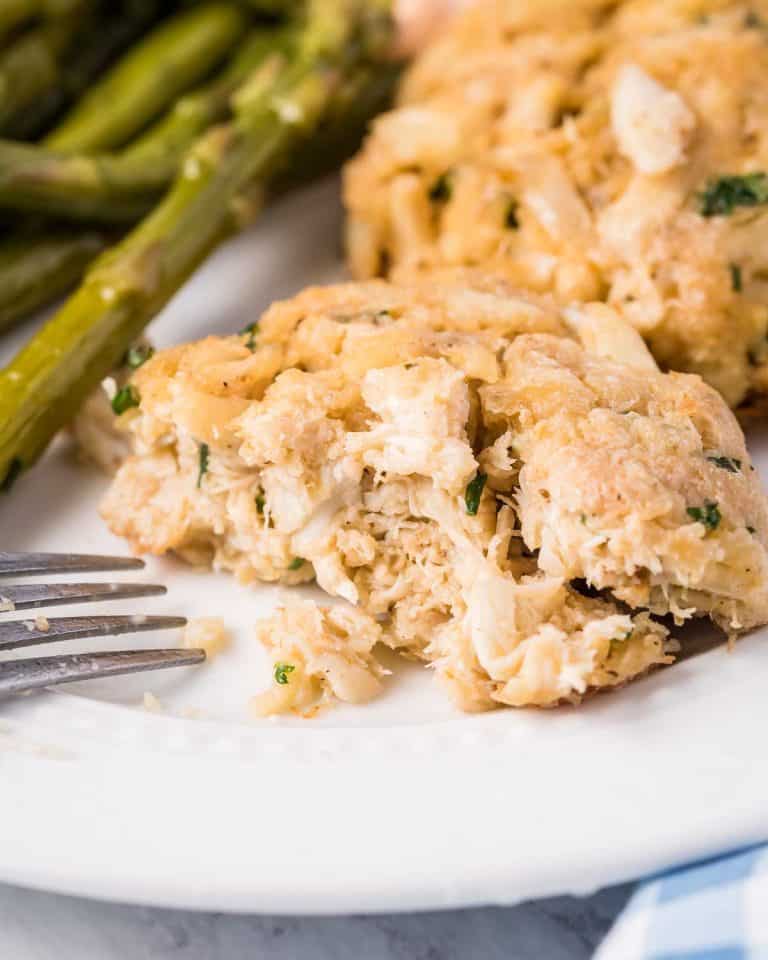 Storage
Leftover crab cakes should be refrigerated in an airtight container and eaten within 3-5 days.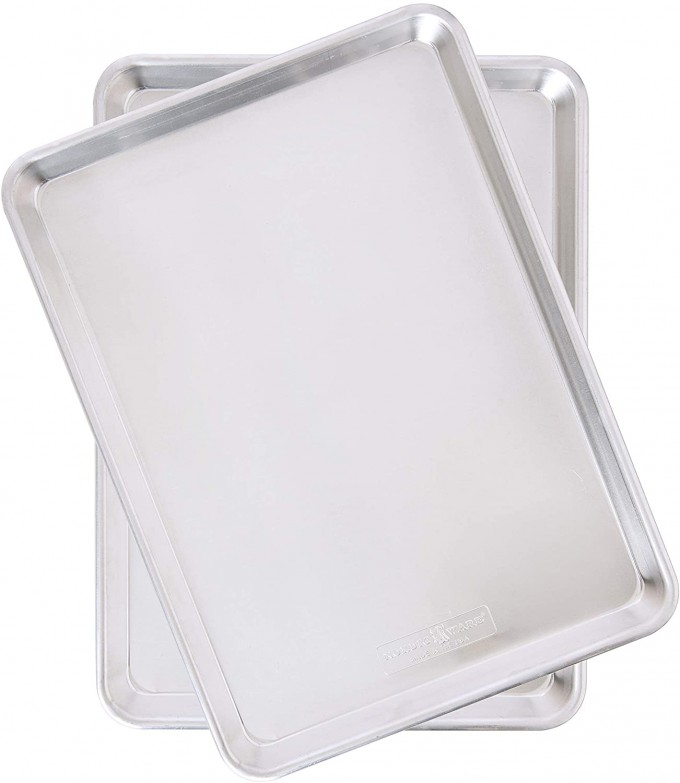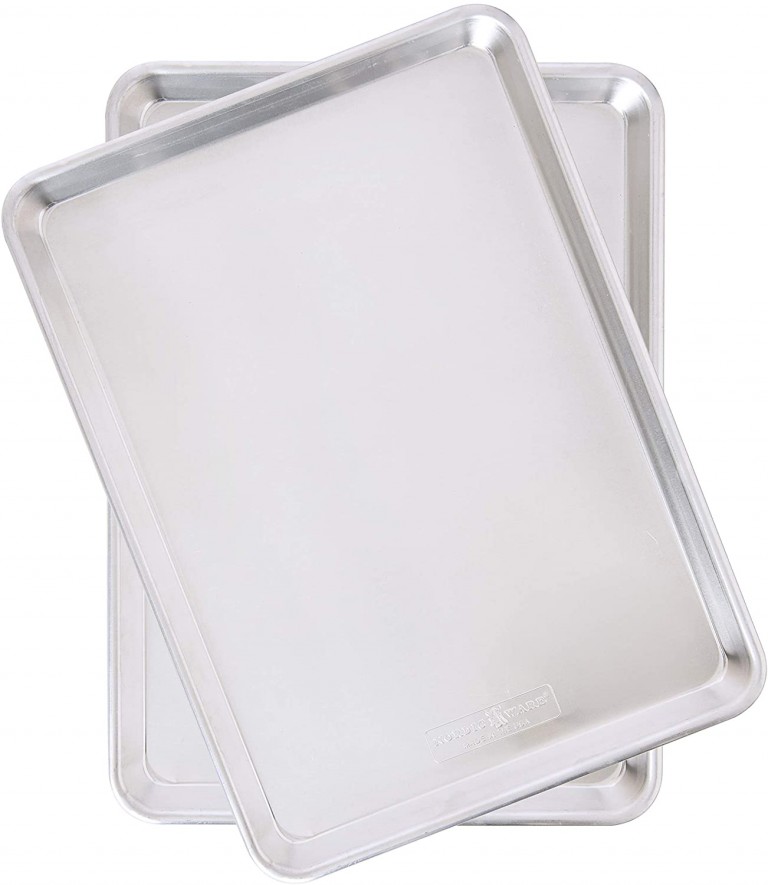 These baking sheets have been in my kitchen for years, with no warping! Plus, they're economical and come in a ton of different sizes!
Did you make this? Be sure to leave a review below and tag me @the_chunky_chef on Facebook and Instagram!
Servings:
12
large crab cakes
(hover over # to adjust)
These crab cakes are made Maryland-Style with sweet lump crab, Old Bay and with little filler.
Ingredients
30 saltine crackers
2 large eggs
1/2 cup mayonnaise
1 Tbsp dijon mustard
2 Tbsp minced fresh parsley
2 Tbsp minced fresh chives
1 Tbsp Worcestershire sauce
2-3 tsp Old Bay seasoning
2 tsp lemon juice
1/2 tsp kosher salt
1/4 tsp black pepper
2 lbs. fresh lump crab meat
1/4 cup melted butter
lemon wedges for serving
Instructions
Add saltine crackers to food processor and pulse until fine crumbs form.  Set aside.

In a large mixing bowl, add eggs, mayonnaise, mustard, parsley, chives, Worcestershire sauce, old bay seasoning, lemon juice, salt and pepper.  Whisk to combine well.

Add crab meat and saltine cracker crumbs and use a rubber spatula to gently fold everything together.

Line a large plate or platter with wax paper. Press crab mixture into a 1/2 cup measuring cup, then transfer to prepared baking sheet.  Use your hands to lightly press together to make sure the crab cake isn't falling apart.

Repeat with remaining crab mixture. Cover tightly with plastic wrap and refrigerate for at least 1 hour, or up to 24 hours.

Preheat oven to 450°F and spray a large rimmed baking sheet with nonstick cooking spray. Transfer crab cakes to baking sheet.

Brush crab cakes with melted butter and bake in preheated oven for 13-15 minutes, until golden brown on top and around the edges.

Serve immediately, with lemon wedges.
Want to save this recipe for later? Click the heart in the bottom right corner to save to your own recipe box!
Chef Tips
Crab cakes can also be chilled on baking sheet instead of a plate/platter.
Recipe makes 12 large crab cakes, but can easily be cut in half if you only need 6.
Nutrition Disclaimer
The Chunky Chef is not a dietician or nutritionist, and any nutritional information shared is an estimate. If calorie count and other nutritional values are important to you, we recommend running the ingredients through whichever online nutritional calculator you prefer. Calories can vary quite a bit depending on which brands were used.