This festive twist on classic mimosas adds pomegranate juice to bubbly champagne which combines into a beautiful sparkling cocktail for any party or brunch!
Perfect for any holiday brunch or party, and so easy to make!  With several different flavor variations, you'll find one that fits your tastes.  We love holiday drinks like my White Christmas Sangria and this is one of my Drinks you'll definitely want in your party rotation!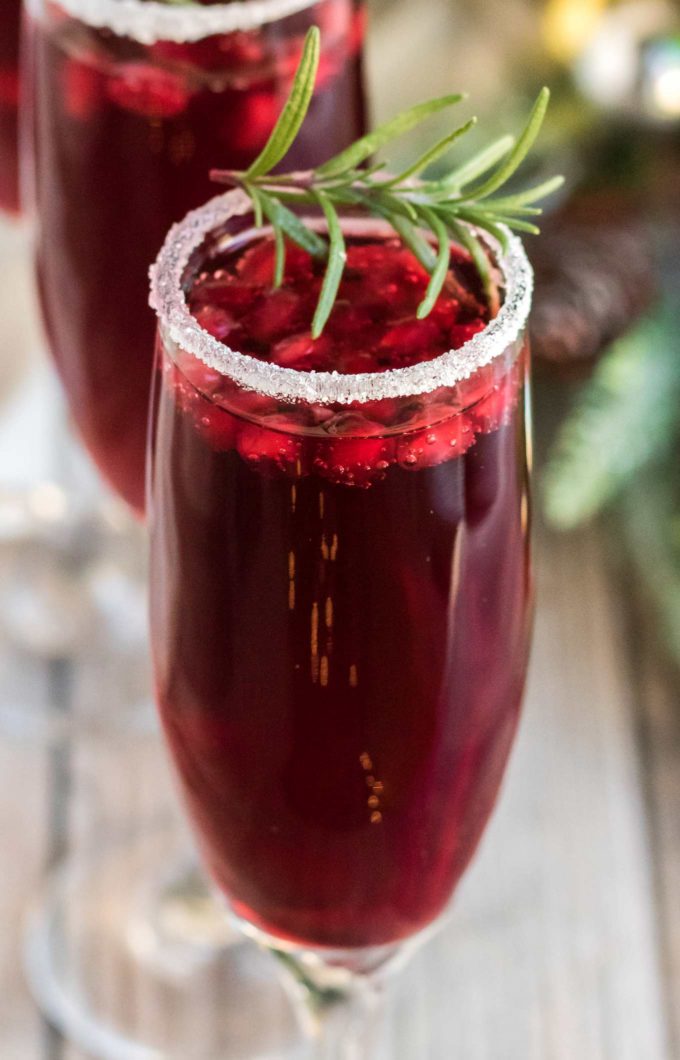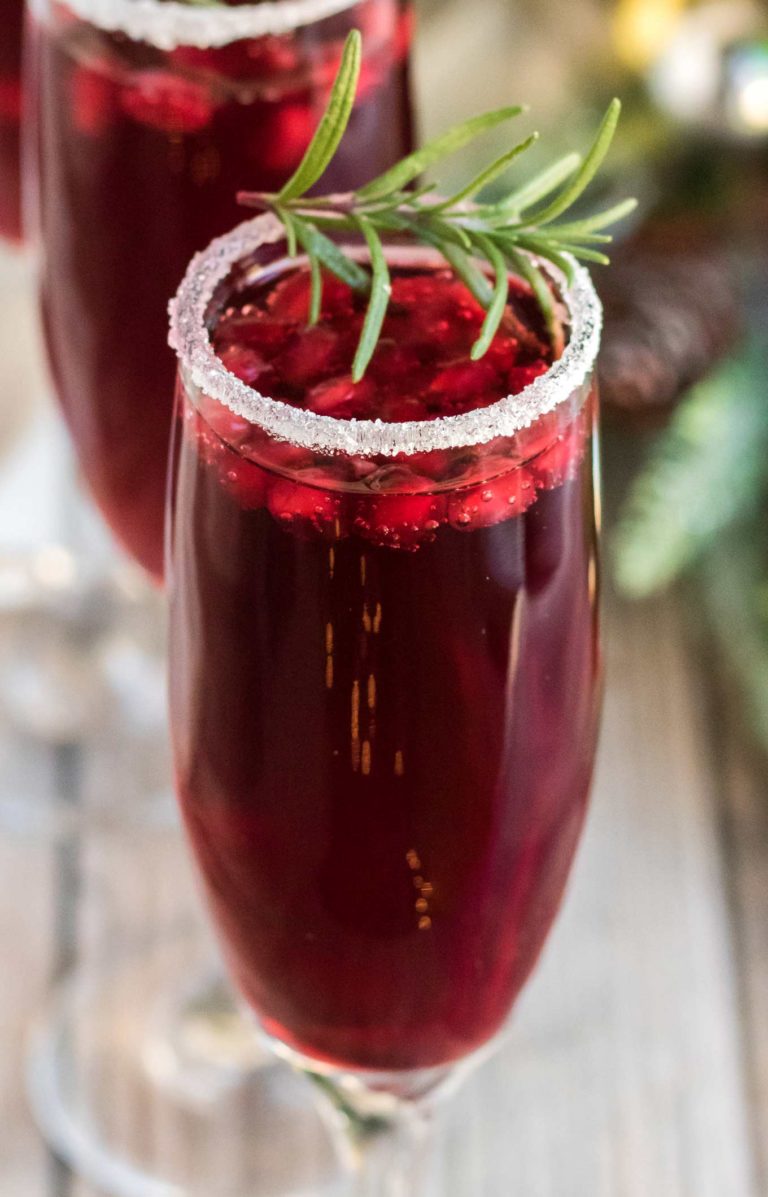 POMEGRANATE MIMOSAS
If you're like me, the holiday season is great for food, but also for the drinks!  'Tis the season for libations and a mimosa is a great option… whether for a brunch or festive holiday party.
This pomegranate mimosa recipe is a festive twist on a classic drink, made using dark red pomegranate juice, a sprig of greenery (rosemary), and a glittering sugared rim!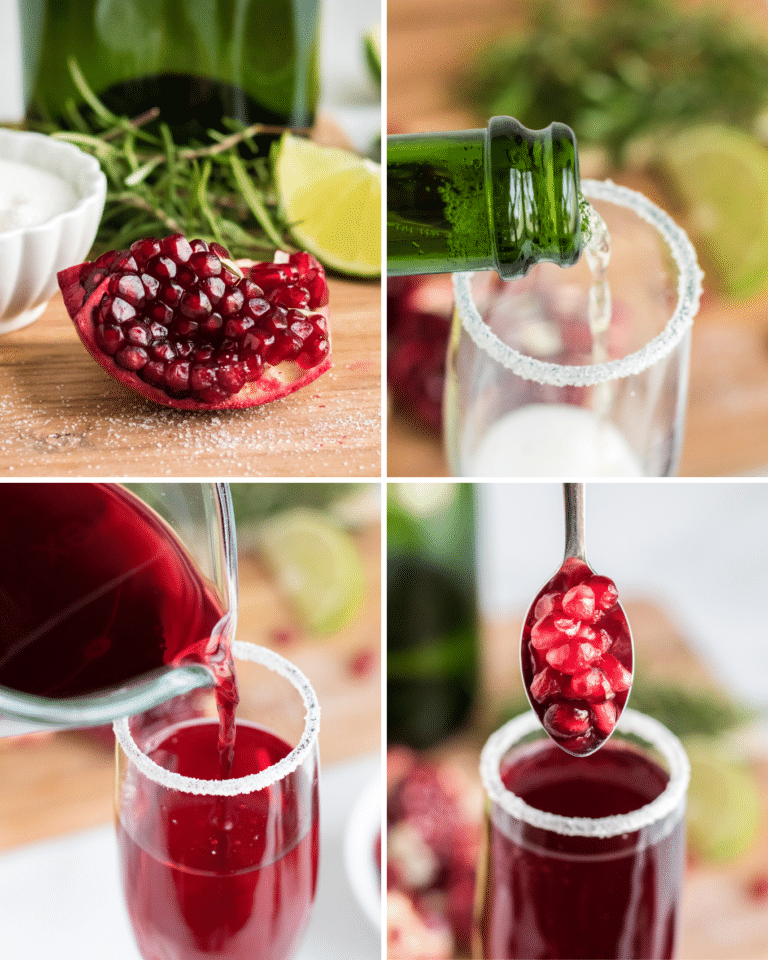 HOW TO MAKE POMEGRANATE MIMOSAS
Run a slice of lime around the rim of  champagne flutes.
Dip glass rims in granulated sugar.
Add sparkling wine glasses.
Top with pomegranate juice.
If desired, add a spoonful of pomegranate seeds and a sprig of fresh rosemary.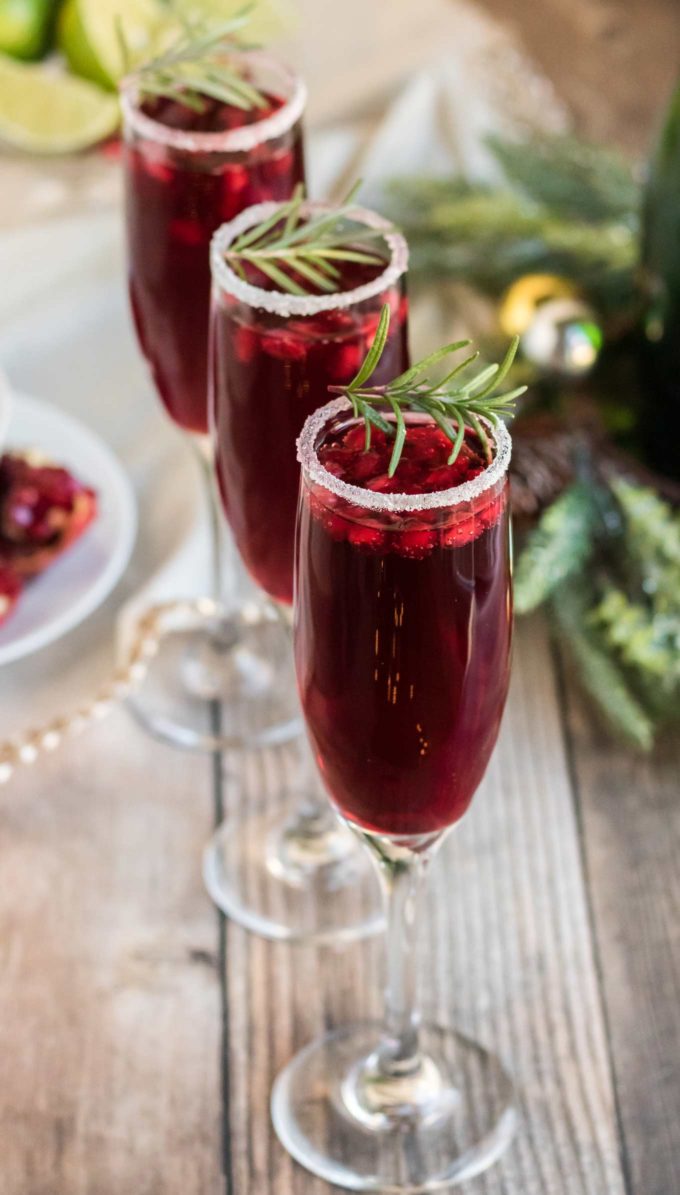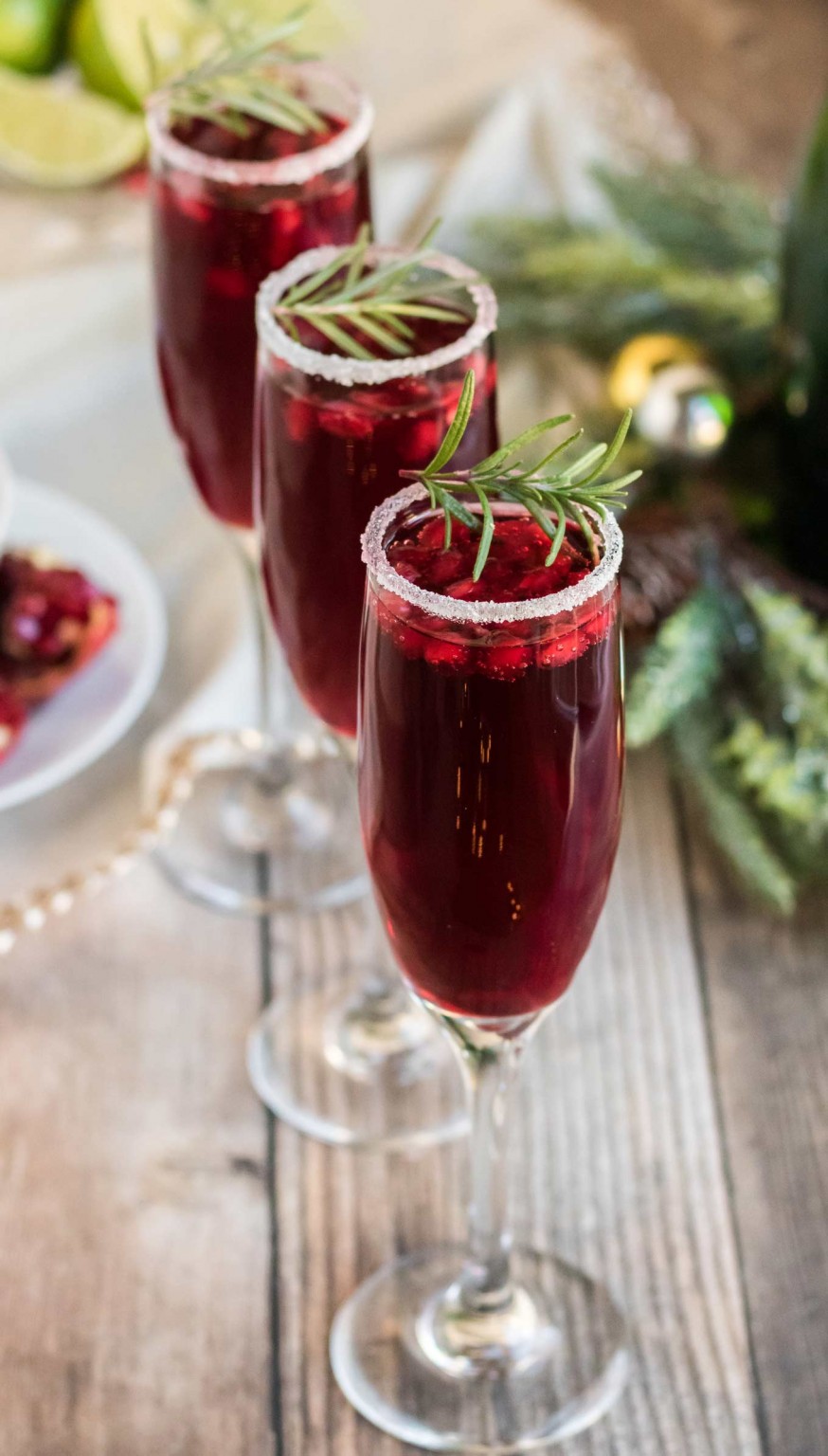 RECIPE TIPS FOR THE PERFECT MIMOSAS
As easy as a mimosa is to make, there are still a few tips and tricks for making the PERFECT cocktail.
Select your bubbly – traditionally, mimosas are made with champagne, but it can be expensive to get true champagne.  A dry Prosecco (Italian sparkling wine) or Cava (Spanish sparkling wine) are fantastic, and cheaper, alternatives.  If you wanted to use champagne though, a dry Brut is your best bet.  No need to bust out the big bucks though, since this is a blended drink, a moderate to low priced bottle will work just fine.
Use a real champagne flute – and no, it's not just so you can look all fancy lol.  The narrow mouth of the flute decreases the surface area, which allows for the bubbles and carbonation to keep on bubbling.  The bubbles are where it's at!
Find a good ratio – a good mimosa shouldn't be overly sweet, so I prefer the ratio of 2/3 sparkling wine to 1/3 fruit juice.  If you prefer a slightly sweeter version, try 3/4 sparkling wine to 1/4 fruit juice.
Sparkling wine first – this is really a preference, but in my experience, making these cocktails is far easier if you add the bubbly first.  If you do it the other way, it's really difficult to pour the sparkling wine on top of the juice without it bubbling up so much that it overflows, which turns into a sticky mess, not to mention wastes precious wine!
Don't stir – the bubbles in the sparkling wine mix the drink, and stirring can cause the drink to go flat faster.
No ice needed – just use chilled wine and juice and you'll have a perfectly chilled drink.  Ice would dilute the drink.  For extra chilled drinks… chill your glasses before serving.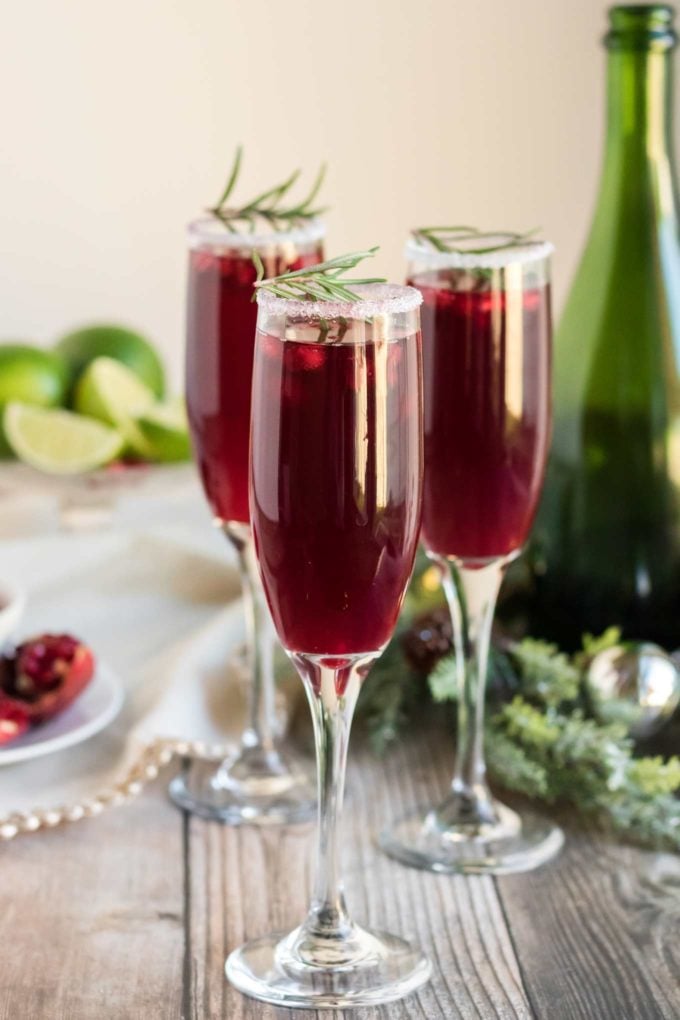 VARIATIONS OF POMEGRANATE MIMOSAS
Orange – As a nod to the classic version, try adding some orange juice!  Fill your glasses about 2/3 of the way with sparkling wine, then add about 1/2 ounce of cold orange juice, and fill the glass the rest of the way with the pomegranate juice.
Lime – If you love lime flavor, add a splash of lime juice (fresh) to the cocktail!
Orange Liqueur – Want some extra kick?  Add a splash of Grand Marnier or Cointreau.
Non-Alcoholic – swap the sparkling wine for a sparkling white grape juice or even sparkling water.
MAKING MIMOSAS AHEAD OF TIME
Since this cocktail uses a sparkling wine, you really don't want to make it ahead of time, since the bubbles will dissipate, leaving you with a very flat drink.  Like if you left your soda on the counter for a while, it would be flat and lose those wonderful bubbles.
The good news is, this cocktail takes only a few minutes to whip up, so you can easily make this drink on demand.
The rimming of the glasses in citrus juice and sugar CAN be done ahead, however, which helps things go quicker.
After rimming the glasses, I like to chill them in the refrigerator, so the drink will be very chilled when served in an already chilled glass!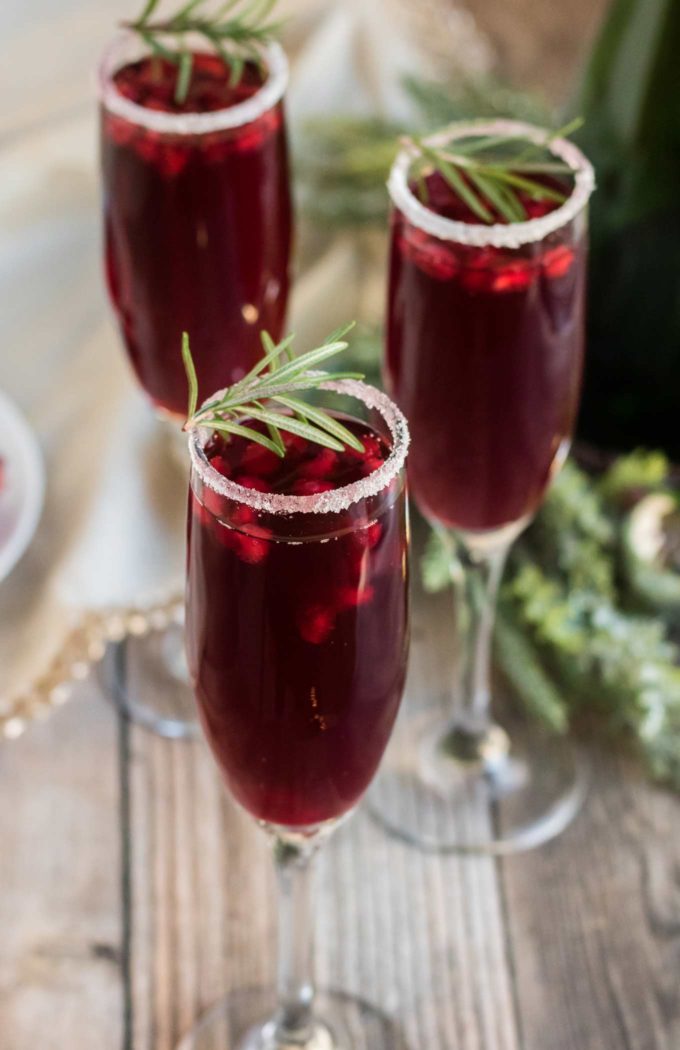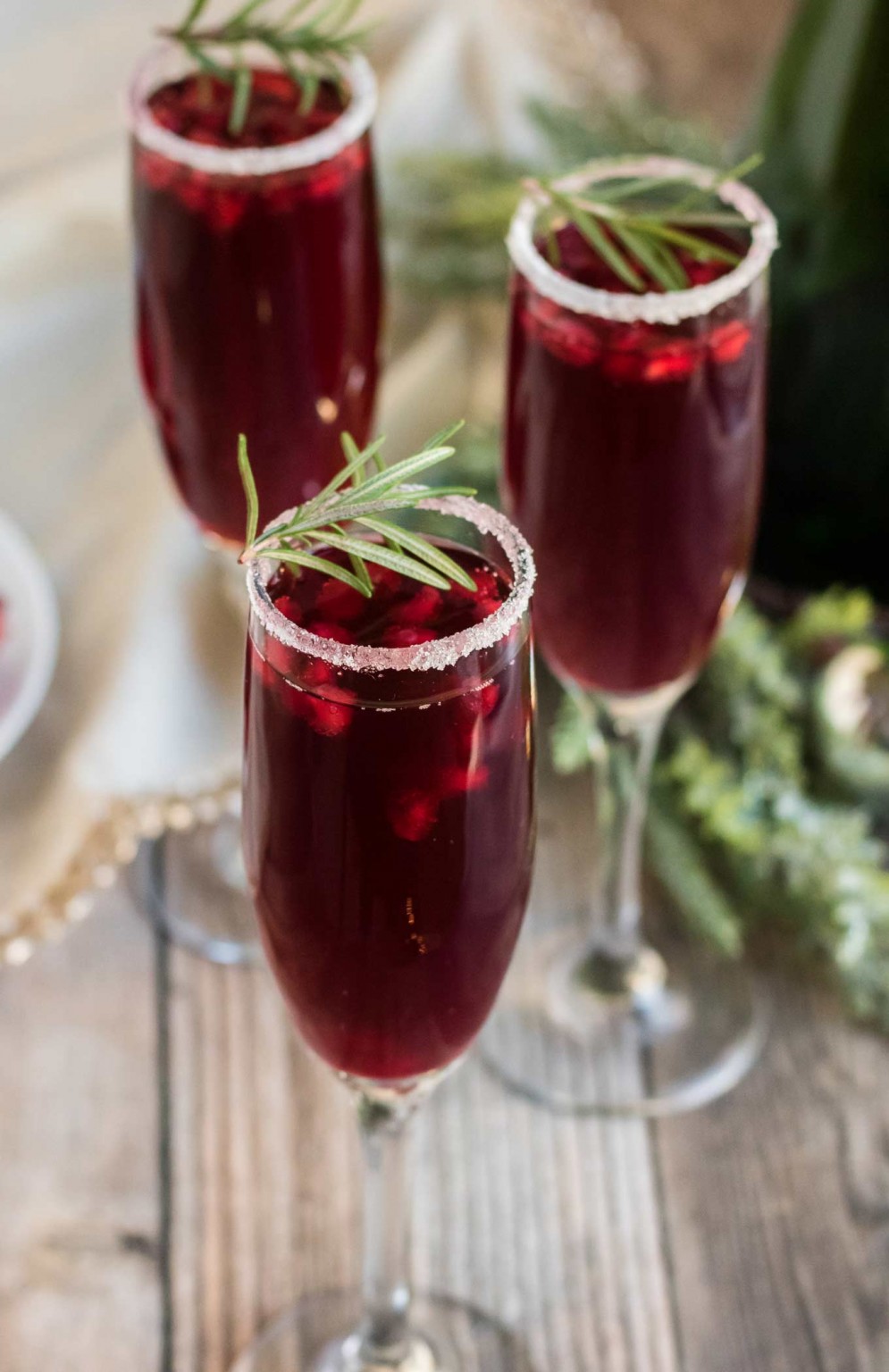 MAKING MIMOSAS FOR A CROWD
To make mimosas in a pitcher, add the sparkling wine, then the pomegranate juice.  Don't stir, as it can cause you to lose those precious bubbles!  Pop the pitcher in the refrigerator for up to 10 minutes or so, and then serve.
Anytime you make mimosas ahead of time, your drink will be less bubbly.  To counter-act that with the pitcher version, add some fresh (as in, just opened) sparkling wine to the bottom of your glass.  I like to add about an inch or two.  Then pour in the mimosa drink from the pitcher to fill the rest of the glass!
CHAMPAGNE FLUTE OPTIONS
Stemless/Plastic – these are great since they're shatterproof, bpa-free and recyclable, not to mention, very affordable!
Classic Flute – I've had these in my collection for a long time and they've held up really well!
Elegant – these flutes are a bit more modern, are handblown, and perfect for a special occasion!


BE SURE TO SCROLL DOWN TO CHECK OUT OTHER READERS' COMMENTS!
AND DON'T FORGET, IF YOU'VE MADE THIS RECIPE, LEAVE A COMMENT AND PLEASE GIVE IT A STAR RATING!
Did you make this? Be sure to leave a review below and tag me @the_chunky_chef on Facebook and Instagram!
A festive twist on a classic sparkling cocktail!
Ingredients
1 lime or orange, sliced
3 Tbsp granulated sugar
1 750ml bottle of champagne or sparkling dry wine
2 cups pomegranate juice
1/2 cup pomegranate seeds (optional)
sprigs of fresh rosemary (optional)
Instructions
Run the sliced lime around the rim of each champagne glass.

Add sugar to a shallow dish and dip the rim of the glass into the sugar.

Fill glasses 2/3 to 3/4 of the way full of champagne. Fill the glasses the rest of the way with pomegranate juice.

If using, garnish drinks with a spoonful of pomegranate seeds and a sprig of fresh rosemary.
Want to save this recipe for later? Click the heart in the bottom right corner to save to your own recipe box!
Chef Tips
For the best flavor, choose a dry Brut champagne or dry prosecco or cava.
Nutrition Disclaimer
The Chunky Chef is not a dietician or nutritionist, and any nutritional information shared is an estimate. If calorie count and other nutritional values are important to you, we recommend running the ingredients through whichever online nutritional calculator you prefer. Calories can vary quite a bit depending on which brands were used.