This Honey Garlic Chicken is one incredible weeknight dinner idea. Juicy chicken coated and cooked with a glorious sauce made with soy, hoisin, garlic, honey and more! Toss it all in the slow cooker and let it do the work for you! 
Skip the takeout and make your Asian-style dishes at home!  Not only are they super easy to make, they taste so much better. We love takeout/fake-outs like my Beef and Broccoli and Ginger Glazed Chicken Ramen. This is one of my Asian-Inspired recipes you'll definitely want in your collection!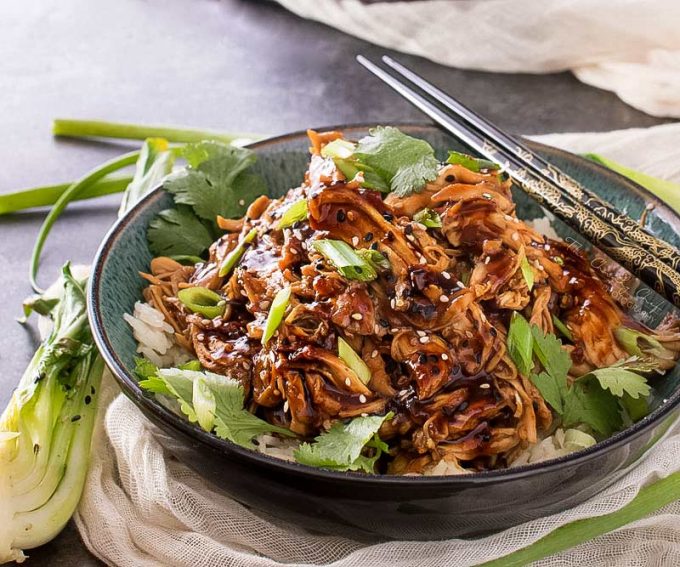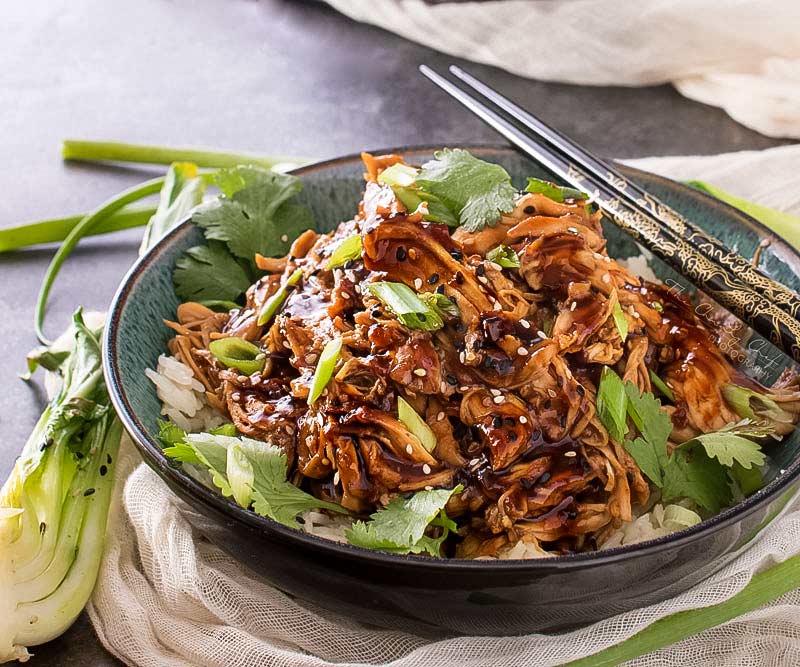 HONEY GARLIC CHICKEN RECIPE
Such a versatile dish… this honey garlic chicken is amazing served on a bed of jasmine or coconut rice, in a lettuce cup, or even as leftovers in a chicken fried rice!  You can also customize the flavors here to your tastes!
It's getting to be slow cooker season… well, Fall… but to me, it's slow cooker season.
Time to let it do nearly all the work for you while you just sit back and smell the amazing flavors as your dinner is cooking.
This Honey Garlic Chicken… man, I can't even begin to describe how good it is!  So tender and juicy, perfectly shredded, and coated in the most luxuriously delicious sauce made of honey, soy, garlic, ginger, hoisin, and more.
It's naturally a great weeknight meal, since all you have to do when it's finished cooking is shred the chicken and thicken the sauce!
This is actually a recipe rewind, as I made a variation of this wayyyyyy back when I started the blog in 2014, along with some seriously AMAZING spicy string beans.
You can check out the post for those green beans HERE… trust me, you don't want to miss them.  Not only are they perfect as a side dish with this honey garlic chicken, but they go with just about any Asian flavored meal!
Over the years I've improved (in my opinion) upon the original recipe, so this newer version has a little more sauce, and incorporates a bit of orange marmalade. You don't taste pure orange, but the orange plays nicely with the spiciness of the red pepper and sriracha, and the silkiness of the honey garlic flavors.
Don't worry if you loved the original recipe, in the recipe notes section I'll share what was changed so you can still make it your favorite way 🙂
I like to serve this honey garlic chicken with some sticky coconut rice, but if you're not feeling like some rice, feel free to pile the chicken into a lettuce cup, or on top of some freshly steamed broccoli.  The leftovers are phenomenal to make some chicken fried rice with as well!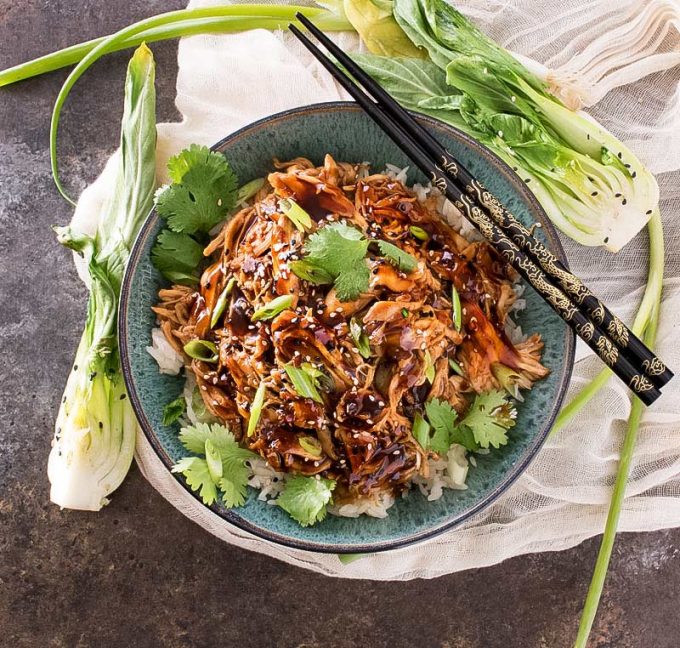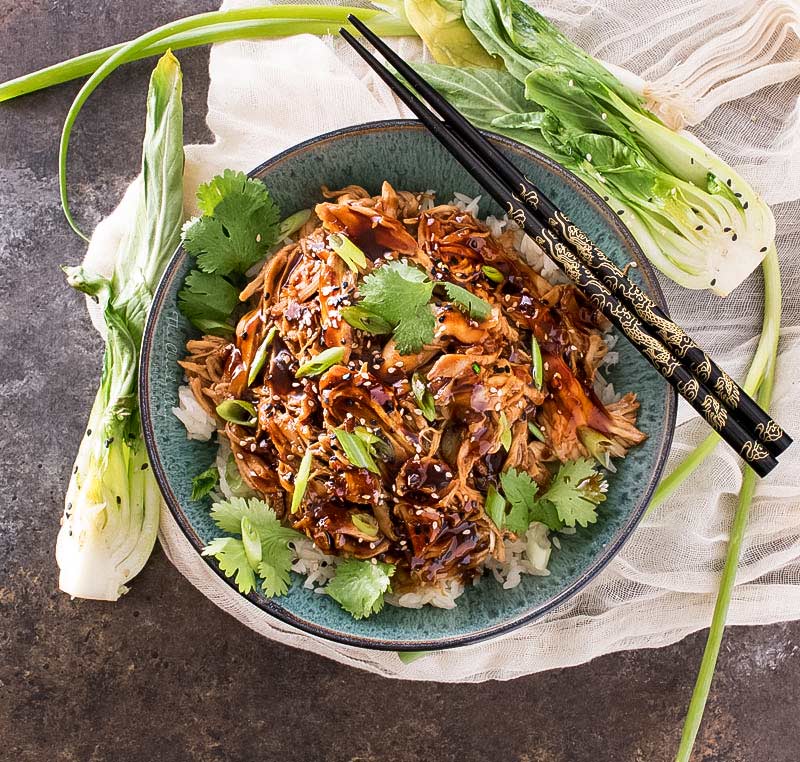 HOW TO MAKE HONEY GARLIC CHICKEN
Add chicken and sauce to crockpot. No need to sear the chicken first or anything, just whisk the sauce together, pour over the chicken and you're good to go!
Slow cook. Cover and cook on LOW for 4-6 hours.
Remove and shred chicken. Transfer chicken to bowl or cutting board and shred.
Make slurry. Whisk cornstarch and water together until smooth.
Reduce the sauce. Transfer the liquids from the crockpot to a saucepan and whisk in the cornstarch mixture.  Boil and simmer until thickened to your liking.
Toss sauce with chicken and serve.
ADDITIONAL COOKING TIPS
This recipe is a cinch to make, but there are a few helpful tips.
WAYS TO SERVE THIS HONEY GARLIC CHICKEN 
RICE – our favorite way to serve this chicken recipe is on top of a bed of jasmine rice, or coconut rice.
VEGGIES – some steamed green beans, carrots, riced cauliflower, etc are another great thing to have alongside this meal.
LETTUCE CUPS – another favorite way is to pick up some butter lettuce, or living lettuce, and pile some of this chicken
inside the cups.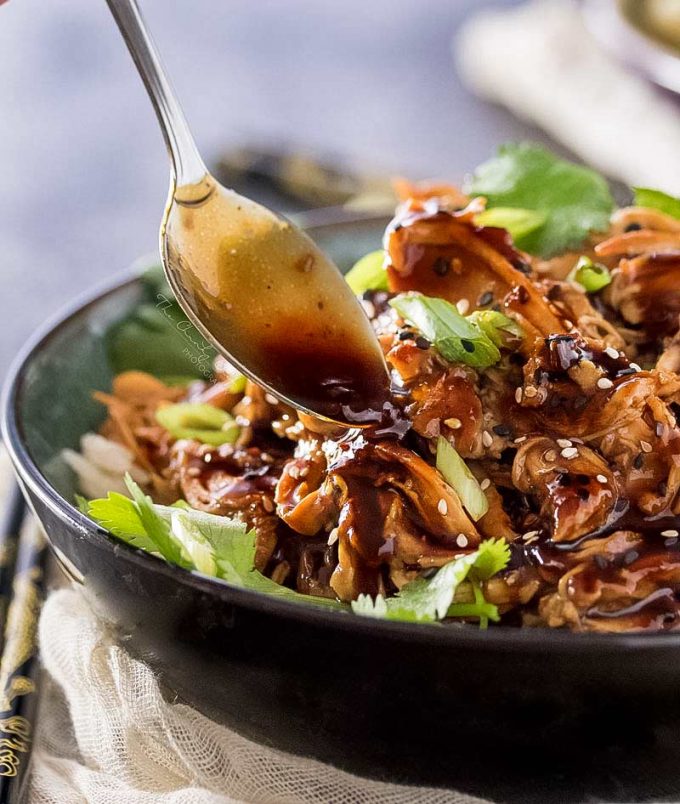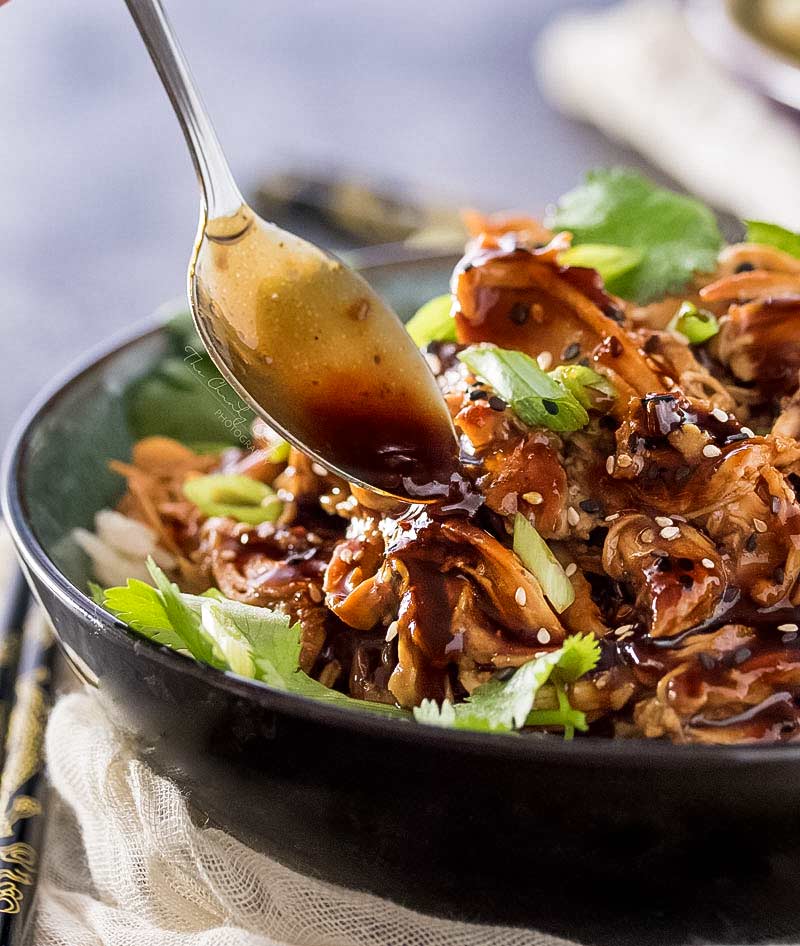 VARIATIONS OF THIS RECIPE
CHICKEN – since slow cookers can potentially dry out lean chicken breasts, we prefer to use chicken thighs for this recipe. If you don't like dark meat, or only have boneless skinless chicken breasts you can certainly use them, you just may want to use a meat thermometer to check them for doneness (165°F on the instant read thermometer) around the 3 hour mark.
SPICY – as written, this recipe is definitely more sweet/savory than spicy. But if you'd like to increase the heat level, you can add more sriracha, red pepper flakes, and/or add a bit of garlic chili paste (also known as sambal oelek).
VEGETABLES – the only vegetable I've tested cooking alongside the chicken, is baby carrots. Just add them when you start the recipe and they'll be nice and tender.
ORANGE MARMALADE – the orange marmalade adds a great back note of citrusy sweetness, but you can omit it if you don't have it, or would prefer not to use it.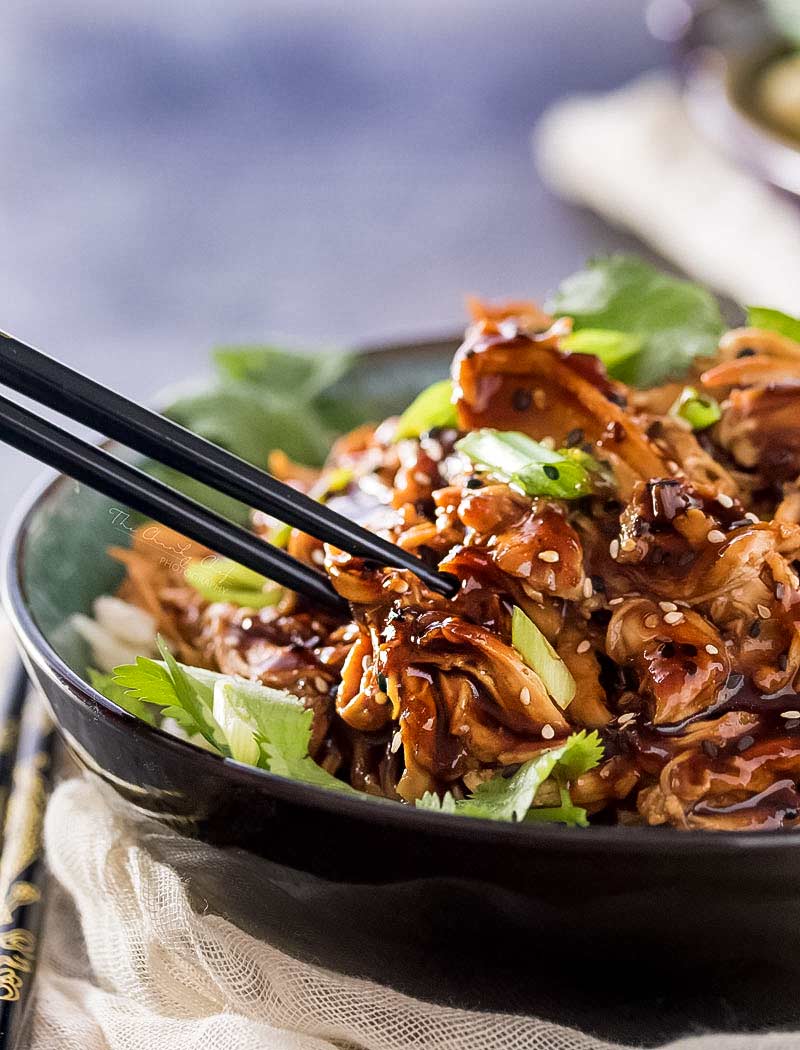 MAKING HONEY GARLIC CHICKEN AHEAD OF TIME
Leftovers of this chicken are amazing, so you could make it completely ahead of time if you wanted to.  To avoid the chicken soaking up too much sauce, leaving you with nothing left to drizzle, I'd store the shredded chicken and sauce separately.
STORAGE
Leftovers should be refrigerated in an airtight container and consumed within 3-4 days.
FREEZING
Not only can the cooked chicken and sauce be frozen, you can actually freeze the PREP of this meal!
Add the sauce ingredients in a freezer-safe container (we use a gallon sized ziploc bag), and whisk together.  Add chicken and turn to coat.  Seal the container and freeze for up to 3 months.
To cook, thaw overnight in the refrigerator, then dump everything in the slow cooker and cook as directed.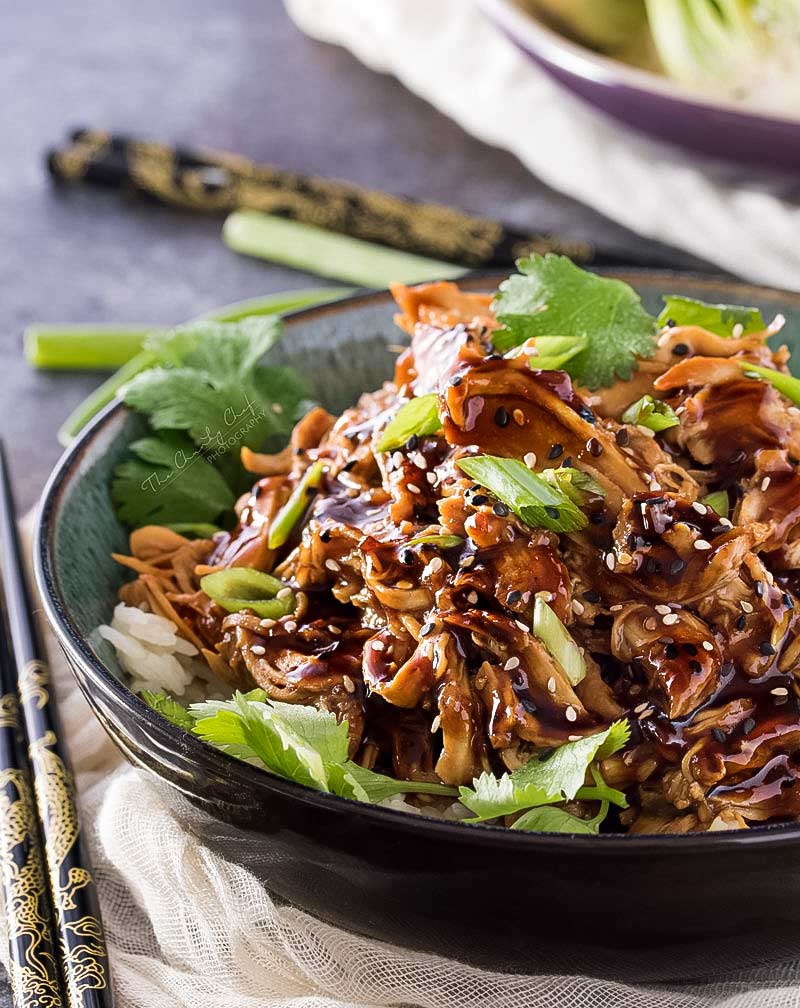 SPECIAL EQUIPMENT FOR THIS RECIPE
The following links are affiliate links.
The Chunky Chef, LLC is a participant in the Amazon Services LLC Associates Program, an affiliate advertising program designed to provide a means for sites to earn advertising fees by advertising and linking to amazon.com.  For more information regarding this program and what it means for you, please see my Privacy page.
Slow Cooker – I've had this slow cooker for years and it still works perfectly.
Meat Claws – the best tool for shredding meat quickly!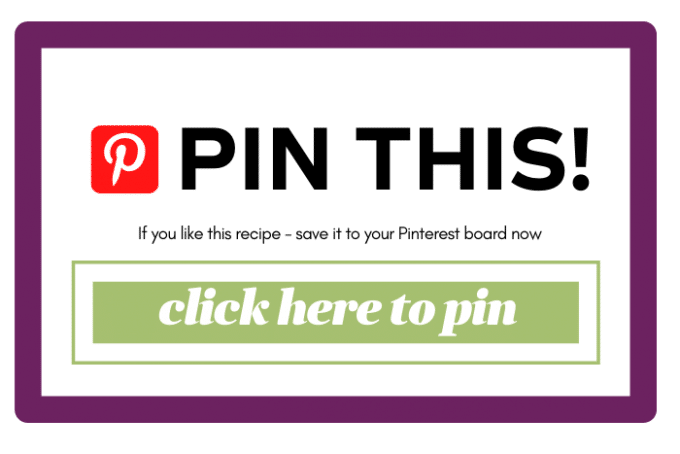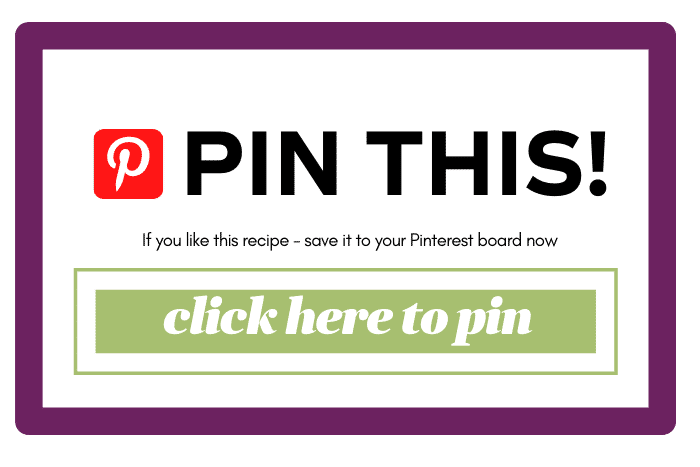 BE SURE TO SCROLL DOWN TO CHECK OUT OTHER READERS' COMMENTS FOR TIPS AND REVIEWS.
AND DON'T FORGET, IF YOU'VE MADE THIS RECIPE, LEAVE A COMMENT AND PLEASE GIVE IT A STAR RATING LETTING ME KNOW HOW YOU ENJOYED IT!
This post was originally sponsored in part by SeparAide.
Originally posted in 2014, this post has been updated in 2020 with additional information and slight recipe changes.
Did you make this? Be sure to leave a review below and tag me @the_chunky_chef on Facebook and Instagram!
Juicy chicken coated and cooked with a glorious sauce made with soy, hoisin, garlic, honey and more!
Ingredients
6-8 boneless skinless chicken thighs
2/3 cup honey
2/3 cup soy sauce (reduced sodium)
1/4 cup orange marmalade (optional)
1/4 cup hoisin sauce
1 tsp sriracha sauce
2 tsp toasted sesame oil
4 cloves garlic minced
1/2 Tbsp fresh ginger grated
1/2 medium yellow onion diced
1/2 tsp red pepper flakes
1 Tbsp cornstarch + 2 Tbsp water
Sliced scallions for garnish
Sesame seeds for garnish
Fresh cilantro for garnish
Instructions
Place the chicken thighs in the bottom of your slow cooker.

In a separate bowl, whisk together the honey, soy sauce, orange marmalade, hoisin sauce, garlic, ginger, sriracha, onion, sesame oil and red pepper flakes.

Pour sauce over chicken breasts, and turn them so they're coated in the sauce.

Cover and cook on LOW for 4-6 hours until the chicken is cooked through.

Remove chicken, keeping liquids in the slow cooker, and place chicken in a bowl. Shred chicken using two forks, hand mixer, or whichever method you prefer.

In a small bowl, whisk together the cornstarch with water. This is called a slurry, and it will thicken the sauce.

Transfer the liquids from the slow cooker to a small saucepan over medium high heat and whisk in the cornstarch mixture. Bring sauce to a boil, then simmer until it reduces and thickens slightly. This took me about 3-4 minutes.

Alternatively, you can add the cornstarch mixture directly to the liquids IN the slow cooker. Whisk and turn slow cooker on HIGH. Whisk occasionally until sauce thickens.

Pour half the sauce over shredded chicken and toss to combine. Top chicken with scallions and sesame seeds.

Reserve the second half of the sauce for drizzling over the chicken as desired.
Want to save this recipe for later? Click the heart in the bottom right corner to save to your own recipe box!
Chef Tips
To revert to original recipe:
reduce honey and soy sauce to 1/2 cup
omit ginger
omit sesame oil and replace with 2 Tbsp olive oil
  Use 2 bone in skin on chicken breasts
Nutrition Disclaimer
The Chunky Chef is not a dietician or nutritionist, and any nutritional information shared is an estimate. If calorie count and other nutritional values are important to you, we recommend running the ingredients through whichever online nutritional calculator you prefer. Calories can vary quite a bit depending on which brands were used.