This moist Cinnamon Spiced Apple Bread is the perfect quick bread (no yeast!) for Fall. Bursting with pieces of apples and lots of sweet spice in every bite!
This Spiced Apple Bread is one of those recipes we love to make and have for breakfast.  We also love easy quick bread recipes like my Classic Banana Bread and Pumpkin Bread.  This is one of my Bread Recipes I know you'll want to keep on hand!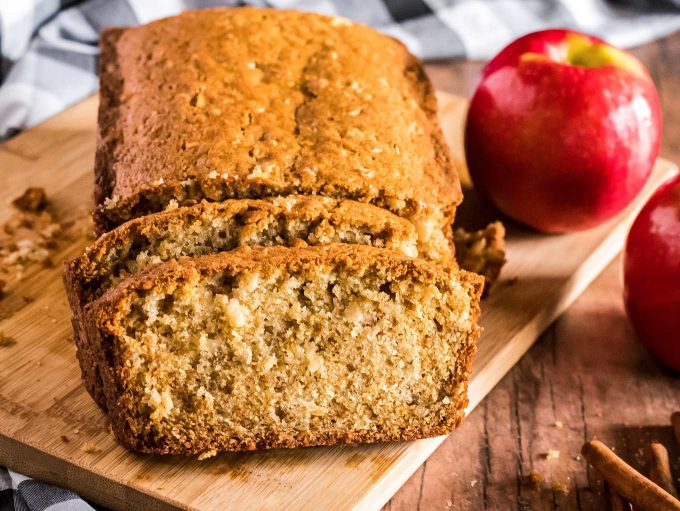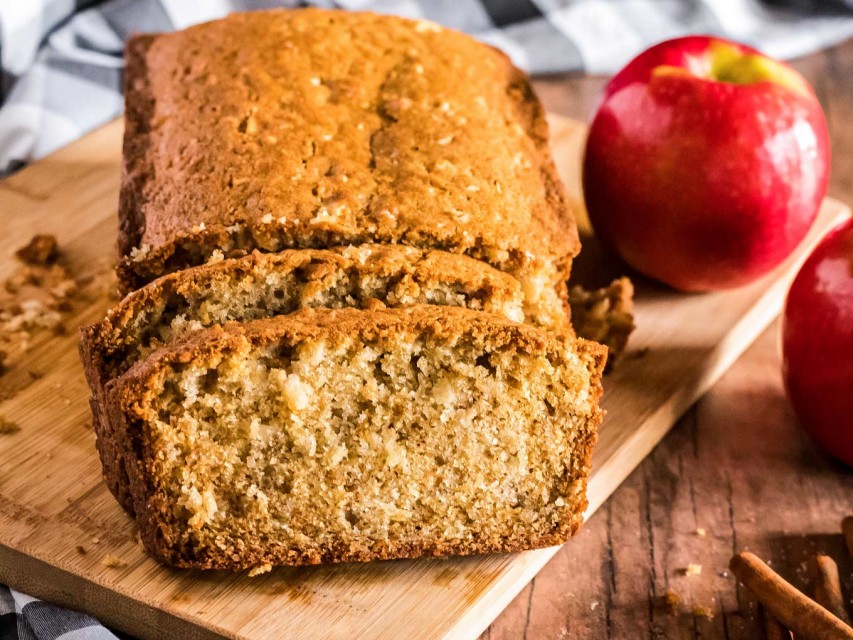 APPLE BREAD RECIPE
It's getting to be that time of year… Fall baking season!!  Bring on the cinnamon, the pumpkin, the apples, the caramel… ALL of it!  Can you tell I get just a little excited about this season?
But seriously guys, this apple cinnamon bread is so heavenly.  So moist and dense, with a sweet apple cinnamon flavor.  Sort of like apple pie… in bread form!
I love sweet quick breads, but I'm never entirely sure when they're supposed to be eaten.  Are they only a dessert thing?  Meant to be enjoyed with a cup of coffee? Breakfast?  But for me personally, it's all of the above lol.
There are no food rules that apply to quick breads in The Chunky Chef household 🙂
One of the reasons I love this bread so much is that it's a great way to use up leftover apples. I don't know about you guys, but my kids will get on a serious apple kick, so I buy a bunch of them.
Then immediately, they're "so over" apples and I'm stuck with more apples hanging around than I can shake a stick at. Usually I make apple crisp… but after a while you want something different.  Like this yummy bread!
HOW TO MAKE APPLE BREAD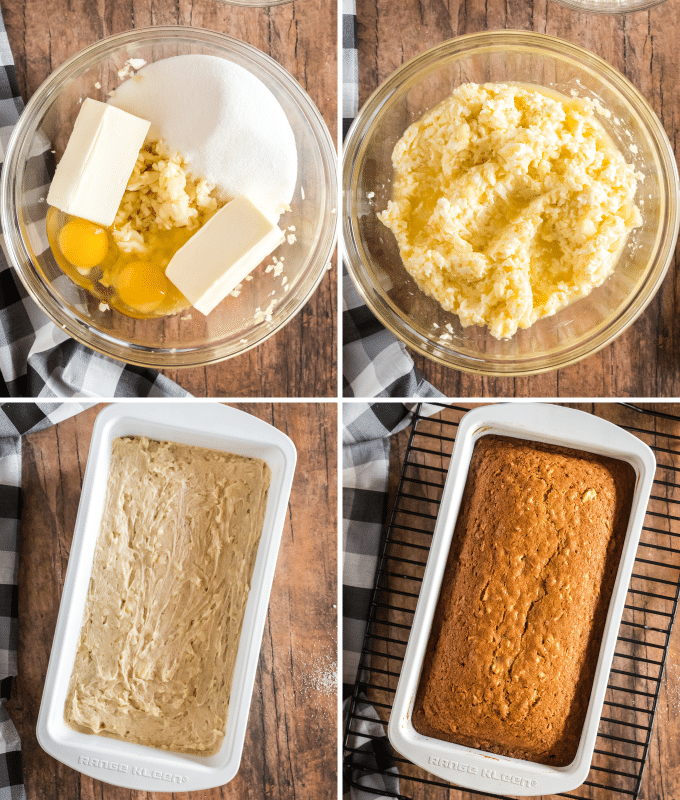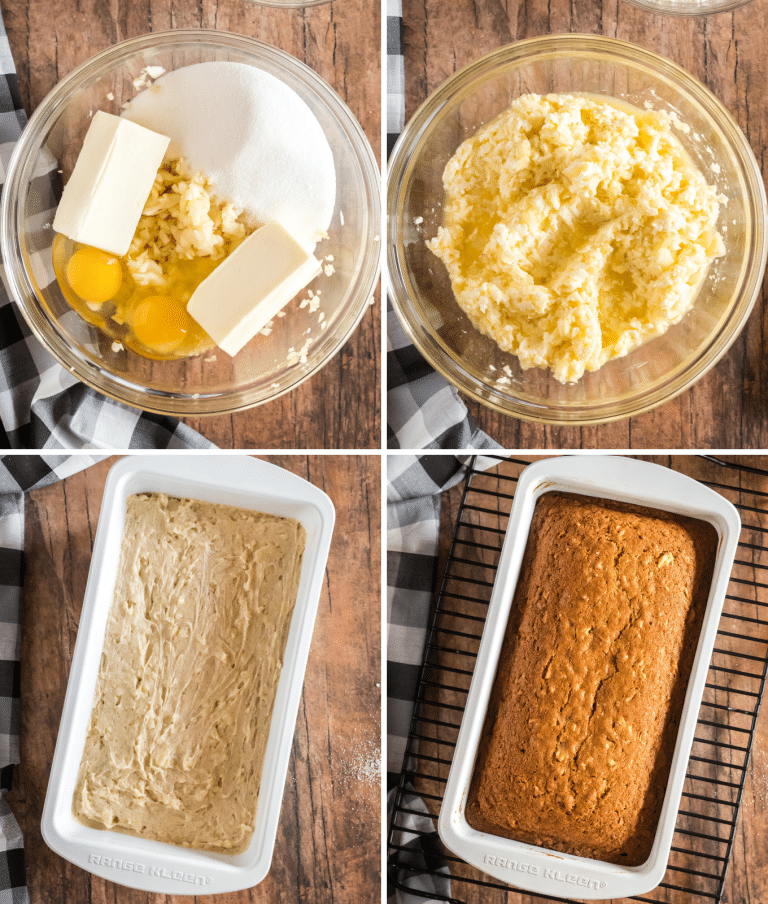 Preheat oven and grease the pan. Lightly greasing the pan ensures the bread will pop right out when it's time to cool.
Mix wet ingredients. I like to use a hand mixer here, since we're working with softened butter, which can be difficult to properly mix with a whisk.
Mix dry ingredients. In a separate bowl, stir together the flour, spices and leavening agents (baking soda and powder).
Combine the wet and dry. Adding the dry ingredients to the bowl with the wet ingredients and gently stirring them together ensures a well mixed, but not OVER mixed batter.
Bake. Bake in preheated oven for about 45 minutes, or until a toothpick inserted comes out clean. Sometimes it'll have a few moist crumbs, and that's okay too.
Cool. Let the bread cool in the pan for about 10 minutes, then remove the bread from the pan and let it continue cooling on a wire rack.
Slice. Let the bread completely cool before slicing.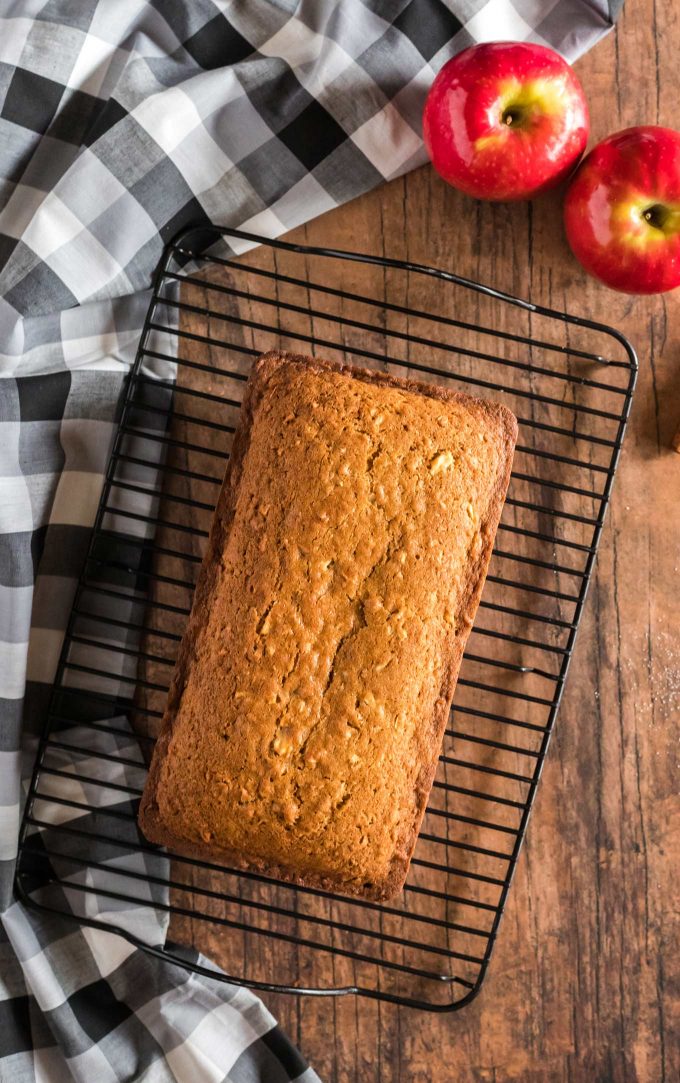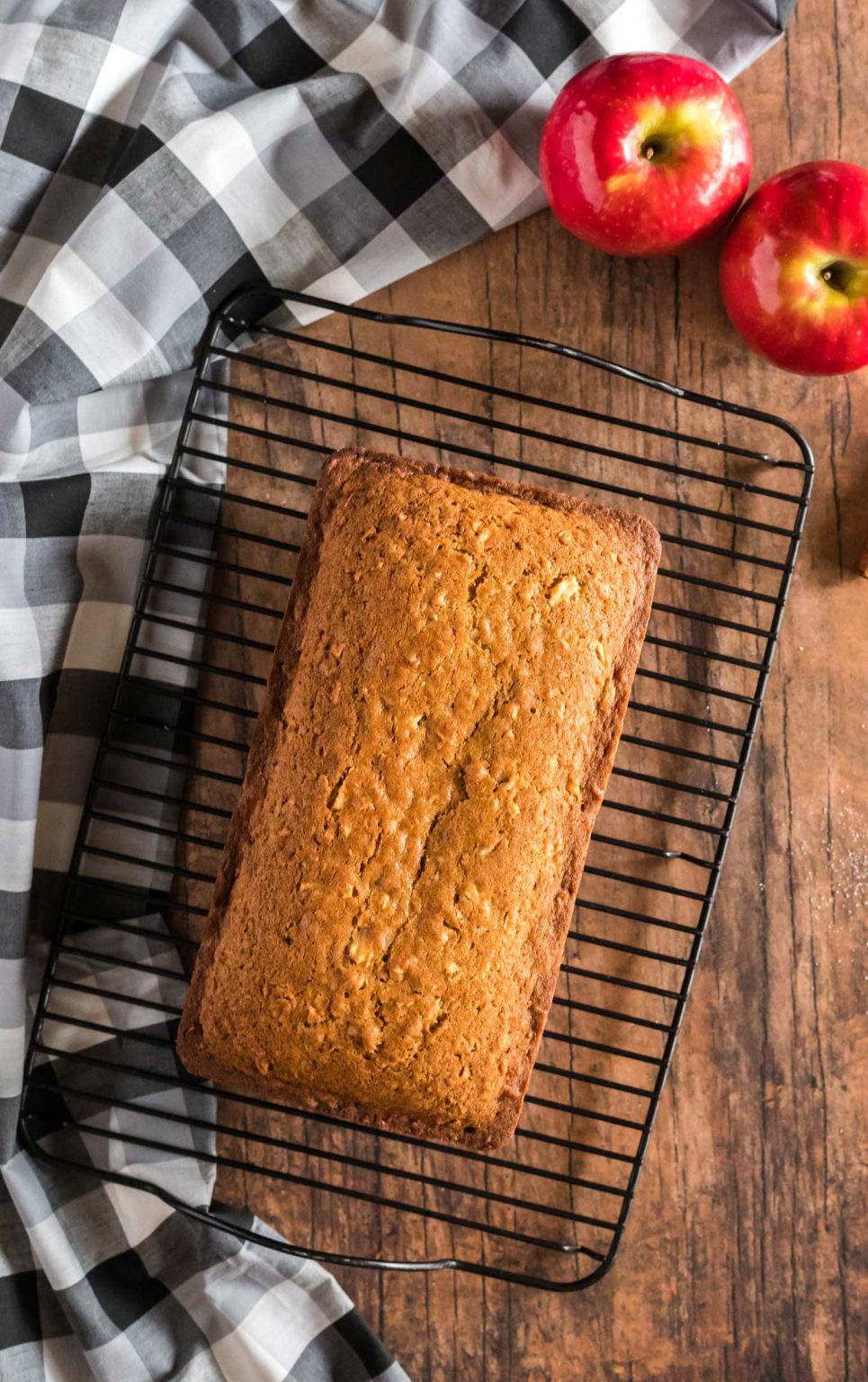 ADDITIONAL COOKING TIPS
Room temperature ingredients – for the best results when baking, your cold ingredients should be at room temperature so they can incorporate fully into the batter.
Easy on the stirring – when mixing the dry ingredients into the wet, you want to stir until JUST combined (when you no longer see streaks of flour).  If you over-mix, your bread could end up tough, bake unevenly, or have lots of large holes in it.
Use fresh ingredients – some of these are obvious, like using non-expired eggs, but did you know using older baking soda/baking powder can affect the way your baked goods bake?  Over time, leavening agents (which is what baking soda and powder are) lose their efficacy, and won't give your quick bread a good rise.

If you're unsure if your baking soda or powder are still good, drop a pinch in some hot water.  If it fizzes, it's still good!  If not, then you're in need of some new ingredients.
WHAT IS A QUICK BREAD
The name is a bit of a misnomer, as a quick bread can take upwards of over an hour to fully bake.  But the name is a relative term, as it's comparing the quick bread to a conventional bread (using yeast), which requires hours and hours of rising/proofing time.
Usually quick breads are also mixed together rather quickly, and without using a bunch of fancy appliances.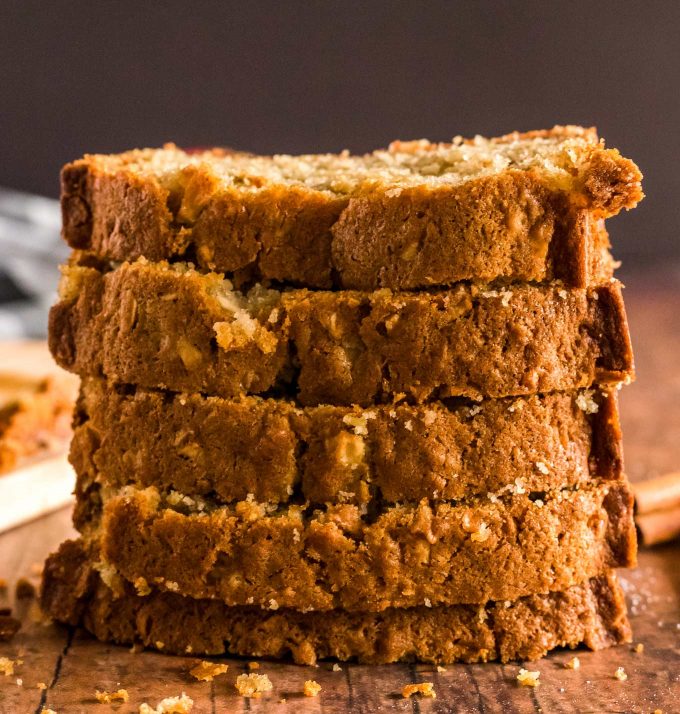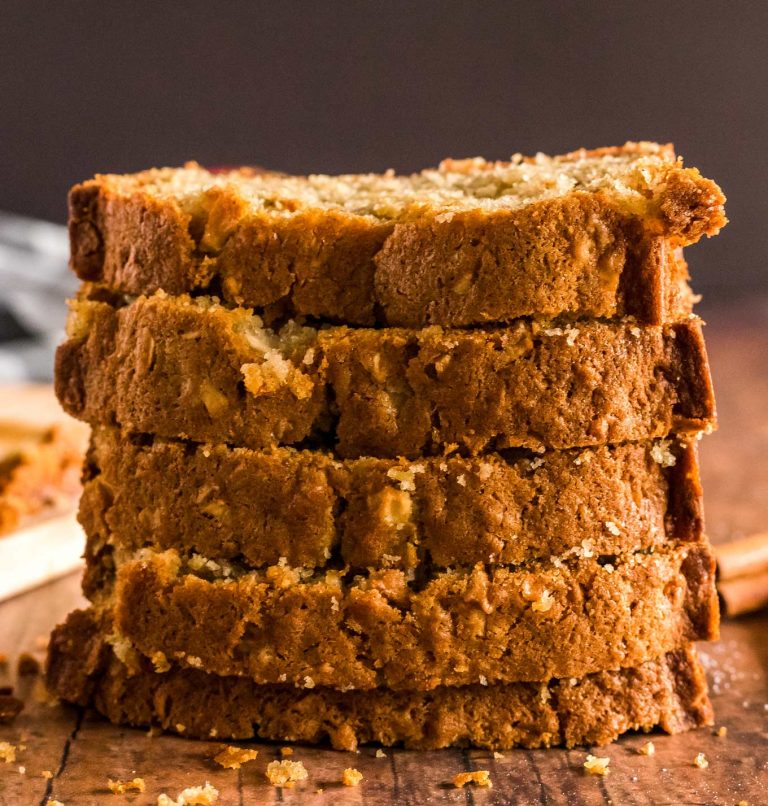 VARIATIONS OF THIS RECIPE
NUTS – if you want a little crunch in your apple bread, try adding a handful of chopped walnuts or pecans to the batter.
GLAZE – to be extra decadent, whisk 1 cup powdered sugar, 2-3 Tbsp of cream or milk, 1/2 tsp vanilla extract, and 1/2 tsp ground cinnamon together until smooth. Slather that over the top of this bread once it's cooled!
TYPE OF APPLES – I like to use Braeburn apples for this, as I love the sweet flavor yet they don't get super mushy when baked.  Granny Smith, Gala, or even Honeycrisp would be good substitutes. If you don't mind the apples getting very soft and sort of melting into the bread, then Red or Golden Delicious apples would work well.
SHREDDING – if you prefer, you can shred your apples after peeling them.
UNPEELED – I definitely prefer the taste and texture you get when you used peeled apples, but if you don't want to peel them, you can leave the skin on. Just be aware that the skin can separate from the apple itself during baking, leaving little bits of apple skin in your bread.
CARAMEL – apples and caramel naturally go SO well together, so sometimes we like to drizzle the loaf of cooled apple bread with some caramel sauce.

MAKING APPLE BREAD AHEAD OF TIME
While you can make this bread a day in advance, but nothing beats a slice of spiced apple bread that's been freshly baked.
However, my family thinks this apple bread is even better and more moist on the second day, so it's truly up to you!
One thing I don't recommend, is making the batter ahead of time. This is due to the chemistry of baking quick breads, the baking soda will start reacting with the other ingredients as soon as it's mixed, which can result in a less than quality loaf.
STORAGE
Leftover bread should be kept in a bag at room temperature, and consumed within 3 days for best texture.
FREEZING
Baked apple bread can be frozen for longer storage.  Wrap loaf tightly in plastic wrap, then add to a freezer bag and freeze for up to 3 months.
Individual slices of apple bread can also be frozen, just make sure to wrap each slice in plastic wrap before adding to the freezer bag.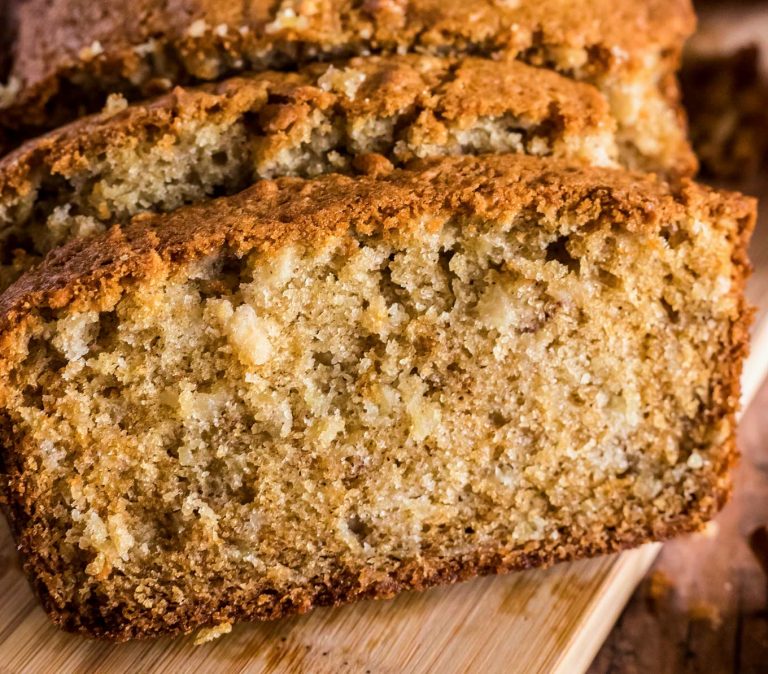 SPECIAL EQUIPMENT FOR THIS RECIPE
The following links are affiliate links.
The Chunky Chef, LLC is a participant in the Amazon Services LLC Associates Program, an affiliate advertising program designed to provide a means for sites to earn advertising fees by advertising and linking to amazon.com.  For more information regarding this program and what it means for you, please see my Privacy page.
BE SURE TO SCROLL DOWN TO CHECK OUT OTHER READERS' COMMENTS FOR TIPS AND REVIEWS.
AND DON'T FORGET, IF YOU'VE MADE THIS RECIPE, LEAVE A COMMENT AND PLEASE GIVE IT A STAR RATING LETTING ME KNOW HOW YOU ENJOYED IT!
Did you make this? Be sure to leave a review below and tag me @the_chunky_chef on Facebook and Instagram!
Servings:
1
standard loaf (9x5)
(hover over # to adjust)
This moist Cinnamon Spiced Apple Bread is the perfect quick bread (no yeast!) for Fall
Ingredients
"WET" INGREDIENTS
1/2 cup unsalted butter softened to room temperature
1 cup granulated sugar
2 large eggs room temperature preferred
1/4 cup vegetable oil
2 medium apples peeled and diced (approximately 2 cups)
"DRY" INGREDIENTS
2 cups all purpose flour
1 1/2 tsp ground cinnamon
1/4 tsp ground allspice
1/4 tsp ground nutmeg
1 tsp baking soda
1 tsp baking powder
1/2 tsp kosher salt
Instructions
RECIPE PREP
Preheat oven to 350°F and lightly grease a 9x5 inch loaf pan. Set pan aside.
MIX "WET" INGREDIENTS
In a large mixing bowl, add butter, sugar, eggs and oil and beat, using a hand mixer, until smooth. Lightly beat in diced apples.
MIX "DRY" INGREDIENTS
In a separate mixing bowl, combine dry ingredients (flour, cinnamon, allspice, nutmeg, baking soda, baking powder and salt) and stir.
COMBINE WET AND DRY INGREDIENTS
Add the flour mixture to the bowl with the "wet" ingredients and use a rubber spatula to stir together. Stir until just combined and no flour streaks remain.
BAKE AND COOL
Transfer batter to prepared loaf pan and bake for 45-50 minutes, or until a toothpick inserted into the center comes out clean or with a few moist crumbs.

Let bread cool in the pan for about 10 minutes, then turn bread out onto a wire cooling rack to finish cooling.

Slice once cool, and serve.
Want to save this recipe for later? Click the heart in the bottom right corner to save to your own recipe box!
Chef Tips
Calorie count is for the entire loaf, so divide the calories by however many slices you have to figure out the approximate calorie count of a single slice.  
Nutrition Disclaimer
The Chunky Chef is not a dietician or nutritionist, and any nutritional information shared is an estimate. If calorie count and other nutritional values are important to you, we recommend running the ingredients through whichever online nutritional calculator you prefer. Calories can vary quite a bit depending on which brands were used.