---
This light and deliciously creamy homemade eggnog can be made in just 5 minutes in your blender!  Nothing hits the holiday spot more than a cup of eggnog!
---
Forget the preservative laden cartons of eggnog from the store… homemade is the best!  All you need is 5 minutes of your time and a blender.  My version mirrors the classic, with raw eggs, cream, milk, and booze, but I've also shared a way to make it using cooked egg yolks if you'd feel more comfortable that way.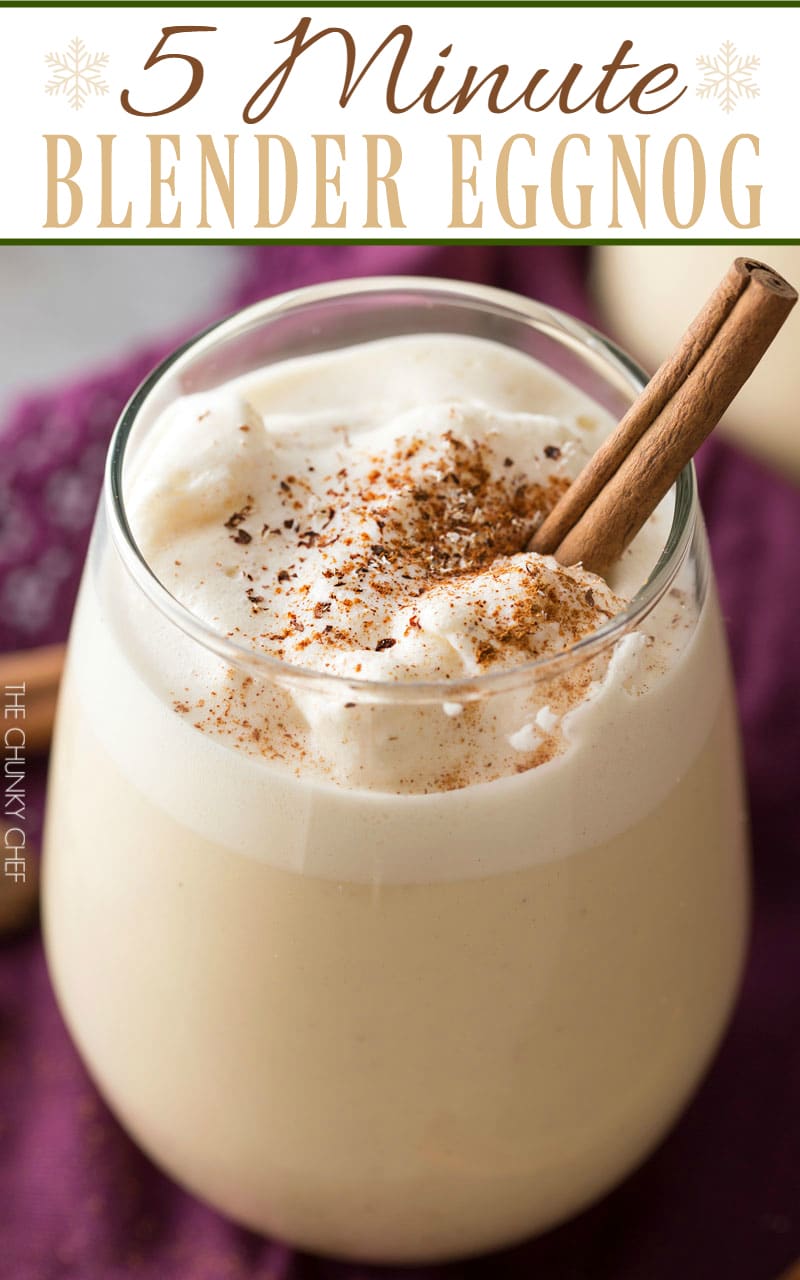 You've had eggnog before right?  It starts popping up in the refrigerated cases at grocery stores during the Fall around here, in those infamous cartons.  Store-bought eggnog is SUPER thick, like the texture of thick, melted ice cream, and mildly spiced.  The other thing in that store-bought carton is a lot of additives and preservatives, used to make it that thick and ensure that it has a long shelf life.  Which is all well and good, but we all know homemade has got to be better right?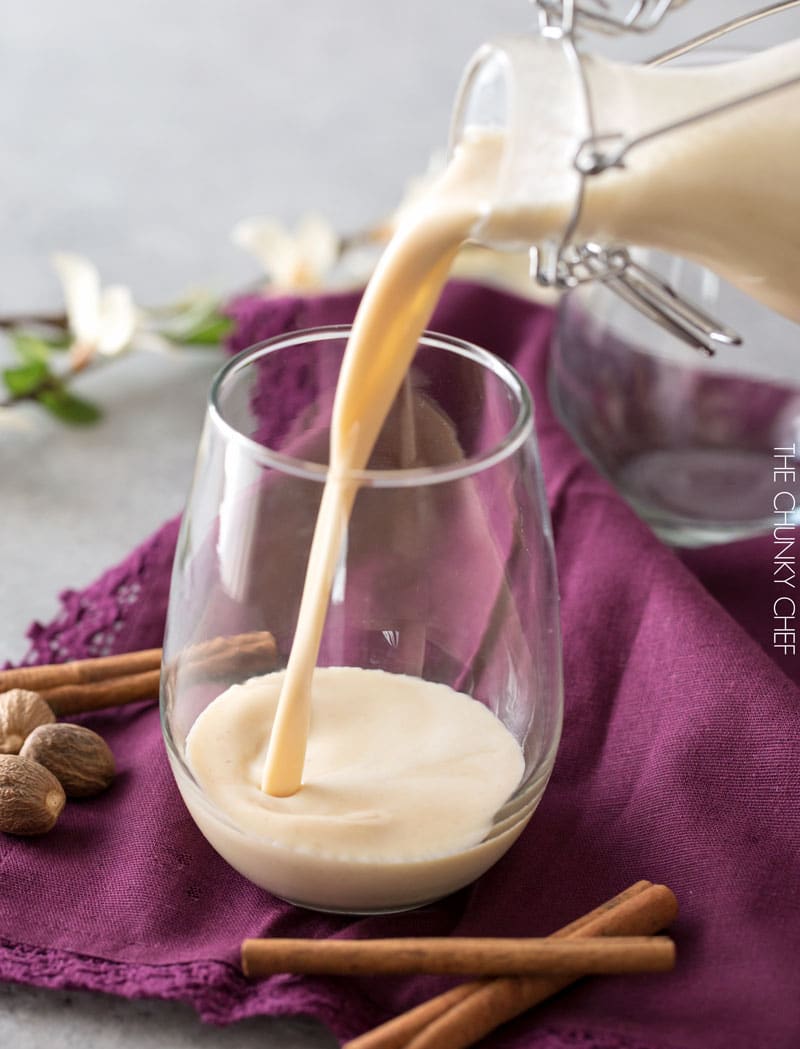 Except I always thought that something as complex in flavor as eggnog had to be complicated to make, so I never bothered.  Well folks, I finally tried it, and I'm here to tell you… it couldn't be EASIER!
If you search "eggnog" in Google, you'll see approximately 2.67 bajillion recipes (okay so that might be an exaggeration… but seriously, there are a lot!), and there are several ways to make it.  I've gone with the classic way, which does use raw eggs.
Raw. Eggs.  Did I lose you there?  For most people, the thought of drinking raw eggs is… well, not pleasant, right?  You probably have a little voice in your head going, "um, crazy lady, you can't eat raw eggs… you'll get salmonella!!".  Well, yes, and no.  Classic eggnog is boozy, with a quite a bit of alcohol added, which essentially acts as a preservative and a sterilizer.  There aren't many bacteria that can survive in alcohol, including the dreaded salmonella.  This was actually proven at a lab in Rockefeller University.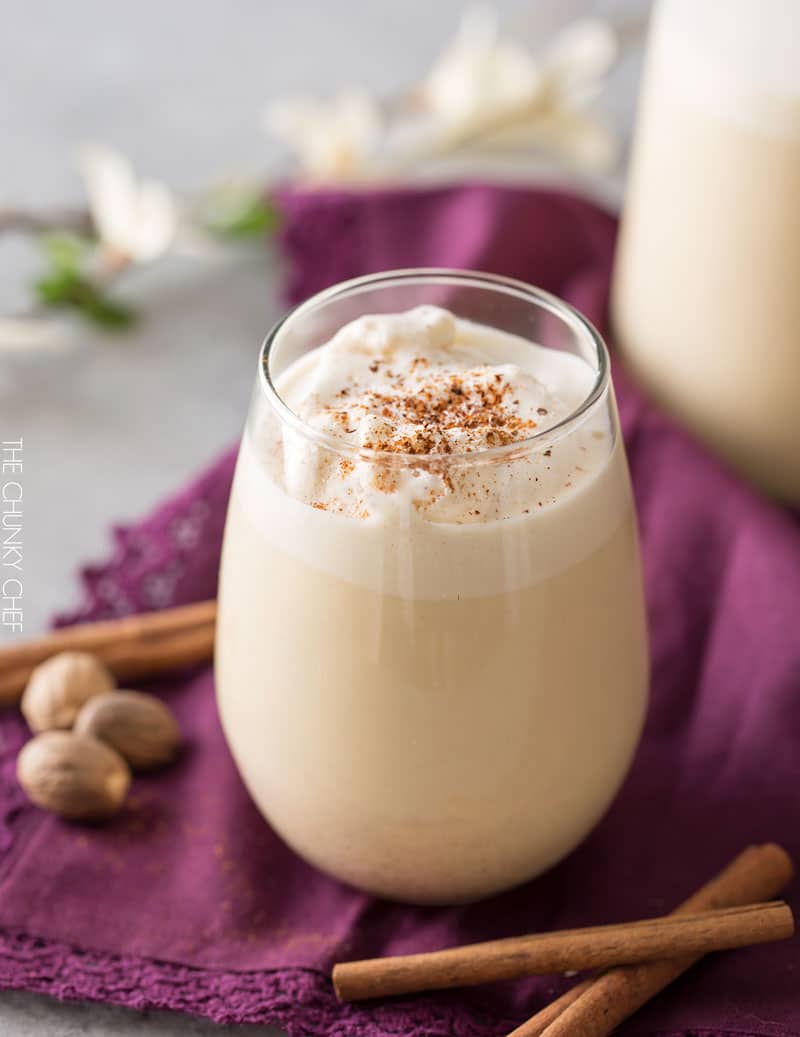 There are a few ways you can give yourself some extra security with using raw eggs:
Use fresh, organic eggs… the freshest you can find.
Use pasteurized raw eggs.
Make sure to add booze to sterilize the eggnog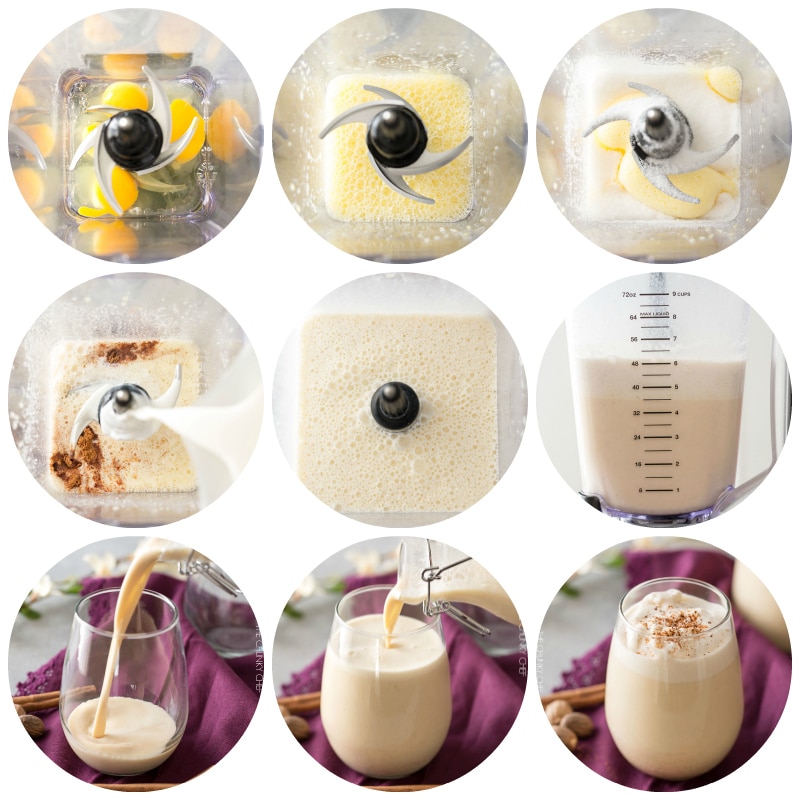 Making this version of homemade eggnog is the simplest one around… no saucepans, no tempering egg yolks, no whipping egg whites, and just one thing to wash after you're done!  Just add your raw eggs to the blender and blend on medium speed (or low, if your blender only has a high and low speed) for about 30 seconds or so.  Add the sugar and blend again for 15-20seconds.  Add in spices, alcohol, milk and cream and blend until combined, about another 10 seconds.  That's it!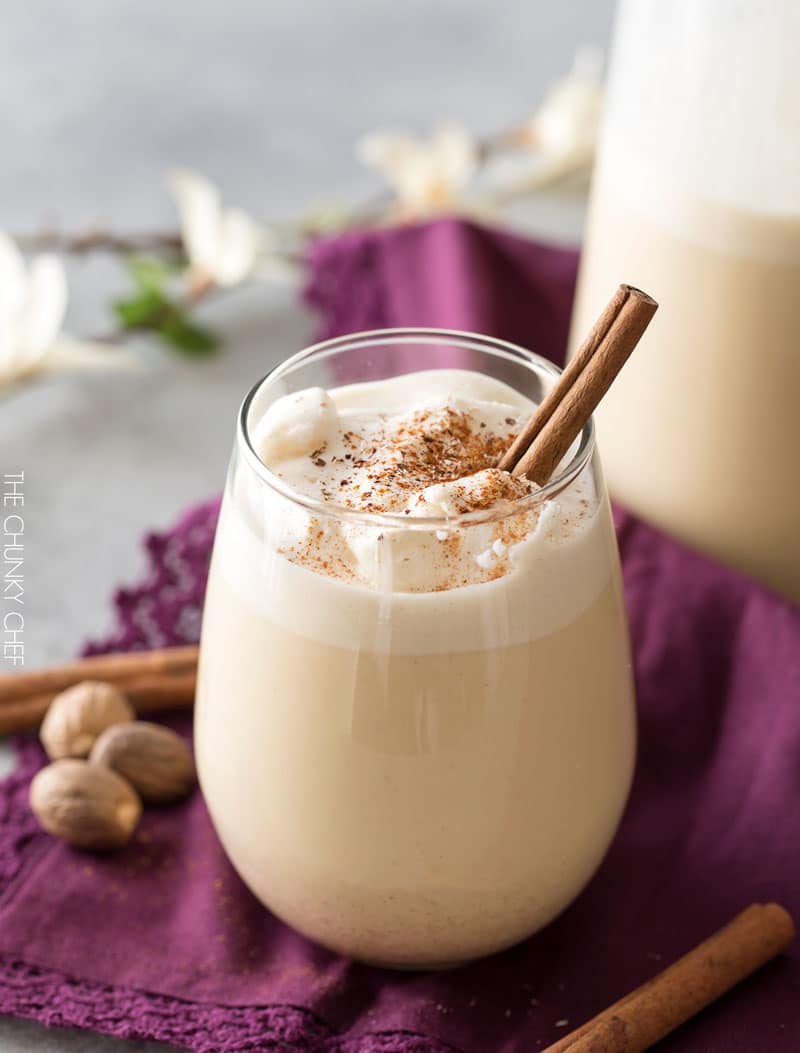 It may be tempting to drink your eggnog right away, while it's still all frothy and fresh… and you can… but it will taste best if you age it a little.  Traditionally eggnog was aged for weeks, even months!  Remember, the alcohol acts as a preservative, so it's safe.  I like to age mine at least a day or two, and up to 2 weeks.  It could probably go longer, but I like to be a little cautious.
I just pour my eggnog into an airtight container in the refrigerator and let it hang out in there… tempting me each time I open the refrigerator doors lol.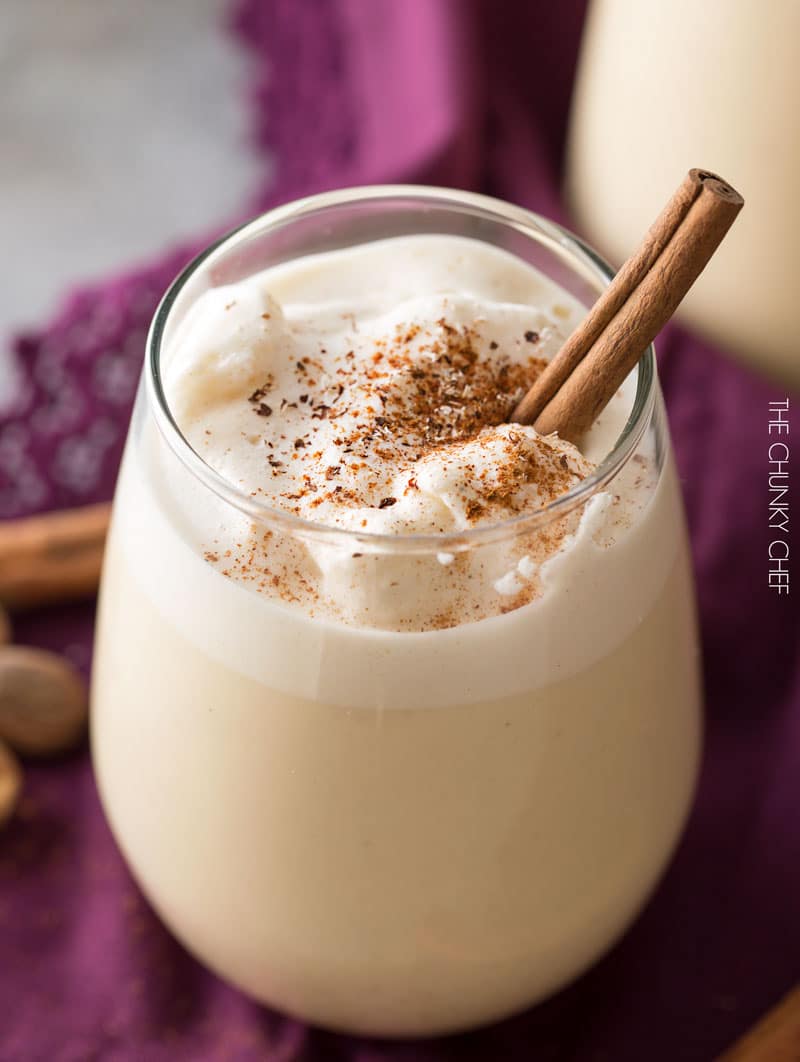 There are a few classic alcohols used in eggnog…. bourbon, brandy, rum, and cognac.  My personal favorite is bourbon and cognac… it lends to a really smooth, luxurious eggnog.  But as always, this is YOUR eggnog… so add whatever alcohols you prefer.  A general rule of thumb though, is that brown liquors are best.
I hope you all give this eggnog a try this holiday season (or any season really)… once you try homemade, you won't want any store-bought eggnog again!
Helpful Tools For This Recipe:
Ninja Blender – Smooth, powerful, and not terribly expensive… this is my go-to blender for everything!
Hermetic Glass Carafe – I LOVE this vintage look, and it ensures a real airtight seal!
---
WANT TO TRY THIS BLENDER EGGNOG?
PIN THEM TO YOUR DRINKS OR HOLIDAY BOARD TO SAVE FOR LATER!

Did you make this? Be sure to leave a review below and tag me @the_chunky_chef on Facebook and Instagram!
This light and deliciously creamy homemade eggnog can be made in just 5 minutes in your blender! Nothing hits the holiday spot more than a cup of eggnog!
Ingredients
4 large eggs the freshest you can find
3/4 cup granulated sugar (or superfine sugar)
1/2 tsp dried nutmeg
1/4 tsp ground cinnamon
3 oz cognac (about 1/3 cup + 1 Tbsp)
3 oz bourbon (about 1/3 cup + 1 Tbsp)
1 1/2 cups whole milk
1 cup heavy cream
Instructions
Add whole eggs to blender and blend on MED speed (or LOW if you only have a HIGH and LOW setting option) for 30 seconds.

Add sugar and blend another 20 seconds.

Add nutmeg, cinnamon, cognac, bourbon, milk and heavy cream and blend until combined, about 10-15 seconds.

Transfer to an airtight container and refrigerate for a day or so to allow flavors to combine and mellow.
TO SERVE:
Eggnog may have settled in the refrigerator, so either give it a good shake or two, or pour into a mixing bowl and give it a whisk to get everything combined.

Serve with some additional grated nutmeg on top, and an optional cinnamon stick.
Want to save this recipe for later? Click the heart in the bottom right corner to save to your own recipe box!
Chef Tips
Feel free to taste test and adjust the amount of alcohol to your tastes!
Recipe adapted from Jeffrey Morgenthaler
IF YOU PREFER A COOKED EGGNOG:
 Separate eggs.
 In a large mixing bowl, beat egg yolks until lighter in color.  Add sugar in 3 batches, beating after each addition, until fluffy.
 To a saucepan, add milk, nutmeg and cinnamon and heat over LOW to MED-LOW heat, until steaming but not boiling.
Take 1 cup of hot milk mixture and SLOWLY, while whisking continuously, pour it into the egg yolk mixture.  This tempers the eggs and ensures they won't scramble.
 Transfer tempered egg yolk mixture to the saucepan with the rest of the steamed milk.
 Cook over MED heat, stirring constantly with a wooden spoon until mixture has thickened somewhat.  You'll know it's ready when you dip the wooden spoon into the mixture, turn it over and run your finger down the back of the spoon, and the mixture coats the spoon but leaves a bare line where you ran your finger.  Don't let the mixture boil!
 Take mixture off the heat and stir in the heavy cream.  Let cool for approximately 1 hour.
 Stir in cognac and bourbon and transfer to an airtight container and refrigerate for a day or so before serving.
If you prefer a thicker eggnog, beat egg whites on MED/MED-HIGH speed until soft peaks form.  Add a pinch of sugar and beat until stiff peaks form.  Fold whipped egg whites into eggnog mixture before serving. 
Nutrition Disclaimer
The Chunky Chef is not a dietician or nutritionist, and any nutritional information shared is an estimate. If calorie count and other nutritional values are important to you, we recommend running the ingredients through whichever online nutritional calculator you prefer. Calories can vary quite a bit depending on which brands were used.
NEVER MISS A CHUNKY CHEF RECIPE: