This bruschetta chicken pasta combines marinated and grilled chicken, topped with a fresh summer bruschetta, and served with a light white wine pasta. It's a great spring and summer dinner idea that the whole family will love!
This is one of my Chicken recipes I know you'll want to keep on hand!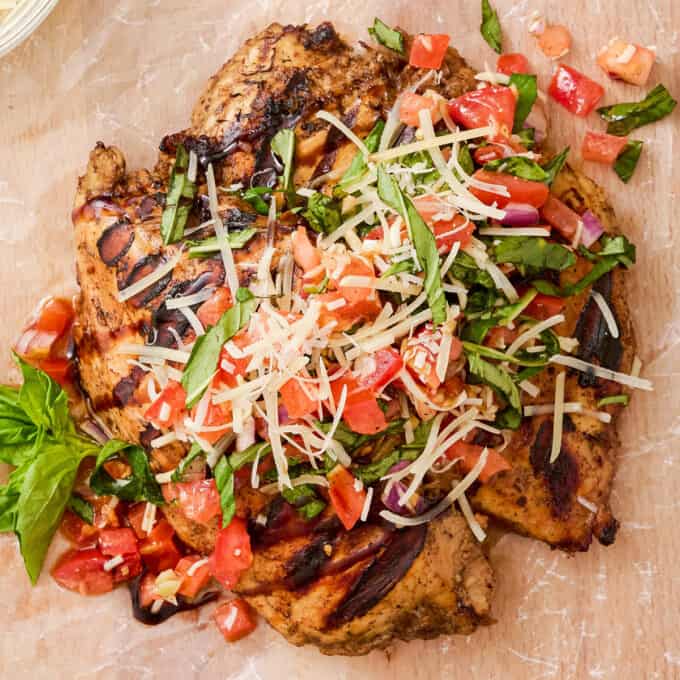 I'm not sure what the weather has been like in your neck of the woods, but here it's finally starting to warm up during the day! Of course it's still below freezing in the mornings, but hey, that's life in the Midwest lol.
The warmer temperatures make me start craving some classic summer-style meals, like Greek-style chicken kebabs, and this bruschetta chicken pasta!
At a first glance, the longer ingredient list might lead you to think it's a complicated recipe, but I promise it's not.
There's a homemade marinade (which you can absolutely swap for a store-bought one if you'd like), and pasta (which you don't even have to make, we just like to have it alongside)… plus many things can be prepped/chopped ahead of time, which will cut down on your hands-on time during the dinner-making process.
We eat this chicken pasta pretty often during the summer months, when the produce is best, and we can grill the chicken. Even the kiddos enjoy this recipe!
How to make bruschetta chicken pasta?
This is just an overview; the full ingredients and directions are in the recipe card toward the bottom of this post.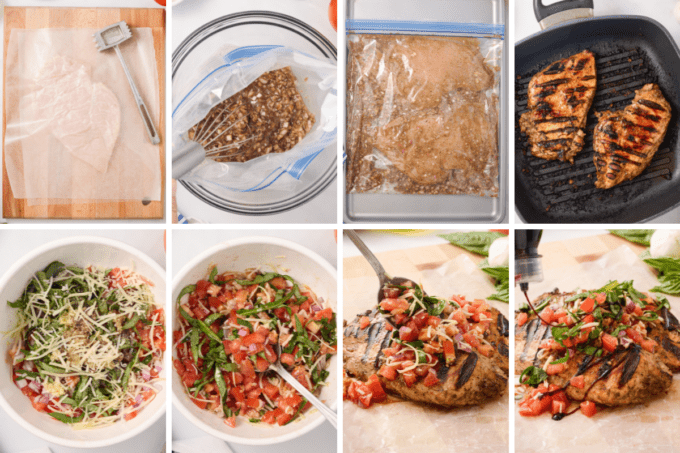 Pound chicken. Depending on the size of your chicken you may not need to do this, but pounding them ensures they'll cook evenly.
Marinate. Making the marinade in a plastic bag makes for an easy clean up!
Cook chicken. We love to grill the chicken, but a grill pan or skillet works just as well.
Make tomato topping.
Top and drizzle. Balsamic glaze is a strong flavor, so start with just a small drizzle and work up from there.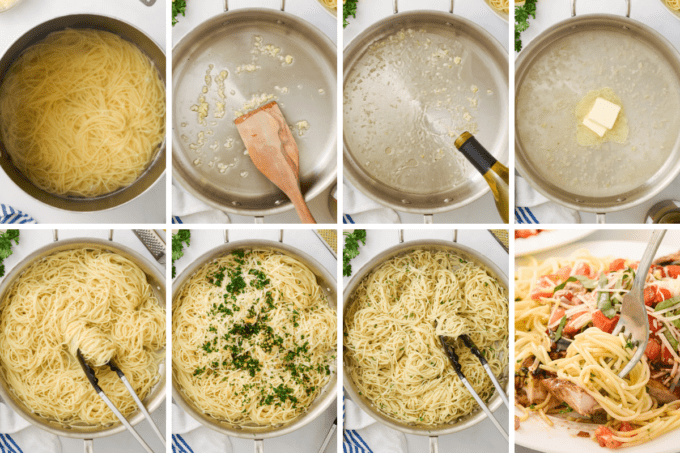 Boil pasta. The exact time will depend on which type of pasta, just follow the package directions.
Cook garlic and reduce wine. Reducing the wine doesn't take too long, and it adds plenty of flavor.
Add butter, seasonings, and cheese.
Stir in pasta water. Do this a little at a time, stirring and tossing as you add it.
Add herbs and zest. Toss to combine.
Serve. Serve the pasta, topped with chicken and tomato topping.
Helpful Tip!
We love to make this recipe in the summer to highlight the amazing summer produce, as well as being able to grill the chicken. However, you certainly don't have to grill it; you can use a grill pan, or even a regular skillet.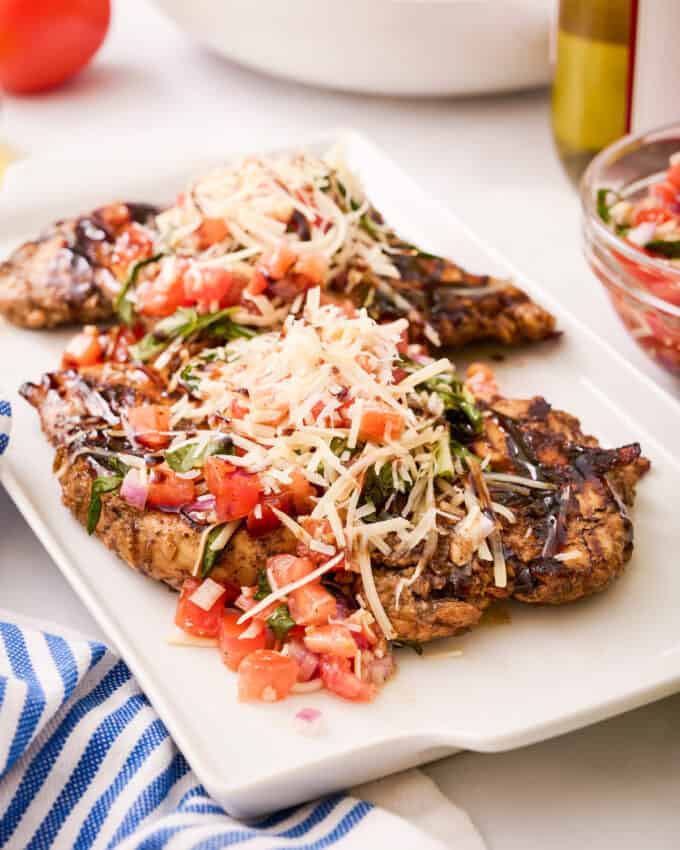 Variations of this recipe
Chicken – if you'd prefer, you can buy thin sliced chicken (sometimes called chicken cutlets), and omit having to pound them thinner. You could also make this recipe with other cuts of chicken, such as bone in or boneless thighs. Just note that changing the cut of chicken will change the cooking time (make sure you're cooking to 165°F).
Other protein – I think this recipe would also work well with pork, such as boneless pork chops, or a pork tenderloin.
Onion – some people don't enjoy onion in their bruschetta, so if you'd like, you can omit it.
Balsamic glaze – to save time, I typically buy a bottle of balsamic glaze from the grocery store, but you can certainly make your own if you'd like. In a skillet, add about a cup of balsamic vinegar and cook it over a medium-low heat. The exact time will vary, but you want the vinegar to reduce down and turn into a syrupy consistency.
Pasta – you can use any cut of pasta for this recipe, we just prefer angel hair or spaghetti.
Alcohol-free – for the pasta, if you'd prefer not to use alcohol, you can substitute it for an equal amount of low sodium chicken broth.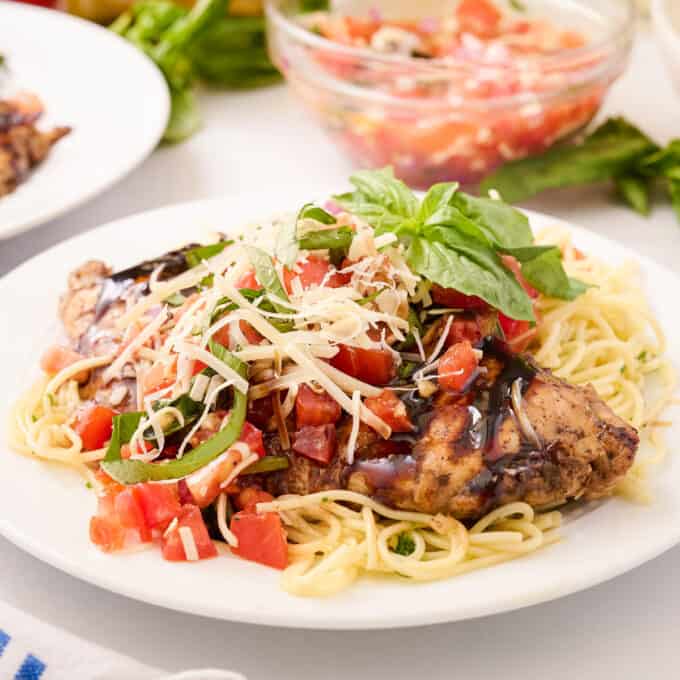 FAQ's
What is bruschetta?
You've probably seen bruschetta on the appetizer menus of many Italian-American restaurants, but it may surprise you to learn that bruschetta is actually just referring to the toasted bread! Here in America though, when we say bruschetta, we tend to be referring to the tomato topping, which is comprised of chopped tomatoes, garlic, sometimes onion, herbs and seasonings, and olive oil.
Do you have to serve the bruschetta chicken with the pasta?
Absolutely not. If you're not crazy about the pasta, the bruschetta chicken is a really nice and light dinner idea on it's own. We just love the combination, but this is your meal, so please enjoy it the way you'd like 🙂
Making chicken pasta ahead of time
Like most grilled/seared foods, I find this recipe tastes best when made fresh. However, you can prep ahead many parts of this chicken and pasta recipe.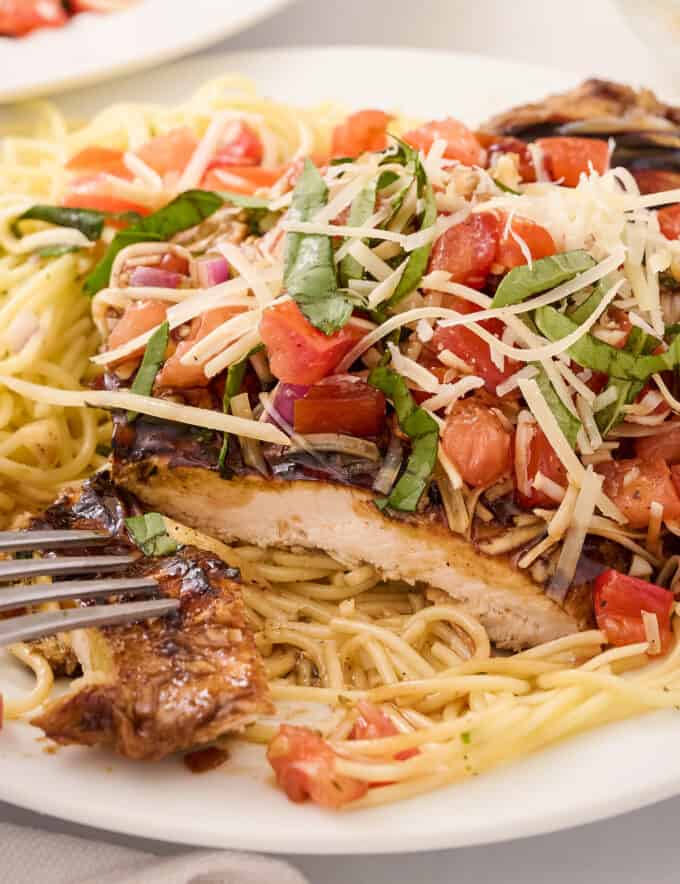 How to prep ahead for this recipe:
Chicken – you can pound the chicken ahead of time and keep it refrigerated for a day or two.
Marinade – the marinade can be made and kept refrigerated for several days.
Garlic and onion – these can be minced and diced ahead of time and kept refrigerated for several days.
Storage
For the best results, I highly recommend storing the pasta, chicken, and bruschetta separately.
Everything should be stored in airtight containers in the refrigerator, with the pasta lasting 4-5 days, the chicken lasting 4-5 days, and the tomato topping lasting about 3 days.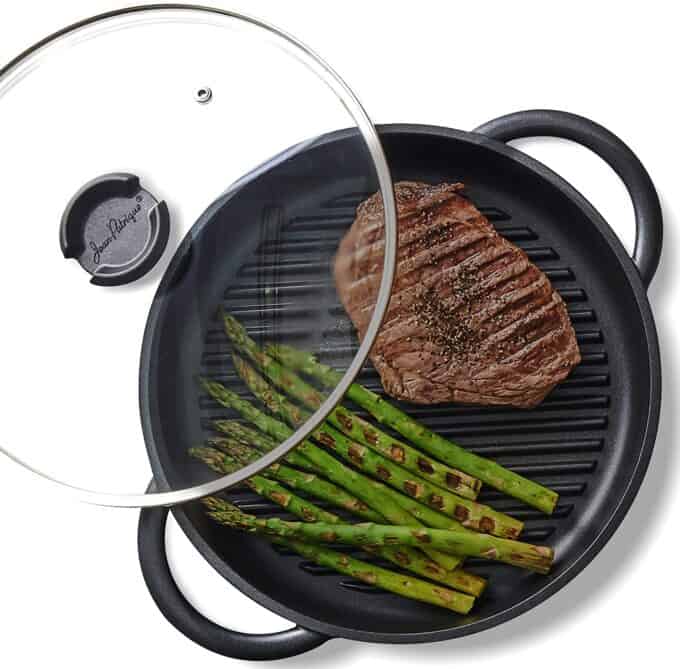 This grill pan has so many of the benefits of cast iron (even heat distribution, great sear, etc), while being lighter in weight and non-stick!
Did you make this? Be sure to leave a review below and tag me @the_chunky_chef on Facebook and Instagram!
This bruschetta chicken pasta combines marinated chicken, a fresh summer tomato bruschetta topping, and a light white wine pasta!
Ingredients
Marinated chicken
1 lb boneless skinless chicken breasts
7 cloves garlic minced
1 medium shallot minced
1 tsp kosher salt
1/2 tsp black pepper
1/2 tsp dried Italian seasoning
1/4 tsp dried basil
2 tsp dijon mustard
1/4 cup balsamic vinegar
1/4 cup olive oil
Tomato topping
4 medium roma or vine-ripened tomatoes diced
1/4 cup diced red onion
3 cloves garlic minced
handful fresh basil leaves finely sliced *see chef tip #3*
2 Tbsp olive oil
1/2 tsp kosher salt
1/4 tsp black pepper
1/3 cup shredded Parmesan cheese
White wine pasta
8 oz dried angel hair pasta
1 Tbsp olive oil
3 cloves garlic minced
1/2 cup dry white wine like a chardonnay
1/2 cup reserved pasta cooking water
2 Tbsp unsalted butter
pinch of kosher salt
1/3 cup shredded Parmesan cheese
1/2 lemon zested
handful fresh basil finely sliced
handful fresh parsley finely chopped
Instructions
Prepare the chicken
Top cutting board with wax paper, and top with a chicken breast.  Top with another piece of wax paper and use the flat side of a meat mallet to pound chicken to about 1 inch thick.  If chicken breasts are on the thinner side, you may not need to do this.

Repeat with remaining chicken breasts.
Marinate the chicken
Fold the top down on a large resealable plastic bag, and add bag to a mixing bowl (for stability).  Add garlic, shallot, salt, pepper, Italian seasoning, basil, mustard, and vinegar.  Whisk to combine.

Pour in olive oil, whisking as you pour.  

Add chicken breasts to remaining marinade, seal bag, and massage marinade into the chicken.

Place bag with chicken on a plate or small rimmed baking sheet and add to the refrigerator.  This keeps any potential leaks from getting all over the refrigerator.

Chill and marinate for at least 1 hour, or up to 8 hours.
Cook chicken
Heat a grill pan or skillet over MED/MED HIGH heat. Once hot, drizzle with a little vegetable or olive oil, then add the chicken (shaking off excess marinade).

Cook for about 5-6 minutes per side, until beautifully charred and cooked to an internal temperature of 165°F.

Set chicken aside to rest.
Boil water and make tomato topping
Bring a large pot of water to a boil. While chicken is resting and water is heating, combine topping ingredients in a medium mixing bowl, stirring well to combine.  Set aside.
Make white wine pasta
Once water is boiling, salt it generously, then add pasta and cook according to package directions.  ** Make sure you set aside about 1 cup of the pasta cooking water. **  Drain pasta, toss with a bit of olive oil to prevent sticking, and set aside.

Add 1 Tbsp of olive oil to a large skillet and heat over MED heat.  Add garlic and cook, stirring occasionally, for about 1 minute.

Add wine and cook, simmering until it reduces by half, about a minute or two.

Add butter, salt, and cheese, whisking to combine. Add drained pasta to skillet, and toss to combine. Slowly pour in about 1/3 – 1/2 cup of the pasta water, stirring and tossing pasta as you add the water. Add more pasta water if needed to get desired consistency.

Remove from heat, add herbs and lemon zest, tossing and stirring until well combined.
Serve
Serve some pasta topped with some chicken (we usually do about 1/2 a chicken breast per person), a generous scoop of the tomato topping (plus a sprinkle of extra Parmesan), and a drizzle of balsamic glaze.
Want to save this recipe for later? Click the heart in the bottom right corner to save to your own recipe box!
Chef Tips
I've estimated that this recipe makes about 4 servings, but of course you're free to divide it into as many servings as you'd like.
Prep time does not include the marinating or bringing the water to a boil, since these will vary from person to person.
Stack the basil leaves on top of each other, roll them up like a cigar, then cut across, cutting the basil into fine ribbons.
Nutrition Disclaimer
The Chunky Chef is not a dietician or nutritionist, and any nutritional information shared is an estimate. If calorie count and other nutritional values are important to you, we recommend running the ingredients through whichever online nutritional calculator you prefer. Calories can vary quite a bit depending on which brands were used.