Cheeseburgers with Bourbon Bacon Jam
---
Take the classic cheeseburger to a whole new level of deliciousness with this easy to make bourbon bacon jam that takes less than 30 minutes to make!
---
Are you ready to have your taste buds blown?  This bourbon bacon jam takes less than 30 minutes to make in a skillet and is PERFECT for spreading on top of a juicy cheeseburger, grilled chicken breast, seared pork chop… pretty much anything!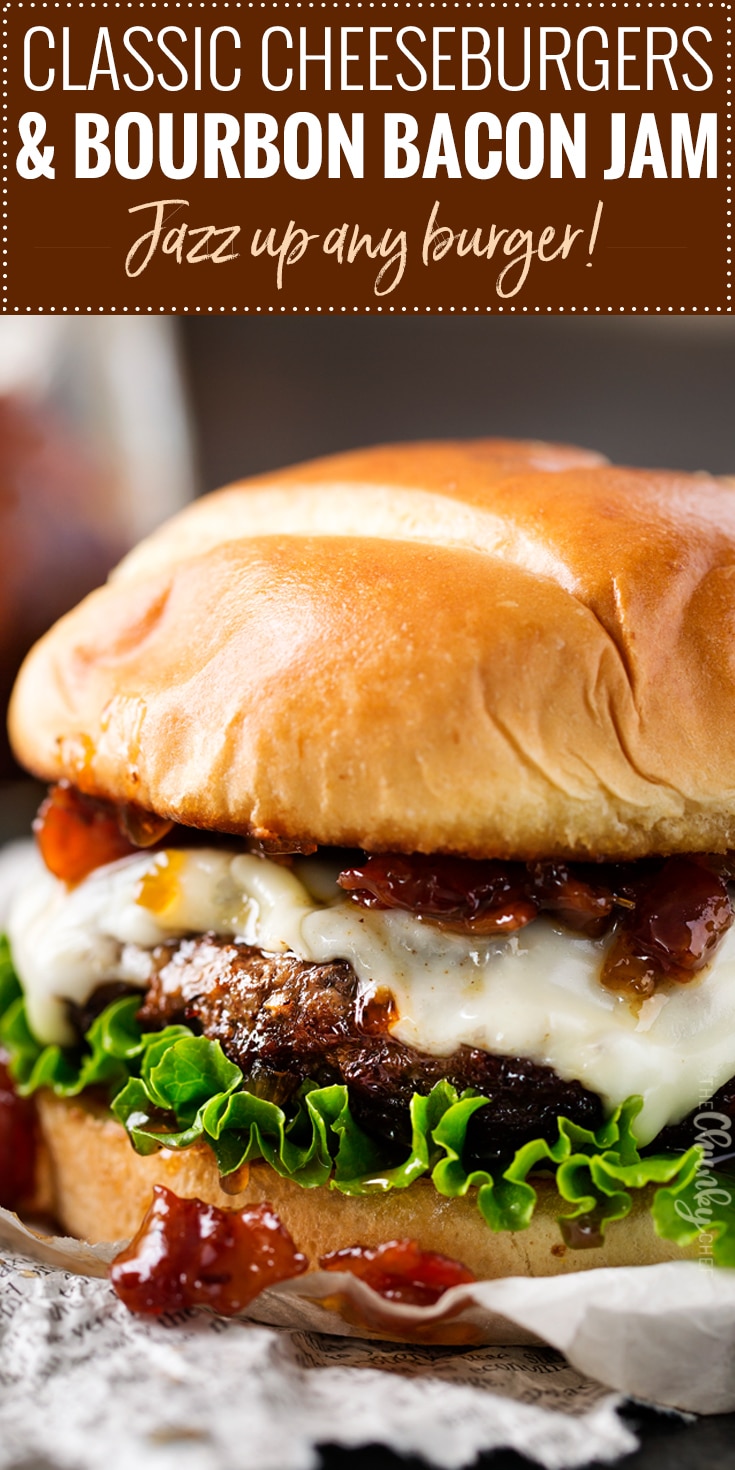 Since we're smack dab in the middle of the summer, most of you are probably grilling out or at least thinking about a great big juicy burger!  Okay, maybe it's just me… but I've definitely been thinking about burgers lately.  More specifically, THIS burger… with all it's coffee-rubbed awesomeness.  One thing I'm also pretty much always in the mood for is bacon.  And bourbon lol… so I thought why not combine those two and slather it all over a juicy burger?  I give you, my favorite burger, EVER!!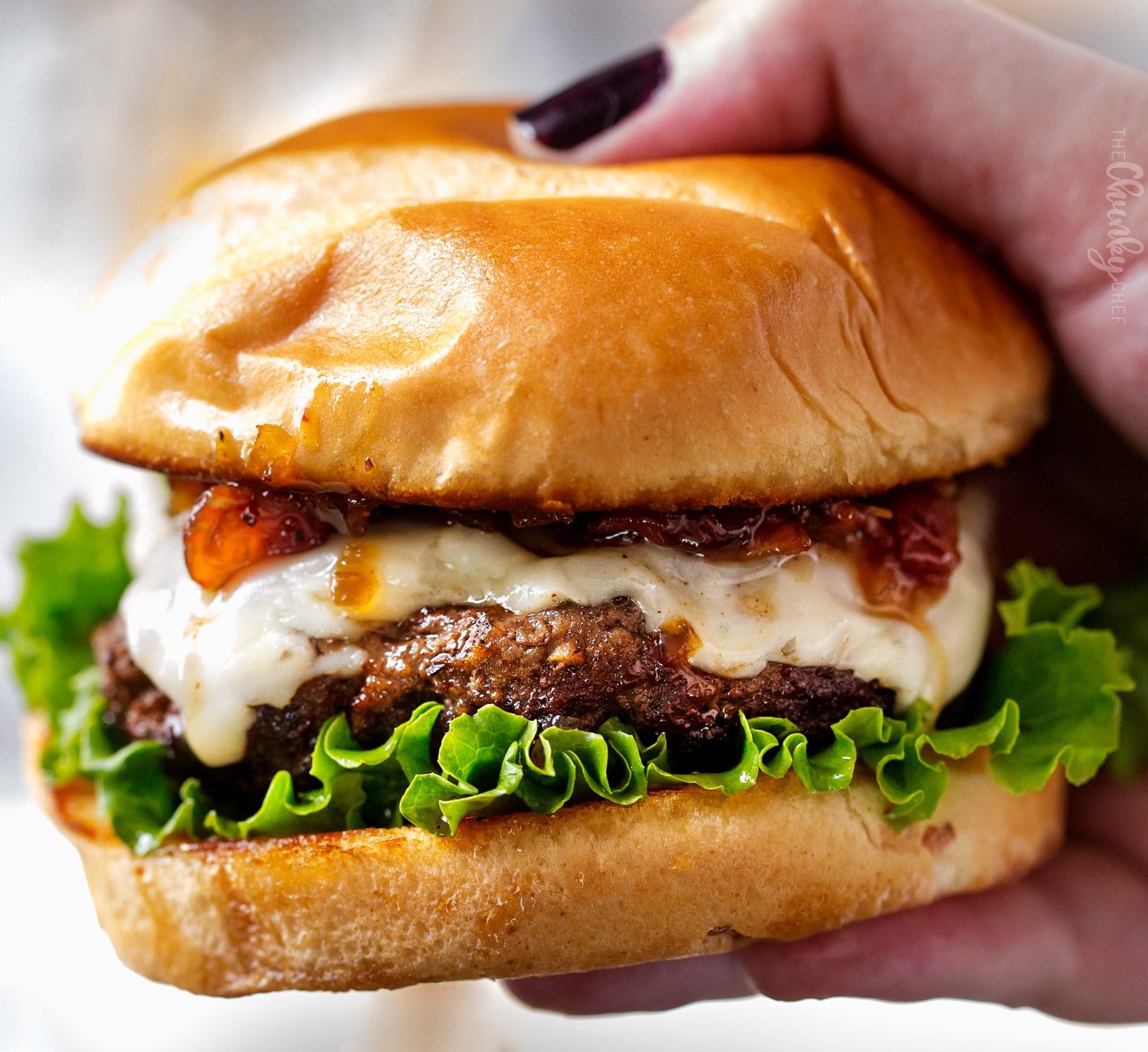 Seriously… it doesn't get any better than that folks!  That burger didn't last long after this photoshoot, I can tell you that.  I seared my burger in my trusty cast iron pan, but you could easily grill it if you prefer, or even broil it.  And of course, don't forget to toast the bun, it makes a big difference!
For the burgers, I kept it simple with the burger recipe from these cheeseburgers (check out that secret ingredient!).  No egg, no breadcrumbs, minimal flavors.  I really wanted the flavor of the meat to shine through, plus leaving room on those tastebuds for the velvety white American cheese and of course, the bourbon bacon jam!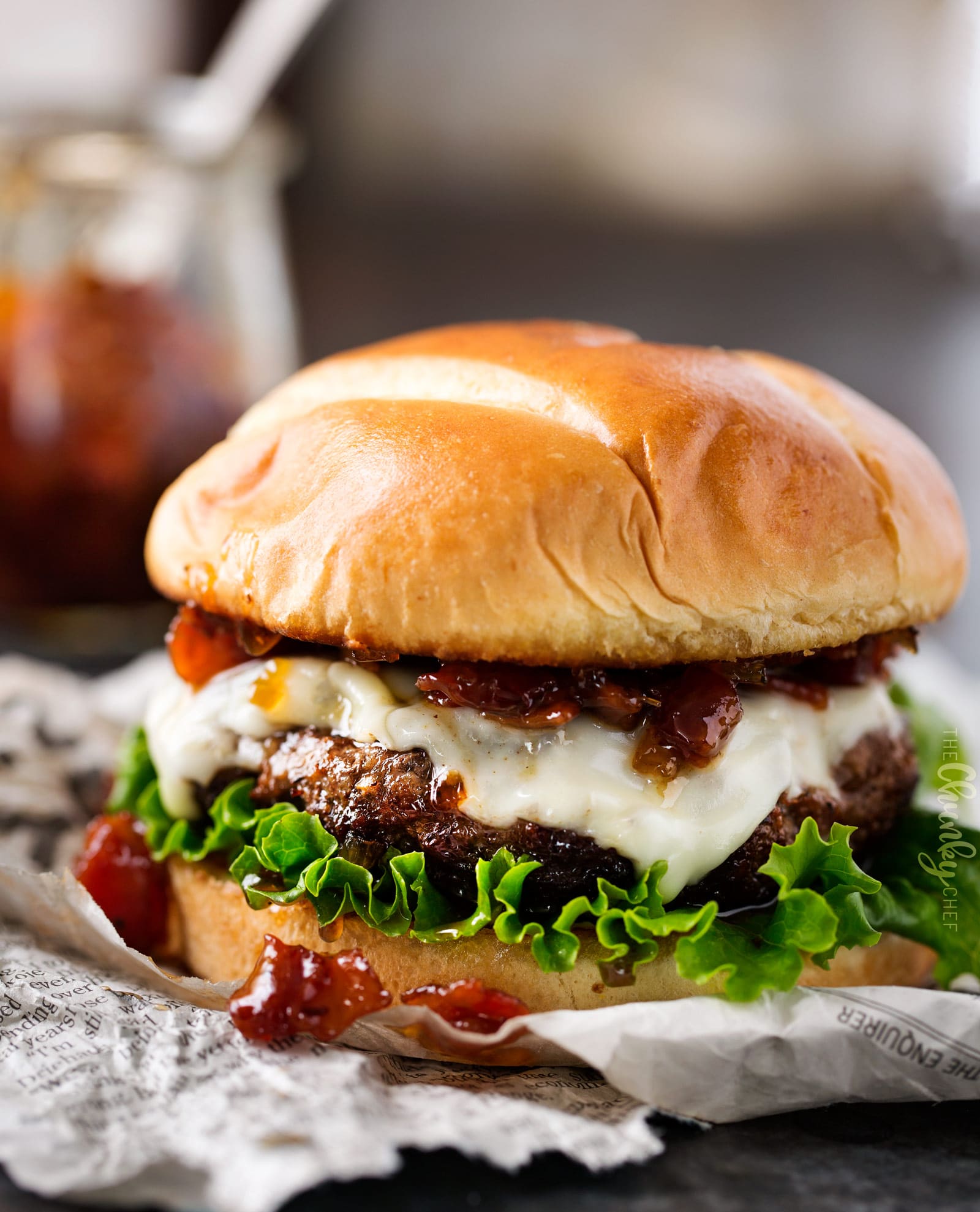 Let's get the best part here… the bacon jam!  This stuff… OMG.  Hands down, the best topping I've ever had on a burger!!  There's a lot of bacon jam recipes out there, but mine takes less than 30 minutes, is made in one skillet, and of course, has bourbon in it.
You could leave the bourbon out of it if you'd like, and just substitute water… but if you don't have any restrictions when it comes to alcohol, you simply have to try it with the bourbon.  It gives the bacon jam a deep, smoky, velvety flavor!  Plus a lot of the alcohol is actually cooked off during the cooking process, so it's not going to give you a buzz.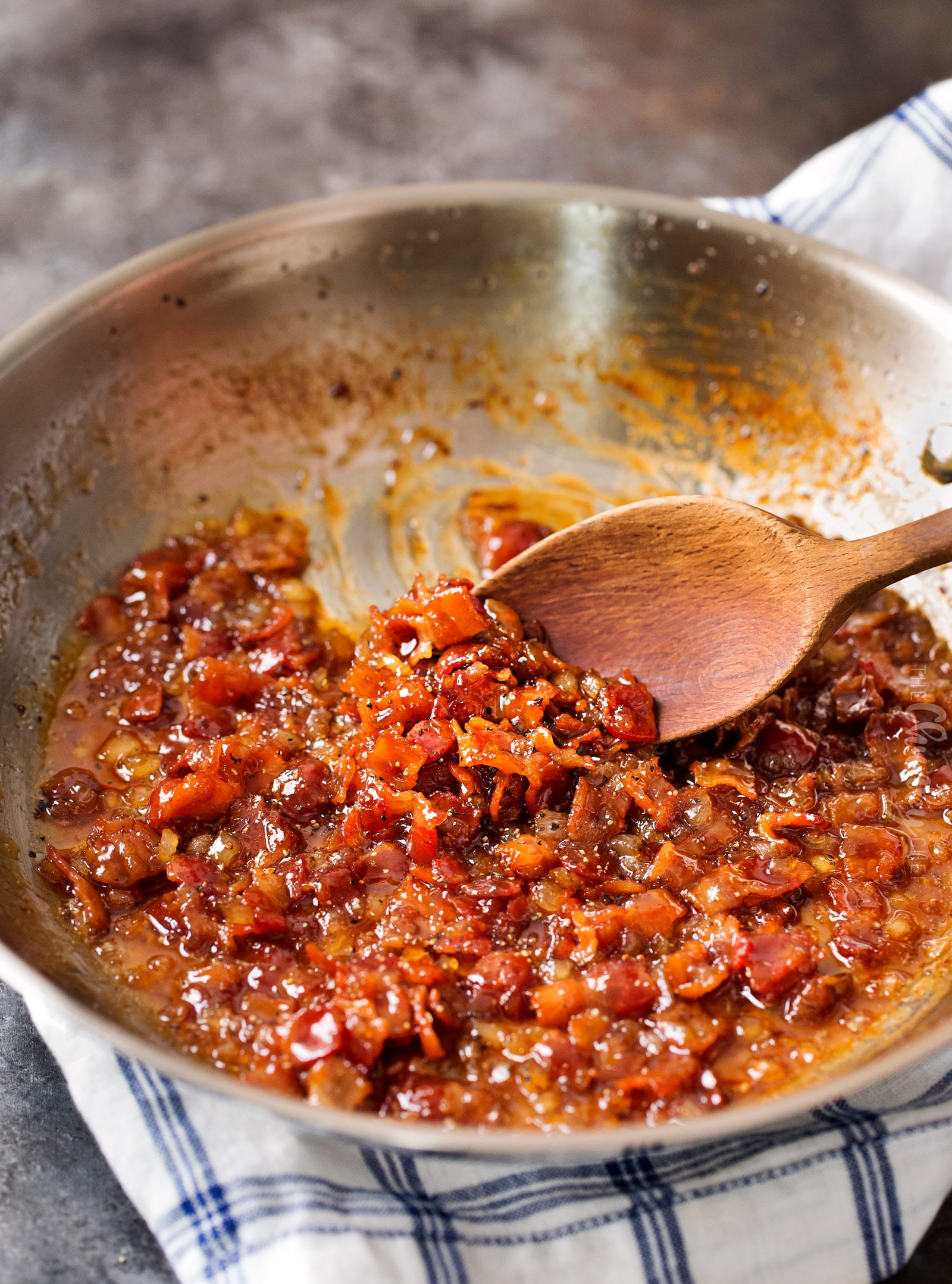 I hate to make drug references, but this stuff is like legal crack.  Once you make it, you'll be making it more and more, keeping it on hand in your refrigerator, and giving it away as gifts!
And it's not just for burgers.. try it on some grilled chicken, or slather a bit on top of one of these biscuits!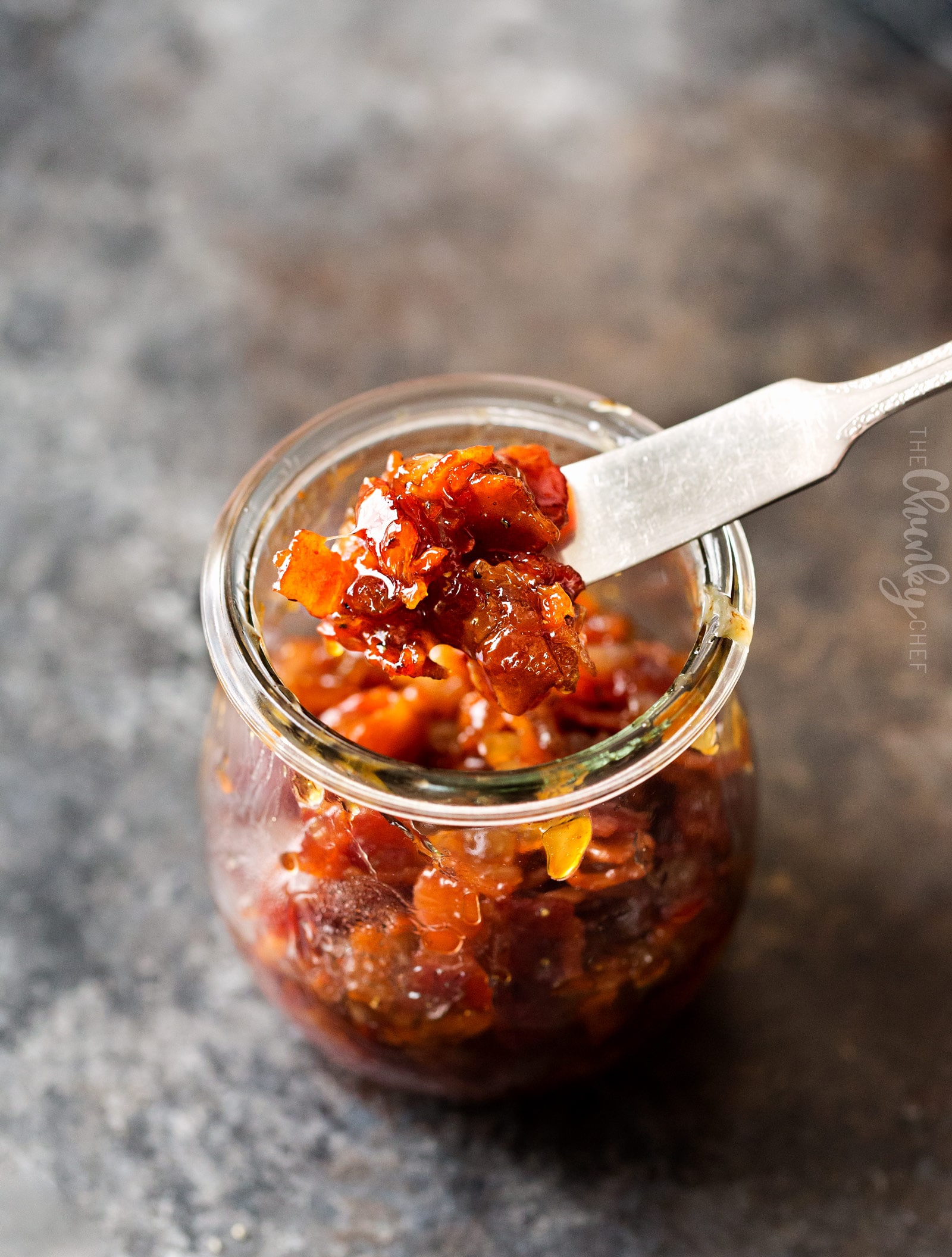 Do yourself a favor and whip up a batch of this bourbon bacon jam… maybe even one of these cheeseburgers too!  If you make it, be sure to share it on Instagram and tag me @the_chunky_chef or hashtag it #thechunkychef so I can see… I love seeing all your creations!
---
WANT TO TRY THIS BOURBON BACON JAM?
PIN IT TO YOUR SUMMER OR BACON BOARD TO SAVE FOR LATER!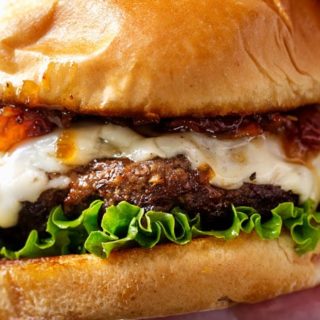 Cheeseburgers with Bourbon Bacon Jam
Take the classic cheeseburger to a whole new level of deliciousness with this easy to make bourbon bacon jam that takes less than 30 minutes to make!
Print
Pin
comment
Prep Time: 15 mins
Cook Time: 25 mins
Total Time: 40 mins
Servings: 4 servings
Calories: 853
Ingredients
BOURBON BACON JAM:
12 oz bacon, cut into small pieces
1 sweet onion, finely diced
3-4 cloves garlic, finely minced
2/3 cup apple cider vinegar
5-6 Tbsp brown sugar
5 Tbsp Bourbon
5 Tbsp water
pinch of cayenne pepper
cracked black pepper, to taste
CHEESEBURGERS:
2 lbs ground beef (I like to use 85/15)
1 small sweet onion
1 Tbsp heavy cream optional but recommended
salt and pepper, to taste
green leaf lettuce
4 slices white American cheese (or your favorite cheese)
small amount of mayo (optional)
4 brioche hamburger buns (or your favorite buns)
Instructions
BOURBON BACON JAM:
To a large skillet, saute bacon pieces over MED heat until crispy, about 8-12 minutes. I used center cut bacon, so there wasn't too much bacon grease, but if yours is particularly greasy, drain about half the grease. Add onion and garlic, cooking until soft and tender, about 3-5 minutes.

Add cider vinegar, brown sugar, bourbon, water, cayenne, and black pepper. Stir to combine. Bring to a boil, then simmer, stirring occasionally, until liquid is mostly cooked off, about 10-15 minutes. Mixture will be thick and syrupy.

Use immediately, or place into glass jars, seal, and refrigerate for 1-2 weeks.
CHEESEBURGERS:
Add a drizzle of olive oil to a large skillet and heat over MED-HIGH heat. Add hamburger buns, cut side down, and toast until golden brown. Turn off heat and remove to a plate to cool.

In a large mixing bowl, add ground beef, heavy cream, salt and pepper. Peel the onion and grate (using a hand grater or even a box grater) about 2 Tbsp of onion into the meat. Use the fine side of the grater, so you're getting very small pieces of onion. You'll get onion juice too, and that's good.

Use your hands to mix gently until just combined. Form into 4 patties (for 1/3 lb burgers, make 6 patties, and for a 1/4 lb burger, make 8 patties). Make an indentation in the center of each burger with your thumbs to ensure even cooking.

Heat a drizzle of oil in the same skillet over MED heat and cook burgers about 5 minutes per side, or until cooked to desired doneness.

The last minute of cooking, place cheese slices on patties and cover pan with aluminum foil. Serve hamburgers on toasted buns with lettuce and bourbon bacon jam.
Notes
Bourbon Bacon Jam recipe makes approximately 1 1/2 - 2 cups
Are We Friends on Pinterest?
Follow me for more great recipes! The Chunky Chef!
NEVER MISS A CHUNKY CHEF RECIPE: