These Cream Cheese Stuffed Mushrooms are the ultimate party appetizer! Stuffed with a creamy vegetarian filling, then baked until deliciously golden, every bite is a flavor explosion. They can even be assembled and prepped ahead of time!
This is one of my Appetizer recipes I know you'll want to keep on hand!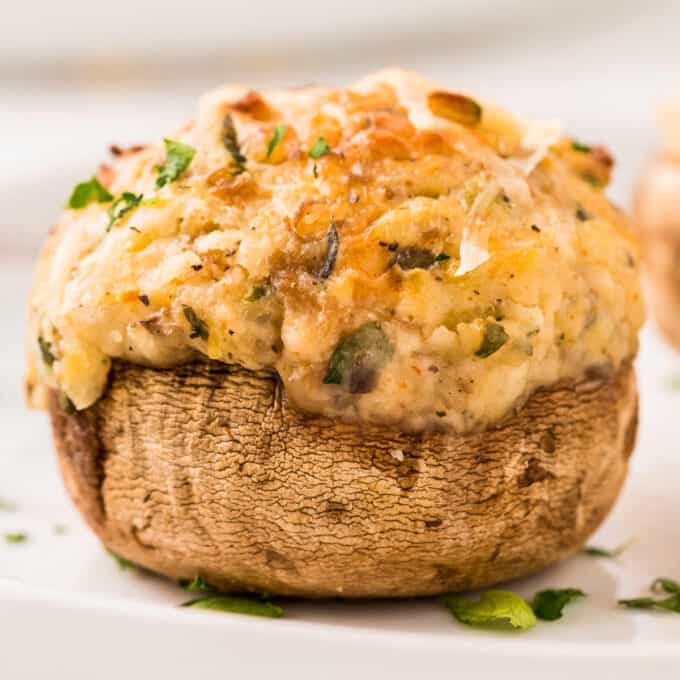 I love mushrooms… ummm, like a LOT. One of my favorite ways to eat a mushroom, is stuffed!
Whenever our family goes out to dinner, we always want to get the stuffed mushrooms on the appetizer menu. The problem is, you get about 5 mushrooms per order. Well I don't know about you, but I could eat more than 5 by myself, let alone share them.
So this recipe hits all those amazing flavor notes of a restaurant-style stuffed mushroom, but you get a larger amount to share (or not – no judgement here!).
You guys have really loved my Italian Sausage Stuffed Mushrooms, so I wanted to share this delicious vegetarian version.
These mushrooms are so creamy, so savory, so full of flavor… I know you won't be able to just eat one!
How to make cream cheese stuffed mushrooms?
This is just an overview; the full ingredients and directions are in the recipe card toward the bottom of this post.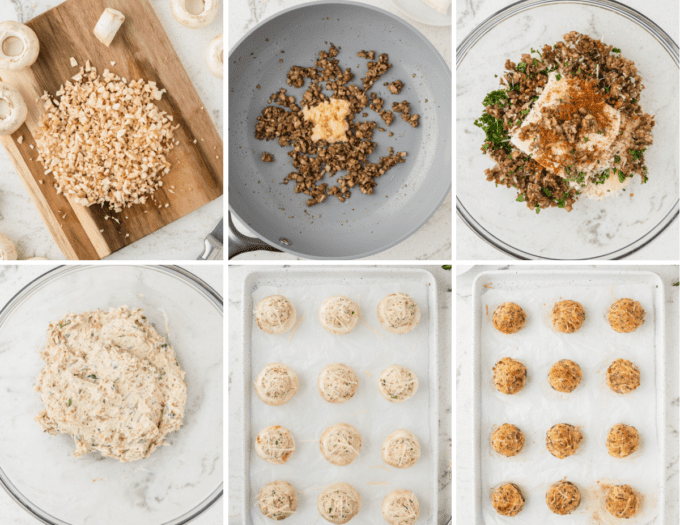 De-stem mushrooms. Once you remove the stems, don't toss them, but chop them up instead!
Saute stems and garlic. Cooking the stems adds a deep flavor to the filling.
Make filling. Combine the cooked stems and garlic with spices, cheese, and cream cheese.
Assemble. Using a small cookie scoop is a really convenient way to fill the mushroom caps, but you can also use a spoon.
Bake. If all your mushrooms won't fit on one baking sheet with a little space in between, you'll want to use more than one, rather than trying to cram them all on one.
Helpful Tip!
For the best results when making the filling, make sure to use softened cream cheese. If the cream cheese is cold you may end up with lumps of cream cheese that aren't blended into the filling.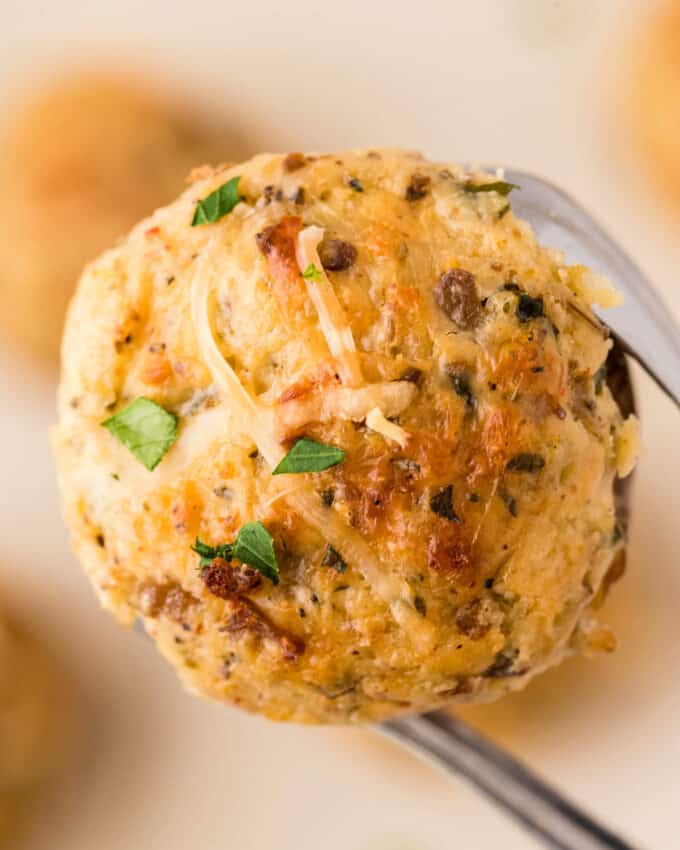 Variations of this recipe
Mushrooms – I like to use white button mushrooms for this recipe because they're easy to find and relatively inexpensive. Baby portobello mushrooms (sometimes called baby bellas or creminis) are a great alternative.
Sausage – if you'd like to add some protein to this recipe, try adding up to 1/2 lb of bulk pork sausage.
Wine – to add a depth of flavor, try pouring about 1/3 cup of dry white wine (like a Chardonnay) to the skillet with the mushrooms and garlic and letting it cook until mostly cooked down.
Cheese – try playing around with different types of cheese for this recipe. Asiago, Romano, Monterey Jack, etc are great options.
Panko – if you like a crunchy topping on your stuffed mushrooms, mix together 1.5 Tbsp of melted butter with 1/3 cup panko breadcrumbs, then sprinkle over the top of the filled mushrooms. Bake as directed.
Air fryer – I haven't officially tested this recipe in an air fryer, although I'm sure it would work well. My guess would be to air fry them at 390°F for 7-8 minutes or so. You'd need to do this in batches so the mushrooms will fit in a single layer.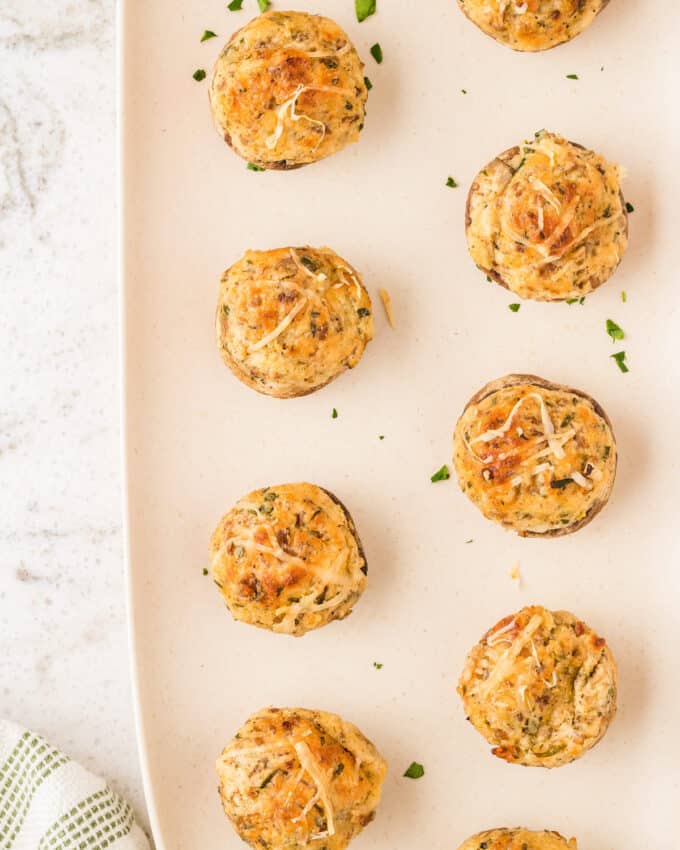 FAQ's
How to remove the stems of mushrooms?
My favorite way requires no tools at all… just use your hands!  Hold the mushroom cap in your non-dominant hand, the grab the stem with your dominant hand and give it a firm twist.  Most of the time, it pops right out!  If not, just grab any leftover stem pieces and twist them out. You can also use a small paring knife – just be careful!
What are the best mushrooms to use for stuffed mushrooms?
The most common and best utilized types are either white button mushrooms (like I've used) or baby portobello mushrooms (sometimes labeled baby bella, or cremini).  These varieties have a nice round cap, which is perfect for stuffing!
What's the best way to clean fresh mushrooms?
That's a bit of a debate in the food-world.  Mushrooms are pretty absorbent, so if you wash them or submerge them in water, they can become rubbery when you cook them.  Other people think if you don't wash them, you're eating dirty food.  Here's what I personally do.  For mushrooms that just have a little bit of light dirt on them, I don't wash them.  Instead, I take a damp paper towel and wipe them off.  For the mushrooms that are pretty dirty, I wash them.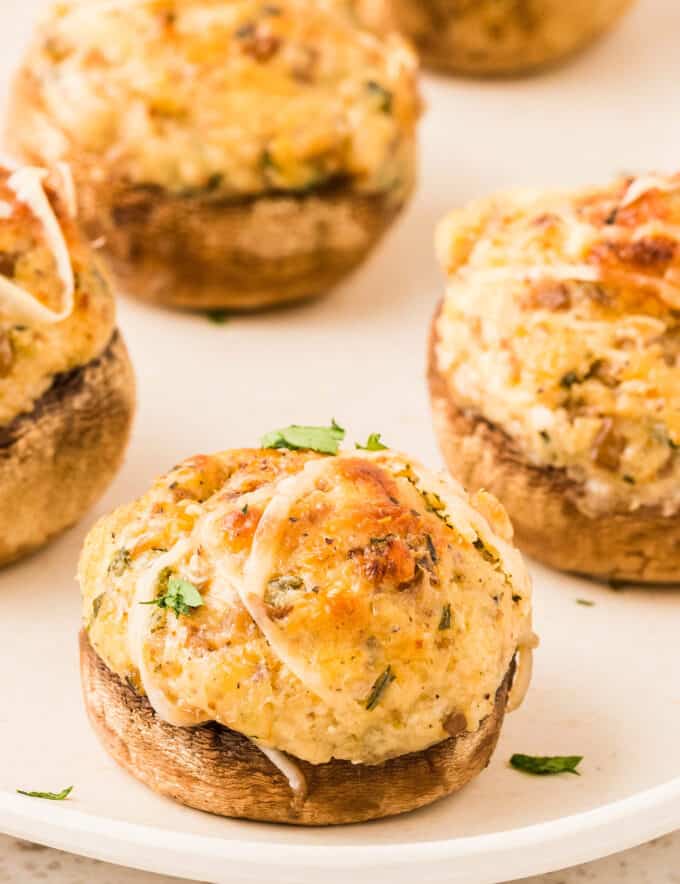 Making stuffed mushrooms ahead of time
While baking these ahead of time isn't recommended for the best flavor and texture, you can absolutely assemble them ahead of time.
Follow recipe up until the baking part, then add mushrooms to an airtight container in a single layer (or add them to a baking sheet and cover with plastic wrap).
Refrigerate for up to 2 days. Let sit on the counter at room temperature while the oven is preheating, then bake as directed.
Freezing
Add assembled but unbaked stuffed mushrooms to a wax/parchment paper lined baking sheet and place in the freezer for about 2 hours, or until frozen solid.
Transfer to a freezer-safe container, label with the date, and freeze for up to 3 months.
For reheating, add frozen mushrooms to a parchment paper lined baking sheet and bake at 350°F for about 35-40 minutes, or until hot and bubbly throughout.
Storage
Leftover stuffed mushrooms should be refrigerated in an airtight container, and eaten within 3-5 days.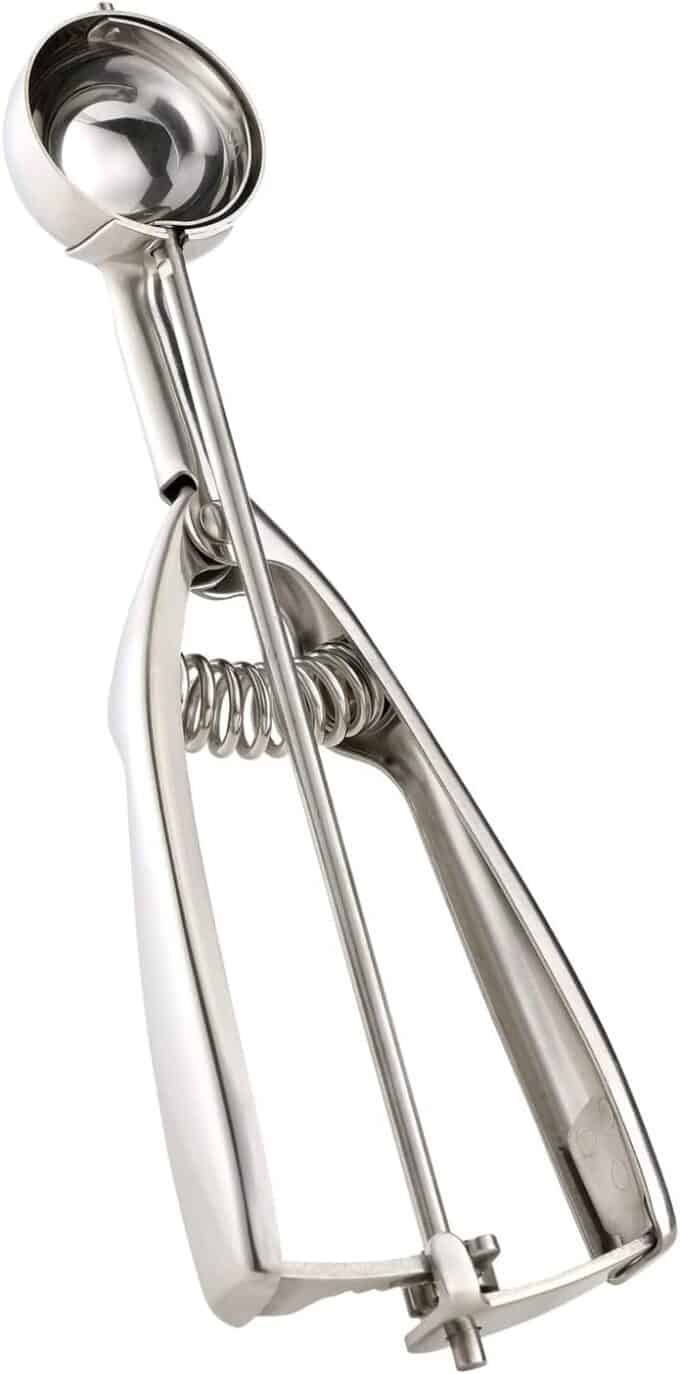 Scoops like this are great for so many things. I love to use them for making meatballs, truffles, and stuffing these mushrooms! This size is 1 Tbsp, but for a smaller version, try this 0.6 Tbsp size.
Did you make this? Be sure to leave a review below and tag me @the_chunky_chef on Facebook and Instagram!
These Cream Cheese Stuffed Mushrooms are the ultimate party appetizer! Stuffed with a creamy vegetarian filling, then baked until deliciously golden, every bite is a flavor explosion.
Ingredients
16 oz fresh white button mushrooms about 24 medium sized mushrooms
2 Tbsp unsalted butter
1/2 tsp black pepper
5 cloves garlic minced or grated
1/2 tsp kosher salt
8 oz cream cheese softened to room temperature
2/3 cup shredded Parmesan cheese divided
1/2 tsp onion powder
1/2 tsp dried thyme
1/4 tsp cayenne pepper optional – omit if you don't like any spiciness
1 1/2 Tbsp minced fresh parsley
Instructions
Prepare
Preheat oven to 350°F and line a rimmed baking sheet with parchment paper or foil. 

Clean mushrooms, then remove stems.  Set mushroom caps aside on prepared baking sheet. I like to give the stems a twist, and they loosen up to remove them, or you can use a knife. Don't throw the stems away, you'll be using them!

Finely chop removed mushroom stems and set aside.
Cook stems
Heat a skillet over MED heat. When hot, add unsalted butter. Once melted, add chopped mushroom stems and black pepper.

Stir, then cook, stirring occasionally until most of the moisture is gone from the mushrooms, about 3 minutes.

Add garlic and kosher salt, and cook for about 30 seconds or so, stirring well to combine.

Remove from heat and set aside to cool.
Make filling
To a mixing bowl, add softened cream cheese, most of the Parmesan cheese (reserve a few Tablespoons to sprinkle over the mushrooms later), onion powder, dried thyme, cayenne pepper, and minced parsley.

Add the cooled mushroom stem mixture, and stir together well to combine everything.
Assemble mushrooms
Use a 1 Tbsp cookie scoop (or just use a spoon) and fill the mushroom caps with the filling.

Sprinkle each mushroom with a little of the reserved Parmesan cheese.
Bake
Bake mushrooms in preheated oven for 20 minutes.
Serve
Serve hot, garnished with additional minced fresh parsley and/or additional shredded Parmesan if desired.
Want to save this recipe for later? Click the heart in the bottom right corner to save to your own recipe box!
Chef Tips
This recipe makes 24 stuffed mushrooms, but can easily be halved if you'd like to make a smaller batch, or it can be increased to accommodate a larger party.
I've estimated this recipe will serve about 8 people, you can divide the mushrooms up into as many servings as you'd like.
Nutrition Disclaimer
The Chunky Chef is not a dietician or nutritionist, and any nutritional information shared is an estimate. If calorie count and other nutritional values are important to you, we recommend running the ingredients through whichever online nutritional calculator you prefer. Calories can vary quite a bit depending on which brands were used.