These sweet and tangy homemade sloppy joes are made with simple ingredients, are easy to customize to your tastes, and are made easily in the slow cooker! This easy to make recipe is a family-friendly dinner that you can even make ahead of time and/or freeze.
This is one of my Sandwich recipes I know you'll want to keep on hand!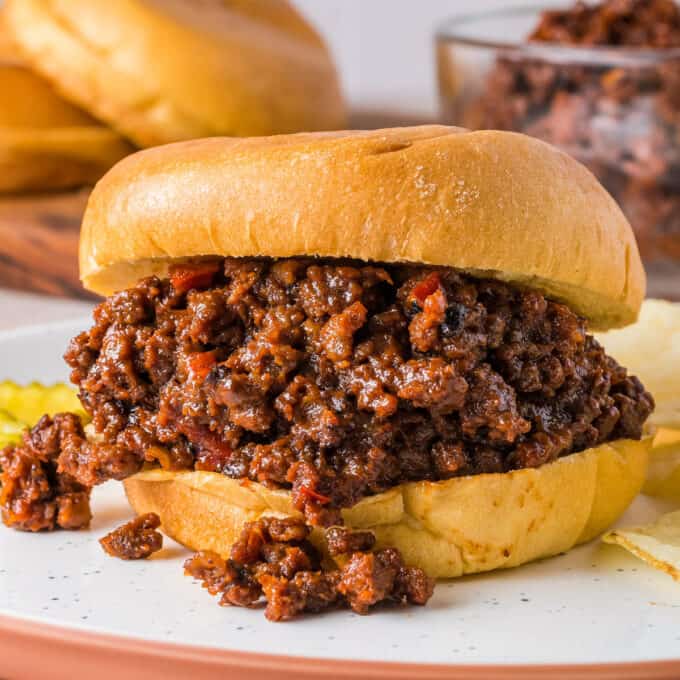 I've always been a fan of classic sloppy joes. There's something so innately satisfying about the sweet and savory combination and messiness of it all!
And I know you all love them too, since my original sloppy joes have been incredibly popular over the years.
This sloppy joe recipe is sweet, tangy, zesty, and savory, with the perfect texture and consistency. Of course, we all have different tastes, so I've detailed in the "variations" section of the post how you can make substitutions, but we love this crockpot sloppy joe recipe.
This recipe hits all the familiar flavor notes of the classic sloppy joes, but in an easy-to-make slow cooker format!
How to make sloppy joes in the crockpot/slow cooker?
This is just an overview; the full ingredients and directions are in the recipe card toward the bottom of this post.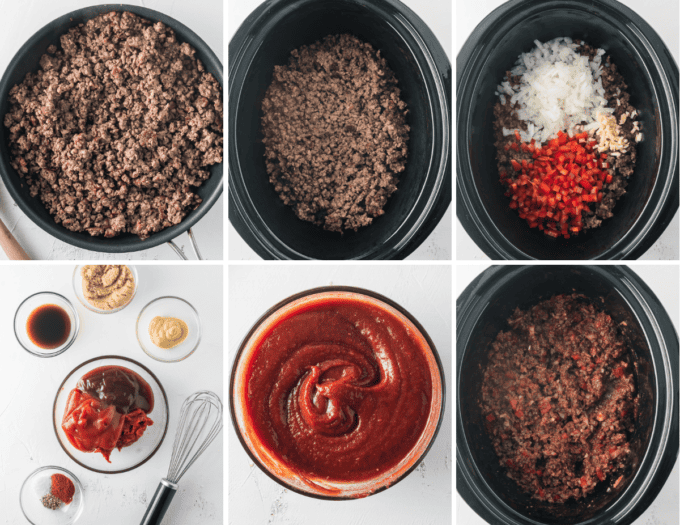 Brown. Cook the beef, crumbling as it cooks, then drain.
Add to slow cooker. Add the beef, onion, pepper, and garlic.
Make sauce. Whisk together the ketchup, bbq sauce, brown sugar, mustard, spices, and worcestershire sauce.
Combine and cook. Add the sauce to the slow cooker and stir. Cover and cook as directed.
Helpful Tip!
If you want to take your sloppy joes to the next level, try toasting the sandwich buns! Just crank up the heat under a large skillet to MED HIGH/HIGH, and add a drizzle of vegetable oil. When the oil is hot, add the buns, cook just 30 seconds to a minute or until they're golden brown, then place the buns cut side up on a cooling rack after they've been toasted.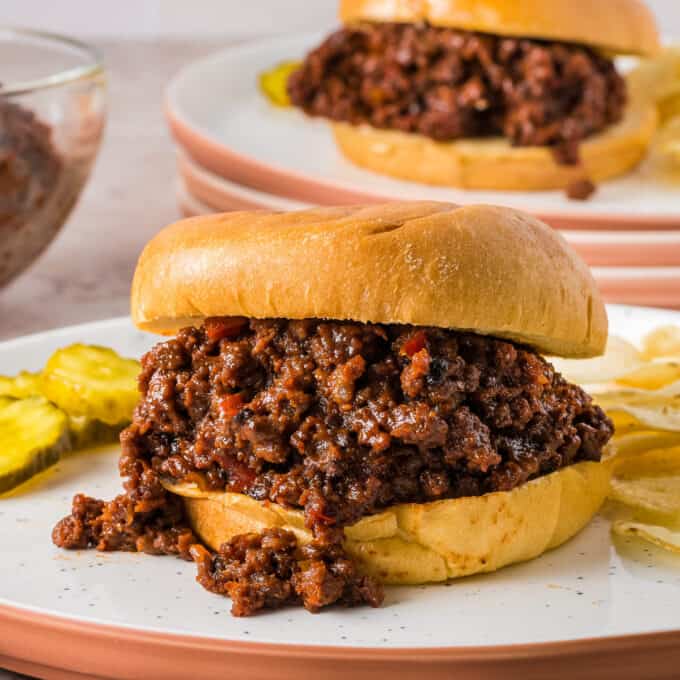 Variations of this recipe
Turkey – for a lighter version of this recipe, try using ground turkey instead of the beef.
Spicy – if you're a fan of the heat, try substituting a jalapeño/poblano/serrano for the bell pepper, and adding some cayenne pepper and/or hot sauce.
Texture – some people aren't big fans of the actual pieces of veggies in their sloppy joes. You can add the onion and bell pepper to a food processor and pulse until very finely minced, almost like a paste.
Molasses – for some depth of flavor, try adding a spoonful of molasses!
Wetter – if you'd like your sloppy joes to be "sloppier", try adding a splash or so of beef broth, beer, or even water.
Sugar – everyone has different tastes when it comes to sloppy joes. If you'd like your mixture to be less sweet, reduce the brown sugar and use a no sugar added ketchup. If you'd like it sweeter, feel free to add additional sugar.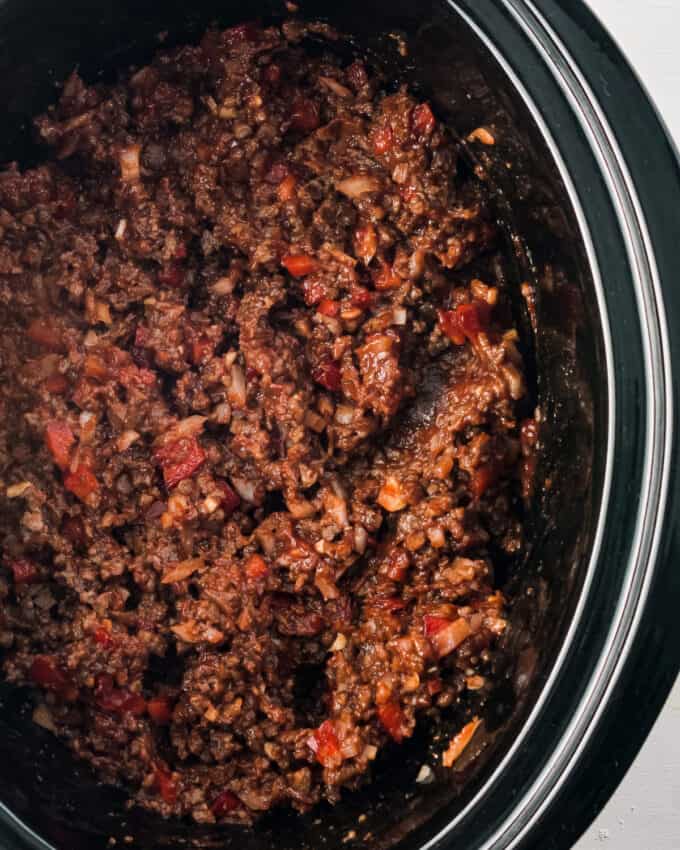 FAQ's
Can I make slow cooker sloppy joes without browning the beef?
I don't recommend that, unfortunately. Cooking the beef in the crockpot will result in a very greasy mixture, since there's no way to drain the fat.
Can this recipe be made in an Instant Pot?
I'm sure it could be, but it would need some modifications. Electric pressure cookers need a certain amount of liquid in order to come up to pressure and cook the food. So you'd need to add about 1 cup (possibly more) of beef broth, beer, or water to the recipe. Since I haven't specifically tested this, I can't speak to the cooking time, although I'm sure it wouldn't be much.
Making sloppy joes ahead of time
If you'd like to make this recipe ahead of time, you certainly can!
When reheating, add a splash of extra sauce, or some beef broth/water to loosen up the sloppy joe mixture so it doesn't dry out.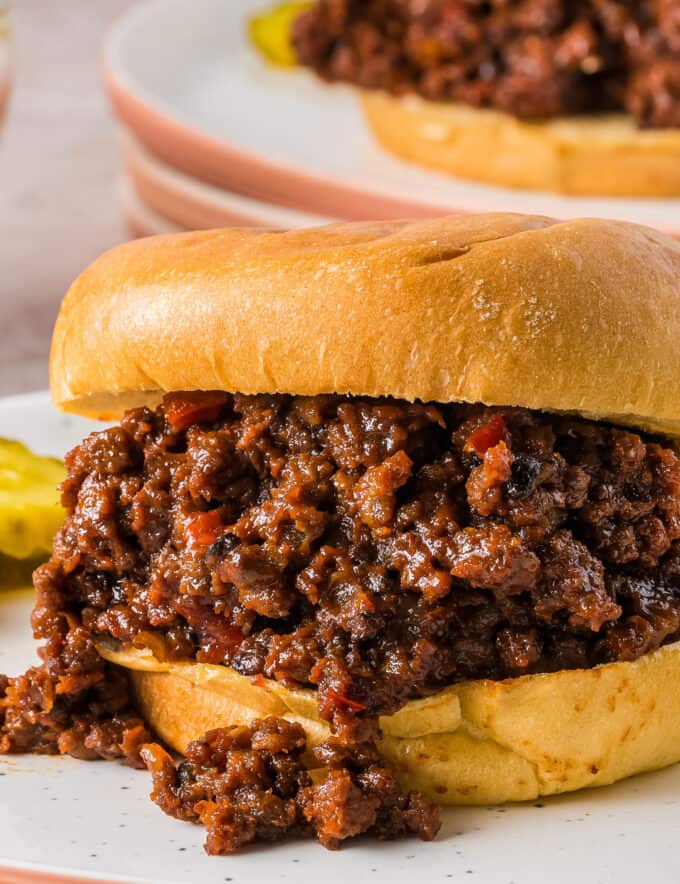 Freezing
The next time you're making sloppy joes, make a double batch and freeze half of it for the next time!
Just cool the sloppy joes completely, then add to freezer containers and freeze for up to 4 months.
Thaw overnight in the refrigerator and reheat before serving.
Storage
Leftover sloppy joes should be cooled, then refrigerated in an airtight container and enjoyed within 4-5 days.
Ways to enjoy sloppy joes!
Other than making a deliciously messy sandwich, here are some other ideas for using sloppy joe meat.
Fries – spoon some over some crispy fries (waffle fries are our favorite). Bonus points if you also melt some cheese over the fries before or after adding the sloppy joe meat!
Grilled cheese – when making a grilled cheese, add some sloppy joe meat to it.
Burger – a big juicy cheeseburger is perfect topped with sloppy joes.
Crescent rolls – roll up in crescent roll dough triangles and bake at 375 F degrees for about 12-15 minutes. Cheese makes a great addition to these as well!
Baked potato – the next time you have a baked potato, try adding sloppy joe meat, cheddar cheese, and some chives!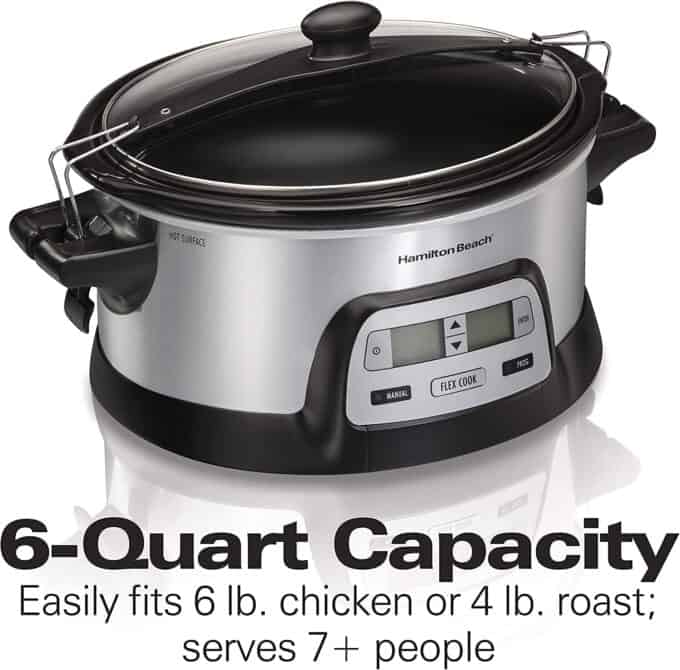 I had this crockpot for a while now, and I really love how it cooks. The locking lid feature is amazing for taking food to potlucks or other gatherings!
Did you make this? Be sure to leave a review below and tag me @the_chunky_chef on Facebook and Instagram!
These sweet and tangy homemade sloppy joes are made with simple ingredients, are easy to customize to your tastes, and are made easily in the slow cooker!
Ingredients
1 lb ground beef
1 small white onion minced
1 small red bell pepper minced
3 cloves garlic minced
6 oz can tomato paste
1/2 cup ketchup
1/2 cup barbecue sauce
1/4 cup packed light brown sugar
2 Tbsp Worcestershire sauce
1 Tbsp Dijon mustard
1 tsp smoked paprika
1/2 tsp kosher salt
1/4 tsp black pepper
hamburger buns
Instructions
Prepare
Gather a 4 quart or larger slow cooker. You'll also need a large skillet, a colander, and a small mixing bowl.
Cook beef
Heat a large skillet over MED-HIGH heat.  When hot, add a drizzle of oil (we normally use avocado oil), and then add beef. Cook, breaking apart into crumbles as it cooks, about 5-8 minutes, or until browned and cooked through. Transfer to colander to drain.
Add to slow cooker
Transfer cooked beef from the colander to the insert of a slow cooker. Add chopped onion, bell pepper, and garlic. Stir well.
Make sauce
In a small mixing bowl, add the tomato paste, ketchup, bbq sauce, brown sugar, worcestershire, dijon mustard, smoked paprika, salt, and pepper. Stir well to combine.
Combine and cook
Pour the sauce into the slow cooker on top of the beef mixture. Stir well, then cover and cook on LOW for 4-6 hours, or HIGH for 2-3 hours. ** I recommend stirring the mixture every hour or 2 if you're home, to prevent any burning. **
Serve
Before serving, stir well, breaking up any clumps of beef. Serve hot over hamburger buns (toasted buns work perfectly!), or as desired.
Want to save this recipe for later? Click the heart in the bottom right corner to save to your own recipe box!
Chef Tips
I've estimated that this recipe will serve about 6, but feel free to divide it up into as many servings as you'd like.
Any color bell pepper will work for this recipe.
Yellow mustard can be substituted for the Dijon, and additional spices may be used.
Stovetop Directions:
Add 1/2 cup of water, beef broth, or beer to the ingredient list.
Cook beef as directed, and after draining, add another drizzle of oil and saute the onion and pepper in the skillet. Cook, stirring occasionally, for 3-4 minutes, until softened. Add garlic and cook about 30 seconds.
Reduce heat to MED/MED-LOW, and add the beef back to the skillet. Stir in the tomato paste, stirring well to coat.
Add in the ketchup, bbq sauce, brown sugar, worcestershire sauce, dijon mustard, smoked paprika, salt, black pepper, and the 1/2 cup water. Stir well to combine.
Cook for 10-15 minutes, stirring often, until mixture has thickened to your liking. 
Serve as directed.
Nutrition Disclaimer
The Chunky Chef is not a dietician or nutritionist, and any nutritional information shared is an estimate. If calorie count and other nutritional values are important to you, we recommend running the ingredients through whichever online nutritional calculator you prefer. Calories can vary quite a bit depending on which brands were used.