With Valentine's Day coming up this weekend, some of you may be on the hunt for a great dessert to fix for your sweetheart.  Or maybe you want to make something for yourself and boycott the holiday.  Either way, this is the dessert for you!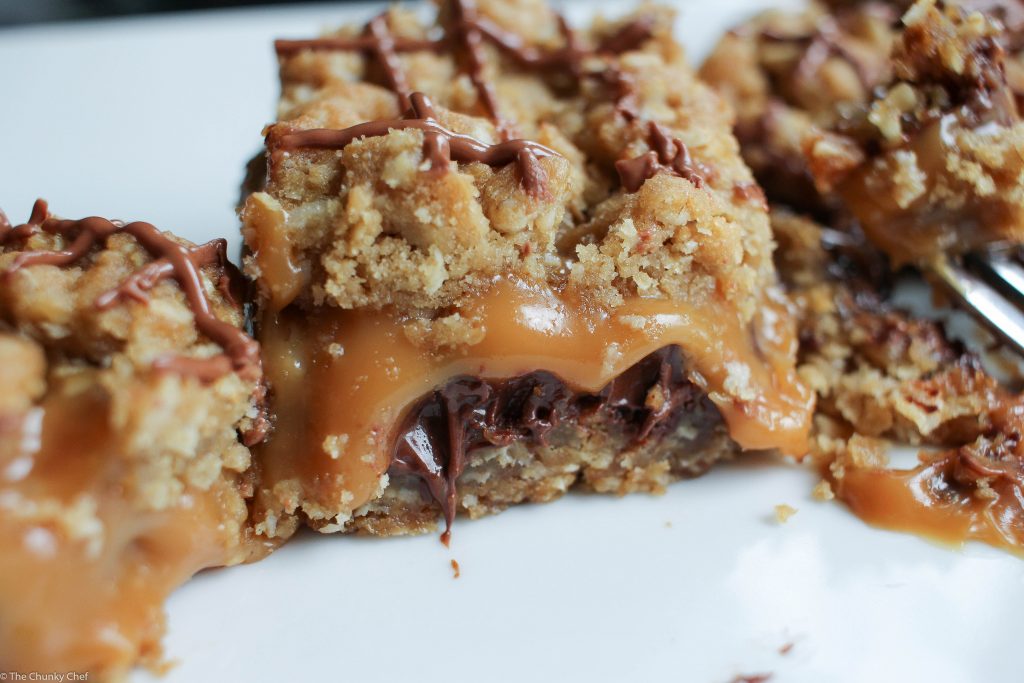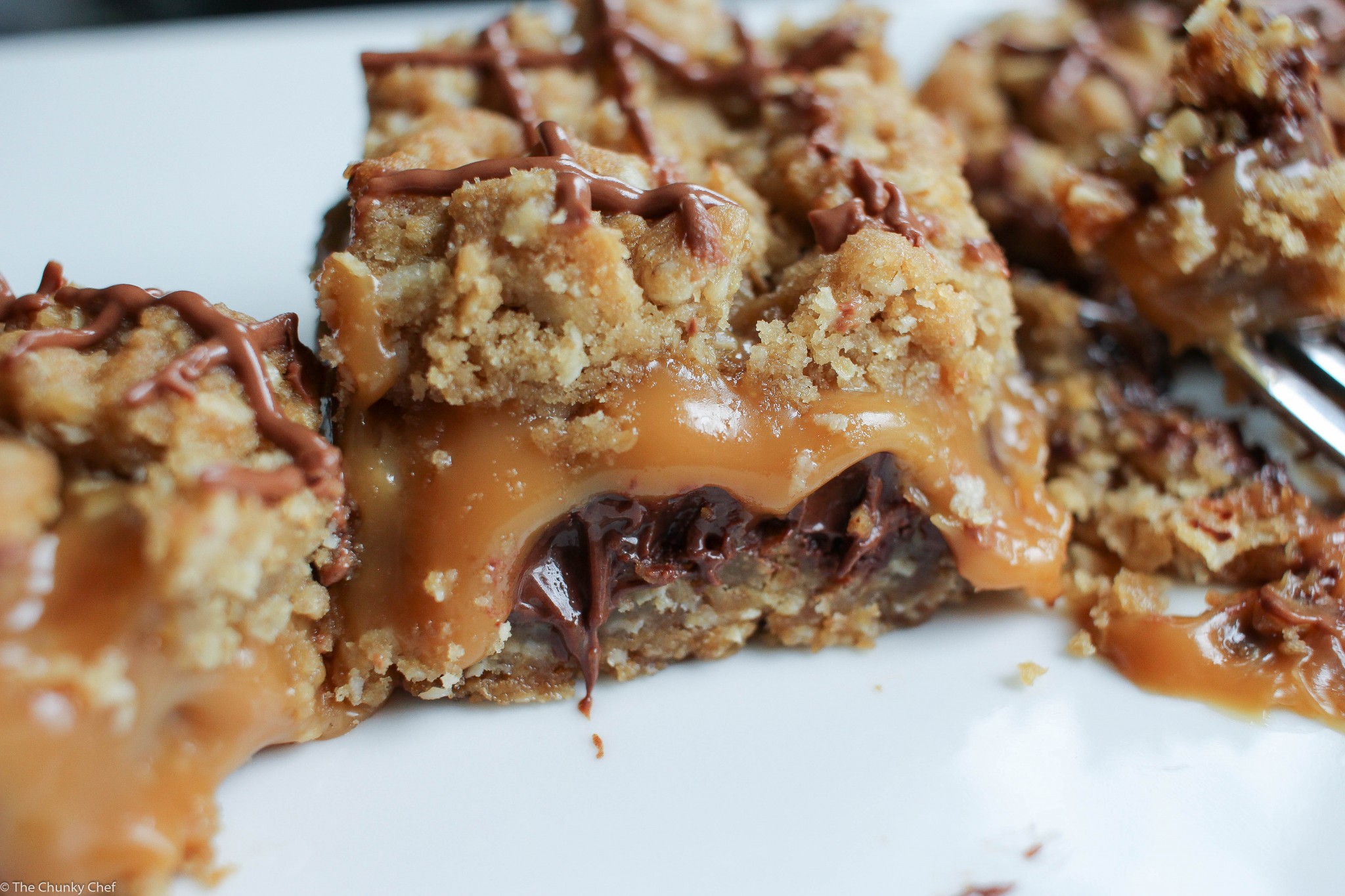 Whether you are going all out in your celebration, or keeping it low key at home, this simple and easy dessert is sure to amaze you!  No mixer required, and it comes together quickly… sounds good huh?
So let's get down to it and see how these yummy bars come together!
Start by melting your butter, then whisking in your brown sugar and vanilla.
Using a rubber spatula, stir in flour, oats, a pinch of salt and baking soda. It'll be gooey, but still easy to mix by hand.
Line an 8×8″ baking pan with aluminum foil (non-stick if you have it) and spray lightly with cooking spray. Divide dough mixture in half and press half into the bottom of the baking pan. Use your fingers or the back of your rubber spatula to press it.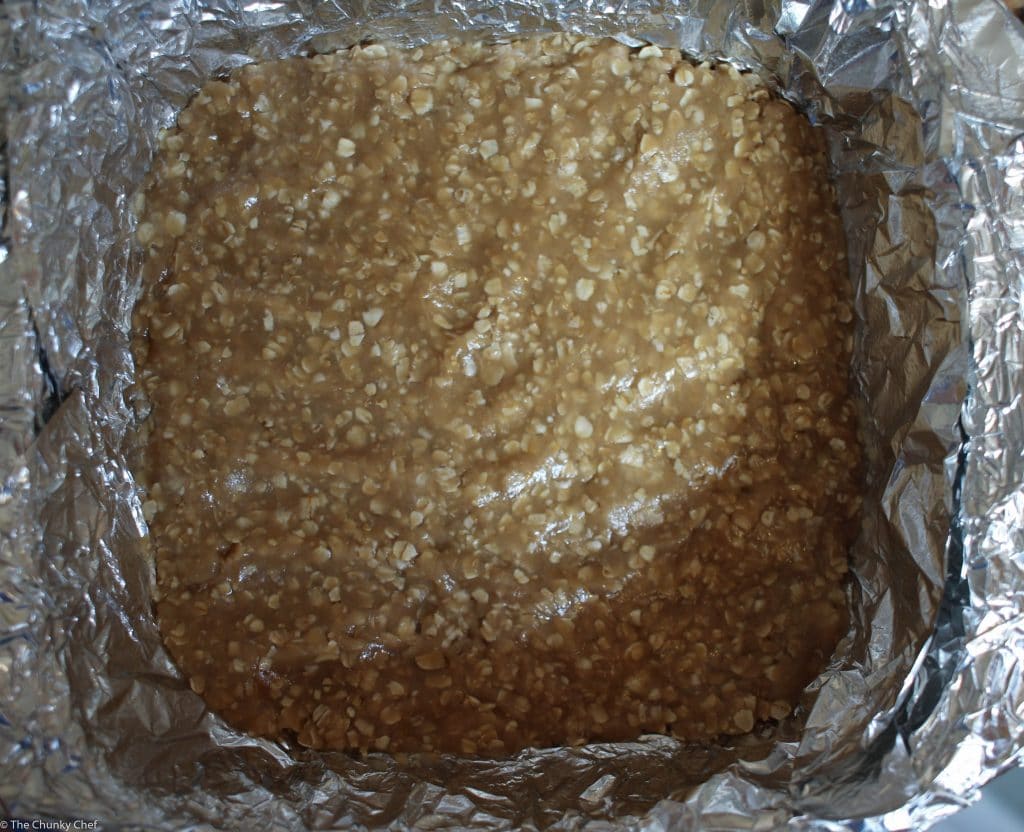 Now bake for about 10 minutes or so. I used that time to make the caramel sauce 🙂 You can use any caramels that you like, I used Kraft brand that are wrapped in cellophane. You'll need about 40 caramels, which for me, was the whole bag lol. Put them in a microwave safe bowl and pour the heavy cream over the top. Microwave for about 4 minutes, stirring every 60 seconds, until it gets to a smooth, glossy consistency.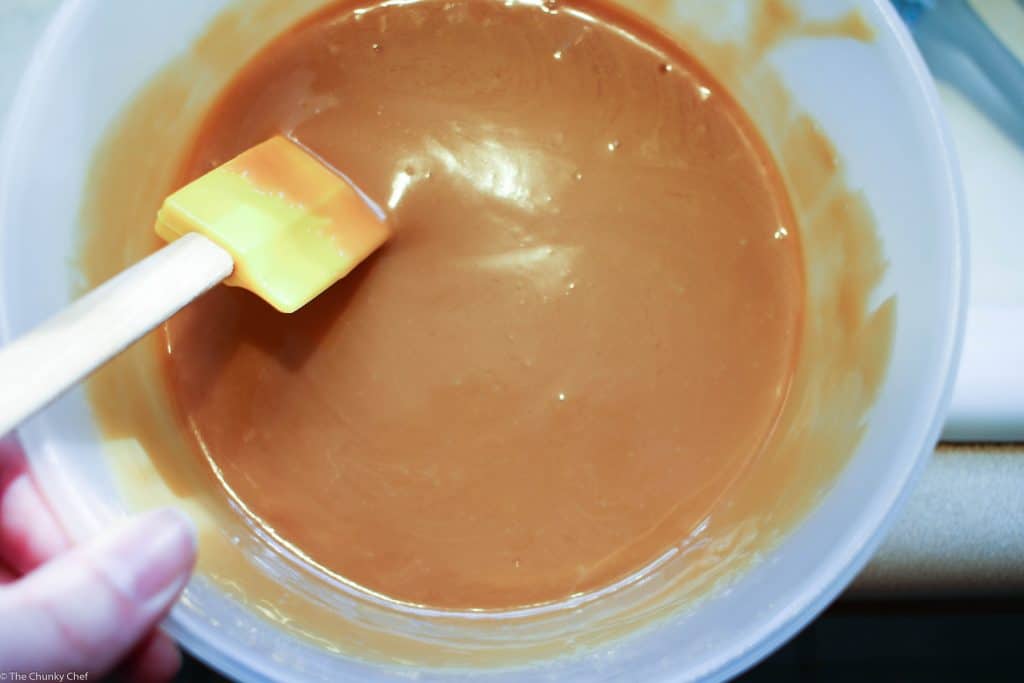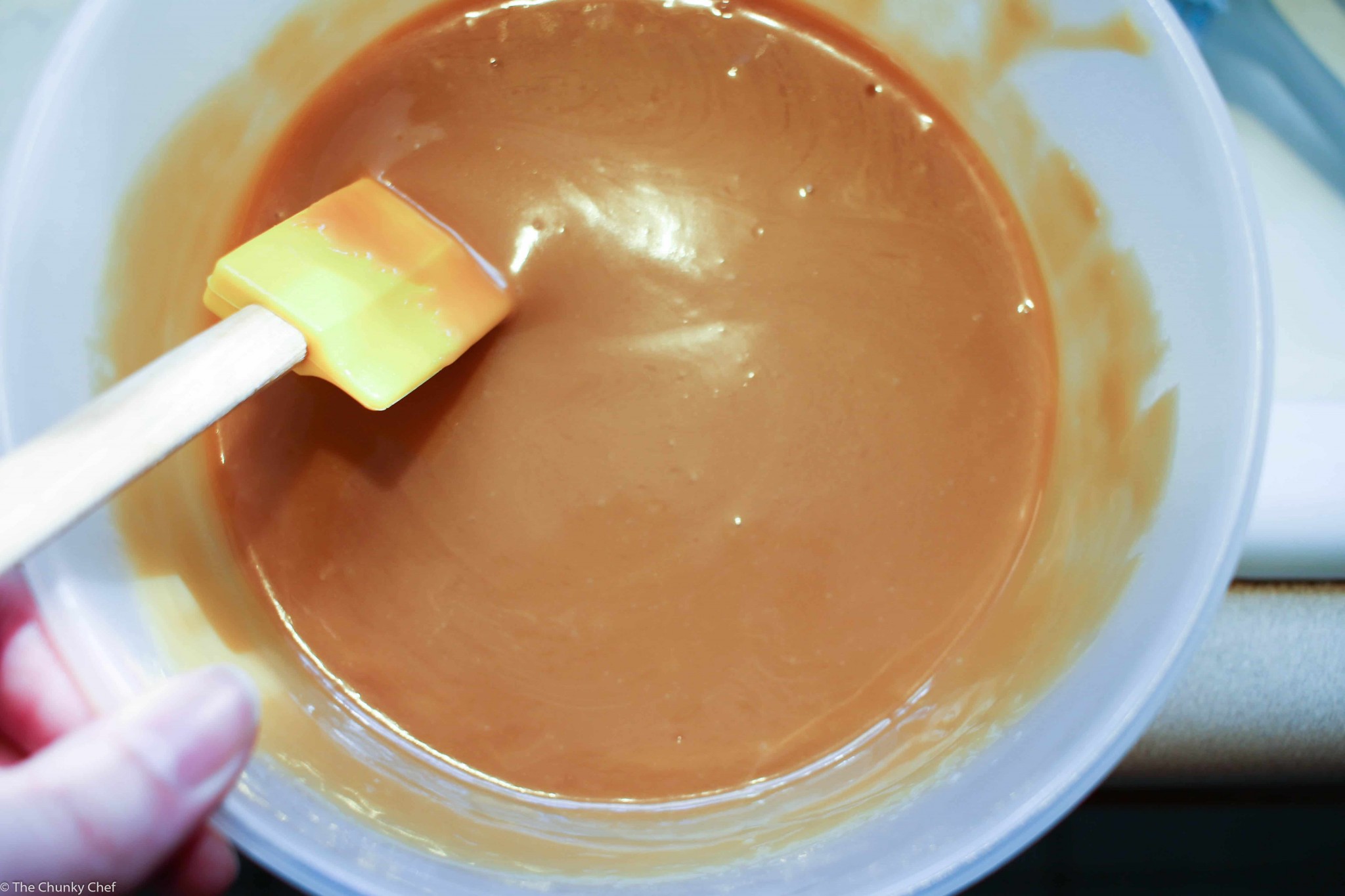 Once the bottom crust is done baking, take it out of the oven and sprinkle your chocolate chips evenly over the top.  I followed the recipe and went with semi-sweet chocolate for this since the bars are already super sweet, but if you'd prefer milk chocolate, go for it!
Pour the caramel sauce over the top of the chocolate chips. I chose to add some salt to the caramel sauce to make it a salted caramel because I think that flavor combo is just heavenly.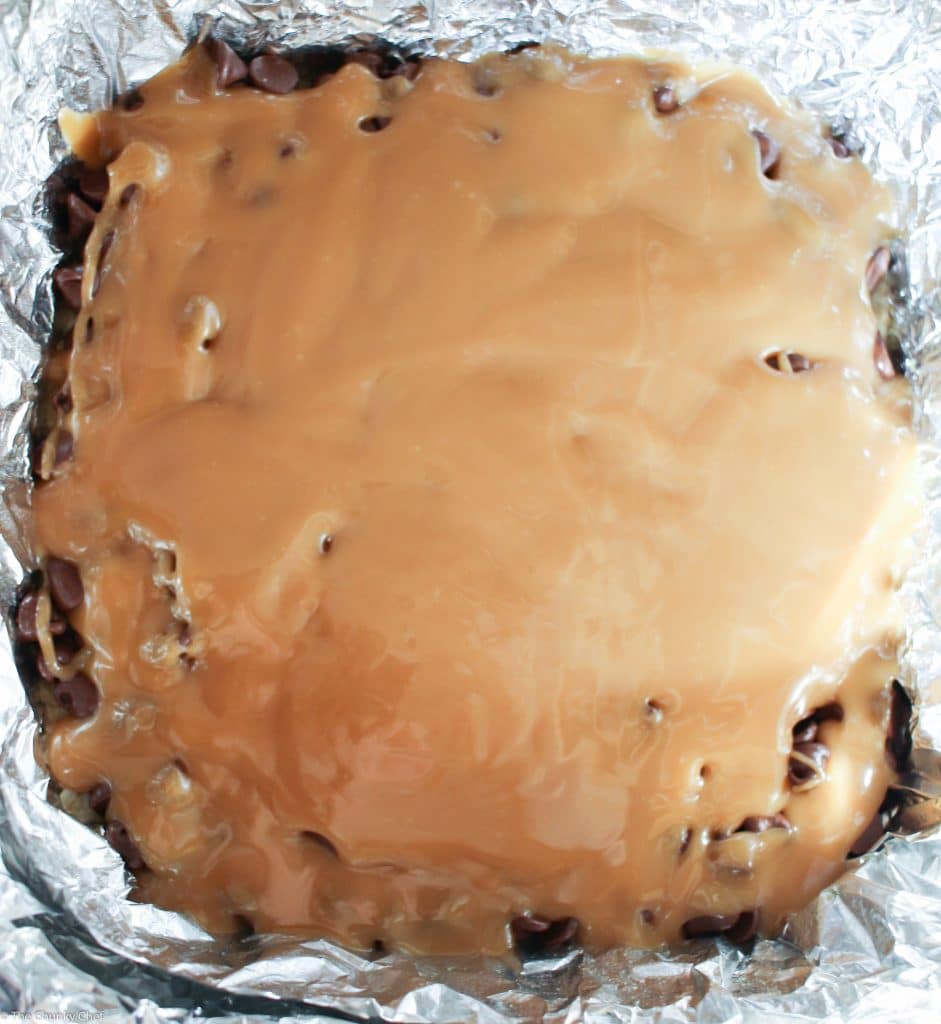 Now remember that second half of the oat mixture we made? Here's where you're going to use it. I wanted to crumble it over the top, for a soft, crumbly crust… but you can press it into a flat layer if you'd like.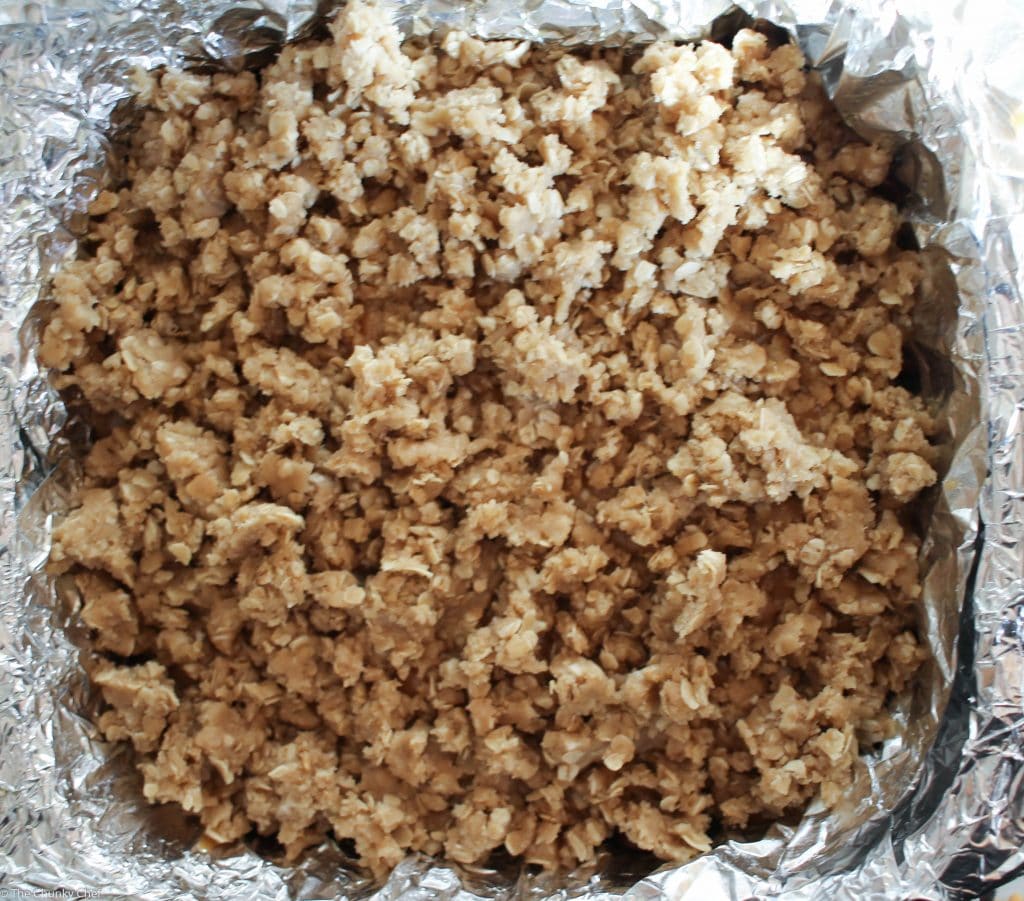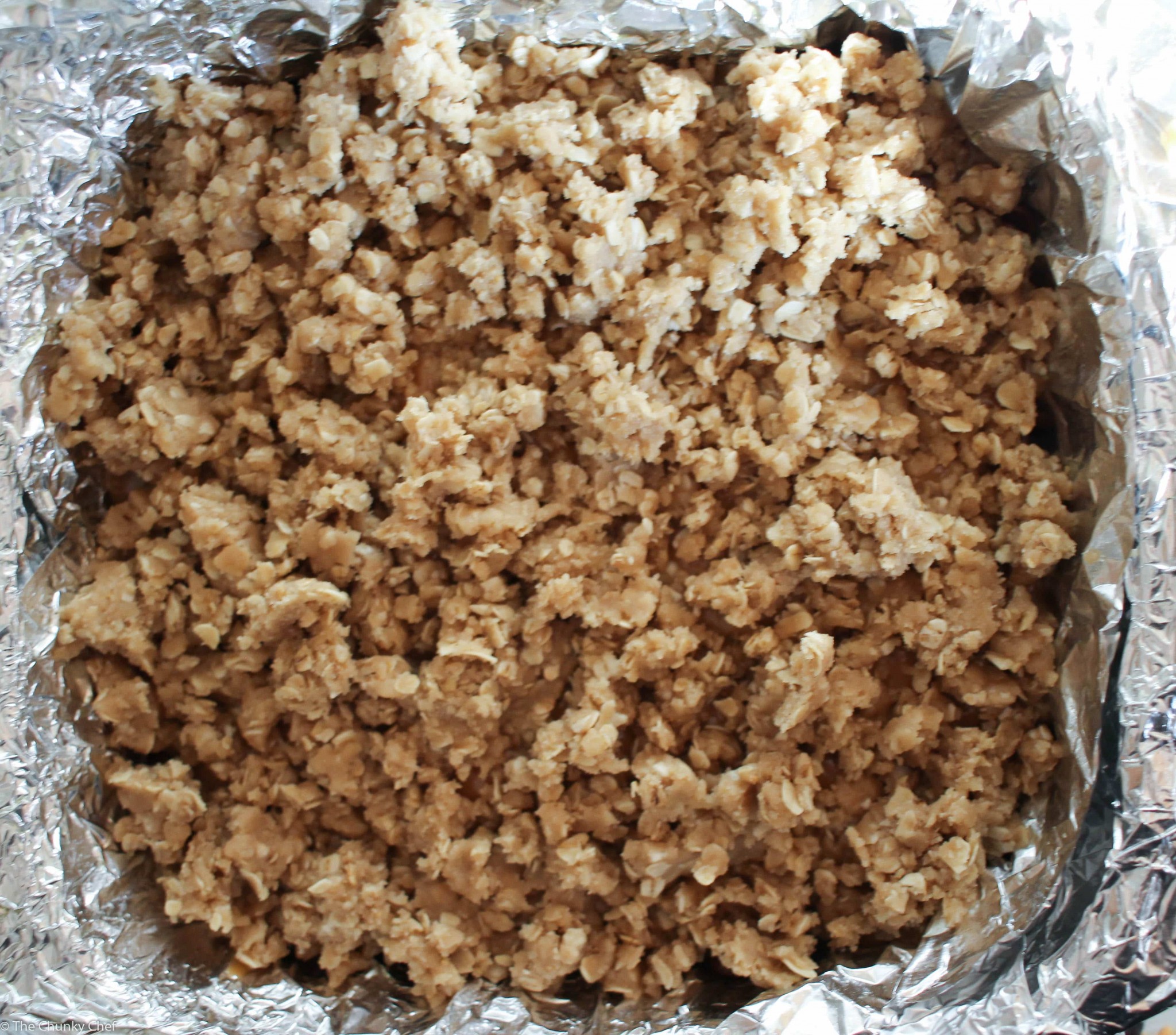 Just slide the pan back into the oven for anywhere from 15-18 minutes. Mine took 18, to get a slightly firm center and lightly golden brown edges.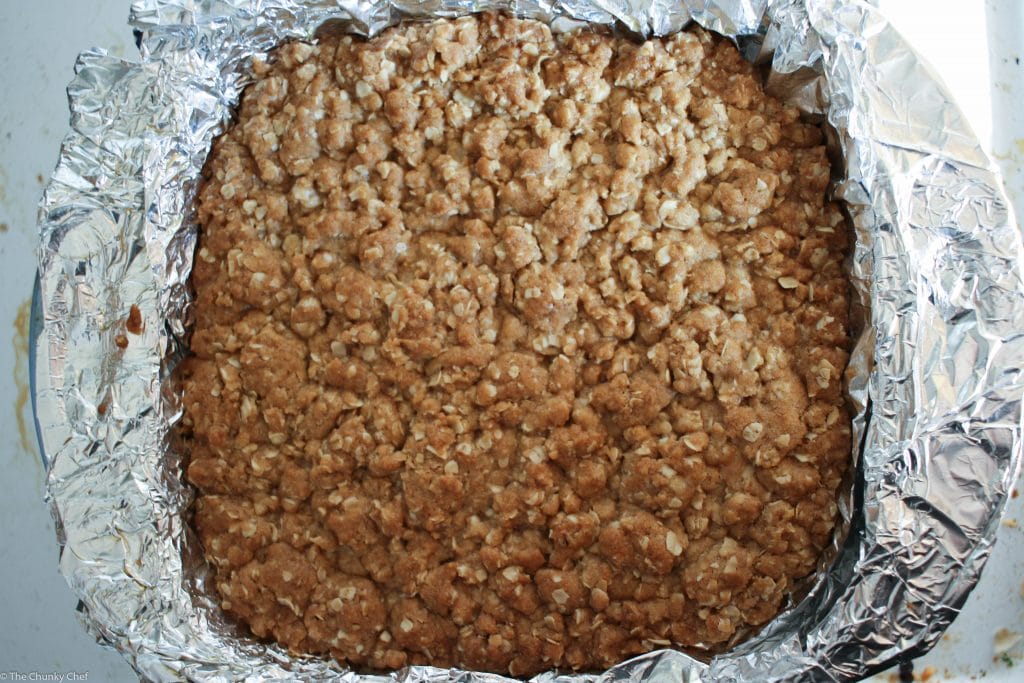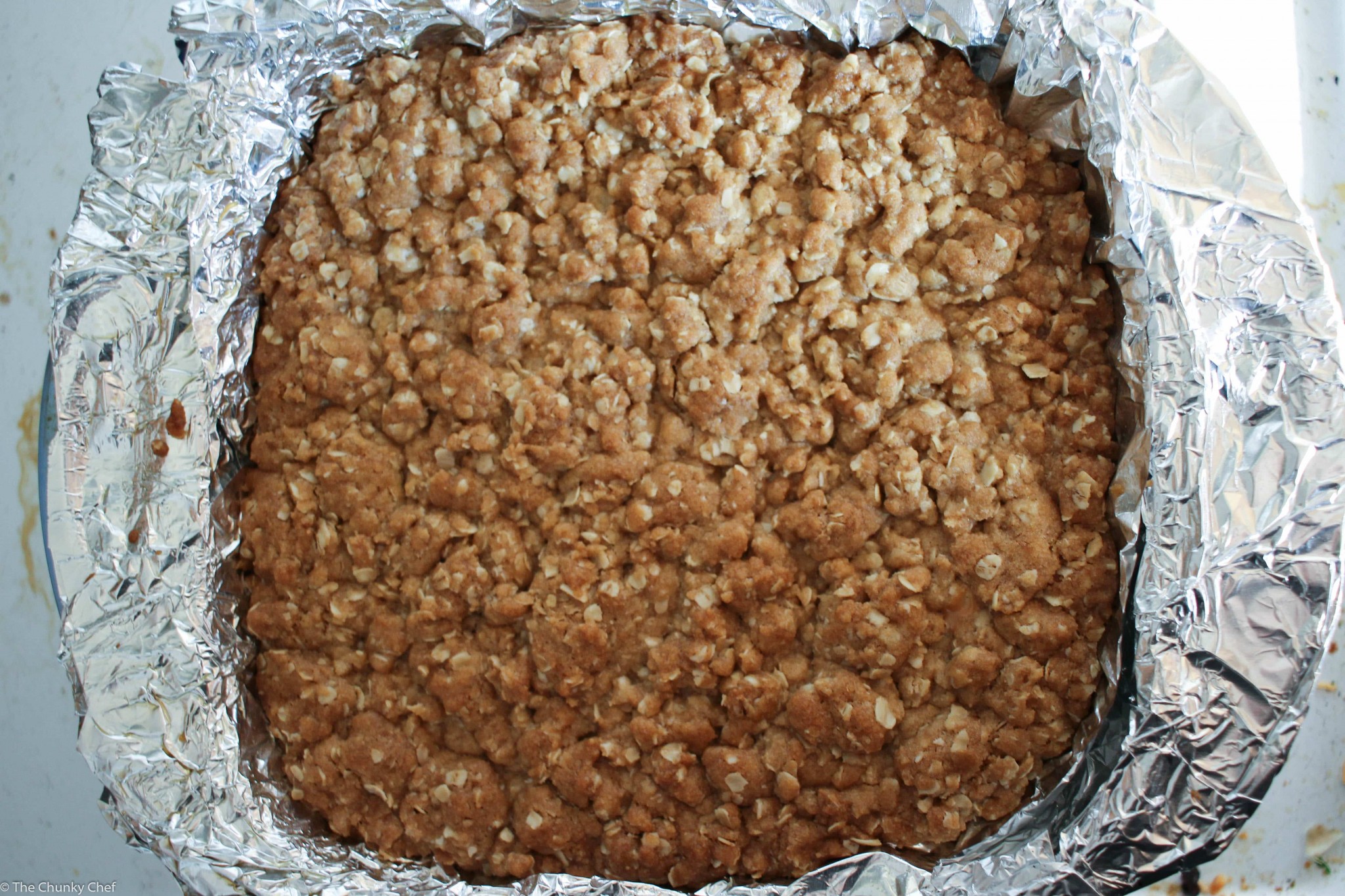 At this point, you could be finished and just let the bars cool.  But because I wanted to be a bit more indulgent, I melted some milk chocolate and drizzled it over the top of the bars.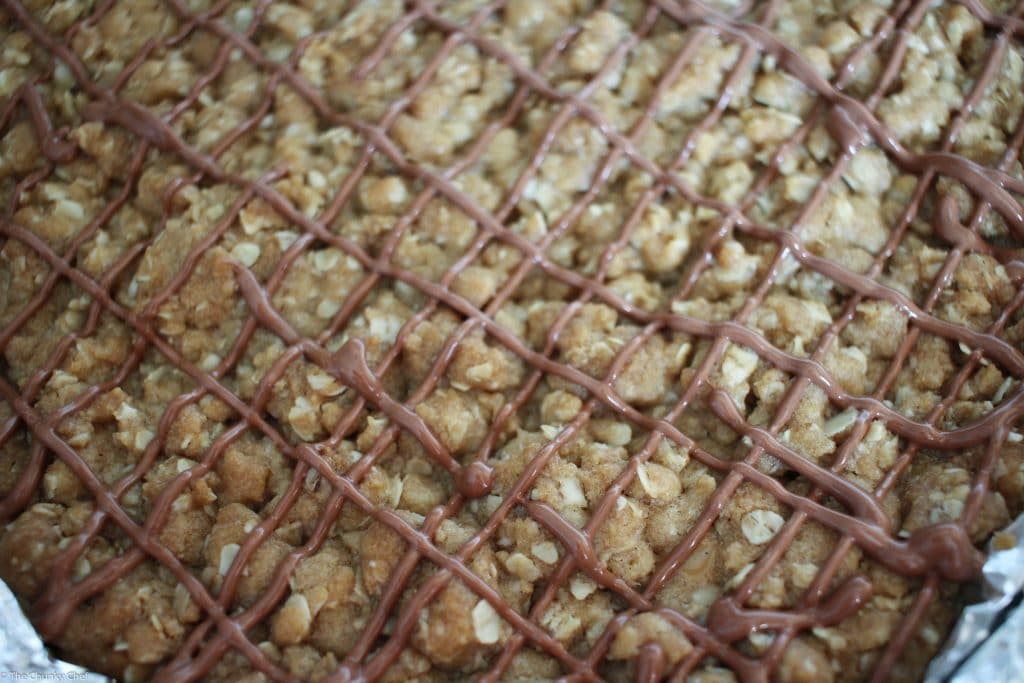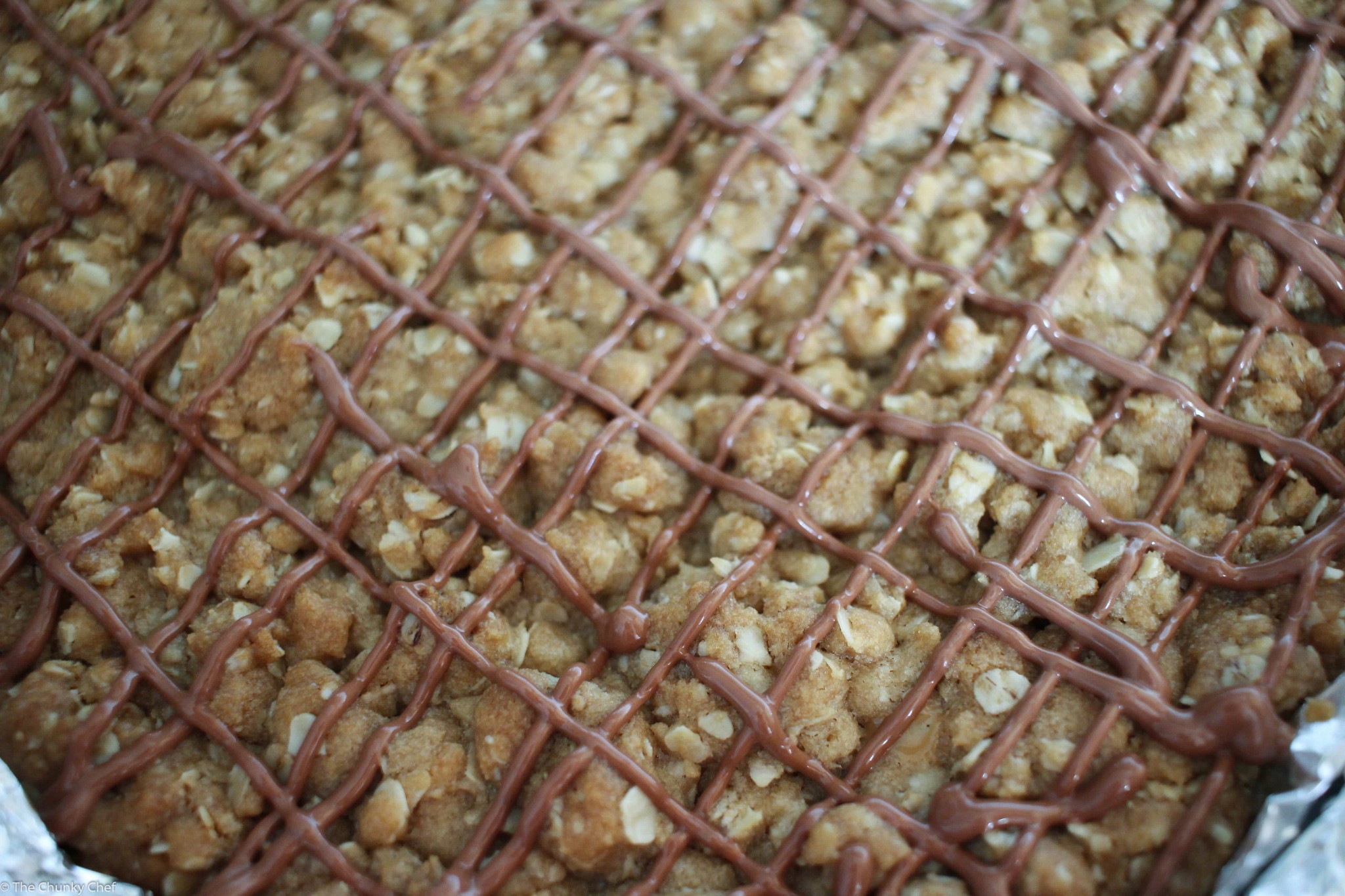 While it may be SUPER tempting to dive right into these bars, and trust me, it will be… they will taste amazing, but will be a huge mess lol. Think about what's under that oat crust… hot melted caramel and chocolate. It'll fall apart and liquid candy will be all over your plate lol. So my advice would be to wait for them to cool for a couple of hours before slicing into them.
Now just be prepared for your mouth to be amazed!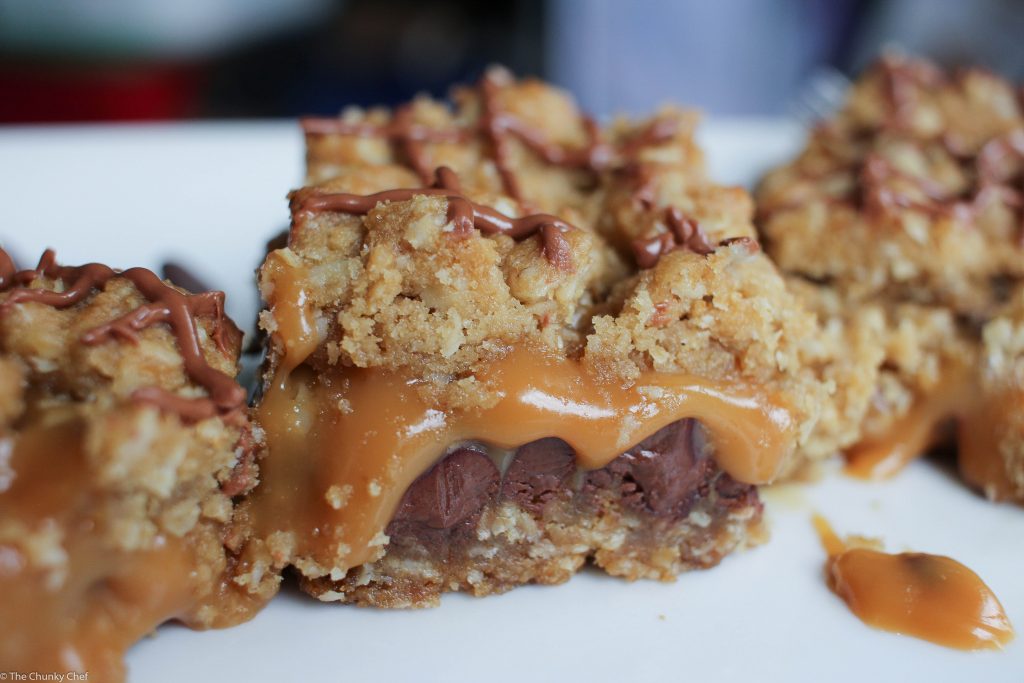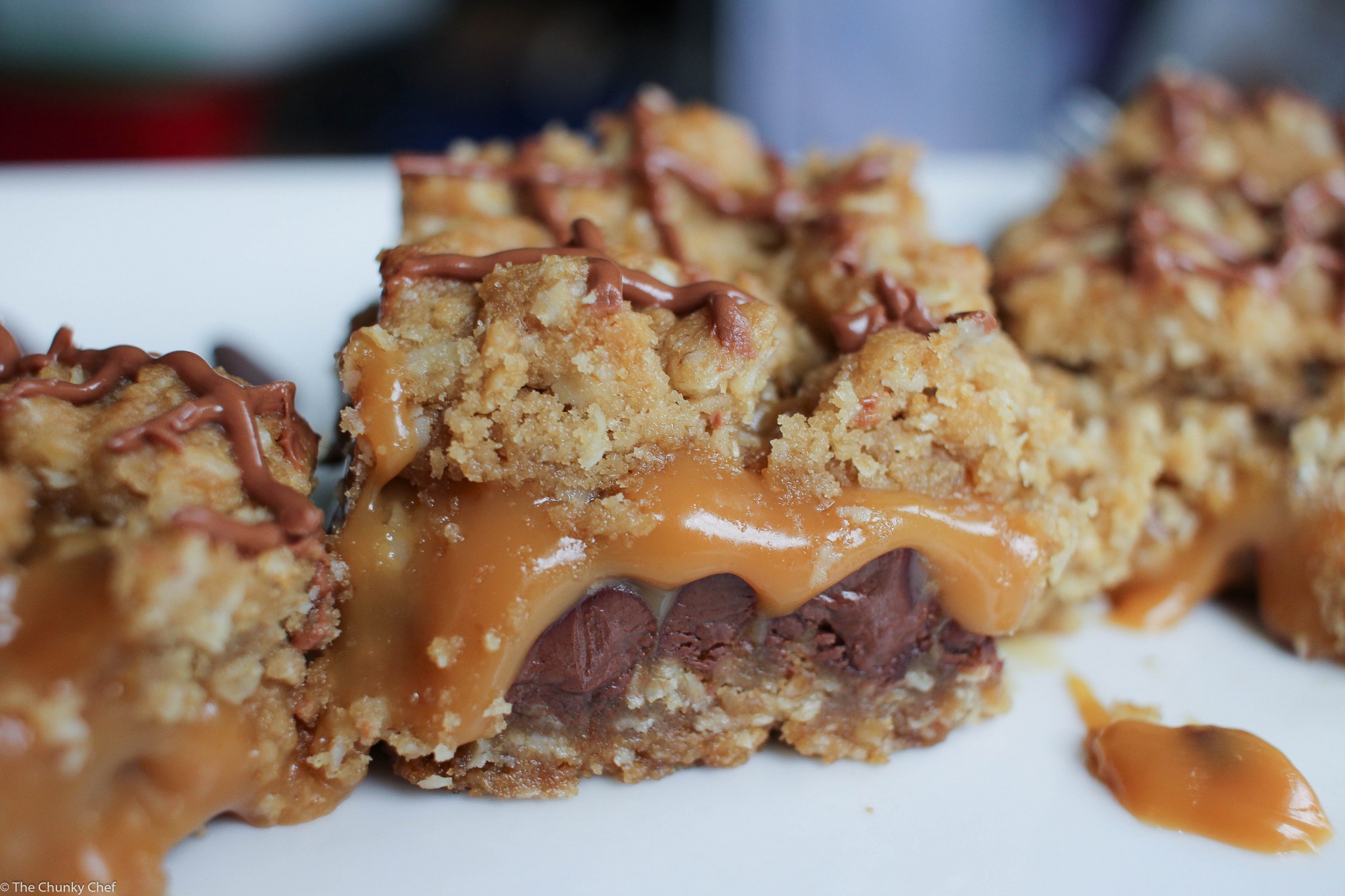 This recipe makes an 8×8″ pan, but I think you could easily double the recipe and make a 13×9″ pan (the bars just may be a little thicker). These would also freeze well. Although I've never frozen them (they don't last long enough lol), Averie at Averie Cooks says they would freeze for several months in an airtight container 🙂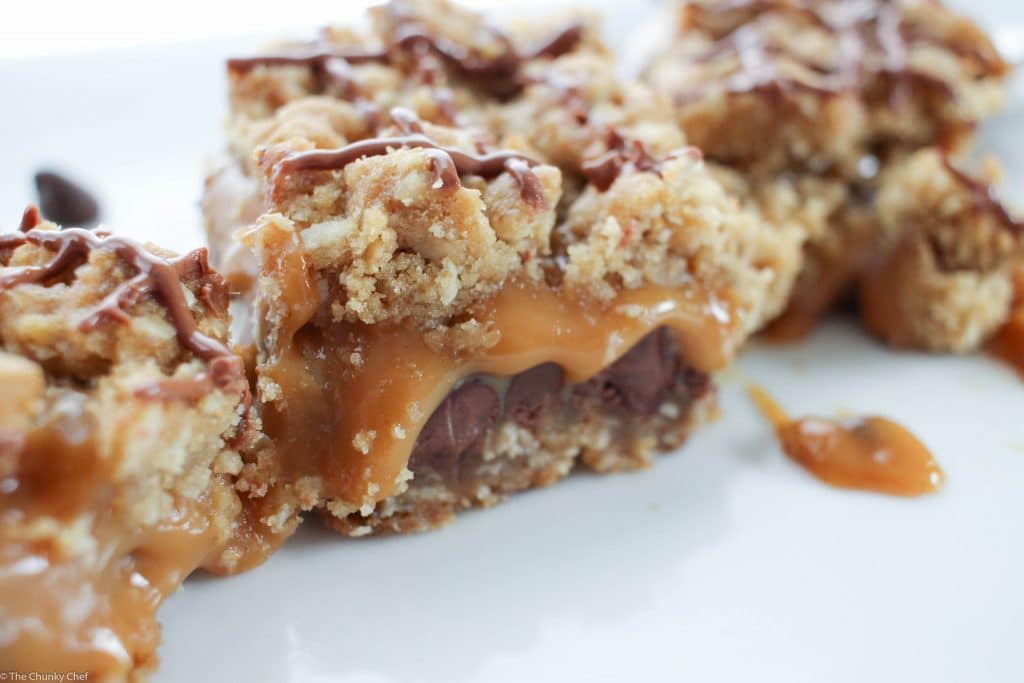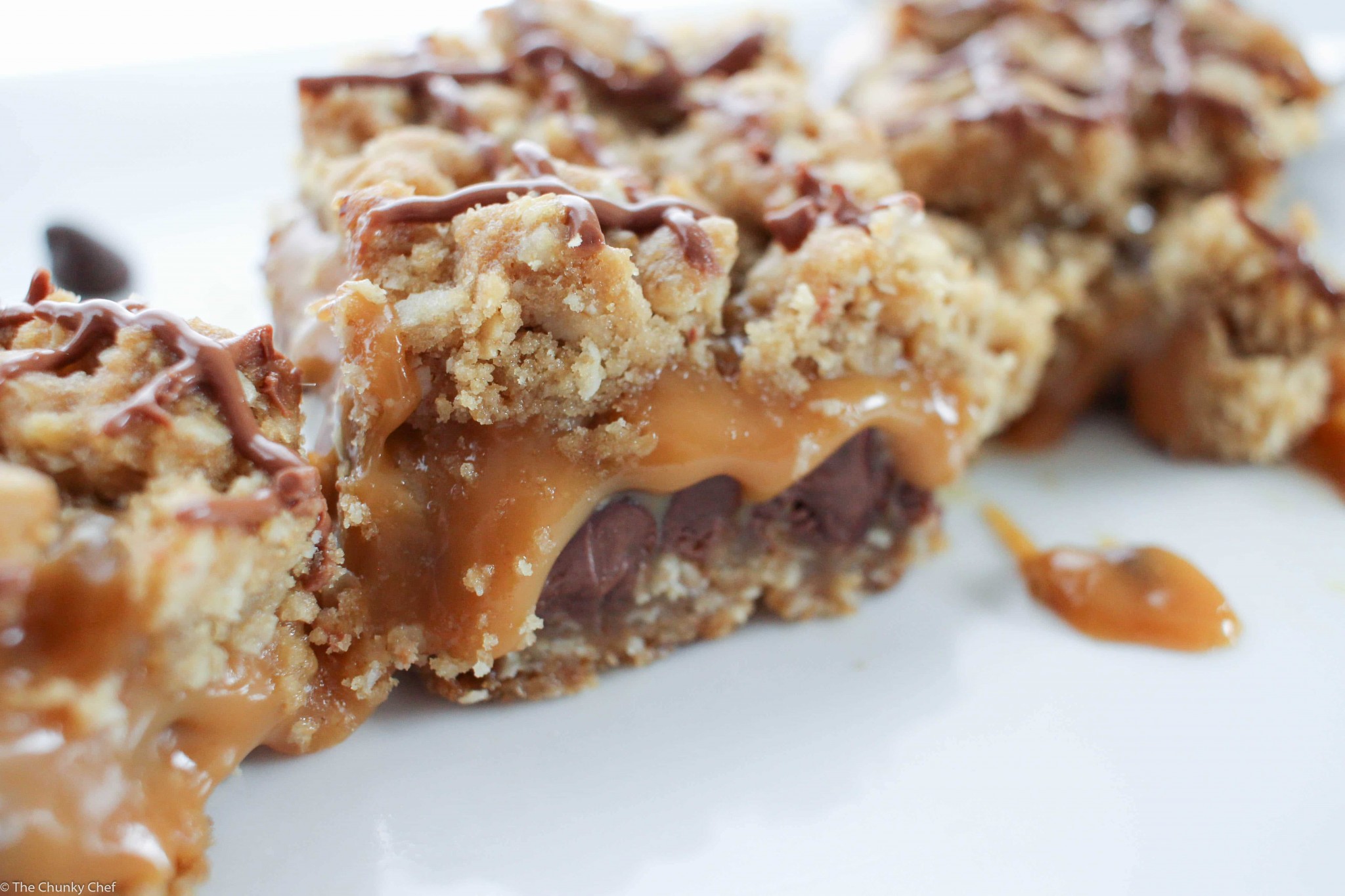 Did you make this? Be sure to leave a review below and tag me @the_chunky_chef on Facebook and Instagram!
The perfect sweet treat for any occasion… these carmelitas are full of sweet oats, luscious chocolate and decadent melted caramel!
Ingredients
3/4 cup unsalted butter (1 1/2 sticks)
3/4 cup brown sugar packed
1 Tbsp vanilla extract
1 cup flour
1 cup old fashioned oats don't use quick cooking
1 tsp baking soda
1/4 tsp salt optional
40 caramel squares unwrapped
1/2 cup heavy cream
1/2 tsp salt (for salted caramel sauce feel free to omit if you'd like)
1 cup semi-sweet chocolate chips
1/4 cup milk chocolate chips
Instructions
Preheat oven to 350. Line an 8×8″ pan with aluminum foil (the nonstick kind if you have it) and spray lightly with cooking spray.

Melt butter in small dish, in microwave for about 60 – 90 seconds.

Add the brown sugar, vanilla, and whisk until smooth and combined.

Add the flour, oats, baking soda, 1/4 tsp salt, and stir with rubber spatula until combined.

Add half of the oat mixture to the prepared pan, press it with spatula or fingers, into an even layer.

Bake for 10 minutes. While it bakes, make the caramel sauce.

In a bowl, combine the unwrapped caramels, cream, and microwave for 4 minutes, stirring every 60 seconds, until the sauce is smooth and easy to stir. Add 1/2 tsp salt and stir.

After 10 minutes, remove pan from the oven and sprinkle chocolate chips over the oats.

Carefully pour the caramel sauce over the chocolate.

Crumble remaining oat mixture over the top (or press it into a smooth layer).

Place in oven and bake for about 18 minutes (yours might be done sooner, start checking after about 15 minutes), or until edges are lightly browned and center is just set.

Melt milk chocolate and drizzle over the top of the bars.

Let bars to cool completely in the pan before slicing or else the hot caramel and chocolate will run everywhere. Mine took about 2-3 hours. You could also put the pan in the refrigerator, covered, to speed up the cooling process.
Want to save this recipe for later? Click the heart in the bottom right corner to save to your own recipe box!
Nutrition Disclaimer
The Chunky Chef is not a dietician or nutritionist, and any nutritional information shared is an estimate. If calorie count and other nutritional values are important to you, we recommend running the ingredients through whichever online nutritional calculator you prefer. Calories can vary quite a bit depending on which brands were used.