These tart and sweet cranberry mojitos are a festive twist on a classic cocktail, and are perfect for all your winter holiday gatherings! This recipe includes both small and large batch instructions.
This is one of my Drink recipes I know you'll want to keep on hand!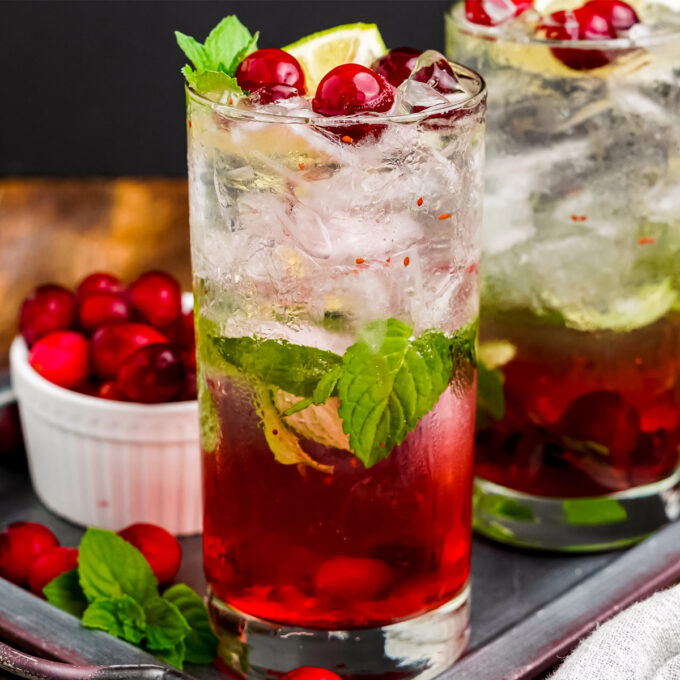 When I think of Winter drinks, I tend to think of cozy, hot drinks, like spiced mulled wine or maybe some nutella hot chocolate. But sometimes, a drink like this mojito cocktail hits the spot during the colder months!
The bright and fresh flavors are a true pick-me-up, and the cranberries are easy to find this time of year.
Of course, you can serve this cranberry mojito up year-round if you'd like, it's a really versatile drink recipe!
There are plenty of ways to change this recipe up if you'd like, and I've included a large batch version in the "chef tips" right below the recipe instructions, in case you're having a party and don't want to make just 2 cocktails at a time.
How to make a cranberry mojito?
This is just an overview; the full ingredients and directions are in the recipe card toward the bottom of this post.

Make the syrup. It may sound complicated, but I promise it's not. You just boil water, sugar, and cranberries until the cranberries burst and the sugar is dissolved. Make sure to let it cool afterwards though.
Muddle the mint. Muddling the mint with sugar takes away any potential bitterness that can be released from smashing the mint leaves.
Layer. Start with lime juice, then add cranberry syrup, rum, ice cubes, and club soda!
Helpful Tip!
Fresh mint leaves are the calling card of a classic mojito cocktail. While you can make this drink recipe without the mint, it's not really a mojito anymore, so I do highly recommend picking up some mint from the grocery store.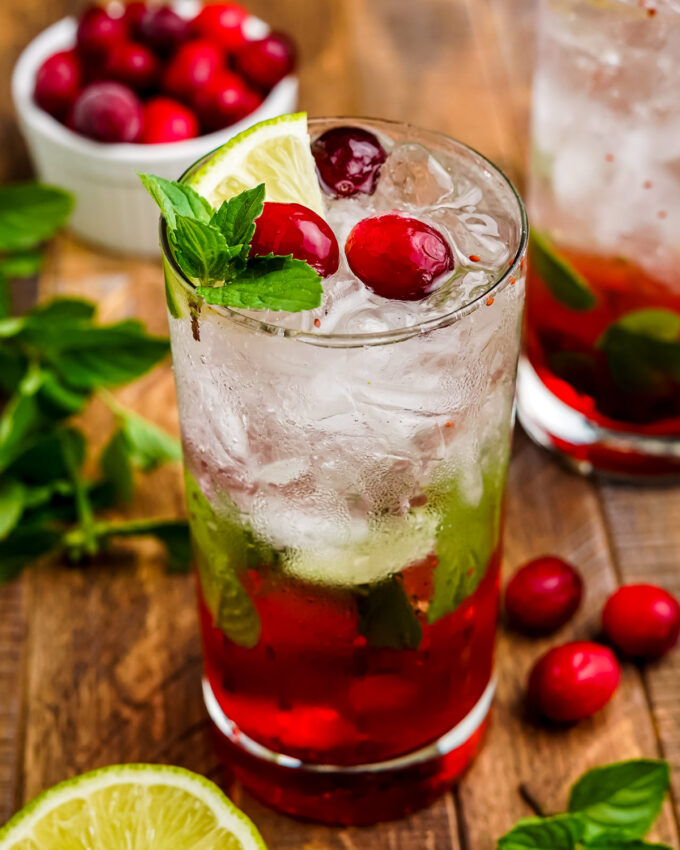 Variations of this recipe
Cranberries – this recipe will work well with fresh or frozen cranberries, so feel free to use whichever type you have available. If using frozen, thaw them in the refrigerator before using.
Lime juice – in recipes like this, with minimal ingredients, use the best you can… and in this case, juicing fresh limes will give you the best flavor. In a pinch, you can use bottled lime juice, however the flavor won't be as delicious.
Rum – this recipe calls for white rum, but you may see this type of rum called other things. Silver, clear, or light rum are all essentially the same thing; a rum that has nearly no color, isn't aged long at all, is filtered many times, and has a light flavor. Bacardi Superior is a good example of this type of rum.
Club soda – feel free to use your favorite flavorless sparkling soda/water for this recipe. Seltzer or sparkling mineral water are two great alternatives.
Shaken – if you'd prefer to use a cocktail shaker, add the cranberry syrup, lime juice, and rum to the shaker with some ice. Muddle the mint leaves with the sugar, then strain in the contents of the shaker. Top it off with the club soda, garnish, and serve. This isn't traditional, and won't have as much of a layered appearance, but will still taste delicious.
Alcohol-free – if you would like to make this into a "mocktail", replace the white rum with an equal amount of additional club soda, or try adding some lime or cranberry flavored seltzer water.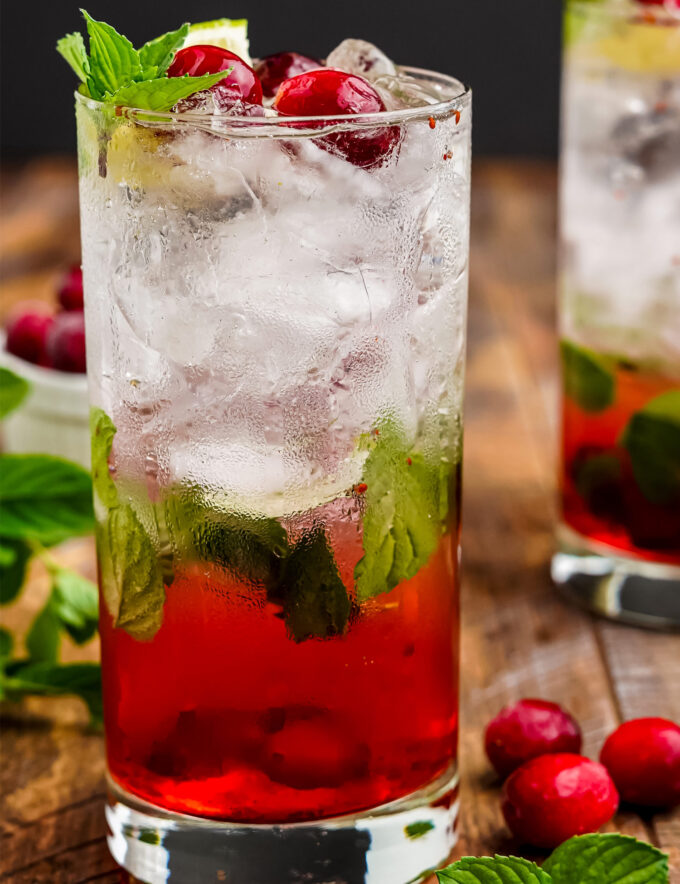 FAQ's
Are mojitos sweet?
Mojitos are notoriously citrusy and slightly sweet. This version adds a bit of tartness to the mix from the cranberry syrup. However, you're free to add additional sweetness by adding simple syrup, or use less sugar in the cranberry sugar to cut down on the sweetness.
I don't have a cocktail muddler, what can I do instead of muddling?
You don't need a fancy tool to muddle the mint and sugar, although an inexpensive tool like a muddler can be handy. You can use the handle of a wooden spoon, mortar and pestle, dowel rod, etc. If my muddler isn't available, I always reach for my wooden spoon handle and it works just as well!
Making mojitos ahead of time
Mojitos are a drink that's best made fresh right before serving, however you can make parts of this ahead of time, which means it'll come together super quickly!
How to prep ahead for this recipe:
Cranberry syrup – the cranberry syrup can be made, cooled completely, then stored in an airtight container in the refrigerator for several days, up to a week.
Lime juice – the fresh lime juice (and I do highly recommend using fresh) can be stored in an airtight container in the refrigerator for a few days.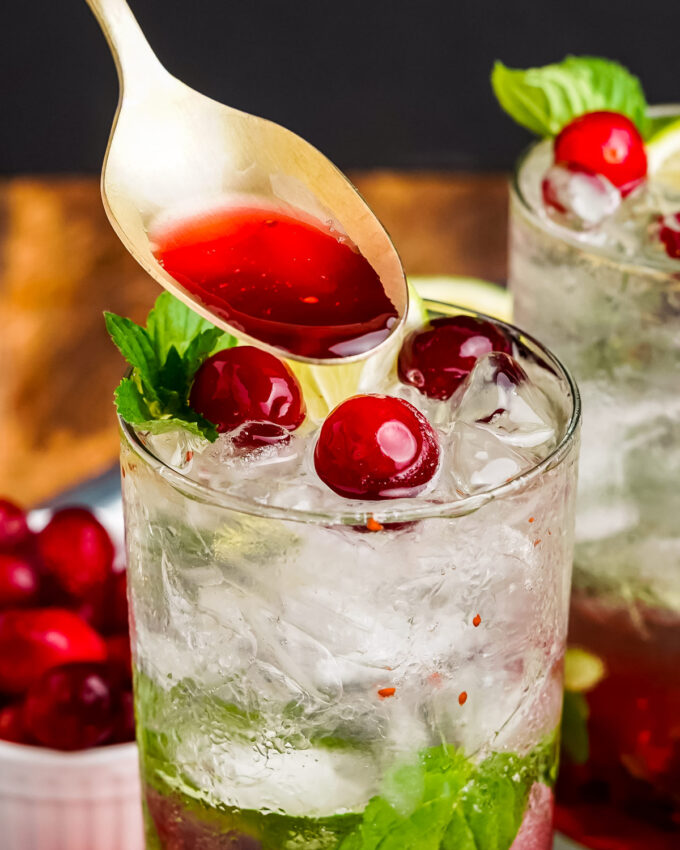 Storage
Any leftover cocktails should be stored in the refrigerator and consumed within 1-2 days.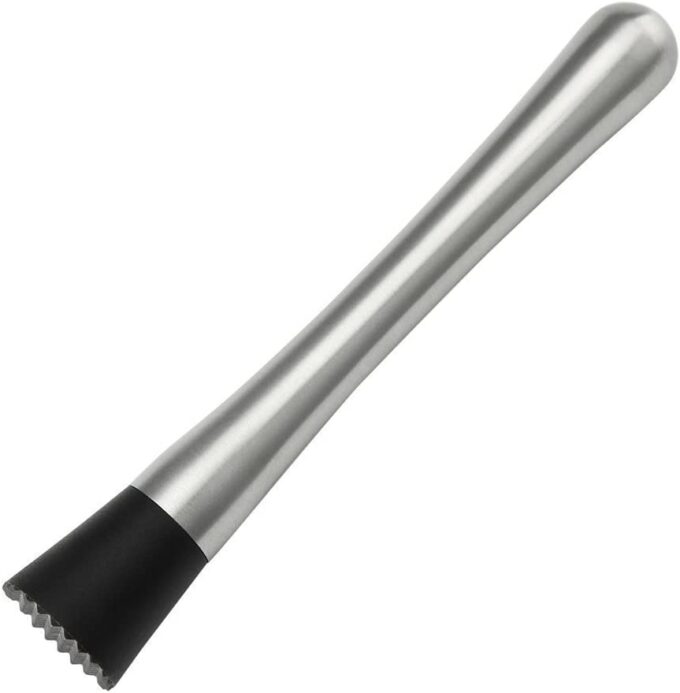 I really love the grooves on this muddler… it works SO well, and is easy to clean!
Did you make this? Be sure to leave a review below and tag me @the_chunky_chef on Facebook and Instagram!
These tart and sweet cranberry mojitos are a festive twist on a classic cocktail, and are perfect for all your winter holiday gatherings!
Ingredients
Cranberry syrup
1/2 cup fresh cranberries frozen can also be used (just thaw them)
1/2 cup granulated sugar
1/2 cup water
Mojito
10-20 fresh mint leaves
4 tsp granulated sugar
4 tsp fresh lime juice
4 oz cranberry syrup (about 1/2 cup)
4 oz white or silver rum (about 1/2 cup)
ice cubes
4 oz club soda (about 1/2 cup) seltzer or sparkling mineral water can also be used
Garnish (optional – but fun!)
fresh cranberries
lime slices/wedges
mint sprigs/leaves
Instructions
Prepare (make cranberry syrup)
To a small saucepan, add cranberries, sugar, and water and heat over MED heat. Stir to combine and cook, stirring occasionally, until sugar has dissolved and cranberries are bursting (making the syrup red in color). Use a spoon or rubber spatula to gently press on the berries a bit to release even more flavor.

Set aside, off the heat, to cool to room temperature. If you'd like to make this ahead of time, once it cools, add it to an airtight container and refrigerate for up to a week.
Muddle the mint
Divide the mint leaves evenly among two cocktail glasses. Add 2 tsp of sugar to each glass and use a muddler (or wooden spoon handle, etc) to smash the mint and sugar together about 5 times per glass.
Make the mojitos
Add 2 tsp of lime juice to each glass, then pour about 4 oz (about 1/4 cup) of the cooled cranberry syrup into each glass.

At this point you can add a few of the burst/smashed cranberries from the syrup if you'd like.

Pour 2 oz of white or silver rum (about 1/4 cup), fill the glasses with ice cubes, then top off with about 2 oz (1/4 cup) of club soda.
Garnish and serve
If you'd like to garnish your drinks, feel free to add some additional cranberries, a lime slice/wedge, and a sprig of mint to each glass.

I prefer to serve these with a straw or long cocktail pick so you can stir the flavors together if you'd like.
Want to save this recipe for later? Click the heart in the bottom right corner to save to your own recipe box!
Chef Tips
Recipe makes 2 (6-7 oz plus ice) cocktails.
Any leftover cranberry syrup can be refrigerated for a week, or frozen for longer storage.
Large batch (for a party):
For a party or large gathering, I would recommend quadrupling the recipe (multiply all ingredients by 4), which would require an 55 oz or larger pitcher.
However, you can make a large batch with any multiple of the recipe, you just want to make sure you have a large enough pitcher to hold everything.
Make the larger amount of cranberry syrup, then cool completely.
Pour syrup into a pitcher, add larger amount of lime juice, and larger amount of white rum. Stir together, then cover and chill for several hours, or up to 1-2 days.
When ready to serve, stir really well, then add mint leaves and sugar to each glass and muddle, then add ice. Pour the contents of the pitcher over ice into glasses. Top off glasses with the club soda, add garnishes and serve!
Nutrition Disclaimer
The Chunky Chef is not a dietician or nutritionist, and any nutritional information shared is an estimate. If calorie count and other nutritional values are important to you, we recommend running the ingredients through whichever online nutritional calculator you prefer. Calories can vary quite a bit depending on which brands were used.