Perfectly spiced and sweetened, this homemade pumpkin spice coffee creamer is made with rich dairy, sweetened condensed milk, pumpkin, vanilla, and warm spices! Perfect for Fall and Winter, it's the ultimate creamer for hot or iced coffee drinks, and way better than anything from the store!
This is one of my Pantry/Kitchen Basics recipes I know you'll want to keep on hand! These recipes are great homemade alternatives to store-bought items.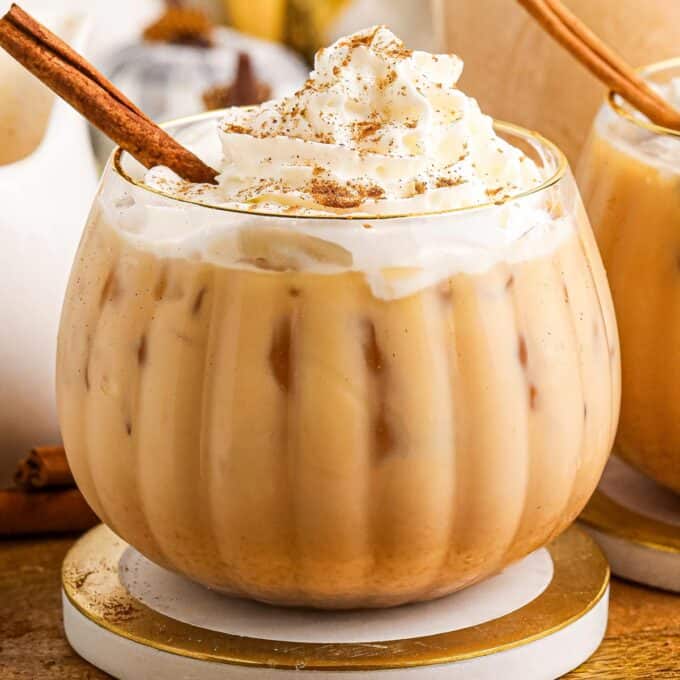 The pumpkin spice latte (and other pumpkin spice coffee) is a cult favorite at Starbucks and many other coffee shops, and for good reason… it's delicious!
All it takes is one trip down the bakery section of your local grocery store and you'll see how prevalent pumpkin spice is this time of year.
And there are pumpkin spice creamers all over the coffee creamer section!
This homemade version uses everyday ingredients, is so easy to customize, and takes hardly any time at all to whip up.  Just what you need when you're craving a caffeinated taste of Fall!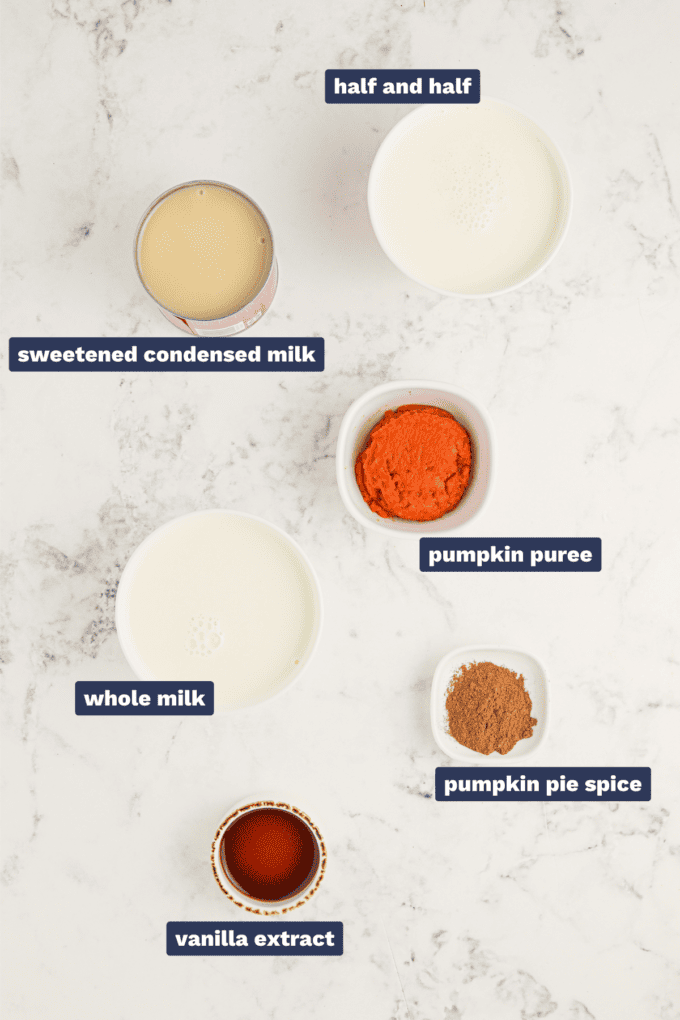 What do I need to make this recipe?
Half and half – this adds a creamy mouthfeel that's hard to replicate with lower fat dairy.
Whole milk – using part whole milk instead of all half and half means that you lose some of the calories and fat, without sacrificing too much creaminess.
Sweetened condensed milk – this adds a rich sweetness and a bit of thickening.
Pumpkin puree – it's hard to have a pumpkin creamer without the star of the show… the pumpkin!
Vanilla extract – vanilla goes so well with pumpkin, and a bit of sweetness.
Pumpkin pie spice – these are the classic warming spices that are always paired with anything pumpkin flavored.
Helpful Tip!
It's important to remember that this homemade coffee creamer won't last as long in the refrigerator as store-bought creamer. Homemade versions don't contain all the preservatives that mass-produced creamers do, so plan on the creamer lasting about a week.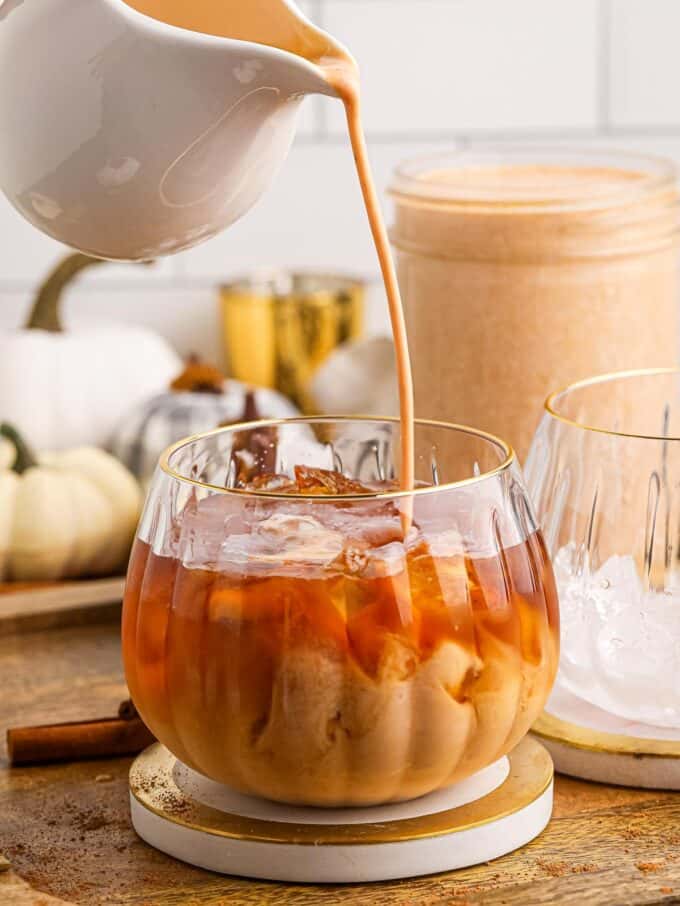 Variations of this recipe
Other dairy – if you need to substitute the half and half, you can use heavy whipping cream, or replace it with an equal amount of more whole milk. While untested,
Non-dairy – I haven't tested using non-dairy milks for this creamer, although I'm sure it would work well.
More pumpkin – everyone has different preferences when it comes to how much pumpkin flavor their creamer has, so please feel free to play around with the amount if you'd like more or less.
More spice – just as with the pumpkin, feel free to add more or less pumpkin pie spice, so it's just right for your tastes.
Sweetness level – if you don't like a sweet creamer, you could try using about half of the sweetened condensed milk, and adjust to taste from there.
No blender – if you don't have a blender, you could use a food processor, or a hand mixer. I haven't tested mixing this creamer by hand with a whisk, so I can't say how smooth you'd be able to get it.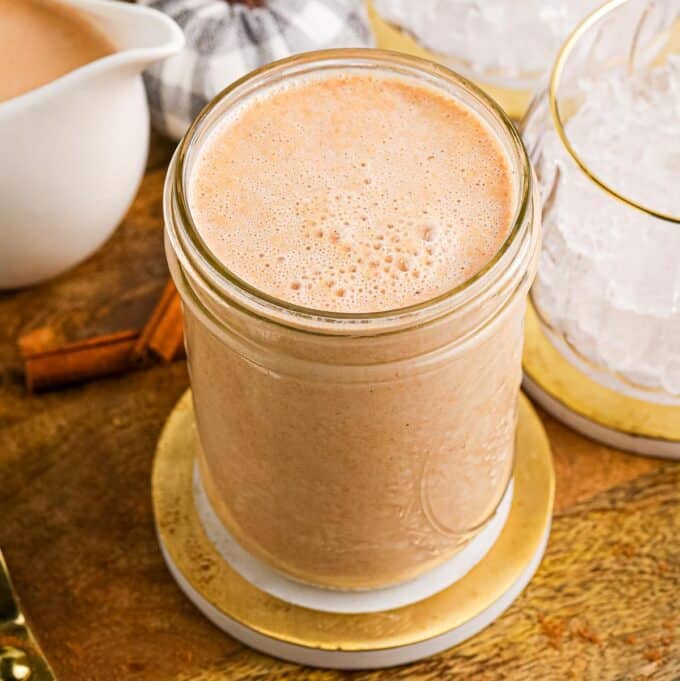 FAQ's
Why make pumpkin spice creamer when you can buy it at the store?
Obviously you can choose to just pick up a container of your favorite creamer from the store… it's convenient, and they do taste good! But pumpkin spice is a seasonal flavor, so you won't be able to find it year-round. When you make it yourself you also get to control how sweet it is, and how pumpkin-y it is.
Can I use pumpkin pie filling for this recipe?
You can, but not without some changes. Pumpkin pie filling contains spices and sugar, whereas pumpkin puree is just smooth pumpkin. So if you want to use the pie filling, you'll want to reduce the amount of sweetened condensed milk, pumpkin pie spice, and vanilla. Taste after blending, and adjust from there.
What should I do with the leftover pumpkin puree after using just 1/4 cup for this recipe?
You can store it in the refrigerator (in an airtight container), and it'll keep for up to 2 weeks. You can also freeze it in a freezer-safe container for up to 6 months (just thaw before using). Also, you can try using some of it to make these pumpkin pancakes, pumpkin donut holes, or pumpkin whoopie pies!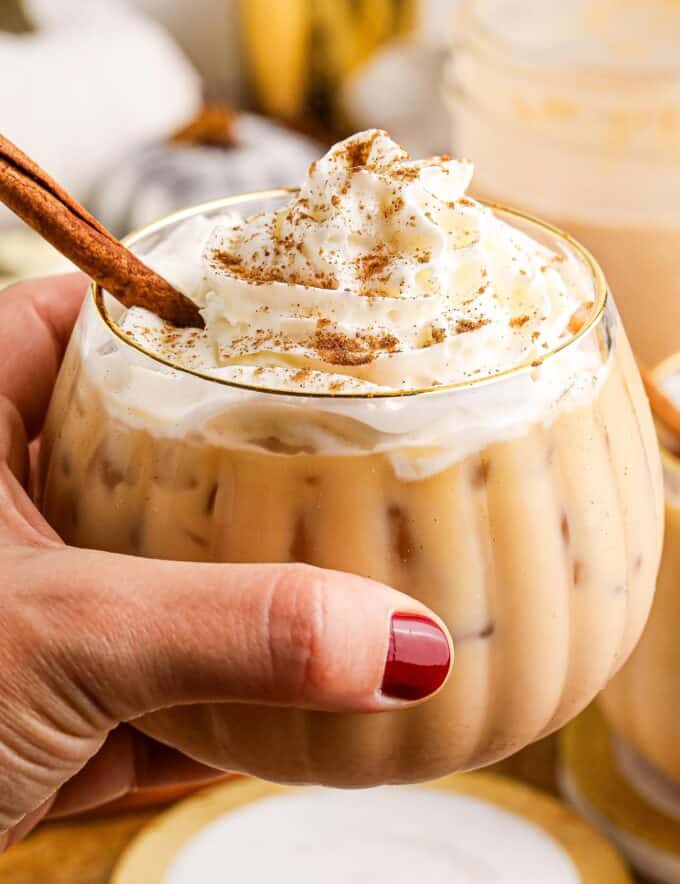 Making homemade coffee creamer ahead of time
Since you typically want a creamer that's cold when you use it, this recipe is naturally a make-ahead recipe.
Once you've blended everything together, it'll take an hour or two to chill.
Storage
Leftover coffee creamer should be stored in an airtight container in the refrigerator and enjoyed within 1 week.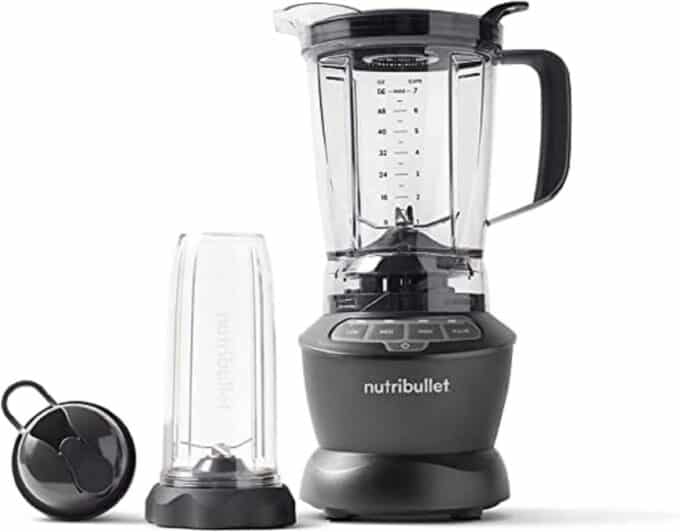 I picked up this blender on a whim, but it's such a workhorse! Great for milkshakes, frozen cocktails, smoothies, soups, and more!
Did you make this? Be sure to leave a review below and tag me @the_chunky_chef on Facebook and Instagram!
Perfectly spiced and sweetened, this homemade pumpkin spice coffee creamer is made with rich dairy, sweetened condensed milk, pumpkin, vanilla, and warm spices! 
Ingredients
1 cup half and half see "chef tips" number 2
3/4 cup whole milk
14 oz can sweetened condensed milk
1/4 cup pure pumpkin puree
1 tsp vanilla extract
1 tsp pumpkin pie spice
Instructions
Blend
Add all ingredients to a blender and blend until well combined and smooth.
Store
Transfer creamer to an airtight container and refrigerate for up to 1 week.

To use, add to either hot or iced coffee. Stir, taste, adjust sweetener amount, and enjoy!
Want to save this recipe for later? Click the heart in the bottom right corner to save to your own recipe box!
Nutrition Disclaimer
The Chunky Chef is not a dietician or nutritionist, and any nutritional information shared is an estimate. If calorie count and other nutritional values are important to you, we recommend running the ingredients through whichever online nutritional calculator you prefer. Calories can vary quite a bit depending on which brands were used.