Start a chilly morning off right with a big stack of these fluffy and melt in your mouth Pumpkin Pancakes. These pancakes are so tender, and loaded with pumpkin and warm Fall spices!
This is one of my Breakfast recipes I know you'll want to keep on hand!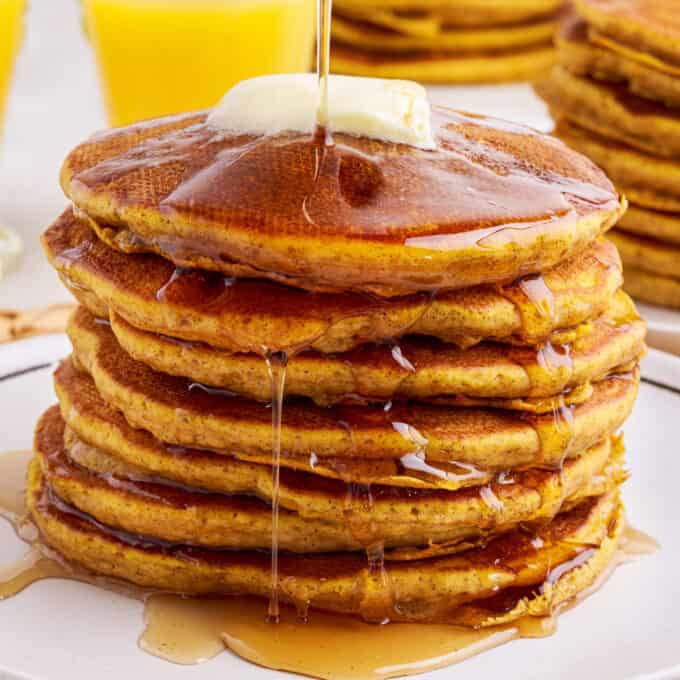 Breakfast… supposedly it's the most important meal of the day right? I'm not sure I believe that one, since most of my family doesn't eat a whole lot for breakfast.
But breakfast for dinner? That's a whole other story!
Donuts, scrambled eggs, omelettes, biscuits, gravy, bacon, french toast… I could go on all day.  But probably one of the most iconic breakfast foods is good ol' pancakes.
Now that Fall is officially here, it's socially acceptable to add pumpkin to any and all things right? Please say yes… because we're giving pancakes a Fall makeover!
These soft and fluffy pancakes are made with pumpkin puree and plenty of warm Fall spices. They're perfect for enjoying while wrapped up in your favorite cozy blanket!
How to make pumpkin pancakes?
This is just an overview; the full ingredients and directions are in the recipe card toward the bottom of this post.
Combine dry ingredients. I like to do this in a large mixing bowl, since it's where the pancake batter will eventually mixed.
Combine wet ingredients. This should be done in a separate bowl.
Pour the wet into the dry. Stir until no flour streaks remain.
Cook on griddle/skillet. See the tip box further down in the post with tips for knowing exactly when to flip pancakes.
Serve. Don't forget the butter and maple syrup!
Helpful Tip!
Go easy on the whisking. Pancake batter is easy to over-mix, which means your pancakes won't be as fluffy and soft as they should be. When whisking the dry and wet ingredients together, just stir until you don't see streaks of flour. Lumps are perfectly fine; you don't need to whisk those out.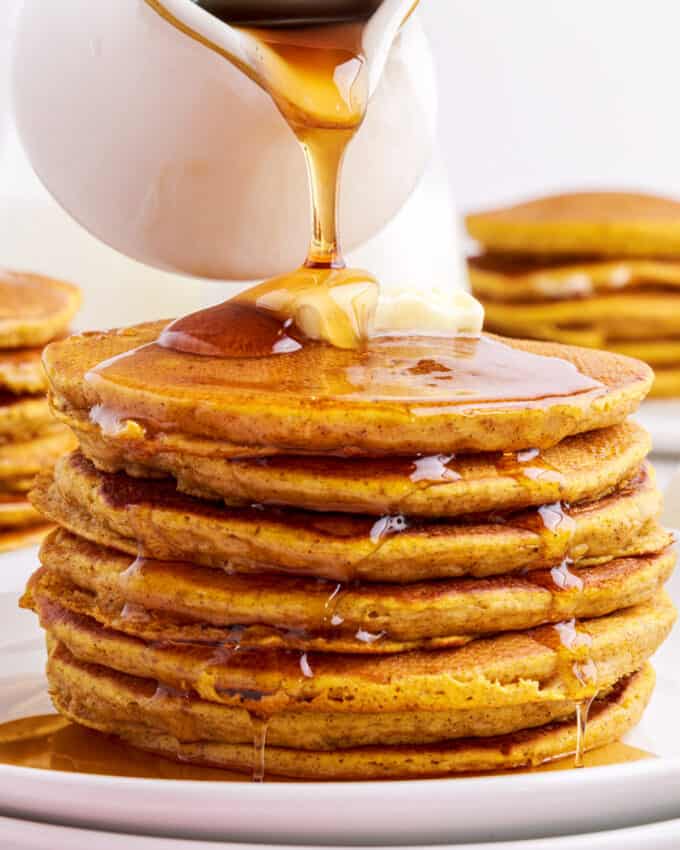 Variations of this recipe
Buttermilk – using buttermilk instead of regular milk will give the pancakes a slight tang, and it also reacts with the leavening agents in the batter (the baking powder and baking soda) to help the pancakes rise and get even fluffier.
Sugar – try swapping half of the granulated sugar for light brown sugar. It will add a caramel-y flavor that goes really well with pumpkin.
Chocolate – chocolate and pumpkin go so well together! Semi-sweet chocolate chips are a classic stir-in idea, but other varieties of chocolate are great too.
Nuts – try adding some chopped pecans or walnuts to the batter, or add them on top of the cooked pancakes before serving.
Toppings – maple syrup is my usual go-to, but some chopped nuts, a drizzle of caramel sauce, fresh berries, or a generous dollop of whipped cream are equally delicious!
How to tell when a pancake is ready to flip?
This is a common question, so if you've been wondering and not sure how to ask… I've got you covered.
There are two main things I look for when deciding if I should flip my pancakes.
Bubbles. As the pancakes cook, bubbles form and rise to the surface. When those bubbles have come through and popped, it's a good sign the pancake is ready.
Edges. The edges of the pancake will start off looking very wet, and as it cooks, they'll dry out and appear set.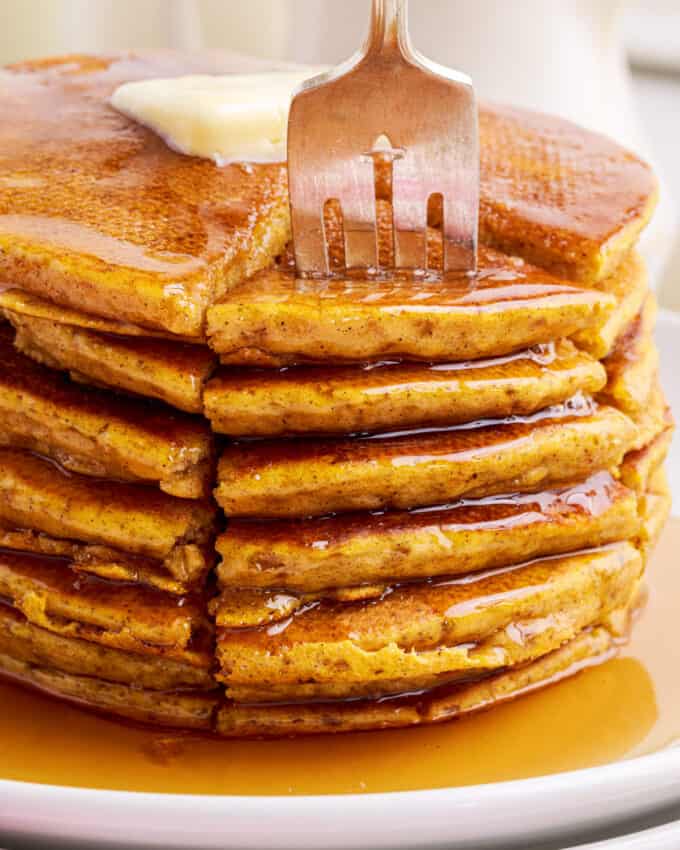 FAQ's
What's best to grease my skillet with when making pancakes?
Butter is a classic, and what I use most of the time, although sometimes I use a spritz of nonstick cooking spray. However, for the best crispy edges and boost of flavor, try using a bit of bacon drippings!

How can I tell if my baking powder/baking soda is still good?
To test your baking powder, add a bit to hot water. If it bubbles and fizzes, you're good to go! However, if your baking powder is older than 6 months, it's best to just get a new can. To test your baking soda, add some to a bowl, then add a few drops of an acidic ingredient (vinegar or lemon juice). If it fizzes right away, it's still good.
Making pancakes ahead of time
Unfortunately making the batter ahead of time doesn't work very well, since the leavening agents (the baking soda and baking powder), will start activating as soon as the ingredients are mixed.
This means when the pancakes are cooked, they won't rise and turn into fluffy goodness.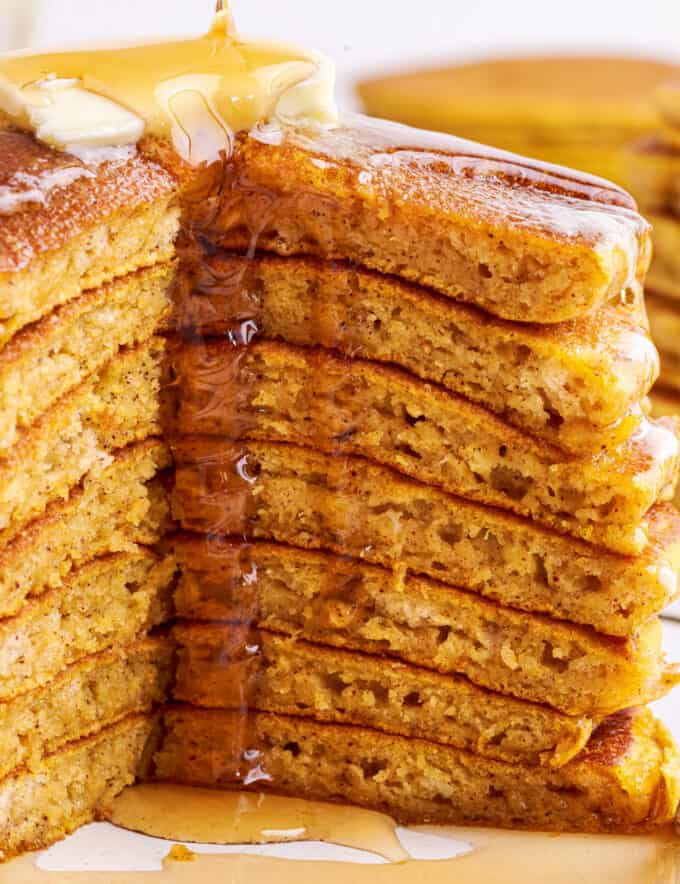 Freezing
If you end up with way too many pancakes leftover, you can freeze them!
Just make sure they've completely cooled down, then add the pieces to a wax paper lined baking sheet. Place the whole thing in the freezer for 1-2 hours, until the pancakes are hard.
Add the pancakes to a freezer container, label it with the date, and freeze for up to 3 months.
Thaw in the refrigerator and warm up in whichever way you like best.
Storage
Leftover pancakes should be refrigerated in an airtight container and eaten within 3-4 days.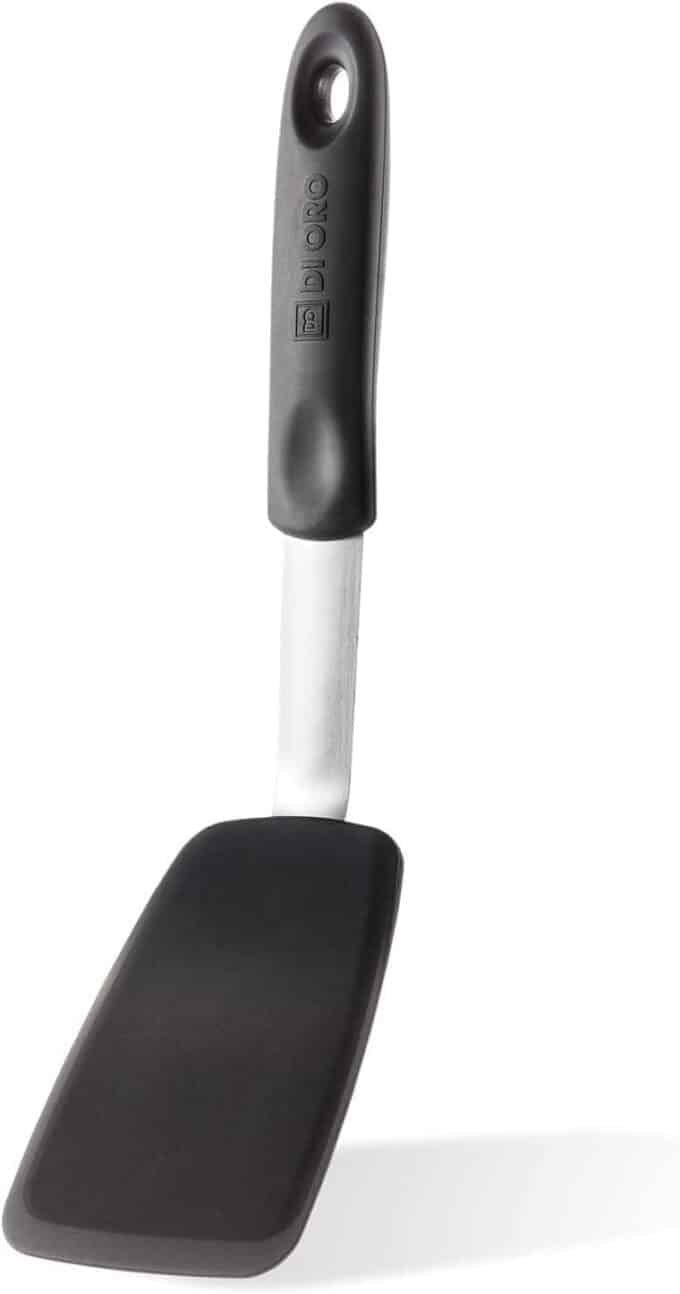 I've had this spatula for years and it still looks brand new. I love how the silicone is heat-resistant up to 600°F, so I don't have to worry about my pan being too hot and melting the rubber.
Did you make this? Be sure to leave a review below and tag me @the_chunky_chef on Facebook and Instagram!
Start a chilly morning off right with a big stack of these fluffy and melt in your mouth Pumpkin Pancakes!
Ingredients
2 cups all purpose flour
1/4 cup granulated sugar
2 tsp baking soda
2 tsp baking powder
1/2 tsp kosher salt
2 tsp pumpkin pie spice
2 Tbsp unsalted butter
2 large eggs
1 tsp vanilla extract
1 1/2 cups whole milk or buttermilk
2/3 cup pumpkin puree NOT pumpkin pie filling
Instructions
Prepare
Melt the butter and set aside to cool down slightly.
Combine dry ingredients
In a large mixing bowl, add flour, sugar, baking soda, baking powder, salt, and pumpkin pie spice. Whisk to combine well.
Combine wet ingredients
In a separate bowl, combine melted butter, eggs, vanilla, milk, and pumpkin puree. Whisk to combine.
Make the batter
Add the wet ingredients into the dry ingredients, whisking and stirring to mix it all together. Once it's combined, stop mixing. If you over-mix, your pancakes won't be light and fluffy.
Cook the pancakes
Set pancake batter aside and heat up a large skillet or griddle over MED-LOW heat. Add a bit of butter to the preheated griddle and spread it out.

Use a 1/4 cup measuring cup to scoop the pancake batter onto the griddle or skillet. Slowly pour it onto the surface, circling outwards to make a nice circle.

Let the pancake cook about 2-3 minutes. You'll notice bubbles popping up on the surface of the pancake, if the edges look set, carefully flip the pancake over. Cook another 2 minutes on the other side, or until cooked through and golden brown.

Remove to a plate and cover with a kitchen towel. Alternatively, you can place the pancakes on a baking sheet and keep it in a low heat oven (175-200 degrees), until you're ready to serve.

Repeat with remaining batter, adding more butter to the skillet/griddle as needed.
Want to save this recipe for later? Click the heart in the bottom right corner to save to your own recipe box!
Chef Tips
Recipe makes approximately 18 medium sized pancakes, which you are free to divide up into as many servings as you'd like.
If you don't have any pumpkin pie spice, you can make your own! Mix together 3 Tbsp ground cinnamon, 2 tsp ground ginger, 2 tsp ground nutmeg, 1 1/2 tsp ground allspice, 1 tsp ground cloves. This will keep in an airtight container, just use 2 tsp of the mix for this recipe.
Please note that the amount of flour may vary, as things such as humidity, brand of flour and the way you measure your flour will effect how things turn out. For reference, I use Gold Medal all purpose flour and measure it by spooning it into my measuring cup, then leveling off with the back of a butter knife.
Nutrition Disclaimer
The Chunky Chef is not a dietician or nutritionist, and any nutritional information shared is an estimate. If calorie count and other nutritional values are important to you, we recommend running the ingredients through whichever online nutritional calculator you prefer. Calories can vary quite a bit depending on which brands were used.