These chewy pumpkin cookies are studded with bits of toffee and caramel, and baked until soft and tender.  The perfect Fall dessert, these cookies go great with a cold glass of milk! 
These Toffee Crunch Pumpkin Cookies are such a fun dessert, and SO delicious!  We love Fall desserts, like my Apple Crisp, and Candied Almonds.   This is one of my Dessert recipes you'll definitely want in your collection!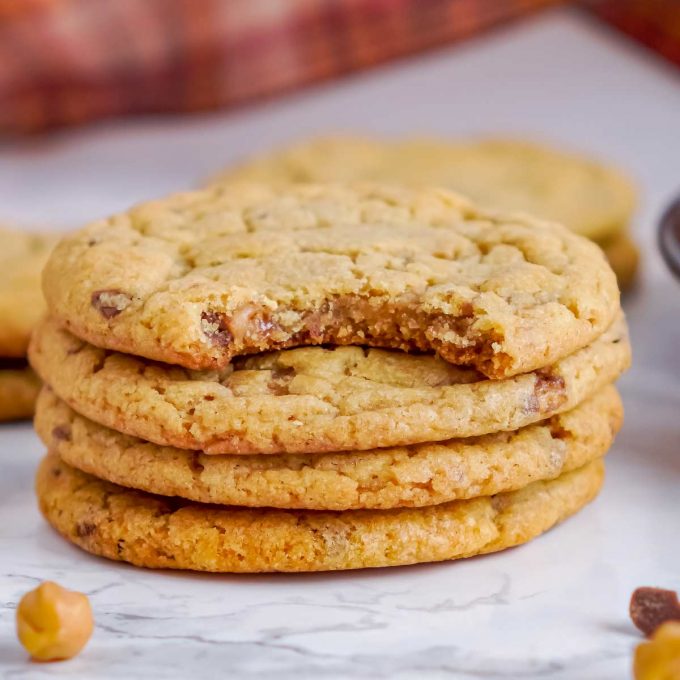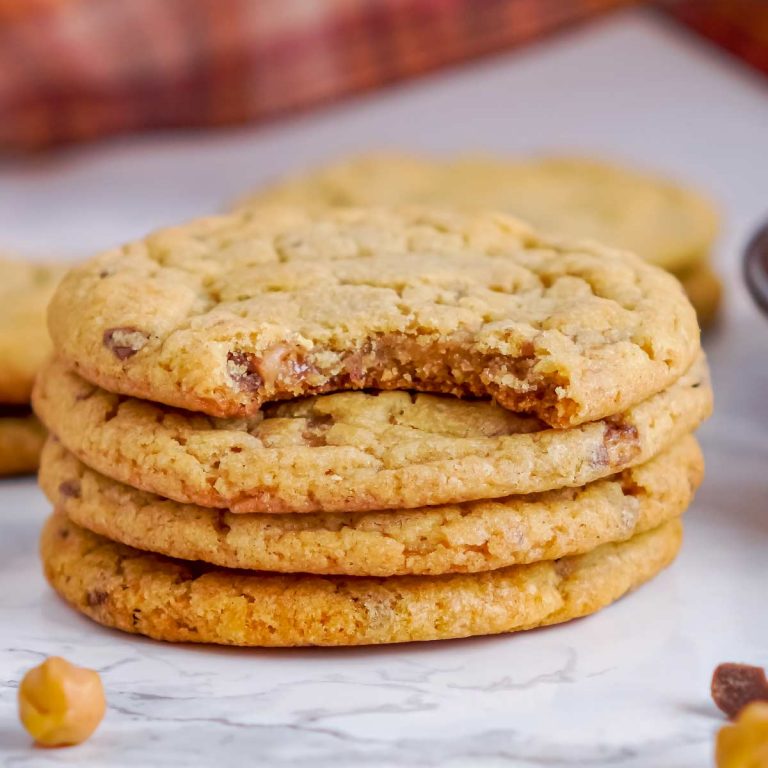 PUMPKIN COOKIES
Ah cookies. To me, they're the quintessential dessert… bringing back memories of a house filled with the smell of baking cookies, and waiting impatiently with a big glass of milk.
I love baking cookies, but most recipe (mine included) generally involve chilling the dough so the cookies are thicker and don't spread on the baking sheet while baking.
But not this one! You can bake these cookies right away, which makes these a pretty quick dessert.  Of course, you CAN chill the dough if you'd like a thicker cookie, but it's not required 🙂
The gloriously crisp and crackly exterior of these pumpkin cookies gives way to a chewy, tender interior that's flecked with pockets of caramel and toffee.  Talk about YUM!
HOW TO MAKE TOFFEE PUMPKIN COOKIES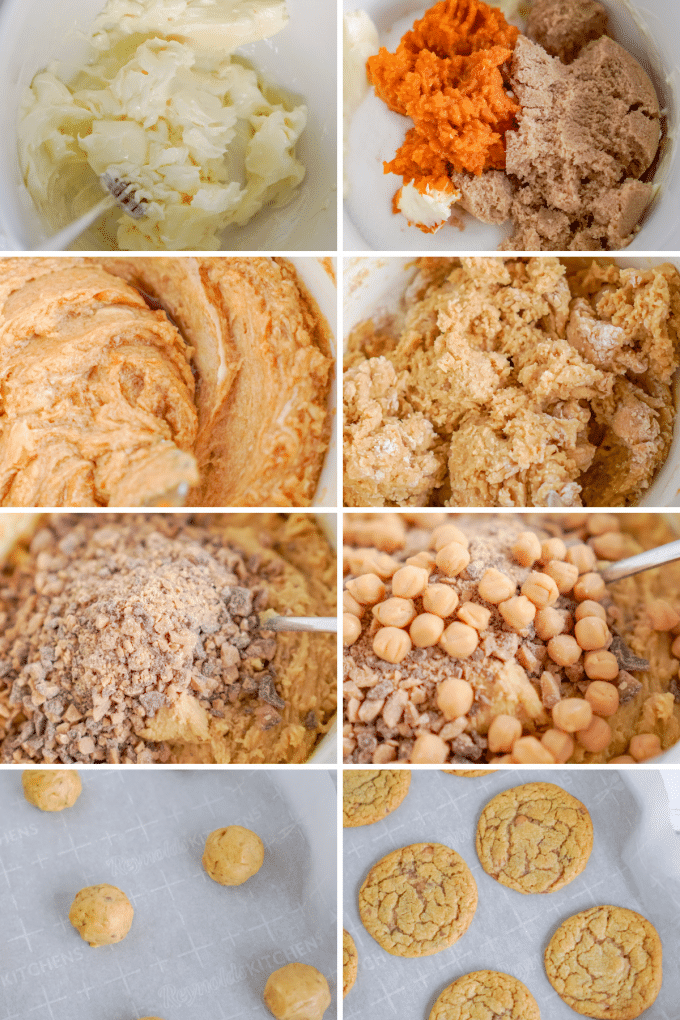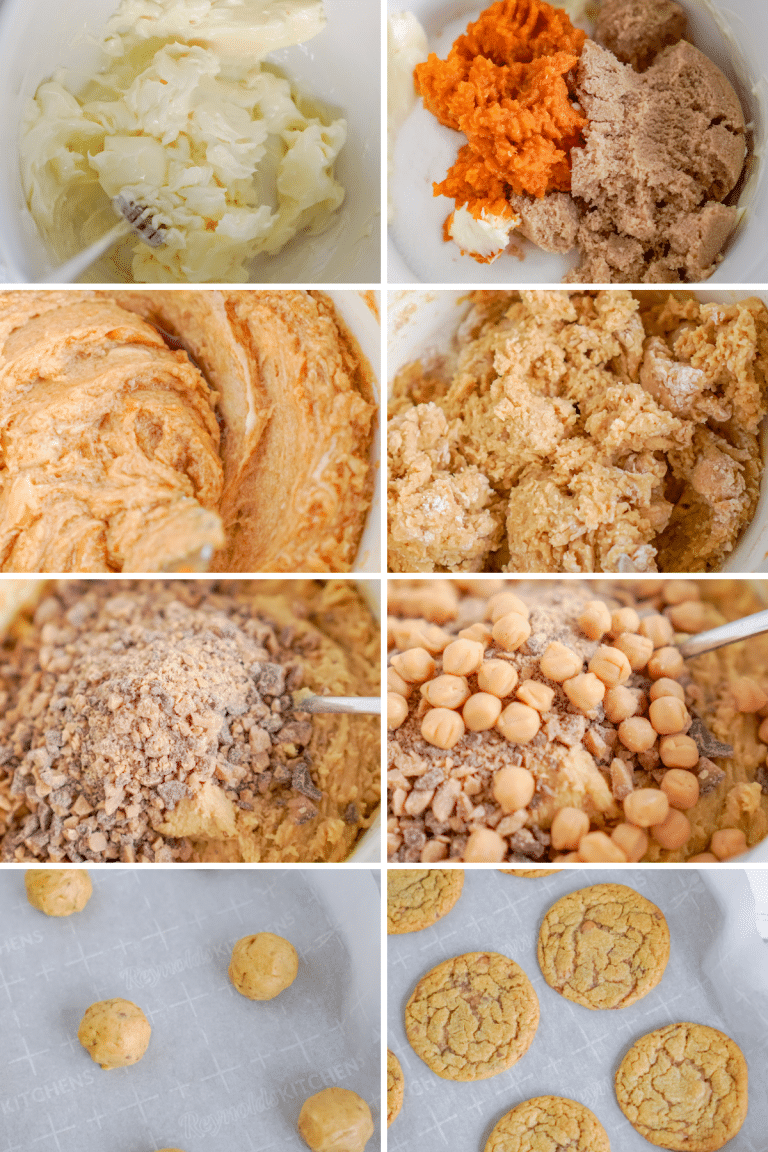 Prepare baking sheet. I like to have everything ready to go, so when the dough is ready to be scooped, you have the baking sheet right there.
Mix dry ingredients. Combining the flour, baking soda and salt in a mixing bowl makes sure they incorporate into the dough evenly.
Mix wet ingredients. Mixing the butter, sugars, pumpkin and vanilla gives the dough a nice creamy base.
Combine wet and dry. I like to add the flour mixture (dry) to the pumpkin mixture (wet) half at a time, just so I can make sure everything gets mixed in well.
Stir in toffee and caramel. No need for a whisk or mixer here, just stir them right in with a rubber spatula.
Scoop. Using a small cookie scoop makes this process a lot easier.  Roll the dough into roughly 1″ balls.  Transfer to prepared baking sheet, leaving about 2″ in between each ball. This allows for the cookies to spread a bit as they bake, without all spreading together.
Bake. Bake for 10-12 minutes, until edges are starting to brown.
Cool. Letting the cookies sit on the baking sheet for 10 minutes lets them finish cooking and ensures they won't fall apart when you transfer them to a wire rack to finish cooling.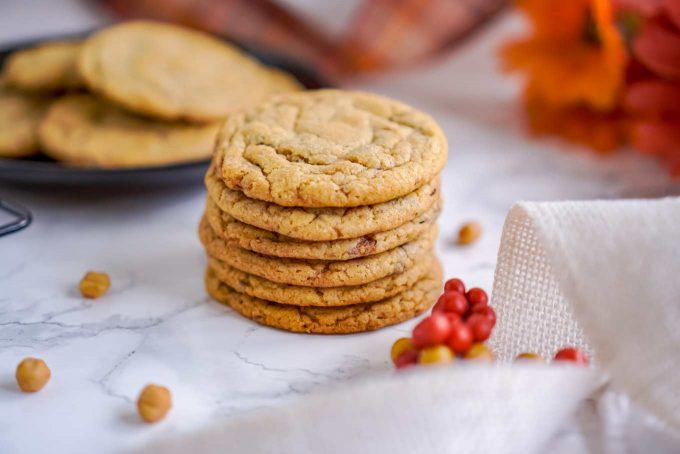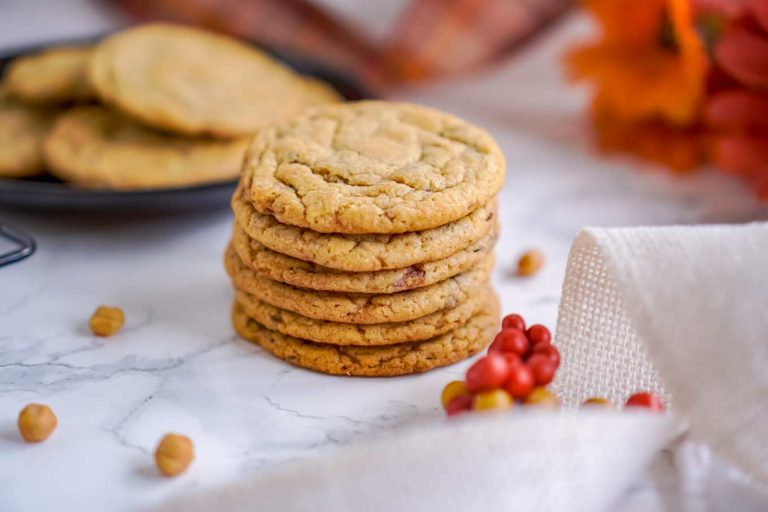 ADDITIONAL COOKING TIPS
MIXER? – if you don't have one, or would rather not clean it afterwards, you can use a sturdy whisk and your good ol' arm muscles to mix the ingredients.
NO EGGS – you may look at the ingredient list and wonder where the eggs are.  The pumpkin takes the place of the eggs in this recipe.
COOKIE SCOOP – I find using a cookie scoop (or old fashioned ice cream scoop) makes scooping the dough a breeze.  I've linked to the one I use down by the recipe.
ROOM TEMP INGREDIENTS – for the best results when baking these cookies, your cold ingredients (just the butter for this recipe) should be at room temperature so it can easily be whipped and creamed.
USE REAL BUTTER – this isn't the time to use shortening or margarine.  Those perform differently in baking recipes, and this recipe was only tested using real butter.
USE FRESH INGREDIENTS – did you know using older baking soda/baking powder can affect the way your cookies bake?  Over time, leavening agents, (which is what baking soda and powder are) lose their efficacy, and won't give your cookies that classic texture.
If you're unsure if your baking soda or powder are still good, drop a pinch in some hot water.  If it fizzes, it's still good!  If not, then you're in need of some new ingredients.

VARIATIONS OF THIS RECIPE
PUMPKIN SPICE – I didn't add any of the classic "pumpkin spice" spices, like cinnamon, nutmeg, cloves, etc, but if you want them in there, go ahead and add a pinch of whichever you prefer.
THICKER COOKIES – if you love a classically thick cookie, feel free to chill the dough, for at least an hour, or up to 3 days.
DIFFERENT TYPES OF TOFFEE – for this recipe I used Heath milk chocolate English toffee bits, which have a thin coating of chocolate around the little pieces of toffee. To omit the chocolate, Heath also makes a variety called Bits O' Brickle (English toffee bits) which are JUST the toffee and no chocolate.
CHOCOLATE – chocolate and pumpkin (and caramel and toffee) flavors go amazingly well together, so feel free to give these cookies a drizzle of melted chocolate.
CARAMEL – to accentuate the caramel flavor that's on the inside, giving these baked cookies a drizzle of caramel sauce is heavenly.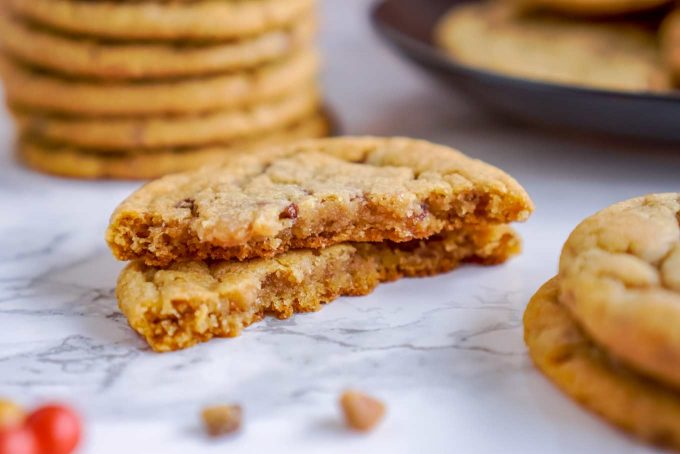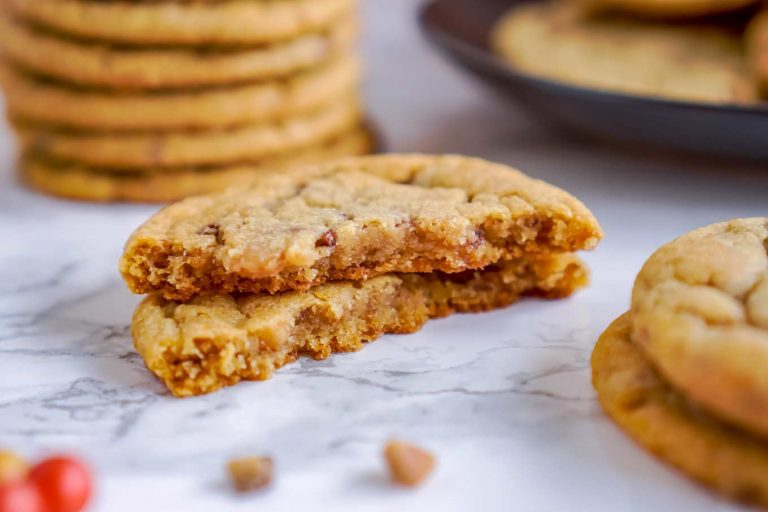 MAKING PUMPKIN COOKIES AHEAD OF TIME
These cookies are so easy, but you can even make them easier by mixing up the dough ahead of time and freezing it into individual balls.
That way when the baking mood strikes, all you have to do it pull out the pre-made dough and bake!
Bake as directed, adding an additional minute or two to the cook time.
STORAGE
Leftover cookies will keep at room temperature (in an airtight container) for 3-5 days.
You can also freeze baked cookies for up to 2 months.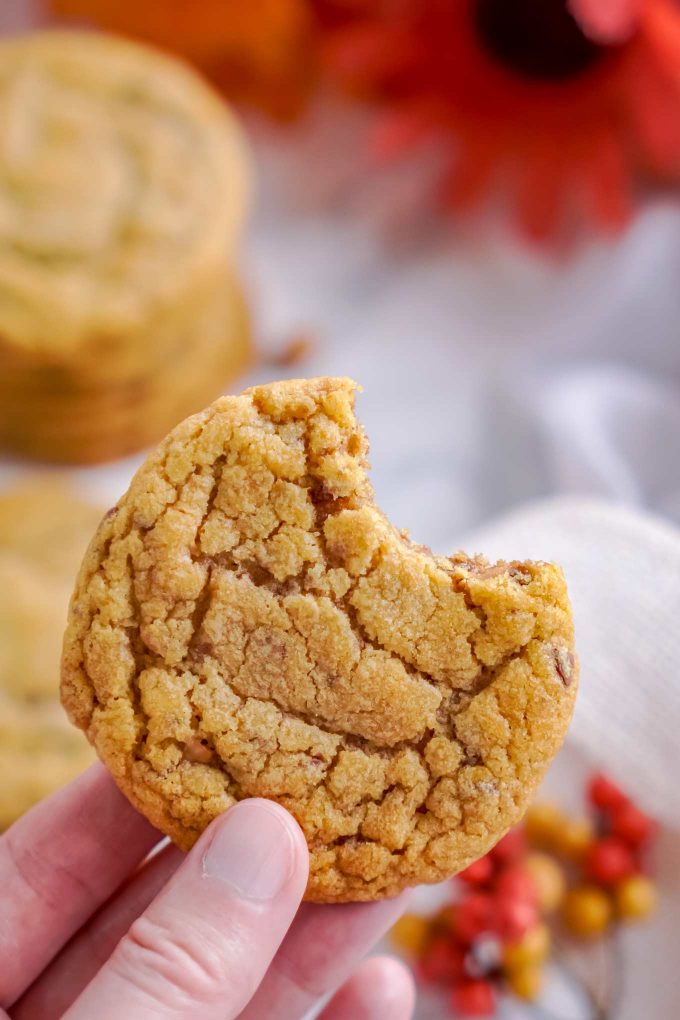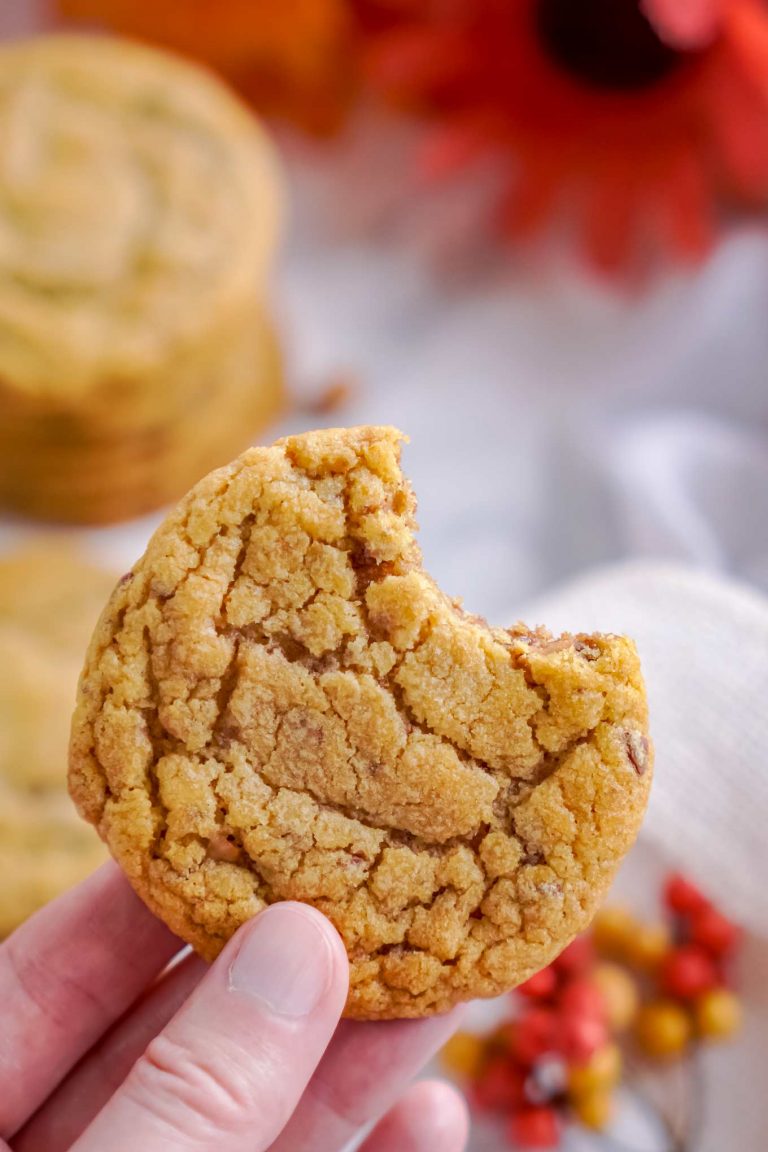 SPECIAL EQUIPMENT FOR THIS RECIPE
The following links are affiliate links.
The Chunky Chef, LLC is a participant in the Amazon Services LLC Associates Program, an affiliate advertising program designed to provide a means for sites to earn advertising fees by advertising and linking to amazon.com.  For more information regarding this program and what it means for you, please see my Privacy page.
Stand Mixer – I love using my mixer to make cookies, but they can be pricey.
Hand Mixer – this model is a true workhorse in my kitchen!
Baking Sheets – I love the large size and how sturdy these pans are.
Parchment Paper – no cutting required, these sheets fit perfectly in the baking sheets above.
Cookie Scoop – this scoop will easily measure out 1 1/2 Tbsp of dough!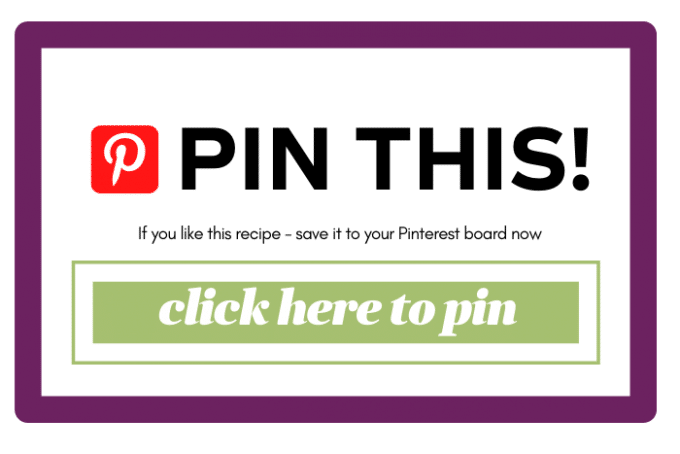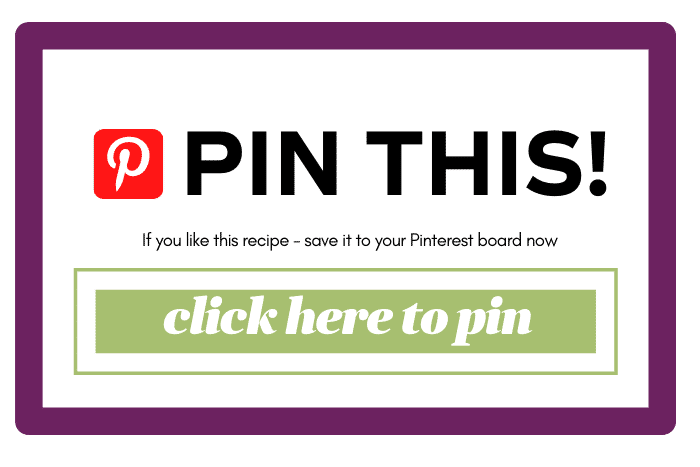 BE SURE TO SCROLL DOWN TO CHECK OUT OTHER READERS' COMMENTS FOR TIPS AND REVIEWS.
AND DON'T FORGET, IF YOU'VE MADE THIS RECIPE, LEAVE A COMMENT AND PLEASE GIVE IT A STAR RATING LETTING ME KNOW HOW YOU ENJOYED IT!
Did you make this? Be sure to leave a review below and tag me @the_chunky_chef on Facebook and Instagram!
Servings:
30
- 36 cookies
(hover over # to adjust)
These chewy pumpkin cookies are studded with bits of toffee and caramel, and baked until soft and tender. 
Ingredients
1 cup butter softened to room temperature
3/4 cup light brown sugar packed
3/4 cup granulated sugar
1/2 cup pumpkin puree
1 tsp vanilla extract
2 1/2 cups all purpose flour
1 tsp baking soda
1/2 tsp kosher salt
1 cup toffee bits
1/2 cup caramel bits
Instructions
Preheat oven to 350°F and line baking sheet with parchment paper. Set aside.
MIX DRY INGREDIENTS
In a mixing bowl, add flour, baking soda, and salt and stir until combined well.
MIX WET INGREDIENTS
To a large mixing bowl, add butter, brown sugar, and granulated sugar. Beat until combined.

Add pumpkin and vanilla and mix.
ADD FLOUR MIXTURE
Add half of flour mixture, beating until combined. Add remaining flour mixture and beat until just combined and no flour streaks remove.
FOLD IN TOFFEE/CARAMEL
Use a rubber spatula to gently fold/stir in toffee and caramel bits.
SCOOP AND BAKE
Scoop dough and roll into approximately 1" balls, and place about 2" apart on prepared baking sheet.

Bake for 10-12 minutes, until cookies are just starting to brown at the edges.
COOL
Remove from the oven and let cool on the cookie sheet for 10 minutes before transferring to a wire cooling rack to cool completely.
Want to save this recipe for later? Click the heart in the bottom right corner to save to your own recipe box!
Nutrition Disclaimer
The Chunky Chef is not a dietician or nutritionist, and any nutritional information shared is an estimate. If calorie count and other nutritional values are important to you, we recommend running the ingredients through whichever online nutritional calculator you prefer. Calories can vary quite a bit depending on which brands were used.