Morning everyone 🙂  This post is one of the first few recipes I posted on my blog, and the pictures were… um… kinda terrible lol.  So I've been itching to make this again and take some new pictures for you all!  This soup is unbelievably easy to make and tastes incredible.  You won't want canned tomato soup ever again!  Here's the original post:
Trick-or-Treat!!  Dinner on Halloween night has always been a horrible scramble, and stressful as all get out.  There's dinner to make, eat, clean up, costumes to put on, pictures to take and then walking around in the cold and rainy evening… sounds so fun huh?  What sounds better on a cold, rainy night other than.. soup!!  I went with an old classic with a few twists… tomato, basil and parmesan soup with mozzarella cheese stuffed crescents (the "grilled cheese" component).  Wanna hear the best part?  It cooks in the crockpot 😀  I looooove my crockpot on cold days.
So once the soup has cooked for 4-8 hours on low, you ladle it into a food processor or blender and puree it, then it'll look like this…
Now you simply make your roux, add the cream, let it thicken slightly, then pour into the crockpot, add the parmesan cheese and let it cook another 20-30 minutes.  Top it off with extra parmesan and basil if you'd like!
Now here's the finished product and a comparison of the pictures… lord I hope you like the new one better 🙂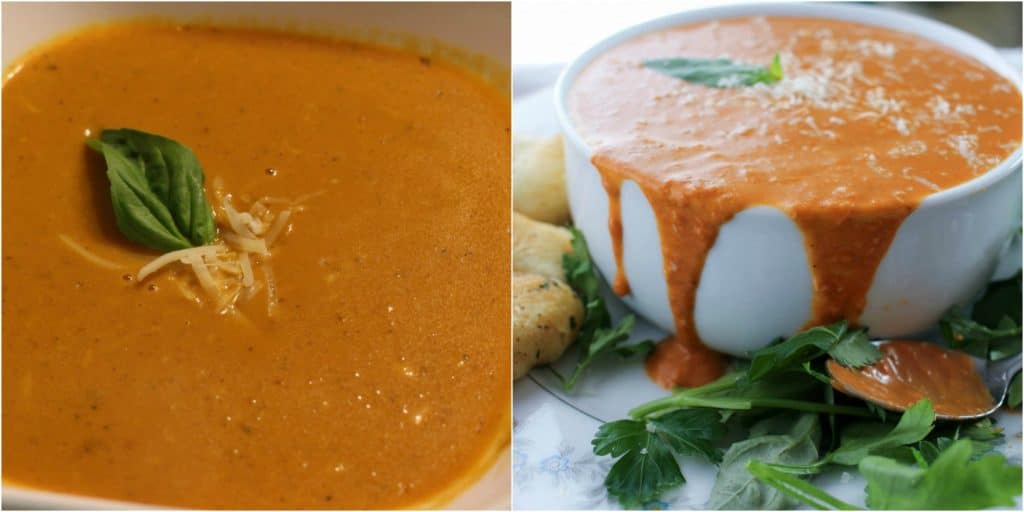 I never get tired of this soup… it's such a perfect winter meal.  As much as I'd rather winter be over… I'm looking outside now at a snow covered backyard, so bring on the winter meals for a little while longer.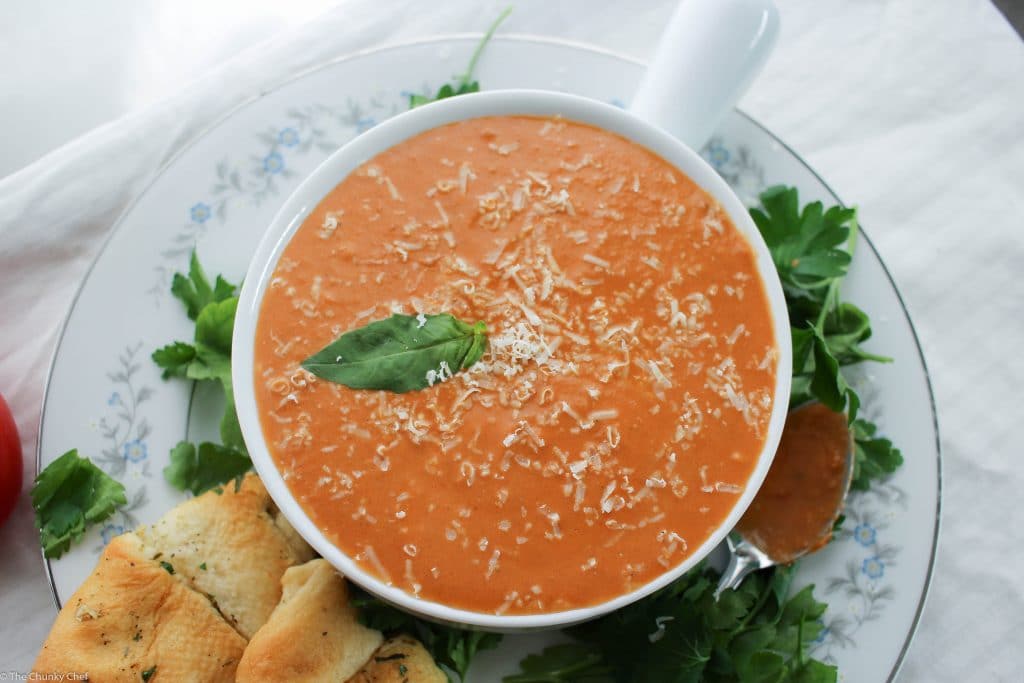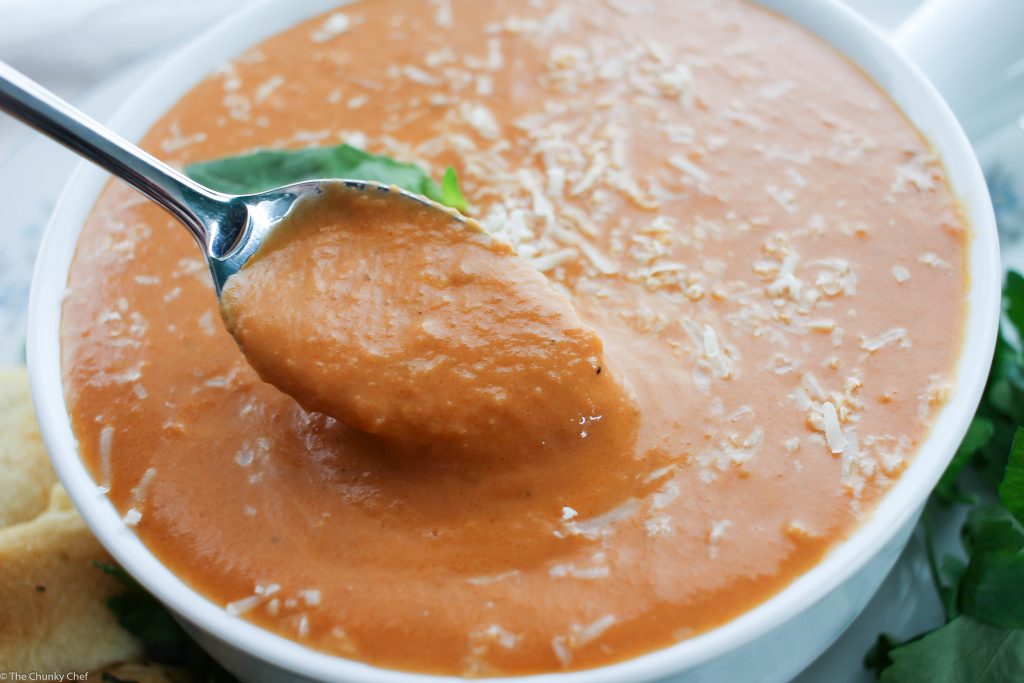 To me, no soup is complete without some sort of bread to dunk into the soup (possibly because I just LOVE bread)… so I made my own twist on some cheese stuffed crescent rolls.  That's right folks… two great recipes for you today!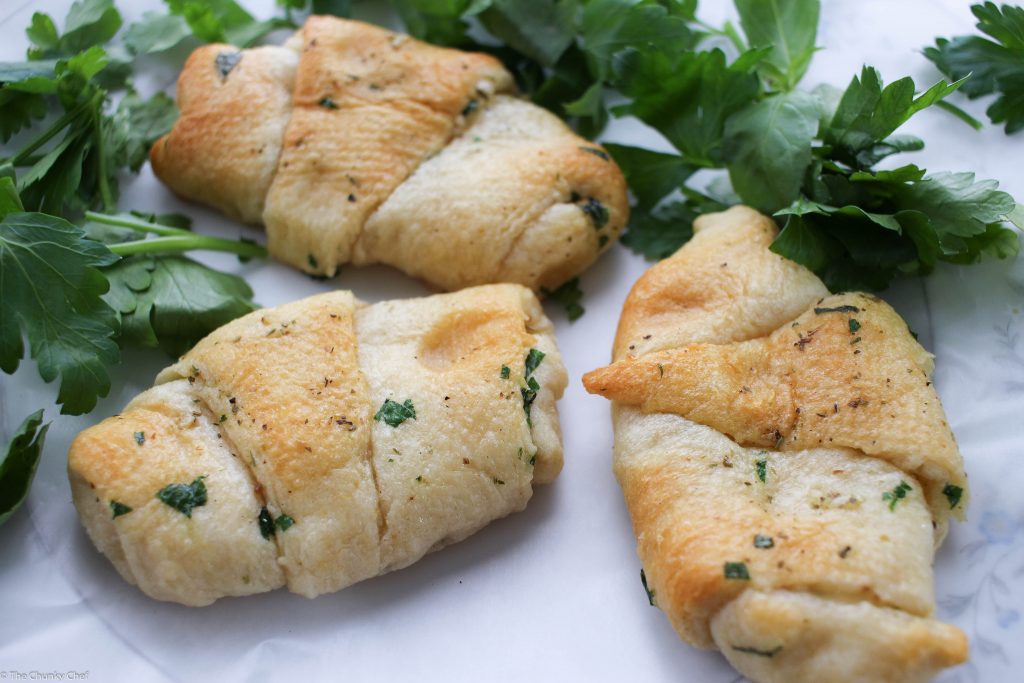 Ohhhhhh so garlicky, so full of herb flavor, soooooo cheesy!!
And very simple to make as well!  Just grab 2 cans of crescent rolls and separate them into triangles.  Melt your butter and add in minced garlic, Italian seasoning, parsley and basil.  Brush the triangles with the herb garlic butter mixture.  Then slice 8 pieces of mozzarella string cheese in half, and place one piece of cheese on the wide part of the triangle.  Roll it up like you would normally, tucking in the edges (don't want that cheesy goodness to all melt out!).  Place on a parchment paper lined baking sheet and brush with more of the butter mixture.  Bake for 10-12 minutes at 375… and that's it 🙂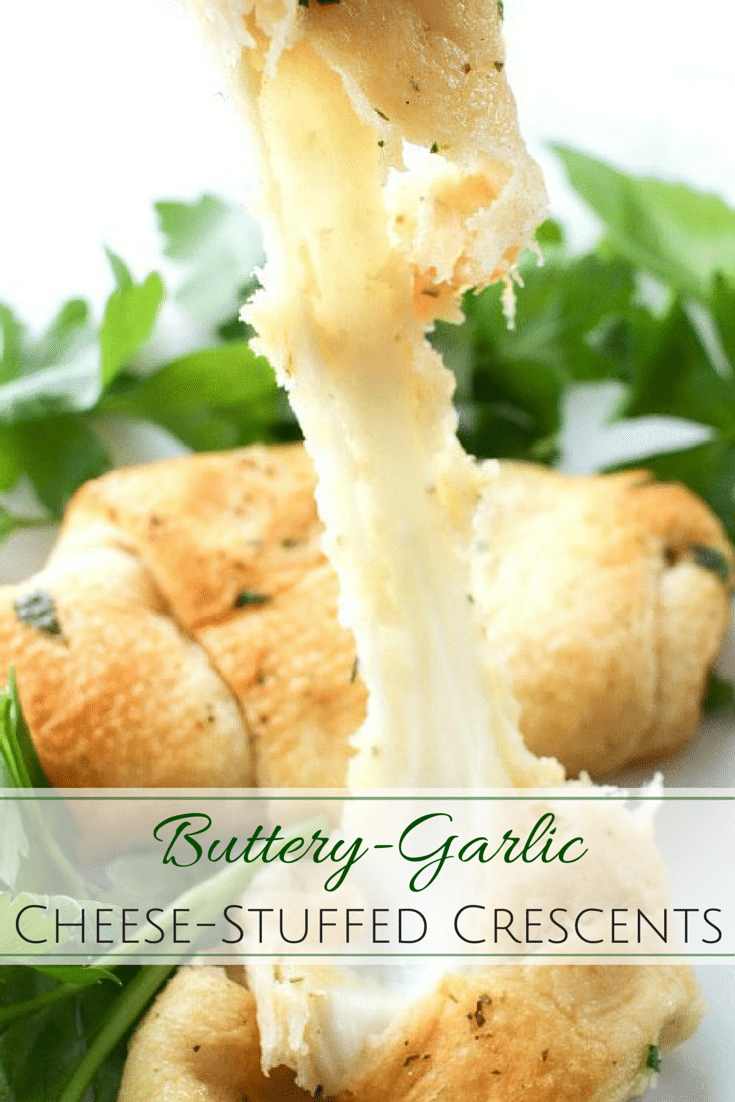 I'm always nervous to make new recipes for other people without testing them first, but these were a hit with my whole family!  So if you're craving some soul-warming soup on a chilly day… try this one, you won't be disappointed!!
Recipe inspired from Le Creme de la Crumb
---
Never miss a recipe!
[mc4wp_form]
You can find me on Facebook, Twitter, Pinterest, Instagram and Google +, so follow me if you'd like… I love keeping in touch with all of you 🙂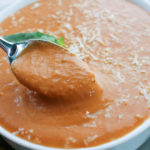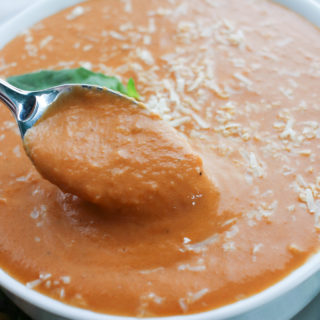 Slow Cooker Creamy Tomato and Basil Soup
Rich and velvety, this creamy tomato and basil soup is perfect for a chilly night!
Print
Ingredients
2 15-

oz

cans diced tomatoes

1 10-

oz

can tomato sauce

1/4

cup

fresh basil

finely chopped

2

cloves

large garlic

minced

1

Tbsp

salt

1

tsp

pepper

1

onion

diced

1

cup

heavy cream

4

cups

chicken broth

or vegetable stock to make it vegetarian

2

cups

Parmesan cheese

shredded

For the Roux:

3

Tbsp

butter

1/4

cup

flour

1

cup

heavy cream

or half and half
Instructions
Add tomatoes, tomato sauce, garlic, onion, basil, salt, pepper, heavy cream and vegetable or chicken broth to your crockpot. Cover and cook on low for 6-8 hours (although it can be done on high for 2 hours as well). Stir occasionally and scrape down the sides (if you can).

minutes before serving, transfer soup to a blender or food processor and puree until smooth. Return to crockpot.

Make your roux by melting your butter in a saucepan over medium heat. Once butter is melted, add the flour and whisk until it's incorporated. Slowly whisk in the heavy cream until the cream is smooth and thickened.

Add Parmesan cheese and roux to the crockpot and stir to combine.

Cook for another 20-30 minutes. Cheese should be completely melted into the soup. Stir thoroughly before serving. Garnish with additional Parmesan cheese and basil if desired.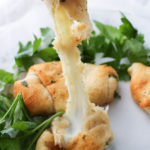 Garlic and Herb Cheese Stuffed Crescent Rolls
Buttery, rich, garlicky and full of fresh herbs and delicious mozzarella cheese
Print
Ingredients
2

oz

cans refrigerated crescent rolls

8

8

pieces

of string cheese

halved across

4

Tbsp

butter

melted

1

tsp

Italian seasoning

4

cloves

garlic

finely minced

1

tsp

minced fresh parsley

1

tsp

minced fresh basil
Instructions
Preheat oven to 375 degrees. Line a baking sheet with parchment paper and set aside.

In a small bowl, combine melted butter with Italian seasoning, garlic, parsley and basil.

Unroll crescent rolls and separate into triangles. Brush with garlic butter mixture, reserving some to brush on tops of assembled rolls. Place halved string cheese at widest end, and roll up (tucking in the edges to seal).

Brush tops with more garlic butter.

Bake for 10-12 minutes, or until lightly browned.