This non-alcoholic trick or treat party punch is a fabulous drink that everyone can enjoy! Want alcohol? It's easy to add a splash or two!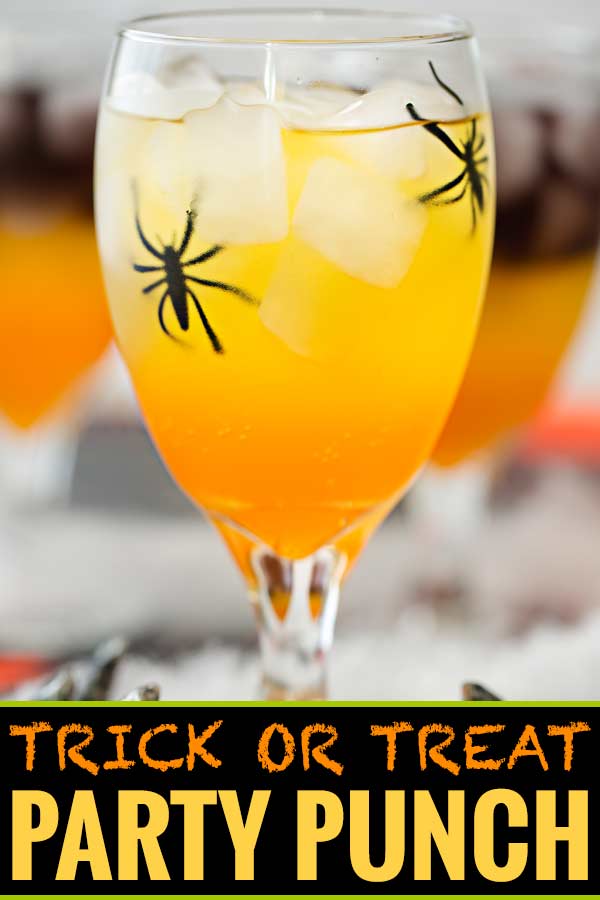 Going out for trick or treat?  Pour a glass of this sweet layered party punch when you come back!  Even the kids can enjoy this drink, as there's no alcohol… although, for the adults that would like a splash or two, it's easy to add some vodka!
I know we're not even into October yet, but I'm starting to get excited for Halloween!  For the first time in a long time, I'll even be dressing up this year.
In case you're getting in the Halloween spirit like I am, I've got a few themed cocktails on the blog!  Witches Brew, Poisoned Apple, and this Trick or Treat party punch!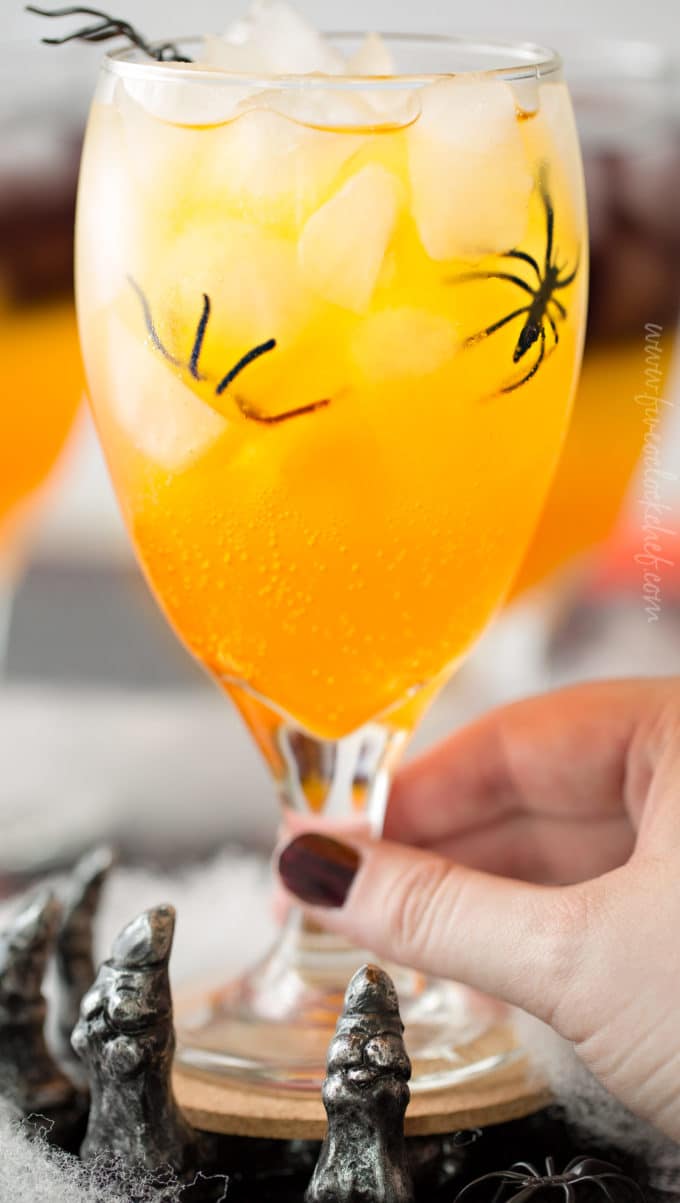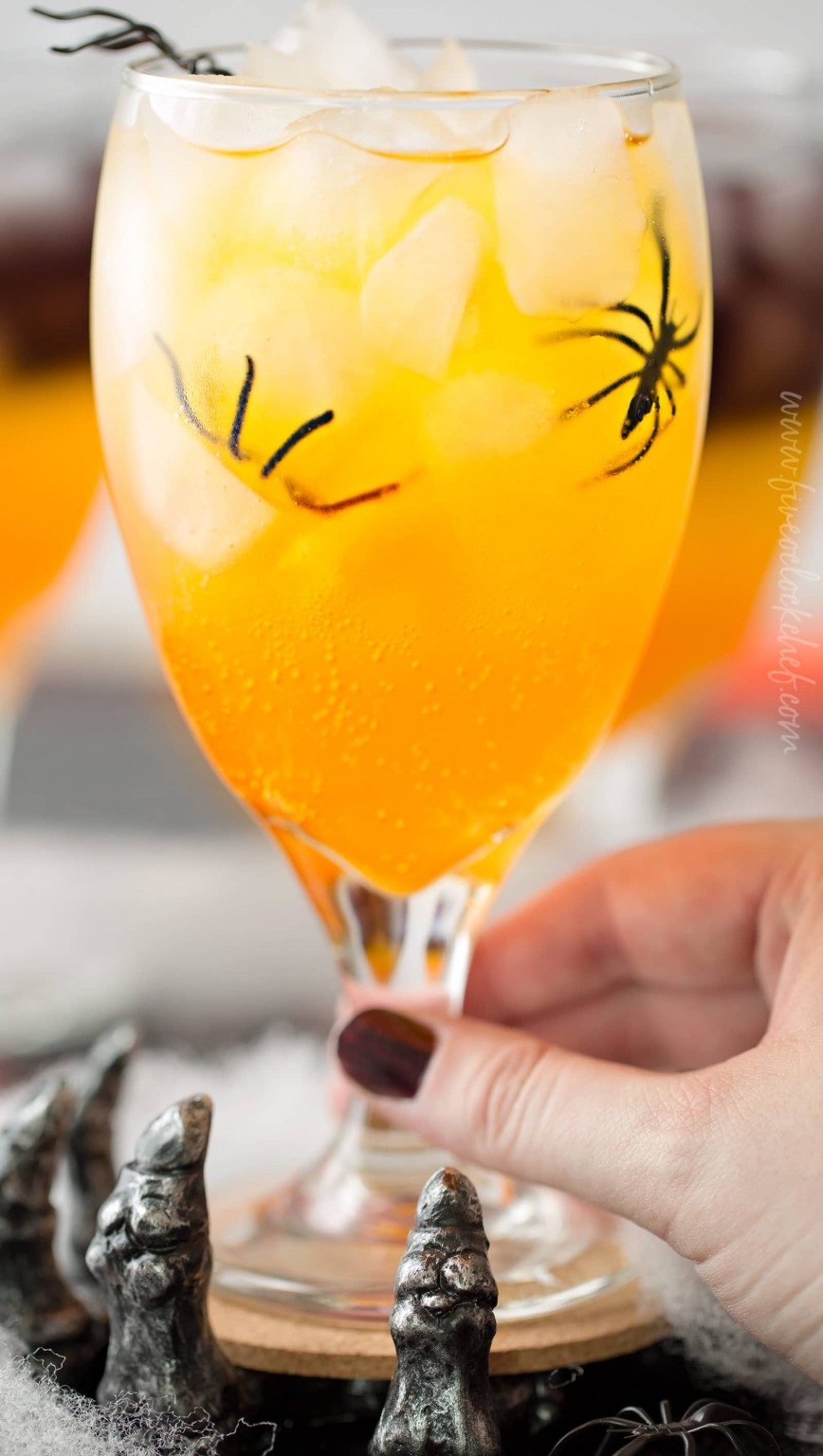 Technically this trick or treat punch isn't a cocktail, since there's no alcohol in the recipe as it's written, but who am I to stop you if you wanted to add a splash or two!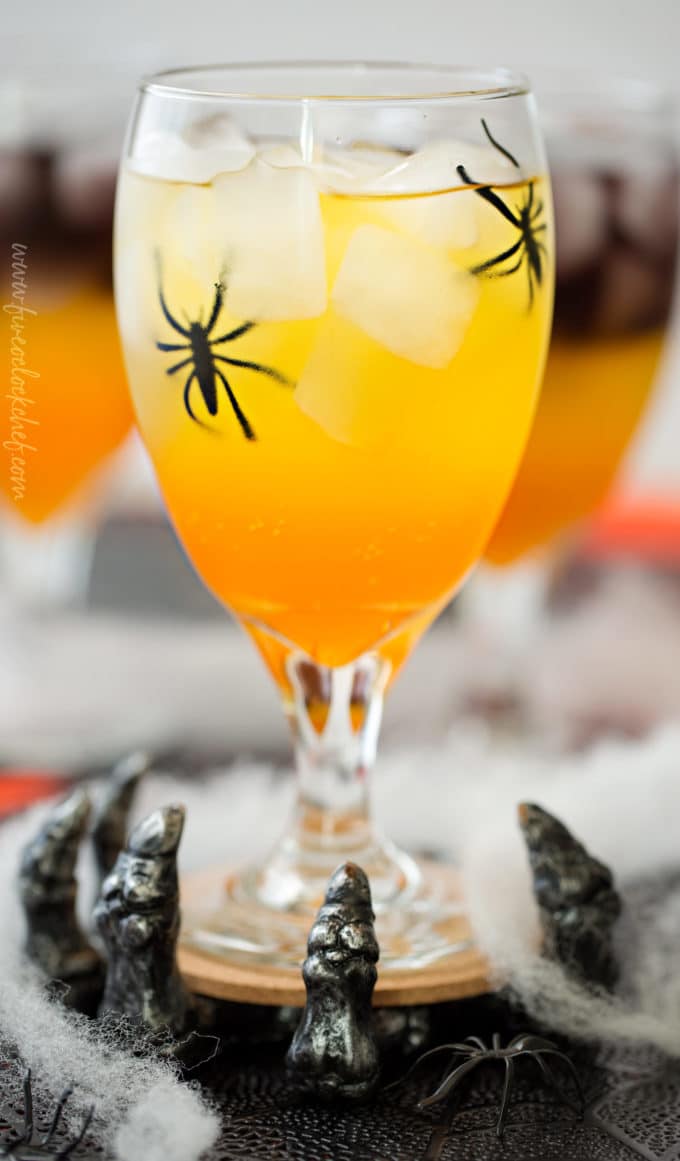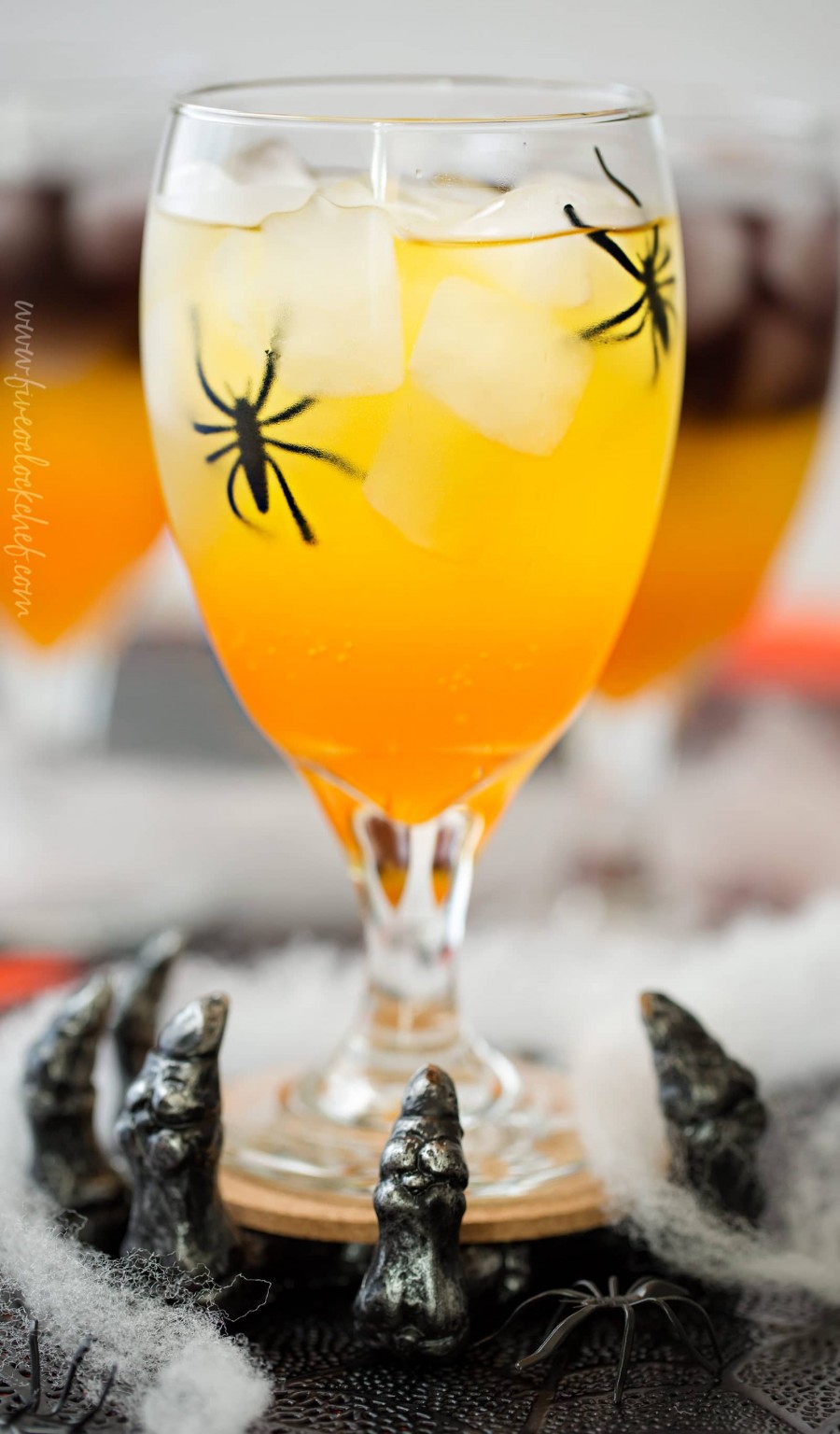 As you can see from the background of that photo above… I also made this drink with orange on the bottom and purple on the top.  Just as tasty, with an even better layer division… but not quite as classically Halloween as I was going for.  In any event, you can make these with any flavor/color combo you'd like, but there are some rules:
TIPS FOR A GREAT LAYERED DRINK:
Traditionally layered drinks are made with alcohols, and for those you'll want to know each alcohol's specific gravity, with the highest number being on the bottom, working up to the lowest.  For this drink, I wanted a punch that everyone can enjoy, with no alcohol, so we go by sugar content.
The bottom layer has to have the highest sugar content.  I've made these with Crush soda and super sweetened orange kool-aid.
The top layer has to have less sugar than the bottom.  I like to use Gatorade G2 low calorie lemon lime… but have also used a sugar-free lemon lime/lemonade kool-aid.
The greater the sugar content difference, the better the layers will be separated.
If you use a carbonated drink on the bottom, like Crush, it will be more hazy (like in my photos).
Pour the second (top) layer VERY slowly, and pour it over a big ice cube or over a spoon held upside down right over the bottom layer.  You want the top layer to gently lay on top, not be sloshed in.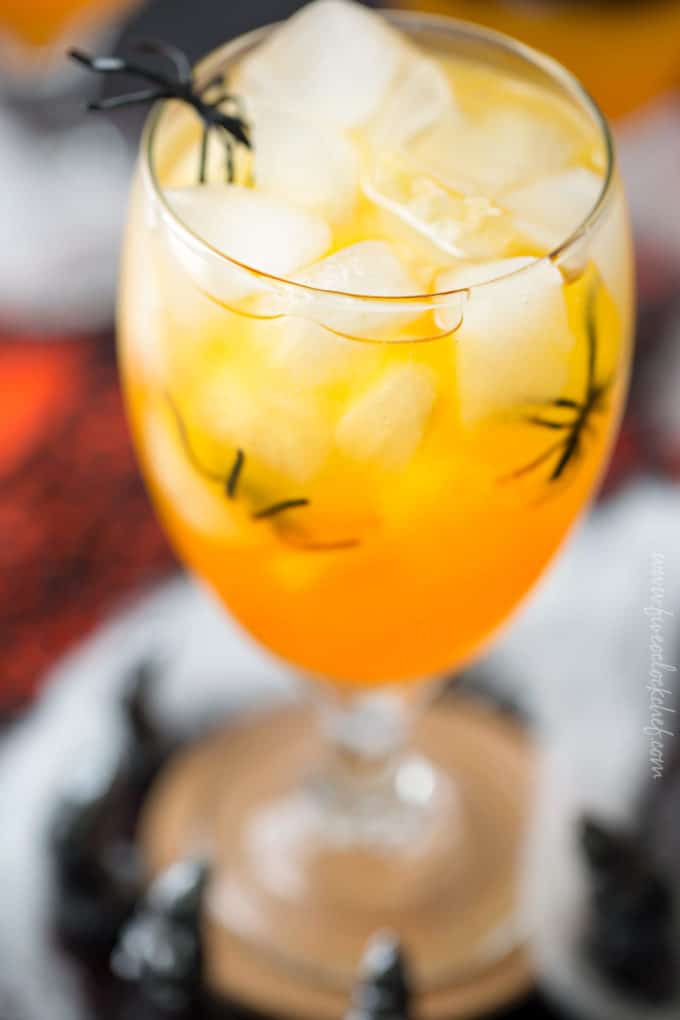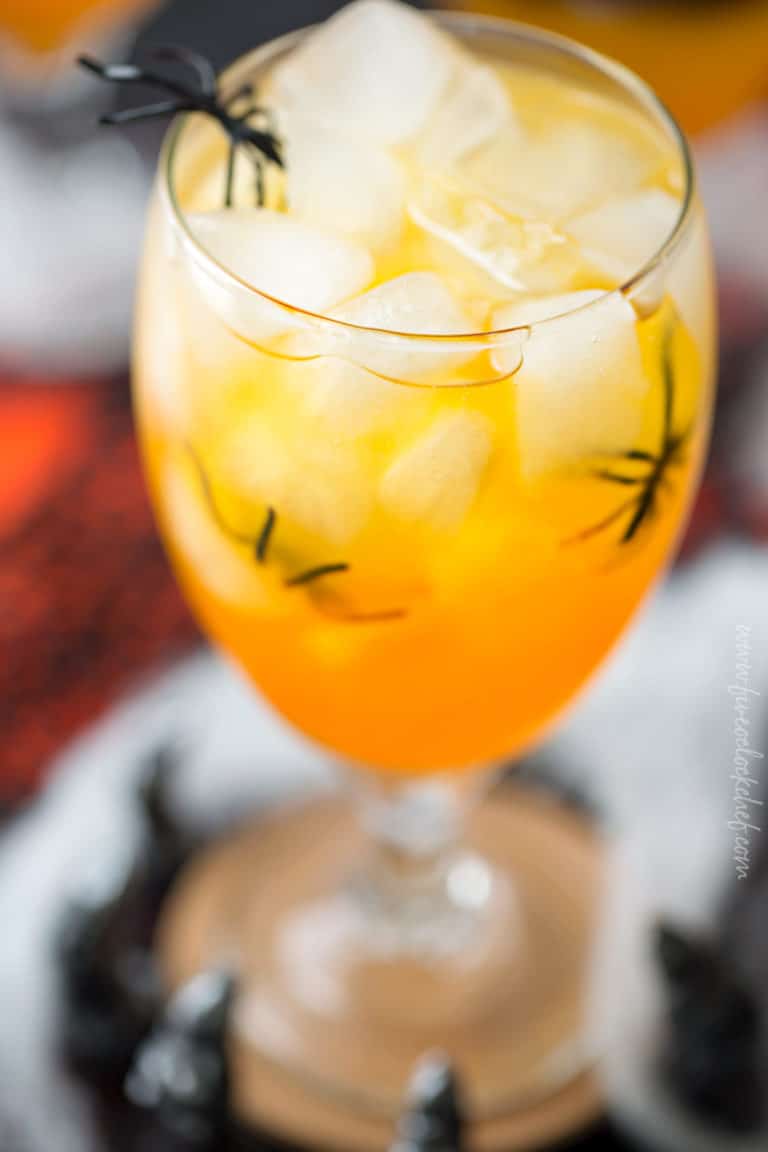 If you're wanting to add a splash of alcohol to this, I'm sure you can… just do a little experimenting to see how it effects the layers.  My bet would be that the safest way would be to add the alcohol to the bottom layer.  Maybe add the orange liquid and alcohol to a cocktail shaker and shake it to make sure they're well mixed?  If you try it, I'd so love for you to come back and leave a comment letting me know!
GET THE LOOK:


Did you make this? Be sure to leave a review below and tag me @the_chunky_chef on Facebook and Instagram!
This non-alcoholic trick or treat party punch is a fabulous drink that everyone can enjoy!
Ingredients
8 oz orange kool-aid (regular, NOT sugar free)
8 oz lemon lime Gatorade G2 (or a sugar-free lemon lime kool-aid mix)
ice
Instructions
Fill serving glasses all the way up with ice cubes. Scatter spiders throughout ice, if using.

Tilt glass slightly and pour in orange liquid, about 1/3 - 1/2 way up.


Very slowly pour in the yellow liquid, over an ice cube or an upside down spoon, until glass is filled.

Want to save this recipe for later? Click the heart in the bottom right corner to save to your own recipe box!
Chef Tips
The way this drink works is that the liquid with the highest sugar content is on the bottom. Sugar is heavy and dense, so the heaviest liquid will settle towards the bottom. The top layer needs to be very low in sugar, or else it will mix with the bottom layer. The secret, other than the different sugar content, is in pouring VERY slowly, over either an ice cube, or an upside down spoon. You can use any colors/flavors you'd like... don't feel that you're limited to what I chose... just make sure you pay attention to the sugar content of the various colors/flavors. My glasses hold 16 1/4 oz, but you can easily adjust the amount needed to fill whatever glasses you'd prefer.
Nutrition Disclaimer
The Chunky Chef is not a dietician or nutritionist, and any nutritional information shared is an estimate. If calorie count and other nutritional values are important to you, we recommend running the ingredients through whichever online nutritional calculator you prefer. Calories can vary quite a bit depending on which brands were used.