This boneless turkey breast is slathered in a sweet and savory bourbon maple glaze then roasted until crispy on the outside and moist and tender inside. Then it all comes together with a cider bourbon gravy that you'll want to pour on everything! Perfect for your Thanksgiving or other holiday dinners!
This is one of my Thanksgiving recipes I know you'll want to keep on hand!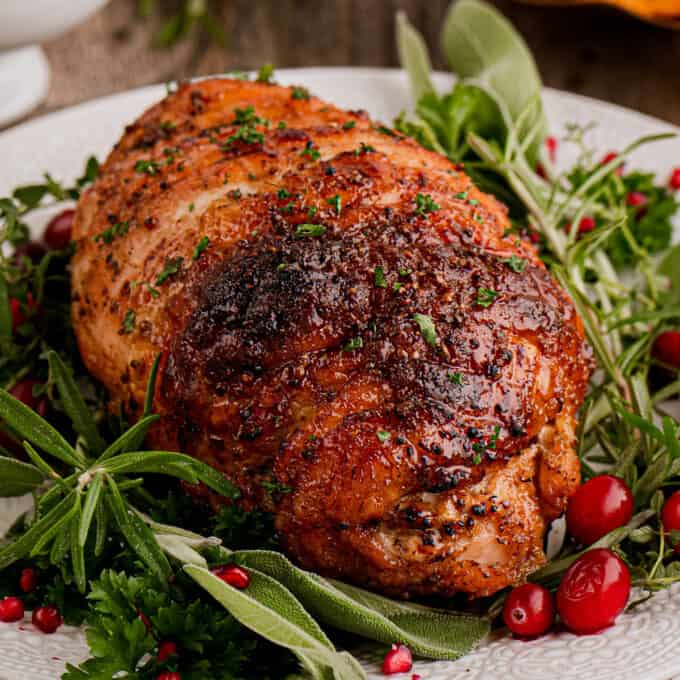 If you're anything like me, cooking a huge Thanksgiving turkey can be really nerve-wracking. It's a big deal, and when it's the star of the dinner, you really need it to be amazing.
So I actually prefer to cook a turkey breast instead! Not only are they smaller and easier to cook, they're also a lot more economical, and easier to fit in your freezer and/or refrigerator.
This recipe takes the easiness factor up a notch by using a boneless turkey breast roast. With no bone, the turkey breast cooks quicker, and carving is so much easier!
In fact, this is a great dinner idea for a non-holiday meal. You get all the comfort of a classic holiday main course, but without being so involved.
How to make roasted boneless turkey breast?
This is just an overview; the full ingredients and directions are in the recipe card toward the bottom of this post.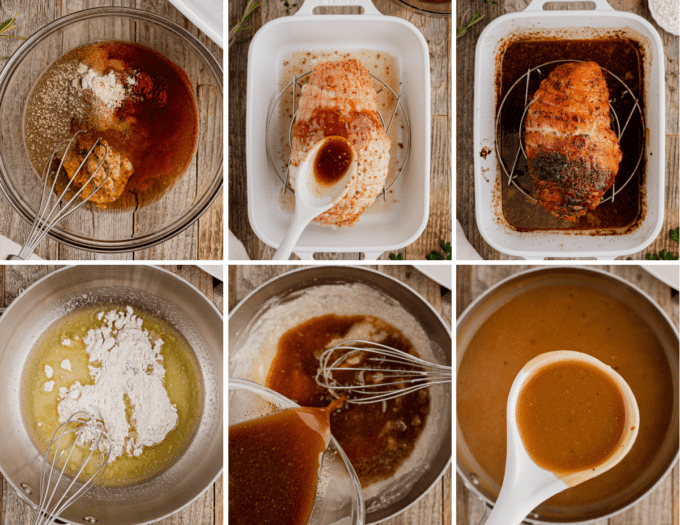 Make the glaze.
Glaze and roast. The turkey breast is cooked on a rack so the bottom doesn't get soggy, and the turkey gets basted with more glaze about every 30 minutes during the roasting time.
Make the gravy. Use pan drippings (recommended) or chicken broth/stock.
Helpful Tip!
Even though it may seem odd to do so, I do recommend keeping the twine net on the boneless turkey breast. It's perfectly okay to cook with it on, and it helps keep the roast together as it cooks. The twine gets removed during the last part of the roasting process.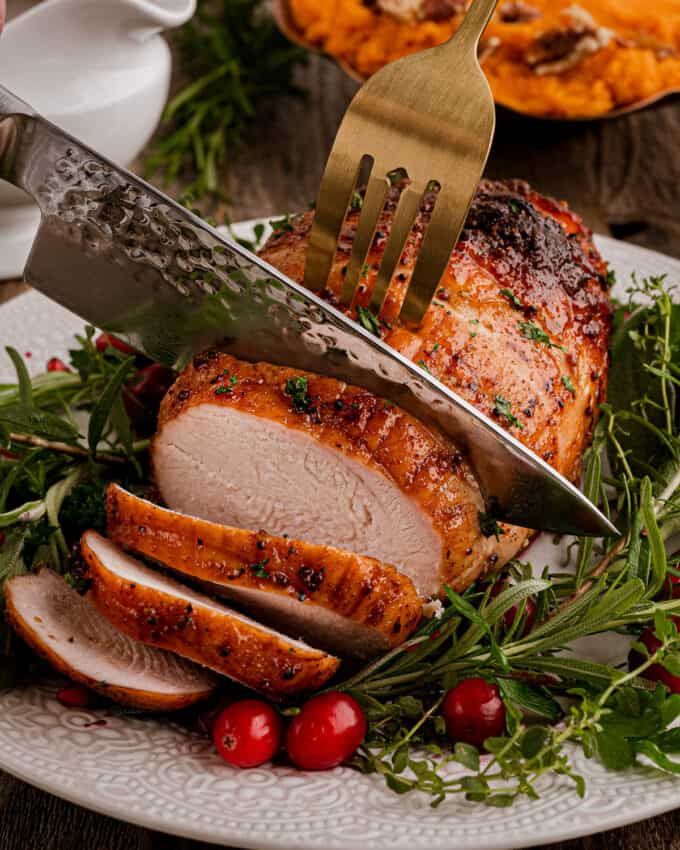 Variations of this recipe
Paprika – if you don't have smoked paprika, traditional plain or sweet paprika can be used.
Mustard – the whole grain mustard can be swapped for dijon, and vice versa, if you'd like to use the same mustard for both the turkey and gravy.
Fresh herbs – if you'd prefer to use fresh thyme instead of dried, you can use fresh minced thyme. You'll want to use about 2-3x as much as the dried, so 1 or 1 1/2 tsp.
No pan drippings – I highly recommend using the drippings to make the gravy in this recipe. But if you'd rather not use them, you can use an equal amount of chicken broth or chicken stock.
Alcohol-free – if you can't use, or don't want to use, any bourbon, my best guess would be to use apple juice as a semi-close substitute.
Alternate cooking methods – this recipe can also be cooked in the slow cooker or air fryer, check out the "chef tips" section right below the recipe for all the details.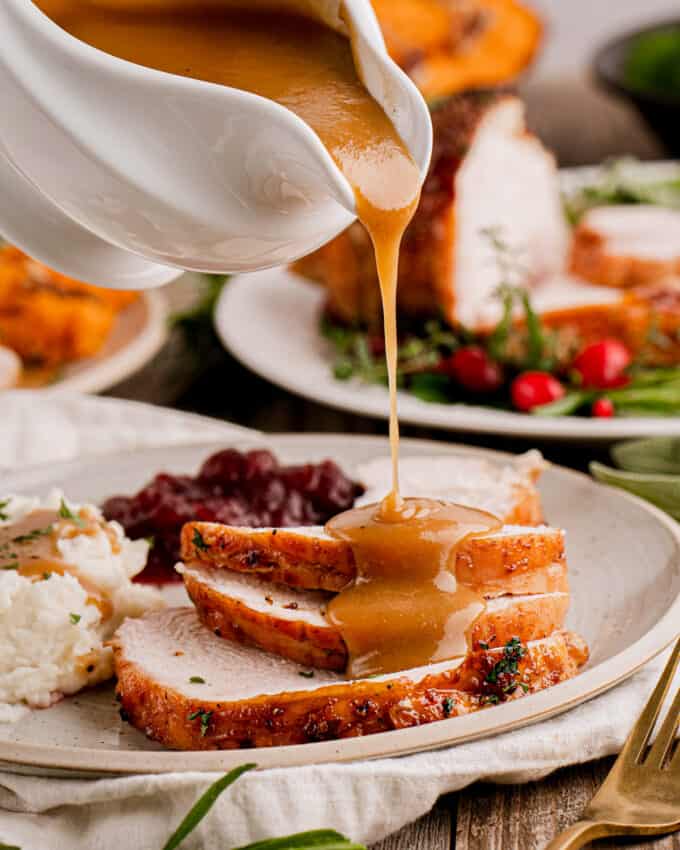 FAQ's
Can I make this recipe with a bone-in turkey breast or traditional turkey?
Yes, you can certainly use this glaze and gravy combination with any type of turkey. However, the cooking time will change, so please cook according to butcher or package instructions, making sure to check that the internal temperature reaches at least 165°F.
Can this boneless turkey breast be cooked in a slow cooker or air fryer?
The answer is yes, to both alternate methods! Check the "chef tips" section right below the recipe for all the details.
Making boneless turkey breast ahead of time
Turkey tastes best when made fresh, so I don't recommend making this recipe entirely ahead of time.
However, parts of this recipe can be made ahead.
Ways to prep ahead for this recipe:
Glaze – the glaze ingredients can be whisked together and kept refrigerated for a couple of days.
Gravy – the flour can be measured and kept at room temperature, the seasonings can be combined and kept at room temperature, and the bourbon and apple cider can be measured and kept refrigerated.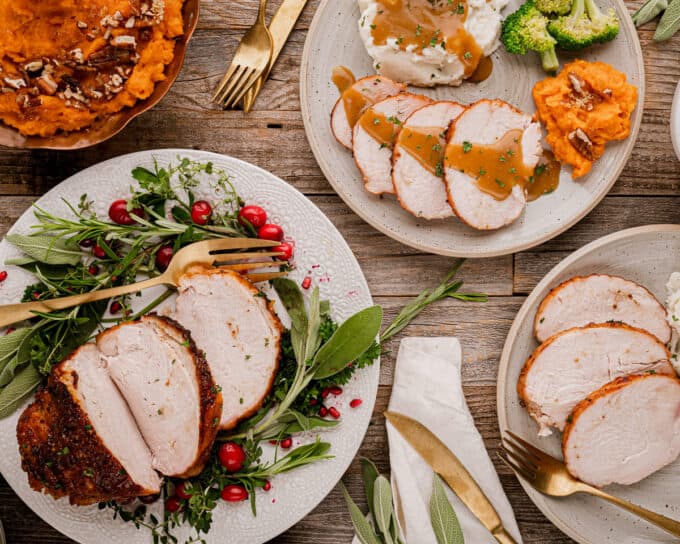 Storage
Leftover turkey breast should be refrigerated in an airtight container and enjoyed within 3-4 days.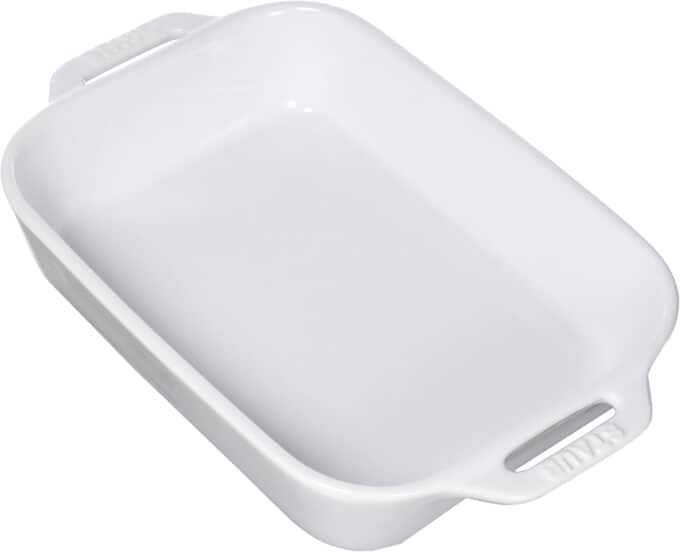 This baking dish is the perfect size for roasting this boneless turkey breast! Of course you can use any baking dish or roasting pan you'd like, but this is the dish shown in the photos of this recipe.
Did you make this? Be sure to leave a review below and tag me @the_chunky_chef on Facebook and Instagram!
This boneless turkey breast is slathered in a sweet and savory bourbon maple glaze then roasted until crispy on the outside and moist and tender inside.
Ingredients
Bourbon maple glaze
1/2 cup bourbon
1/2 cup packed light brown sugar
3 Tbsp maple syrup
3 Tbsp honey
2 Tbsp reduced sodium soy sauce
2 Tbsp whole grain mustard
1/2 tsp smoked paprika
1/2 tsp onion powder
1/2 tsp garlic powder
1/2 tsp dried thyme
1/2 tsp kosher salt
1/2 tsp black pepper
Turkey breast and roasting
3 lb. boneless turkey breast roast I use Butterball brand
2 – 4 cups reduced sodium chicken broth
Cider bourbon gravy
1/4 cup unsalted butter
1/4 cup all purpose flour
1 cup pan drippings or reduced sodium chicken broth/stock
1/3 cup bourbon
2/3 cup apple cider or apple juice if you can't find cider
2 tsp Dijon mustard
1/2 tsp kosher salt
1/4 tsp black pepper
1/4 tsp onion powder
1 Tbsp cold unsalted butter
Instructions
Prepare
Preheat oven to 325°F.  Set out a baking dish (I use a 2 quart, but a 9×13" will also work), and an oven-safe wire rack (I use the roasting rack that came with my Instant Pot – it fits great in my 2 quart rectangular baking dish), or a roasting pan with a rack.

Remove turkey breast roast from package, leaving the twine netting on (this holds the meat together as it cooks).  Pat very dry with paper towels.

Place turkey roast in the center of baking dish/roasting pan, on the rack. Pour enough chicken broth in the bottom of the roasting pan to fill it about 1/4 inch.  This keeps any drippings from burning.
Glaze and roast
In a mixing bowl, add glaze ingredients, whisking until well combined.

Slather a thick layer of glaze over the top and sides of the turkey. 

Roast the turkey for approximately 1 hour 45 minutes to 2 hours, or until an internal thermometer inserted into the turkey reaches 165°F.

Baste the turkey every 30 minutes by brushing on more glaze and adding more chicken broth to the bottom of the pan, as needed.

The last 30 minutes of cooking, remove the twine netting, and baste pretty liberally with the glaze.

Remove pan from the oven, transferring turkey breast roast to a cutting board/plate to rest while you make the gravy.
Make gravy
While turkey is resting, pour pan drippings into a small bowl, skimming off excess fat, if there is any.

In a small saucepan, melt 1/4 cup butter over MED heat.  Once melted, add flour and whisk to combine.  Cook approximately 1 minute, then slowly whisk in 1 cup of the pan drippings. If you aren't using pan drippings, use reduced sodium chicken broth/stock.

Stir in bourbon, apple cider, mustard, salt, pepper, and onion powder.  Simmer several minutes, or until thickened to your liking.

Take off the heat, and whisk in cold butter.
Serve
Slice turkey breast into 1/2"-3/4" slices, and drizzle with gravy.
Want to save this recipe for later? Click the heart in the bottom right corner to save to your own recipe box!
Chef Tips
I've estimated this recipe will feed approximately 4 people, but as always, the exact serving size is up to you.
We usually use Woodford Reserve for this recipe, but please feel free to use any bourbon you'd like.
When choosing a boneless turkey breast roast, make sure you select one that doesn't have additional flavor added.
For the best results, I highly recommend using an internal meat thermometer (clickable link) to check the internal temperature of the turkey breast.  The cook time given is what it took for me, but all ovens cook a little differently, and even things like how cold the turkey breast was before cooking can alter the total cook time.
Insert the thermometer into the thickest part of the breast, and you're looking for it to read 165°F.
Cooking boneless turkey breast in the slow cooker:
Make glaze as directed.
Add about 1 to 2 cups of chicken broth in the bottom of a slow cooker insert, then top with either a wire cooking rack (that will fit in the insert), some wedges from a yellow onion, or some balled up pieces of aluminum foil or parchment paper.
Add turkey breast on top of that, then slather with glaze.
Cover and cook on low for approximately 3-4 hours, checking the internal temperature at the 3 hour mark (you're looking for an internal temperature of at least 165°F).
When finished cooking, remove from the slow cooker and place on a rimmed baking sheet or baking dish.
Place oven rack in the middle or towards the bottom, then turn on the broiler. You can broil on high or low.
Slather with more glaze, then add to the oven to broil.
Broil for a few minutes, watching closely, and adding more glaze as needed. 
When turkey breast has a nice golden brown color, remove from the oven and let rest for about 10 minutes.
While resting, make the gravy as directed.
Cooking boneless turkey breast in the air fryer:
Make glaze as directed.
Slather turkey breast with a thin layer of glaze, then preheat air fryer to 360°F.
Once preheated, add turkey breast to the basket of the air fryer and air fry for about 1 hour, turning and basting every 15 minutes or so.
Turkey breast is done when the internal temperature is at least 165°F.
Make gravy as directed, using reduced sodium chicken broth or stock in place of the pan drippings.
Nutrition Disclaimer
The Chunky Chef is not a dietician or nutritionist, and any nutritional information shared is an estimate. If calorie count and other nutritional values are important to you, we recommend running the ingredients through whichever online nutritional calculator you prefer. Calories can vary quite a bit depending on which brands were used.