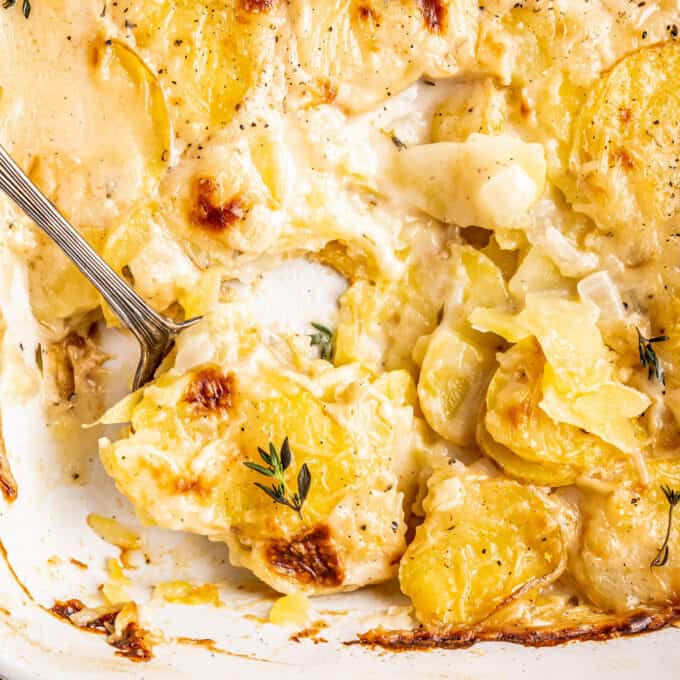 Holidays are busy, chaotic, and so much fun! What I love most is coming together with family members and sharing a delicious meal, and thinking of all we're thankful for.
While there are so many options for your holiday table, a classic staple like scalloped potatoes is always a winner!
This recipe goes back to the basics, with a mouthwatering cream sauce made with sautéed onions, garlic and herbs, layered together with thinly sliced buttery Yukon gold potatoes, and baked with a little cheese until tender and golden!
If you'd like a version with 3 types of cheese, try these Cheesy Scalloped Potatoes.
Plus I've also shared tips for making these potatoes ahead of time, how to freeze them, and how to make them in the slow cooker… all down in the post. Scroll for all the details!
How to make scalloped potatoes?
This is just an overview; the full ingredients and directions are in the recipe card toward the bottom of this post.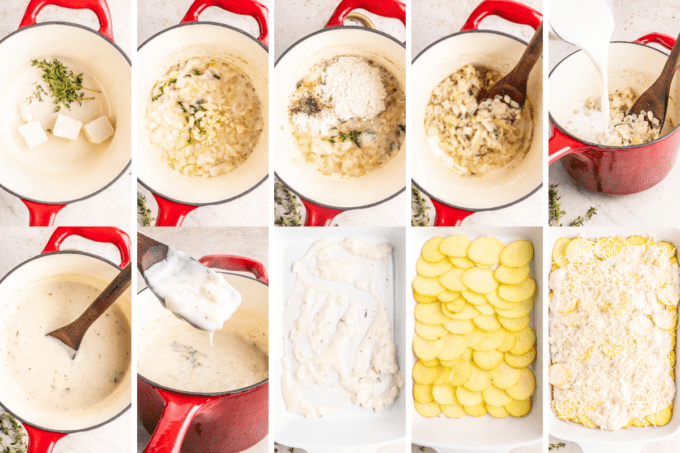 Cook onions. Doing this with the thyme in the butter infuses the whole sauce with an herb-y thyme flavor. Add garlic.
Make the roux. This is adding the flour and seasonings to the butter, onion, and garlic. Stir it around and cook for a minute to get the raw flour taste out.
Make the sauce. Stirring as you pour in the milk will keep lumps from forming.
Thicken. For this recipe you want a fairly thick sauce, similar to making a cheese sauce for mac and cheese.
Layer. The order is sauce, potatoes, sauce, potatoes, etc. ending with a sauce layer and topping that with cheese.
Bake. This gets a two-part baking process. The covered part makes sure the potatoes are nice and tender, then the uncovered part ensures a nice golden brown top.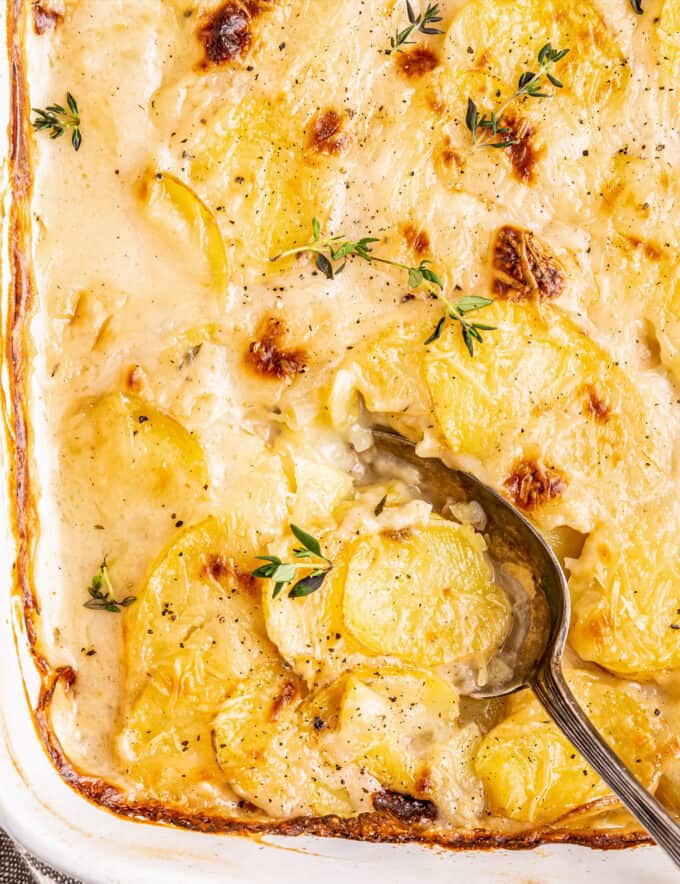 Variations of this recipe
Type of potatoes – if you'd like to switch up the type of potatoes, in theory red potatoes, white potatoes or russets should work just fine. However I haven't specifically tested all types of potatoes, so the baking time might be slightly altered.
Onions – if you'd rather skip the onions, you can, I would just add 1/4 – 1/2 tsp of onion powder to the cream sauce.
Dried herbs – to use dried thyme, use about 1 tsp.
Other dairy – if you want to change up the type of milk/dairy used in this recipe, feel free to use half and half, heavy cream, or a combination. I wouldn't use less than whole milk, as the sauce may not thicken up like it should, and won't have a creamy mouthfeel.
Non-dairy – unsweetened plain non-dairy milk should work fine for this recipe, however, I didn't specifically test non-dairy milks.
Add-ins – if you'd like to add some extra flavor, try adding some diced ham, sliced mushrooms, additional garlic, peas, or more/different cheeses.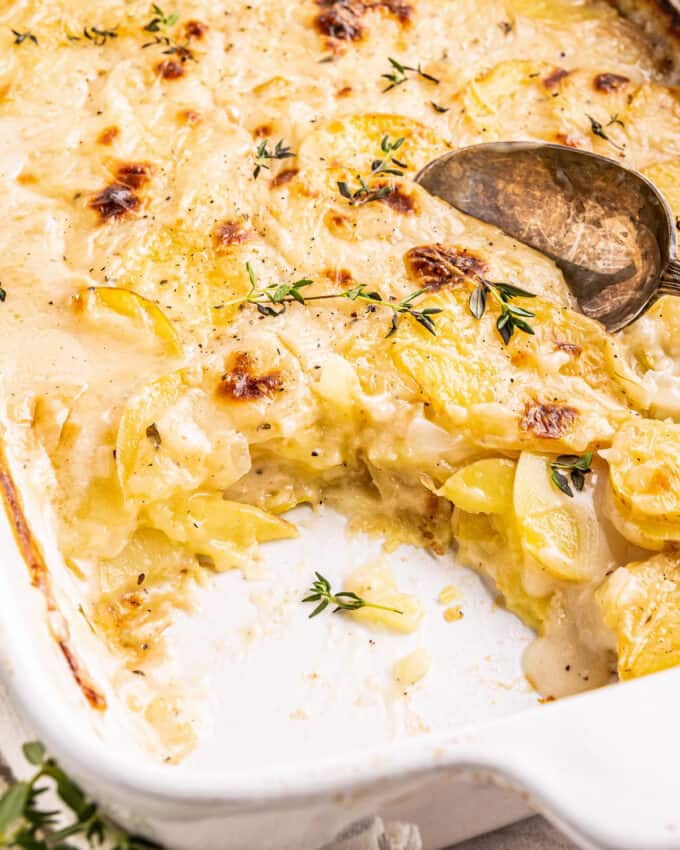 Making scalloped potatoes ahead of time
Usually this recipe is made on a holiday, when oven space is at a premium, and your time is precious. For that reason, I did some extra testing so you can make this side dish ahead of time.
I've found making this recipe ahead works best when you partially cook the potatoes first. Plus, that means you don't have to bake them that long when reheating!
Baking the dish for 60 minutes (covered) gets the potatoes about 75% of the way cooked through. Let the dish cool, then cover tightly and refrigerate for 1-2 days.
Reheat at the same baking temperature, for 40-50 minutes.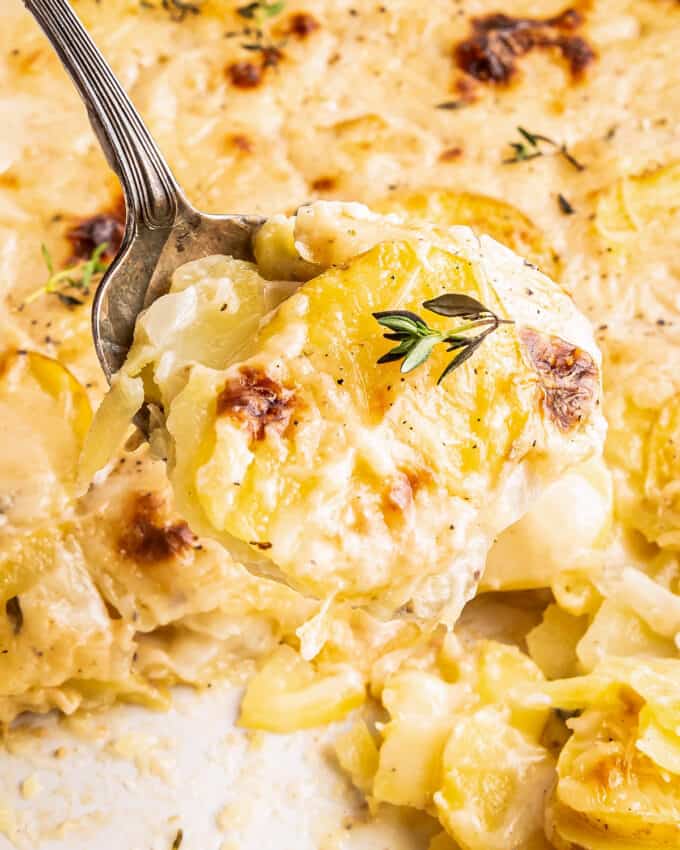 Freezing
As a bonus, this dish can also be frozen, using the same instructions as the make ahead directions. Just freeze the covered, partially cooked dish instead of refrigerating it.
Scalloped potatoes can be frozen for 2-3 weeks. Defrost by setting the dish in the refrigerator overnight, then bake at the original baking temperature for 40-50 minutes.
Storage
Leftover scalloped potatoes should be refrigerated in an airtight container and enjoyed within 4-5 days.