---
Once you try homemade salted caramel sauce, you won't ever want store bought again!  The browned butter gives this sauce an amazingly deep flavor!
---
Smooth, dreamy, homemade salted caramel sauce is flecked with bits of browned butter for an incredibly deep and nutty flavor.  This is one sauce you'll be putting on absolutely EVERYTHING!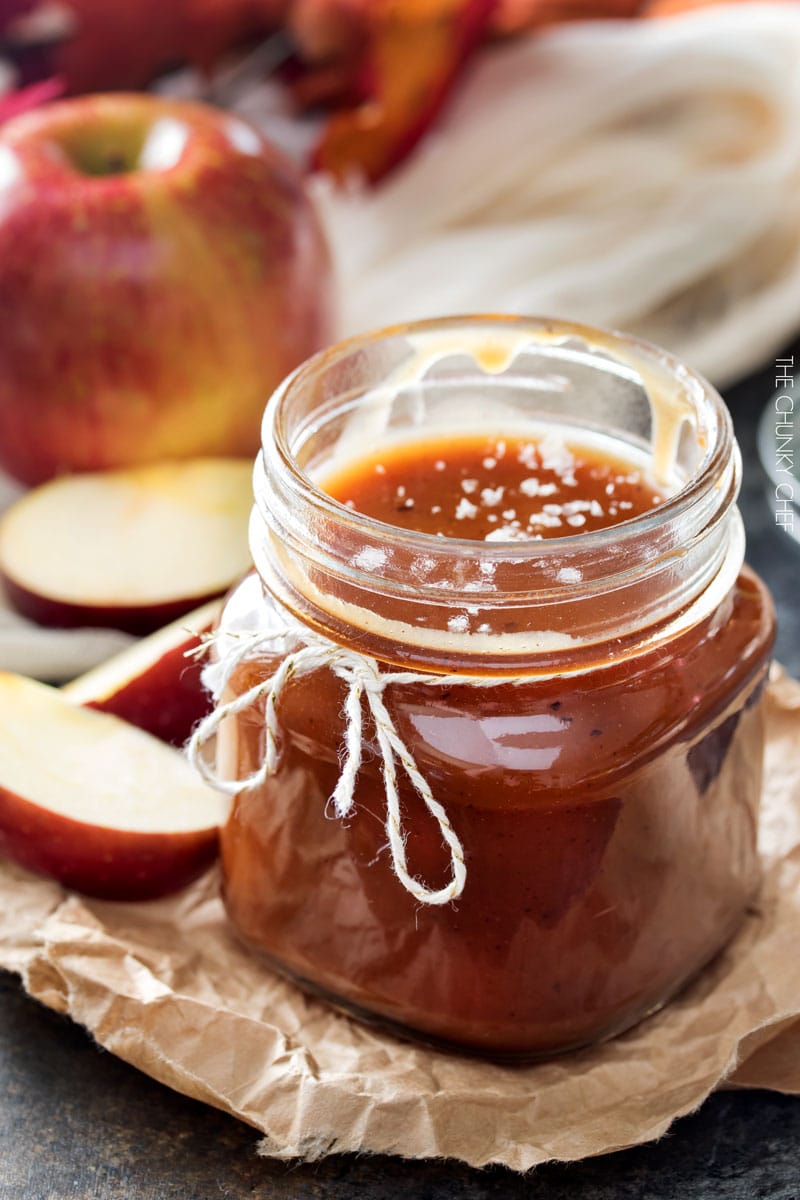 I have a little secret you guys.  Some of you may gasp a little, (okay maybe not, but play along)… but I don't really like caramel.  ** awkward pause ** …I know right?!  Well at least I THOUGHT I didn't like caramel.  It turns out, I just didn't like the colored corn syrup sold in jars labeled "caramel sauce" from the grocery store.  I made some homemade salted caramel sauce and was BLOWN away.  I mean, I think it's true love you guys.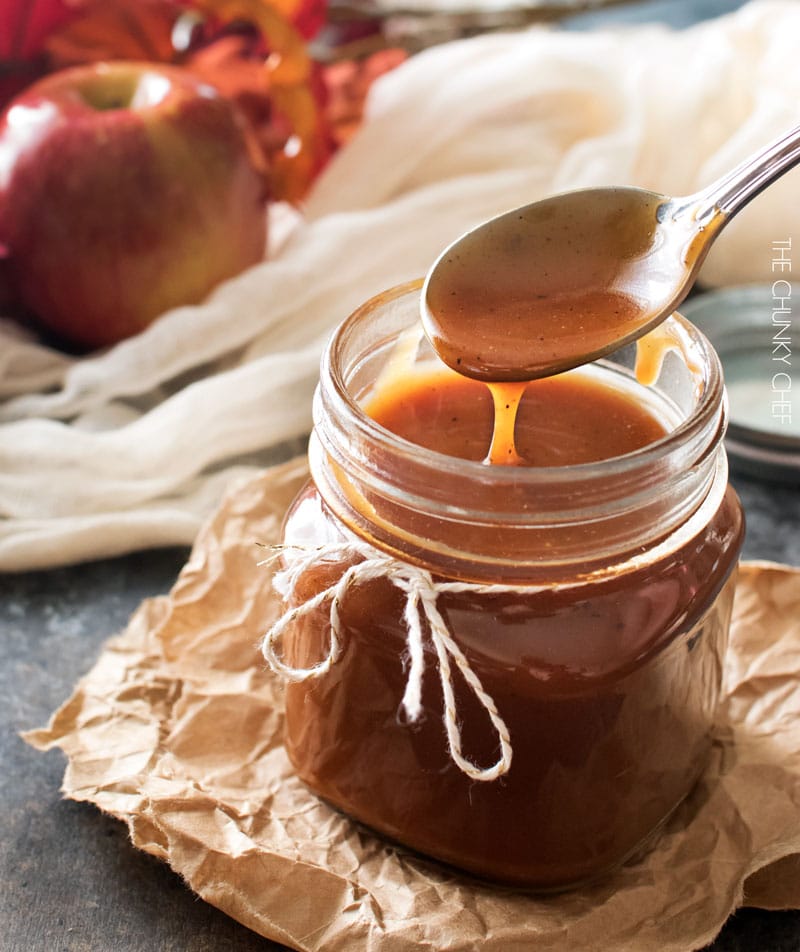 I literally couldn't stop eating it.  It started off all innocently with a little taste off the spoon, then quickly spiraled into a mad search through the house for things I could put this caramel sauce on.  Basically the food was irrelevant, it was just a caramel delivery device lol.  I've eaten SO many apples (honeycrisp are my favorite), dipped in this sauce… all under the guise of feeling good about myself for eating more fruit (nevermind that it's coated in a mixture of butter, cream and sugar).  Isn't it funny how our minds work?
If you've heard that making homemade salted caramel sauce is complex or difficult, don't worry… it just takes a little bit of patience and faith, but certainly isn't hard or too time consuming at all!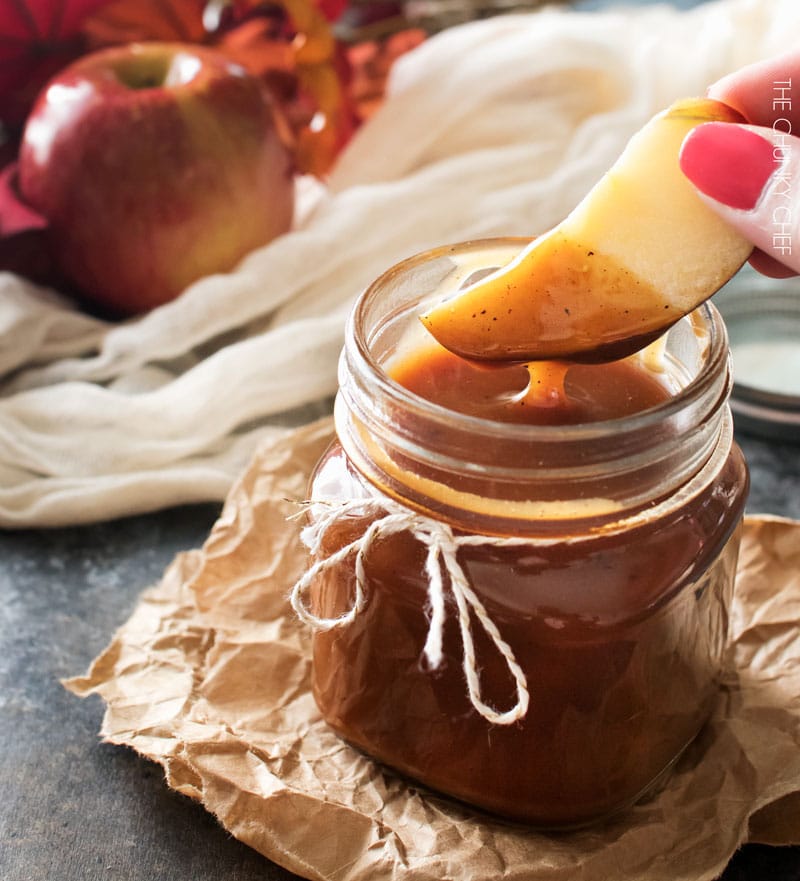 Patience and faith my friends… and here's why.
PATIENCE:
Browning butter can be a little bit of a longer process, and you can't really walk away and let it do it's thing… it needs some babysitting.  If you've never browned butter before this is a great tutorial.
When starting the caramel process, you have to cook down sugar in a pan (with no liquid), which is a whole lot of "omg nothing is happening… maybe I'm doing it wrong… how can it take this long to melt sugar?!" to, "oh wait, there it goes"
Once the sugar starts to melt, it looks like clumps of slightly wet sand, then gradually becomes wetter and wetter, but it does take a while before allllll the sugar clumps are completely dissolved.
Don't skip the waiting for them to dissolve though… you want the sauce to be nice and smooth, not grainy.
FAITH:
Once you add the cream, the sauce will foam and bubble up like some horrible science experiment gone horribly wrong… but fear not!
Just keep whisking, and take the pan off the heat for a minute if you need to.
Even if the caramel clumps up on the whisk a bit, just keep whisking (said in my best Dory voice), and it'll melt off.
Before long, you'll have a smooth, rich, glossy sauce.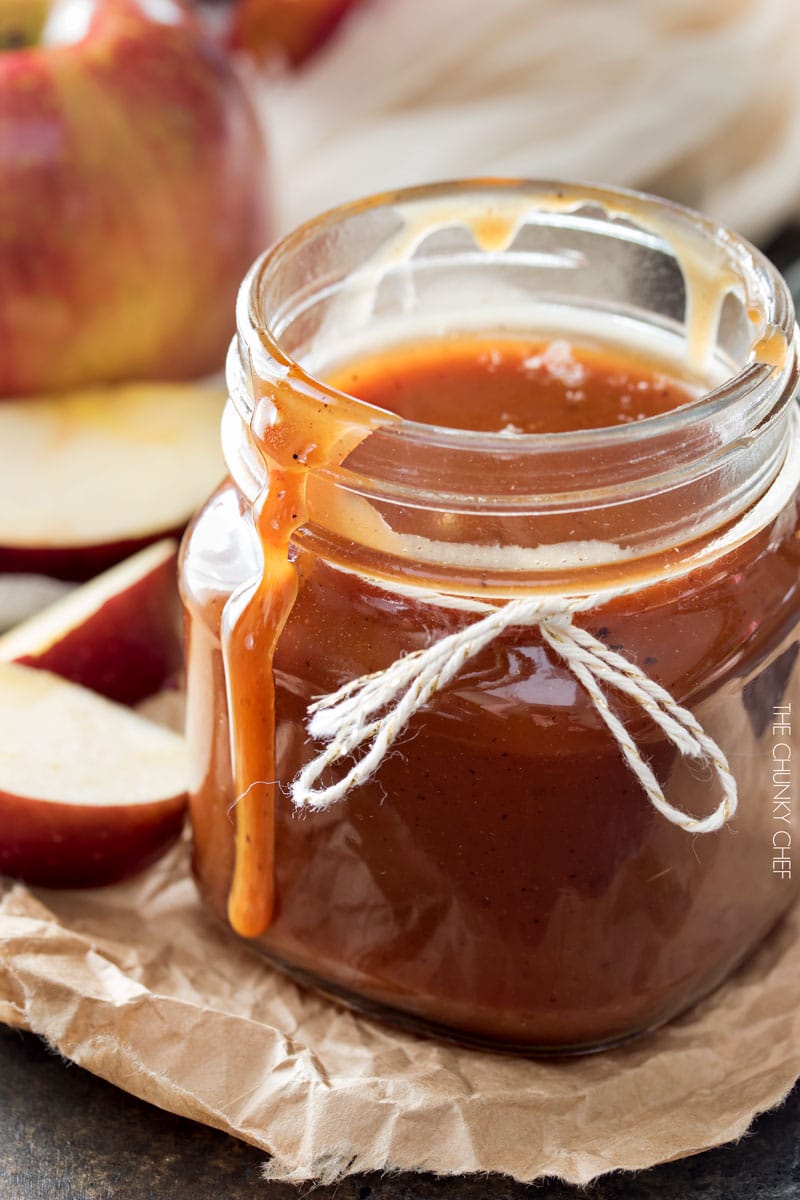 There are several ways to make caramel sauce, but this is my favorite way.  If you prefer a different way, just incorporate the browned butter into your recipe… trust me, you won't regret it!
My favorites to drizzle with this salted caramel sauce (or dip in it):
This sauce would also be a fantastic gift to give away during the holidays!
Enjoy!
Did you make this? Be sure to leave a review below and tag me @the_chunky_chef on Facebook and Instagram!
Browned butter gives this homemade salted caramel sauce a deliciously deep flavor!
Ingredients
6 Tbsp butter
1 cup granulated sugar
1/2 cup heavy cream + 2-3 Tbsp
1/4 tsp sea salt
Instructions
Add butter to small sauce pan and heat on MED-LOW.

Butter will melt, then foam up, then the foam will start to go away. Whisk or swirl the pan frequently.

Brown flecks (the butter solids) will start to form at the bottom. Once they're golden brown (not dark brown or black), and the butter smells nutty, remove pan from the heat.

Pour butter into small bowl and set aside to cool.

Wash pan, then add in sugar.

Heat over MED heat, and stir often with a rubber spatula.

After several minutes, the sugar will start to melt into brown liquid and will look clumpy. More and more clumps will appear, then they will start to melt into the brown liquid.

Make sure all the clumps of sugar have dissolved into the liquid before moving on to the next step.

Whisk in cooled browned butter.

Lower heat to LOW and add the cream, while whisking continuously.

Mixture may foam and bubble up like crazy, but keep whisking (take the pan up off the heat if you need to).

The bubbling will go down and become a glossy sauce.

Simmer for 1-3 minutes on MED-LOW heat, whisking often.

Sauce will thicken as it cools, so if it looks thin, just give it time to cool some.

Once it cools for a bit, stir in the salt.

Use right away or store in an airtight container in the refrigerator for a week or so.
Want to save this recipe for later? Click the heart in the bottom right corner to save to your own recipe box!
Chef Tips
1. Sauce can be frozen for several months, but make sure to use a NON glass container (since sauce can expand while freezing and break the glass).