Looking for a great way to use up that leftover holiday ham? Try making these crowd-pleasing Cranberry Ham Sliders!  Perfect with deli ham too, these quick and easy little Hawaiian roll sandwiches are a true family favorite! 
Party food recipes like these Cranberry Ham Sliders are great for game days, holidays, and pretty much any gathering.  Party guests love finger foods and dips!  We LOVE easy, family-favorite recipes like my Bacon Ranch Cheese Ball and this Everything Bagel Pigs in a Blanket.  This is one of my Appetizer recipes you'll definitely want in your collection!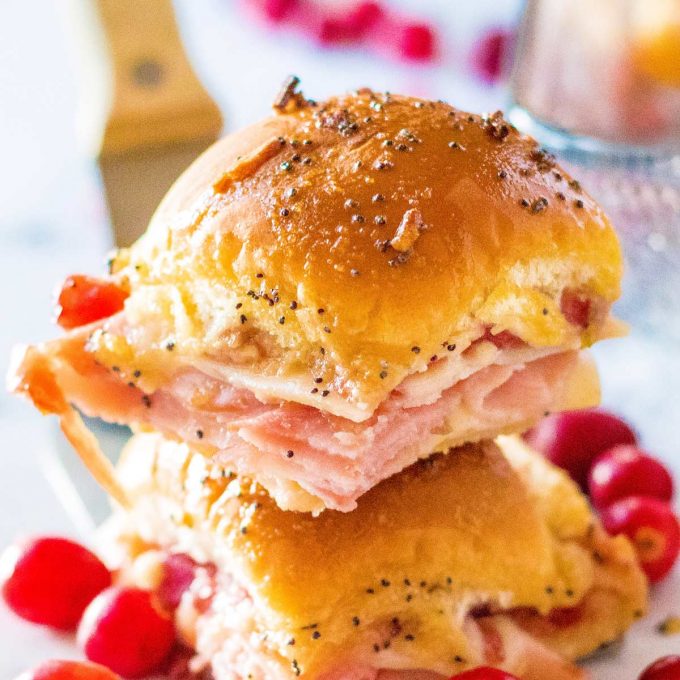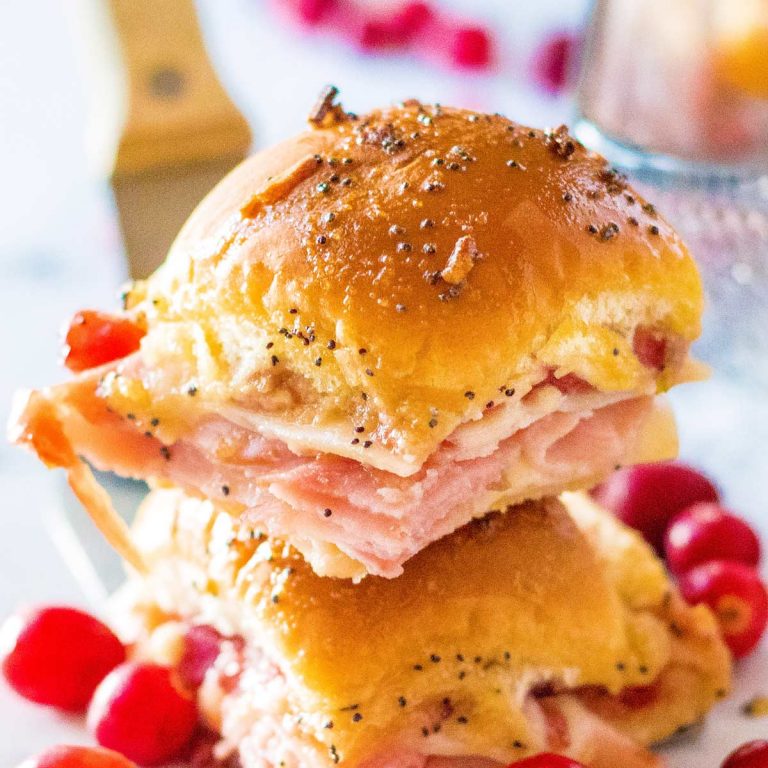 HAM SLIDERS RECIPE
After a big holiday meal, there's generally some leftovers.  And even though I'm not a huge leftover person… I am with holiday foods.  They're just so good, and so special, because we normally don't make them throughout the year.
So of course we want to stretch every last delicious bite out of them!  Naturally there's the standard, just have another Thanksgiving meal out of the leftovers, and maybe a traditional turkey/ham sandwich, but after a while, you just want something different.
These ham sliders are the perfect way to enjoy using the leftover cranberry sauce and ham (or turkey if that's what you have), with an option to use stuffing, and even use dinner rolls as the slider buns!
And if you don't have any leftover ham on hand… no worries, you can easily swap it out for sliced ham from the deli!
HOW TO MAKE CRANBERRY HAM SLIDERS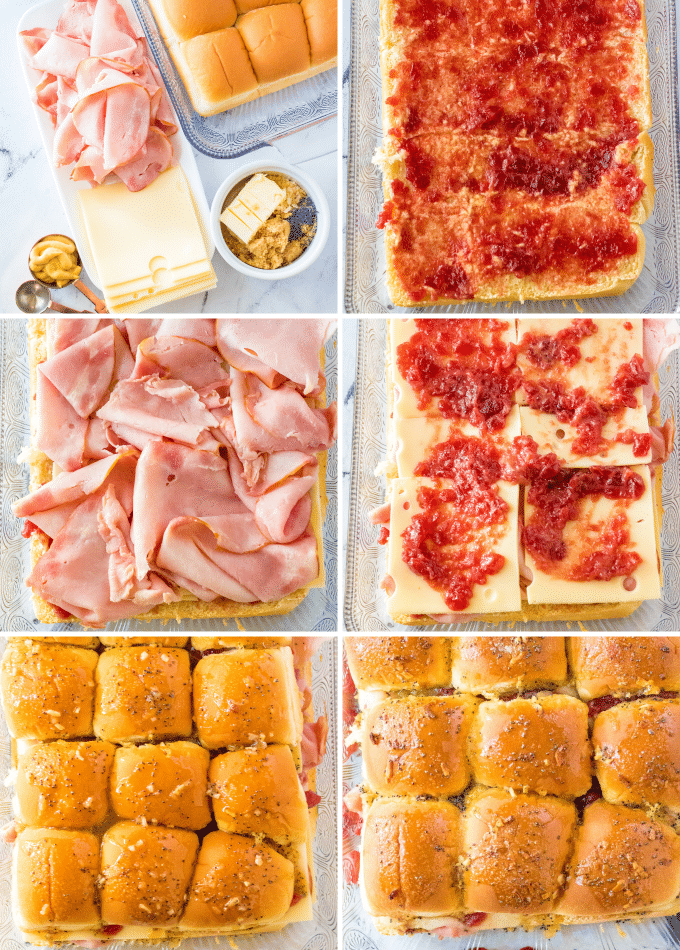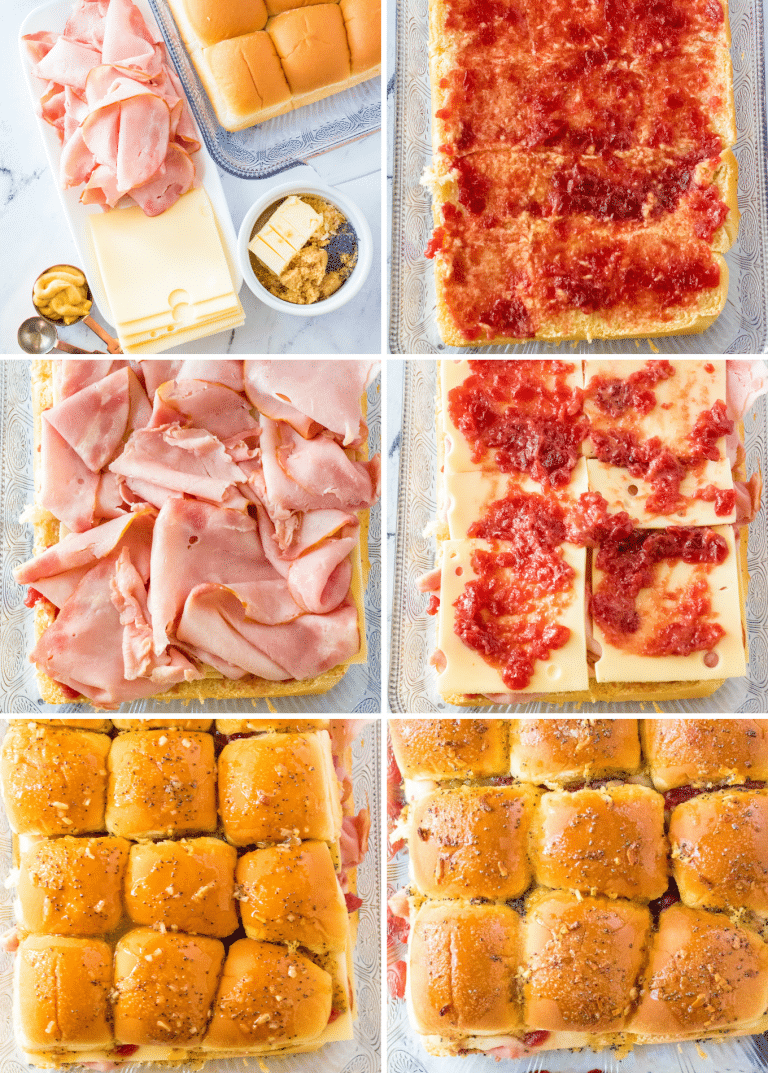 Slice rolls.  More than likely, your package of Hawaiian rolls won't come sliced.  Slice the rolls in half horizontally, keeping them connected to each other if possible.  Transfer to baking pan.
Make cranberry mustard sauce. Mix cranberry sauce and mustard together in a small bowl. Then spread half of the mixture on the bottom half of the rolls.
Layer.  Add half of the Swiss cheese, top with all the ham, then the last half of the cheese.
More cranberry sauce.  Spread remaining half of cranberry mixture on top of the last cheese layer.  Add top section of the rolls.
Make topping.  Melt butter, then mix in seasonings and brown sugar.
Top and bake.  Pour or brush butter mixture on top of the rolls, then bake at 400°F for 15 minutes.
ADDITIONAL COOKING TIPS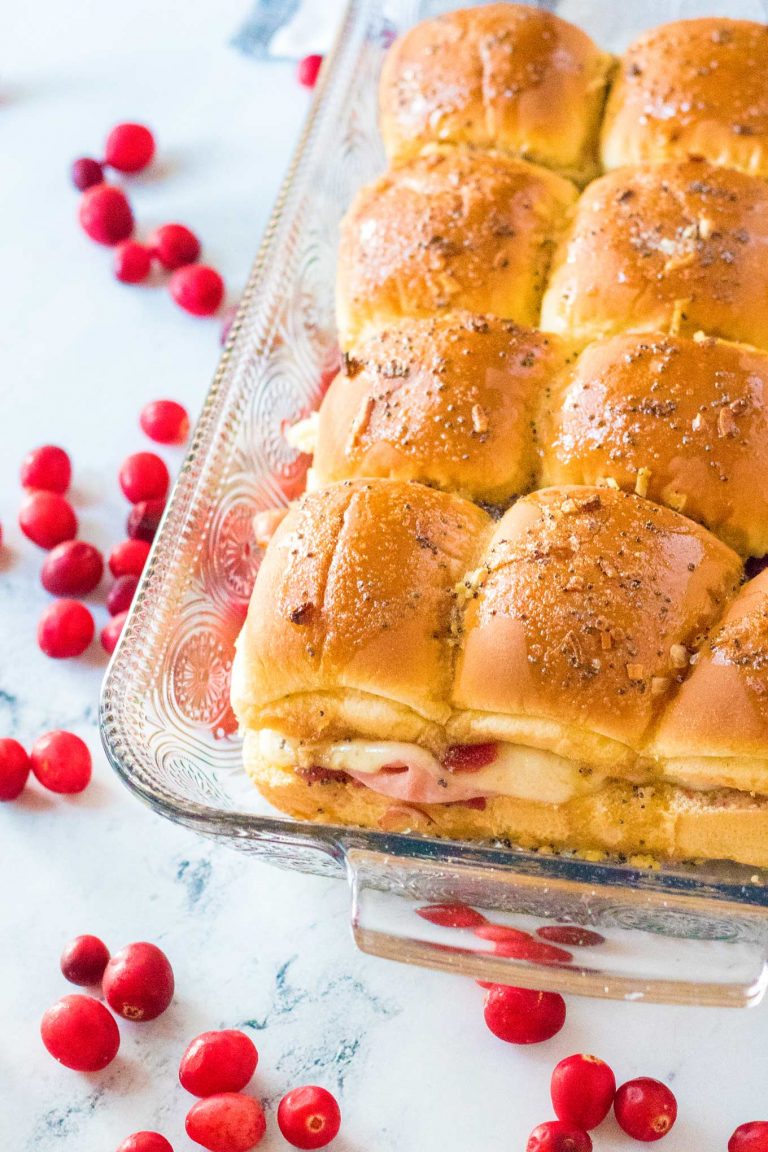 THE PAN – I usually bake these in my 9×13″ baking pan, but if you don't have one available to you, you can use any rectangular baking pan that a package of rolls will fit into.  You could also use a baking sheet, but make sure it's one that has a rim.  You don't want to clean up any melted brown sugar butter from the bottom of your oven!
COVERED VS UNCOVERED – Personally, I prefer to bake these rolls uncovered, so they can get golden brown and slightly crisp on top.  If you don't want either of those things, you can cover the baking pan loosely with foil before baking.
VARIATIONS OF THIS RECIPE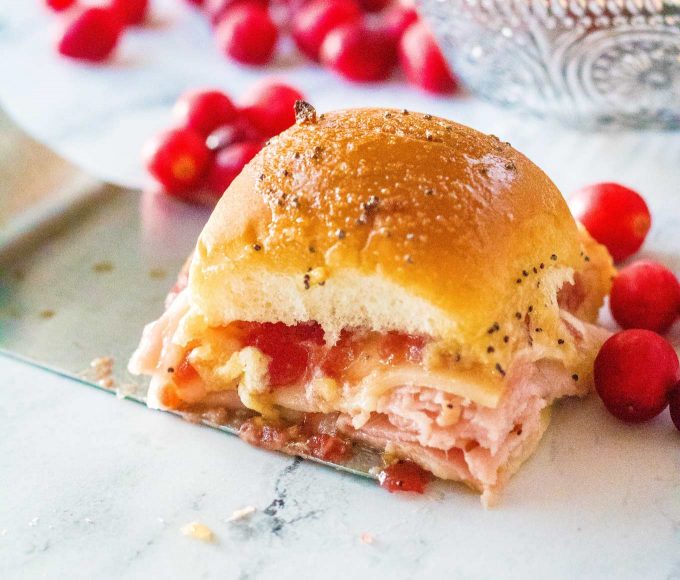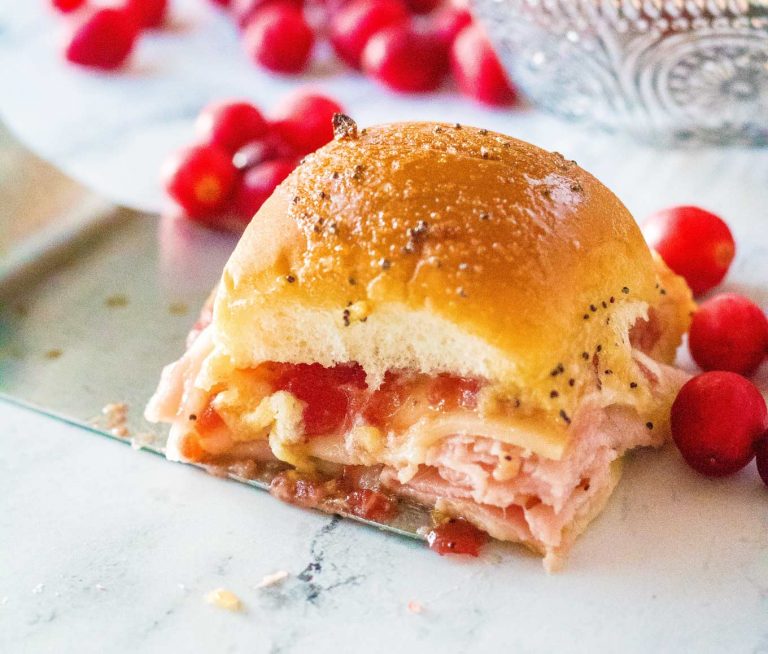 DELI HAM – no leftover holiday ham?  No worries.  This recipe works really well with sliced ham from the deli.  In fact, that's what I've used in the photos of this post.
DINNER ROLLS – for the sake of convenience, I used Kings Hawaiian rolls in this recipe, but potato slider rolls or even sliced homemade dinner rolls would be fabulous as well.
TURKEY – if you have leftover or deli turkey instead of ham, it's great in this recipe!
MORE MUSTARD – I kept the mustard to a minimum since some folks don't care for it, but if you prefer a more mustardy flavor, feel free to add more to your tastes.
STUFFING – after Thanksgiving or Christmas, we usually have some leftover stuffing/dressing.  Adding a layer of stuffing makes this recipe even better!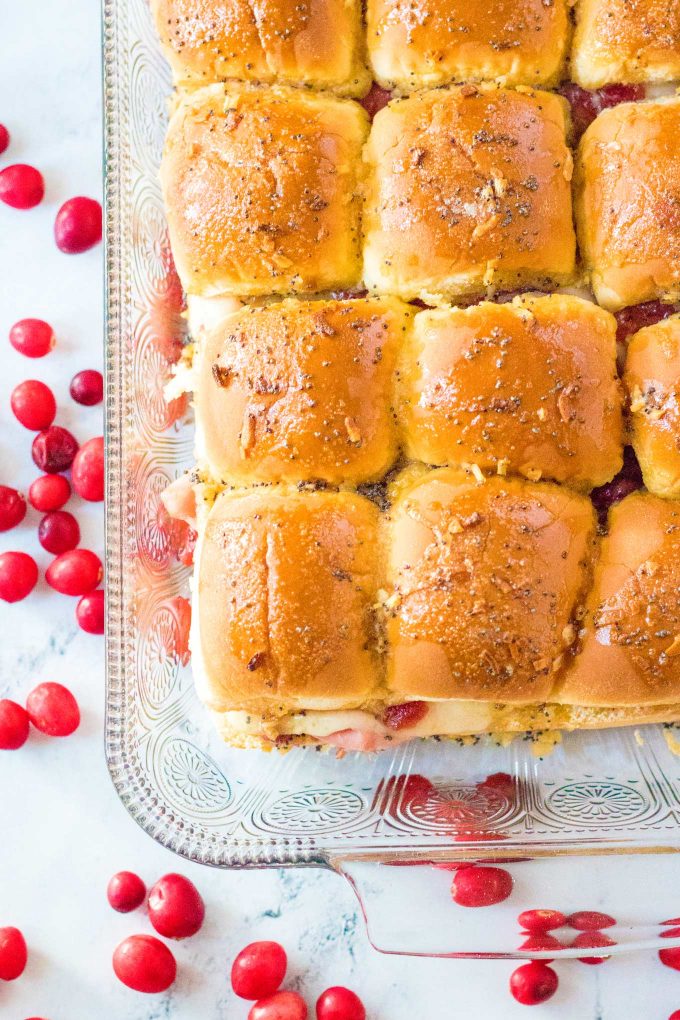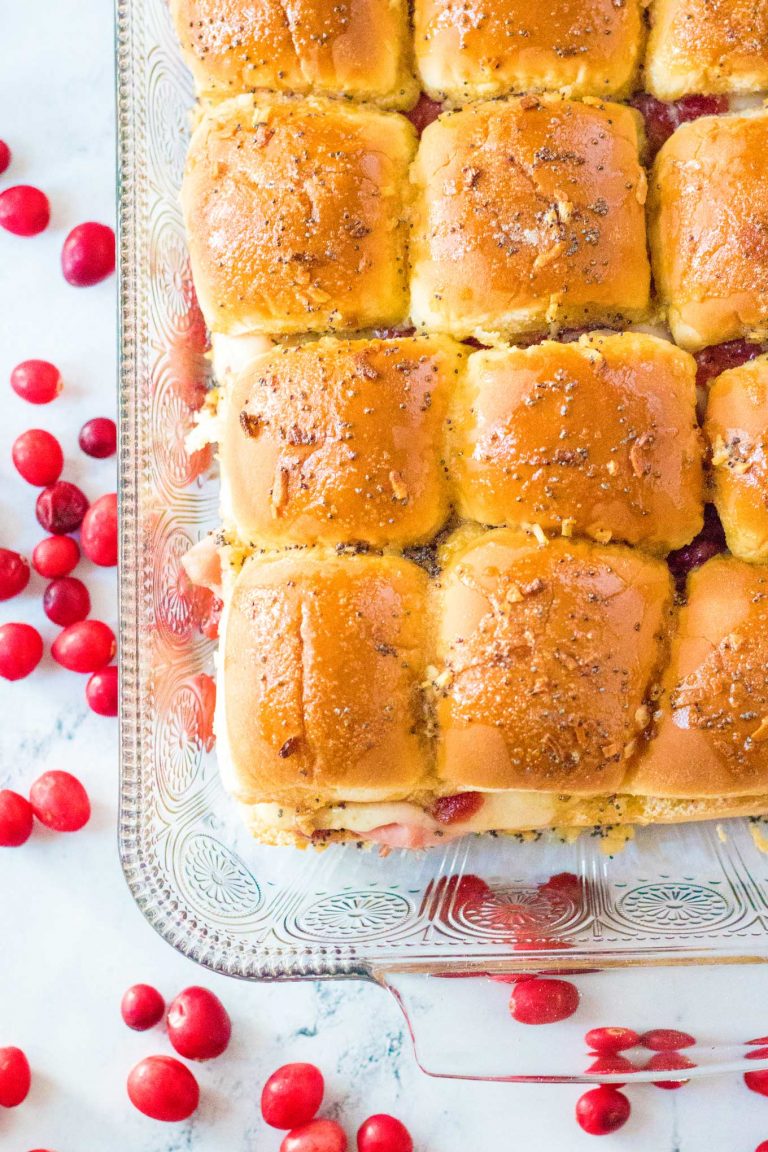 MAKING HAM SLIDERS AHEAD OF TIME
When made ahead, I found that the cranberry sauce soaks into the rolls too much for my taste.  But if that doesn't bother you, you can make these ahead of time (just leave the topping off).
When ready to make them, add the topping and bake as directed.
FREEZING
I feel that they get much softer after thawing, but that's a personal preference.
Basically you just prepare the sliders as directed, but don't bake.  Cover tightly with foil and freeze for 1-3 months.
Thaw overnight in the refrigerator and bake as directed in recipe.  It's definitely a great way to save time when prepping for a party!
STORAGE
Leftover sliders should be refrigerated in an airtight container and consumed within 3 days.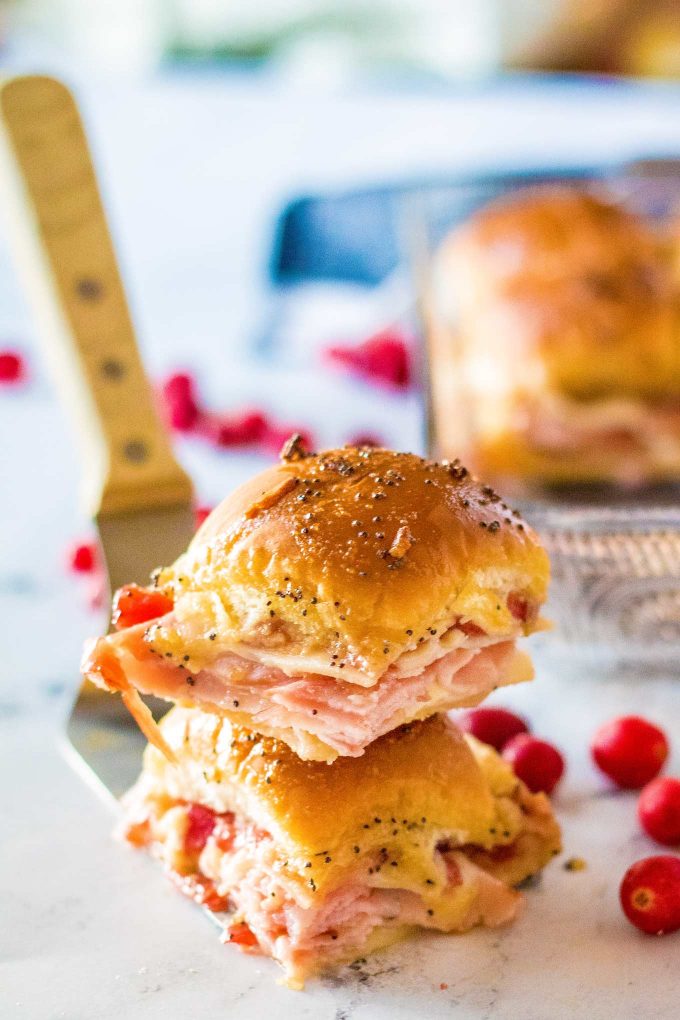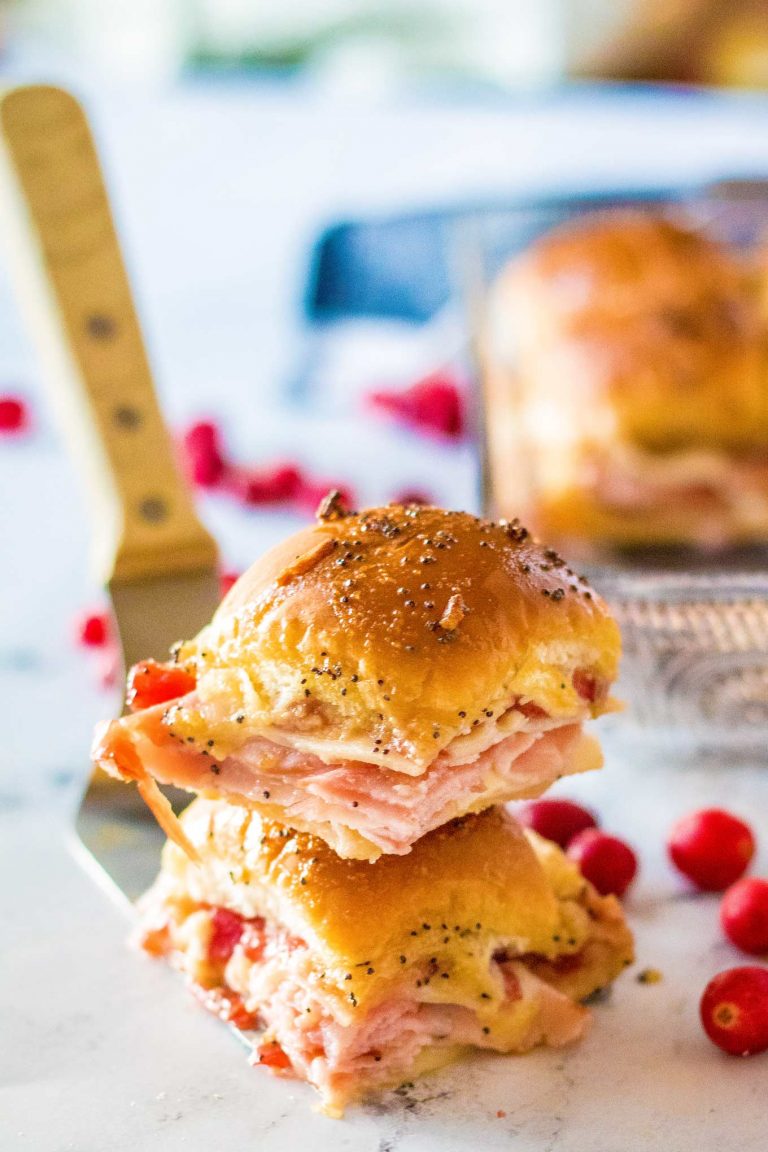 SPECIAL EQUIPMENT FOR THIS RECIPE
The following links are affiliate links.
The Chunky Chef, LLC is a participant in the Amazon Services LLC Associates Program, an affiliate advertising program designed to provide a means for sites to earn advertising fees by advertising and linking to amazon.com.  For more information regarding this program and what it means for you, please see my Privacy page.
9×13″ baking pan – you can use any 9×13″ pan, but I like that this one comes with a tight fitting lid.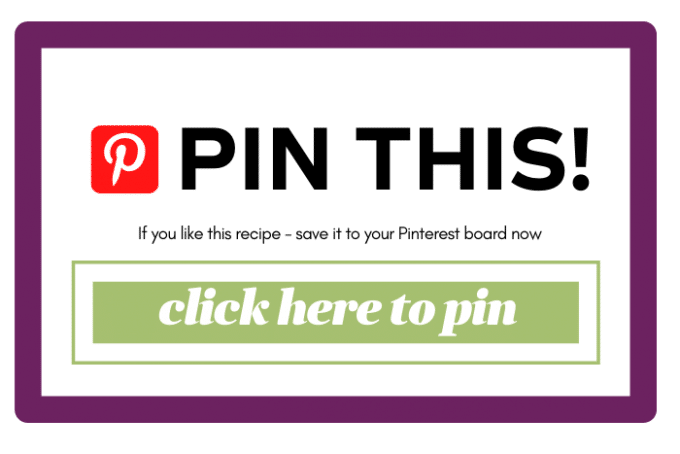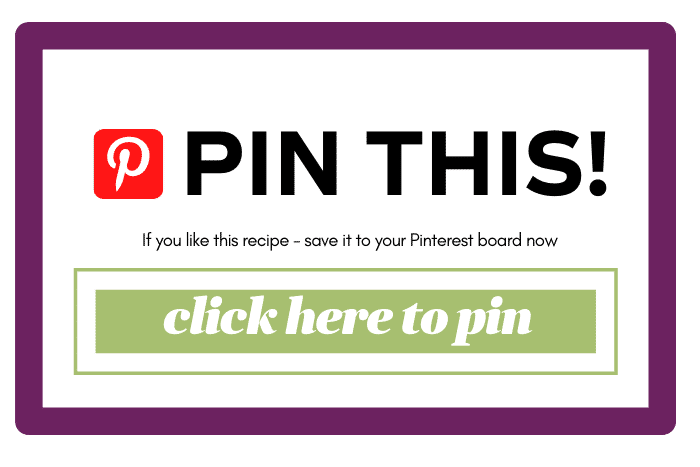 BE SURE TO SCROLL DOWN TO CHECK OUT OTHER READERS' COMMENTS FOR TIPS AND REVIEWS.
AND DON'T FORGET, IF YOU'VE MADE THIS RECIPE, LEAVE A COMMENT AND PLEASE GIVE IT A STAR RATING LETTING ME KNOW HOW YOU ENJOYED IT!
Did you make this? Be sure to leave a review below and tag me @the_chunky_chef on Facebook and Instagram!
Looking for a great way to use up that leftover holiday ham? Try making these crowd pleasing Cranberry Ham Sliders! 
Ingredients
TOPPING
5 Tbsp unsalted butter
1/2 tsp dried minced onion
1 tsp poppy seeds
2 Tbsp light brown sugar
Instructions
Preheat oven to 400°F and get out a 9x13" baking pan.
PREPARE ROLLS
Add package of rolls to your cutting board and using a serrated knife (like a bread knife), carefully slice across the rolls, horizontally, keeping one hand on top of the rolls to steady them. 

Once sliced, keep the rolls connected to each other and lift the entire top section off of the bottom section. Add the bottom section of the rolls to the prepared baking pan.
MAKE CRANBERRY MUSTARD
In a small bowl, add cranberry sauce and mustard and whisk until combined.

Spread half the mixture on the bottom half of the rolls in the baking pan.
LAYER HAM AND CHEESE
Add 5 slices of cheese to the cranberry sauced rolls.

Top with sliced ham, then top with remaining 5 slices of cheese.
ADD MORE CRANBERRY MUSTARD
Spread remaining half of cranberry mustard mixture on top of the last cheese layer.
MAKE TOPPING
Melt butter in a microwave-safe bowl (or use a small saucepan on the stovetop), then add in minced onion, poppy seeds and brown sugar and stir until well combined.
TOP AND BAKE
Add top sections of the rolls and brush or pour the butter mixture all over the top of the buns.

Bake in preheated 400°F oven for 15 minutes, or until cheese is melted and tops are golden brown.
Want to save this recipe for later? Click the heart in the bottom right corner to save to your own recipe box!
Chef Tips
Recipe makes 12 sliders, but can easily be doubled. For doubling, use a rimmed baking sheet that's big enough to hold two 12 count packages of rolls.  Bake time would remain the same.
Nutrition Disclaimer
The Chunky Chef is not a dietician or nutritionist, and any nutritional information shared is an estimate. If calorie count and other nutritional values are important to you, we recommend running the ingredients through whichever online nutritional calculator you prefer. Calories can vary quite a bit depending on which brands were used.