It's officially cold fall weather here… perfect soup weather.  Clam chowder is an all-time favorite of mine… so creamy, flavorful, yet it still tastes fresh.  I got a little adventurous on this one (well, for me anyway), as I've never made clam chowder at home before, and have never steamed my own fresh clams… like ever.  I'm not a huge seafood person (I'm more of a chicken and beef gal), but I have a soft spot for clams… specifically, clam chowder and fried clam strips.  Ooooh, note to self: make fried clam strips at home soon!  Alright, back to the post here lol… our usual grocery stores didn't have any fresh clams (just the canned stuff), but luckily, my husband works over near a crazy, awesome, grocery store called Jungle Jims.  LOVE that store.  They had 2 types of clams… giant ones as big as my hand, and smaller ones.  I took a guess and thought that maybe the smaller ones would be more tender and therefore better tasting, but I could have been completely wrong lol.  He got us about 2 lbs. of fresh "live" clams, packed in some ice, and they hung out in my fridge for less than a day before steaming them.  The inspiration for this recipe comes from HERE, and was aptly named "the best clam chowder"… well named ma'am, WELL named 🙂
Just bring your clam ingredients to a boil, add your clams, cover them, and steam until they open up (took me about 6-7 minutes).  If one or two doesn't open up, just toss those, they're not good.  Drain your clams, scoop out the meat, and chop.  Not difficult, at all 🙂
Now I did have to prep my clams by scrubbing them and letting them hang out in some salted water in the refrigerator.
While they're soaking I got to work chopping my veggies, celery, onion and leek.  Now celery and onion, you know what they look like chopped, but a leek is a little different.  If you've never used one before, they look like this
Kind of like a green onion on steriods!  There's a lot of layers, which means a lot of grit and dirt in between each layer… so to make quick work of cleaning them, I sliced them as is, then put them in some water (I just used my kitchen sink, filled about a 1/3 of the way up with water), stir them around a little with your hand, then let them sit.  The grit and dirt will sink, leaving your leeks clean and yummy.  Just strain them out onto a paper towel to dry.
Now it's time for those clams to take their steam bath!
I wanted to top my chowder with a little bacon, because what isn't better with bacon on it?  So I baked some bacon earlier in the day, crumbled it and saved it for dinner time.  Okay, so I may have eaten a strip or two… I think that's the cook's prerogative 😛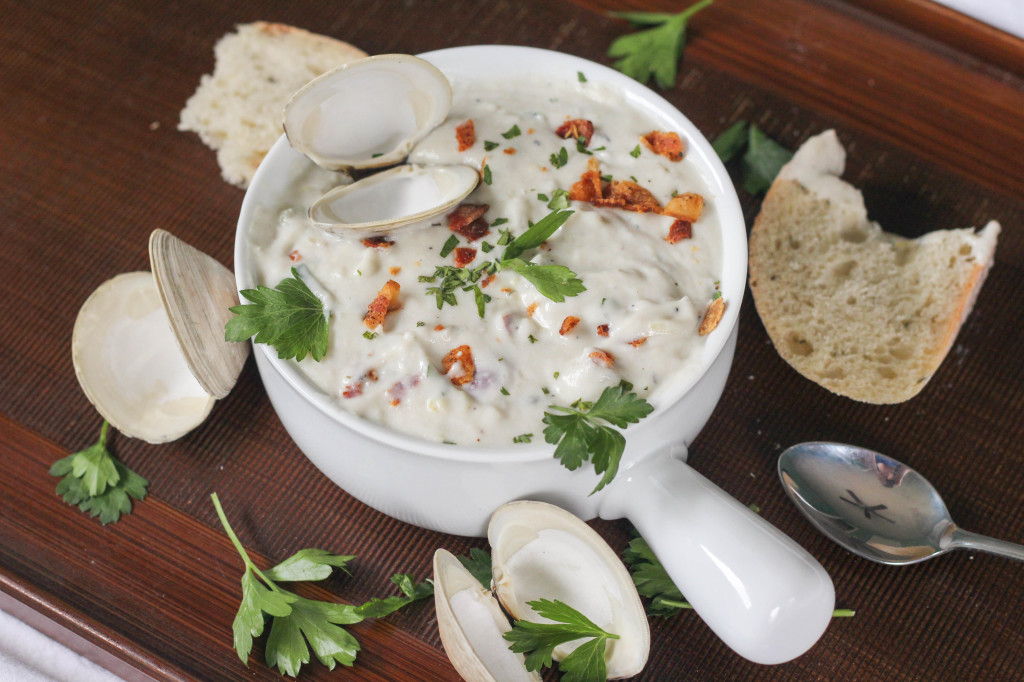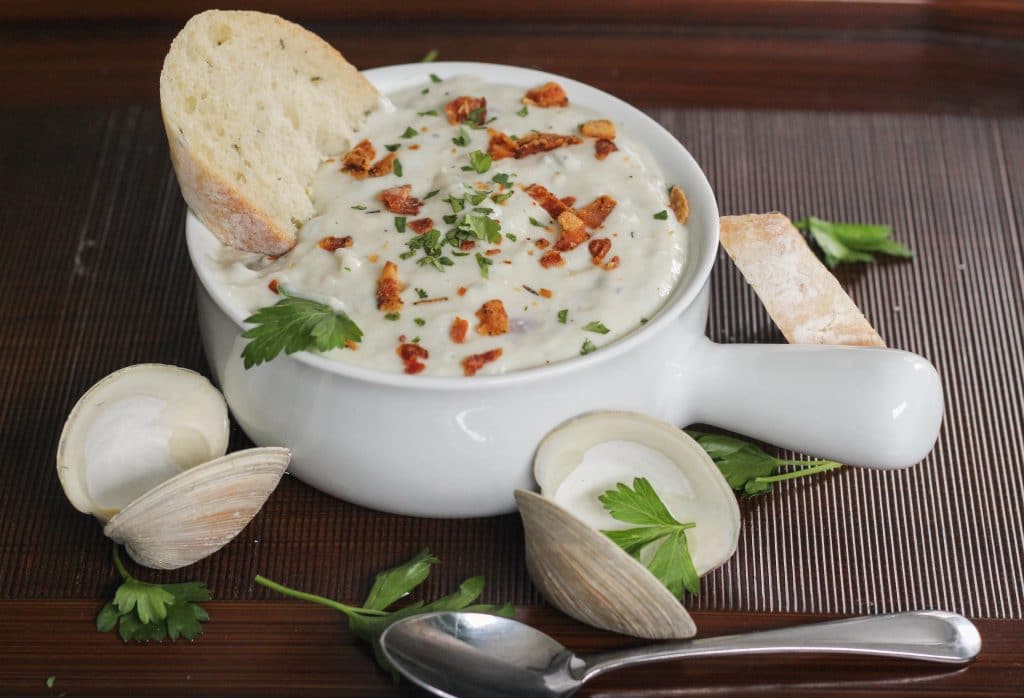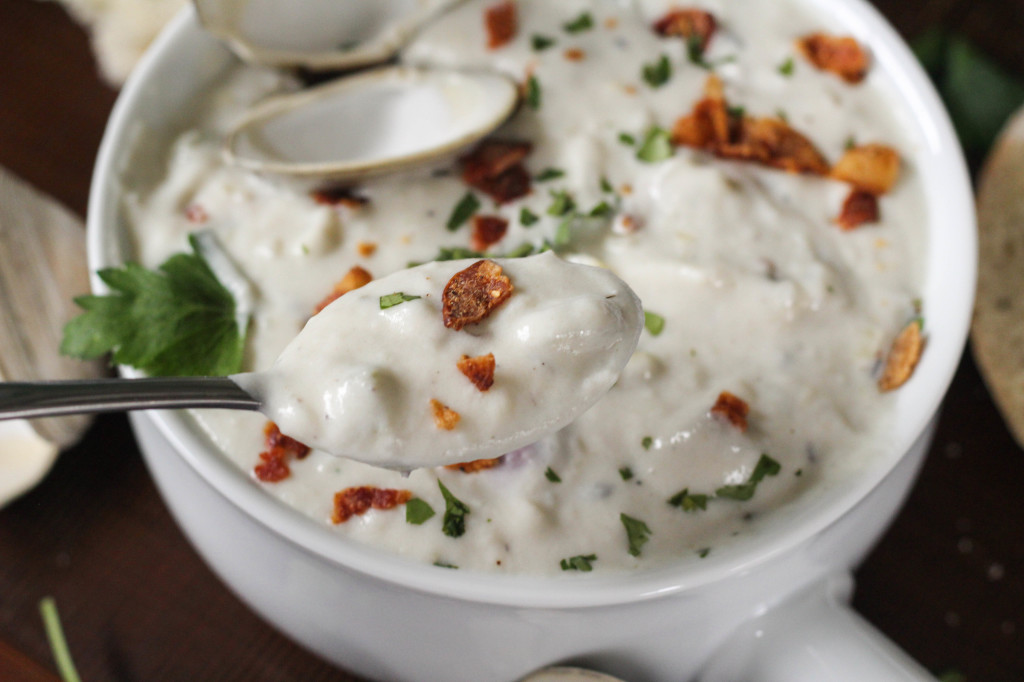 Recipe adapted from Fav Family Recipes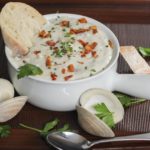 Knock Your Socks Off Clam Chowder
Hands down, this is the BEST clam chowder I've ever had!
Print
Ingredients
3/4

cup

butter melted

1

cup

flour

1

cup

celery finely diced

1

cup

onions finely diced

1

cup

leeks finely diced

3-4

cups

red potatoes diced

use more or less depending on how thick you like your chowder

3/4

cup

fresh clams steamed

shelled and chopped

3/4

Tbsp

black pepper

1 1/2

Tbsp

salt

3/4

Tbsp

dried thyme

2

sprigs fresh thyme

6

leaves

bay

4

shakes Tabasco sauce

3

cups

chicken broth

3/4

cup

clam juice

1

quart

half and half

TO STEAM THE CLAMS

1/4

cup

water

1/2

cup

chicken broth

6

cloves

garlic crushed
Instructions
FOR THE CLAMS

Scrub your clams to get rid of any grit, and place in a bowl of salted water in the refrigerator.

Bring your water, chicken broth and garlic to a boil. Add your clams, cover, and steam until

they open up (around 6-7 minutes).

If one or two clams don't open up, toss those, they're not good. Drain your clams, scoop out

the meat and chop.

FOR THE CHOWDER

Preheat oven to 325 degrees.

Melt your butter in a baking dish (I use a glass loaf pan), stir in flour and bake for 25-30

minutes.

Place your soup pot over medium heat, add a little butter. Soften your vegetables for 3-5

minutes.

Add all remaining ingredients EXCEPT flour mixture and half and half. Bring to a boil, cover,

and let simmer for 15 minutes or so, until your potatoes are tender.

Stir in your flour mixture once it's done baking. It will thicken the soup to an almost cookie

dough consistency. Don't worry, it's supposed to look like that for now.

Take off the heat and slowly stir in your half and half until soup is thick and creamy.

Place back on the heat to warm through. Serve and enjoy!