Tender chicken cutlets, lightly breaded and served in a mouthwatering lemon cream sauce with capers and shallots. Great over pasta and ready in about 30 minutes!
This is one of my Chicken recipes I know you'll want to keep on hand!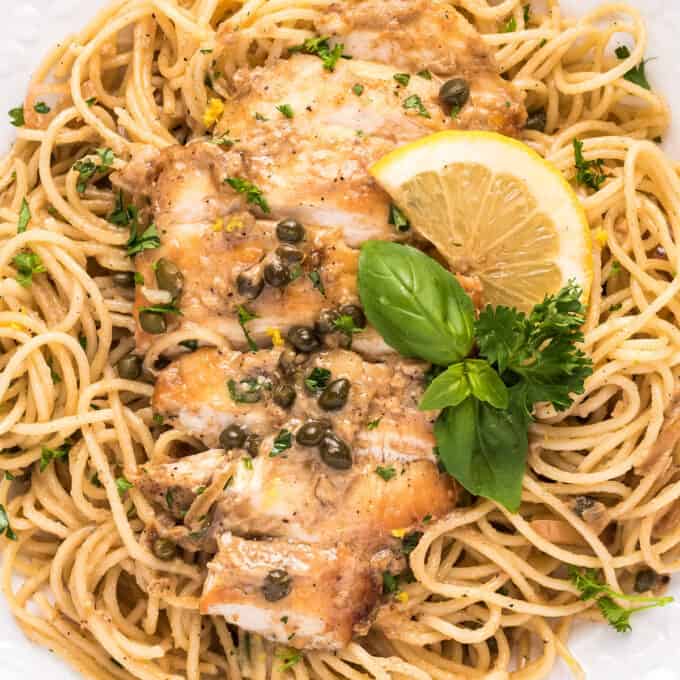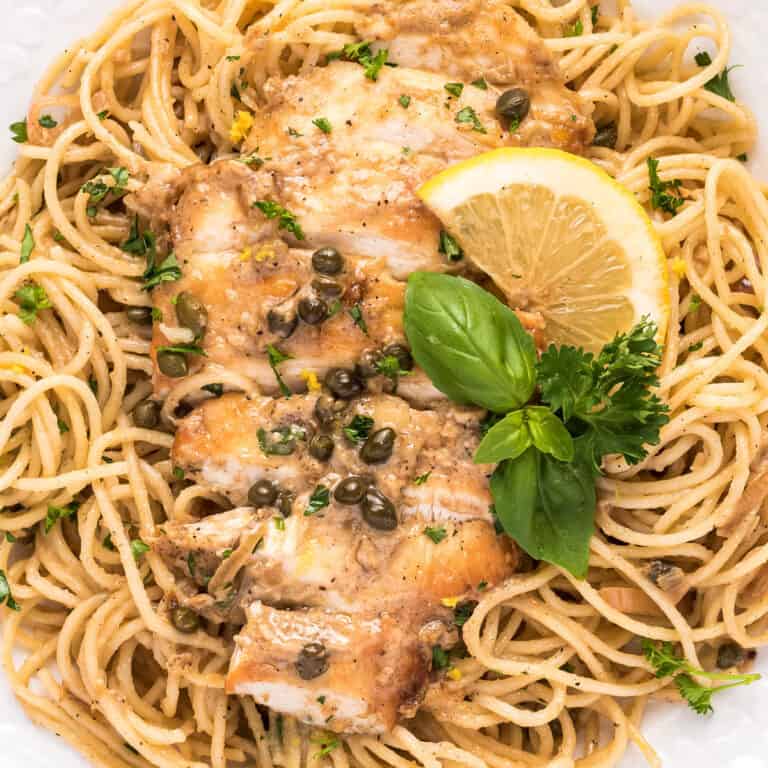 If you're looking for a recipe to make on a busy weeknight, that is bursting with flavor, and tastes like it came from a fancy restaurant… boy do I have the recipe for you. Creamy lemon chicken piccata!
Even though this recipe is no stranger to the website (it's been hanging around since 2015!), it needed some beautiful new photos, added step by step photos, and I've updated the recipe to a version we all prefer.
Don't worry, if you were a fan of the original recipe, I still have that below the new recipe.
The most difficult part of making this chicken piccata recipe is making the chicken cutlets. It sounds complicated, but don't worry, I walk you through it step by step.
Slicing the chicken can also easily be done ahead of time, which means you can get dinner on the table faster!
So let's get to it, shall we?
How to make lemon chicken piccata?
This is just an overview; the full ingredients and directions are in the recipe card toward the bottom of this post.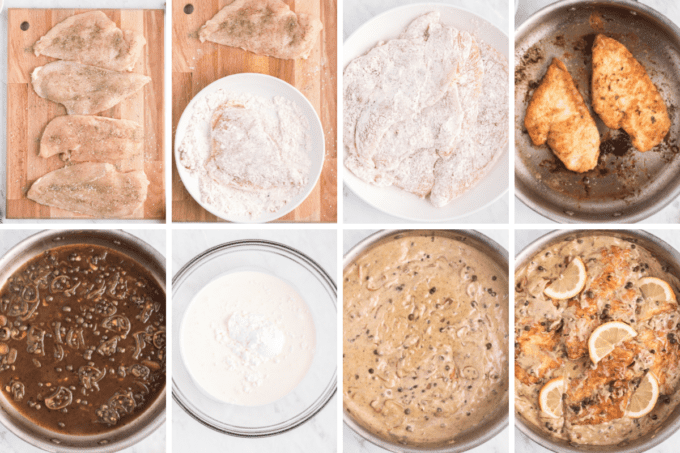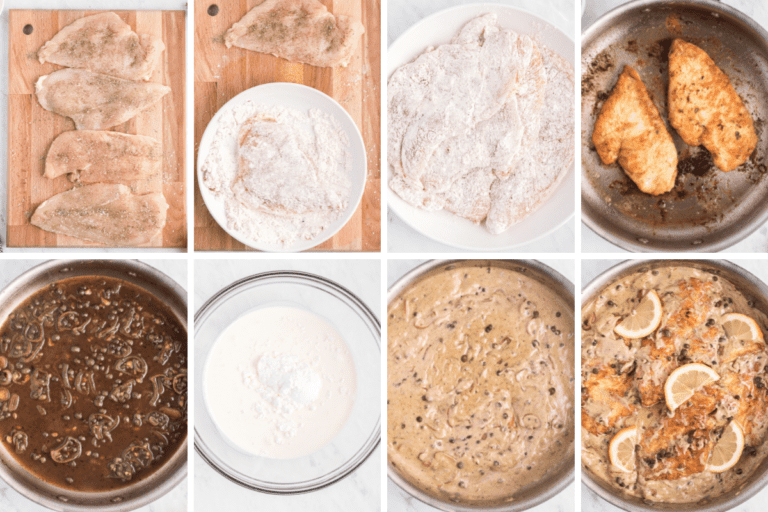 Slice chicken. Slice the chicken breasts into two halves, a top and a bottom. Season.
Season flour and dredge. Add the chicken to the flour, so it's lightly coated on each side.
Cook chicken. Do this in batches of 2, unless you have a really big skillet, otherwise they won't get golden brown. Remove to a plate once cooked.
Cook aromatics. This is the shallot and garlic.
Reduce wine. Add wine and simmer a minute or two.
Stir in sauce. Add broth, lemon juice and capers. Simmer.
Make slurry. Mix the heavy cream and cornstarch until smooth.
Thicken sauce. Stir the cream mixture into the skillet and simmer until thickened.
Return chicken. Coat them with sauce, and add some lemon slices if desired.
Helpful Tip!
After searing the chicken in the skillet, don't wipe it out or clean it. All those browned bits on the bottom of the skillet add so much flavor to the sauce. However, if you have burned, black bits, those should be discarded.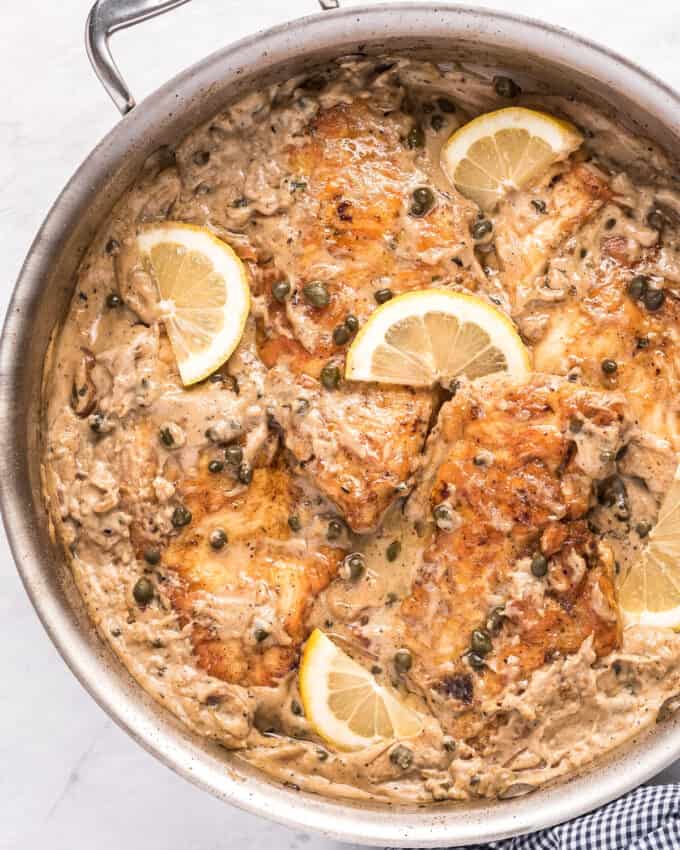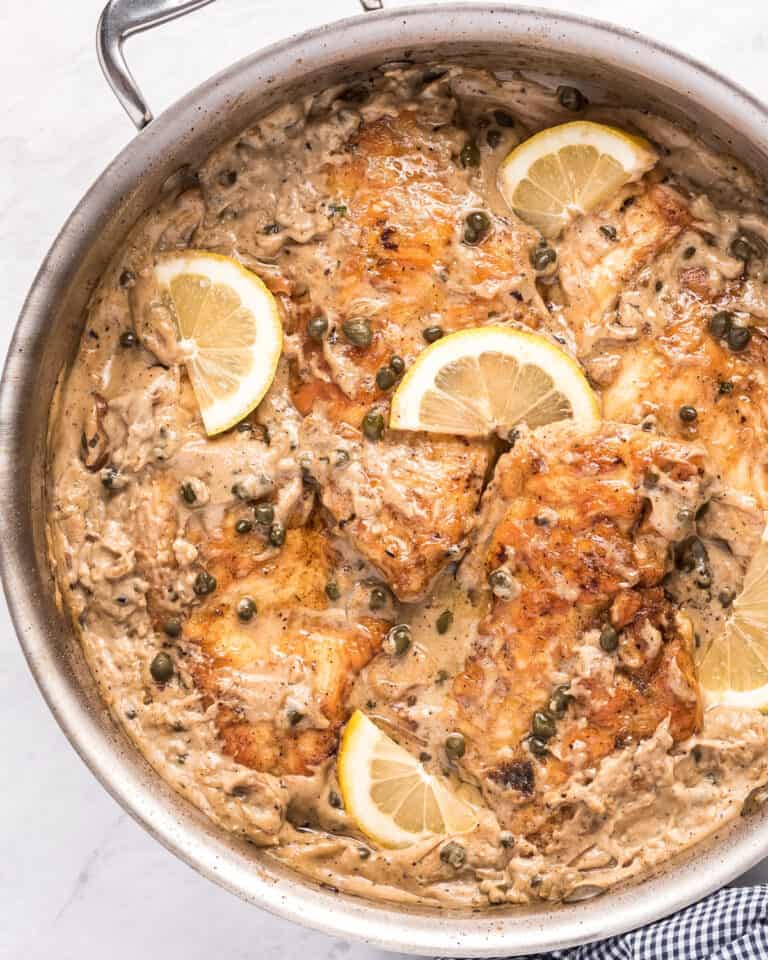 Variations of this recipe
Thin sliced chicken breasts – to save yourself a bit of time, see if your grocery store carries thin sliced chicken breasts. They usually come in packages of 4, and are the perfect thickness.
Other types of chicken – chicken tenders, and boneless skinless chicken thighs would also work in this recipe.
Other proteins – in place of chicken, some shrimp or pan seared tofu would work well.
Flour Dredge – it's an extra step, but one that makes a great difference! This creates a light crust on the chicken, as well as encouraging the sauce to really stick to the chicken. However, you can skip it if you'd like. Just add the basil and paprika to the chicken spices.
Alcohol – if you don't have any wine, or don't want to cook with alcohol, substitute the wine with an equal amount of extra chicken broth.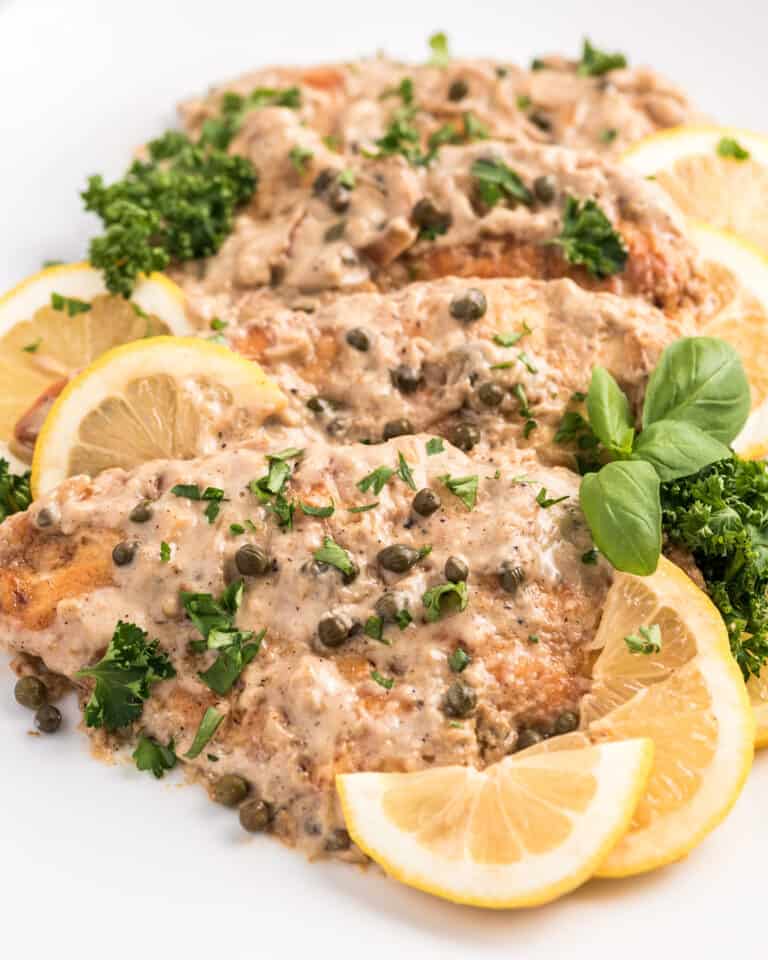 FAQ's
Can creamy chicken piccata be made with no heavy cream?
For the best flavor and richness, I do recommend the heavy cream, however I understand some folks might not want all the fat and calories that comes with that ingredient. You can use half and half or whole milk, however they may take a little longer to thicken up.
What is piccata sauce made of?
Traditionally, the sauce in chicken piccata is made from lemon juice, white wine, and butter. This recipe introduces some heavy cream, which not surprisingly, adds creaminess and richness to the sauce.
Can you make chicken piccata without capers?
Capers are traditional in chicken piccata. They're salty, briny, and really cut through the richness of the sauce, which balances the flavor. If you really can't stand capers, or can't find them, some chopped green olives will add a similar flavor.
Making chicken piccata ahead of time
I find this recipe tastes best when made right before serving, but you can absolutely prep ahead, which cuts down on the time it takes to make this dinner.
Chicken. The chicken can be sliced ahead of time and stored in the refrigerator for 1 day.
Shallot and garlic. These can be chopped and stored in the refrigerator until ready to cook.
Flour and spices. These can be combined and stored at room temperature until ready to cook.
Storage
Leftover chicken piccata should be stored in an airtight container in the refrigerator for up to 4 days.
I find this stores best when the chicken is stored separately from the pasta.
Freezing
Due to the creamy sauce, I don't recommend freezing this recipe. Dairy has a tendency to separate and have an odd texture from the freezing and thawing process.
However, you can slice the chicken into thin cutlets and freeze them. That way, a lot of the prep work is already done for you!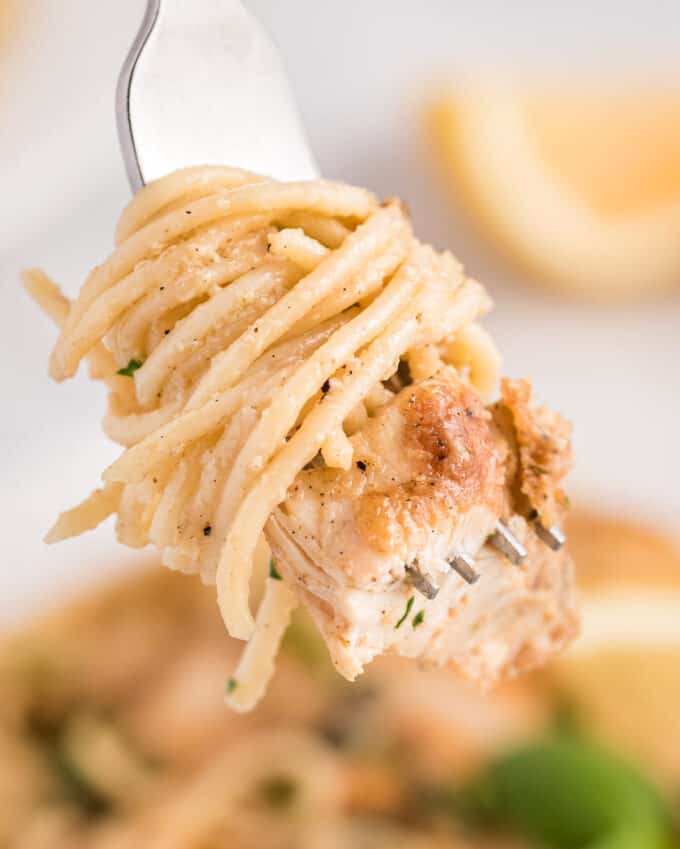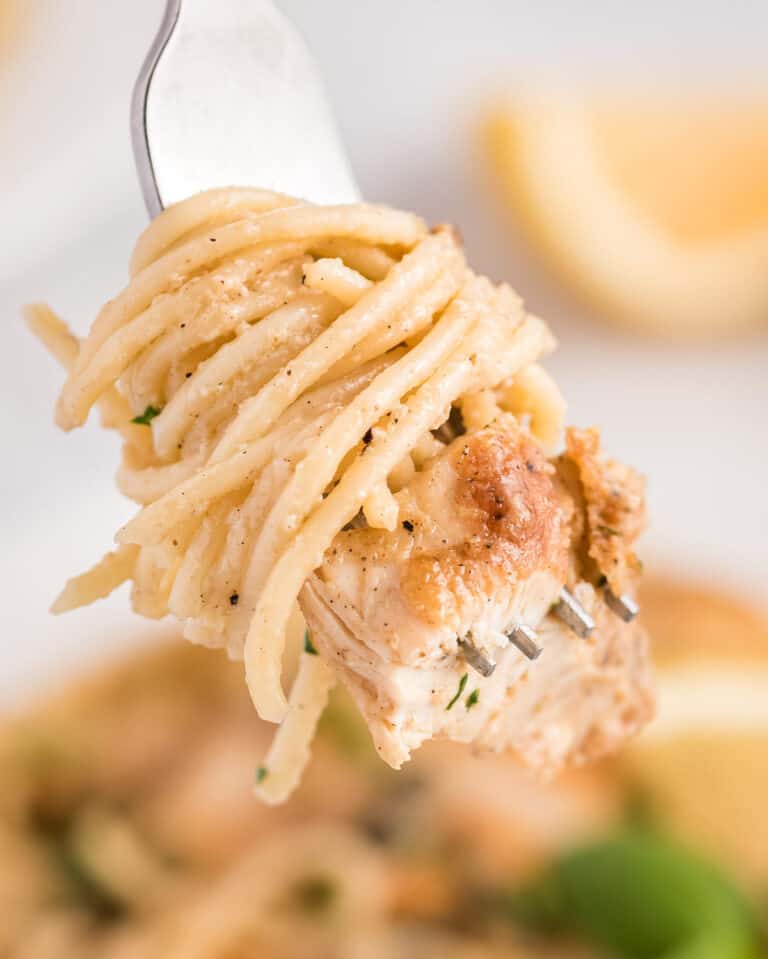 Tips for making a perfect pan sauce!
Making a pan sauce is my favorite way to make a sauce because you don't have to dirty another pan! Plus you get the added bonus of all the flavors of what was cooked in the pan before the sauce.
Brown the meat. After the meat has been browned on both sides, remove it to a plate.
Leave the fond. Don't wash out the pan or skillet! All those browned bits from cooking the meat are called fond, and it's basically a flavor superpower.
Scrape. When you add the liquid to the pan, use a wooden spoon to really scrape the bottom of the pan. This loosens up those browned bits and incorporates that flavor into the sauce.
Thicken. Whether your recipe uses a thickener, like a cornstarch slurry (mixture of cornstarch and a cold liquid), or you're just reducing it down by simmering, the sauce will need to thicken up a little.
Check with a spoon. My method for making sure the sauce is thickened enough is to stir the sauce with a spoon (wooden, metal, it doesn't matter the type), then run your finger down the back of the spoon. If your finger left a trail with defined edges, the sauce is thickened.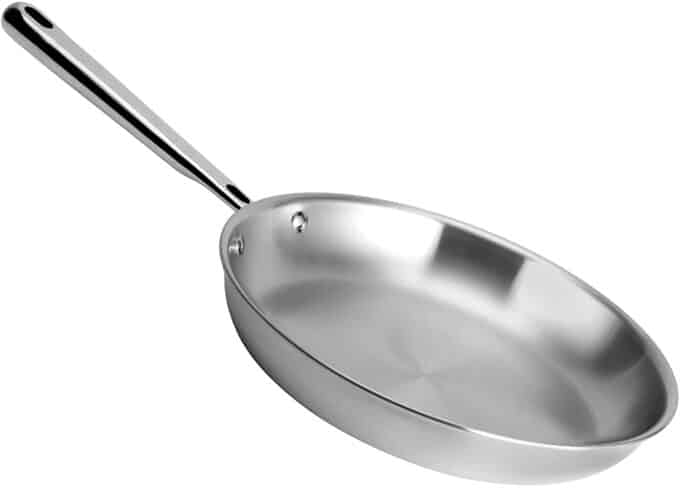 This skillet is one I've had for years, and it's one of my favorite pans to cook in. It has a heavy bottom, even heating, and is easy to clean!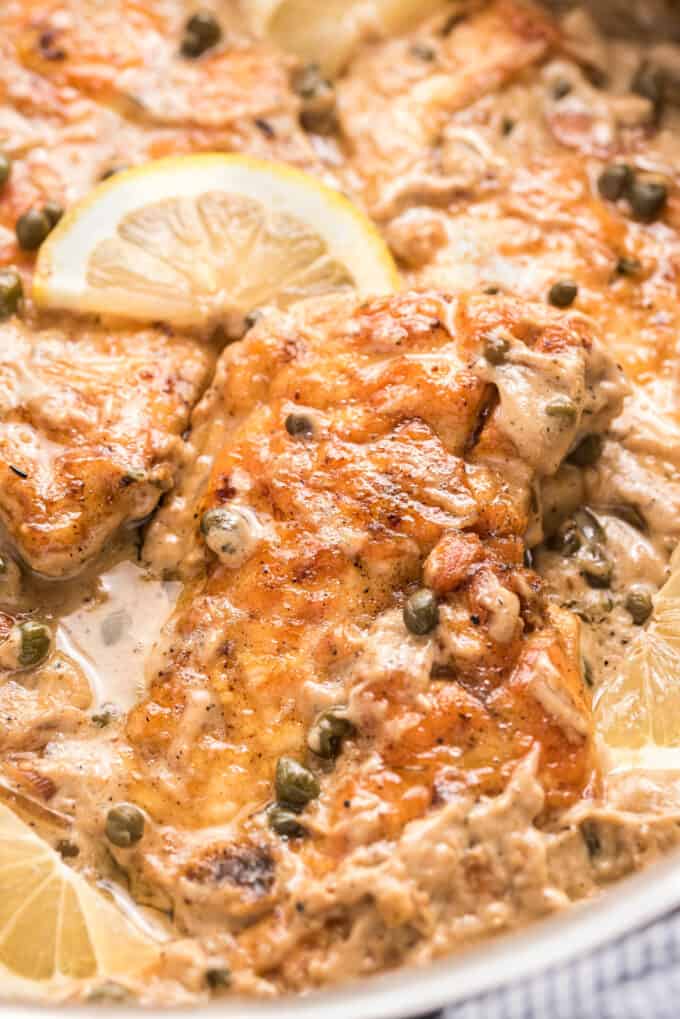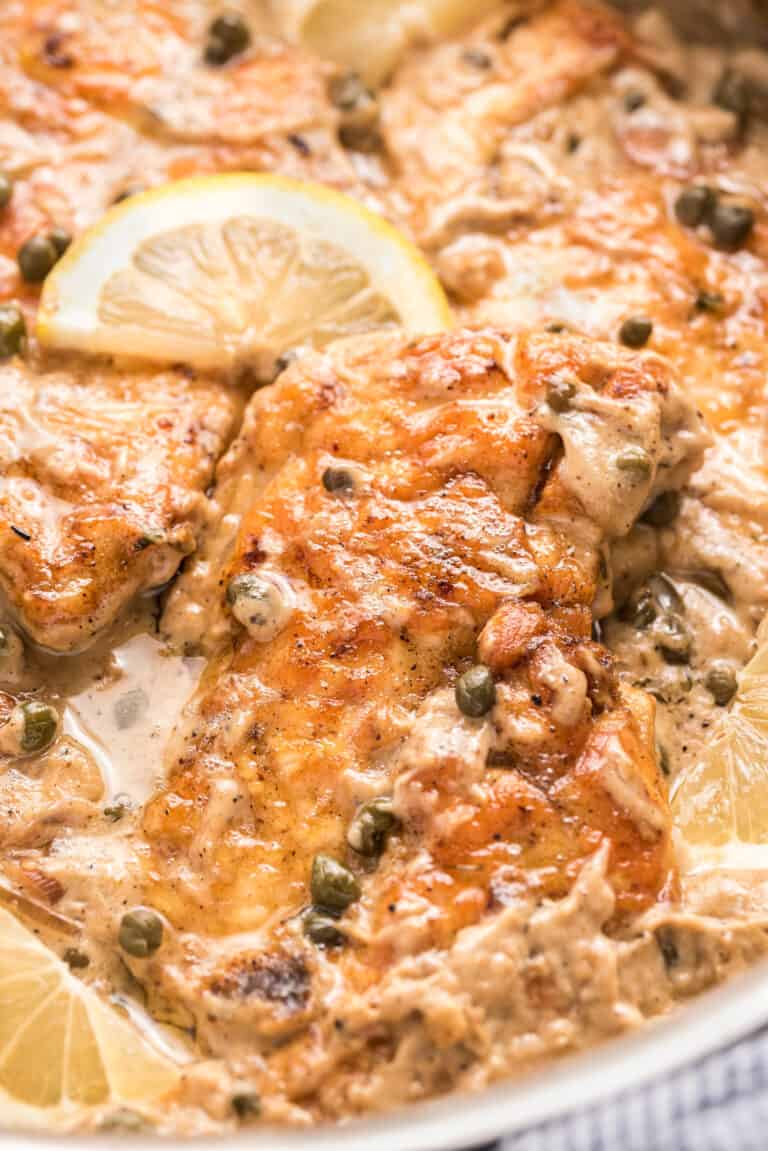 This recipe was originally published in April 2015, but has been refreshed and updated in October 2021.
Did you make this? Be sure to leave a review below and tag me @the_chunky_chef on Facebook and Instagram!
Tender chicken cutlets, lightly breaded and served in a mouthwatering lemon cream sauce with capers and shallots. Great over pasta and ready in about 30 minutes!
Ingredients
2 boneless skinless chicken breasts
1/2 tsp kosher salt
1/2 tsp black pepper
1/4 tsp ground or dried thyme
1 Tbsp fresh basil minced
1/2 tsp paprika
1/2 cup flour
2 Tbsp unsalted butter
1 Tbsp olive oil
1 shallot thinly sliced (a yellow onion may be substituted, but only use about 1/3 cup)
3 cloves garlic minced
1/2 cup dry white wine
1/2 cup reduced sodium chicken broth
1/3 cup lemon juice fresh is best (approximately 2 lemons worth of juice)
3 Tbsp capers drained
3/4 cup heavy cream
1 Tbsp cornstarch
Fresh parsley and basil for garnish (optional)
16 oz package thin spaghetti pasta for serving (also optional)
Instructions
If making pasta to serve with chicken piccata: Boil pasta until al dente, according to package directions, then drain and toss with a little olive oil to prevent sticking.  Set aside.

Add chicken breast to a cutting board. Hold your knife parallel to the board and carefully slice the chicken from right to left (if you're a righty)… opening the chicken breast up like a book.  Slice all the way through, so you now have 2 thinly sliced pieces of chicken. Repeat with other chicken breast.

Season chicken with salt, pepper, and thyme.  Add flour to a shallow bowl, and add basil and paprika, stirring to combine.

Dredge chicken pieces in flour, then set on a plate.

Add butter and oil to a large skillet and heat over MED-HIGH heat.  Once hot, add chicken, 2 pieces at at time, and cook for about 4 minutes per side, or until chicken is golden brown and cooked through.  Remove chicken to a plate and repeat with remaining chicken pieces. Watch the chicken as it cooks, and if it looks like it's getting too brown too quickly, reduce your heat a little.

Reduce skillet heat to MED.  Add shallots and garlic and cook 1 minute, stirring often.

Stir in wine, scraping the bottom to loosen any browned bits. Cook for 2 minutes over MED heat.

Stir in chicken broth, lemon juice and capers. Bring sauce to a low boil and then simmer for 3-5 minutes.  

In a small mixing bowl, whisk together heavy cream and cornstarch until smooth. Stir mixture into sauce and cook 2-3 minutes, or until thickened to a sauce that will easily coat the back of a spoon.

Return chicken pieces to skillet and coat with sauce. Add a few lemon wedges if you'd like.

Serve chicken sliced, over a bed of pasta that's been tossed with plenty of sauce and sprinkled with lemon zest, parsley, and basil. Or you can serve the chicken as is, with some vegetables alongside.
Want to save this recipe for later? Click the heart in the bottom right corner to save to your own recipe box!
Chef Tips
Calorie information includes the pasta.
If desired, serve with cooked pancetta or bacon as an additional garnish.
Original Recipe (from 2015)
4 boneless skinless chicken breasts, pounded to 3/4-1″ thickness
salt and pepper, to taste
pinch of ground thyme
1 Tbsp fresh basil, chopped
1/2 cup flour
2 Tbsp butter
2 Tbsp olive oil
1 shallot, thinly sliced
3 cloves garlic, minced
1/2 cup chicken broth
1/2 cup dry white wine
2 lemons, juiced
3/4 cup heavy cream
1/4 cup capers, drained
fresh parsley and basil, for garnish
1 lb. thin spaghetti pasta
Heat butter and oil in a skillet over medium high heat.  Season flour with salt, pepper, and fresh basil.  Add thyme, salt and pepper to each side of the chicken breasts, then dredge in the seasoned flour.
Place chicken breasts in the skillet.  Cook in batches of 2 (unless you have a huge skillet) to ensure a golden brown exterior.  Cook for about 4 minutes per side, or until chicken is completely cooked through.  Remove to a plate and set aside.  Repeat with remaining chicken breasts.
Drop your pasta in salted boiling water and cook until al dente (according to package directions)
Reduce the heat to medium low.  Add shallots and garlic to the same skillet, stir to saute for 1 minute.  Add broth, wine, lemon juice, heavy cream, and capers.  Whisk to combine and bring the sauce to a low boil.  Taste the sauce and adjust salt and pepper if necessary.  Simmer the sauce for 3 minutes.
Drain pasta, place in a bowl, drizzle with olive oil and add fresh basil and parsley and toss to combine.
Slice the chicken into strips and place over cooked pasta.  Pour sauce over the top and garnish with chopped parsley and basil.
Nutrition Disclaimer
The Chunky Chef is not a dietician or nutritionist, and any nutritional information shared is an estimate. If calorie count and other nutritional values are important to you, we recommend running the ingredients through whichever online nutritional calculator you prefer. Calories can vary quite a bit depending on which brands were used.
Recipe inspired by The Recipe Critic