A quick and easy classic Italian dish, on your table in 30 minutes! Your family will love the bright fresh flavors of this easy lemon chicken piccata
No need to go to a restaurant for great chicken piccata, it's easy to make at home, in just 30 minutes!  This version uses bright lemon flavor to really accentuate the light and fresh qualities of the meal.  Soon to be your family's favorite!
My love affair with Italian food continues!  Chicken piccata has always been one of those meals we ate at restaurants… it was "restaurant food".  Even though there are a ton of recipes out there, for some reason, I never tried making it.  Well a little while back I finally decided that was stupid and I came up with a great recipe that we love!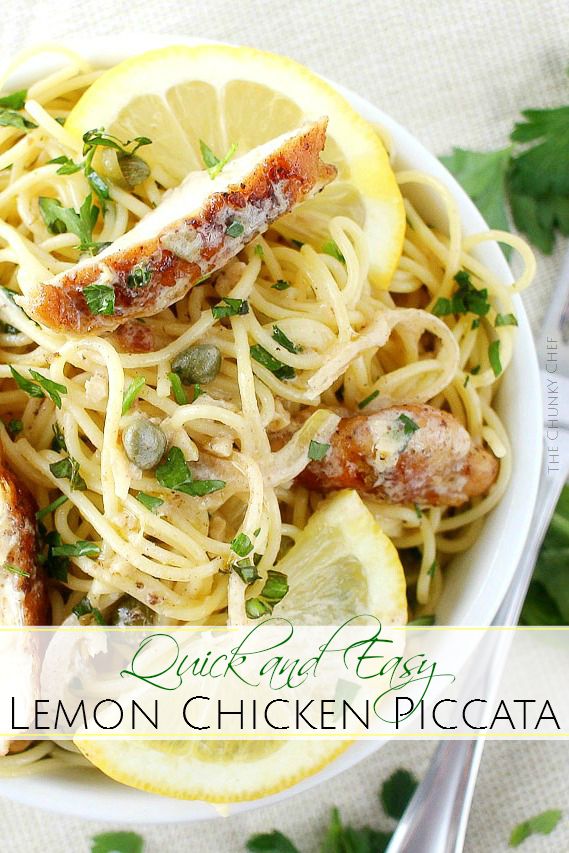 The freshness in this dish is just out of this world… crazy good!  Good enough that despite there being "green things" and "onion things" in this dish… my kids ate, and loved it.  SCORE!!
The longest part about cooking this meal, is waiting for the pasta water to boil.  You can get this meal on the table in 30 minutes, so it's perfect for a hectic weeknight meal.  If you feel like being ambitious or making this on a weekend, it would be delicious with these copycat Olive Garden breadsticks or a no-knead artisan bread.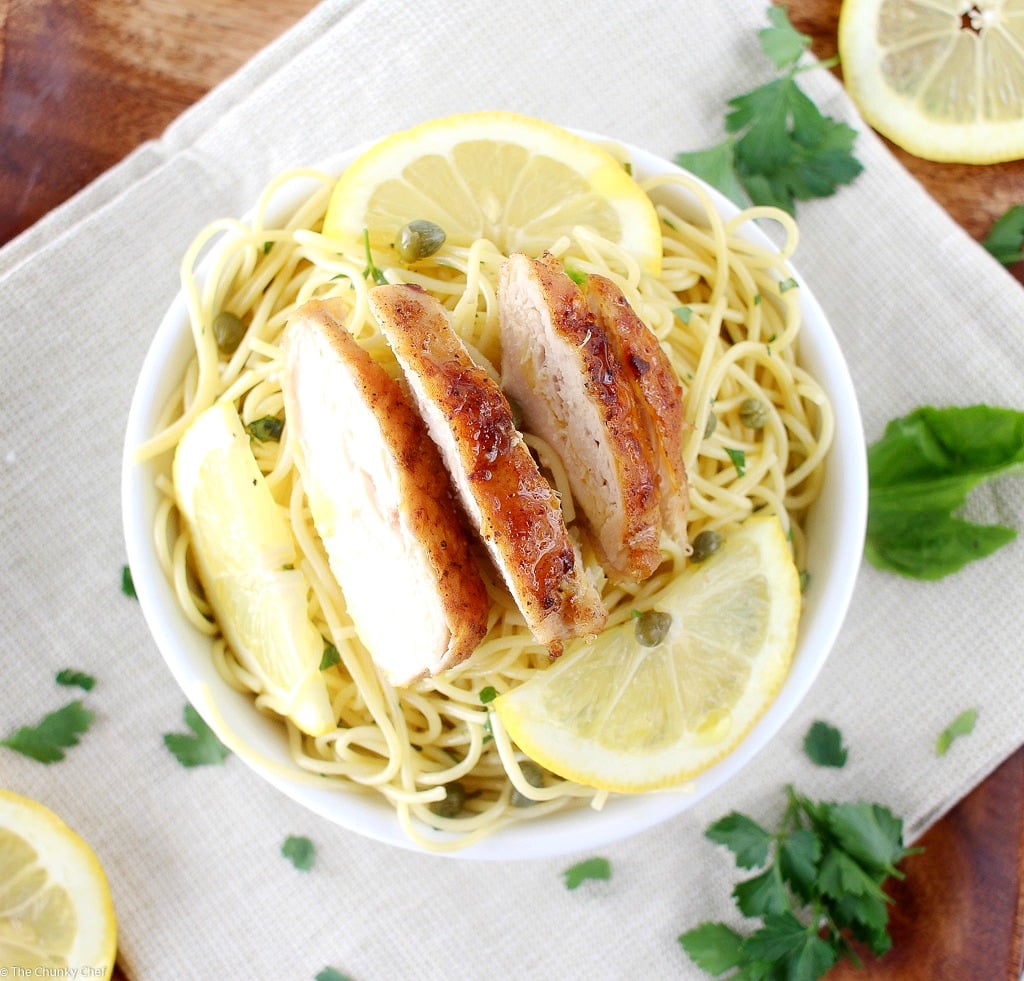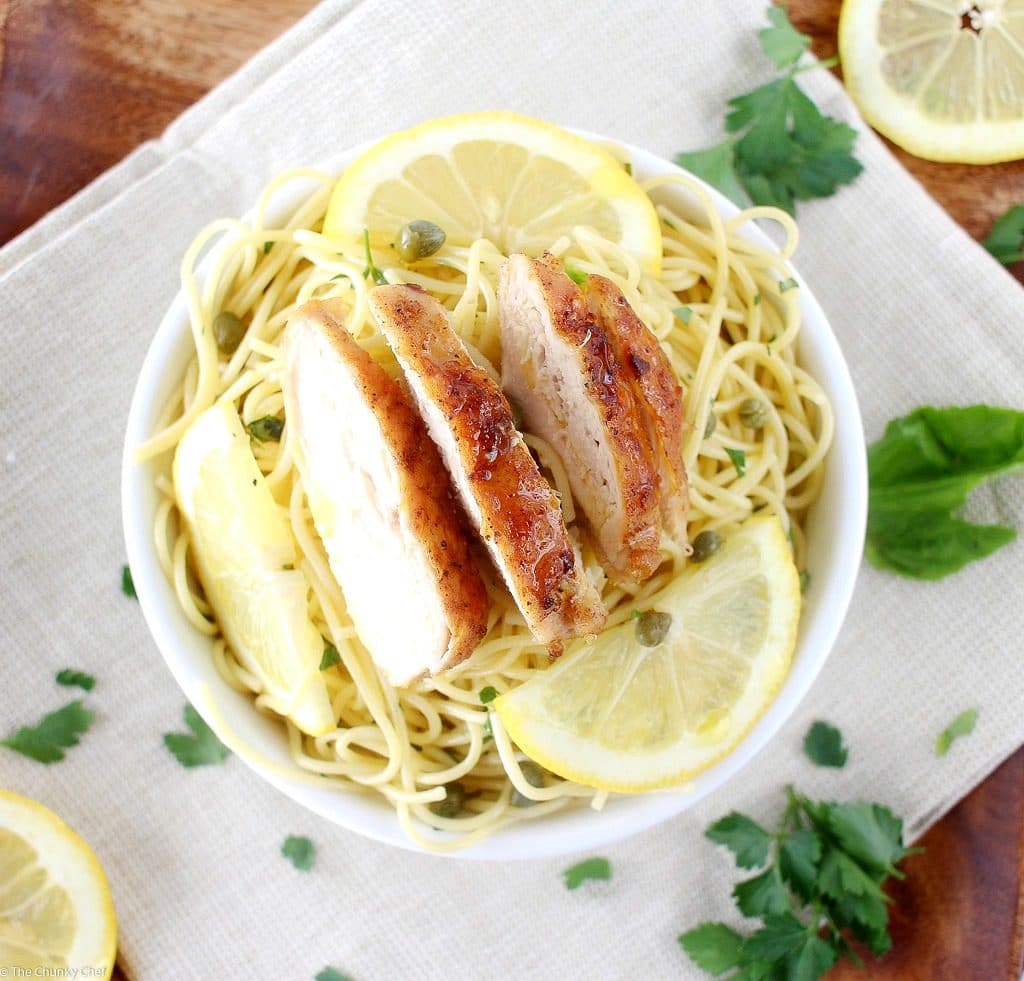 To start this off, you need some chicken breasts, which I chose to pound thinner.  You could also use chicken tenders for this 🙂  You'll be breading the chicken, but not in the traditional way… instead of dipping the chicken in flour, egg, and breadcrumbs… you'll just be tossing it in some seasoned flour and then searing them up in a skillet.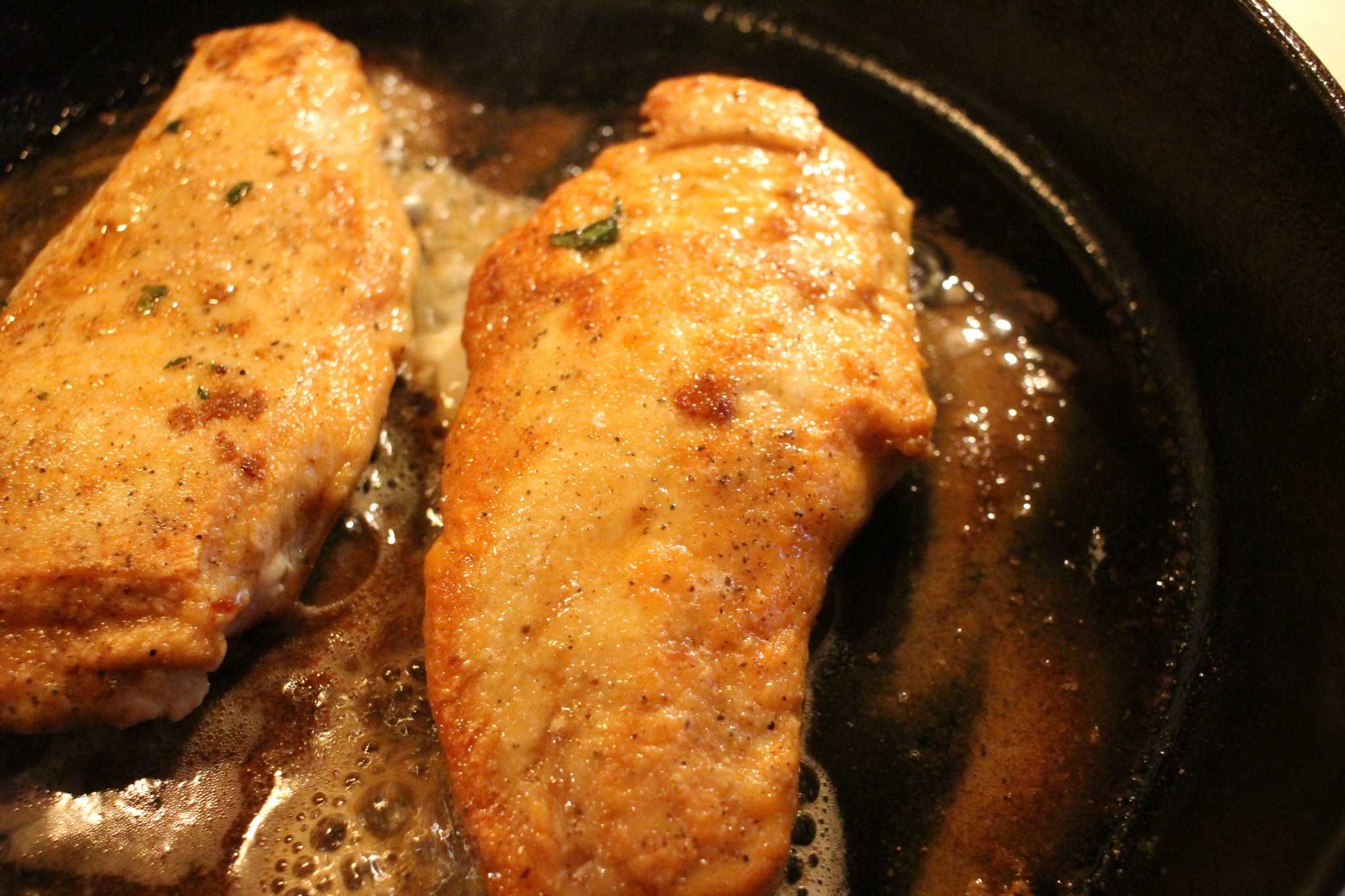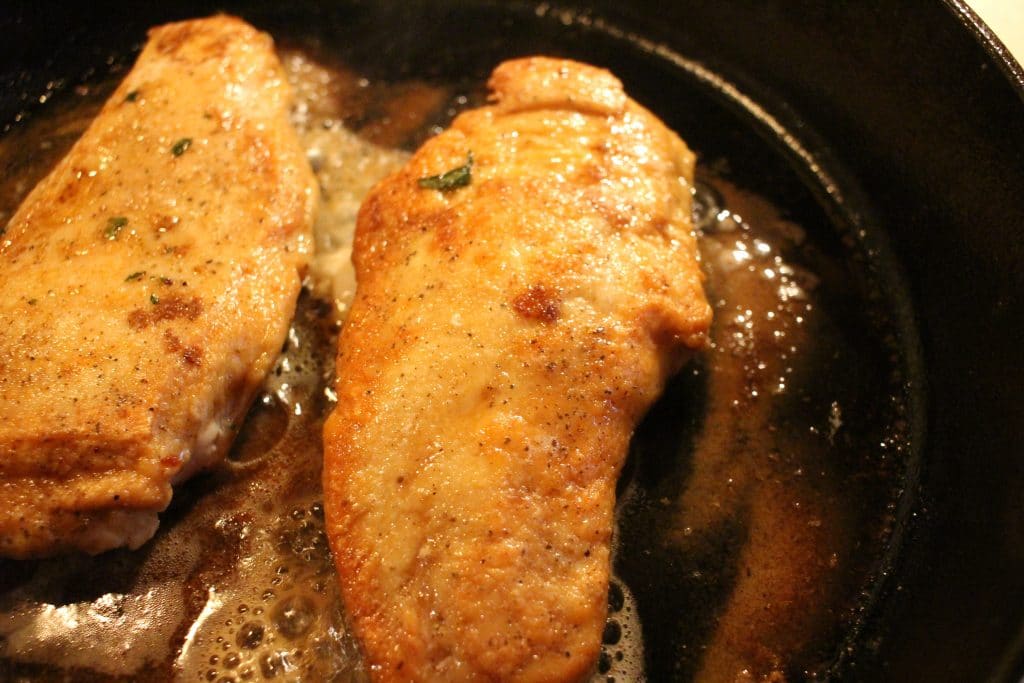 I seared my chicken in batches of 2, so they could get brown and not end up steaming because they were too close together.
You want that golden brown color, because not only does it make the chicken delicious, those browned bits in the pan will make your sauce phenomenal!
Once your chicken is cooked through and golden brown, set it aside to rest on a plate.  Add your shallots and garlic to the same pan and let them saute for a minute or so, then add in the rest of your sauce ingredients.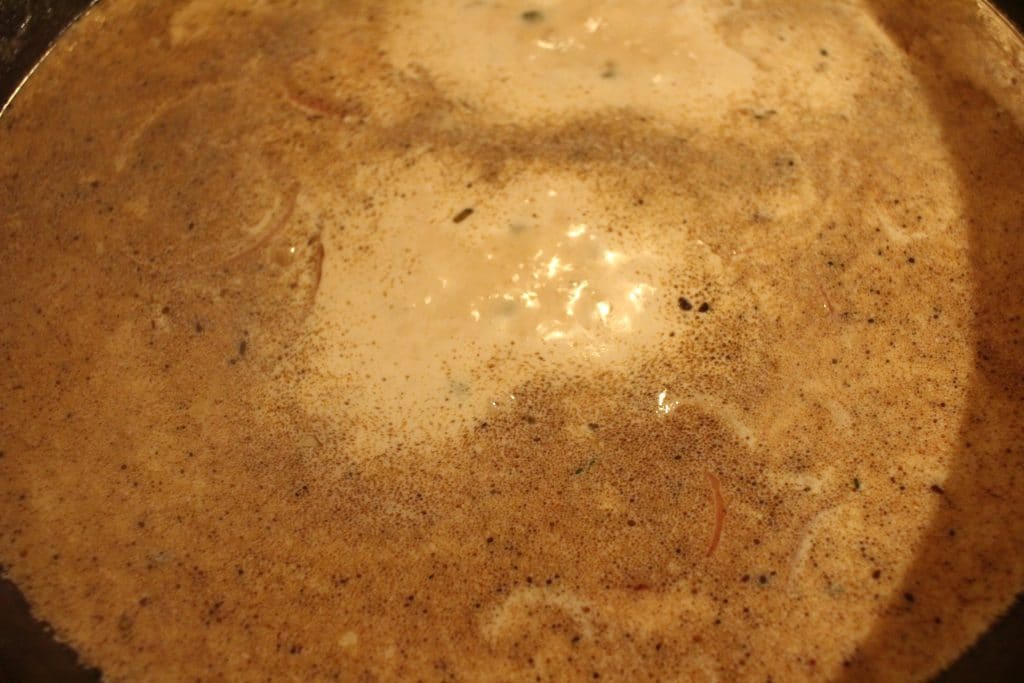 Let the sauce bubble and cook for a few minutes.  While it's cooking, drop your pasta in the boiling water.  Once it's cooked to al dente, or your preferred doneness, drain it and toss it with some olive oil, parsley and basil.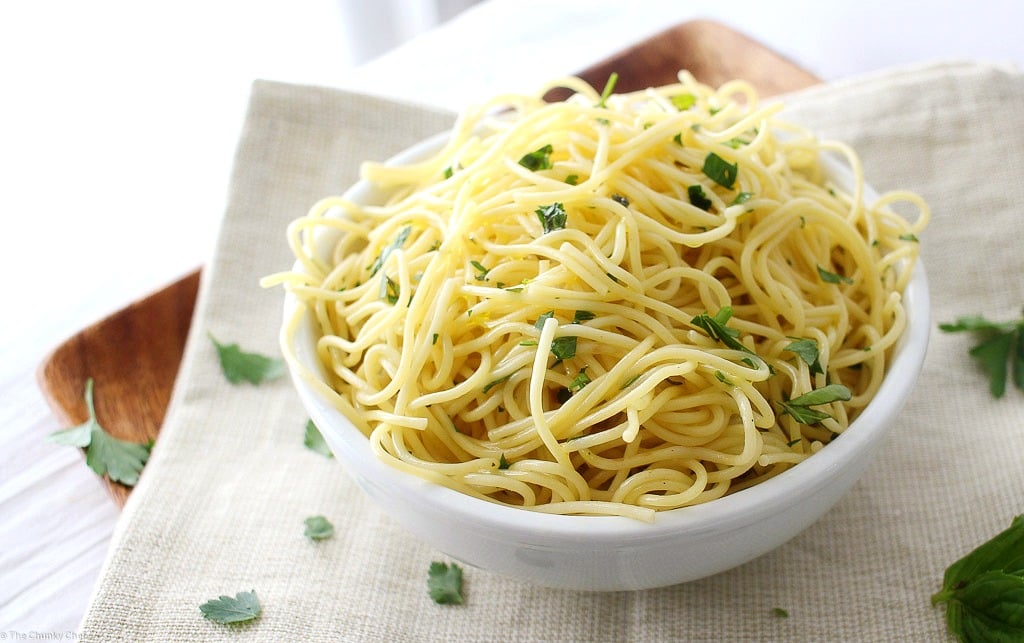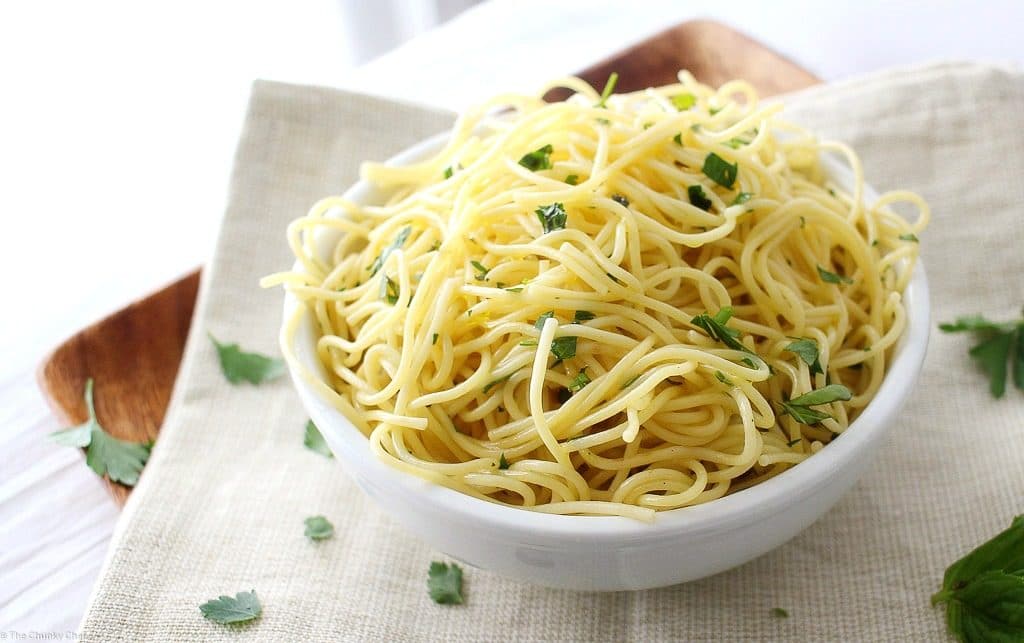 Now I don't know about you… but I could eat that bowl of pasta just like that!!
Just slice up your chicken and add it to your pasta.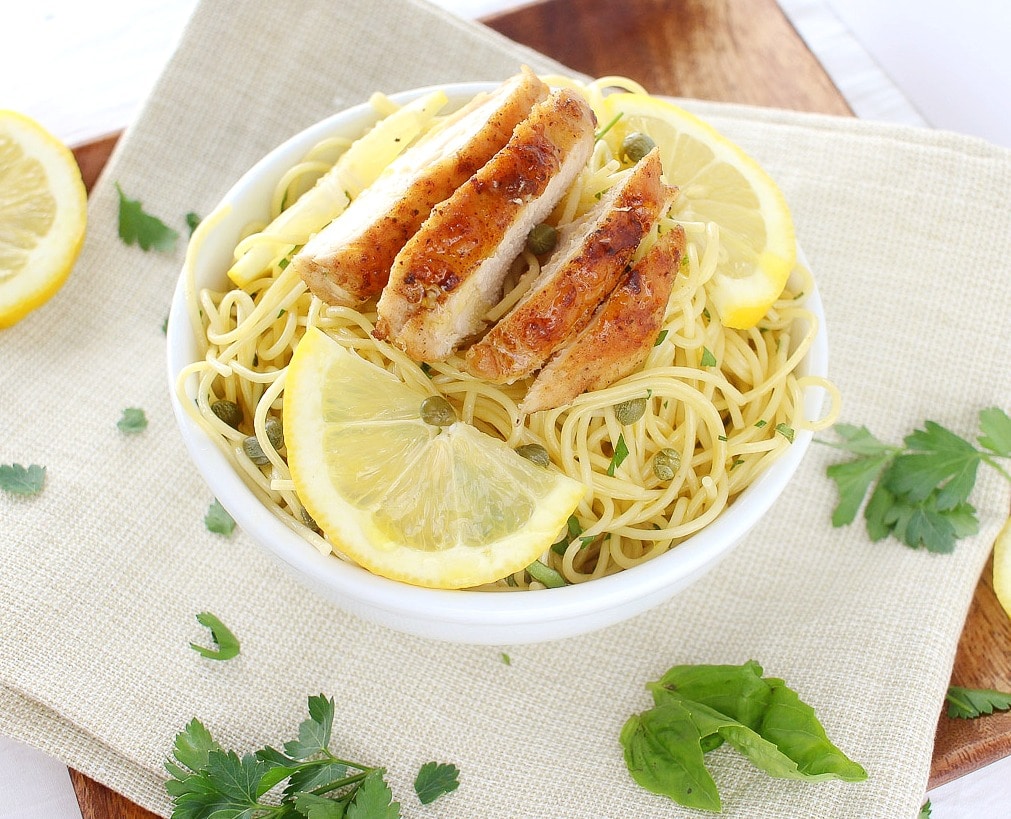 Garnish with some lemon slices, then pour your sauce over the pasta and chicken.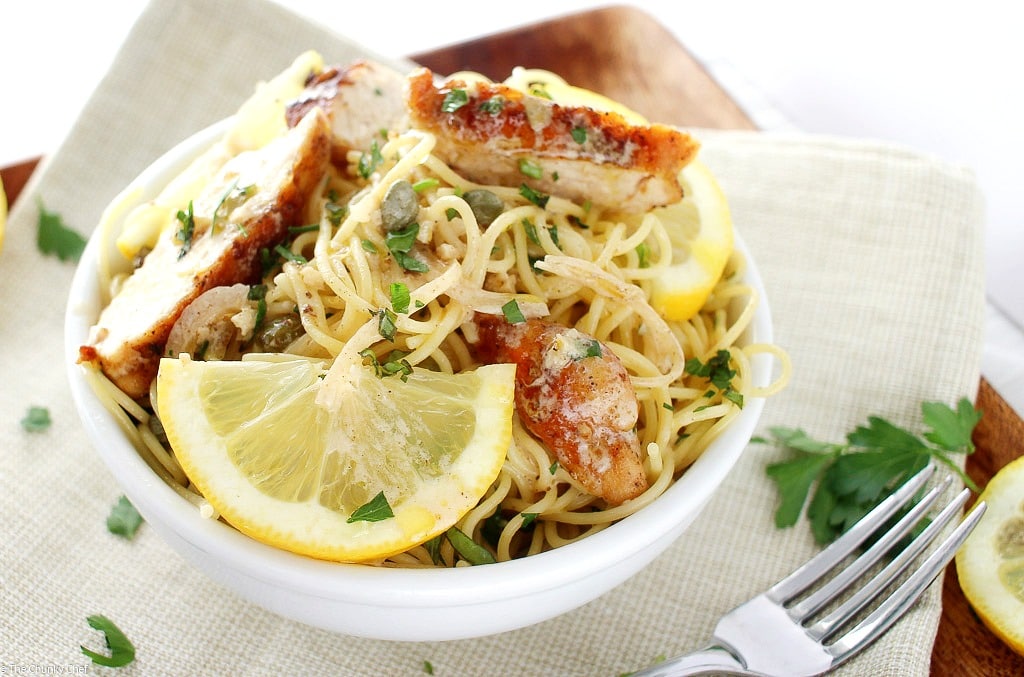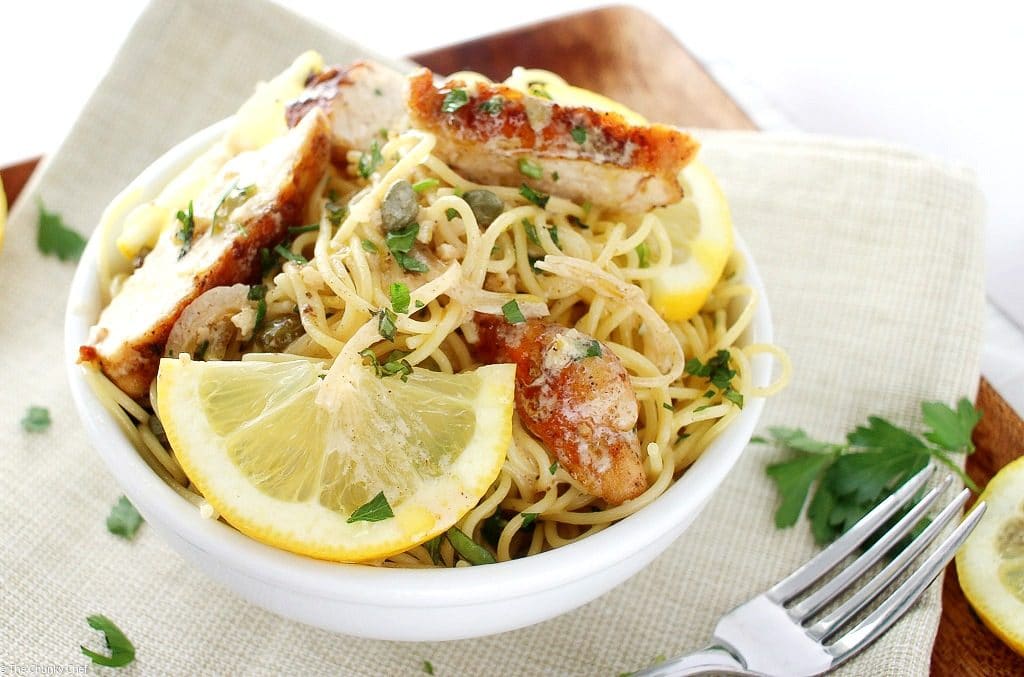 Sprinkle some fresh basil all over the top and enjoy!!
Seems pretty simple doesn't it?  You can do this… this classic Italian meal can be on your table 🙂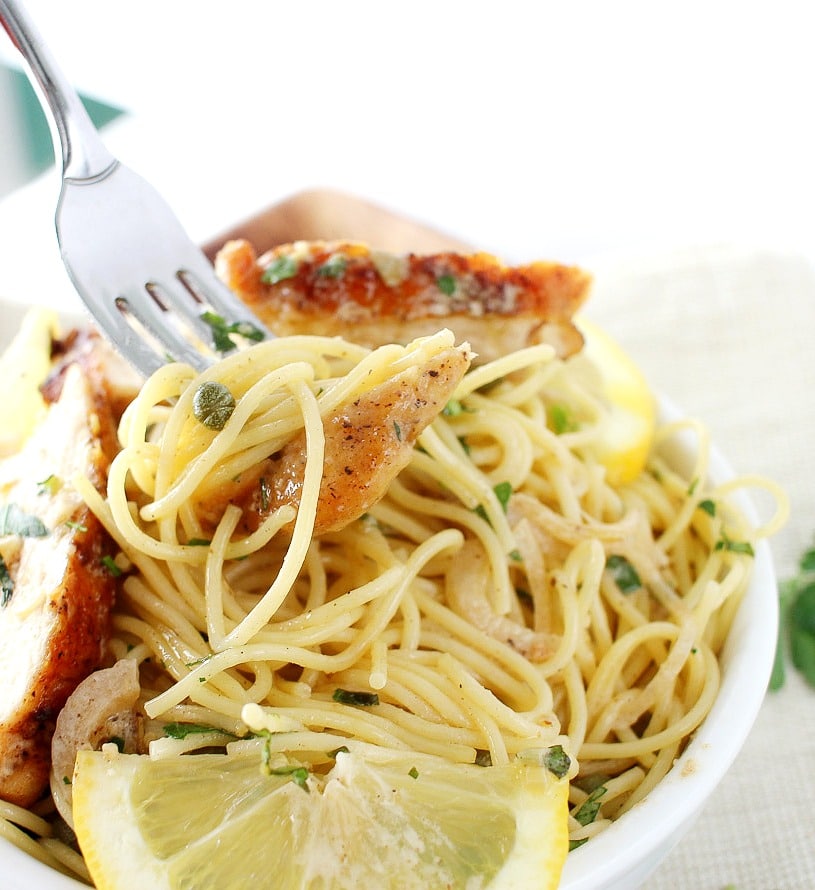 This would be great with some garlic roasted broccoli served alongside.  Although, we had a yummy caeser salad, that recipe will be coming soon, don't worry 🙂
I hope you try this one you guys, I know you'll love it!
Recipe adapted from The Recipe Critic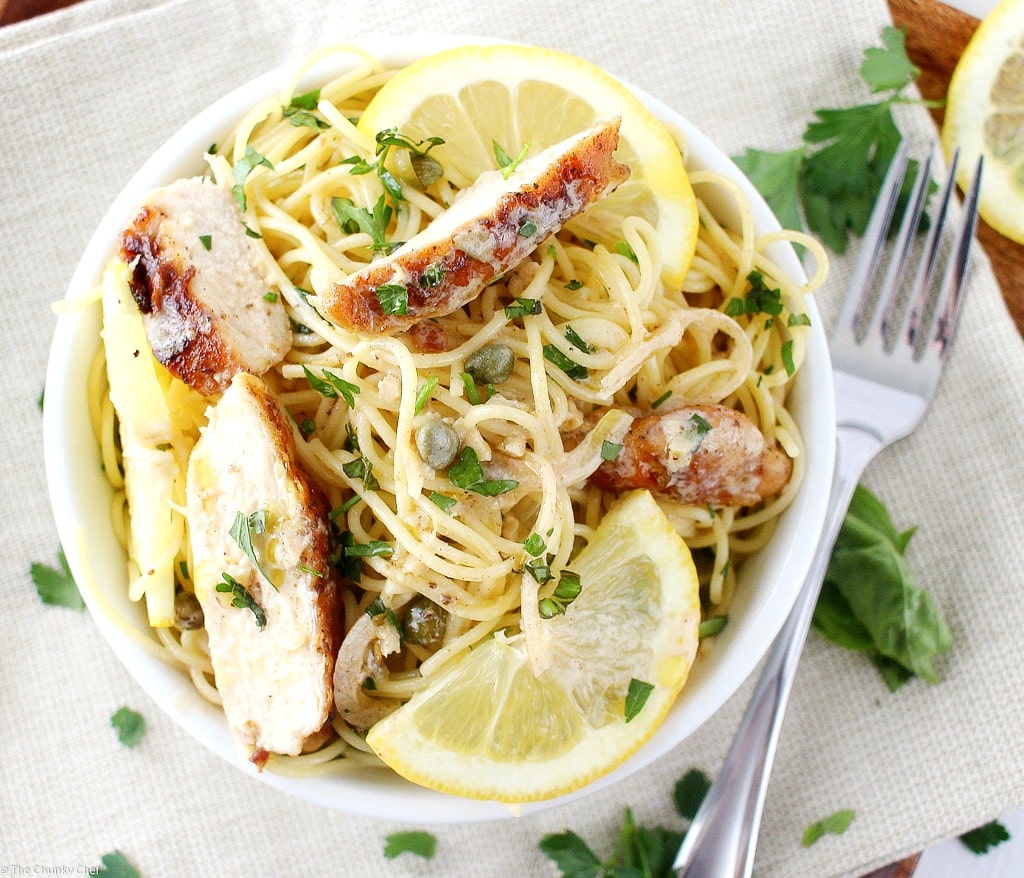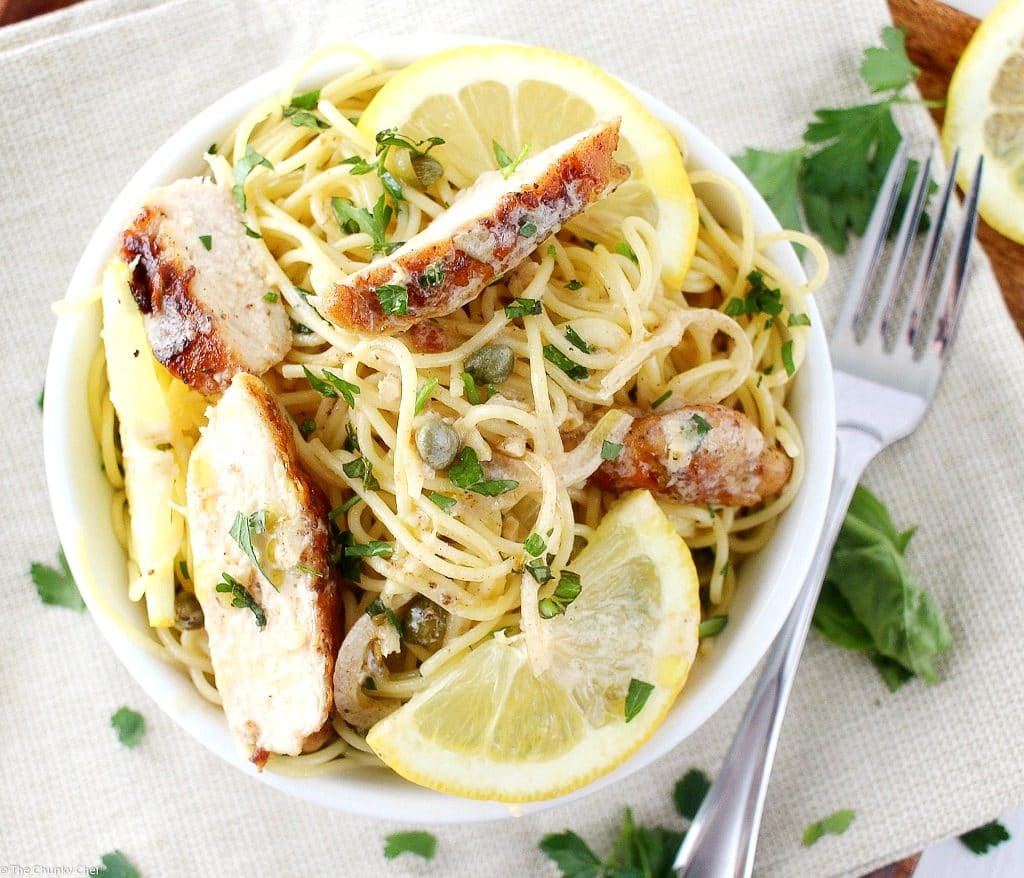 Did you make this? Be sure to leave a review below and tag me @the_chunky_chef on Facebook and Instagram!
A quick and easy classic Italian dish, on your table in 30 minutes! Your family will love the bright fresh flavors of this easy lemon chicken piccata.
Ingredients
4 boneless skinless chicken breasts, pounded to 3/4 - 1" thickness)
salt and pepper to taste
Pinch of ground thyme
1 Tbsp fresh basil chopped
1/2 cup flour
2 Tbsp butter
2 Tbsp olive oil
1 shallot thinly sliced
3 cloves garlic minced
1/2 cup chicken broth
1/2 cup dry white wine
2 lemons, juiced
3/4 cup heavy cream
1/4 cup capers drained
Fresh parsley and basil for garnish
1 lb thin spaghetti pasta
Instructions
Heat butter and oil in a skillet over medium high heat. Season flour with salt, pepper and chopped fresh basil. Add thyme, salt and pepper to each side of the chicken breasts, then dredge in the seasoned flour.

Place the chicken breasts in the skillet. Cook in batches of 2 (unless you have a huge skillet) to ensure a golden brown exterior. Cook for about 4 minutes on each side, or until chicken is completely cooked through. Remove chicken to a plate and set aside. Repeat with remaining chicken breasts.

Drop your pasta in salted boiling water and cook until al dente (according to package directions).

Reduce the heat to medium low. Add shallots and garlic to the same skillet, stir to saute for 1 minute. Add stock, wine, lemon juice, heavy cream, and capers. Whisk to combine and bring the sauce to a low boil. Taste the sauce and adjust salt and pepper if necessary. Simmer the sauce for 3 minutes.

Drain pasta, place in a bowl, drizzle with olive oil and add fresh basil and parsley, and toss to combine.

Slice the chicken into strips and place over cooked pasta. Pour sauce over the top and garnish with chopped parsley and basil.
Want to save this recipe for later? Click the heart in the bottom right corner to save to your own recipe box!
Chef Tips
** If desired, serve with cooked pancetta or bacon as an additional garnish.