This Stuffed Pork Tenderloin with Apple Bourbon Gravy is the perfect alternative to a huge turkey on your holiday menu! Juicy pork wrapped around a sweet and savory filling made from apples, onions, bacon and herbs, roasted, then smothered in an apple cider bourbon gravy that is out of this world delicious.
This is one of my Pork recipes I know you'll want to keep on hand!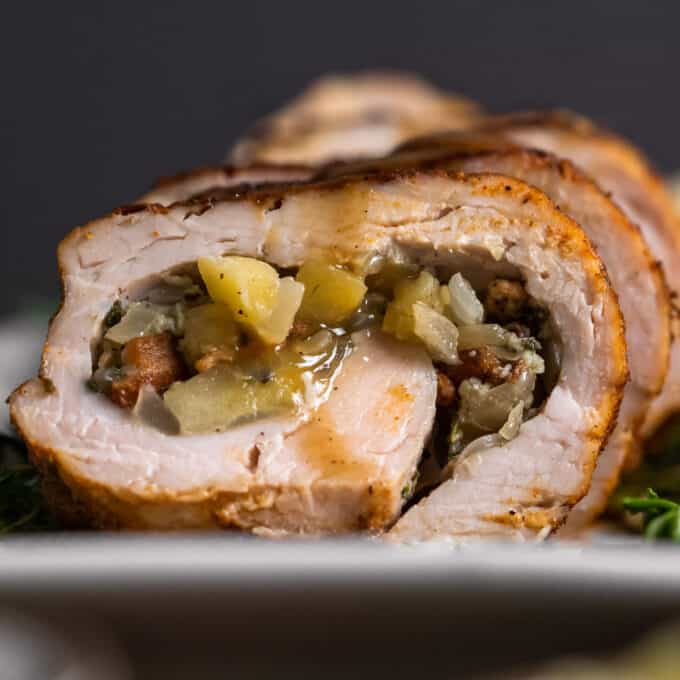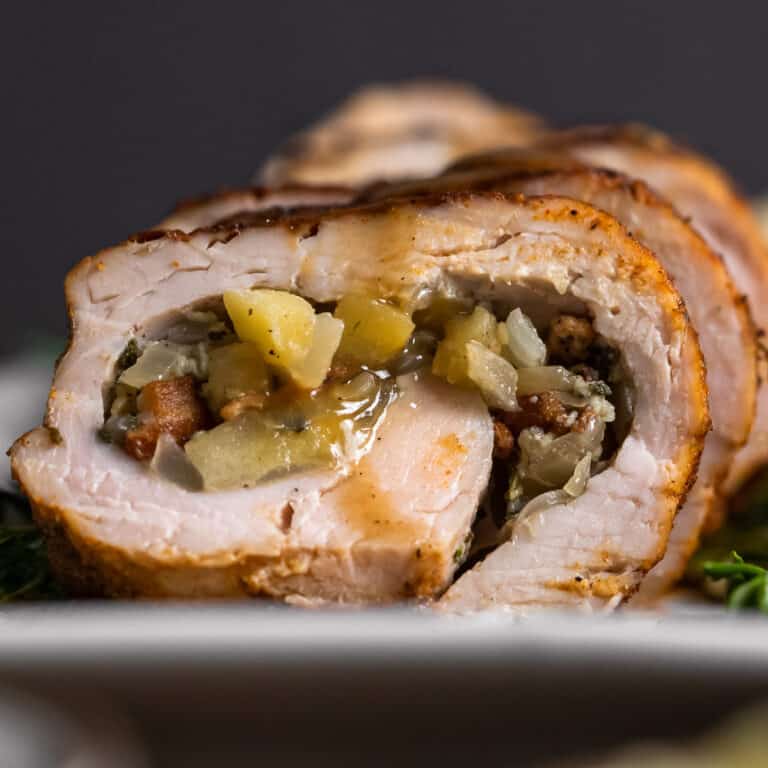 Can you believe Thanksgiving is a month away?! It's one of my favorite holidays, yet it somehow sneaks up on me every year.
If you're looking for a great, quick-cooking alternative to a big holiday turkey, this Stuffed Pork Tenderloin is the perfect recipe for you!
Not only does it cook in about 30 minutes (not including prep time), but it looks ultra fancy and impressive. And only you need to know that it really isn't all that hard!
The longest part about preparing this recipe is in the prep. The tenderloin needs to be butterflied, filling needs to be made, and the rub needs to be combined. But all of those things can be prepared ahead of time, which cuts down considerably on the total recipe time.
The gravy comes together quickly, and you make it while the pork is resting anyway, so there's no extra downtime.
Whatever your holiday celebration looks like this year, I hope it's a wonderful one for you!
How to make stuffed pork tenderloin?
This is just an overview; the full ingredients and directions are in the recipe card toward the bottom of this post.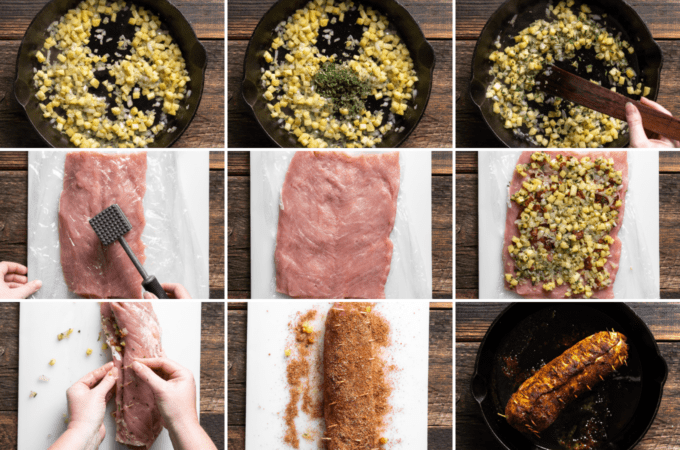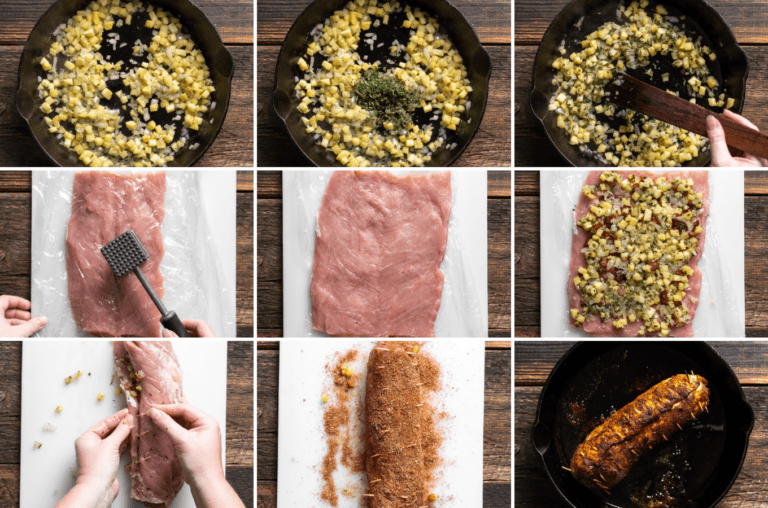 Make the stuffing. Cook the bacon, remove to a plate, then saute the apple, onion and herbs. Set aside to cool a little.
Prepare tenderloin. Butterfly and pound to an even thickness.
Stuff and roll. Add the stuffing, then roll up like a log and secure with toothpicks.
Season. Rub tenderloin with seasoning rub.
Sear. Cook the pork for a minute or two on each side.
Roast. Roast pork until cooked through.


Let pork rest. Just set it aside on a cutting board for about 10 minutes.
Drain some drippings. You want about 1/4 – 1/3 cup left in the skillet.
Add bourbon. Deglaze by scraping the skillet with a wooden spoon as you stir.
Add broth and seasonings. Bring to a low boil.
Add slurry. Mix the cornstarch and cold water, then stir into the gravy. Simmer until thickened.
Add butter. Whisk in the cold butter, until fully incorporated.
Helpful Tip!
The secret to an amazing pork tenderloin is all in the temperature.  Pork should be cooked to at least 145 F degrees, and the only way to be sure, is to check with an internal meat thermometer. They're pretty inexpensive, and an invaluable tool in my kitchen! I have this model, and have used it for years.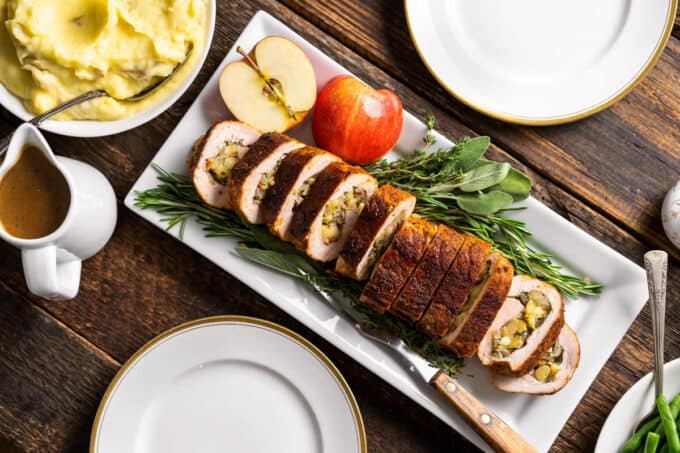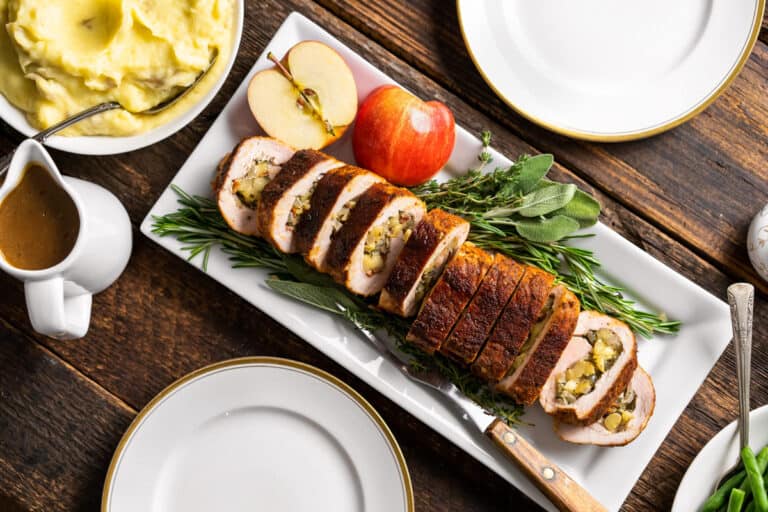 Variations of this recipe
Dried herbs – if you don't have fresh sage, rosemary, and thyme, you can use dried herbs in a pinch. Fresh herbs have a better flavor, but sometimes they're not available. Just use about half the amount, since dried herbs are more potent than their fresh counterparts.
Apple juice – apple cider lends great flavor to the gravy, but apple juice will work as well, if you can't get ahold of cider.
Alcohol-free – even though most, if not all, of the alcohol is cooked off during the making of the gravy, if you'd rather not use bourbon, feel free to substitute it with an equal amount of additional chicken stock/broth.
No cast iron – cast iron skillets, or other oven-safe skillets, are an essential tool in my kitchen, but I understand not everyone has one. Feel free to sear the pork in whichever skillet you have, then transfer to an oven-safe baking dish to roast. Pour the pan drippings out of the dish to make the gravy in whichever skillet you choose.
Pork loin – if all you can get your hands on is a pork loin, you can use that for this recipe! Check out Simply Recipes detailed instructions on butterflying a pork loin, then proceed with this recipe as written. Roast at 450°F for about 15 minutes, then reduce oven temperature to 325°F and roast another 35-40 minutes, or until pork reaches an internal temperature of at least 140°F.
Turkey – this recipe would be amazing with turkey as well! Look for a turkey breast (and ask your butcher to de-bone it for you), then proceed with the recipe. Roast at 375°F for about an hour and 15 minutes, then cover with foil and let rest at room temperature for 10-15 minutes.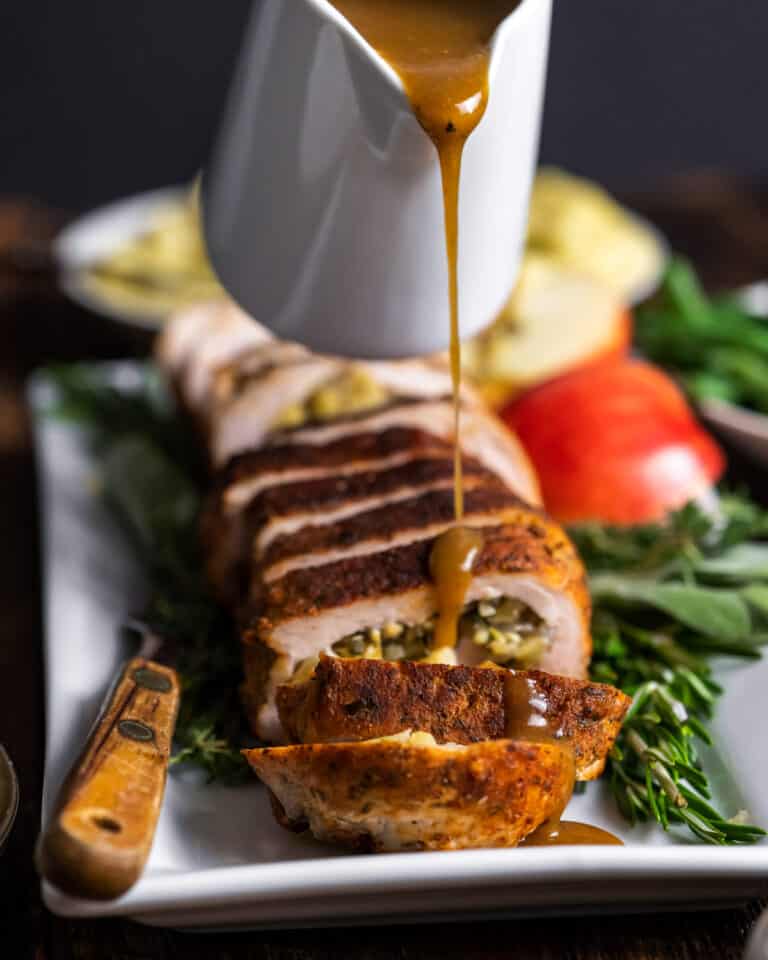 FAQ's
What's the difference between a pork tenderloin and a pork loin?
While the names may sound similar, they're in fact, very different cuts of meat.  They're not cut from the same part of the animal, and are cooked differently.
Pork tenderloins are long and thin, with minimal fat.  They are sometimes packaged in 2 packs at grocery stores.  Tenderloins should be cooked at higher temperatures, and for shorter amounts of time.
Pork loins are wide and covered with a thicker fat cap.  Loin should be seared, then cooked a lower temperature for longer periods of time.
Does pork tenderloin need to be covered when roasted?
While some pork tenderloin recipes call for the meat to be covered during roasting, this recipe does not. The higher temperature and shorter roasting time, plus the stuffing, keep the pork moist, so it won't dry out. Plus the tenderloin can continue to brown as it roasts.
How do you butterfly a pork tenderloin?
Add tenderloin to a cutting board. Hold your knife parallel to the board and carefully slice the pork from right to left (if you're a righty), until you're about 1/2 an inch away from the opposite side. Open the tenderloin up like a book, then cover with plastic wrap or wax paper and pound with the flat side of a meat mallet until the whole tenderloin is about 1/2 an inch thick.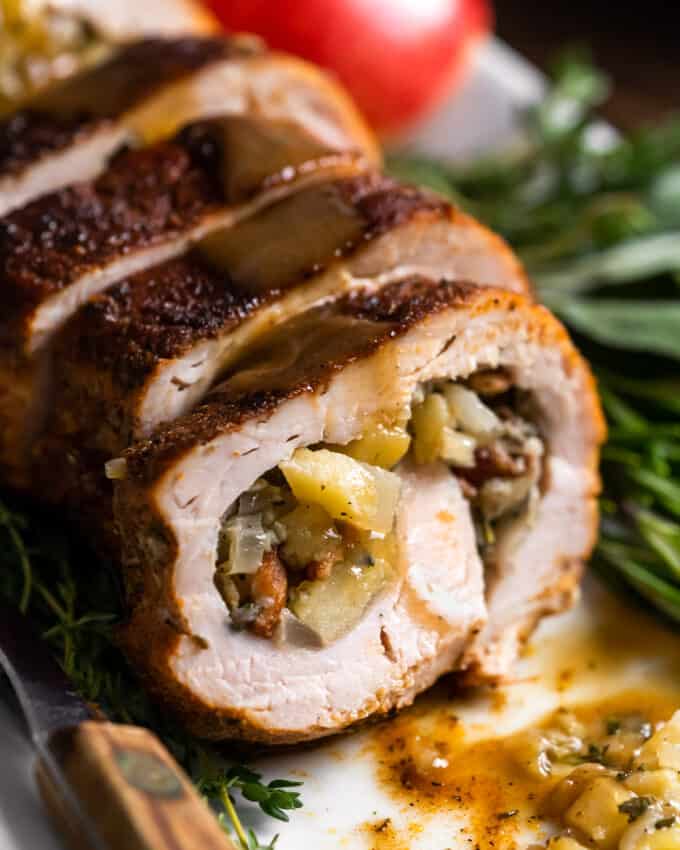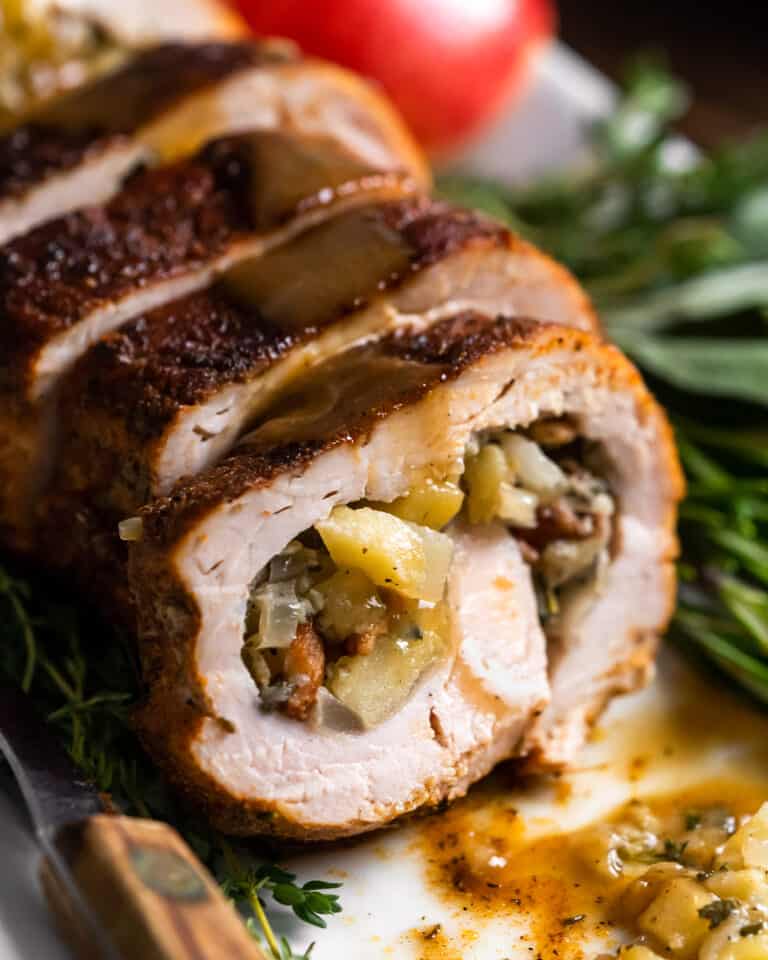 Making stuffed pork tenderloin ahead of time
I don't recommend roasting pork tenderloin ahead of time, as it will inevitably be less moist and tender, compared to when you make it fresh.
However you can certainly make parts of this ahead of time/prep ahead. This cuts down on the prep and total cooking time.
Stuffing – you can make the stuffing a day or two ahead of time, then keep it refrigerated until ready to cook.
Rub – the seasoning rub can be combined and stored at room temperature until ready to cook.
Pork – the pork tenderloin can be prepped ahead by removing the silver skin, then butterflied. Refrigerate until ready to cook.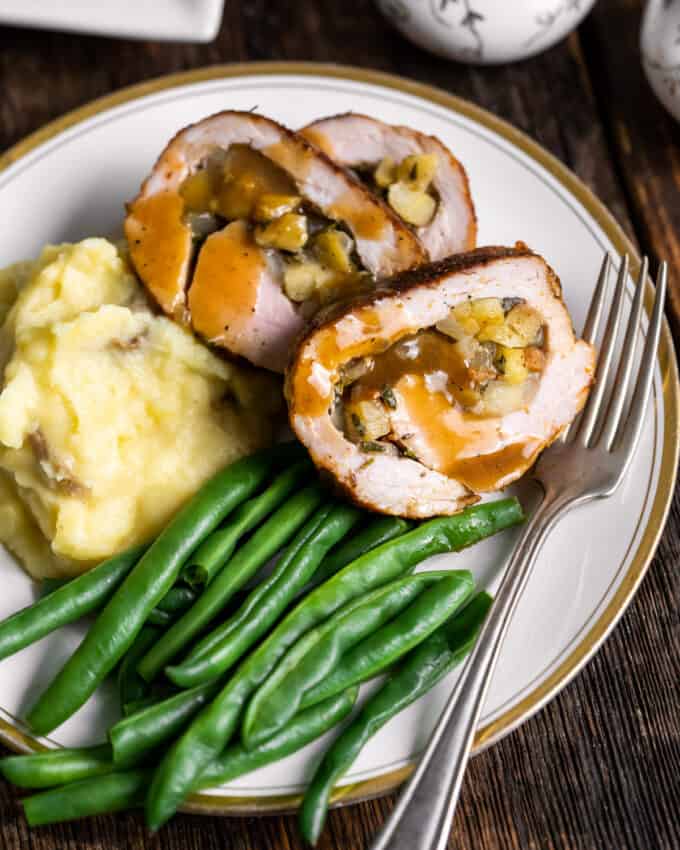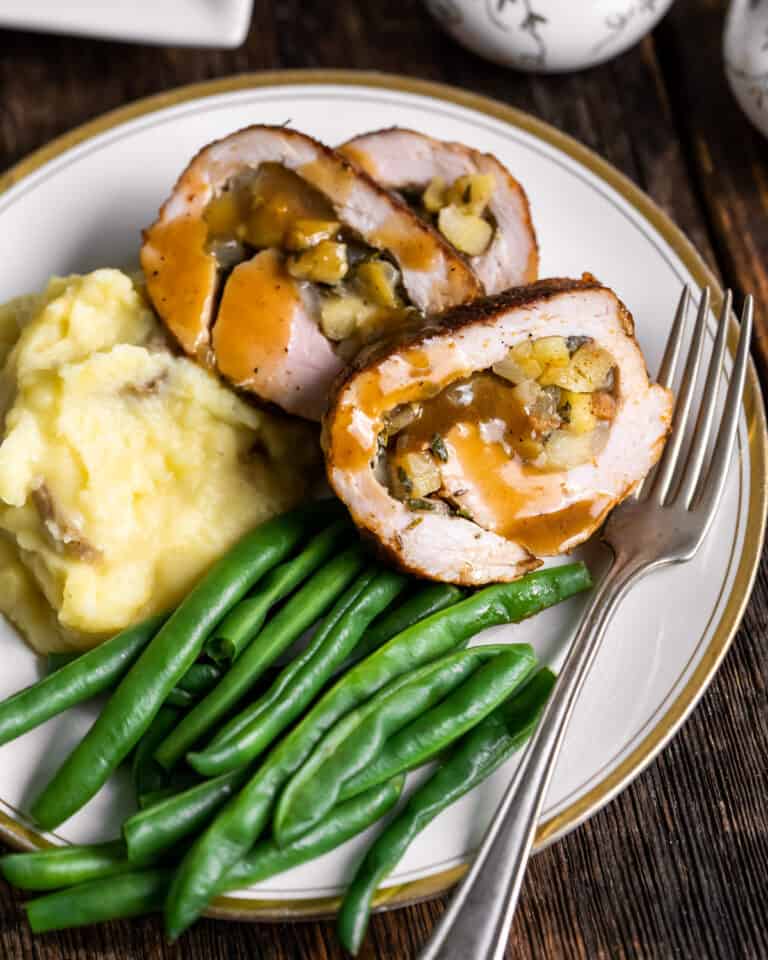 Storage
Leftovers should be kept refrigerated in an airtight container, and should be consumed within 3-4 days.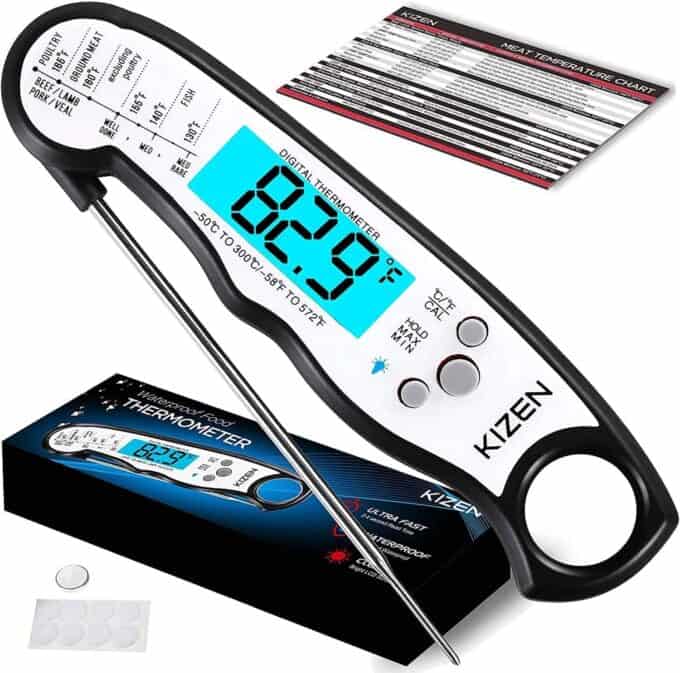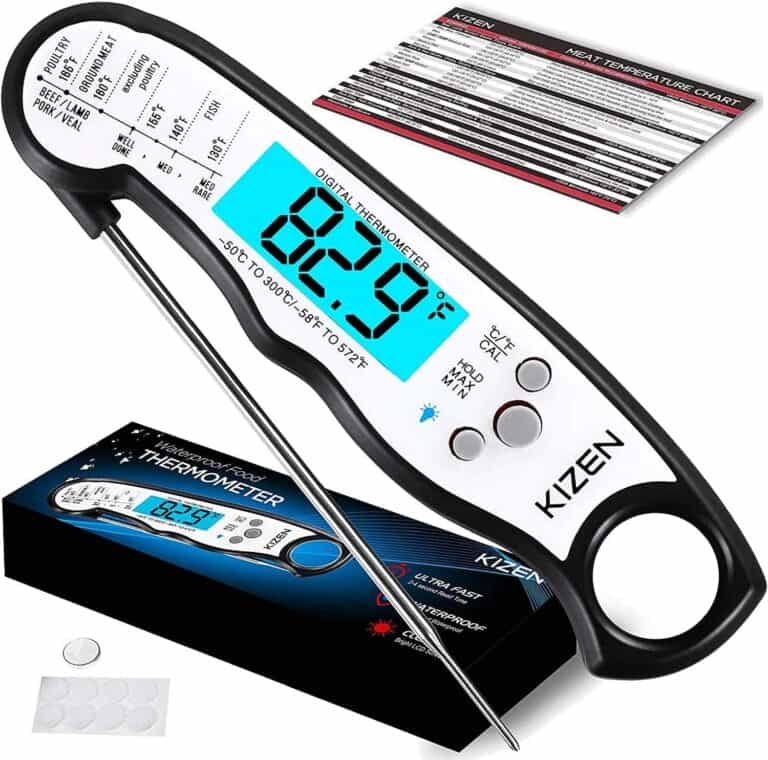 I love using this meat thermometer for making sure the meat is finished cooking! Easy for beginners & totally worth the $17 cost!
Did you make this? Be sure to leave a review below and tag me @the_chunky_chef on Facebook and Instagram!
This Stuffed Pork Tenderloin with Apple Bourbon Gravy is the perfect alternative to a huge turkey on your holiday menu!
Ingredients
Pork tenderloin
1 1/2 lb pork tenderloin silver skin removed
2 Tbsp olive oil
Stuffing
2 slices bacon diced
2 small to medium gala apples (or your favorite type) peeled, cored, and diced
1 small yellow onion diced
2 cloves garlic minced
1/2 tsp kosher salt
1/4 tsp black pepper
1 Tbsp chopped fresh sage
1 1/2 tsp chopped fresh rosemary
1 tsp chopped fresh thyme
Seasoning rub
1 1/2 Tbsp packed light brown sugar
1 1/2 tsp smoked paprika
3/4 tsp garlic powder
1/2 tsp black pepper
1/2 tsp onion powder
1/2 tsp dried thyme
1/4 tsp ground cumin
Apple bourbon gravy
1/4 – 1/3 cup pan drippings from cooking the pork
1/3 cup bourbon
1 cup reduced sodium chicken broth or stock
2/3 cup apple cider
2 tsp dijon mustard
1/2 tsp kosher salt
1/4 tsp black pepper
1/4 tsp onion powder
1/4 cup cold water
2 Tbsp cornstarch
1 Tbsp cold unsalted butter
Instructions
Make the stuffing
Heat a large oven safe skillet (I prefer cast iron), over MED LOW heat.  Add bacon pieces and cook until crisp.  Remove with a slotted spoon to a paper towel lined plate.

To the same skillet, add onion, apple, garlic, salt and pepper.  Cook, stirring often, for 3-5 minutes, until softened.

Stir in sage, rosemary and thyme, and remove mixture to the plate with the bacon.

Wipe out skillet, but no need to wash.  Set aside for now.
Prepare the tenderloin
Add tenderloin to a cutting board. Hold your knife parallel to the board and carefully slice the pork from right to left (if you're a righty), until you're about 1/2 an inch away from the opposite side.

Open the tenderloin up like a book, then cover with plastic wrap or wax paper and pound with the flat side of a meat mallet until the whole tenderloin is about 1/2 an inch thick.

Remove plastic wrap, and spread stuffing mixture evenly over the surface of the meat, leaving a small border all the way around.

Start with a long edge, and roll the meat up into a tight log shape, pushing any stuffing back in that falls out of the ends.

Secure the ends with several toothpicks, keeping them all pointing the same way. Take note of how many you used, so you can make sure you take that same amount back out at the end of cooking!
Make the rub
Combine rub ingredients in a small bowl, then rub evenly over the entire surface of the tenderloin, being careful not to poke yourself on the toothpicks.
Sear and roast
Preheat oven to 400°F.

Add 2 Tbsp to cast iron skillet from earlier, and heat over MED HIGH heat.  Once oil is hot, add tenderloin, toothpick side down, and sear for 1-2 minutes per side, until golden brown.

Transfer the skillet to the preheated oven for about 20 minutes, or until an instant read thermometer reads 140-145°F.
Make the gravy
Transfer pork to a cutting board and let rest for about 10 minutes.

While meat is resting, transfer skillet back to the stovetop and heat over MED/MED HIGH heat.  There should be drippings in the skillet from cooking the pork, drain off some if needed, so that you have about 1/4 – 1/3 cup left… those add great flavor.

Add bourbon and use a wooden spoon to scrape the bottom of the pan, loosening any browned bits.

Pour in chicken stock, apple cider, mustard, salt, pepper, and onion powder, and bring to a low boil.

In a small mixing bowl, combine cold water and cornstarch and whisk together until smooth.

Pour cornstarch mixture into the boiling liquid, whisking as you add it.  

Reduce heat to MED LOW and simmer, stirring often, until gravy has thickened to your liking.

Remove from heat and add cold butter, whisking as it melts into the gravy.
Serve
Slice tenderloin into 1/2-3/4" rings, and drizzle gravy over the slices.

Serve with additional gravy on the side.
Want to save this recipe for later? Click the heart in the bottom right corner to save to your own recipe box!
Chef Tips
If you don't have a meat mallet, a heavy bottomed skillet or pot, rolling pin, empty wine bottle, etc will work just fine.
Removing the silver skin from the pork tenderloin is essential, because if it stays on, that part of the pork will be very chewy and not appetizing.
The silver skin will likely be on just one side of the tenderloin, and it looks white and silvery, and a bit shiny.  Insert your knife just under that skin and cut it away from the meat on one side.  Then turn the knife the other way and while lifting the skin, slide the knife down the length of the tenderloin, separating the skin from the pork.  If you'd like a photo/video demonstration, Cook the Story has a great article on this.
Nutrition Disclaimer
The Chunky Chef is not a dietician or nutritionist, and any nutritional information shared is an estimate. If calorie count and other nutritional values are important to you, we recommend running the ingredients through whichever online nutritional calculator you prefer. Calories can vary quite a bit depending on which brands were used.