These mashed potato pancakes are the perfect way to use up leftover mashed potatoes. Perfectly soft and fluffy inside, and crispy on the outside, these potato cakes are great for clearing out the fridge, and so easy to make!
This is one of my Side Dish recipes I know you'll want to keep on hand!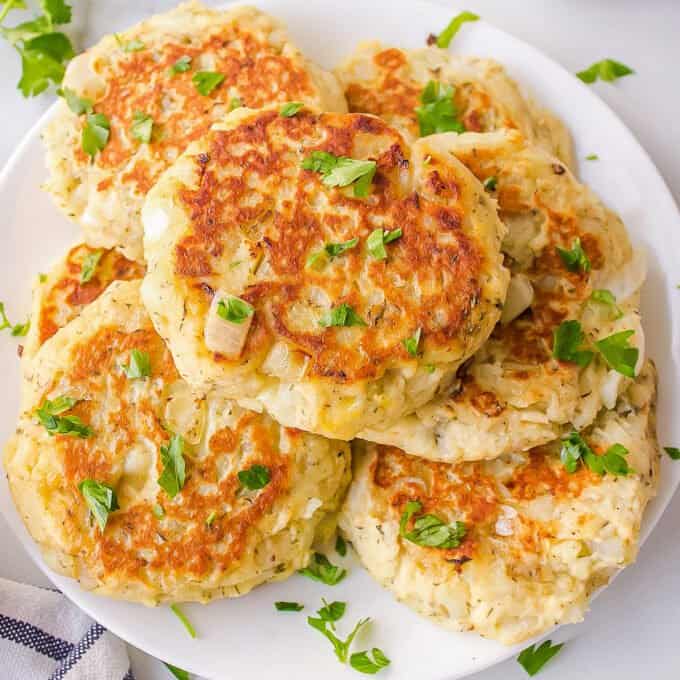 We, as two potato-loving parents, have one kid who shares our love of potatoes, and another kid who can't stand most forms of the potato, including mashed potatoes.
I mean, what?! Mashed potatoes are LIFE!
So whenever we're serving up some mashed potatoes, there's always leftovers hanging around in our refrigerator.
And that's when I bring out these bad boys… the mashed potato pancakes!
It's a great meal to use for leftover potatoes, but also to clear out the fridge a little. Have some cheese that's going to go bad? Toss it in.
Have some spices that are towards the end of their shelf life? Add 'em. Leftover bacon (which, admittedly, is rare around here…)? It's the perfect addition!
Mashed potato pancakes are such a fun side dish, and you can use this recipe as a base, and create your own perfect combination of flavors!
How to make mashed potato pancakes?
This is just an overview; the full ingredients and directions are in the recipe card toward the bottom of this post.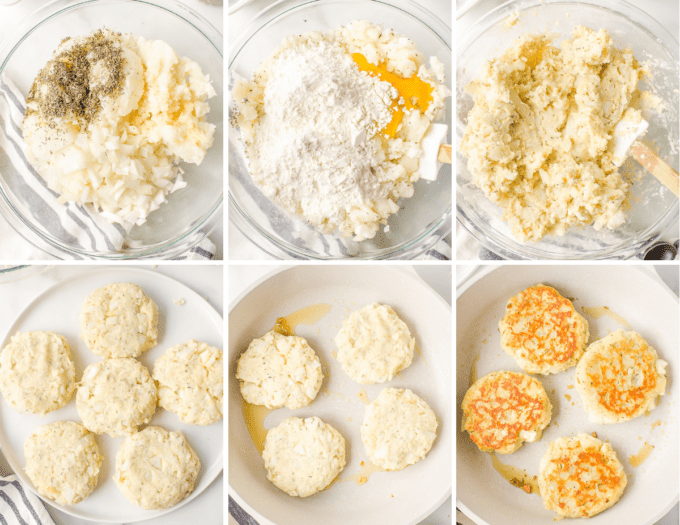 Mix. Mix in all the potatoes, binders (eggs and flour), and seasonings. This works best with cold or room temperature mashed potatoes, not hot or warm.
Form into patties. I like to use a measuring cup or scoop.
Cook. Simply cook them in a little oil in a skillet.
Helpful Tip!
I find the easiest way to form these potato pancakes is to use a 1/2 cup measuring cup, or this 4oz cookie scoop. This way they're all evenly sized, and all you have to do is flatten them into a thick pancake shape!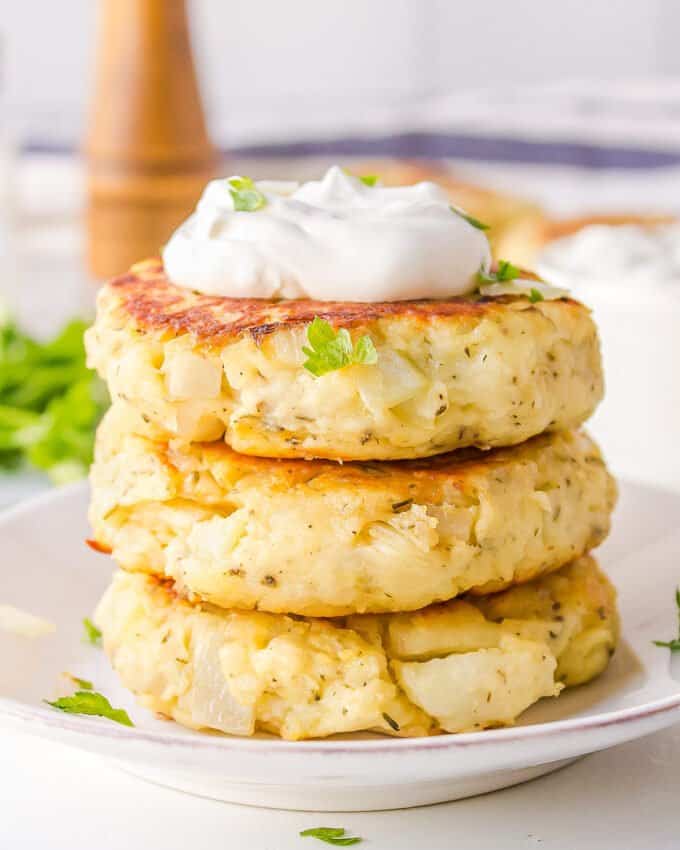 Variations of this recipe
Mashed potatoes – what's so great about this recipe is that it works with any kind of mashed potatoes, even store-bought ones!
Herbs – instead of dried thyme, try using fresh thyme that you've minced (about 2 tsp), or try minced fresh chives.
Cheesy – cheese and potatoes go hand in hand, so if you'd like to add some cheesy goodness to your potato pancakes, please feel free! I would start with about 1 cup of shredded cheese.
Bacon – adding some cooked and crumbled bacon is one of my favorite things!
Pan-fried – to keep the greasiness down a bit, I've kept the oil to a minimum with this recipe. However, if you want some extra crunch, feel free to use enough oil to fill the skillet about 1/4″ deep.
Thinner – if you'd like to get more potato pancakes out of this recipe, you can make them thinner. They will likely take a little less time to cook when they're thinner as well.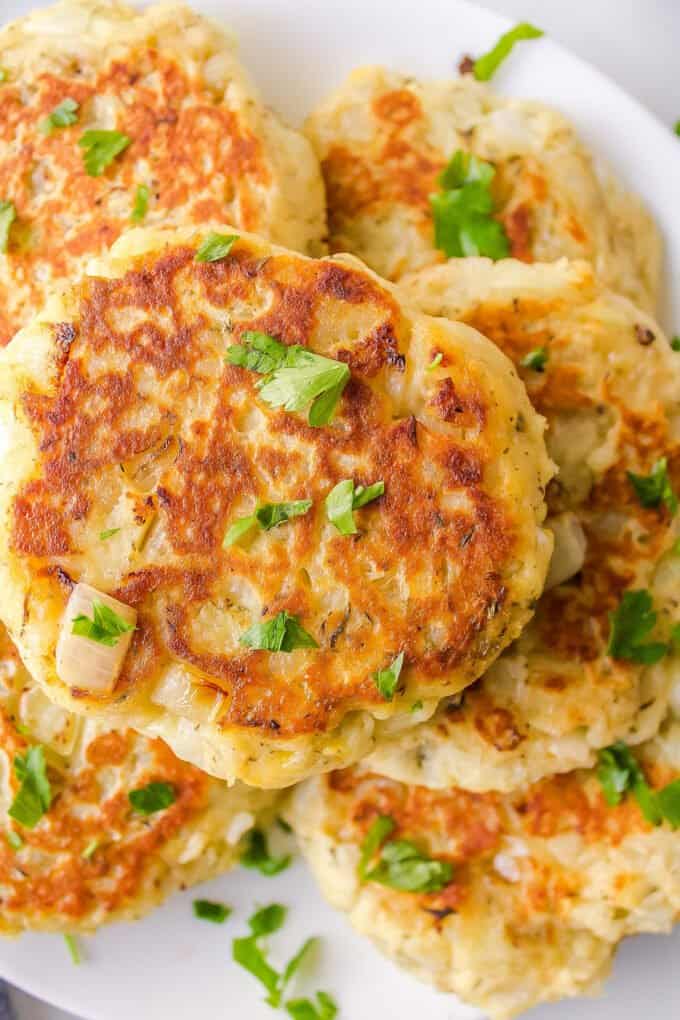 FAQ's
Why the range for the flour measurement?
I know it's frustrating to not have a concrete measurement, but the reason for it is that mashed potatoes come in all consistencies. Some are more firm, and some are more runny. So use your judgement when making these potato pancakes; more firm mashed potatoes may need less, and runny potatoes may need more.
Are potato pancakes the same as latkes?
They are similar, but not the same thing. Latkes are a traditionally Jewish food, made from shredded potatoes, not mashed.
Making potato pancakes ahead of time
These potato cakes are perfect to assemble ahead of time!
Add the uncooked patties to an airtight container, separated by wax paper so they don't stick, and refrigerate for 1-2 days.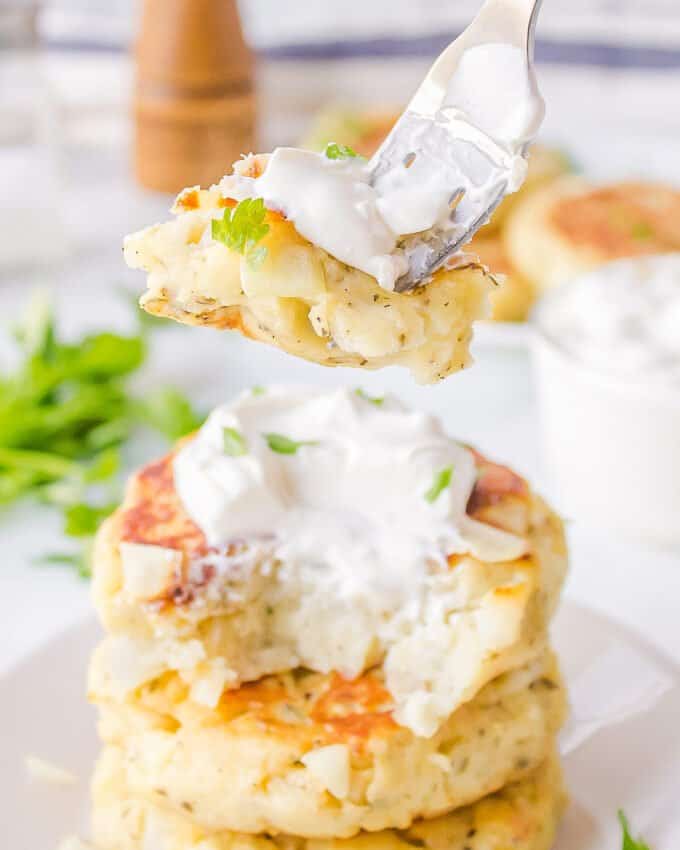 Freezing
You can also freeze this recipe if you'd like! I haven't tested freezing the uncooked potato pancakes, but here's how to freeze the cooked pancakes.
Let the cooked potato cakes cool completely, then add to a wax or parchment paper lined baking sheet and add the whole thing to the freezer for 1-2 hours (or until the potato pancakes are hard).
Then transfer the potato pancakes to a freezer-safe container and freeze for 2-3 months.
To reheat, let the cakes sit at room temperature while the oven preheats, then bake in a 350°F preheated oven for 8-10 minutes.
Storage
Leftover potato pancakes should be refrigerated in an airtight container and enjoyed within 3 days.
Reheat gently on the stovetop or in the microwave.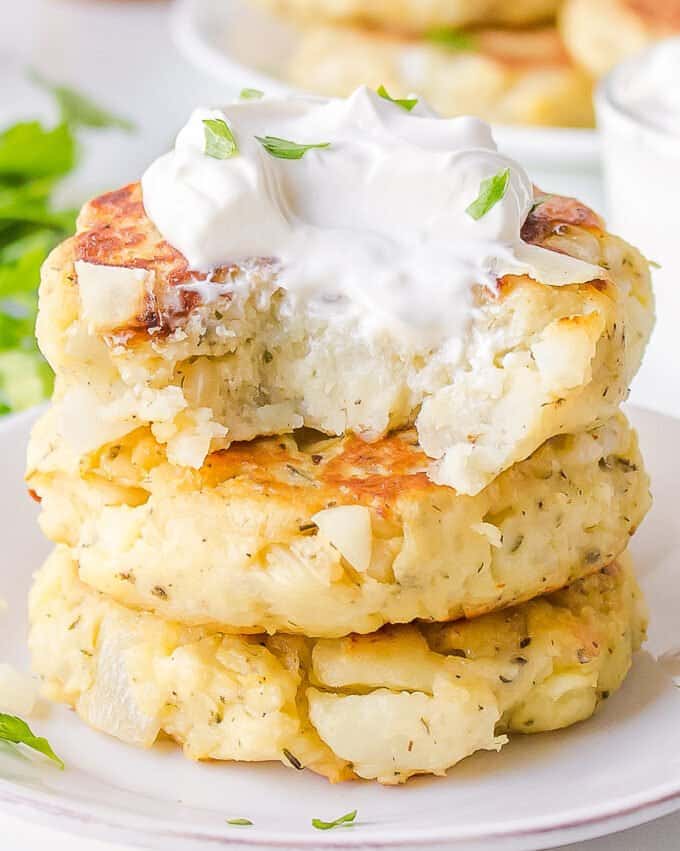 Did you make this? Be sure to leave a review below and tag me @the_chunky_chef on Facebook and Instagram!
Perfectly soft and fluffy inside, and crispy on the outside, these potato cakes are great for clearing out the fridge, and so easy to make!
Ingredients
3 cups mashed potatoes leftovers are great for this
1/2 medium yellow or sweet onion diced
2 cloves garlic finely minced
2 large eggs lightly beaten
1 – 2 cups all purpose flour *see recipe note #3
1/2 tsp kosher salt if your mashed potatoes are unseasoned, use more (to taste)
1/2 tsp black pepper if your mashed potatoes are unseasoned, use more (to taste)
1/2 tsp dried thyme if your mashed potatoes are unseasoned, use more (to taste)
3 Tbsp vegetable oil avocado or canola oil are great substitutes
Garnishes
minced fresh chives or scallions
minced fresh parsley
sour cream
Instructions
Prepare
This recipe works best with cold or room temperature mashed potatoes, not hot or warm.

Set out a large mixing bowl, and a plate (or baking sheet) lined with wax or parchment paper.

Place some paper towels down on the counter near your stove, and top it with a wire cooling rack. This will be where the potato pancakes will go after being cooked, and the excess oil will drip off and keep them nice and crispy (instead of soggy).
Mix and assemble
To a large mixing bowl, add mashed potatoes, onion, garlic, eggs, flour, salt, pepper, and thyme. Mix using a rubber spatula or wooden spoon until very well combined.

If mixture is dry and crumbly, add another beaten egg. If mixture is wet, add a little more flour and mix again.

Using a 1/2 cup measuring cup (or 4 oz cookie scoop), portion out about 1/2 cup of the mixture and form into a patty, about 1/2" thick. Place on prepared plate (or baking sheet), and continue making patties until potato mixture is used up.
Cook
Preheat a large skillet over MED/MED HIGH heat, then when hot, add the vegetable oil.

Add patties to skillet in the hot oil, cooking about 4-5 minutes per side, or until golden brown and cooked through.

You definitely don't want to overcrowd your skillet, otherwise you won't get that beautiful golden brown exterior, so depending on the size of your skillet, I would cook about 4 patties at a time.

When the first batch of patties is finished cooking, add them to the prepared wire cooling rack, and continue cooking batches until no more patties remain.

If you notice the skillet looking dry after a batch or two, feel free to add a drizzle of extra oil.
Serve
Serve these potato pancakes hot, warm, or at room temperature and topped with desired garnishes.
Want to save this recipe for later? Click the heart in the bottom right corner to save to your own recipe box!
Chef Tips
I've found that I get about 9-12 potato pancakes out of this recipe, but of course, that will depend on their diameter and thickness.
If you're looking for a great mashed potato to make these cakes with, try our Instant Pot Mashed Potatoes!
The range of the flour measurement is due to different batches of mashed potatoes having different consistencies. Some are thicker, and some are runnier; for thicker mashed potatoes you'll use less flour. For runnier potatoes, you'll use more.
Optional Add-in Ideas:
Ham
Bacon
Cheese
Ranch seasoning
Nutrition Disclaimer
The Chunky Chef is not a dietician or nutritionist, and any nutritional information shared is an estimate. If calorie count and other nutritional values are important to you, we recommend running the ingredients through whichever online nutritional calculator you prefer. Calories can vary quite a bit depending on which brands were used.