An irresistibly savory blend of herbs and spices make up this shelf-stable blend. Mix it with some sautéed garlic and olive oil and you have a bread dipping oil that tastes even better than the one that comes with bread at a fancy Italian restaurant!
This is one of my Pantry/Kitchen Basics recipes I know you'll want to keep on hand! These recipes are great homemade alternatives to store-bought items.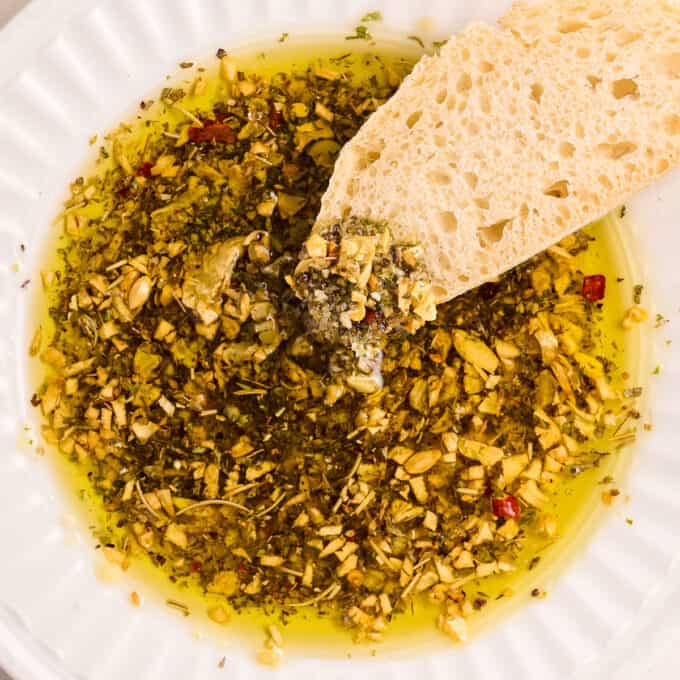 If you're a bread-lover and big fan of Italian flavors… this is absolutely the recipe for you!
Many of the Italian-American restaurants here in the US will bring out free bread for the table, and they typically serve it with a small plate of absolutely delicious bread dipping oil.
So years ago I started experimenting with making my own, and it's really simple and tastes much better than overpaying at a restaurant!
The seasoning blend is packed with savory herby flavors, not to mention it's shelf-stable and will last for 6 months.
Then to serve you just add some to a plate, top it with a sprinkle of cheese, and quickly saute some garlic cloves in olive oil (or you can skip the cooking step), add the garlic, and top with oil. Voila!
Bread dipping oil is best when served with a good crusty bread, like my No-Knead Bread, or a quality loaf from the bakery!
How to make garlic and herb bread dipping oil?
This is just an overview; the full ingredients and directions are in the recipe card toward the bottom of this post.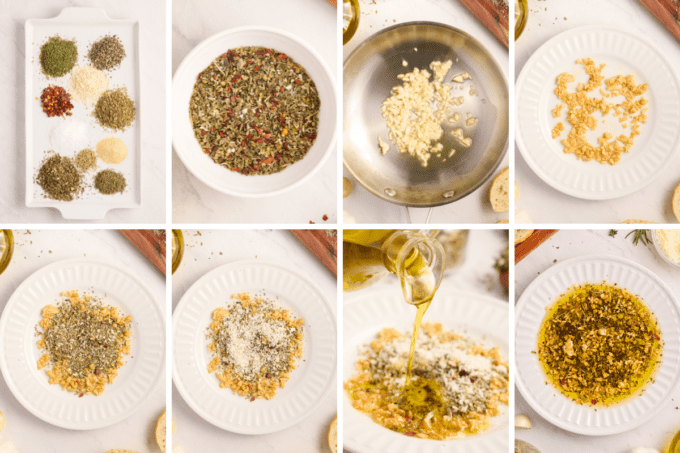 Make seasoning blend. These spices and herbs are very common and easy to find, in fact you probably have them in your spice cabinet right now!
Saute garlic. This only takes a few minutes, but really adds a great, fresh flavor.
Make the plate. Add the garlic, top with some of the seasoning blend, top with a sprinkle of cheese, then add olive oil.
Dip!
Helpful Tip!
For the best flavor, I highly recommend using extra virgin olive oil. Extra virgin olive is is the least processed, and has such a light and faintly grassy/peppery flavor that blends perfectly with the herbs, spices, and garlic.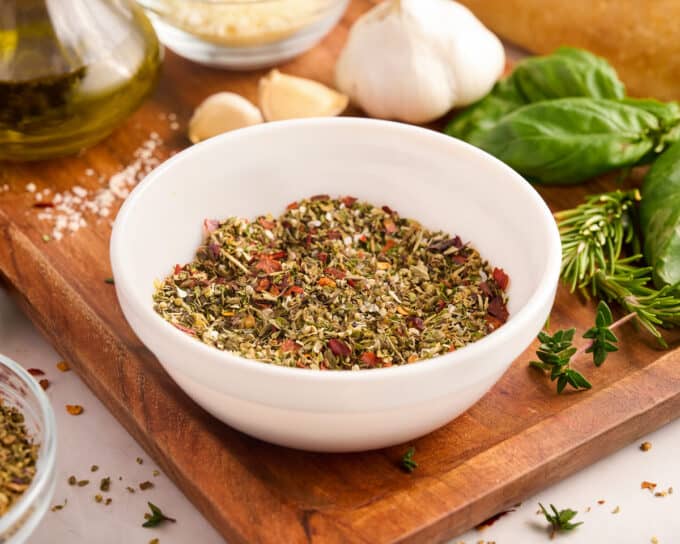 Variations of this recipe
Oil – feel free to use any neutral or light flavored oil that you'd like. In place of extra virgin olive oil, sometimes I use avocado oil.
Vinegar – for extra flavor, try adding a splash of balsamic vinegar to the dipping oil.
Cheese – if you'd prefer not to use parmesan cheese, you can omit it completely, or use a different cheese, such as Romano or asiago.
Garlic – we love the softer flavor of the sautéed garlic, but if you don't mind the sharper flavor, you can use raw garlic.
Spice/herb ratios – please feel free to play around with the amounts of the spices and herbs if you'd prefer more or less of them.
Milder – the heat level of this is pretty gentle and mild in my opinion, but if you're sensitive to heat, you can reduce or omit the red pepper flakes.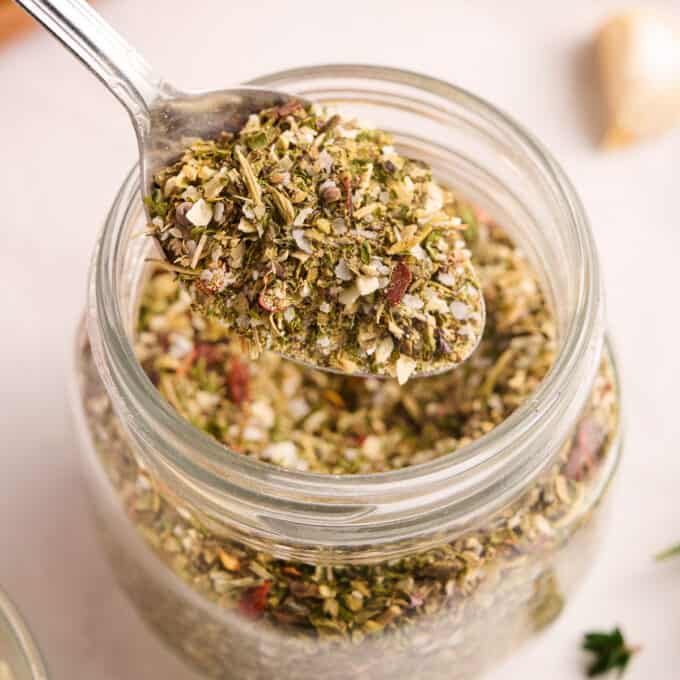 FAQ's
Is this a Carrabba's dipping oil copycat recipe?
Not specifically, no. It's been a long time since I've been to a Carrabba's, but I believe this would taste somewhat similar.
Why make your own bread dipping oil when you can buy it?
It is true, you can find pre-made dipping oils for sale in most larger grocery stores. But I really like to make my own for two reasons. First, I can control the spices and herbs used, and in what amounts. Secondly, I know it's fresh. When you make seasoning blends yourself, you can make them exactly the way you want.
Making bread dipping oil ahead of time
This recipe, (both the seasoning blend and the combined oil) can be made entirely ahead of time if you'd like!
Though typically, I just make the seasoning blend ahead (and store it in an airtight container), then just combine it with the sautéed garlic, oil, and cheese when ready to serve.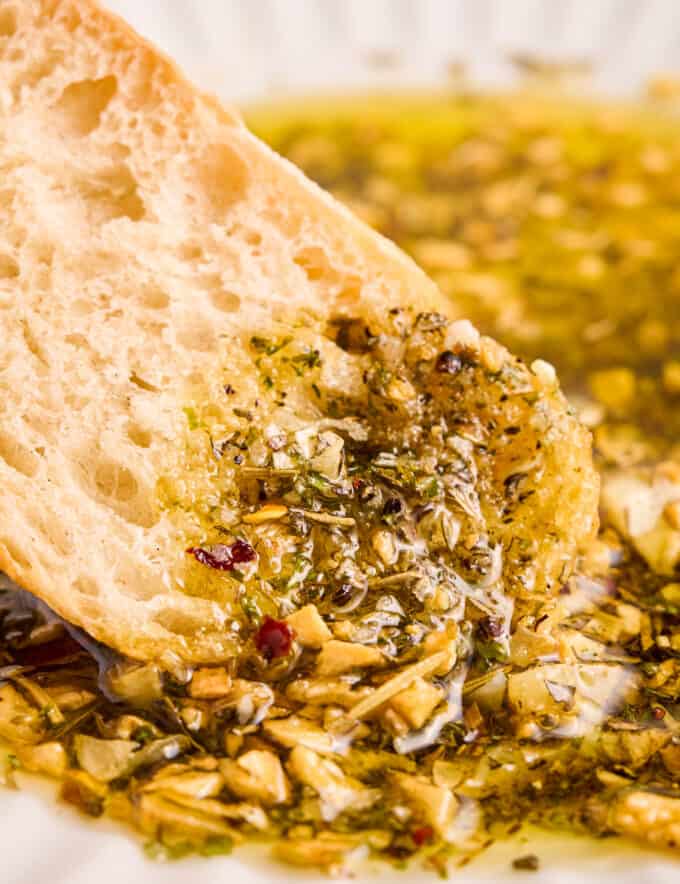 Storage
The seasoning blend can be kept for 6+ months in an airtight container at room temperature.
Leftover combined seasonings, garlic, and oil (don't add the cheese yet) can be stored in an airtight container in the refrigerator for several months.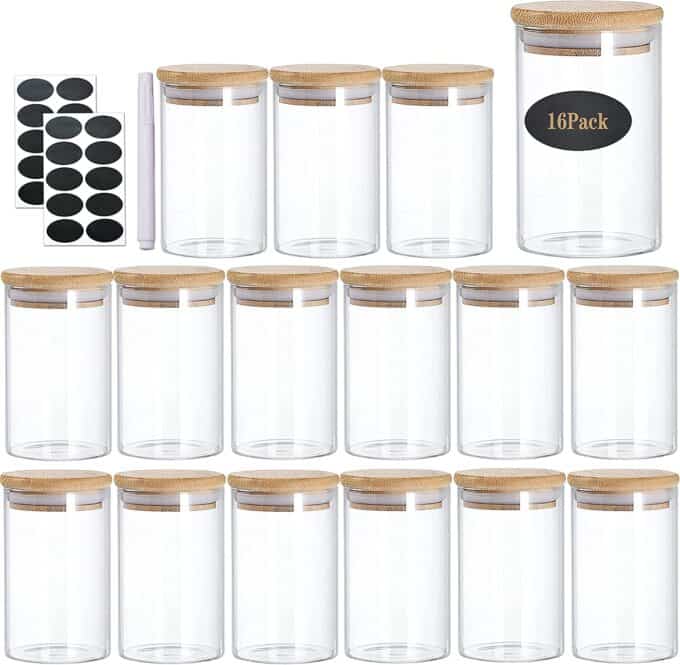 I have many of these spice jars in my kitchen, and love them! They're airtight, and the large capacity means I can make big batches of my favorite spice blends. These labels are a great companion too!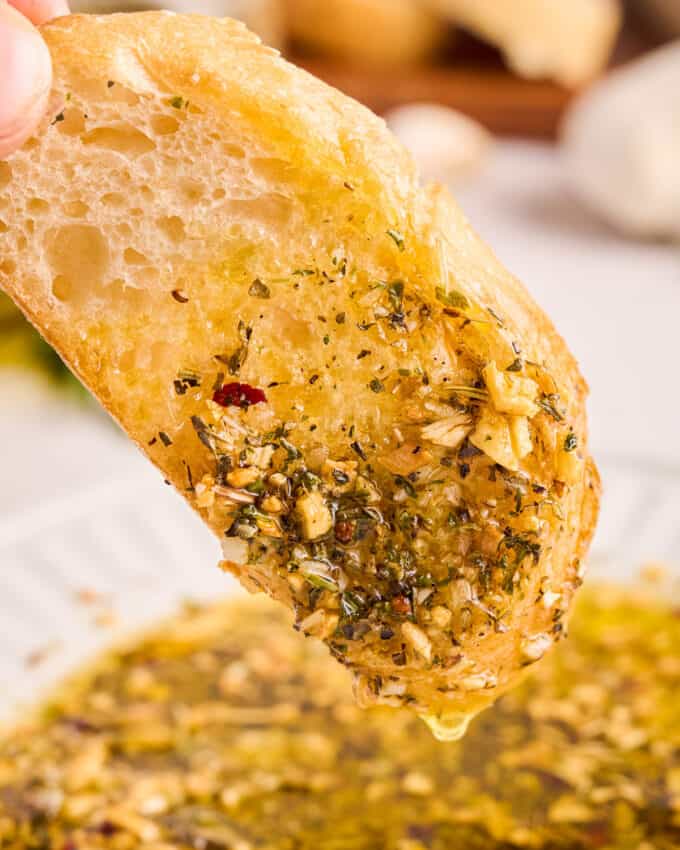 Did you make this? Be sure to leave a review below and tag me @the_chunky_chef on Facebook and Instagram!
An irresistibly savory blend of herbs and spices make up this shelf-stable blend. Mix it with some sautéed garlic and olive oil and you have a bread dipping oil that tastes even better than the one that comes with bread at a fancy Italian restaurant!
Ingredients
Seasoning blend
1 Tbsp dried basil
1 Tbsp dried oregano
1 Tbsp dried parsley
2 tsp coarse black pepper if using fine ground, use less
1 1/2 tsp dried minced onion
1 1/2 tsp kosher salt
1 tsp garlic powder
1 tsp red pepper flakes
1 tsp dried thyme
1/2 tsp dried rosemary
To serve
3 cloves garlic pressed or very finely minced
sprinkle of grated Parmesan cheese
1/3 – 1/2 cup extra virgin olive oil or more or less, it's up to you
Instructions
Combine seasonings
Combine dried basil, dried oregano, dried parsley, black pepper, dried minced onion, kosher salt, garlic powder, red pepper flakes, dried thyme, and dried rosemary in a small mixing bowl and stir to mix well.

Transfer mixture to spice jar, or other airtight container, and store for up to 6 months.
To serve
Add a small drizzle of olive oil to a small skillet and heat over MED LOW heat. Add minced or pressed garlic and cook, stirring often, for several minutes, or until lightly golden and soft – be careful not to walk away as it can burn if left unattended for a long time.

Add cooked garlic to a small plate or shallow bowl, then top with about 1 Tbsp of the spice mix and a sprinkle of Parmesan cheese. Add about 1/3 – 1/2 cup olive oil and stir well to combine.

Serve with crusty bread and enjoy!
Want to save this recipe for later? Click the heart in the bottom right corner to save to your own recipe box!
Chef Tips
I've estimated that this recipe will make approximately 6 Tbsp of the seasoning blend, with a serving being 1 Tbsp, which makes up approximately 6 servings.
If you don't have dried minced onion, but have onion powder, that will also work. Just reduce the amount down to 3/4 tsp.
Nutrition Disclaimer
The Chunky Chef is not a dietician or nutritionist, and any nutritional information shared is an estimate. If calorie count and other nutritional values are important to you, we recommend running the ingredients through whichever online nutritional calculator you prefer. Calories can vary quite a bit depending on which brands were used.