This Classic Basil Pesto recipe is made in just 15 minutes with plenty of fresh basil, parsley, pine nuts, garlic, olive oil and Parmesan cheese. Perfect on pasta, sandwiches, drizzled over veggies or pizza, stirred into Alfredo sauce, used in soups, and more!
This is part of a series of recipes here on the site that I'm calling "Back to Basics". In this series you'll find recipes that are common building blocks for beginner cooks, as well as homemade versions of pantry/store-bought staples, such as cream of mushroom soup, pizza sauce, garlic bread, etc. With easy to follow instructions, detailed notes, and step by step photos, you'll be on your way to being a master in your kitchen in no time!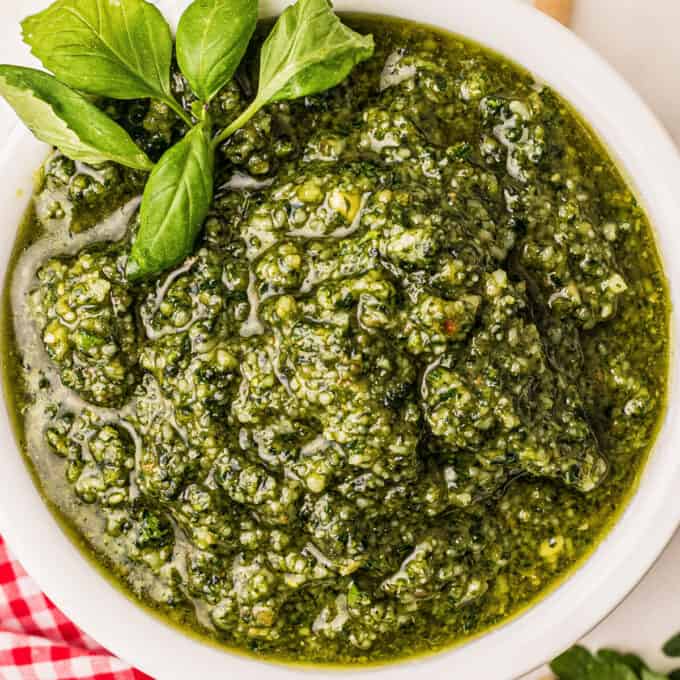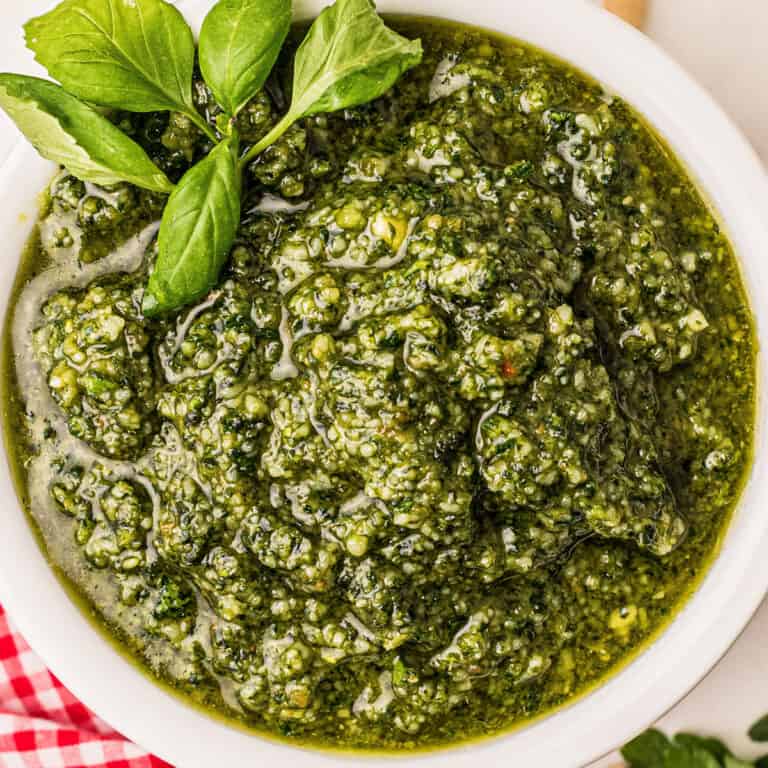 Are you a pesto fan? I definitely am! The fresh vibrant flavors all mesh so well together.
The herby sweetness from the basil, creaminess from the cheese and toasted pine nuts, the sharpness from the garlic, and richness from the oil… all perfectly balanced.
It's such a versatile sauce, and I love that it's uncooked, making this a super easy recipe that's ready in 15 minutes.
While I don't cook the actual sauce (which would be a no-no for pesto), I do like to very lightly toast the pine nuts and garlic cloves, which brings out their flavors even more.
It's a great sauce to make ahead of time, and even freeze!
How to make classic basil pesto?
This is just an overview; the full ingredients and directions are in the recipe card toward the bottom of this post.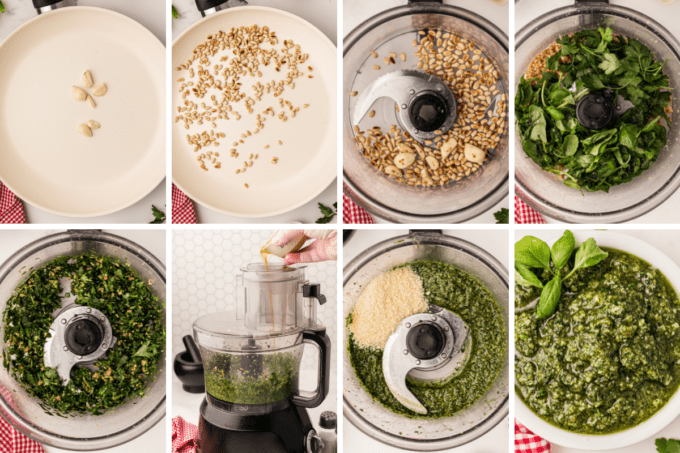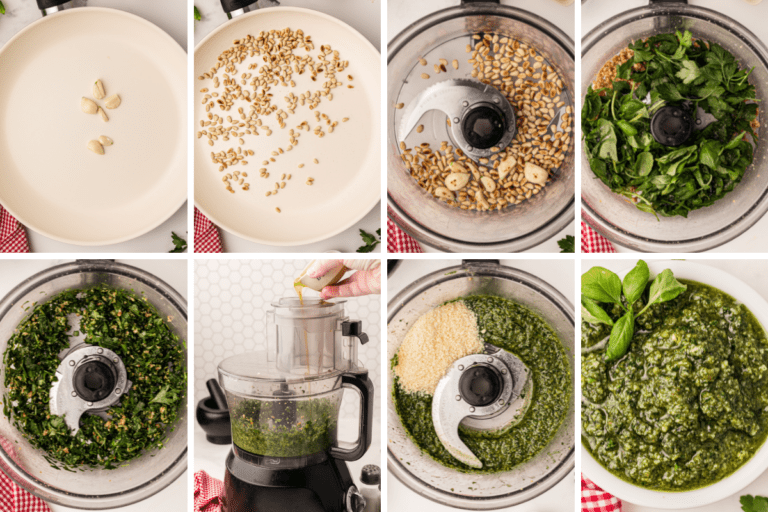 Toast garlic and pine nuts. This really accentuates their flavor and makes the pesto taste even better.
Pulse garlic and nuts.
Pulse basil and parsley.
Stream in oil. Keep the food processor on and while it's running, slowly pour in olive oil. It will come together into a sauce.
Pulse cheese and salt.
Taste. Give the pesto a taste and add black pepper and/or more salt if you'd like.
Helpful Tip!
Since this sauce isn't cooked, and uses relatively few ingredients, you really want to make sure those ingredients are the best quality you can get. This isn't the time to buy that manager's special basil that is starting to go bad, or that package of pine nuts that's been sitting around for 6 months. Those will throw off the flavor of your pesto.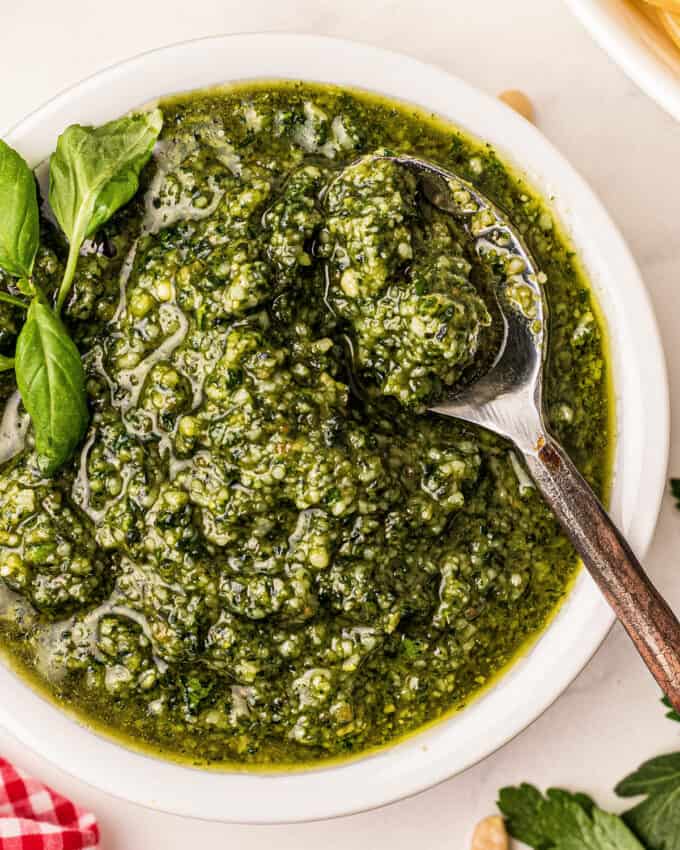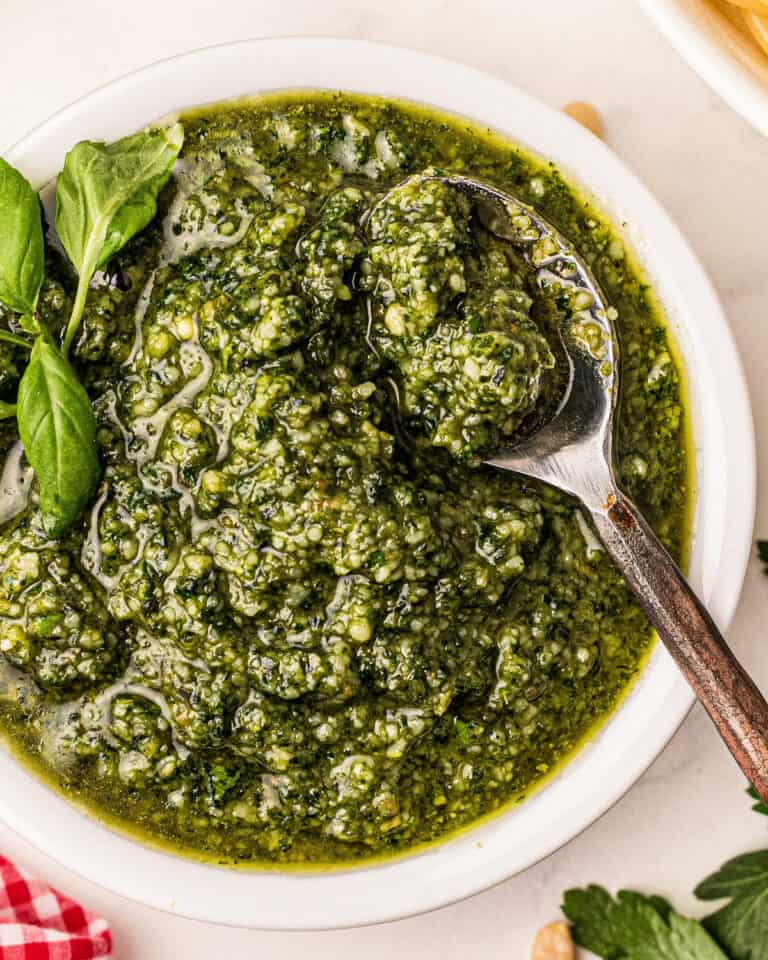 Variations of this recipe
Greens – I love the combination of basil and parsley, but feel free to play around with those amounts if you'd like. I've also seen pesto made using spinach and arugula.
Nuts – pine nuts are traditional (they may also be labeled pignoli), but they can also be pretty pricey. Walnuts are a cheaper, albeit, nontraditional option. Use about 2/3 of a cup.
Cheese – I highly recommend using a high quality grated Parmesan cheese (not the can with the green lid that's found by the pasta sauce), but grated Romano cheese is a great alternative.
Oil – traditionally this sauce is made with extra virgin olive oil, and I highly recommend using that if you have it. Alternately, light olive oil or avocado oil will also work.
Lemon – try adding a bit of lemon zest to brighten up this pesto even more!
Creamy – to make a creamy pesto, add some heavy cream (approximately 1/2 – 1 cup), until pesto is as creamy as you'd like.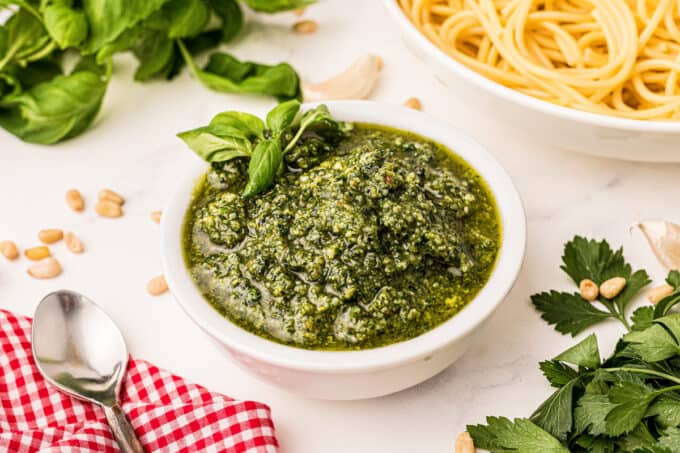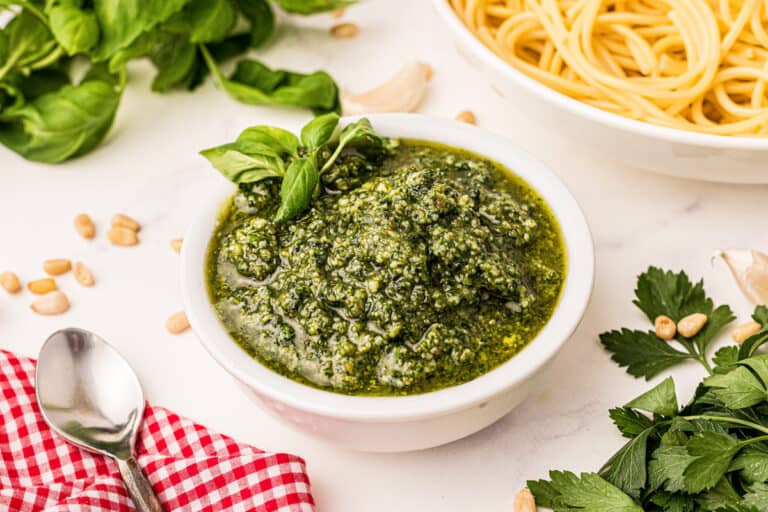 FAQ's
Why did my pesto turn out a little bitter?
There are a few reasons why pest can turn out a little on the bitter side. The oils in the pine nuts can cause them to turn a little rancid, the olive oil itself could be turning rancid, or the basil isn't all that fresh. It also could be the food processor. I don't notice this, and I always use a food processor to make pesto, but Cook's Illustrated found that olive oil contains bitter chemical compounds that really only shine through when the oil is emulsified (like in a food processor). The solution is to use the food processor to grind up everything except the oil. Add a little water to make a paste, then stir in the olive oil.
Can homemade pesto be canned?
I don't have experience with canning, but I did see that the National Center for Home Food Preservation does not recommend it, since the sauce is uncooked and botulism can thrive, even when canned properly. Their recommendation is good enough for me, and I don't recommend canning it either.
Is pesto healthy?
Healthy has many meanings, and that definition will vary from person to person. But in general, pesto is high in calories and fat, from the oil, nuts and cheese. However it's been said that those fats are heart healthy. It's also super flavorful, so you don't need much to add great flavor to a dish. So ultimately, it's up to you whether you consider it healthy or not.
Making basil pesto ahead of time
Making homemade pesto is easy and even though it doesn't take much time, you can save even more time by making it entirely ahead of time.
Pesto will keep in the refrigerator for up to a week, so feel free to make a batch and enjoy it all week long!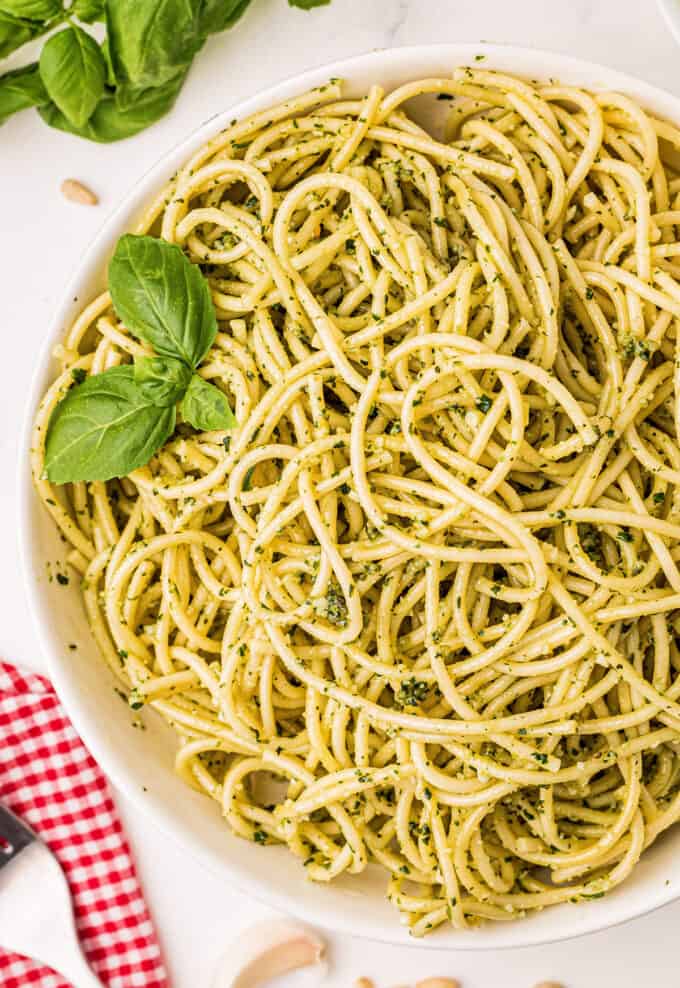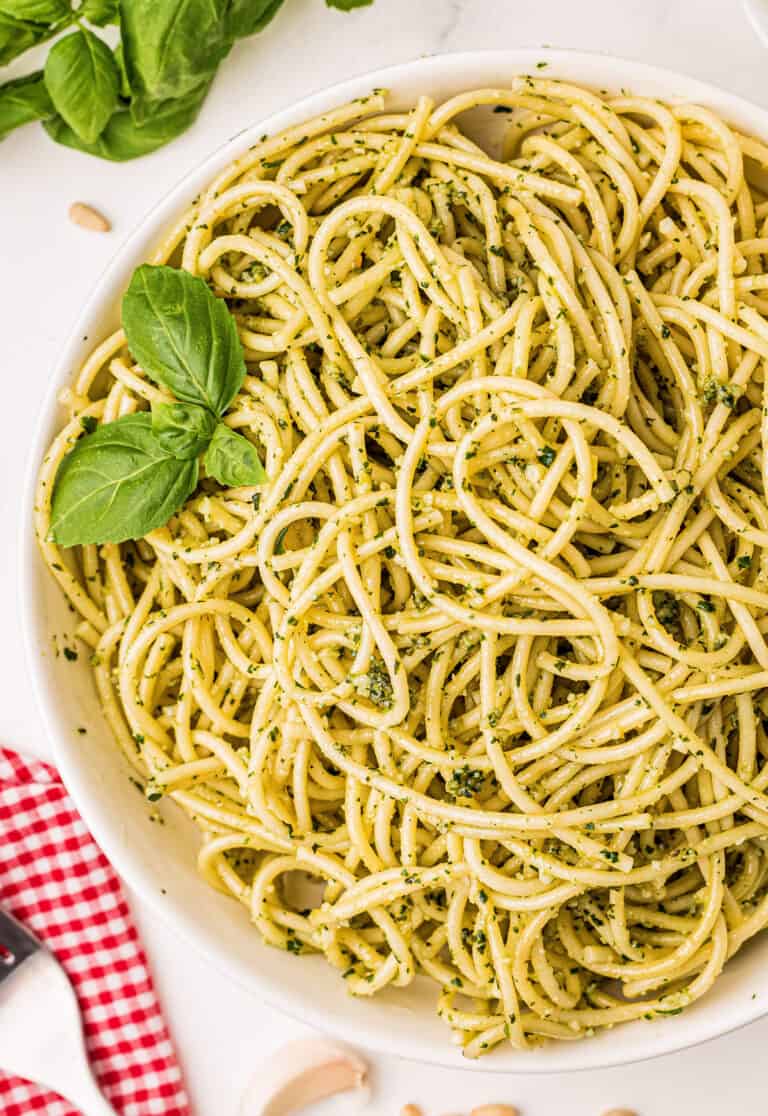 Storage
Leftover homemade pesto should be refrigerated in an airtight container and eaten within 1 week.
Freezing
For a longer shelf life, pesto can be frozen. Store in freezer-safe containers and freeze for up to 3 months.
Thaw in the refrigerator before using.
To freeze small portions, use an ice cube tray! Then once all the pesto cubes are frozen solid, transfer them to a large freezer safe container.
When you need a little pesto, thaw out a cube and use as desired.
For the garlic cream sauce, stir a little into the sauce after it's cooked.
For the vegetables, drizzle pesto over the top after they've roasted.
For the caesar dressing, stir some pesto into the dressing.
For the chicken, stir a little into the sauce in the skillet.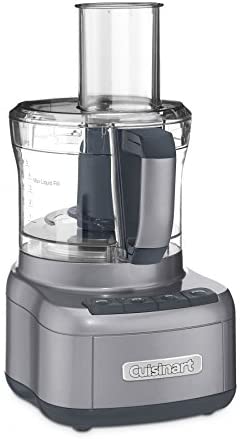 While I have a massive food processor, this smaller (and more economical) model is every bit as good and useful!
Did you make this? Be sure to leave a review below and tag me @the_chunky_chef on Facebook and Instagram!
This Classic Basil Pesto recipe is made in just 15 minutes with plenty of fresh basil, parsley, pine nuts, garlic, olive oil and Parmesan cheese.
Ingredients
2 – 3 cloves garlic
3 Tbsp pine nuts
1 1/2 cups fresh basil
1/4 cup fresh flat leaf Italian parsley
1/2 cup extra virgin olive oil
1/3 cup grated fresh Parmesan cheese
1/4 tsp kosher salt
black pepper and/or additional salt to taste
Instructions
Add garlic cloves and pine nuts to a skillet and heat over MED LOW heat. Cook, stirring occasionally, for 3-5 minutes, until lightly toasted and fragrant. Set aside, off the heat.

Add garlic and pine nuts to a food processor, add lid, and pulse approximately 7-10 times.

Add basil and parsley, add lid, and pulse again, approximately 7-10 times.

Switch on the food processor to continuously run with the lid on, and slowly stream in the olive oil through the small hole in the processor lid.

Once it's come together and is all combined, remove lid and add cheese. Add lid and pulse a couple more times.

Taste, and add salt and pepper until it's to your liking.
Want to save this recipe for later? Click the heart in the bottom right corner to save to your own recipe box!
Chef Tips
Recipe makes between 1.5 and 2 cups.  However you choose to divide that up into servings is up to you.
Nutrition Disclaimer
The Chunky Chef is not a dietician or nutritionist, and any nutritional information shared is an estimate. If calorie count and other nutritional values are important to you, we recommend running the ingredients through whichever online nutritional calculator you prefer. Calories can vary quite a bit depending on which brands were used.