This Apple and Cranberry Sausage Stuffing is loaded with classic Fall flavors. The wine butter and herb broth makes for a fun and delicious stuffing recipe for Thanksgiving, Christmas, or even a great Fall dinner.
This is one of my Side Dish recipes I know you'll want to keep on hand!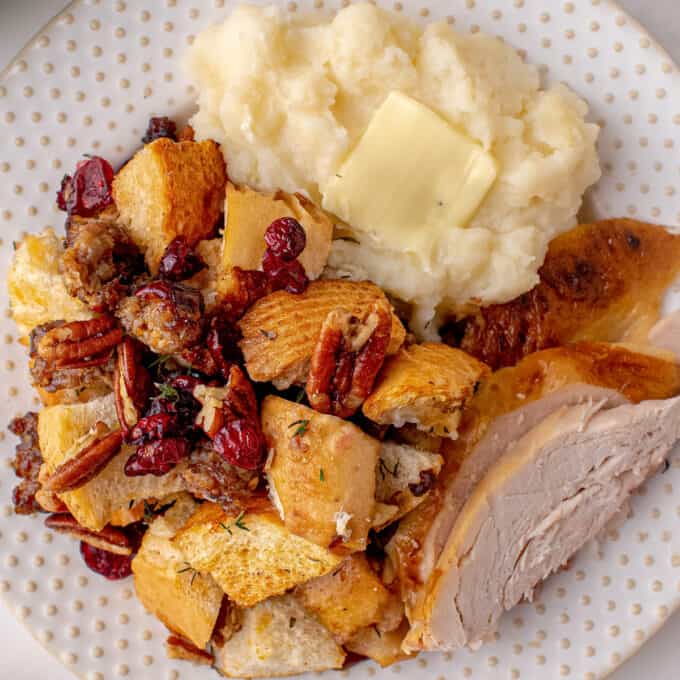 Can you believe we're less than a month away from Thanksgiving?! O.M.G. I'm so not ready for that. We need to firm up our Thanksgiving plans and of course, the menu.
For us, the side dishes are every bit as important as the main dish, sometimes even more so. I can make a meal out of things like green bean casserole, sweet potato casserole or candied yams, mashed potatoes, cranberry sauce, rolls, and of course, stuffing!
I've always loved stuffing, in all forms… traditional, cornbread, even oyster! But this sausage stuffing is so perfectly complimented by the crisp apples and sweet cranberries… it really takes it over the top into complete deliciousness.
Now technically, this recipe should be called a dressing. Stuffing is a dressing that you stuff into a turkey. However, in my family, we always called it stuffing, so that's what I'm sharing it as today 🙂
With several make-ahead options, and a long list of variations and add-ins, you're sure to find a method and flavor combo that works for you and your family!
How to make harvest sausage stuffing?
This is just an overview; the full ingredients and directions are in the recipe card toward the bottom of this post.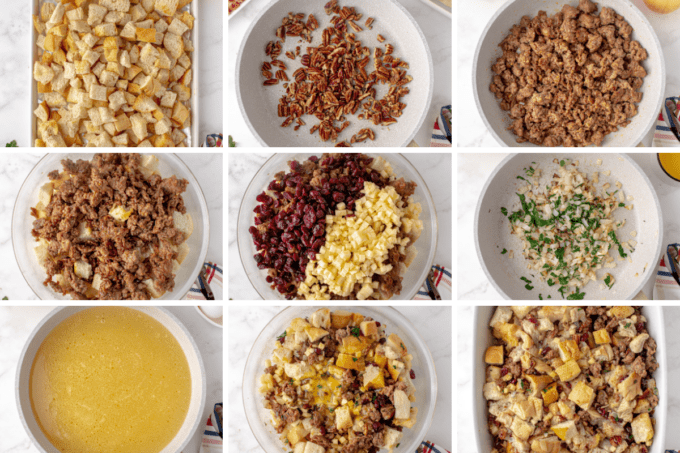 Toast bread. This draws the moisture out of the bread, so it'll be the right texture for the stuffing.
Toast pecans. Toasting nuts enhances their flavor, so don't skip this step.
Cook sausage. Crumble the sausage as you cook it in the skillet.
Add fruits. In a big bowl, add bread, pecans, sausage, cranberries and apples.
Cook onion. This brings out the natural sweetness of the onion, as well as softening the texture.
Add herbs. Stir in all the fresh herbs and then transfer the onion/herb mixture to the big bowl.
Deglaze. Add the wine and scrape the skillet so all those browned bits give off their flavor.
Add butter and chicken broth. Simmer a few minutes.
Add liquid and eggs. To the big bowl, add the broth/wine/butter mixture and the beaten eggs. Stir well.
Bake. Bake covered for a little over half the time, then uncovered, so the top will get nice and crispy/golden brown.
Helpful Tip!
It's important to either toast your bread cubes, use stale bread, or use the pre-cut stuffing cubes that show up in the grocery stores around the holidays. Fresh bread will turn into a soggy mess, where as stale or toasted bread will stand up to the moisture and give you that classic stuffing texture.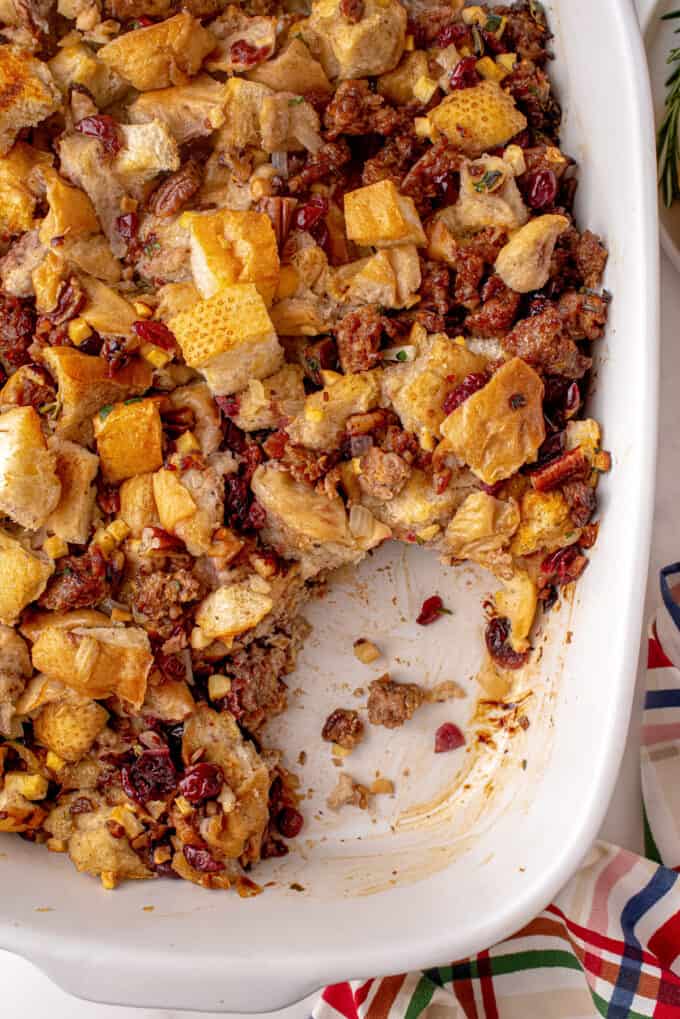 Variations of this recipe
Stale bread – instead of toasting the bread, if your bread is stale, or day old, you can use that instead. Stale bread is good to use because it will absorb more of the broth and flavors.
Types of sausage – for this recipe I usually use sage sausage or country mild, but any ground sausage will work. If all you can find is large links, just remove the casing before cooking.
Dried herbs – you can use dried herbs if you can't find fresh, just make sure to use about 1/3 of the amount, since dried herbs are more potent than fresh.
Stuffing bread cubes – around the holidays, unseasoned bread cubes can be purchased at most grocery stores for stuffing, and can be used in this recipe.
Types of apples – my favorite apple to use for this recipe is Gala, but feel free to use your favorite variety of apple.
Alcohol-free – even though the vast majority of any alcohol is cooked off in this recipe, if you'd rather skip it all together, just omit the wine and replace it with an equal amount of more chicken broth.
FAQ's
What kind of bread is best to use for stuffing?
for the best stuffing, you'll want to use a bakery-style bread, with a crusty exterior.  A crusty French bread or sourdough is my preferred type, but you can use any kind of bread you like. In a pinch, sandwich bread can work, but it won't have quite the same texture.
Can this recipe be stuffed into a turkey?
I don't recommend actually stuffing a turkey with this stuffing or any other. It generally leads to overcooked turkey breasts, since the stuffing has to come to 165°F internal temperature before it's safe to be consumed, which means the rest of the turkey is overcooked. However, it's your stuffing, your turkey, and your holiday meal, so please use your best judgement.
Do I have to use fresh herbs for this stuffing recipe?
I know fresh herbs aren't something that everyone keeps on hand, so in a pinch, you can use dried herbs. If at all possible though, I recommend picking up some fresh herbs for this recipe.  They really make this dish shine!
Making sausage stuffing ahead of time
We all know the holidays are incredibly hectic, and your time is at a premium. Thankfully, this stuffing recipe can easily be made or prepared ahead of time! There are 2 main ways.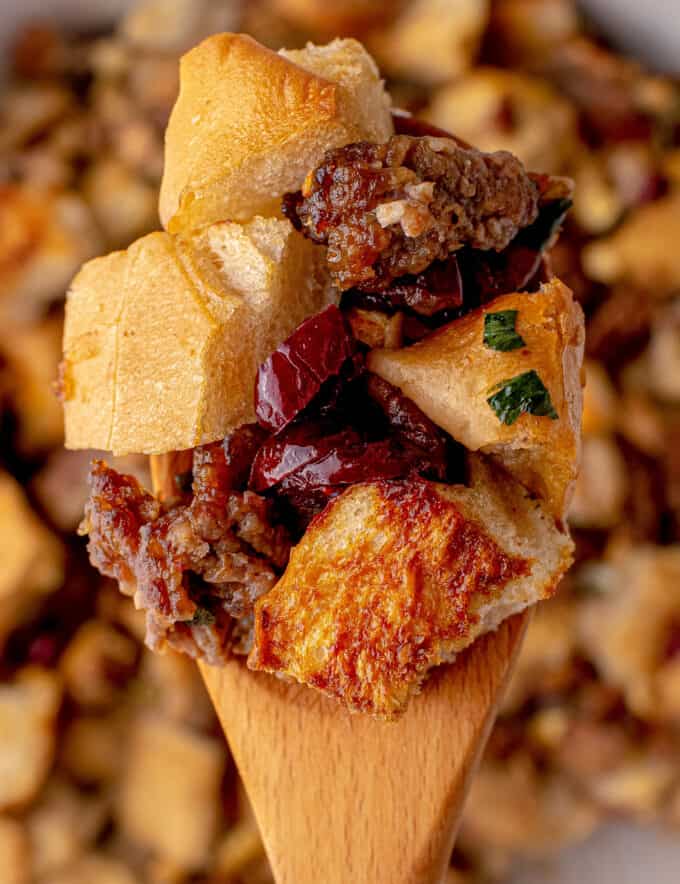 Made ahead – completely assemble this stuffing recipe, but don't bake. Let cool completely, then cover and refrigerate for up to 2-3 days. Bake as directed.
Cooked and Frozen – bake stuffing as directed, then let cool completely. Transfer to freezer-safe container, cover or seal, and freeze for up to 1-2 months. Let thaw overnight in the refrigerator. Transfer to baking dish and bake as directed.
When reheating stuffing, you might want to stir in a splash of extra chicken broth to get back the same moistness.
You can also prep this recipe ahead of time, which I prefer to do for all my recipes.
Bread – Slice bread into cubes and keep sealed in a re-sealable plastic bag.
Sausage – Brown sausage ahead of time, drain and cool, and keep in an airtight container in the refrigerator.
Onions and herbs – Chop onions and herbs and keep them in separate airtight containers in the refrigerator.
Pecans – Toast pecans, cool, and keep sealed in a re-sealable plastic bag.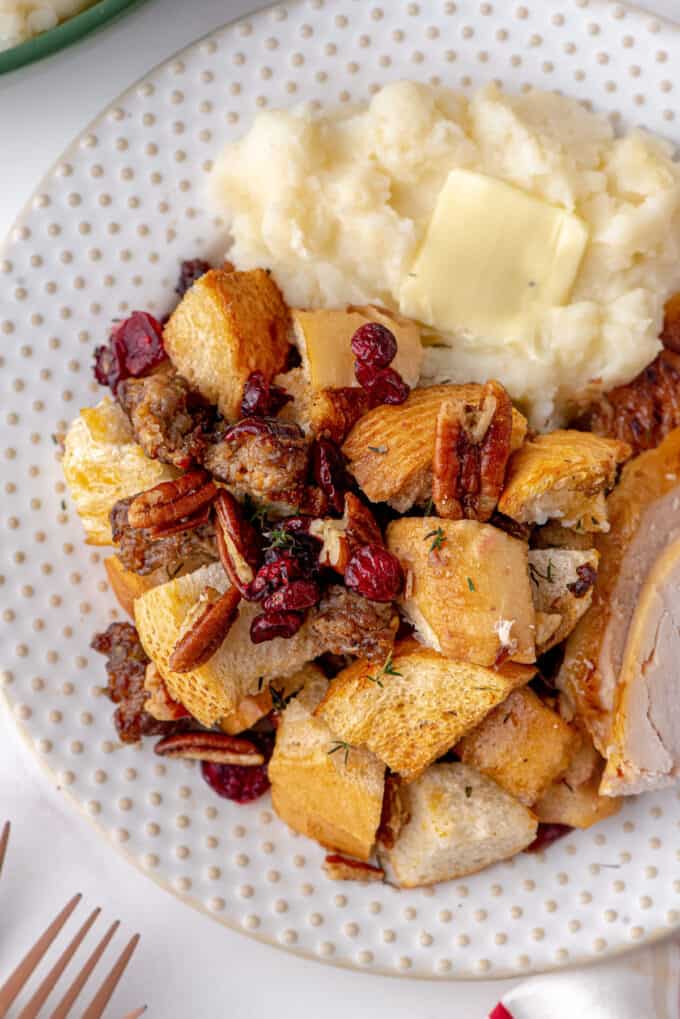 Storage
Leftovers should be refrigerated in an airtight container and consumed within 3 days.

I've had this baking dish for so many years, and it's always a dream to use. Easy cleanup, even baking, well worth investing in a quality dish.
Did you make this? Be sure to leave a review below and tag me @the_chunky_chef on Facebook and Instagram!
This Apple and Cranberry Sausage Stuffing is loaded with classic Fall flavors. The wine butter and herb broth makes for a fun and delicious stuffing recipe for Thanksgiving, Christmas, or even a great Fall dinner.
Ingredients
16 oz loaf French bread cut into 1/2-1 inch cubes
2/3 cup pecans chopped
1 lb bulk sage sausage
1 1/3 cup sweetened dried cranberries
2 medium sized Gala apples peeled, cored and chopped
5 Tbsp unsalted butter divided
1 medium yellow onion minced
1/3 cup chopped fresh flat-leaf parsley
3 Tbsp fresh sage finely chopped and divided
1 Tbsp fresh rosemary finely chopped
1 tsp fresh thyme chopped
1 cup dry white wine
2 cups reduced sodium chicken broth
2 eggs lightly beaten
3/4 tsp kosher salt
1/2 tsp black pepper
Instructions
Preheat oven to 350°F and line a large baking sheet with parchment paper or foil.

Spread cubed bread onto prepared baking sheet and bake for about 10 minutes, until bread is toasted and a light golden brown color.  Set bread aside to cool.

Add pecans to a dry skillet and heat over LOW heat for a few minutes, stirring occasionally, until they smell toasty.  Turn off the heat.  Remove pecans to a plate.

Add bread pieces and pecans to a large mixing bowl and set aside.

Heat skillet over MED heat with a drizzle of oil.  Add sausage and brown, crumbling as you cook, for about 4-5 minutes, or until cooked through.

Drain sausage, then add to bowl with the bread and pecans.  Add in apples and cranberries.

Add 1 Tbsp of the butter to the skillet, then add onion.  Cook, stirring occasionally, over MED heat for 3-5 minutes, until soft.

Stir in parsley, sage, rosemary and thyme and continue cooking another minute or so. Transfer skillet contents to the mixing bowl.

Add wine to the skillet, using a wooden spoon to scrape up any browned bits from the bottom of the pan.  Cook the wine for 1-2 minutes.

Add remaining butter and chicken broth and cook for 3 minutes. Pour chicken broth mixture into the mixing bowl and stir everything together to combine well.

Add beaten eggs, salt and pepper, and stir again.

Butter or lightly grease a 9×13" baking pan and transfer stuffing mixture from the mixing bowl to the pan.

Cover with foil and bake 35 minutes.  Uncover and bake another 25 minutes or so, until top is golden brown.
Want to save this recipe for later? Click the heart in the bottom right corner to save to your own recipe box!
Chef Tips
This recipe has been on the website since October 2015, and has been updated with additional information, new photos, and an updated recipe in November 2021.
Original Recipe
The cooking instructions are the same for the original recipe, so follow the steps outlined above.  The ingredient quantities have changed a little.
1 loaf French bread, cubed
1 cup sweetened dried cranberries
1 medium apple, peeled, cored, and chopped
1 1/2 lbs. sage sausage
1/2 cup yellow onion, finely diced
1/2 cup pecans, chopped
1/2 cup fresh flat-leaf parsley, chopped
3 Tbsp fresh sage, finely chopped
1 Tbsp fresh rosemary, finely chopped
1 tsp fresh thyme, chopped
1 cup dry white wine (chardonnay) 
4 Tbsp unsalted butter
2 cups chicken stock/broth
2 eggs, lightly beaten
drizzle of oil, or bacon grease, for cooking the sausage (optional)
Recipe adapted from The Slow Roasted Italian
Nutrition Disclaimer
The Chunky Chef is not a dietician or nutritionist, and any nutritional information shared is an estimate. If calorie count and other nutritional values are important to you, we recommend running the ingredients through whichever online nutritional calculator you prefer. Calories can vary quite a bit depending on which brands were used.