This recipe for Homemade Fajita Seasoning uses pantry staple ingredients to make the most flavorful fajitas ever! No need for store-bought packets, this homemade version is better tasting, and more economical!
This is one of my Pantry/Kitchen Basics recipes I know you'll want to keep on hand! These recipes are great homemade alternatives to store-bought items.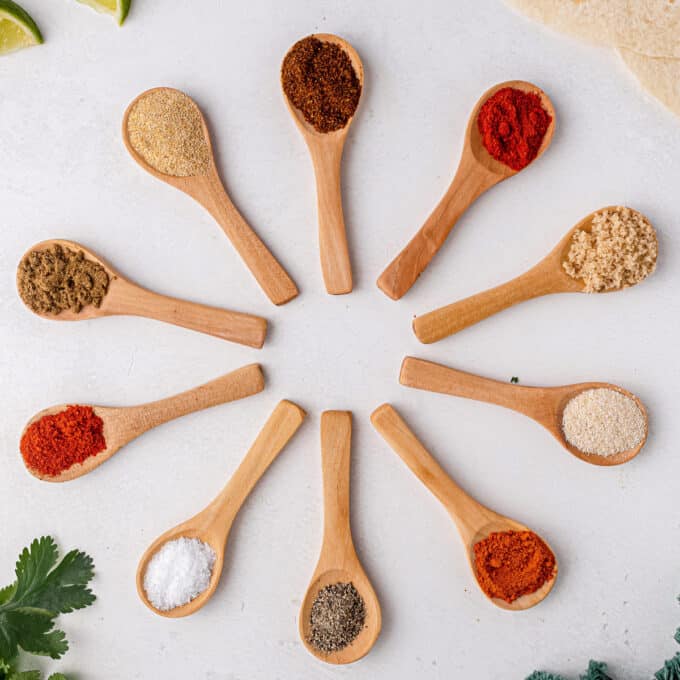 Whenever we go out to a Mexican restaurant, I'm always tempted by the fajitas. First, I love that you can build your own tacos, but the thing that really temps me, is the smell and sound.
You know what I mean… as soon as you spot a waiter carrying the pan of meats and veggies, smoking and sizzling and giving off the most amazingly charred grilled food smell. It's intoxicating!
We like making fajitas at home too, but I've never been too thrilled with the packets of fajita seasoning that are available in my grocery stores.
But once I started making my own seasoning blend… holy wow! The flavor is incredible, with each spice blending and perfectly complimenting the others.
It's great on just about any protein and veggie combo, can easily be turned into a marinade, and more!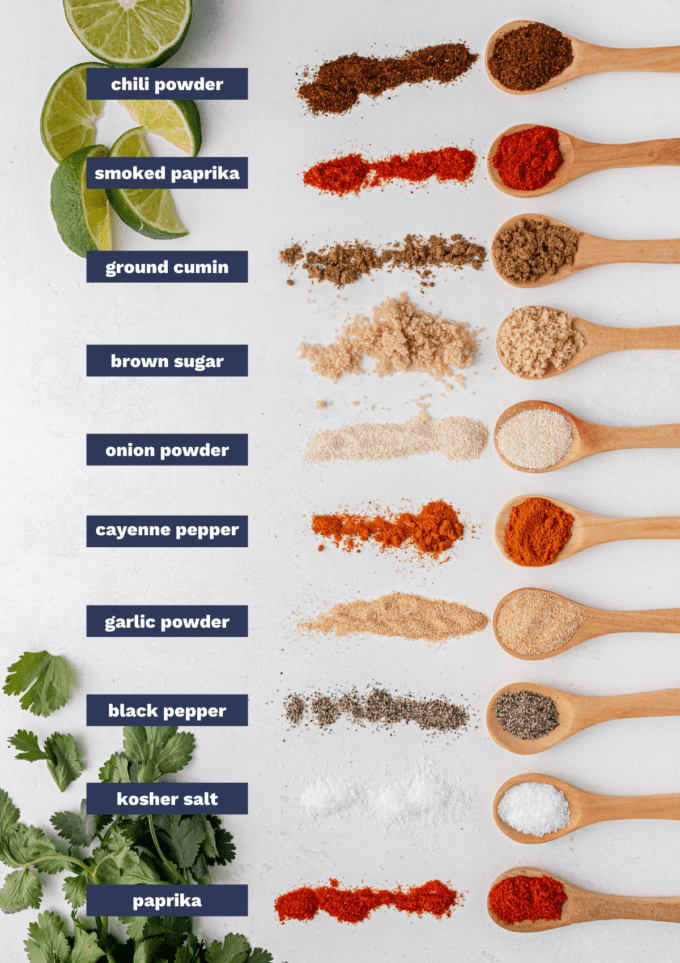 What do I need to make this recipe?
Chili powder – a great blend of other spices, with a little heat.
Smoked paprika – this adds amazing smokiness that is accentuated by cooking the actual fajitas.
Ground cumin – warm and a little smoky.
Brown sugar – this adds a touch of sweetness, but can be omitted if you prefer.
Onion powder – the sharp onion flavor rounds out the flavor.
Cayenne pepper – a little kick of heat.
Garlic powder – because everything is better with garlic.
Black pepper – this is a flavor enhancer that brings out the other flavors, as well as adding a bit of heat.
Kosher salt – the salt really elevates all the other flavors in this seasoning.
Paprika – I know we already used smoked paprika, but the regular sweet paprika adds a beautiful red color.
Helpful Tip!
For the best tasting seasoning mix, use fresh spices. Spices lose their potency as they get older, which means you won't get as vibrant of a flavor.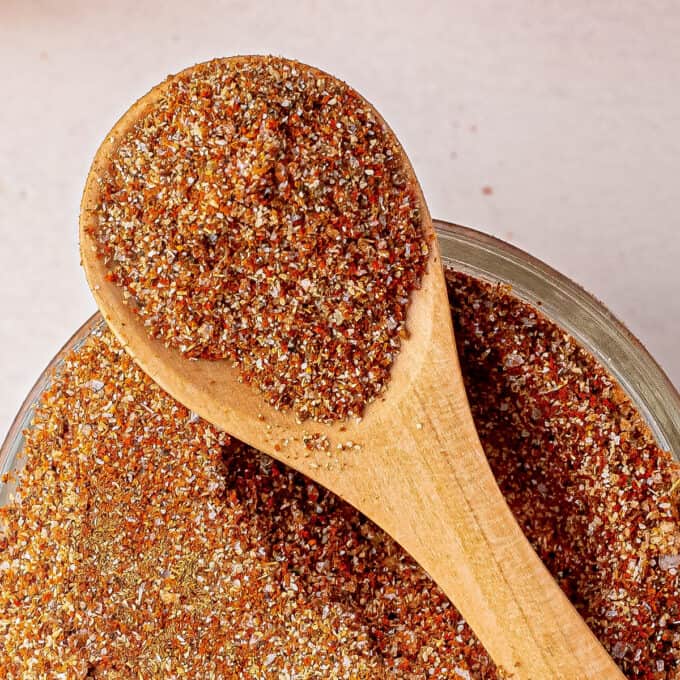 Variations of this recipe
Large batch – if you plan to make something with fajita seasoning often, I recommend doubling or tripling the recipe. It'll keep for months in an airtight container.
Spicier – for a spicier seasoning blend, feel free to increase the amount of cayenne pepper and chili powder.
Milder – to make this seasoning more mild, reduce or omit the cayenne pepper.
Oregano – for a little herb-y flavor, try adding 1 tsp of dried oregano (Mexican oregano if you can find it).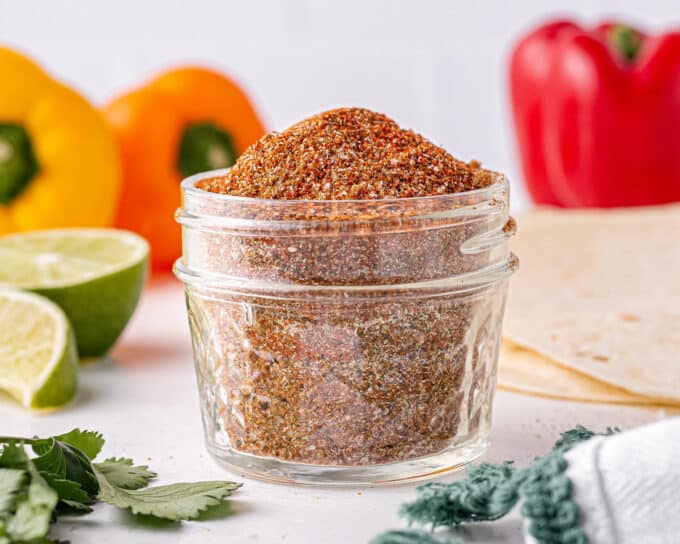 FAQ's
What's the difference between taco seasoning and fajita seasoning?
The ingredients are usually fairly similar between the two, but store-bought fajita seasoning usually has some kind of dried tomato powder or citric acid added to it. This brings a somewhat sour flavor, which balances the spice. This homemade version doesn't use those, but adding a squeeze of lime over the fajitas will achieve the same flavor.
Why make homemade seasoning mix when the store-bought packets are cheap?
For me, there's 3 main reasons. First, you can control the heat level. Second, you can control the salt level. Lastly, there are no preservative agents in a homemade seasoning mix. However, you can certainly use a store-bought packet.
Making seasoning mix ahead of time
This recipe is perfect for mixing up in advance. I usually double or triple the recipe, then store it for 6 months or so.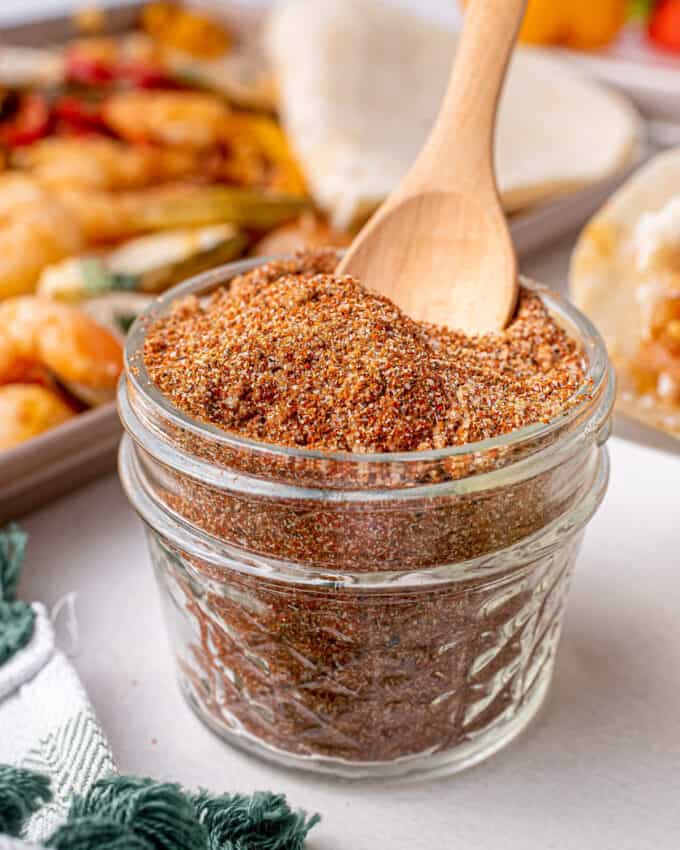 Storage
Fajita seasoning mix should be stored in an airtight container in a cool dry place. If stored properly, this mix should last for up to 6 months.
Ways to use fajita seasoning!
Now that you have a great blend of spices, what do you do with it?
Dry seasoning – fajita seasoning is great rubbed into chicken, beef, pork, seafood, and veggies.
Marinade – for 1 lb of protein, mix 2 1/2 Tbsp of seasoning mix, 3 Tbsp olive or avocado oil, juice of 1 lime, and a sprinkle of fresh minced cilantro. Combine everything and let the protein marinate for at least 30 minutes.
Unconventional – try stirring some fajita seasoning into refried beans, rice, salsa and more.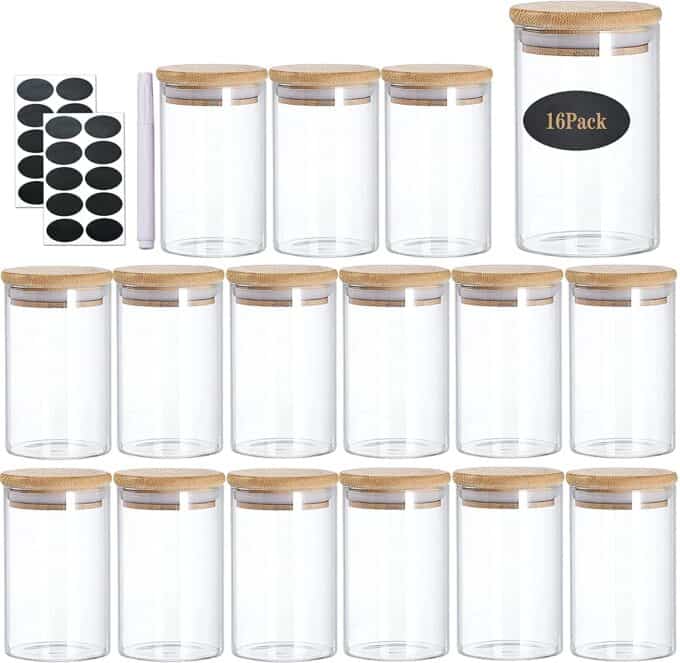 I have many of these spice jars in my kitchen, and love them! They're airtight, and the large capacity means I can make big batches of my favorite spice blends. These labels are a great companion too!
Did you make this? Be sure to leave a review below and tag me @the_chunky_chef on Facebook and Instagram!
This recipe for Homemade Fajita Seasoning uses pantry staple ingredients to make the most flavorful fajitas ever!
Ingredients
2 Tbsp chili powder see note 5
4 tsp garlic powder equal to 1 Tbsp + 1 tsp
1 Tbsp ground cumin
2 tsp smoked paprika see note 4
2 tsp paprika regular sweet paprika
2 tsp onion powder
2 tsp packed light brown sugar
1 tsp medium or coarse ground black pepper if using finely ground, use 1/2 tsp
1 tsp kosher salt if using table salt, reduce slightly
1/2 tsp cayenne pepper or to taste
Instructions
Add all ingredients to a small bowl and stir to combine.

Store in an airtight container in a cool dry place for up to 6 months.
Want to save this recipe for later? Click the heart in the bottom right corner to save to your own recipe box!
Chef Tips
Recipe makes approximately 8 Tbsp, which is equal to approximately 1/2 cup. 
A typical amount used for 1 – 1.5 lbs of protein is 2 1/2 Tbsp, so this recipe would make 3 servings, with a little leftover.
Recipe can easily be doubled, tripled, or even halved for a smaller batch.
If you don't have smoked paprika, and don't want to pick up a jar, you can just omit it, or use additional regular paprika.
As a note to my readers outside of the United States, American chili powder is a blend of many spices, including cayenne pepper, but it isn't all that spicy. Non-American chili powder can be straight up ground chile peppers and are MUCH spicier. For this recipe, make sure you're using American chili powder, otherwise it will be insanely spicy.
Nutrition Disclaimer
The Chunky Chef is not a dietician or nutritionist, and any nutritional information shared is an estimate. If calorie count and other nutritional values are important to you, we recommend running the ingredients through whichever online nutritional calculator you prefer. Calories can vary quite a bit depending on which brands were used.