Juicy chicken tenders are coated with a crunchy cornflake breading, air fried until perfectly golden, then liberally drizzled with a sweet and spicy homemade hot honey sauce!
This is one of my Air Fryer recipes I know you'll want to keep on hand!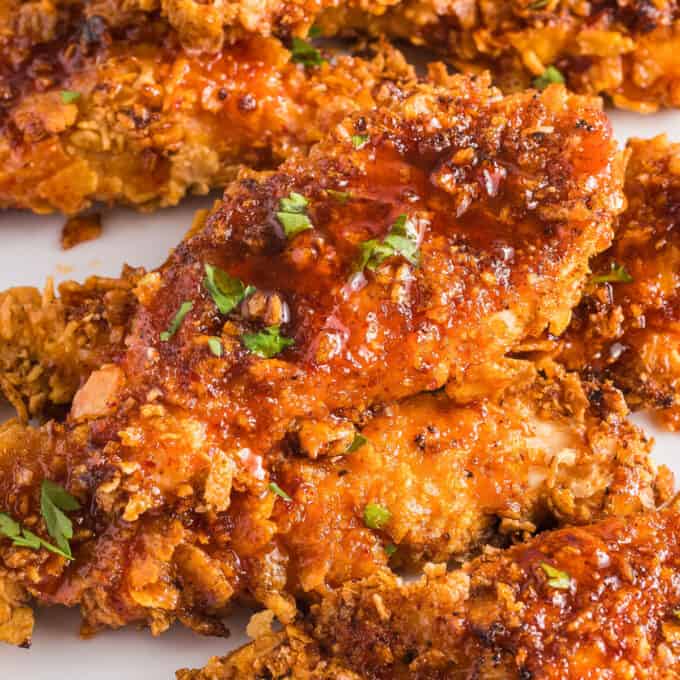 If you have kids (or are a kid at heart), you know that chicken tenders are basically an entire food group. My kids will never say no to a big serving of their favorite kind of chicken.
While this recipe might be a little too spicy for little ones, the heat is very customize-able!
These chicken tenders are coated in a crunchy seasoned cornflake breading, then drizzled with plenty of a simple hot sauce and honey sauce. The flavors are out of this world!
Plus, these are cooked in the air fryer (or oven), instead of fried, so you can feel good about sharing these with your family… or indulging in a big 'ol plate yourself.
How to make air fryer chicken tenders with hot honey?
This is just an overview; the full ingredients and directions are in the recipe card toward the bottom of this post.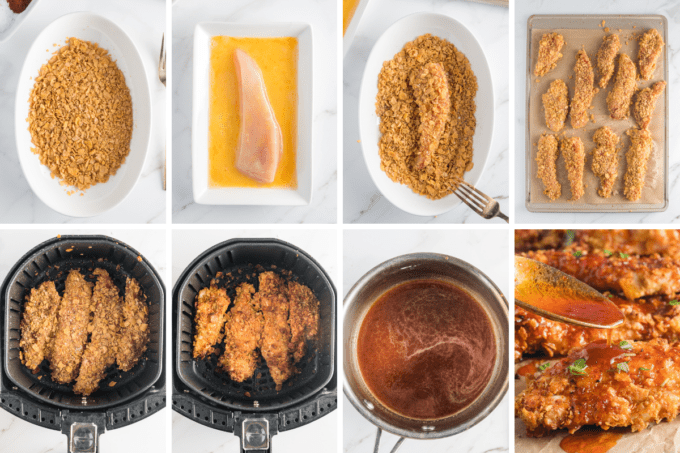 Mix breading. I like to do this in a wide and shallow bowl.
Dip in egg. Make sure to let the excess egg drip off after dipping.
Bread. I like to press the chicken gently into the cornflake breading, so it really sticks.
Air fry. This should be done in a single layer, and you'll likely need to air fry the chicken in several batches.
Make hot honey. You'll need a small saucepan for this.
Drizzle or pour. You can either drizzle the sauce over the chicken tenders, or pour the sauce over the chicken… the amount is up to you.
Helpful Tip!
The trick to avoiding ending up with completely breading coated fingers is to set up a simple assembly line.
Set up your food from left to right (or vice versa if you're a lefty), in the following order: chicken breasts, bowl with egg mixture, bowl with breading, and baking sheet or plate.
Designate your left hand the "wet" hand, and your right hand the "dry" hand.
Work from left to right, using your wet hand to add a chicken breast to the egg mixture, let the excess drip off, then drop it in the breading mixture.
Use your dry hand to coat the chicken in the breading and add it to the baking sheet/plate.
Repeat with remaining chicken pieces, being careful not to use the wet hand in the breading mixture.
It'll still be a little messy, but you shouldn't have completely breaded fingers at the end.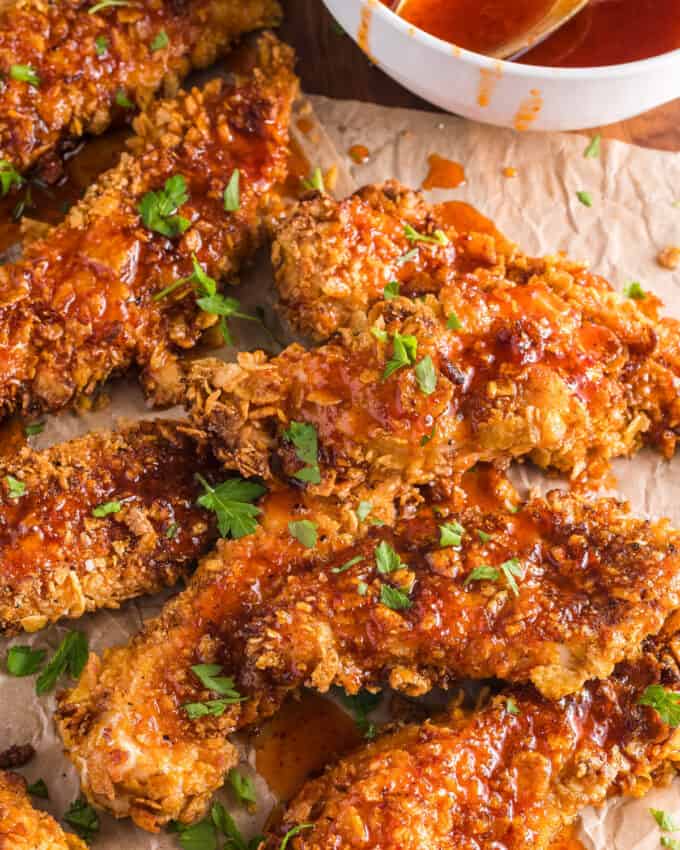 Variations of this recipe
Chicken – you can use chicken tenderloins, or use boneless skinless chicken breasts and slice them into strips (which is what I did here). You can use this method to bread and cook whole chicken breasts, but the cooking time will need to be increased.
Breading – we love the crunch and subtle sweetness of cornflake cereal (which you can crush as fine as you'd like), but if you prefer, you can substitute with panko breadcrumbs.
Spices – feel free to adjust the spice levels to your tastes.
Hot sauce – different hot sauces have different flavor profiles, so playing around with different brands is a fun way to change the flavor of the hot honey.
Hot honey – for a shortcut, omit all the hot honey ingredients for your favorite brand of store-bought hot honey (Mike's Hot Honey is one of our favorites).
Double breaded – if you love extra crunch, double the breading and egg wash ingredients. Dip the chicken in the egg, then dredge in breading. Re-dip in egg, and re-dip in the breading, then air fry as directed.
Alternate cooking methods – no air fryer, no problem! Check out the "chef tips" below the recipe for oven directions.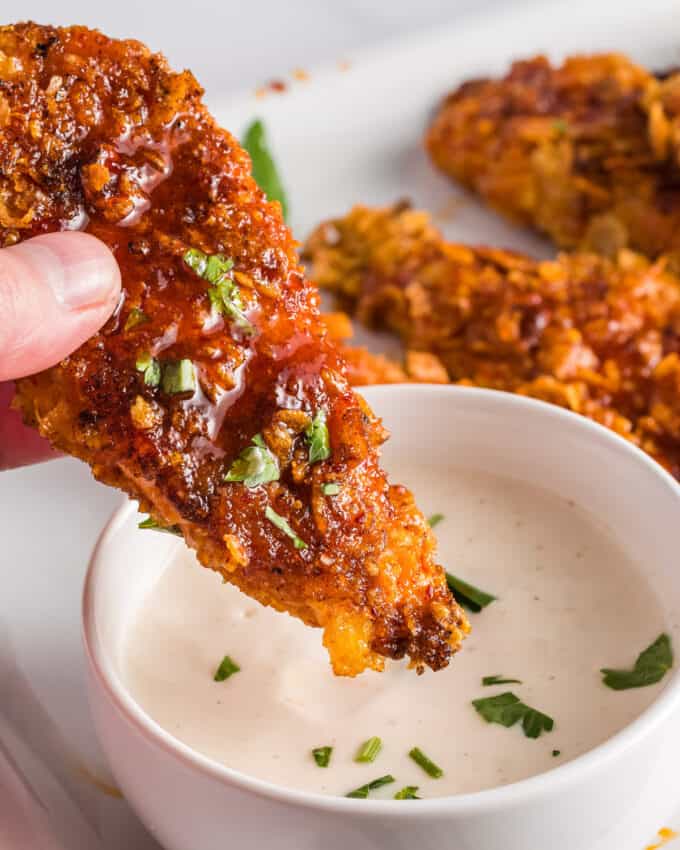 FAQ's
Are chicken fingers and chicken tenders the same thing?
Yes, chicken tenders (and fingers and strips) are all the same thing and are cut from the tenderloin part of the chicken breast.
What's the best way to crush the cornflakes?
It depends on how finely you want to crush them. If you want a coarser crush, as depicted in the photos, add them to a resealable plastic bag, seal it, and crush with a rolling pin. If you prefer a finer crush, add the cereal to a food processor and pulse until crumbs are formed. You can also purchase store-bought cornflake crumbs, which is a nice shortcut!
Making chicken tenders ahead of time
While you can make these chicken fingers ahead of time, I don't recommend it. This is because they won't be as crispy as if you made them right before serving.
However, you can easily prep ahead and save yourself some time.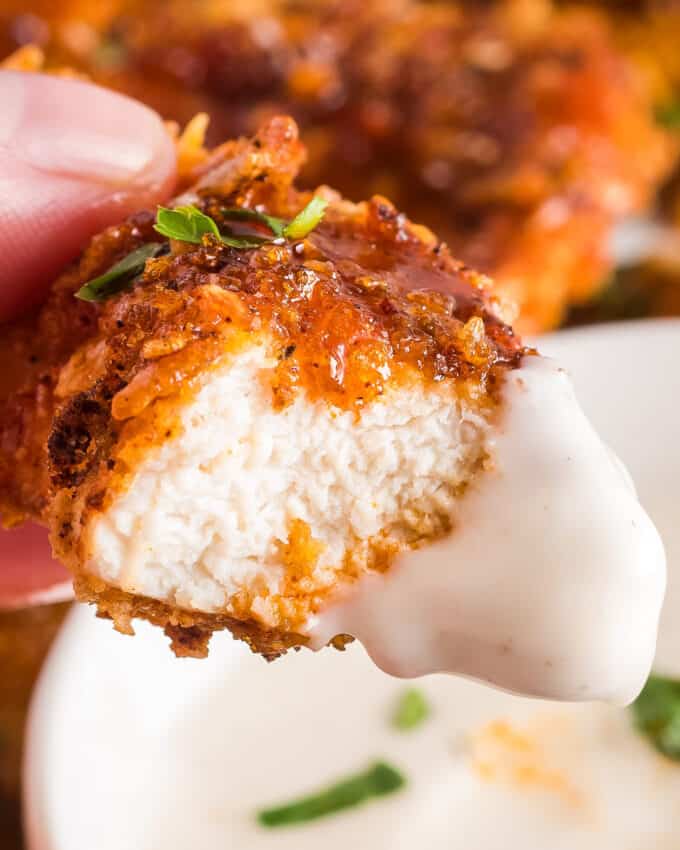 How to prep ahead for this recipe:
Chicken – if using chicken tenderloins, no prep is needed. But if using chicken breasts, they can be sliced into tenders and stored in an airtight container in the refrigerator for 1 day.
Breading – the cornflakes can be crushed ahead of time and stored with the spices in an airtight container at room temperature.
Hot honey – the hot honey can be made, cooled, and kept refrigerated in an airtight container.
Freezing
I didn't have great results when freezing the breaded, but uncooked, chicken tenders.
But you can let the baked chicken tenders cool, then add in a single layer to a parchment or wax paper-lined baking sheet and freeze for 30 minutes to an hour.
Then transfer to a freezer-safe container and freeze for up to 3 months.
Reheat in a 400°F oven or air fryer for approximately 15-20 minutes (oven), or 10-13 minutes (air fryer), or until hot and crispy.
Storage
Leftover chicken tenders should be refrigerated in an airtight container and enjoyed within 3-4 days.
To reheat, let refrigerated chicken tenders sit at room temperature for about 10 minutes or so.
Then preheat the oven or air fryer to 400°F and cook for approximately 7-10 minutes (oven) or 5-7 minutes (air fryer).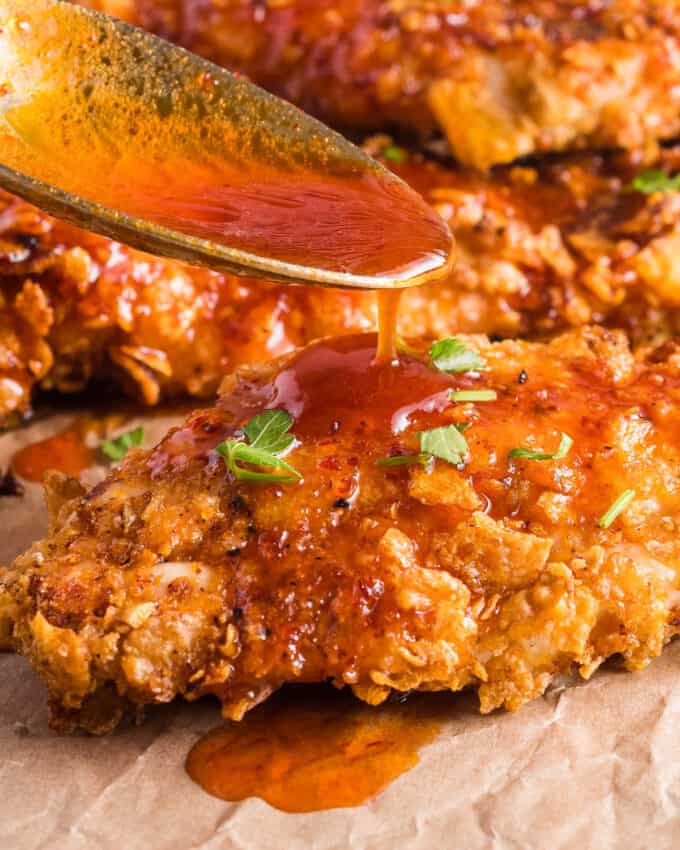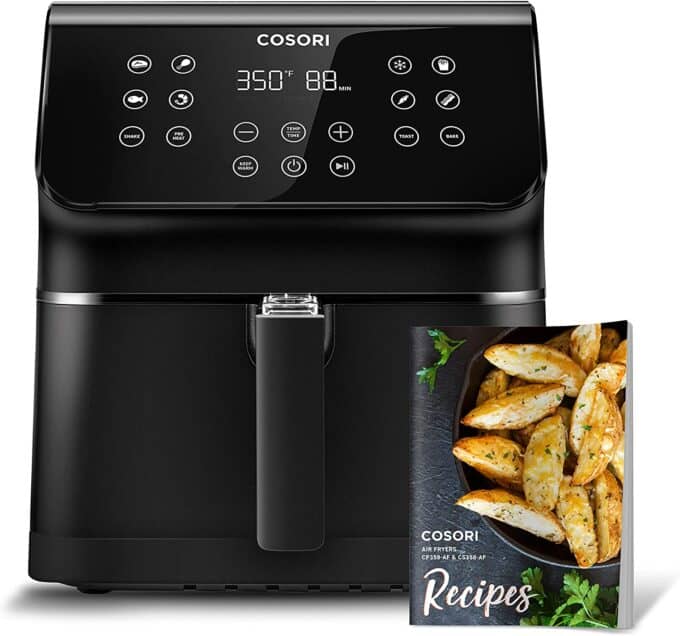 I love the larger, rectangular basket, and the basket is nonstick, removable, and dishwasher safe!
Did you make this? Be sure to leave a review below and tag me @the_chunky_chef on Facebook and Instagram!
Juicy chicken tenders are coated with a crunchy cornflake breading, air fried until perfectly golden, then liberally drizzled with a sweet and spicy homemade hot honey sauce!
Ingredients
Chicken
2 large boneless skinless chicken breasts sliced into strips
Egg wash
1 large egg
splash of water
Cornflake breading
2 cups crushed cornflake cereal
1 1/2 tsp kosher salt
1 tsp black pepper
1 tsp smoked paprika
1/2 tsp cayenne pepper
1/2 tsp dried thyme
1/2 tsp onion powder
1/2 tsp garlic powder
Hot honey
2 Tbsp unsalted butter
1/4 cup honey
3 – 4 Tbsp hot sauce your favorite brand
Miscellaneous ingredients
cooking oil spray (we like to use avocado oil) for the air fryer
minced fresh parsley for garnish (optional)
Instructions
Prepare
Add cornflake cereal to a resealable plastic bag, and crush with a rolling pin or empty skillet. Alternately, add the cornflakes to a food processor and pulse until crumbs form.

Line up 2 shallow bowls next to an empty plate or baking sheet. In one of the bowls, add egg and splash of water. Whisk together the egg mixture until smooth.

In the second bowl, add cornflake crumbs, salt, pepper, smoked paprika, cayenne, thyme, onion powder, and garlic powder. Stir to combine.

Preheat air fryer to 400°F.
Bread chicken
Add chicken tenders, one at a time, to the egg mixture, turning to coat all sides, letting the excess drip off.

Next add the chicken to the cornflake crumbs, turning and patting/pressing to coat all sides in the crumbs.

Finally, transfer the chicken to the prepared plate. Repeat with all remaining chicken tenders.
Air fry
Spray the basket of the air fryer with cooking spray (we like to use an avocado oil spray), then place about 4-5 chicken tenders into the basket (or however many can fit in your air fryer basket). Leave a little space in between each tender, to make sure the hot air can really circulate. ** this will likely take multiple batches **

Spray the tenders with a little more oil spray. Air fry for 8-10 minutes, or until cooked through. Chicken tenders should be golden brown and have reached an internal temperature of 165°F.
Make hot honey sauce
While chicken is cooking, add butter to a small saucepan and heat over MED heat. Once melted, add the honey and hot sauce, stirring well to combine. Let simmer for a minute or two.
Drizzle and serve
Drizzle chicken tenders liberally with the hot honey sauce, and garnish with minced parsley if desired. Serve hot and enjoy! We like to serve some ranch to dip the chicken into, to cool it down a bit.
Want to save this recipe for later? Click the heart in the bottom right corner to save to your own recipe box!
Chef Tips
This recipe makes 10 chicken tenders, which I've estimated would serve approximately 4-5 people.
Store-bought hot honey can be used, just omit the honey honey sauce ingredients, and replace with your favorite brand of hot honey.
Oven Directions:
All ingredients remain the same.
Preheat oven to 400°F.
Add breaded chicken tenders to a baking sheet topped with an oven-safe wire cooling rack. Alternately, you can add the chicken tenders to a parchment paper-lined baking sheet.
Bake in preheated oven for 20-23 minutes, turning chicken tenders over halfway through, until golden brown and chicken has reached an internal temperature of 165°F.
Nutrition Disclaimer
The Chunky Chef is not a dietician or nutritionist, and any nutritional information shared is an estimate. If calorie count and other nutritional values are important to you, we recommend running the ingredients through whichever online nutritional calculator you prefer. Calories can vary quite a bit depending on which brands were used.